20 (Actually Fun) Online Games for Long Distance Couples
Long distance relationships have the potential to feel like non-stop serious business. That is exactly why I've curated this list of online games for long distance couples…to keep you having fun and feel a little bit more like a "normal" couple for once!
Chances are, you need a break from the serious side of your relationship, and crave reconnecting to casual, fun moments you'd have if you were together in-person.
Dan and I spent four years in our 4,000-mile long distance relationship between the USA and UK, and over that time we definitely found some favorite long distance relationship games. Here are 20 of our favorites.
Online vs. Offline: What Makes a Great Long Distance Relationship Game?
Not all long distance relationship games are created equal!
We've found that the easiest games for long distance relationships are 100% online through a website or app.
Other good games for long distance relationships include physical game sets that can easily be played online over video chat (this is one of our favorites).
Finally, there are some games that just do not translate to an online format. This includes most card games played with a physical deck of cards (but don't worry… I have an alternative for that in number 11!)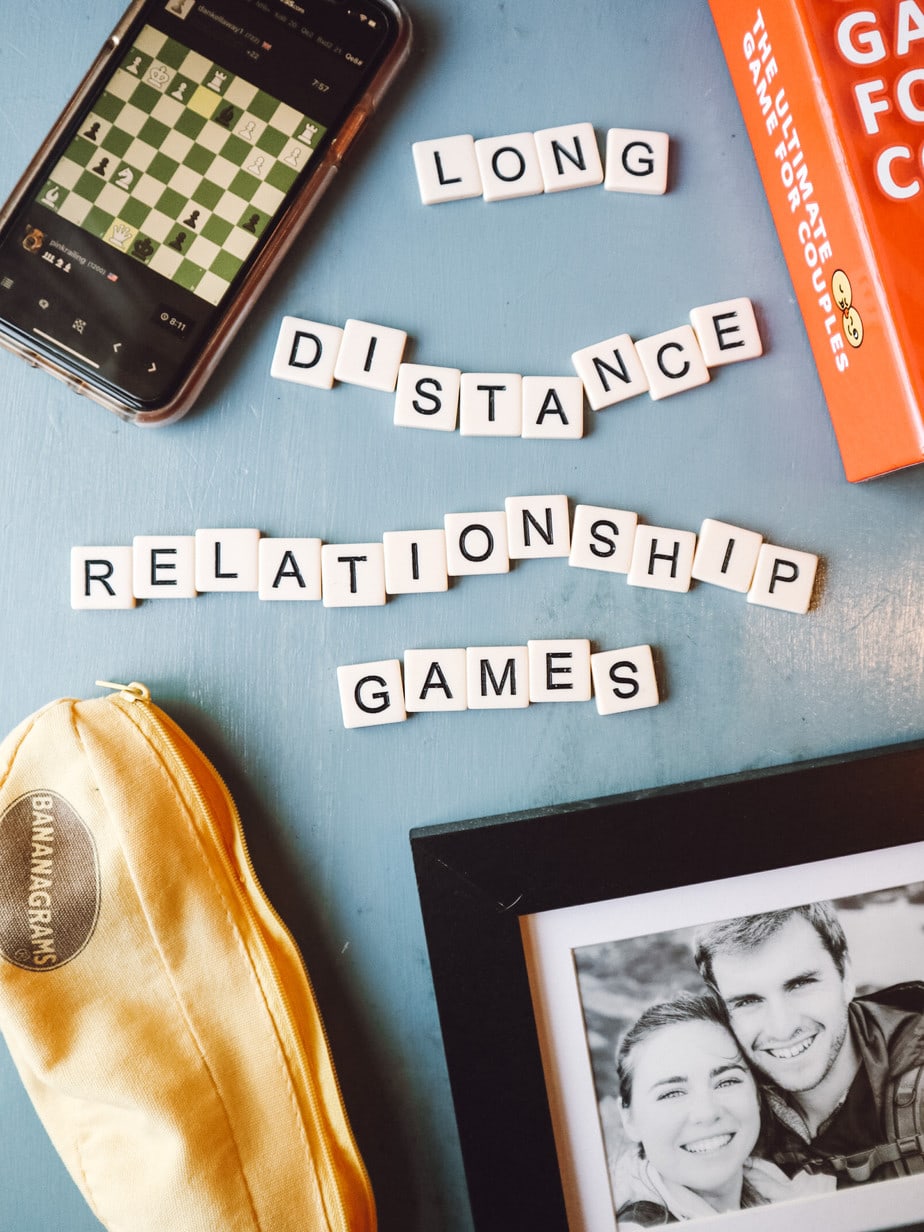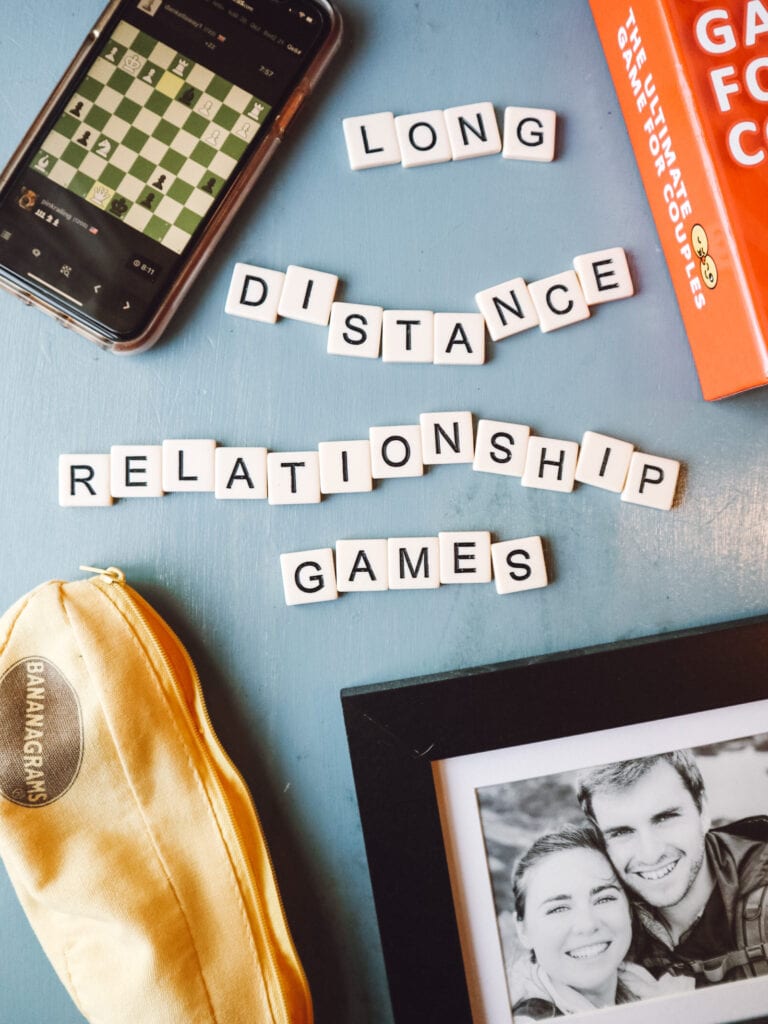 Online Games for Long Distance Couples
1. Settlers of Catan
Settlers of Catan is a really popular game that has gained a huge following over the past few years, especially. It is a board game that can be played in person, but they also recently launched a virtual version! This is available for Windows, Mac, iOS, and Android.
2. Online Chess
Not to be extremely cliche, but Dan and I got really into chess after watching The Queen's Gambit on Netflix a couple years ago. (One of our favorite long distance dates is to watch shows simultaneously and text throughout).
Luckily, there is a free chess app that makes for one of the best (and easiest) online games for long distance couples – in our opinion, at least! You can have a game ongoing over multiple days, or have a Zoom or Facetime call and play a game of chess all in one go while you chat. We do a bit of both!
3. The Ultimate Game for Couples
We recently purchased The Ultimate Game for Couples card set and it has become one of our favorite long distance relationship games! On a Saturday we grab some snacks (…and wine) and can easily play this for an hour.
This is one of those "in-between" games that requires a physical set of cards, but is easy to play online over Zoom or Facetime. Only one of you needs to have the card set; you don't need to purchase two sets. When it is the other person's turn, just show the card face to the camera. Easy peasy!
The Ultimate Game for Couples is full of deep (and hilarious) questions for your partner. There are also dare cards mixed in with the question cards. Some of these are ridiculous and some are a little spicy. Not all can be done from a long distance but many can!
4. Table Topics
Table Topics (I recommend the Date Night Version) is similar to the Ultimate Game for Couples in that it is a set of cards with questions for your partner. It will require one of you owning the card set, but then is easily played online over video chatting. This is a good option if you just want questions and no slightly-raunchy dares.
5. Clash of Clans
I'll put a warning on this one that Clash of Clans can be slightly addictive. It is a free multiplayer game available via an app, where you can both join a "clan" together, build your village, and attack other villages to build up your clan's power.
Dan and I played this for a year straight and I don't even want to think of the hours of my life lost to this, haha. It is a pretty fun and engaging game, though.
You can play when you are apart, build strategy together (we would call and he would coach me when I was attacking villages… yes I realize I am showing my nerd here), and it gives you something fun to talk about besides the routine daily stuff that can get old pretty fast in any long distance relationship!
RELATED | 9 Inspiring Long Distance Relationship Stories
6. Exploding Kittens
Exploding Kittens is a fun card game (playable with two people!). We discovered this at a hotel in London and it's been one of our favorite games ever since. However, it is NOT possible to play with the physical cards from a long distance.
Luckily, Exploding Kittens has developed an app so you can still play online! The app is $1.99 and you can add each other as friends and play together.
7. Jackbox Games
Jackbox Games has a collection of 30+ multiplayer games that are all built to be played online from your own device. I have played these at parties in person (where everyone is playing from their own phone), but also remotely over Zoom when everyone is in their own state/country.
Many Jackbox games are more fun in a larger group, making this the best online game on this list to incorporate your other family and friends (one of my top tips for maintaining a long distance relationship!). My favorite games are Drawful 2 and Quiplash. However there are also some two-person games. Here is a list of Jackbox Games by player count so you can choose the right game for you.
8. Bananagrams
Bananagrams is a favorite of mine. If you aren't familiar, it is a word game similar to scrabble, where you use tiles to make your own crossword.
Bananagrams is a great game for long distance couples because it is easy to play through Zoom or Facetime. You both need your own Bananagrams set, start with 21 tiles each, both pick up tiles at the same time, and play until one person wins!
There is also a rudimentary website to play Bananagrams online (desktop only), but honestly I think this game is easier and more fun with the physical version + video chatting!
9. Do You Know Me App
Do You Know Me is a free app that is available for download. Basically the app includes questions to get to know your partner better… or quiz how well you do know them. The app is pretty basic, so you will have to Facetime or Zoom and play from one person's phone.
10. Draw Something Classic
Draw Something Classic is another free app but this one is a bit higher tech. You can add your partner as a friend and play drawing challenges against each other. One person draws, and the other person guesses what the heck you drew!
RELATED | 27 Long Distance Date Ideas
11. Online Cards
Playing a simple game of cards is easier said than done in a long distance relationship. Dan and I LOVE to play cards, but it's almost impossible to do from a distance with two separate decks of cards.
Luckily, I've found a website called Deck of Cards that lets you play cards online as if you were sharing a deck! Just click on "multiplayer" and share your game link with your partner.
12. Online Truth or Dare
Truth or dare is a classic game. Of course it's a little more difficult for long distance couples because you are not physically together to play. However, there are a few ways around this.
This is a great website to play truth or dare online. Get on a Zoom call and have one person share their screen, then the website automatically gives you truths…or dares.
If you want to play a truth or dare game that is made specifically for couples, then this is a good option. One of you will need to purchase the cards, and then you can easily play via video chat.
13. Buzzfeed Quizzes
Who doesn't love a good old Buzzfeed quiz? Send each other quizzes to complete and see how your results compare.
Here is what we love to do to make this a little more game-like:
Get on a video call.
Person A chooses a Buzzfeed quiz but doesn't tell Person B the title of the quiz.
Person A asks Person B the questions, and fills out the quiz for them.
Then at the end of the quiz, Person B guesses what the quiz was for, and Person A reveals their result!
14. New York Times' 36 Questions to Fall in Love
The New York Times has published an article with 36 questions to ask you partner, that according to a study discussed in that article are proven to bring partners closer together. Well, when you are in a long distance relationship the number one thing you want is to be brought closer together!
The 36 questions have now been made into an interactive app, which you can go through with your partner together.
15. The Gottman App
The Gottman Institute is world renowned for their research, workshops, and publications about cultivating happy relationships. They have a free app with over 1,000 flashcards, which you can easily make into an online game with your partner.
If you want to take it a step further, then I also recommend John Gottman's Eight Dates book (which makes for a good LDR gift idea). This book has interactive activities and prompts to strengthen your love, all of which long distance couples could easily do virtually over a video call.
RELATED | 37 Amazing Long Distance Relationship Gift Ideas
16. Snapchat Games
Do you both have Snapchat accounts? I haven't used Snapchat in ages but I know some people still love it.
You can easily play games through the Snapchat filters. The filters are constantly changing, but a couple years ago Snapchat came out with interactive "game" filters where you play a round, send it to your partner, and they play the next round.
17. Facebook Games
Facebook is pretty advanced on the game front. Don't sleep on Facebook games! Head to this area of Facebook and you will find literally hundreds of games available to play. As long as you both have Facebook accounts, you will be able to play together.
RELATED | How to Make an International Long Distance Relationship Work
18. Sentence Story
This game is SO LAME but I have to share it with you all. Maybe you remember this game from long car rides as a kid. Dan and I used to play it when we were traveling in Europe on long, hot days when we'd run out of energy to hold an actual conversation, haha.
Basically, you have to create a story but each person only gets to say one word:
Person A: There
Person B: will
Person A: be
Person B: monsters
And so on! As you can see, any expectations you have of how the story will go will be quickly destroyed by your partner 😉 This game is easy to play online over video chat, audio call, or even texting!
19. Club Penguin
Club Penguin is mid 2000s classic. It is an online multiplayer game where you create a penguin avatar. You can interact with your partner via Club Penguin, chat, and play games online.
20. Multiplayer Games on Pogo
Pogo is a platform that hosts many different online games. It is basically the mecca for online games for long distance couples! Once you make an account on Pogo, you'll have access to classic games such as Scrabble, Monopoly, Cribbage, Battleship, Chess, Bingo, Yahtzee, Risk, and more.
Final Thoughts on Long Distance Relationship Games
There are of course many other long distance relationship games out there than these 20. You just might have to be creative in how to translate typical in-person games to an online, long distance format.
While you are here, check out my other articles on surviving a long distance relationship. I have a mix of practical tips, fun distractions, and deeper reflections to share.
Check out my other long distance relationship posts:
Any comments or questions to share? A perfect online game for long distance couples that I missed? Feel free to email me your suggestion, or comment below!