51 Best Long Distance Relationship Quotes to Motivate You
Long distance relationships aren't easy, and they often feel isolating. I've found that reading long distance relationship quotes has the power to pull me out of my loneliness.
Quotes are powerful – suddenly, you realize your experience is shared.
I've spent my share of time browsing Pinterest, so I know some of the long distance quotes out there are pretty depressing. In my opinion, you don't need LDR quotes to rub in the fact your love is far away (4,000 miles away, on a separate continent for us). You need them for motivation, and remembering why you're doing this crazy thing.
That's why I'm sharing the best long distance relationship quotes below – focused on motivating quotes that will make you feel solidarity, inspiration, determination, and above all: love.
Looking for more long distance relationship motivation?
51 Best Long Distance Relationship Quotes
1. "You may be out of my sight, but you're all I see."
-Ahmad Shawqi
2. "Yes, I believe in long distance relationships. There are seven billion people in the world, you really think your soul mate lives down the street?"
-Unknown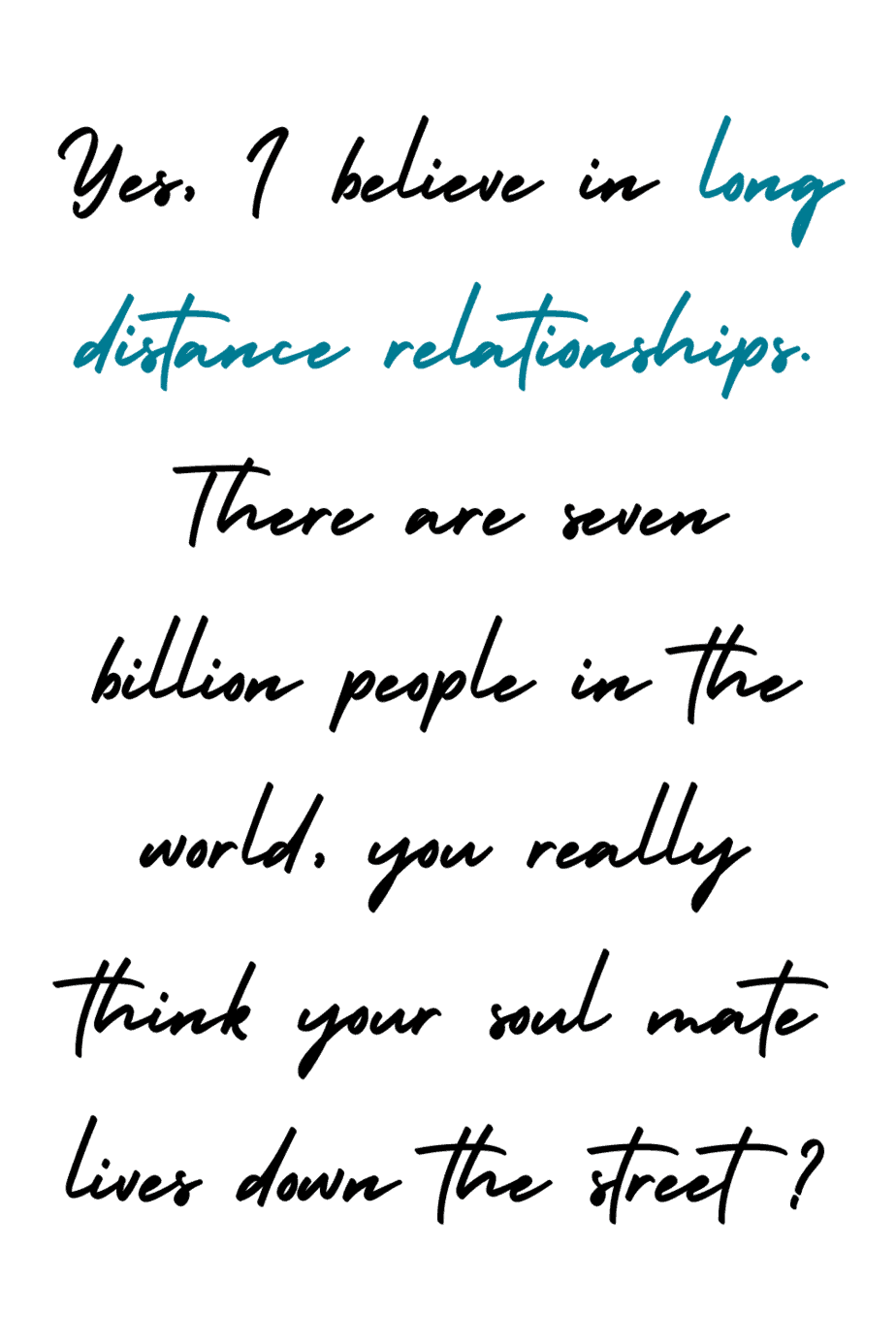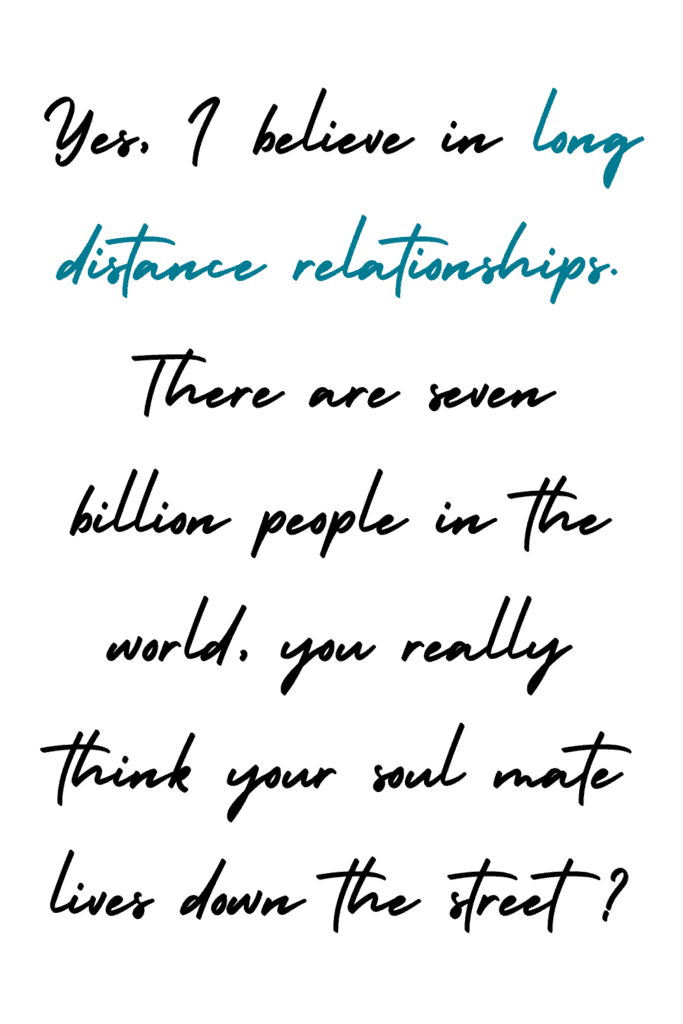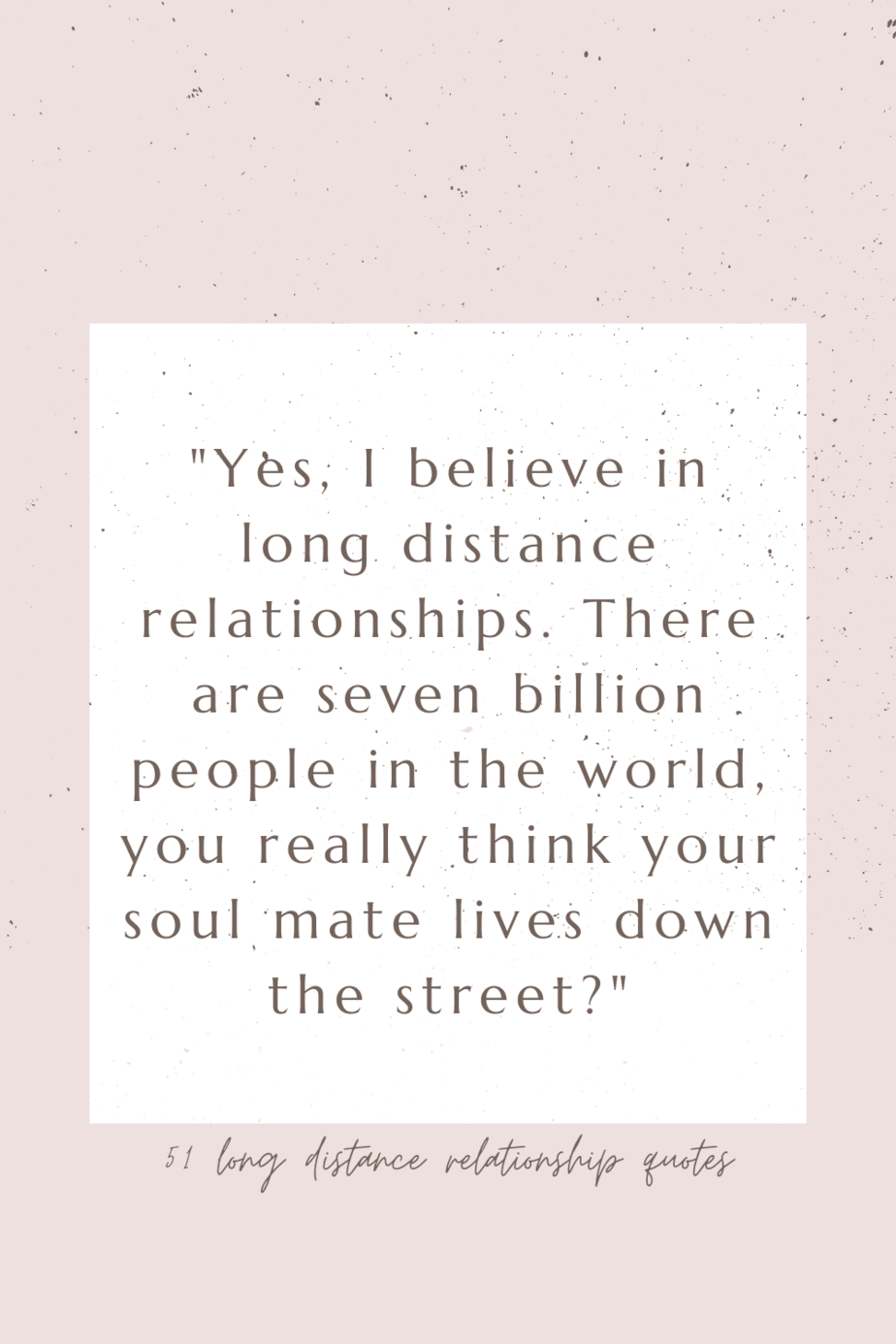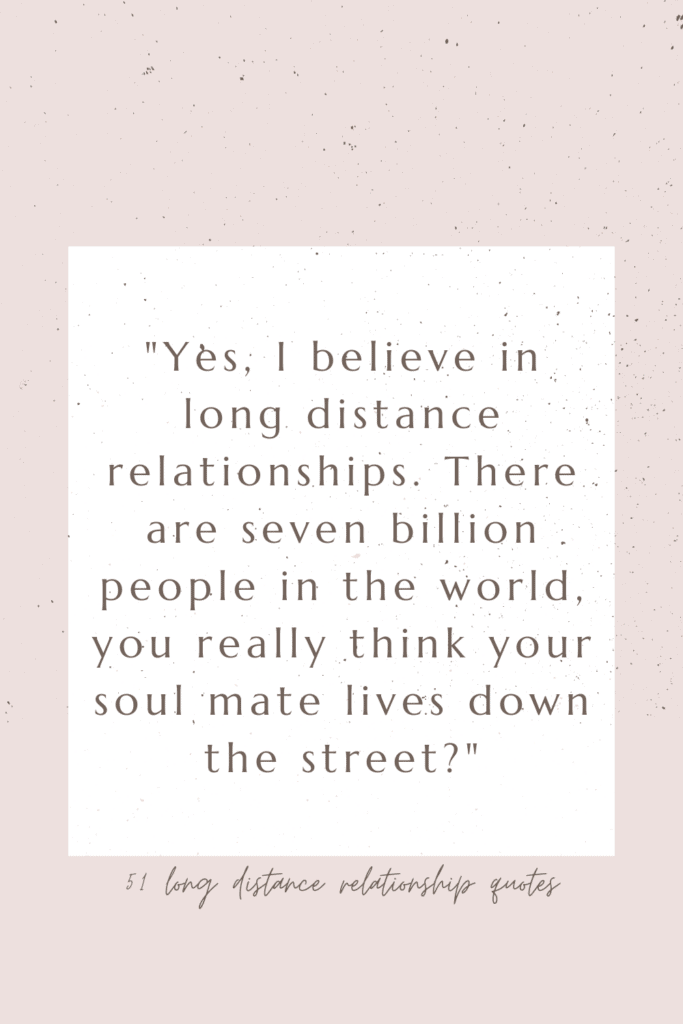 3. "I exist in two places. Here, and where you are."
-Margaret Atwood
4. "In many ways, the art of love is largely the art of persistence."
-Albert Ellis
5. "Time is the longest distance between two places."
-Tennessee Williams
6. "Love knows no boundaries and no distance; miles and obstacles mean absolutely nothing in the face of love."
-Unknown
7. "Let there be spaces in your togetherness, and let the winds of the heavens dance between you."
-Kahlil Gibran
8. "Distance is just a test to see how far love will travel."
-Unknown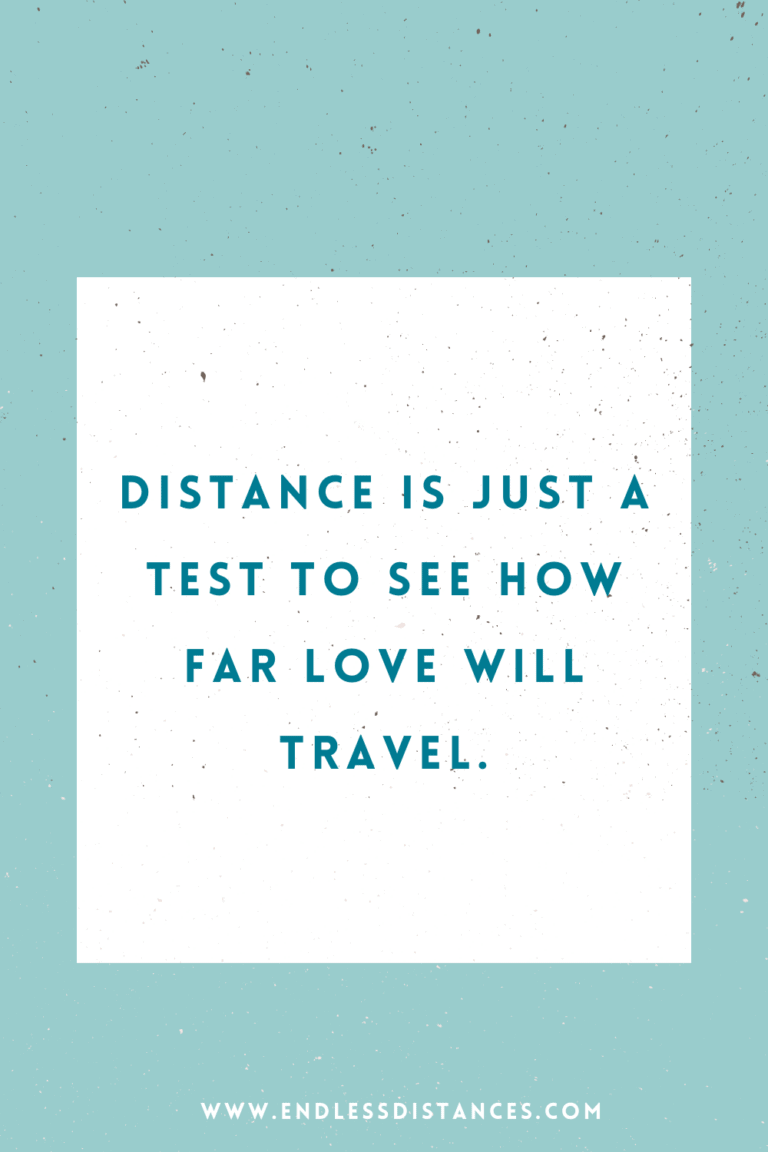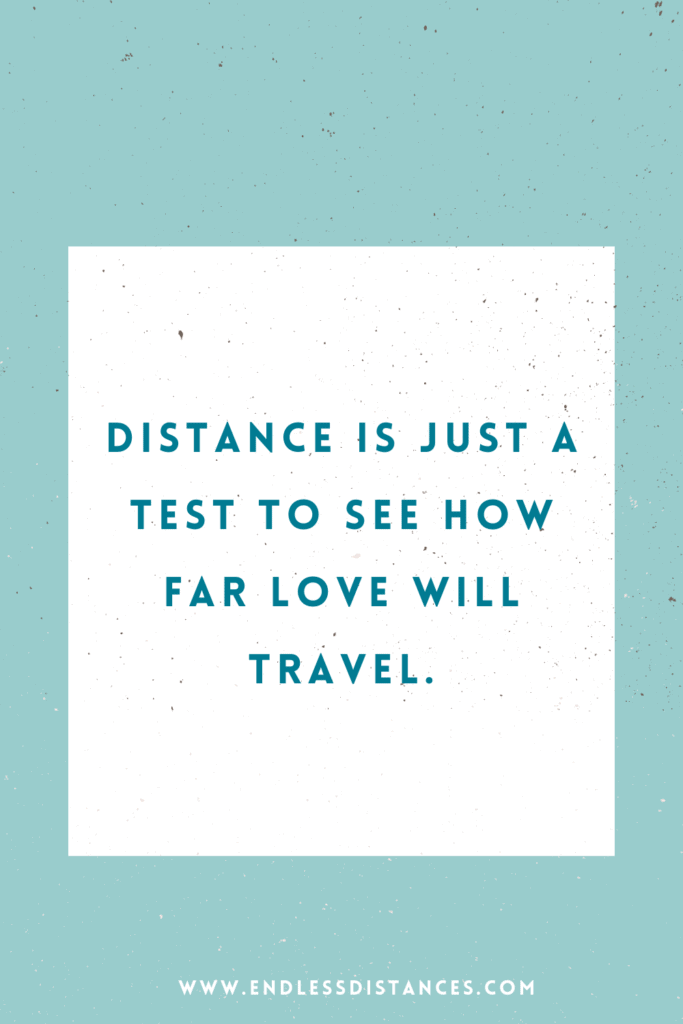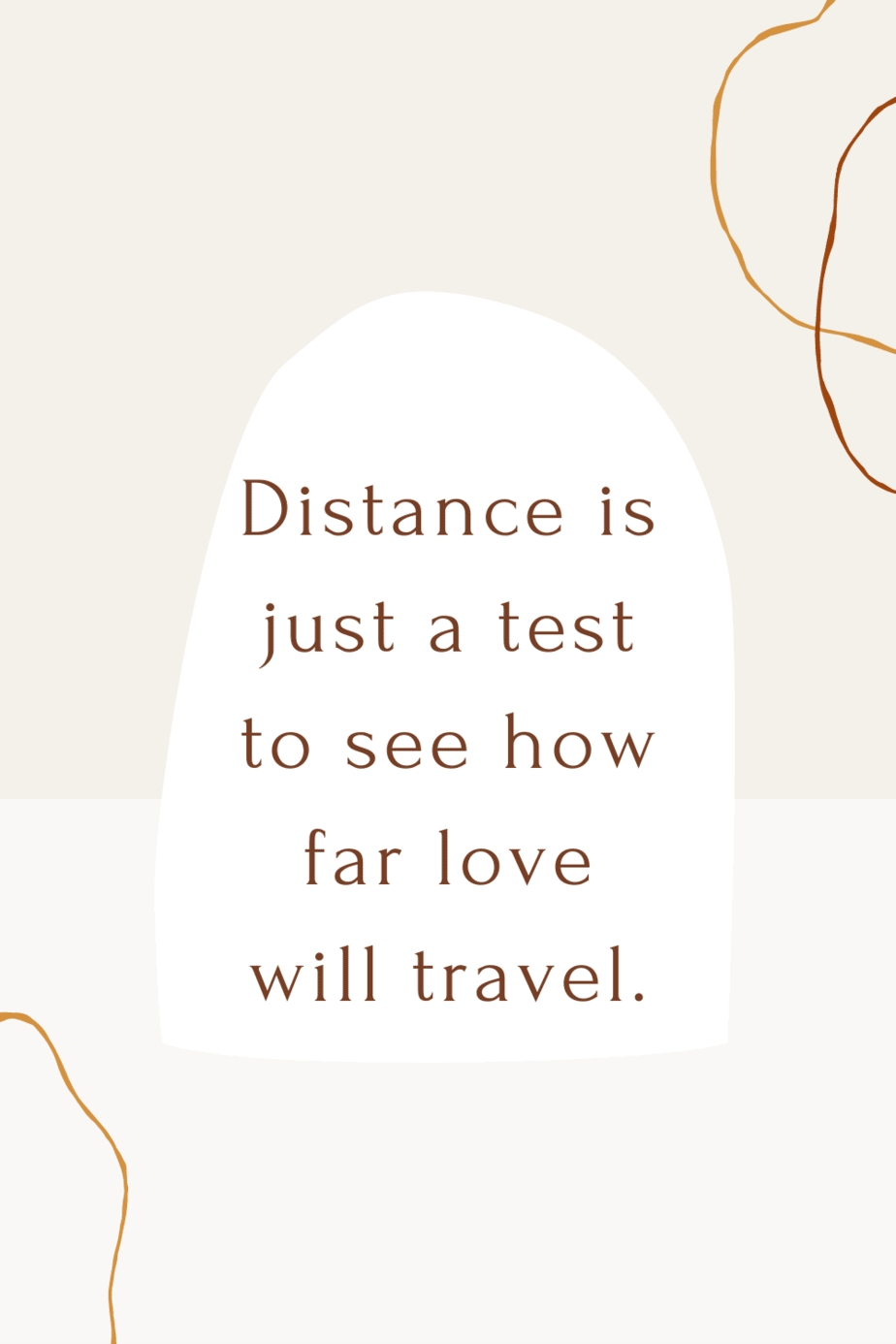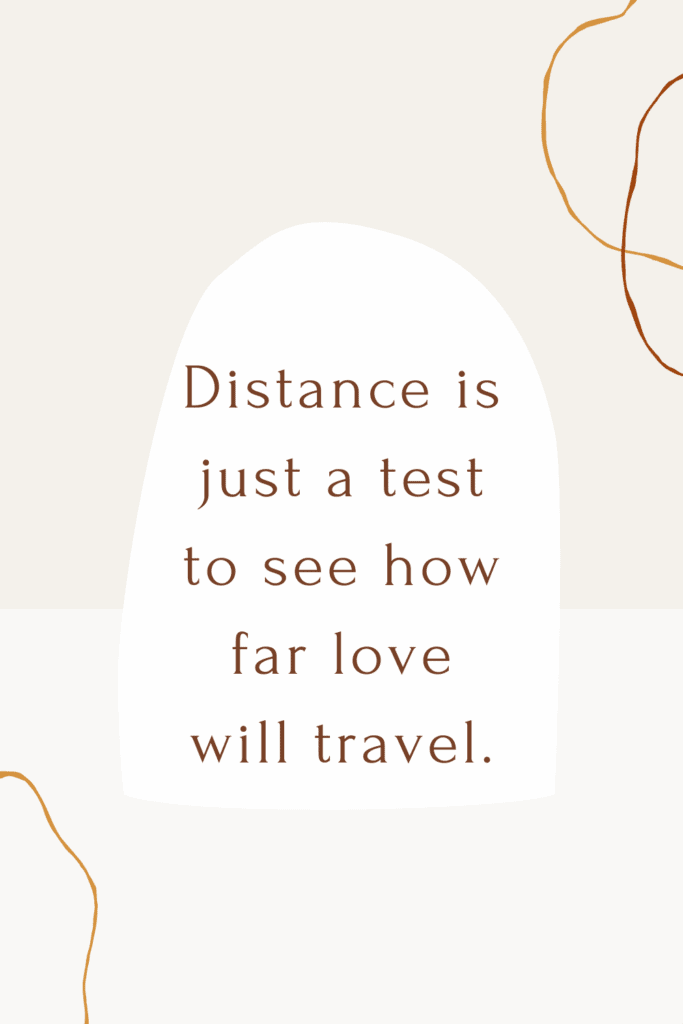 9. "Ever has it been that love knows not its own depth until the hour of separation."
-Kahlil Gibran
10. "Will it be easy? Nope. Will it be worth it? Absolutely."
-Unknown
11. "If we survive this distance, our love can be endless."
-Michael T. Coe
12. "Distance means so little when someone means so much."
-Unknown
13. "Don't wait to be together. You already are."
-Unknown
14. "In true love, the smallest distance is too great, and the greatest distance can be bridged."
-Hans Nouwens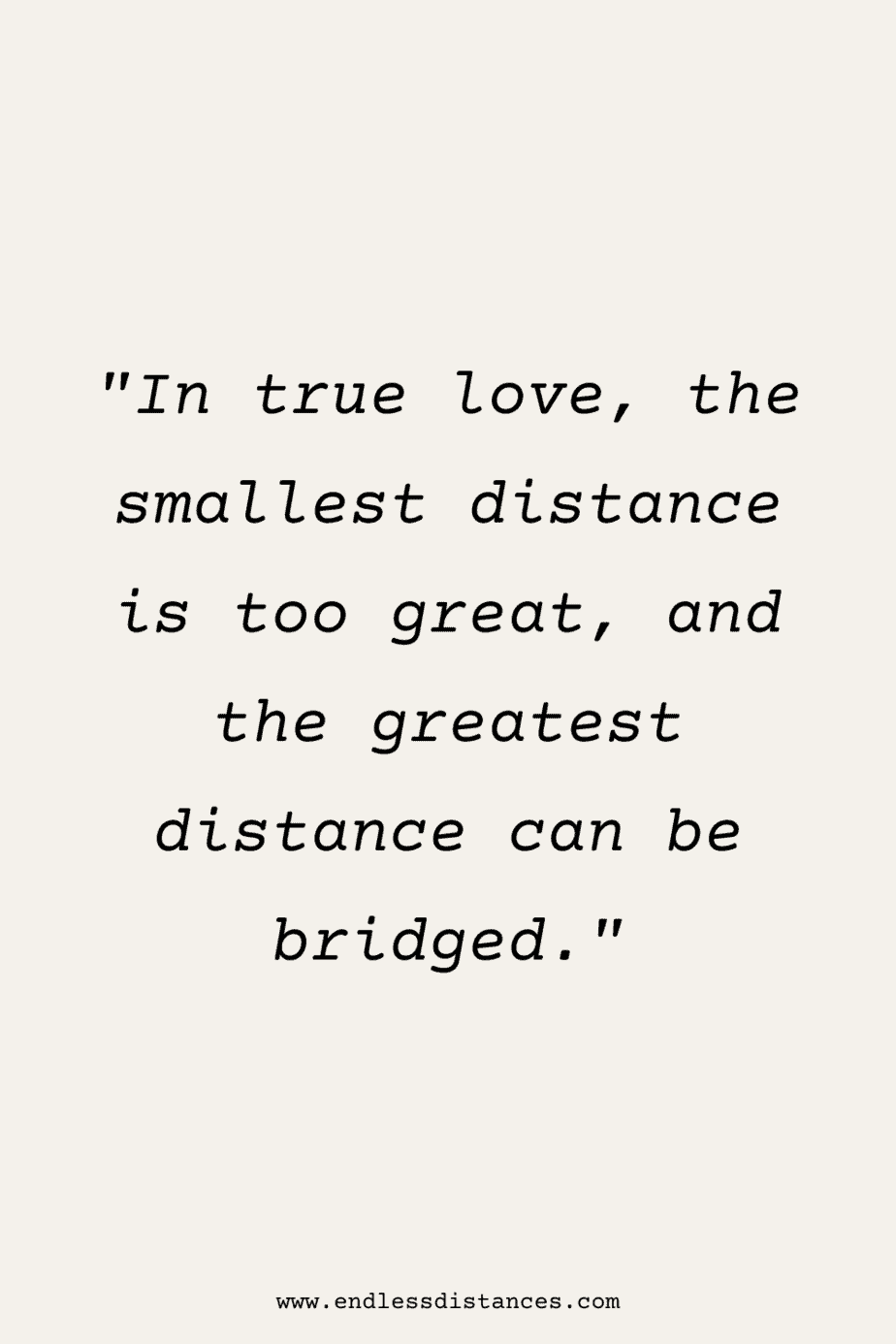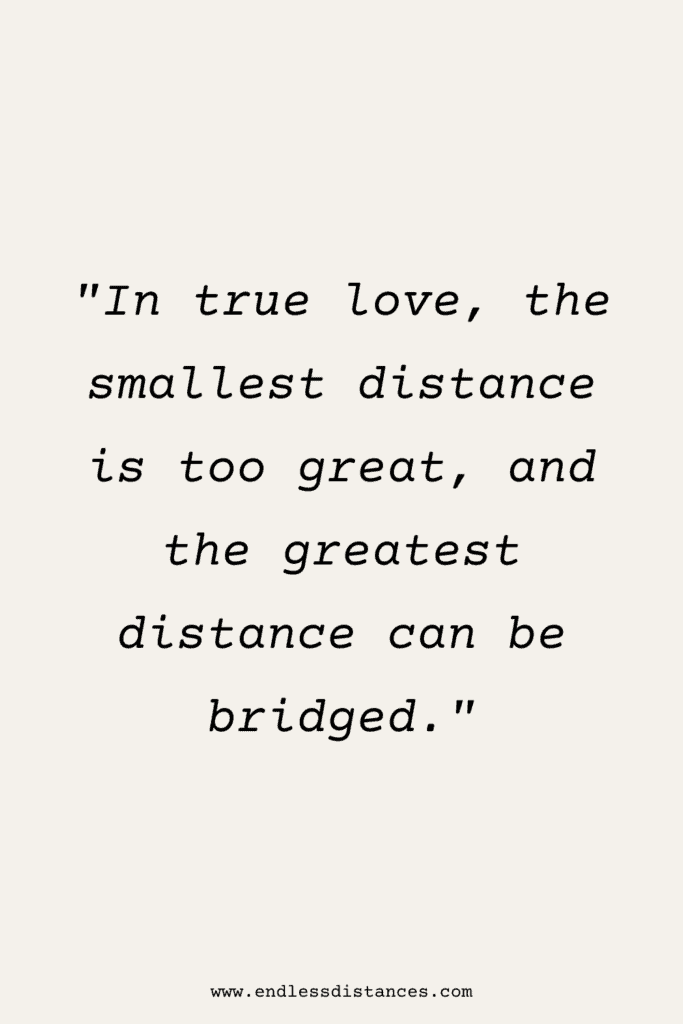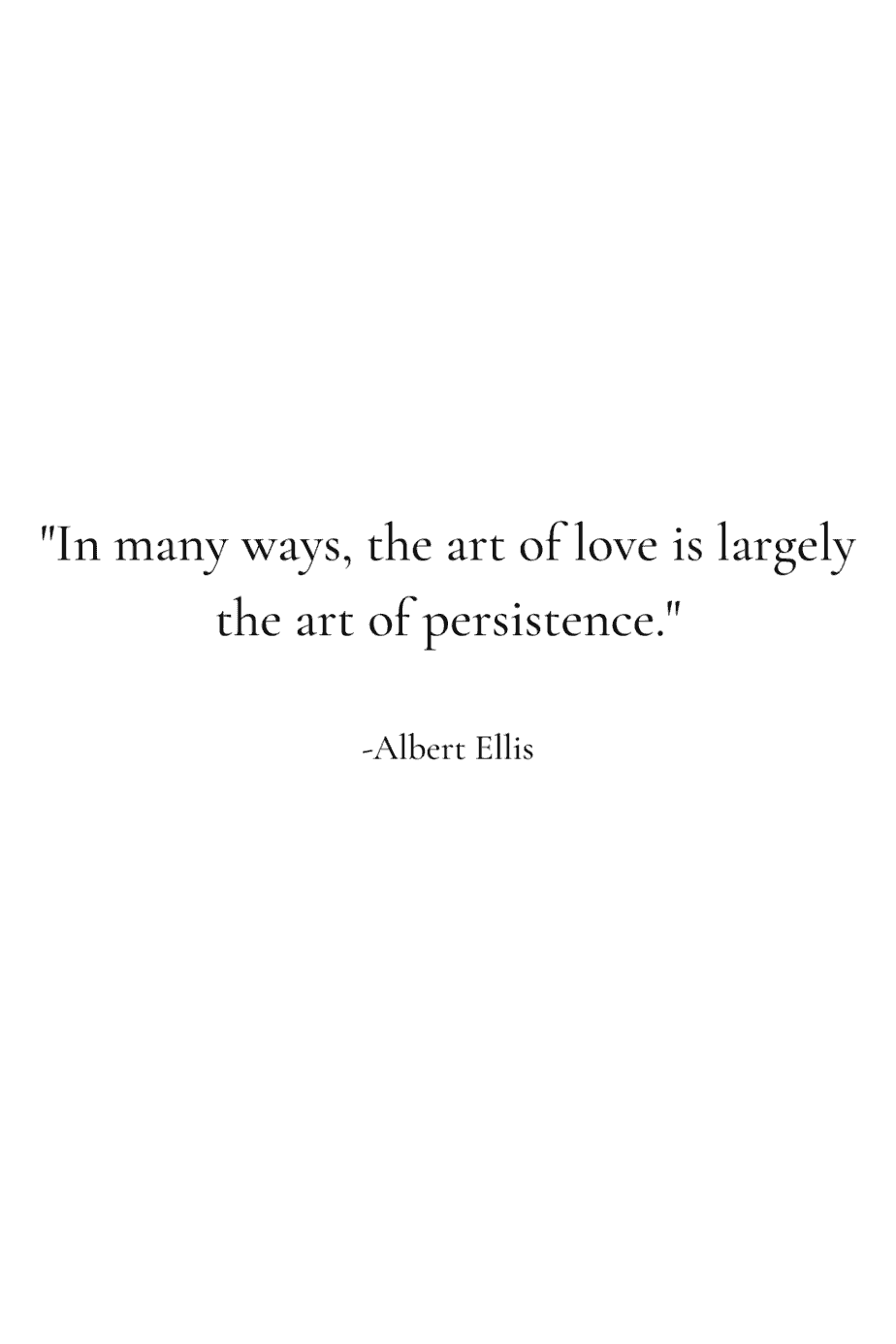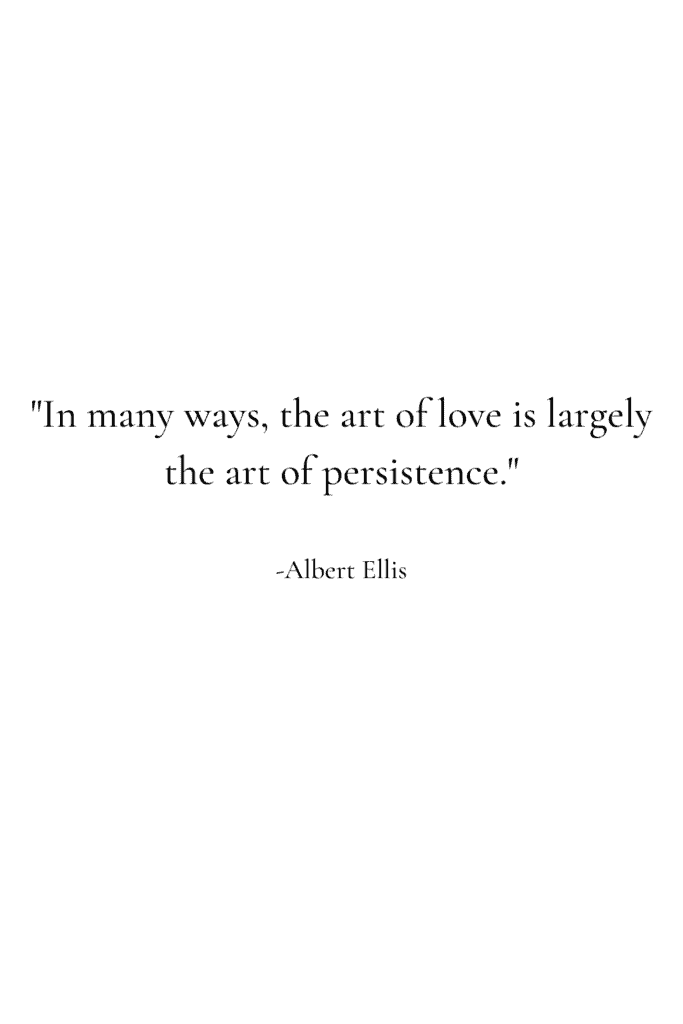 15. "Years from now, our past will be a story – a story of long days and lonely nights, hard work and lack of sleep. We'll live each day having intimately known the pain of being apart. We'll appreciate and embrace our time together, knowing how lucky we are to have made it through, and we'll find solace in the promise of a future together."
-Unknown
16. "Two people don't have to be together right now, in a month, or in a year. If those two people are meant to be, then they will be together somehow at sometime in life."
-Unknown
17. "Absence is to love what wind is to fire; it extinguishes the small, it inflames the great."
-Roger de Bussy-Rabutin
18. "Love will travel as far as you let it. It has no limits."
-Dee King
19. "The pain of parting is nothing to the joy of meeting again."
-Charles Dickens
20. "All of the best love stories have one thing in common: you have to go against the odds to get there."
-Unknown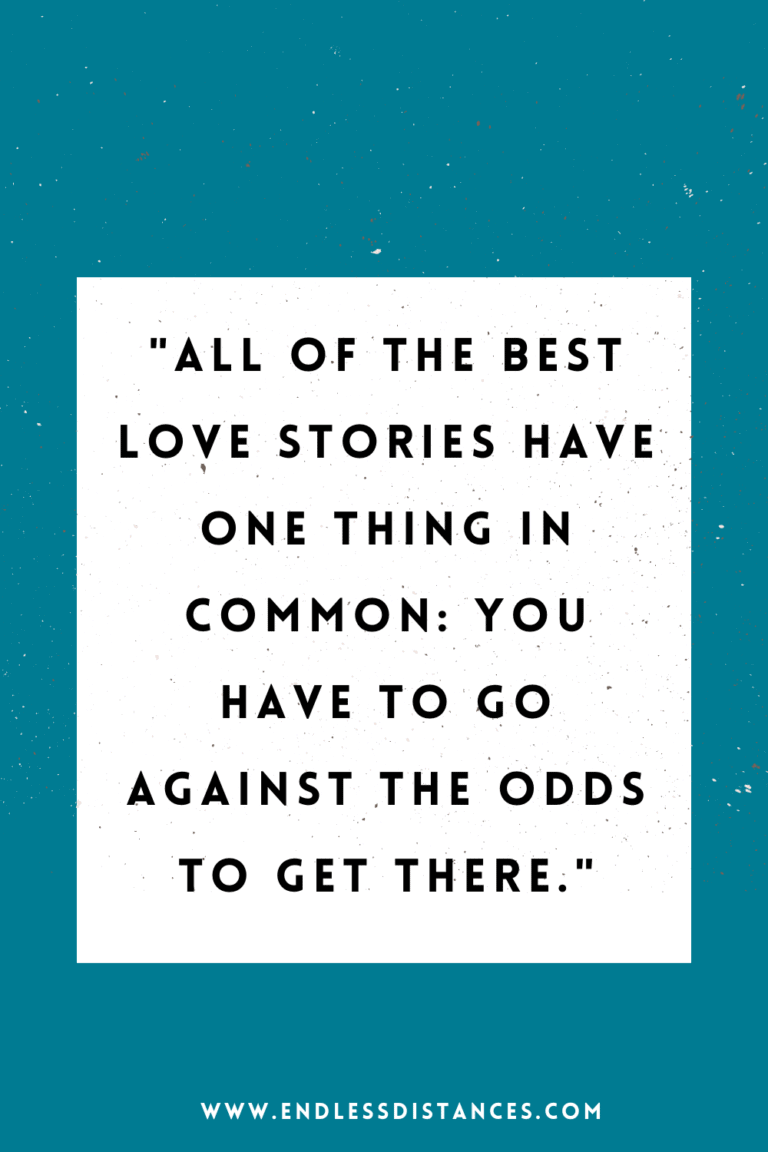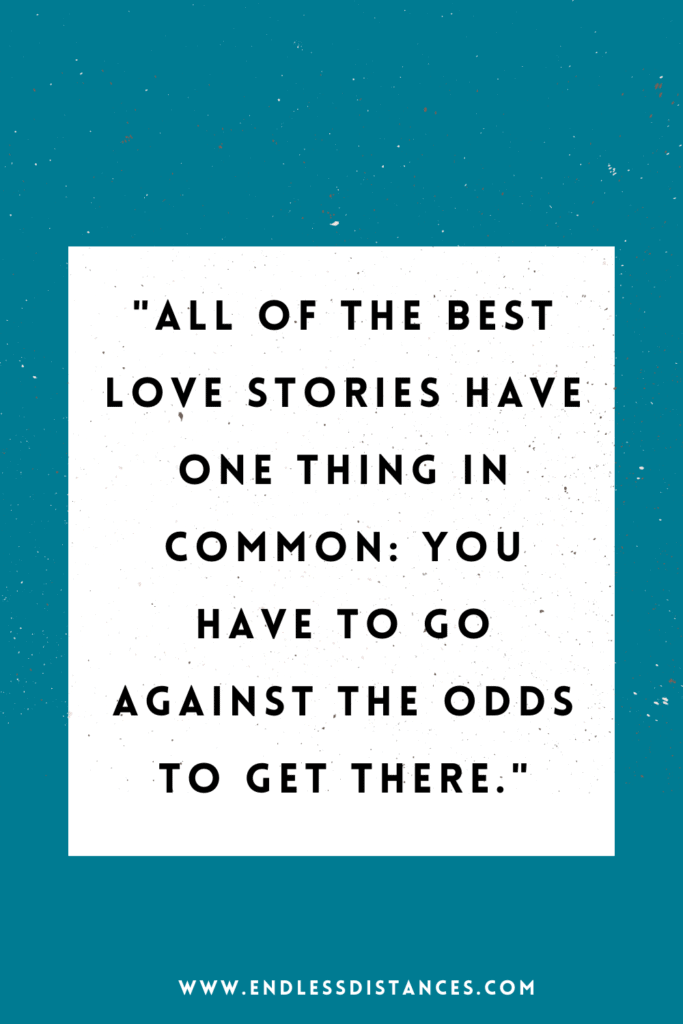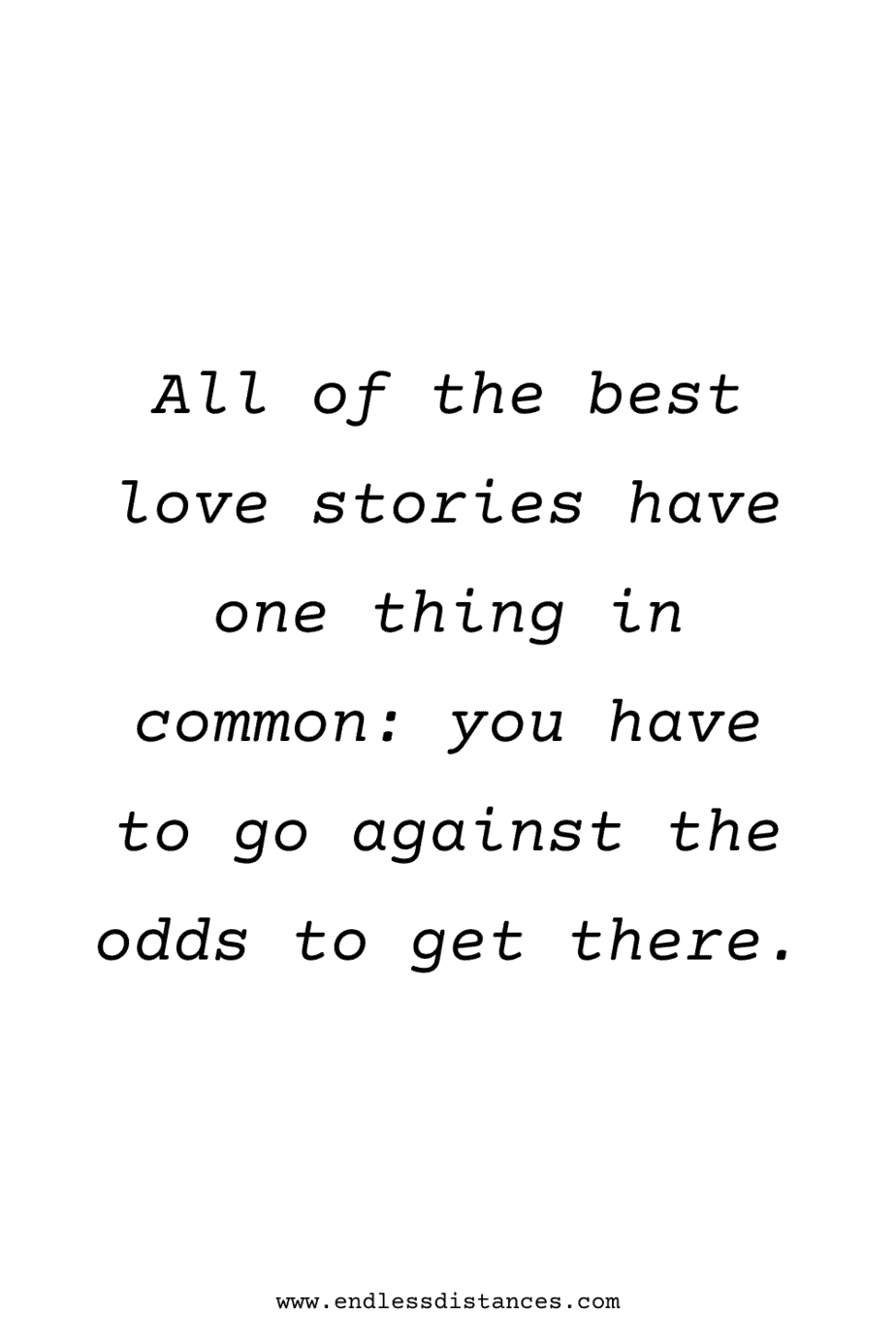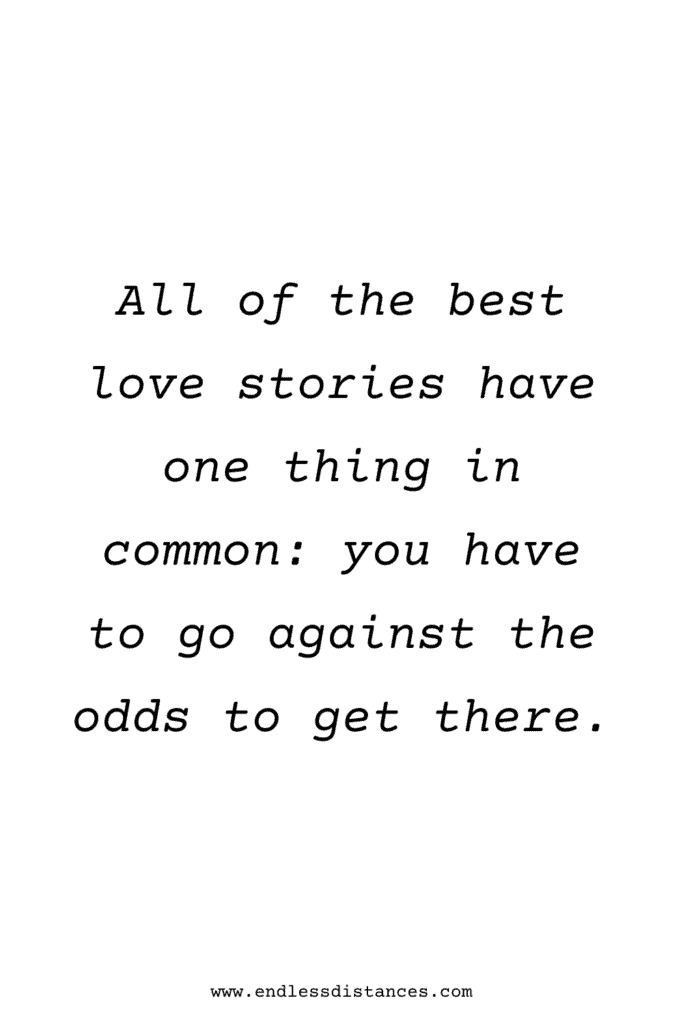 21. "The simple lack of her is more to me than others' presence."
-Edward Thomas
22. "I like the way you make me feel, even when you're nowhere near."
-Unknown
23. "Though we may be miles apart, we're always under the same sky."
-Unknown
24. "If distance were measured in terms of the heart we'd never be more than a minute apart."
-Unknown
25. "You have to go wholeheartedly into everything in order to achieve anything worth having."
-Frank Lloyd Wright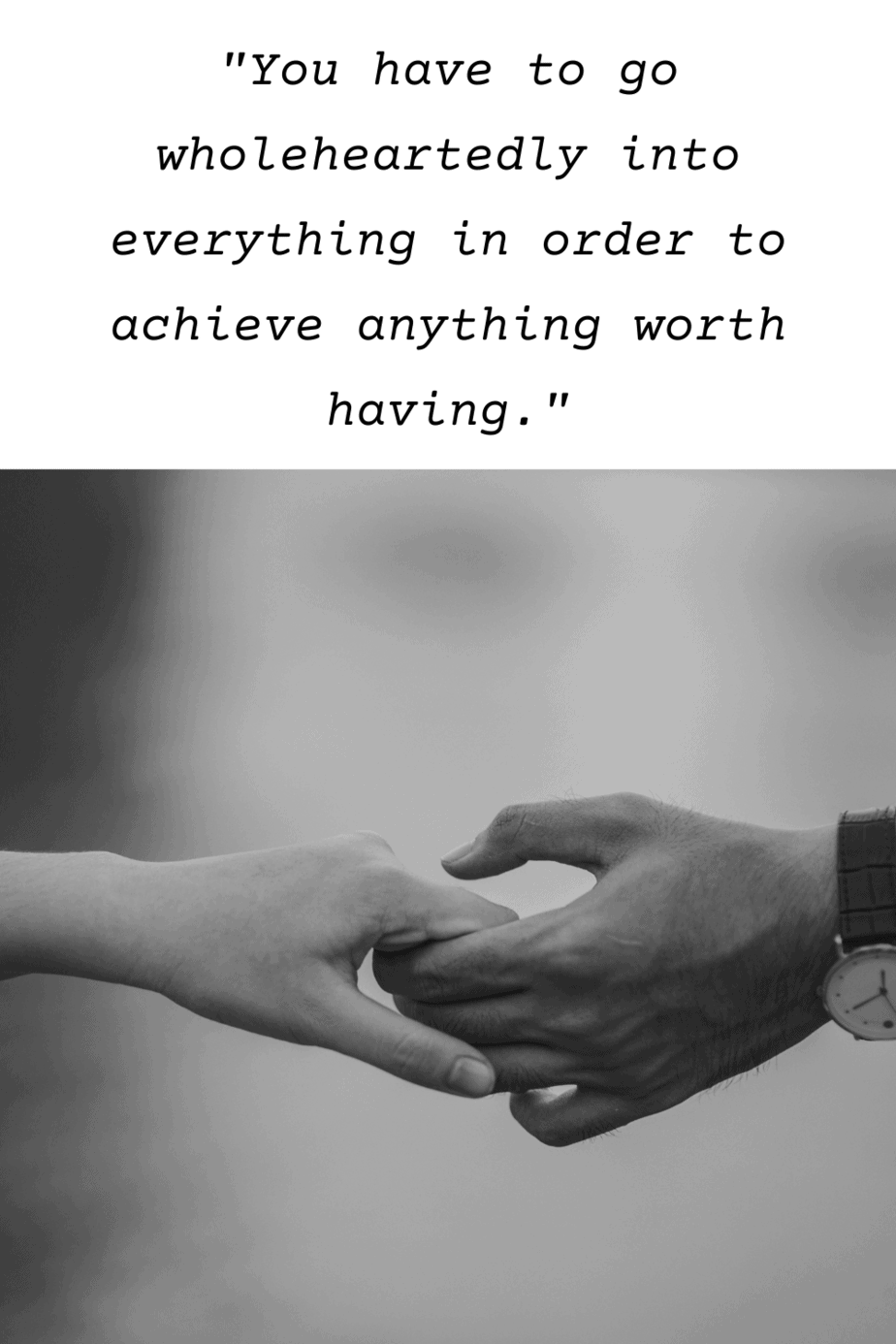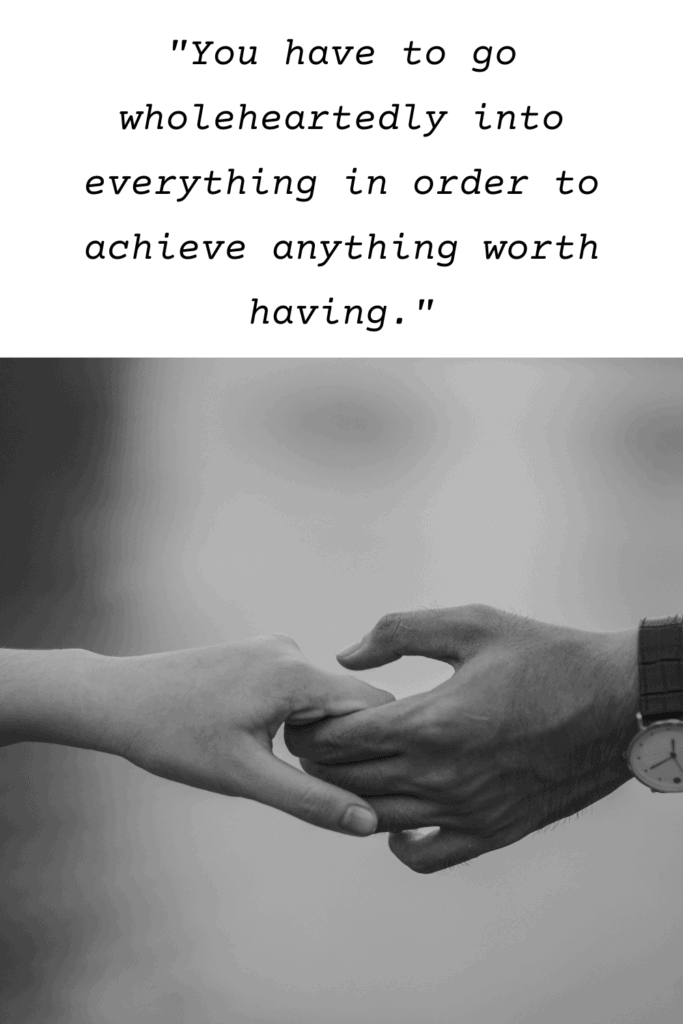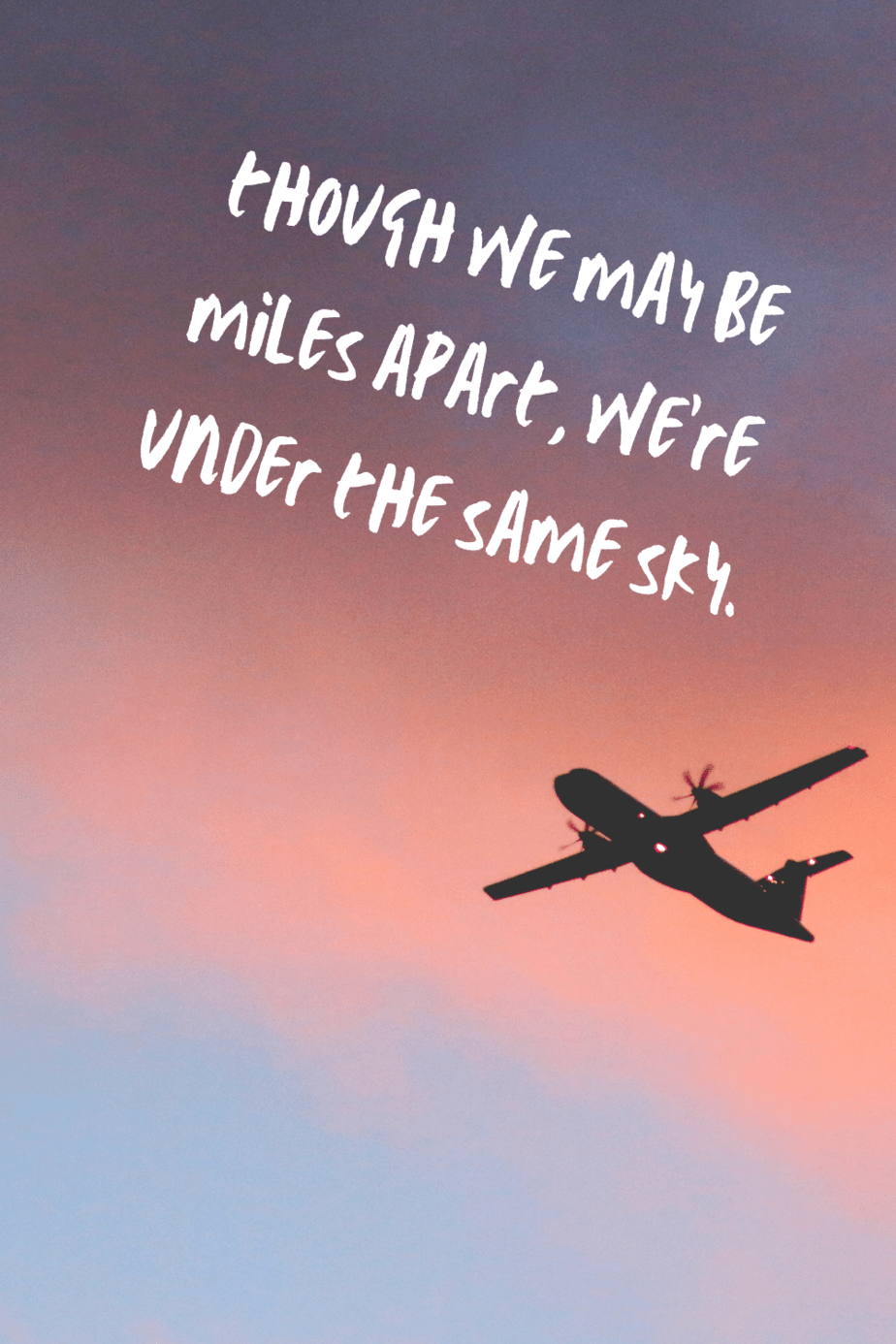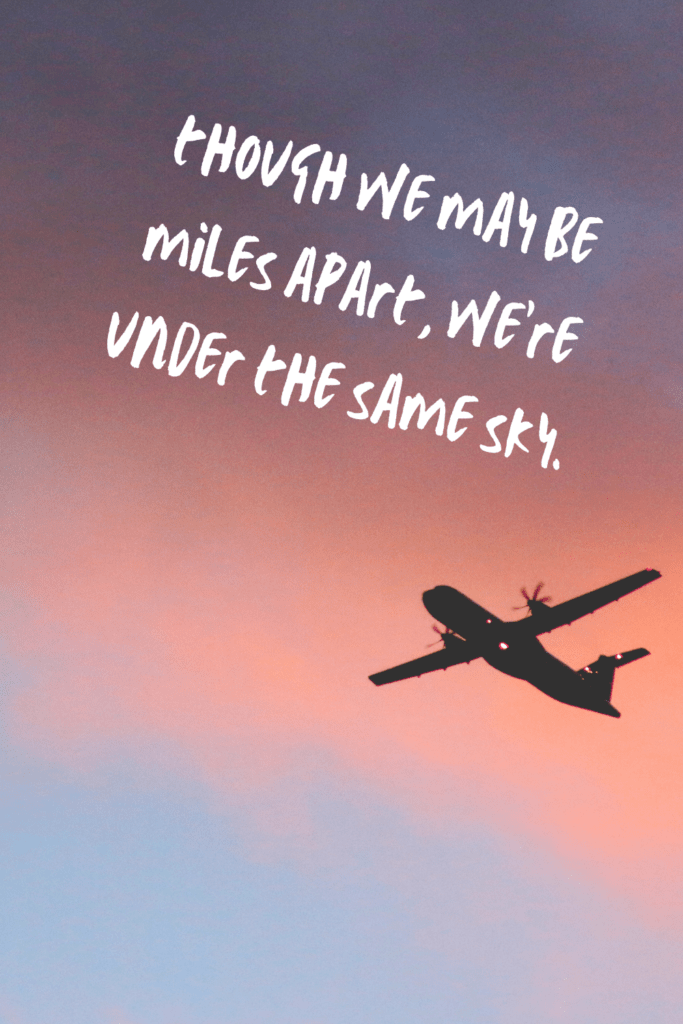 26. "Distance gives us a reason to love harder."
-Unknown
27. "Where you used to be, there is a hole in the world, which I find myself constantly walking around in the daytime, and falling in at night. I miss you like hell."
-Edna St. Vincent Millay
28. "I can't wait for the day when I don't have to go online to be with you."
-Unknown
29. "I believe in the immeasurable power of love; that true love can endure any circumstance and reach across any distance."
-Steve Maraboli
30. "Missing someone gets easier everyday because even though you are one day further from the last time you saw them, you are one day closer to the next time you will."
-Unknown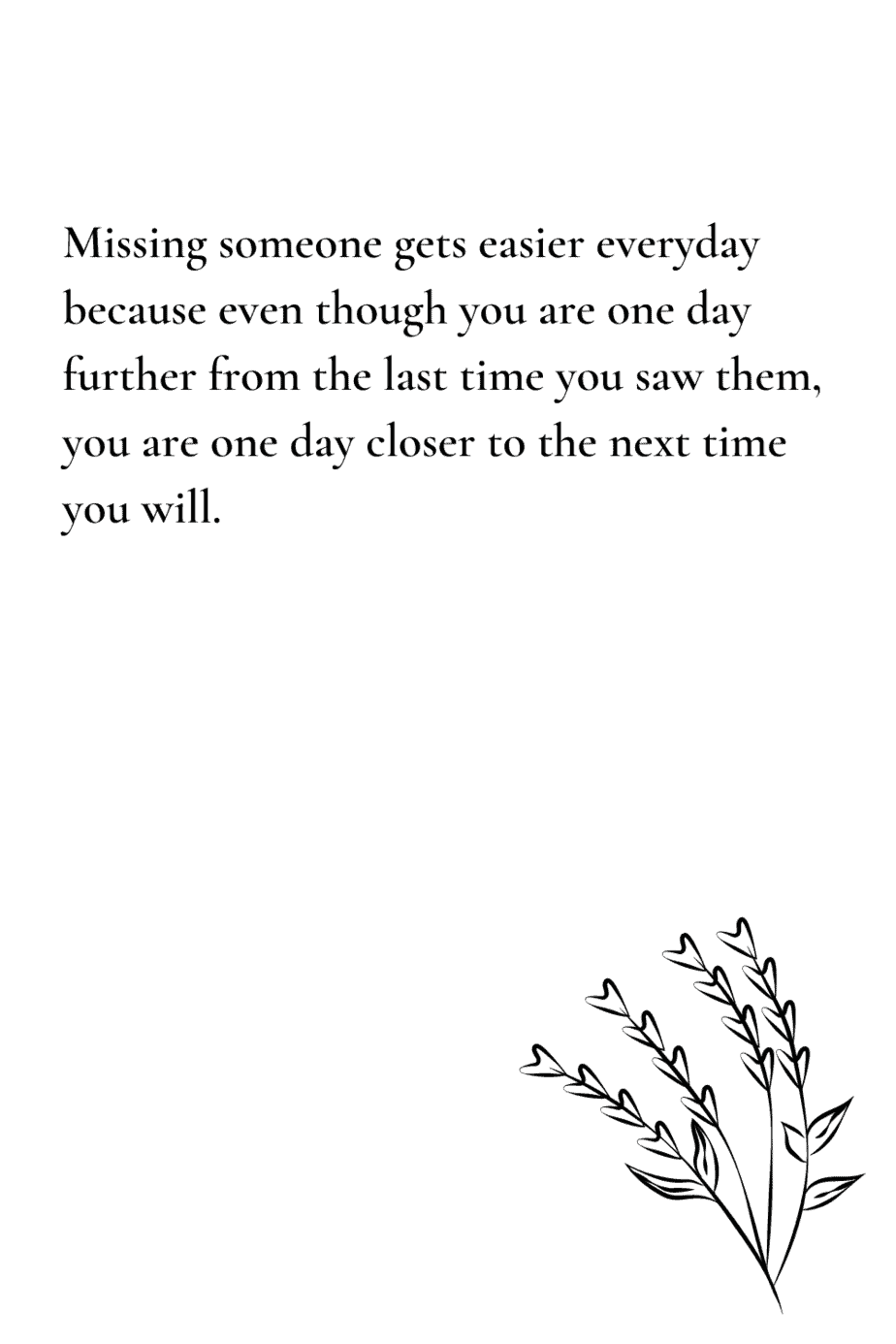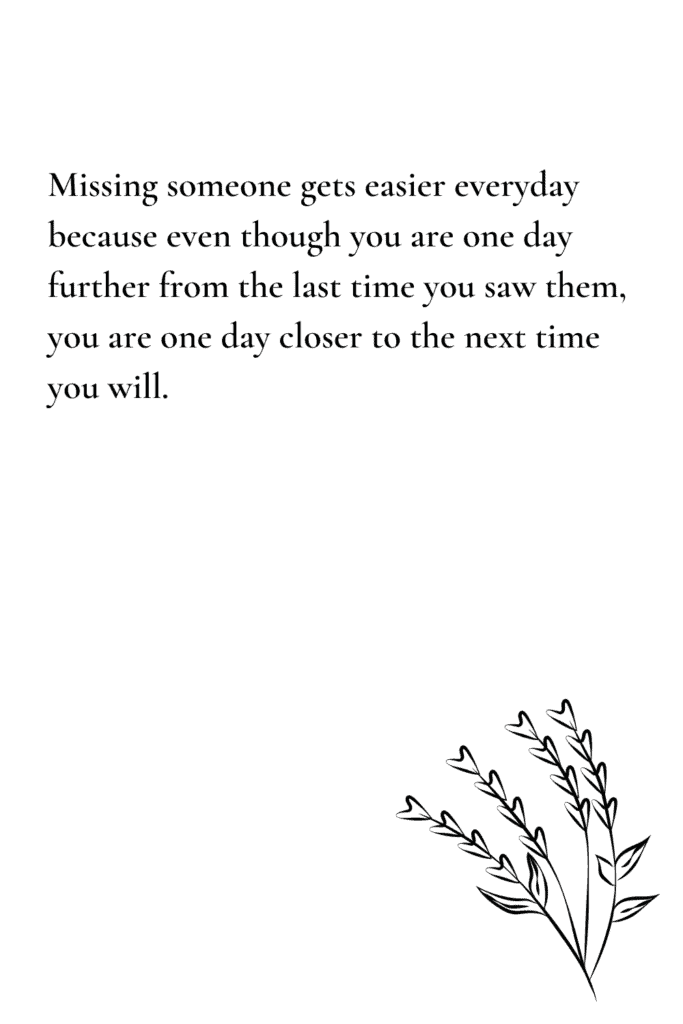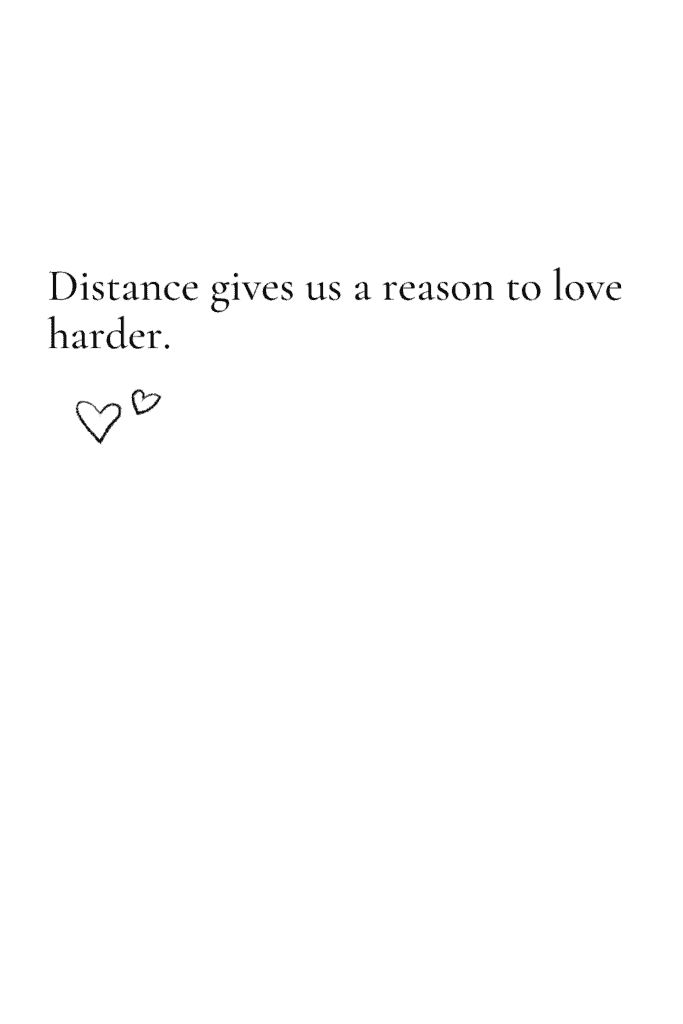 31. "I don't cry because we've been separated by distance, and for a matter of years. Why? Because for as long as we share the same sky and breathe the same air, we're still together."
-Donna Lynn Hope
32. "If love cannot stand the test of time, then it has failed the test of love."
-Bernard Byer
33. "My heart is your home, wherever in the world you are – you will always have a place to stay."
-K.A. Hill
34. "I never got to tell him again that he really was wrong, that miles didn't matter, not if you loved someone. That borders and oceans weren't obstacles, not for the mind. I wished I'd been able to tell him these things, because saying them out loud to someone real, instead of a mirror or a picture postcard, would have made them all the more convincing."
-Emylia Hall
35. "Ocean separates lands, not souls."
-Munia Khan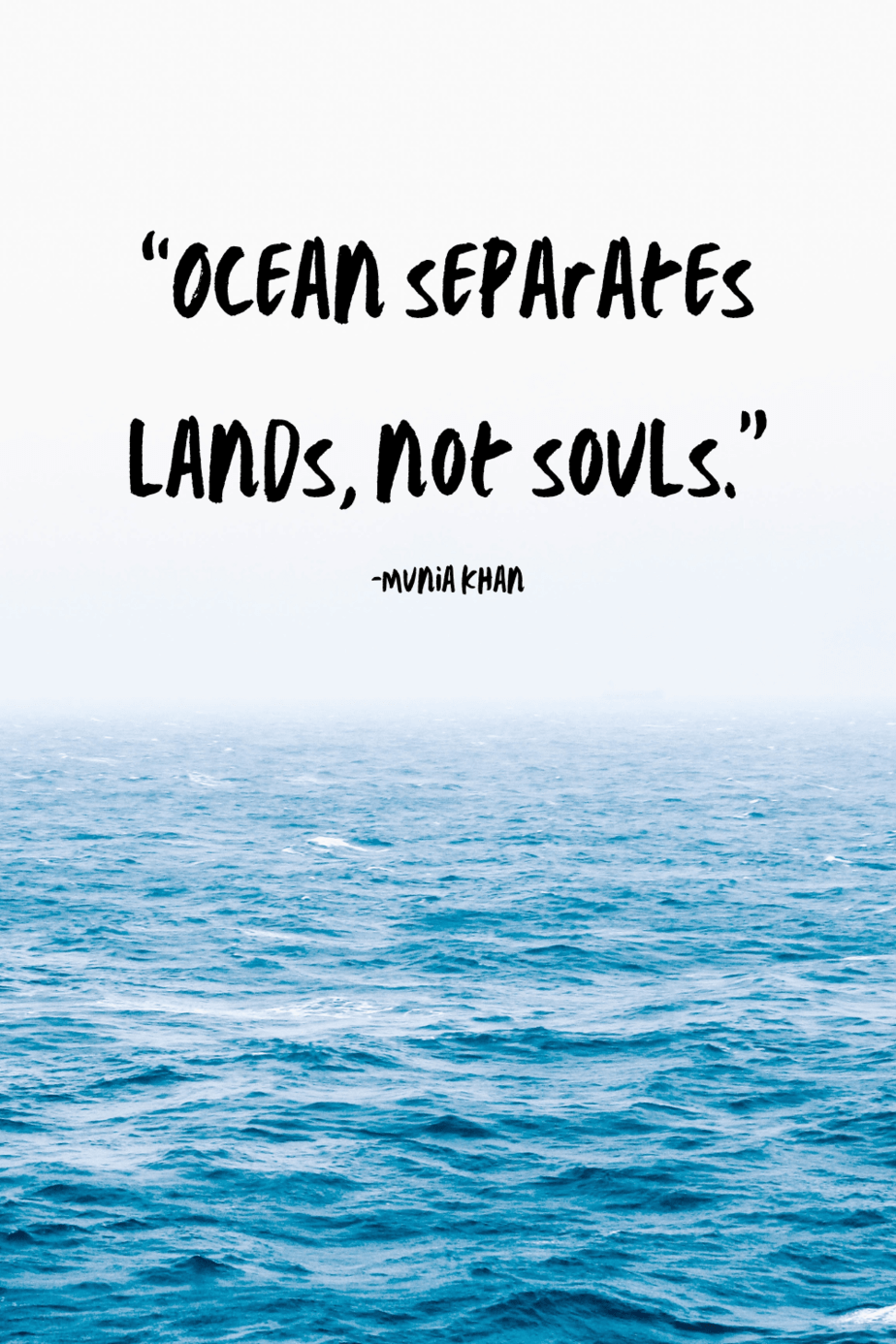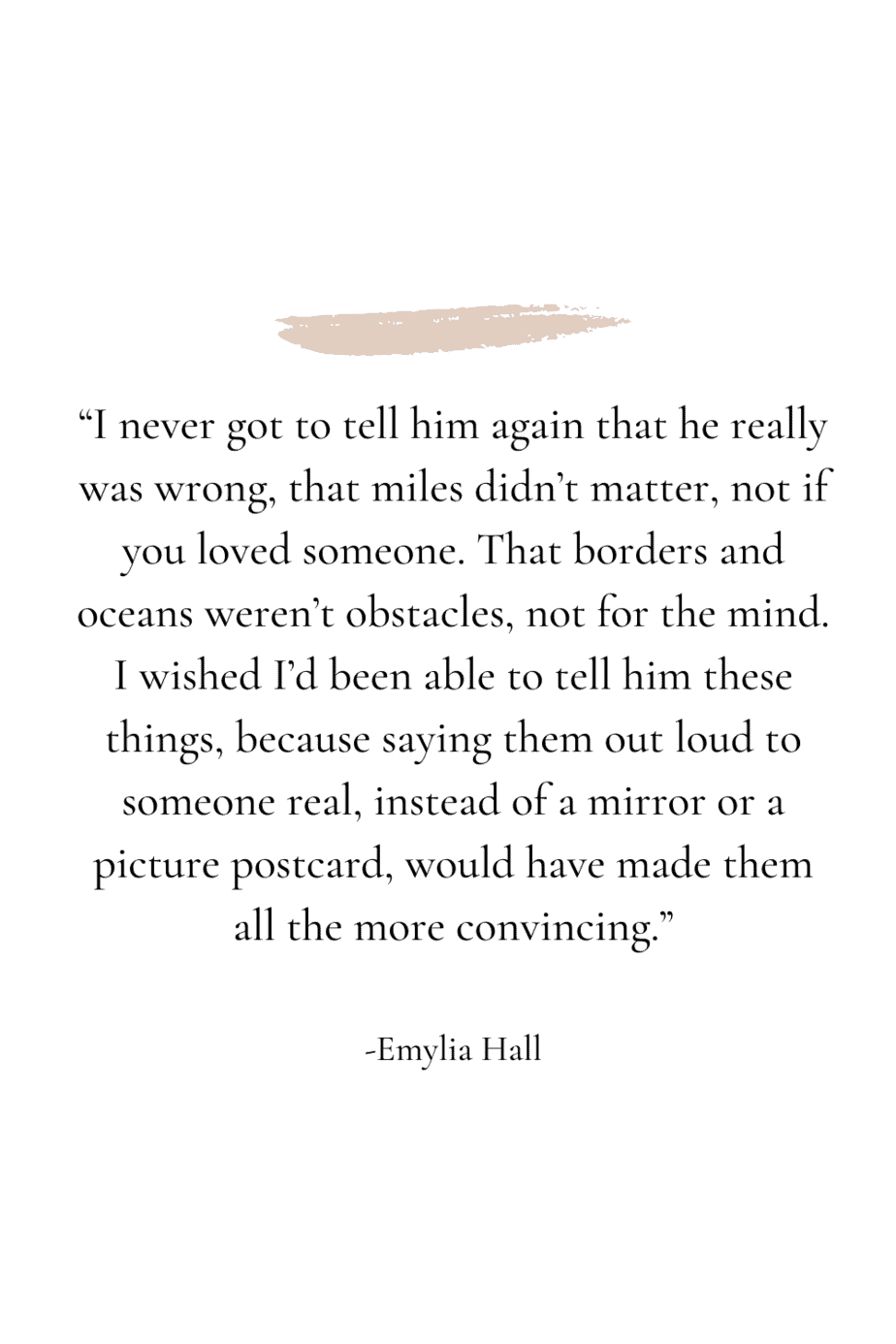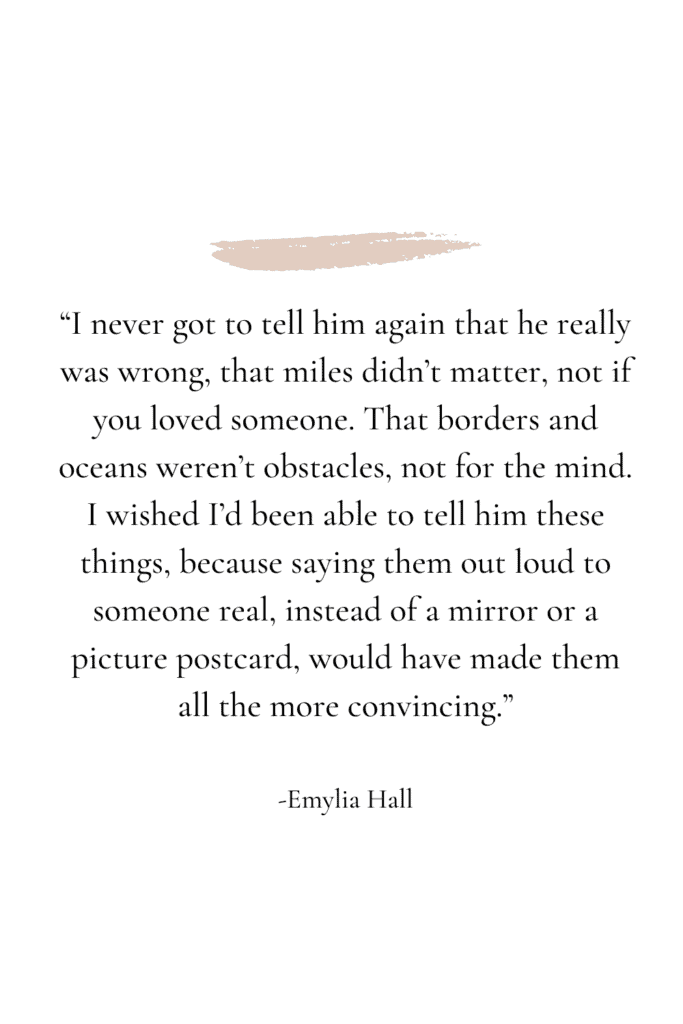 36. "Thank God for men who manage to hold from afar, wipe tears away with tender words and dish out the life force that is hope. She has never felt so alone but out there, across an ocean, and in a foreign land, there is a man who loves her and would lay down his life just so she could feel the light once again."
-Donna Lynn Hope
37. "Not seeing you every day is hard, but not having you in my life would be worse."
-Unknown
38. "One day the plane ticket will be one way."
-Unknown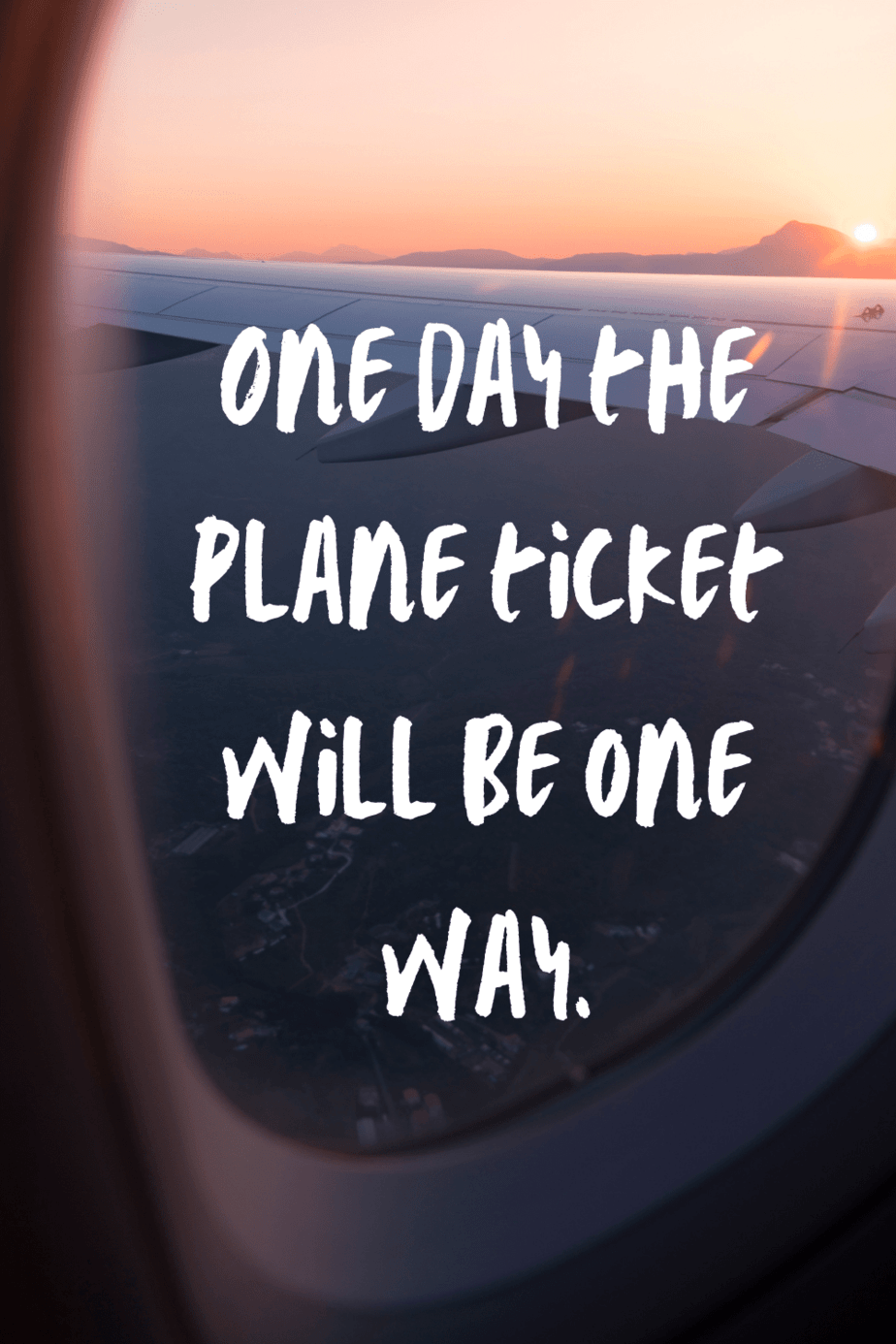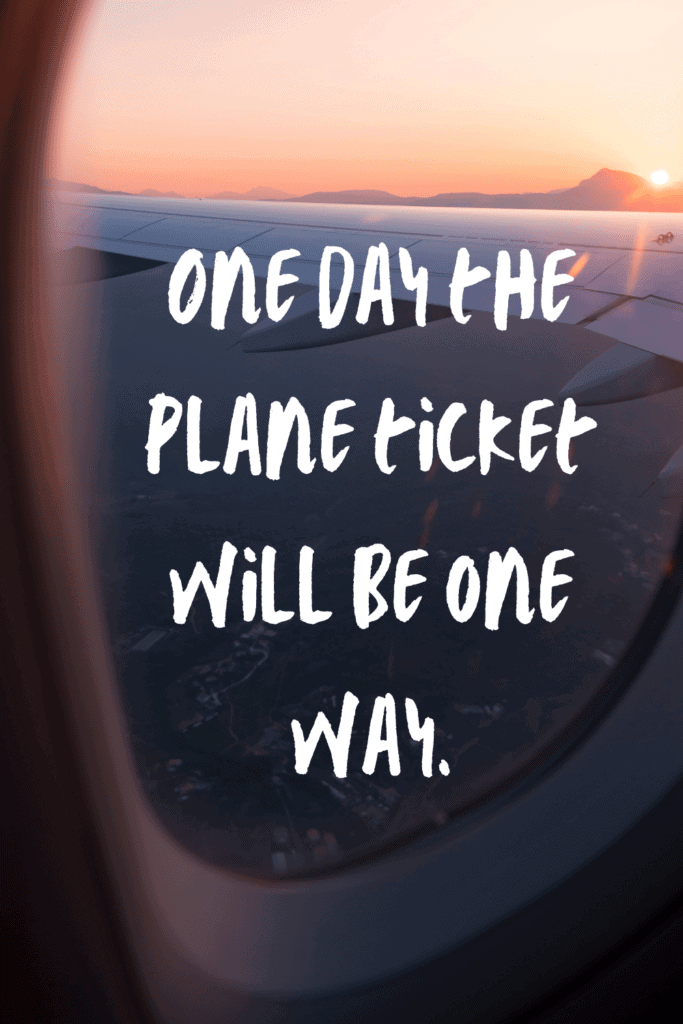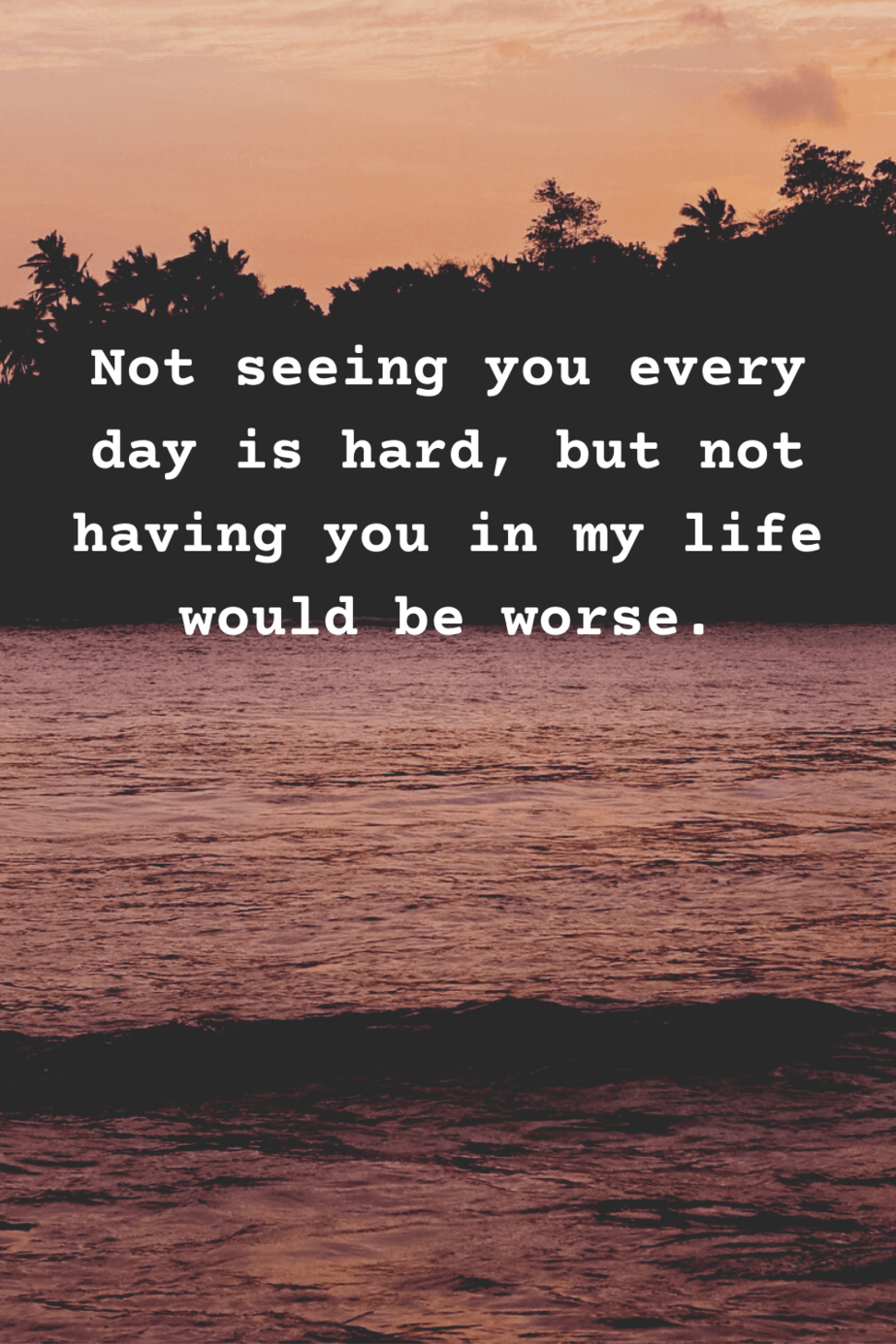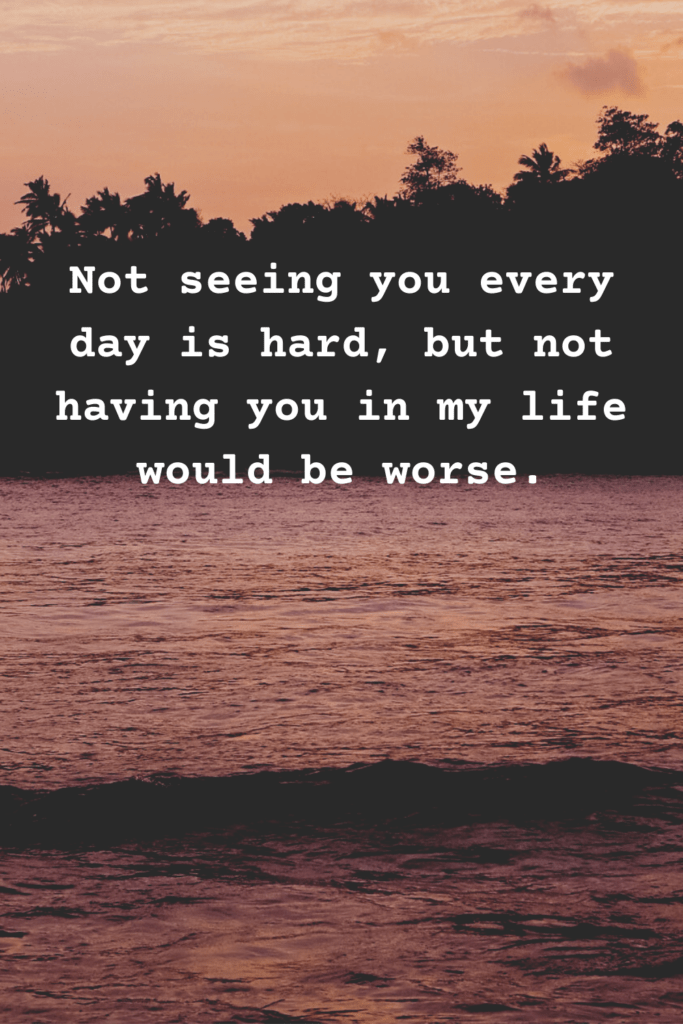 39. "I am jealous of everybody who can see you every day."
-Unknown
40. "How lucky I am, to have something that makes saying goodbye so hard."
– A.A. Milne
41. "I'll hold you in my heart, until I can hold you in my arms."
-Eddy Arnold
42. "And then she knew, you could be homesick for people, too."
-Unknown
43. "It's true, we don't have it as easy as ordinary couples. But this is no ordinary love."
-Unknown
44. "We were together even when we were apart."
-Shannon Thompson
45. "I knew when I met you, an adventure was going to happen."
-A.A. Milne
46. "Love knows not distance; it hath no continent; its eyes are for the stars."
-Gilbert Parker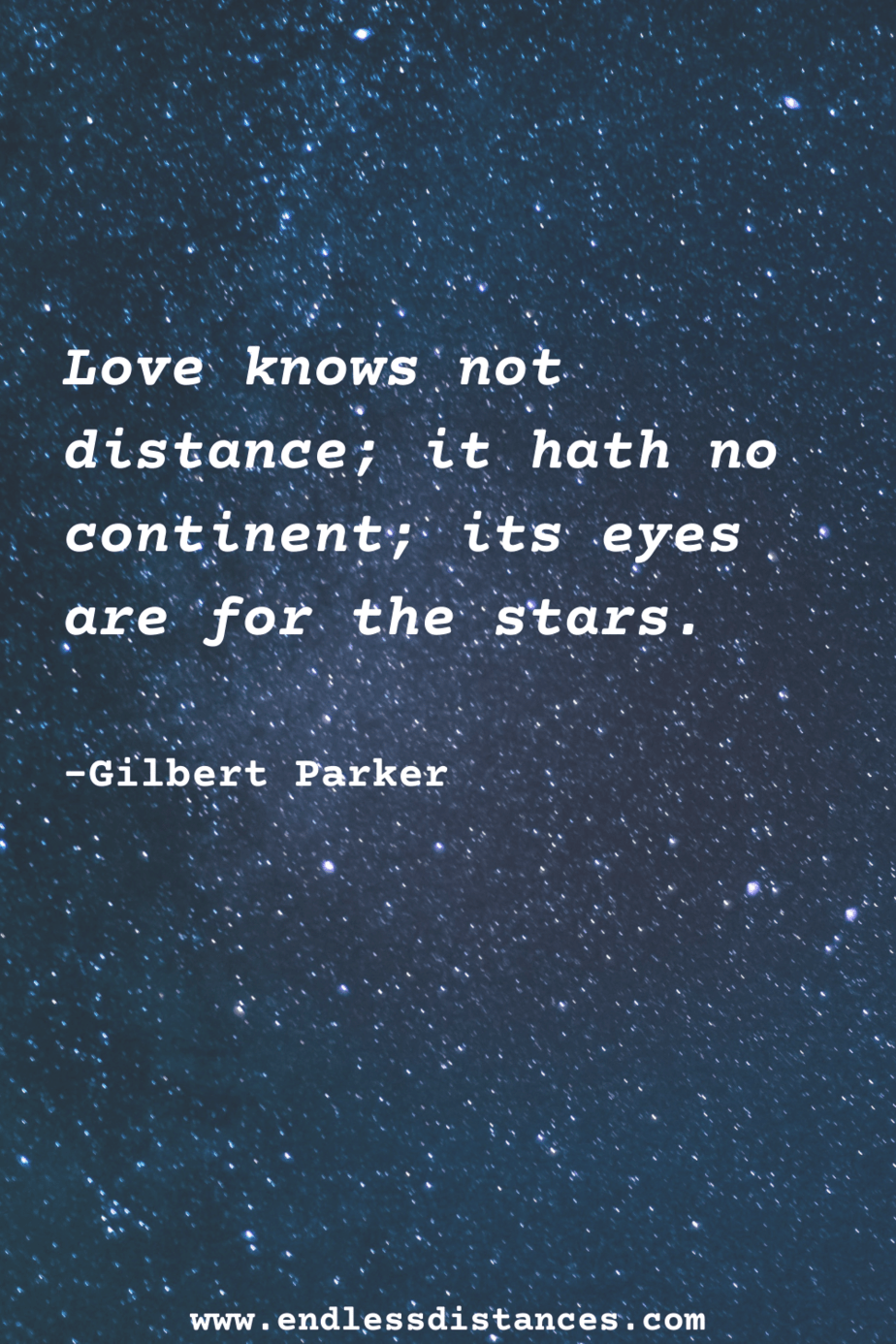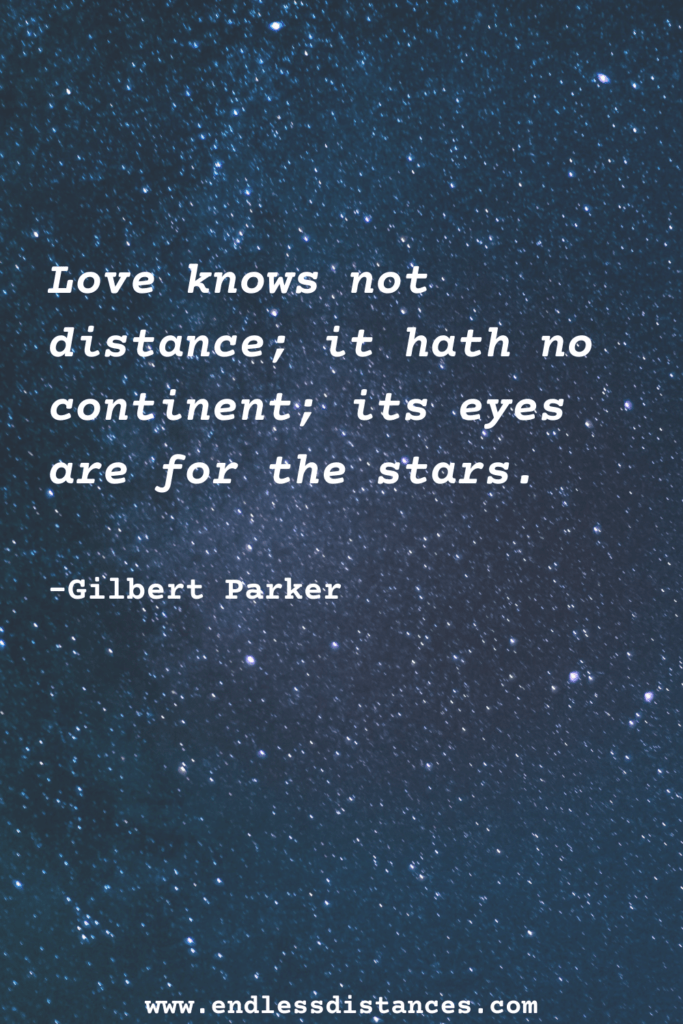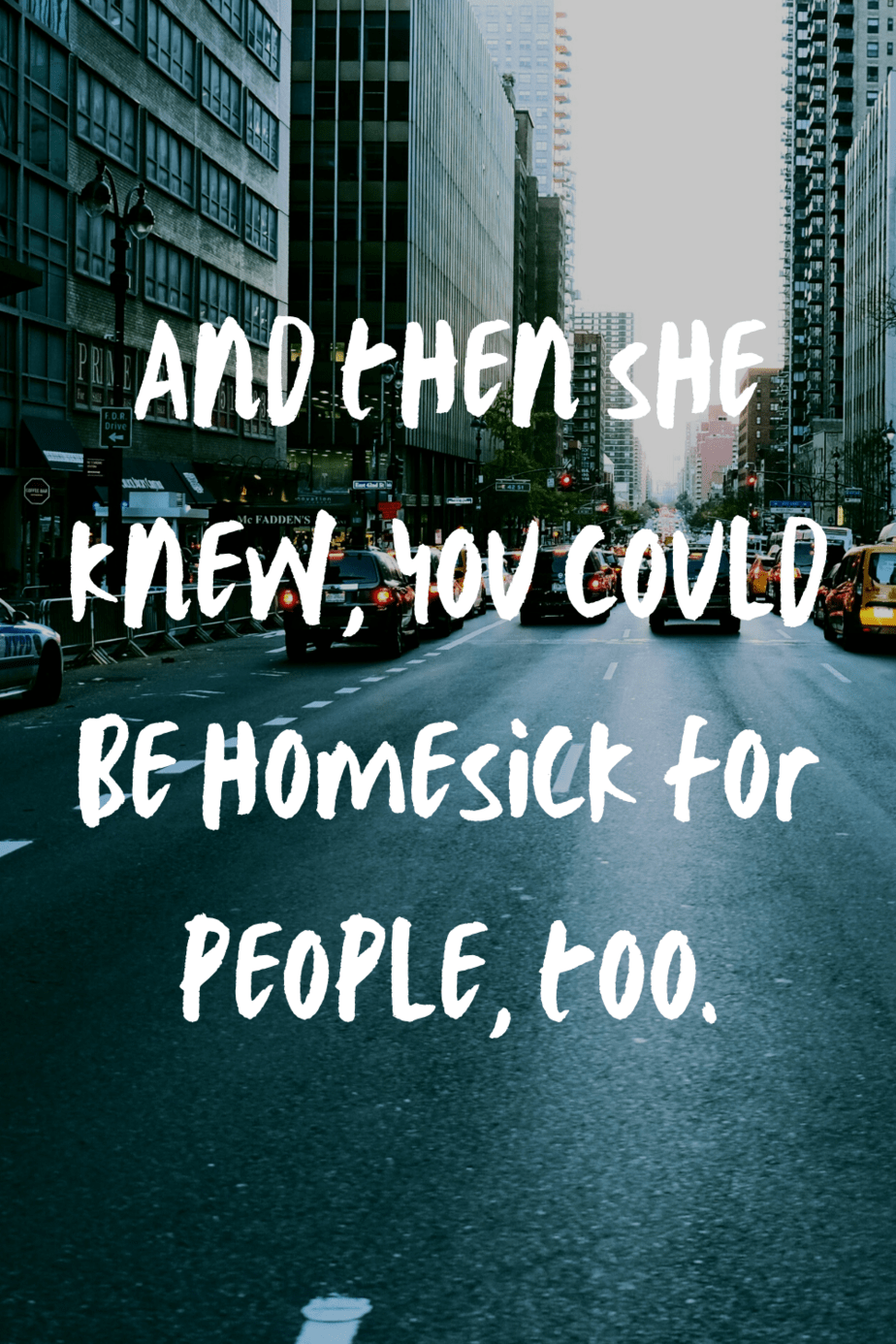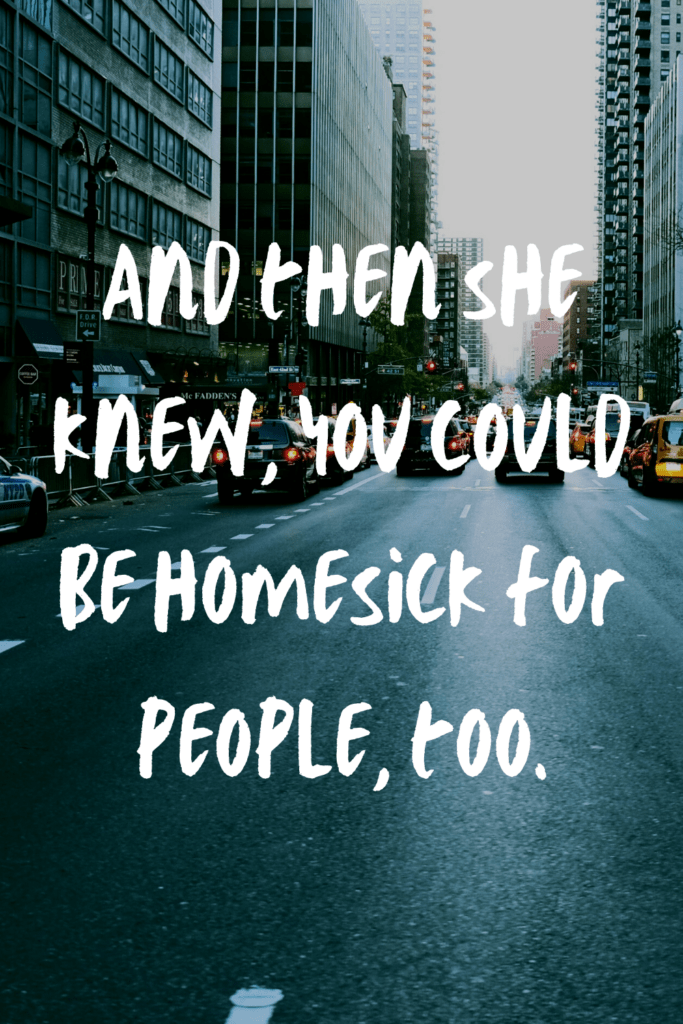 47. "The longer the wait, the sweeter the kiss."
-Unknown
48. "Love is not finding someone to live with. It's finding someone you can't live without."
-Rafael Ortiz
49. "Being close is the first and last desire of lovers, but being far and loving each other without an inch's difference is the characteristic of real love."
-Senora Ray
50. "Can miles truly separate? If you want to be with someone you love, aren't you already there?"
-Richard Bach
51. "It is a risk to love. What if it doesn't work out? Ah, but what if it does?"
-Peter McWilliams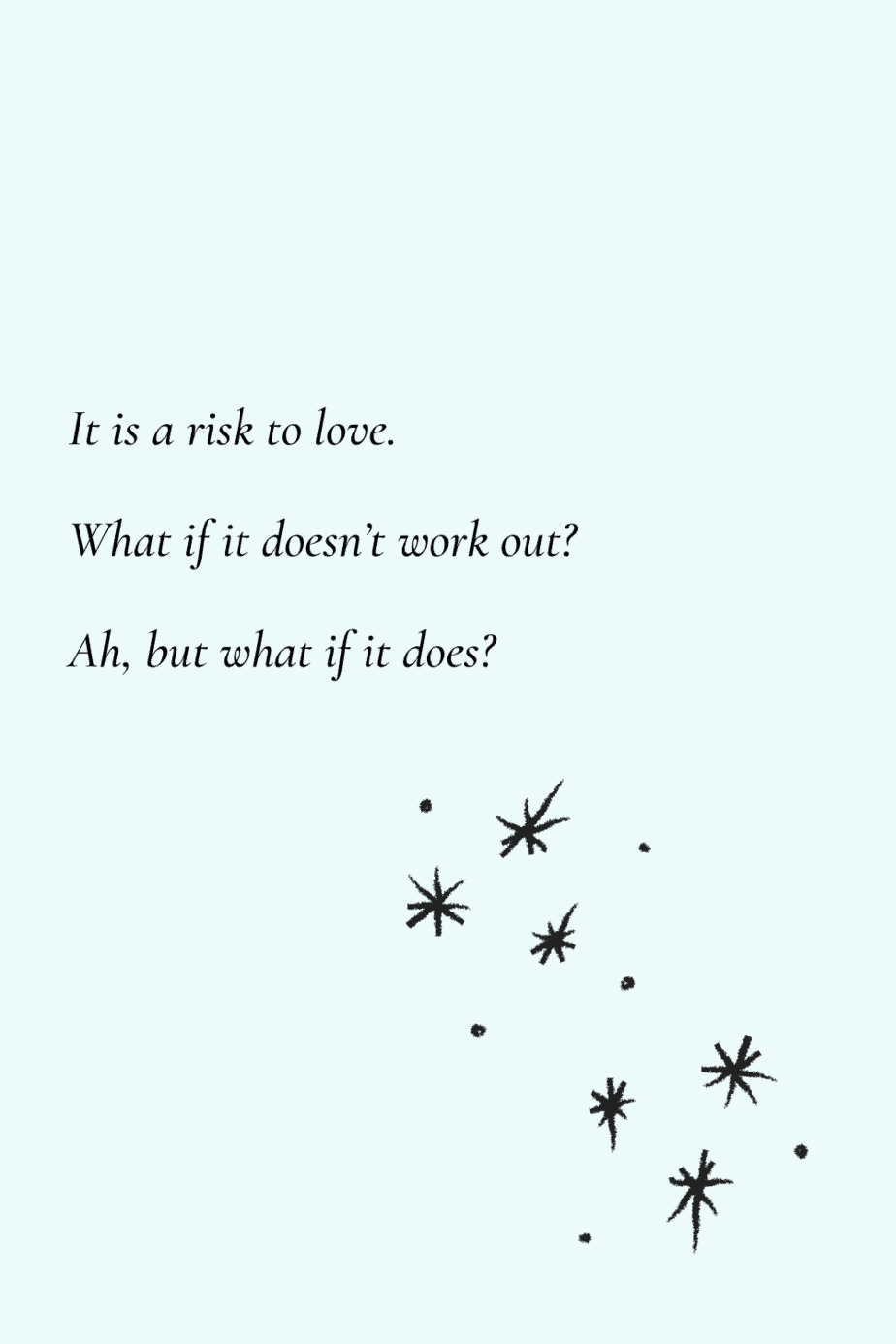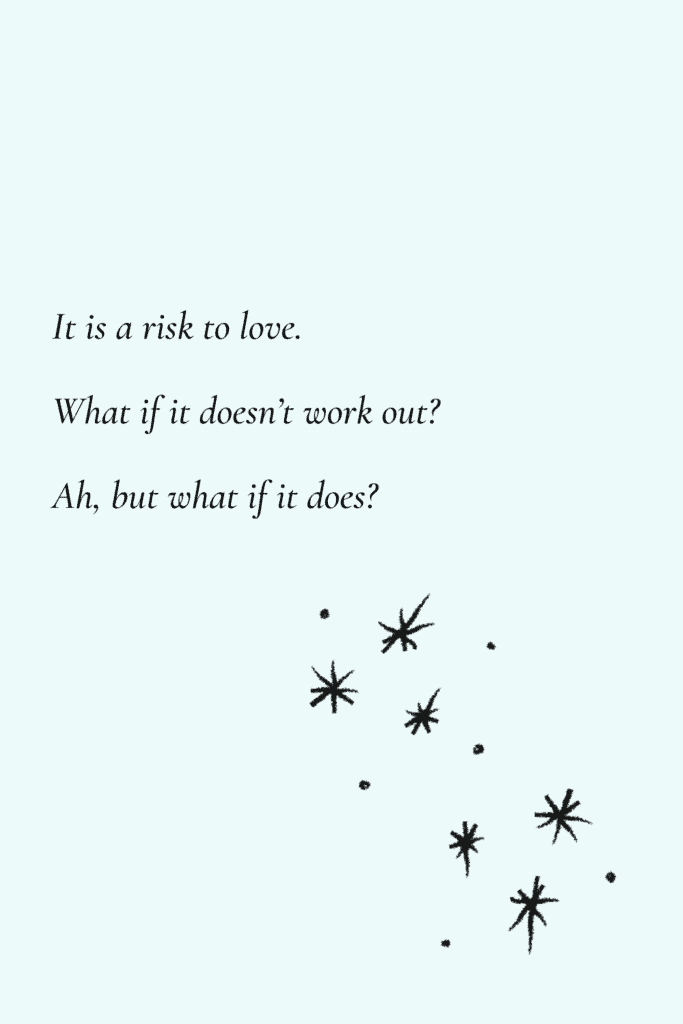 ---
Hopefully these long distance relationship quotes make you feel a little less alone. I promise that even though long distance relationships are painful at times, they are so, so worth it.
At least, that is what Dan and I have found. If you want to read about our international long distance relationship story, check out this blog post with tips we've learned over the years. You can also read inspiring stories from other long distance couples here, and my very detailed guide to starting a long distance relationship.
And finally, I know there are many of you who didn't plan on being long distance – but life happens! Our favorite long distance date ideas might be just the thing to keep you going.

Pin it for later…