A Self Guided Photo Tour of Arequipa Peru
Oh, Arequipa. This is the city that helped me fall back in love with Peru. I was feeling a bit burnt out after our time in Cusco, and Arequipa felt like a renewal. One reason? I just couldn't put my camera down.
Arequipa is gorgeous at all times, but particularly in those special hours before sunset when the white stone lights up in a golden glow. I spent nearly every evening of our stay in Arequipa wandering the streets with camera in hand, trying to capture what this city felt like.
I hope you enjoy seeing Arequipa through my lens. I also hope that the tips and Arequipa photo spot map I provide below can help plan your own self guided photo tour of Arequipa – if you are lucky enough to visit!
Why is Arequipa so Good for Photography?
Where do I begin? First of all, Arequipa is a colonial era city, with stunning, intricate architecture. The Plaza de Armas (the city center and gathering place in any South American city) is the most beautiful one I've seen during my two months in Peru.
Beyond that, the city is built from sillar – a quite unusual white, volcanic stone. When the evening light hits this stone it becomes a photographer's dream.
And finally, the city is surrounded by jutting, volcanic peaks. Turn a corner and you'll be treated to views of snow-capped volcanoes, or the iconic symmetrical cone of Misti volcano. I've never seen any city like it!
What is the Best Time of Day to Take Photos of Arequipa?
Without a doubt, I found that the best time of day to take photos in Arequipa was golden hour – the one or even two hours before sunset. The way the light hits the sillar stone creates a beautiful golden hue.
For sunset itself and the hour or so afterwards, the place to be is Plaza de Armas. Read more about why below!
Photo Spots in Arequipa Map
With a week or so in Arequipa, I had time to discover all these photo spots at a leisurely pace. There really is a surprise around every corner in Arequipa.
However, if like most travelers, you have limited time in Arequipa, then you may want to be more strategic about which spots you visit in the city. That's why I've created this map of my favorite photo spots in Arequipa. Save it to your phone for your trip to Arequipa!
Self Guided Photo Tour of Arequipa
1. Plaza de Armas
I adored the Plaza de Armas in Arequipa and you can probably see why in the two photos below! It was beautiful in the morning, but came alive in the golden hour light. I was even lucky enough to visit during a Super Moon as you can see in the second photo.
Address: Plaza de Armas, JF27+F6H, Arequipa 04001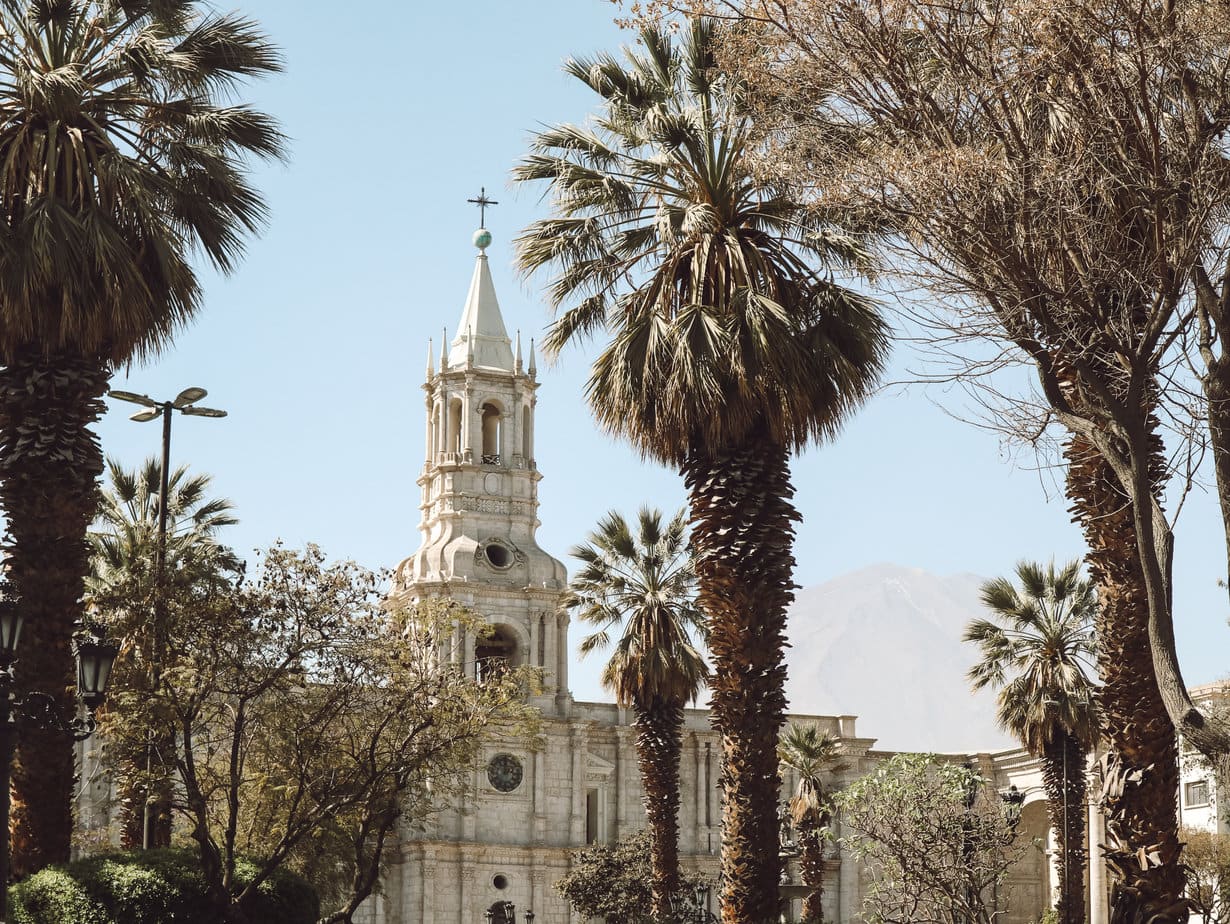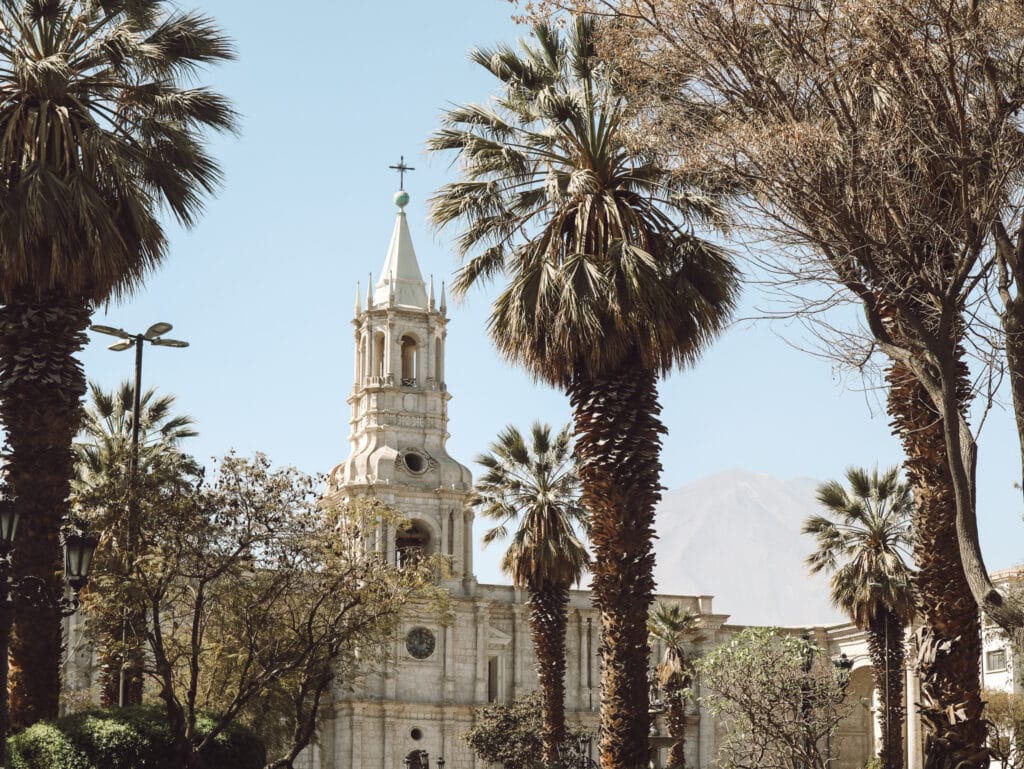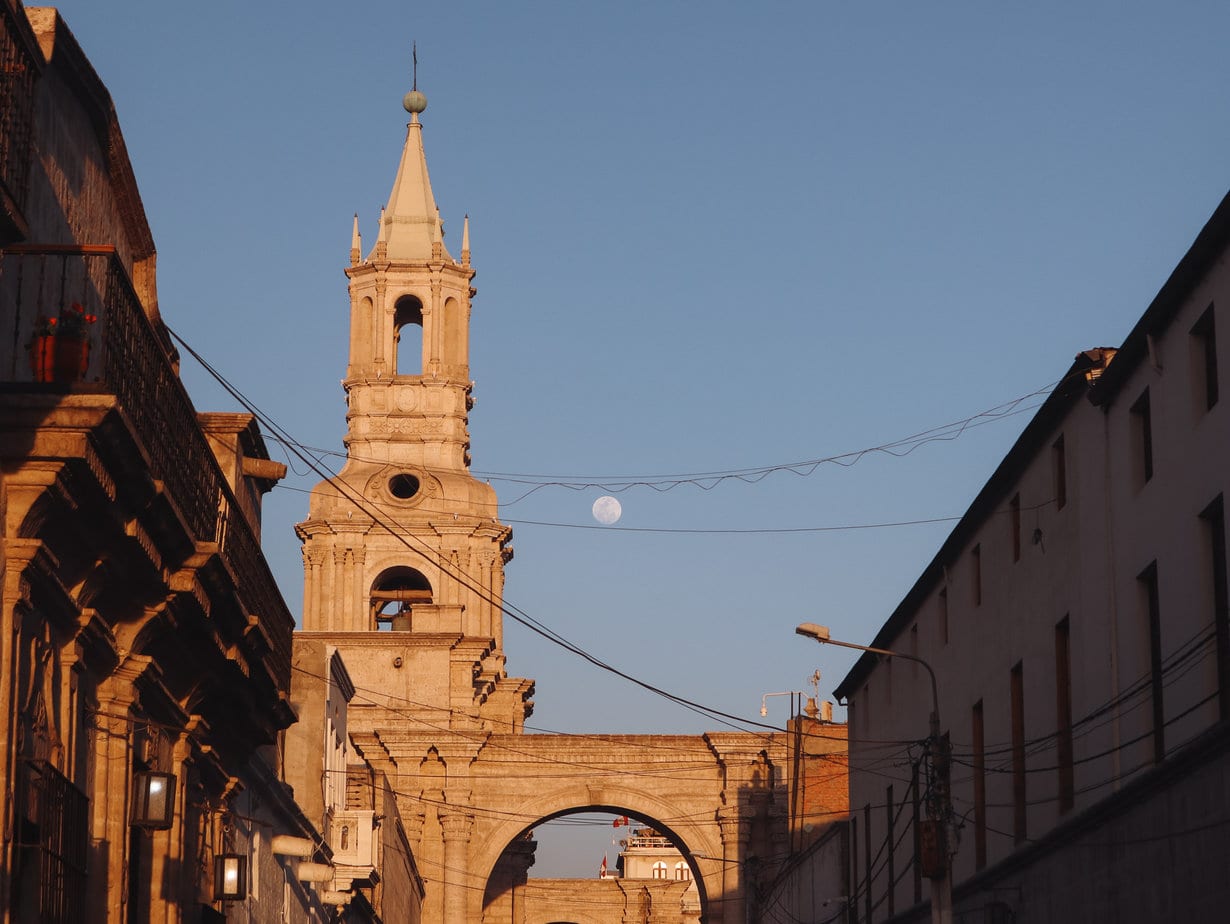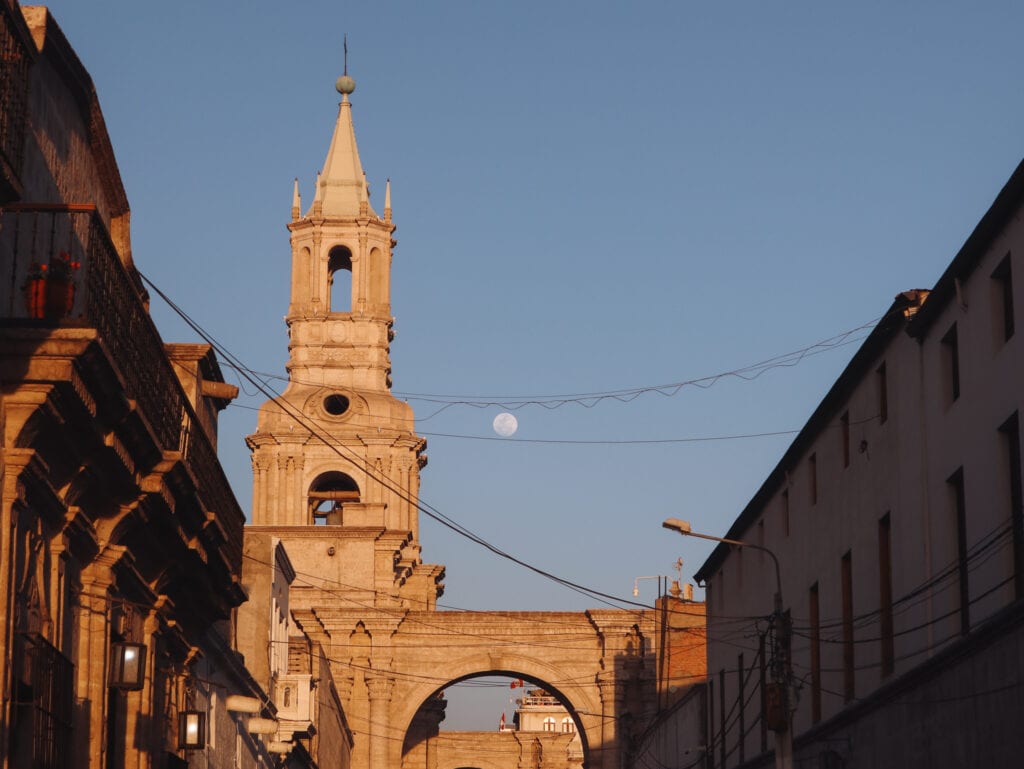 2. INDIA Indian Cuisine
This is kind of a funny one to have second on the list, but I have to mention INDIA Indian Cuisine – we ate here four times in Arequipa! Our server Francesca was so sweet and she has celiac disease like me which (for once) made eating gluten free in Peru a relaxing experience.
Photo-wise, I really loved the streets surrounding this restaurant and it was a great place to take a golden hour stroll with my camera.
Address: INDIA Indian Cuisine, C. Bolivar 502, Arequipa 04001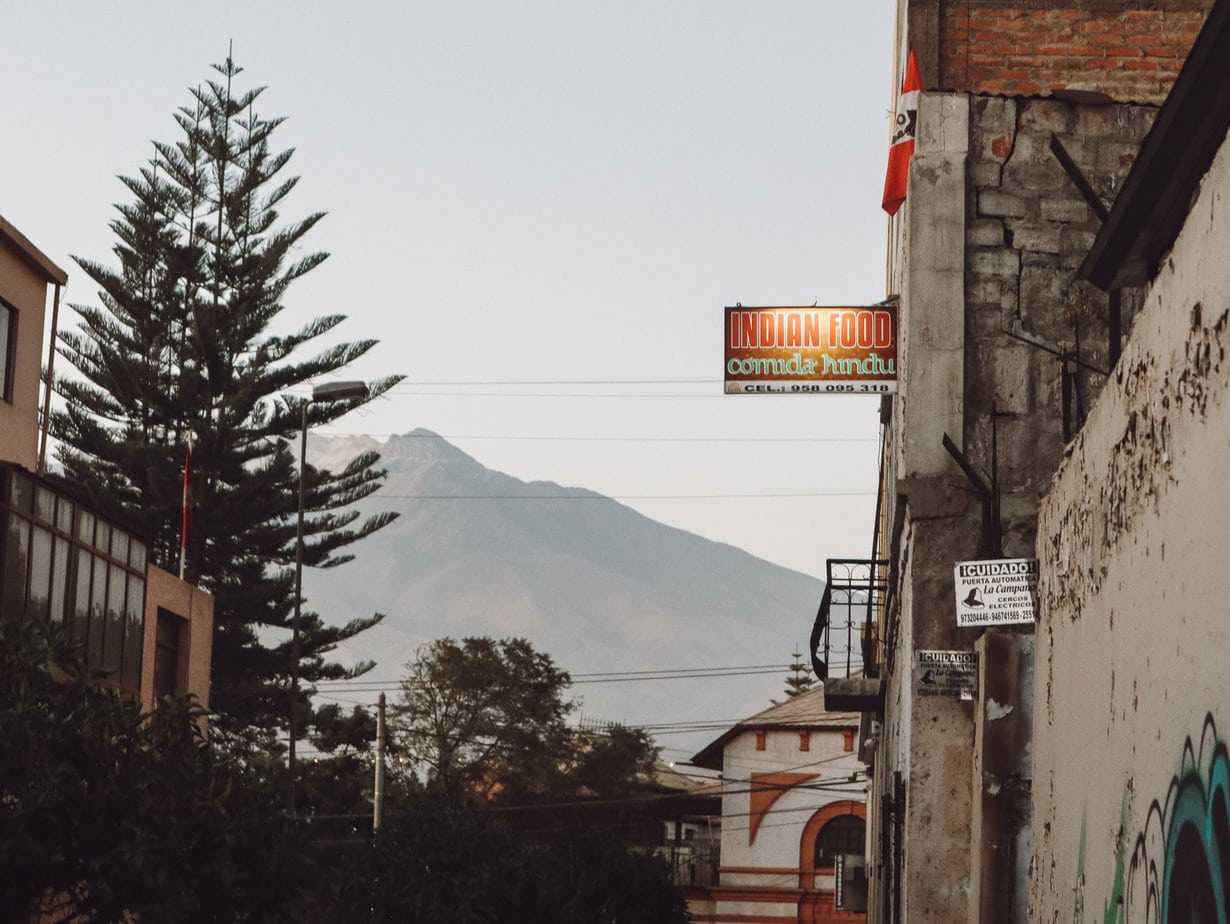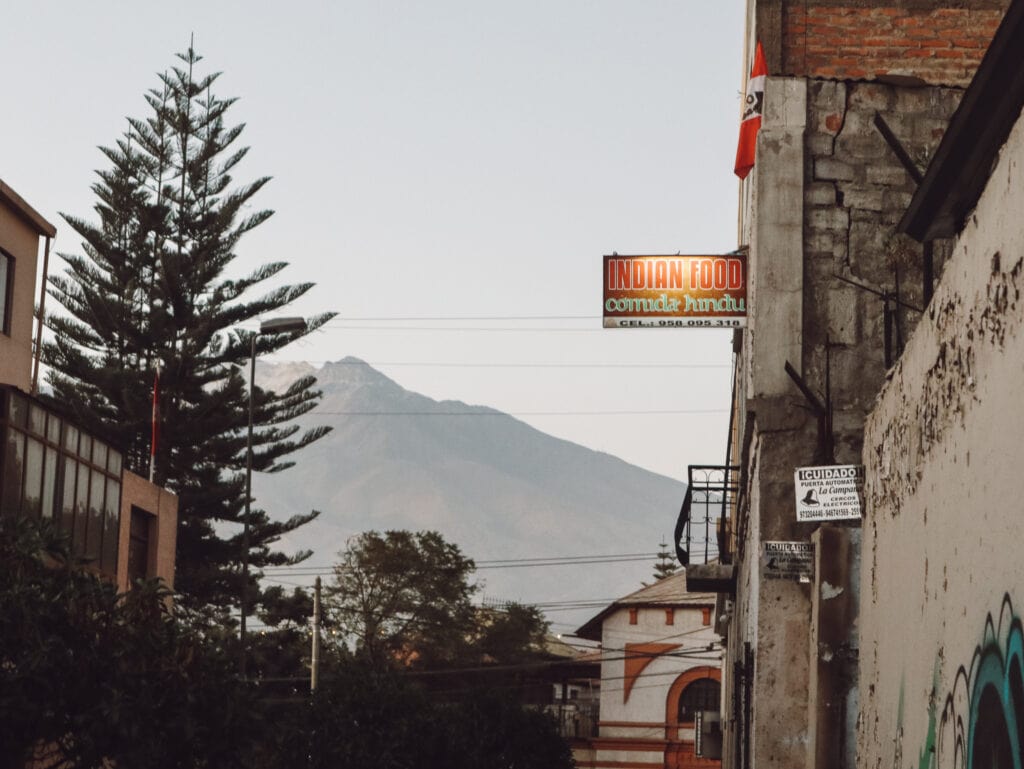 3. Mundo Alpaca (Alpaca World)
Mundo Alpaca is a really special place in Arequipa where you can find artisan made alpaca sweaters, women weaving alpaca wool with their ancestral techniques, and (YES!) even a herd of alpacas!
This was such a fun place to photograph. I wish I'd had a longer zoom lens for the alpacas, though, as they were huddling in the back during our visit. Just an additional note that if you visit and photograph the women weaving, it's customary to leave a tip!
Address: Mundo Alpaca, Alameda San Lázaro 101, Arequipa 04001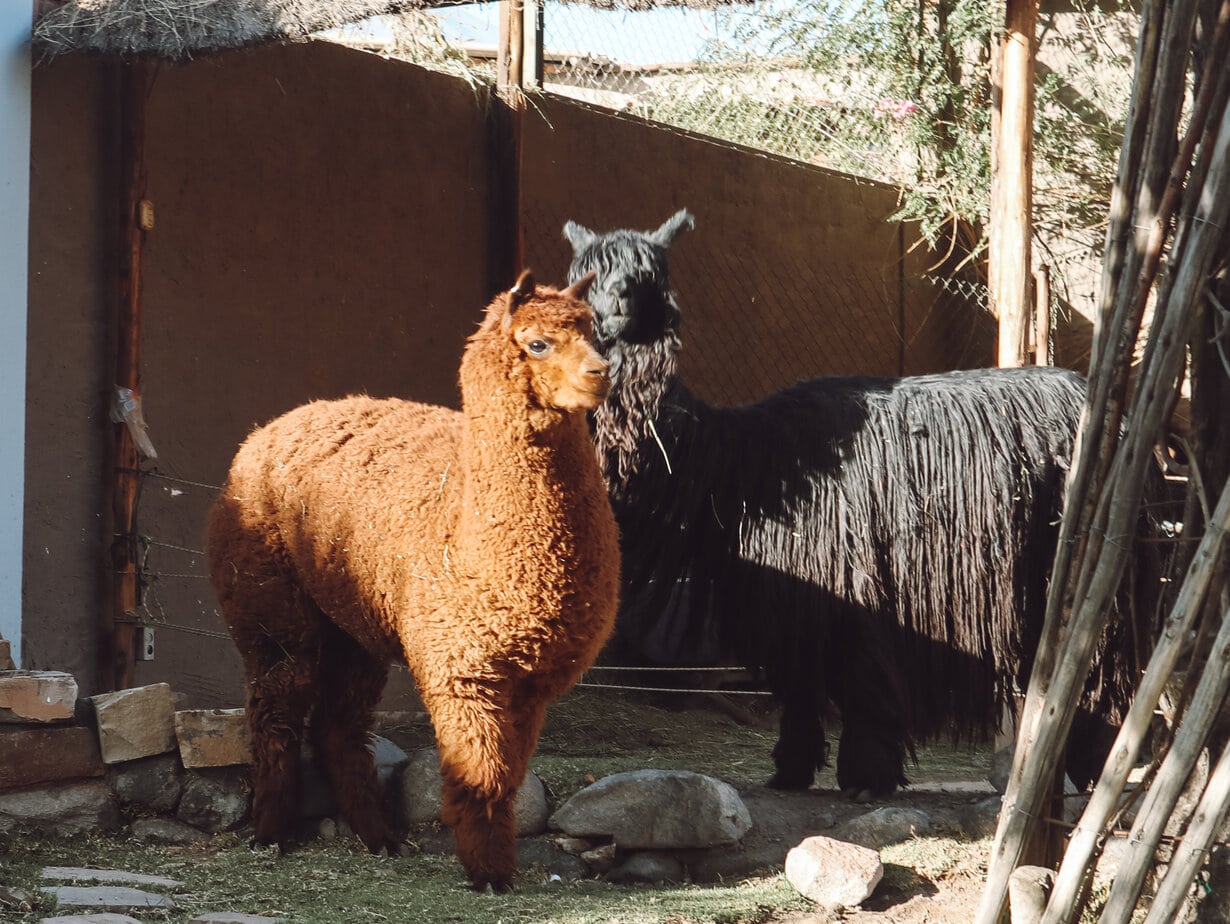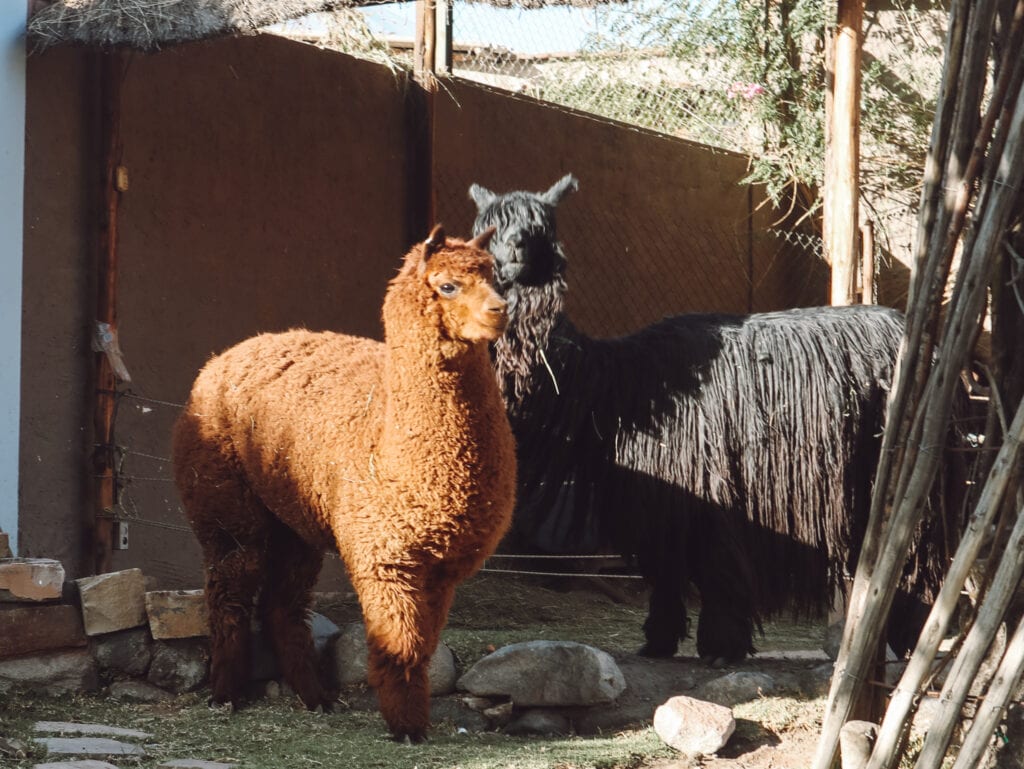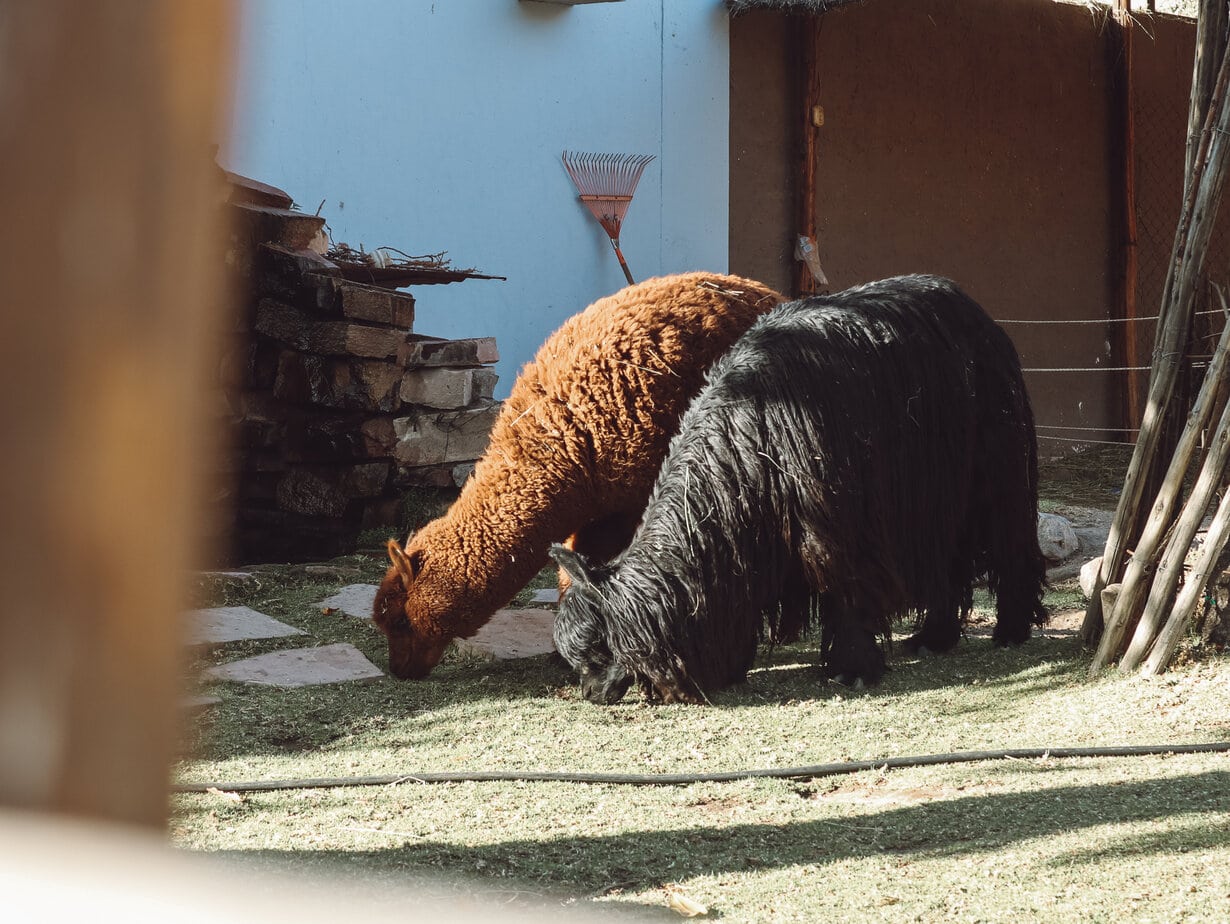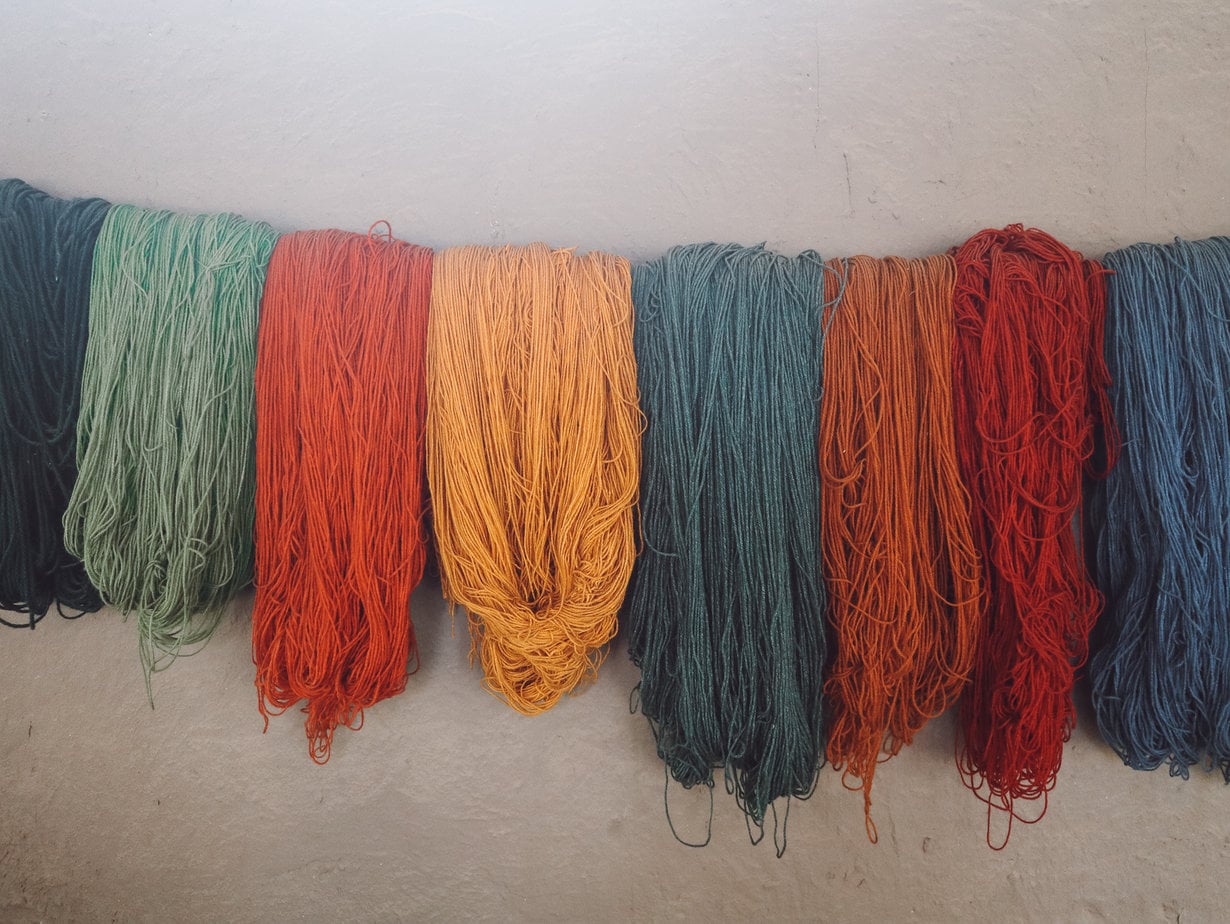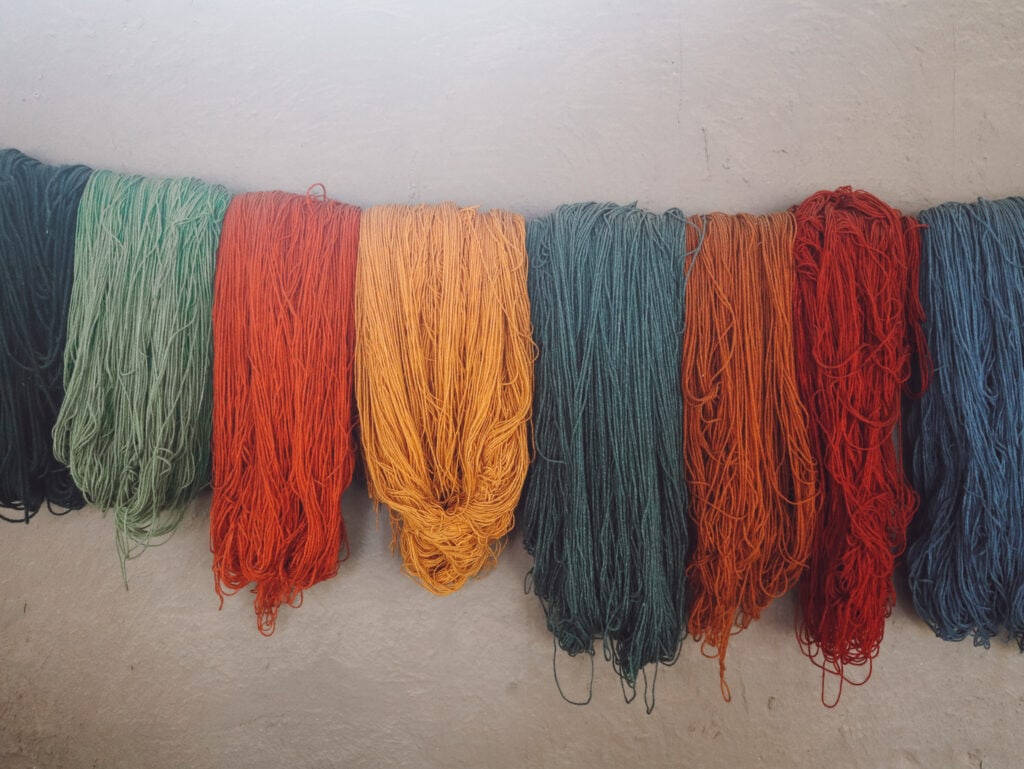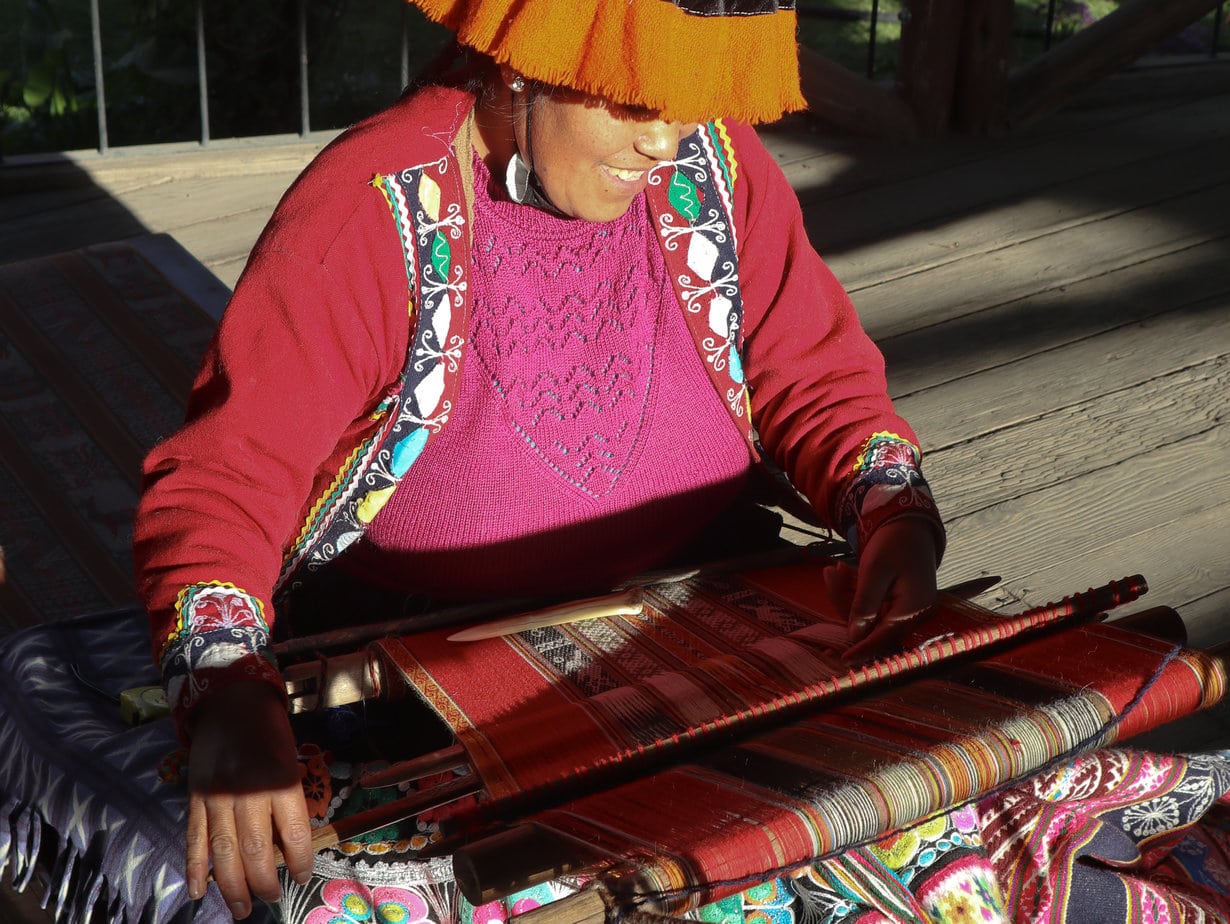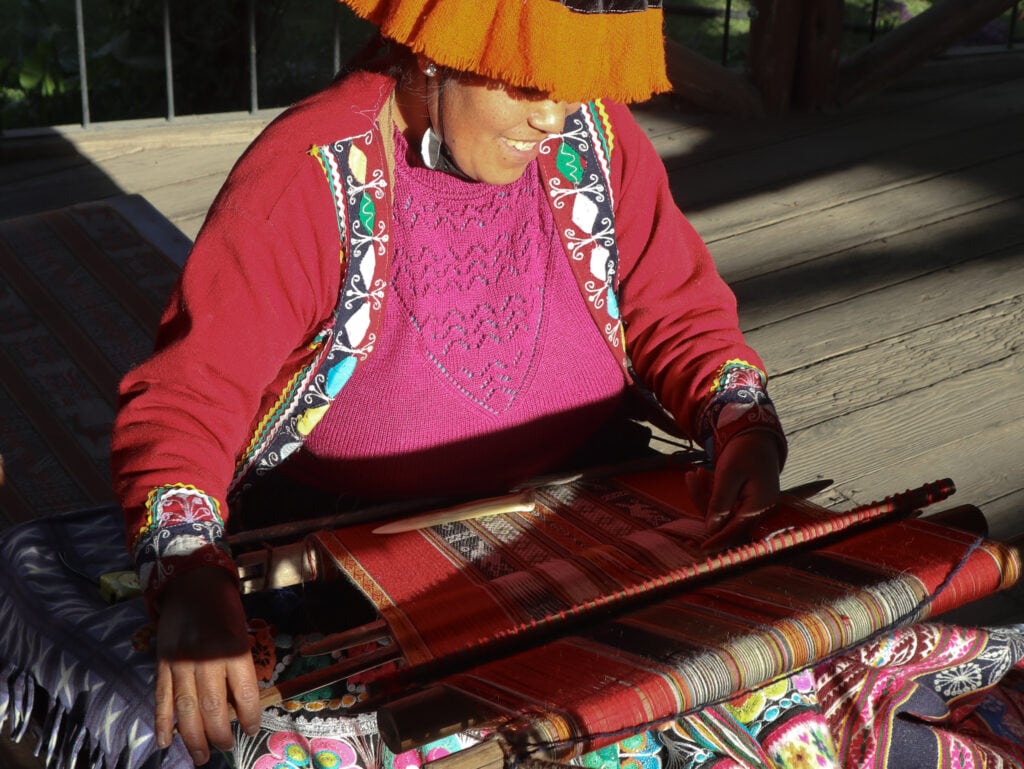 4. Misti Volcano From Puente Grau
I discovered by chance that some of the best views of the imposing Misti Volcano are from Puente Grau – a busy bridge built back in the 1800s.
We were crossing the bridge to visit the Yanahuara district (read about it next!) and my jaw literally dropped at the views.
Address: Puente Grau, JF46+VF6, C. Puente Grau, Arequipa
5. Yanahuara District and Mirador de Yanahuara
We visited the Yanahuara district – a more residential neighborhood across the river from central Arequipa – because we heard the views from Mirador de Yanahuara were amazing.
And while that was true, we actually enjoyed just wandering the Yanahuara district (and snapping photos along the way) even more.
Address: Mirador de Yanahuara, JF75+282, Miguel Grau, Yanahuara 04017
6. Mercado San Camilo
One of my favorite things is to photograph bustling local markets in the places I visit. Arequipa's huge Mercado San Camilo did not disappoint.
This place is overwhelming to the senses – rows and rows of fruits and vegetables, fresh juice stands, meat processing aisles (that were a little ~too~ overwhelming), and an upstairs packed with locals eating the menu del dia for 7 soles (less than $2 USD), and of course Doña Rosa – a local woman serving up Arequipa's best queso helado.
Address: Mercado de San Camilo, 487, C. Piérola 407, Arequipa 04001
7. All the Fresh Food
Obviously this one isn't a single location, but I do love food photography and Arequipa did not disappoint in this regard.
From the unusual (to me) Peruvian fruits at a local grocery store, to fresh croissants at Masamama, to the menu del dia at Omphalos, to the most delicious smoothie I've had in Peru at Lokanta – I have to say I did not enjoy the food in Peru in general, but Arequipa was a different story.
8. The Streets Around Plaza de Armas
The Plaza de Armas is gorgeous but I also loved walking through the streets surrounding it. Some of these are even pedestrian-only. I discovered a few treasures along the way!
9. Barrio del Solar
The Barrio del Solar is a tiny walled-in neighborhood not too far from the Plaza de Armas. Once we found our way in (kindly let in by an old Peruvian man who probably saw the camera around my neck and knew what I was after), it was a dream to wander these quiet streets and snap photos along the way.
Address: Barrio del Solar, Arequipa 04001
10. Cloisters of the Company
The Cloisters of the Company is basically a small shopping center with a few cafes, close to the Plaza de Armas. However its stunning architecture (it is an old cloisters, after all) is what drew me to it to photograph!
Address: Cloisters of the Company, Gral. Móran 118, Arequipa 04001
11. Parades
Again, it's not a specific location, but if you're lucky enough you'll catch a parade (or two, or three) while in Arequipa. We happened to visit over Arequipa's anniversary holiday and just a few months prior to a major election, so we saw a TON of parades.
12. Santa Catalina Monastery
The Santa Catalina Monastery is a "no, duh" for anyone who wants to photograph Arequipa. It is a massive, winding, complex of a monastery filled with the most colorful walls, beautiful architecture, and peaceful atmosphere.
Address: Santa Catalina Monastery, Santa Catalina 301, Arequipa 04001
13. The Street Dogs (or a Hostel Pup)
Arequipa, like literally every other city big or small in Peru, has its fair share of street dogs. This breaks my heart, but does make for interesting photographic material if you want to share these images of the reality in Peru.
I didn't take any photos of street dogs, but I did take quite a few portraits of Loki – the tiny 9-month old puppy that lived in our hostel! If you watched any of my Instagram stories from Arequipa, then you know how mega cute this guys is!!!
Address: Hotel Friendly AQP, C. Consuelo 418, Arequipa 04001
14. Rooftop Sunset of the Plaza de Armas from Waya Lookout
Want to catch the best sunset photos in Arequipa? Then my top tip is to head to Waya Lookout Bar for a cocktail (or beer) an hour or so before sunset. We did this and it wasn't too busy at this time so we snagged the best tables with an unobstructed view of the basilica.
Then, as the sun is setting and the light gets incredible, you can actually walk on the rooftops which also made for some incredible photos.
Address: Waya Lookout Bar, Portal de San Agustín 115, Arequipa 04001
15. Ruta del Sillar
The Ruta del Sillar is actually a 30 minute drive from the Plaza de Armas – we visited on a half day trip similar to this one. Here, you can see the white sillar quarry from which much of Arequipa is constructed!
Local people have also built lots of sculptures and monuments from the sillar, which you can take photos with.
16. Culebrillas Canyon
The Culebrillas Canyon is also not far outside Arequipa, but requires a half day trip. Conveniently, the Ruta del Sillar tour that we did included a stop at this canyon.
We walked down and through the canyon and even saw some petroglyphs. I actually enjoyed this more than the first quarry!
17. Iron Bridge ("Eiffel's Bridge")
My final must-visit photo spot in Arequipa is a bridge over the Chili River that locals call the Iron Bridge or Puente de Fierro. I fell in love with the contrast of blue iron with the green garlic fields and Misti Volcano towering on the horizon.
This was our last stop on our Ruta del Sillar tour and our guide informed us the bridge was so famous because it was designed by Gustave Eiffel (yes, of Eiffel Tower fame). After some research later on, I learned this is not true. But, I still enjoyed the bridge and its views.
There you have it, my photo diary of our time in Arequipa, Peru. I hope you enjoyed these snapshots, and I also hope that if you're heading to Arequipa with your camera that these tips come in handy!
Check out my other Peru posts…
7 Best Coffee Shops in Arequipa Peru
Best Spanish School in Peru: Peruwayna Review