Is the ChocoMuseo Lima Chocolate Making Class Really Worth It?
With two weeks in Lima, Peru, we definitely had time to find lots of off the beaten path things to do in Lima. One of those things was a Bean to Bar chocolate making class at ChocoMuseo Lima, a chocolate shop in the Miraflores neighborhood.
Dan and I first found ChocoMuseo while walking back from our Spanish class. I am a true chocolate lover so I immediately went in and checked it out. On the surface, it's a nice but normal chocolate shop. Then I spied the group of people actually roasting cacao beans in a corner of the shop!
I immediately knew I wanted to try their Bean to Bar workshop, where you make chocolate right from picking the beans through to eating the chocolate bar. However, it was on the expensive side ($25 USD) compared to other activities in Lima (yes, I realize it's not that expensive, but we were trying to keep to a $50/day budget for our round the world trip). So, we ummed and ahhed about it for nearly two weeks until we finally took the plunge on our last full day in Lima!
This is what we honestly thought of the ChocoMuseo Lima chocolate workshop, and if we think it's really worth it.
Check out my other Peru posts…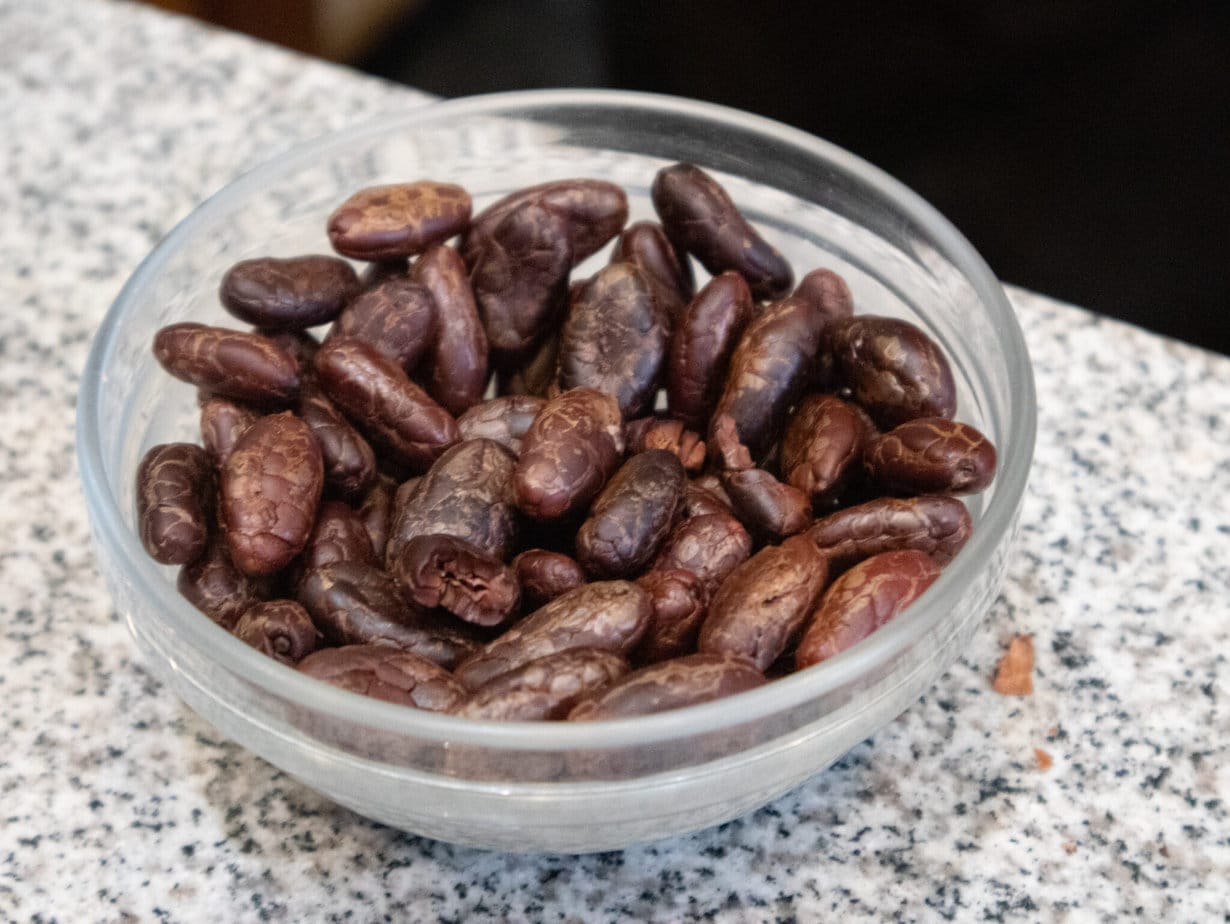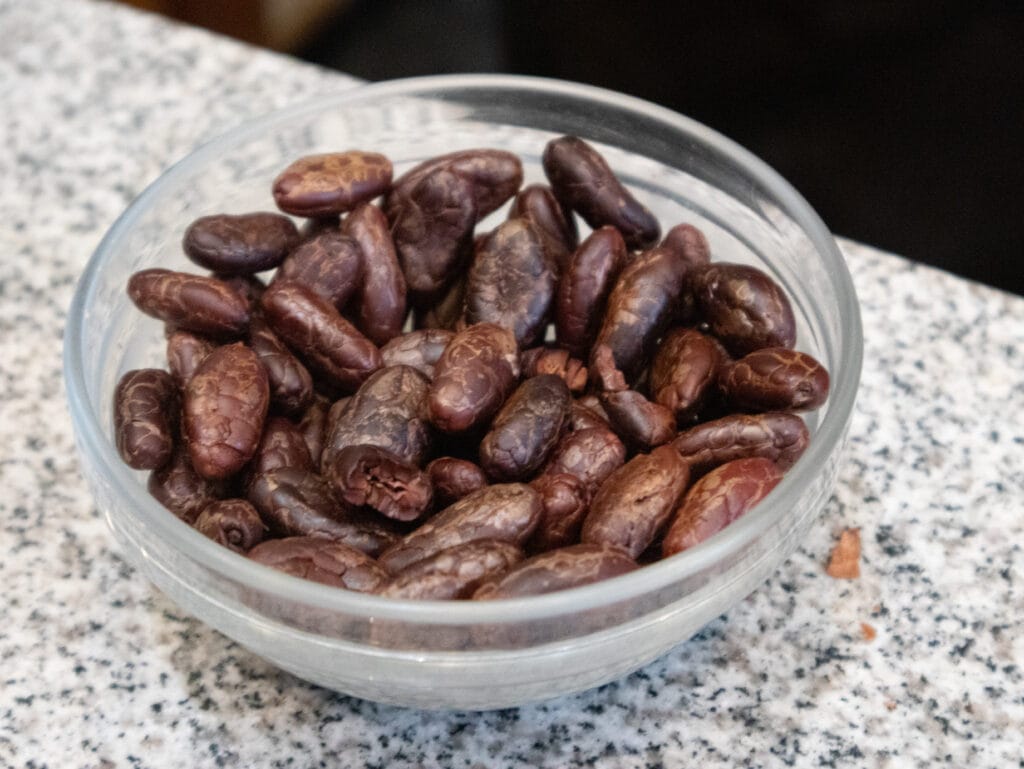 Why Take a Chocolate Making Class in Peru?
First of all, why even bother taking a chocolate making class in Peru? Is Peru known for its chocolate?
The short answer is YES, Peru is certainly known for its chocolate. Although it's not the biggest chocolate producer in the world, Peru is recognized again and again as the home to some of the world's best tasting chocolate.
The history of cacao beans in Peru goes back to the Incas over 3,000 years ago. Today, just like back then, cacao is grown in the Andes and the Amazon rainforest of Peru. I won't go into too many details here, because that's what ChocoMuseo is for!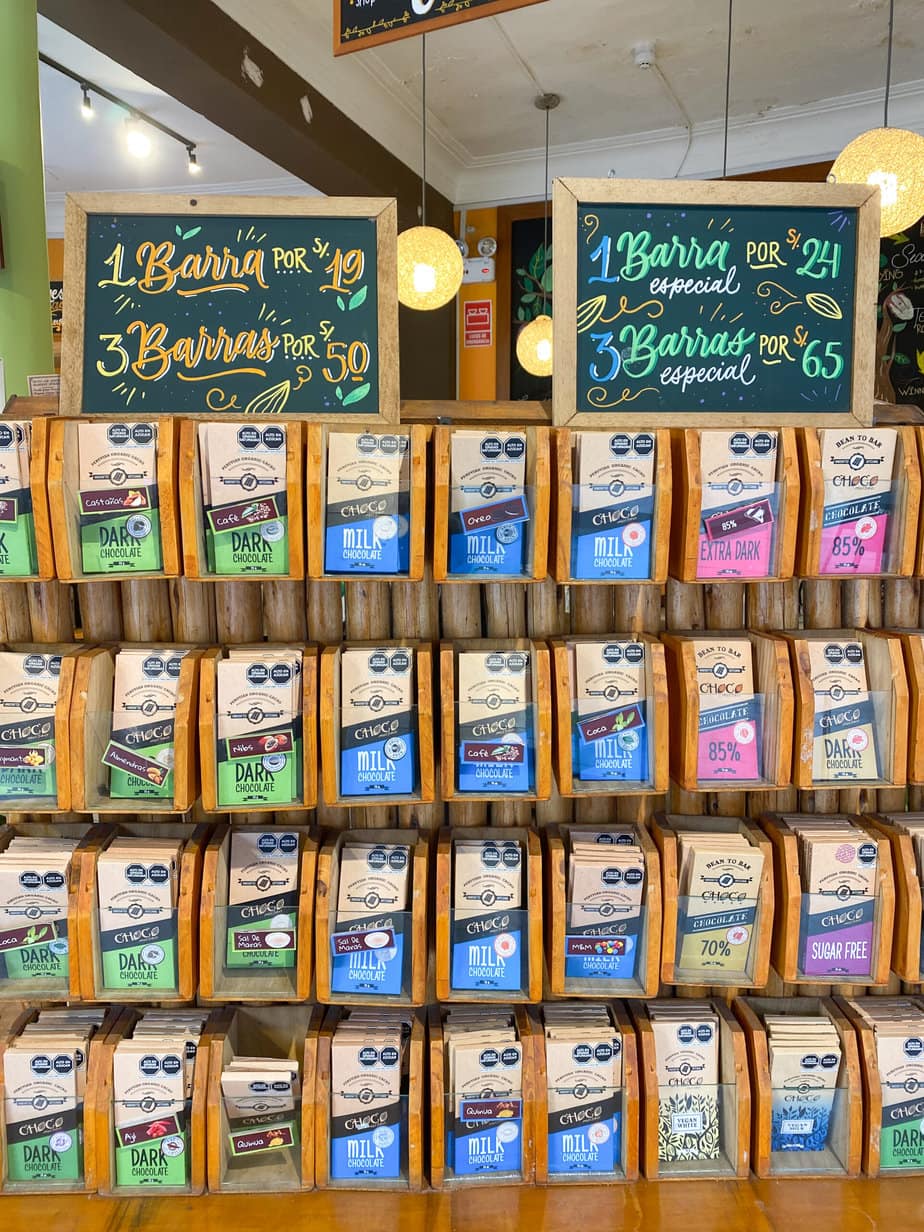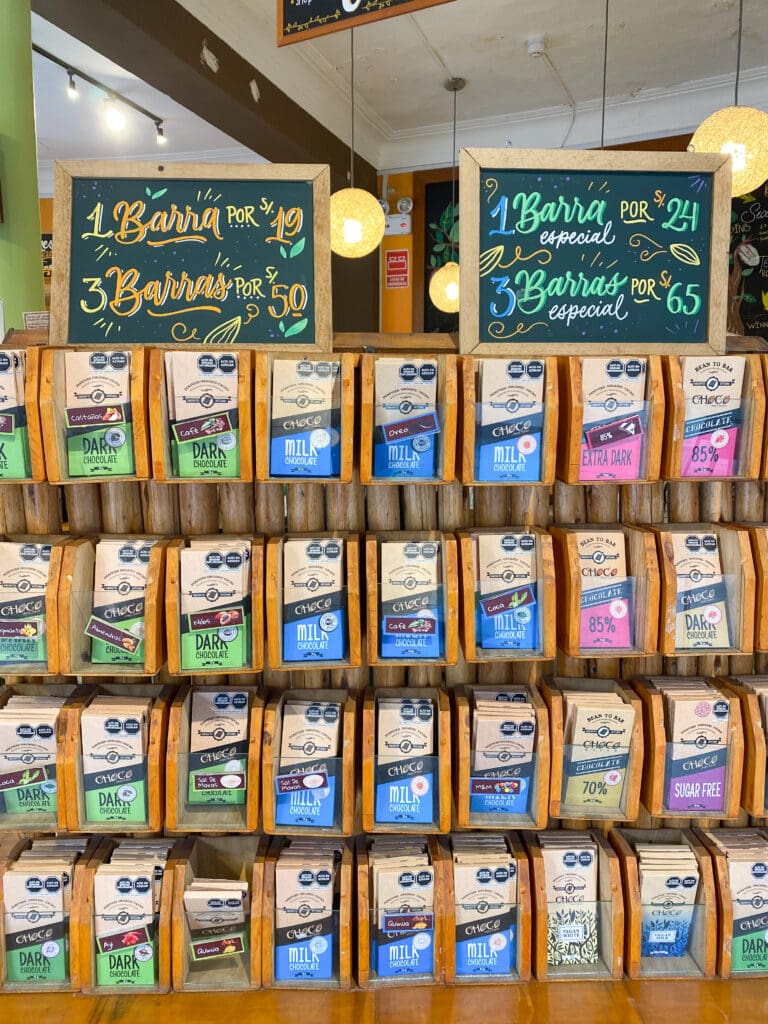 Why Visit ChocoMuseo Lima, Cusco, or Ollantaytambo?
ChocoMuseo is a small chocolate museum and shop franchise with locations in Peru, Mexico, Guatemala, and Nicaragua. In Peru, they have locations in Lima's Miraflores district (the safe touristy neighborhood where most people stay), Cusco, and Ollantaytambo.
Each location offers:
After looking at the options, I knew I really wanted to do the full Bean to Bar chocolate workshop, because it takes you through the complete experience from the history to selecting beans, roasting beans, grinding beans, and making your own gourmet chocolate bars to take home!
This workshop is offered daily at 11am, 2:30pm, and 5pm. Participants are capped at 10 people, and you need to return one hour after the class finishes to pick up your chocolate.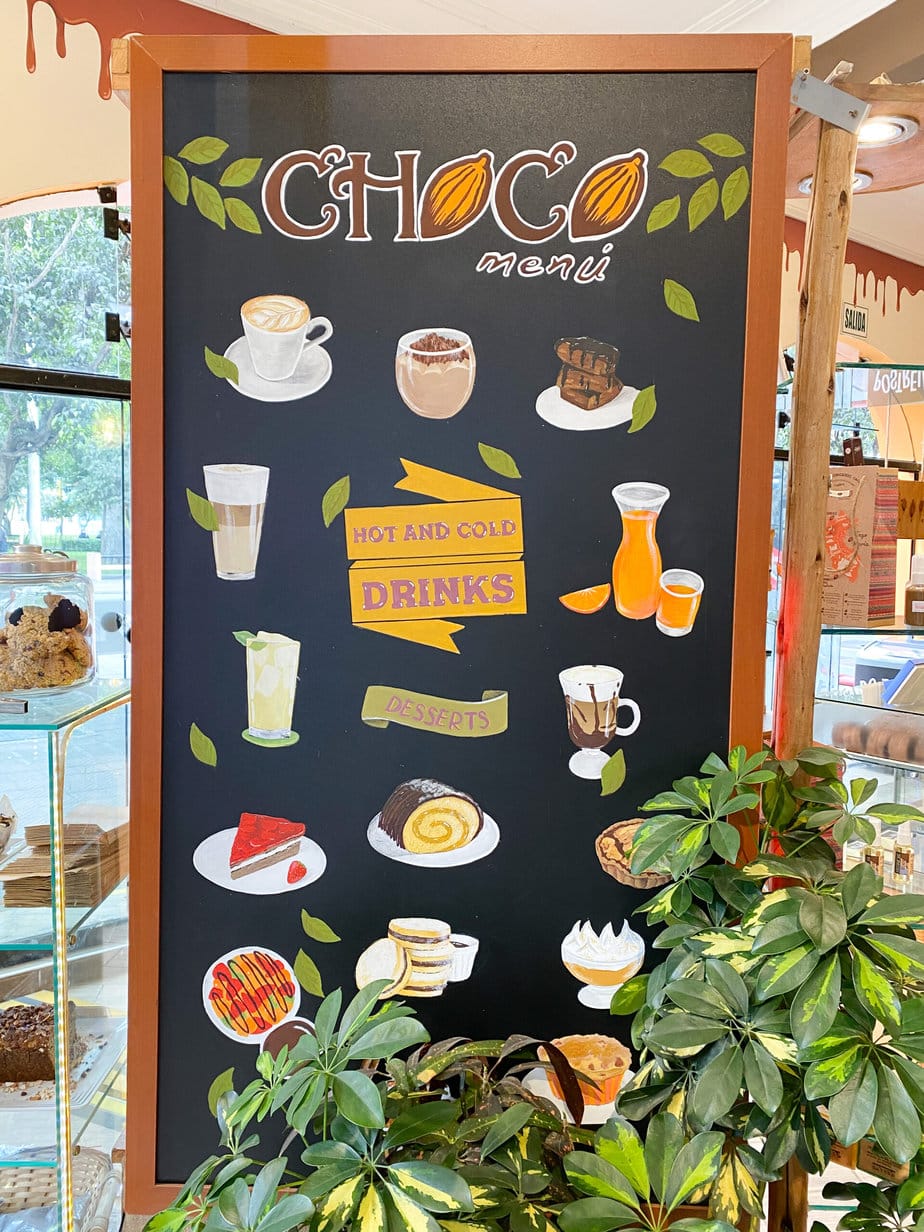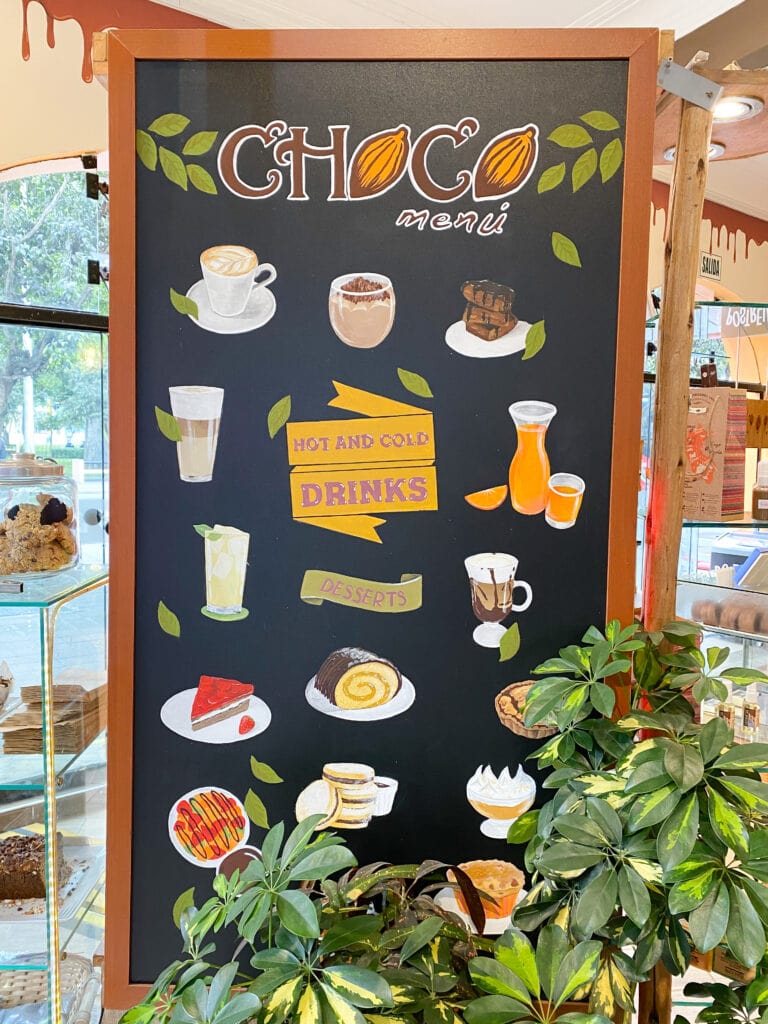 Our Experience at the Bean to Bar Chocolate Making Class at ChocoMuseo Lima
We took the chocolate making workshop on our last full day in Lima, and it was the perfect way to round out our time in the Peruvian capital city.
If you're wondering whether the workshop is worth it, read through my review of our experience and decide for yourself!
How to Book
We ended up booking our Bean to Bar chocolate making workshop through our Spanish school in Lima. Through them, we got a $5 discount which was nice (although, probably not enough to make you enroll in Spanish lessons just for that!).
If you want the next best price, I recommend booking through Viator which has a lowest price guarantee.
You could also book directly through ChocoMuseo, but like I said Viator will have the best price.
History
The first thing we did when we arrived to ChocoMuseo was put on aprons and name tags. There were a few different apron styles on offer so it was quite the fashion show.
Then, our teacher Nathaly took us outside to tell us more about the history of cacao in Peru.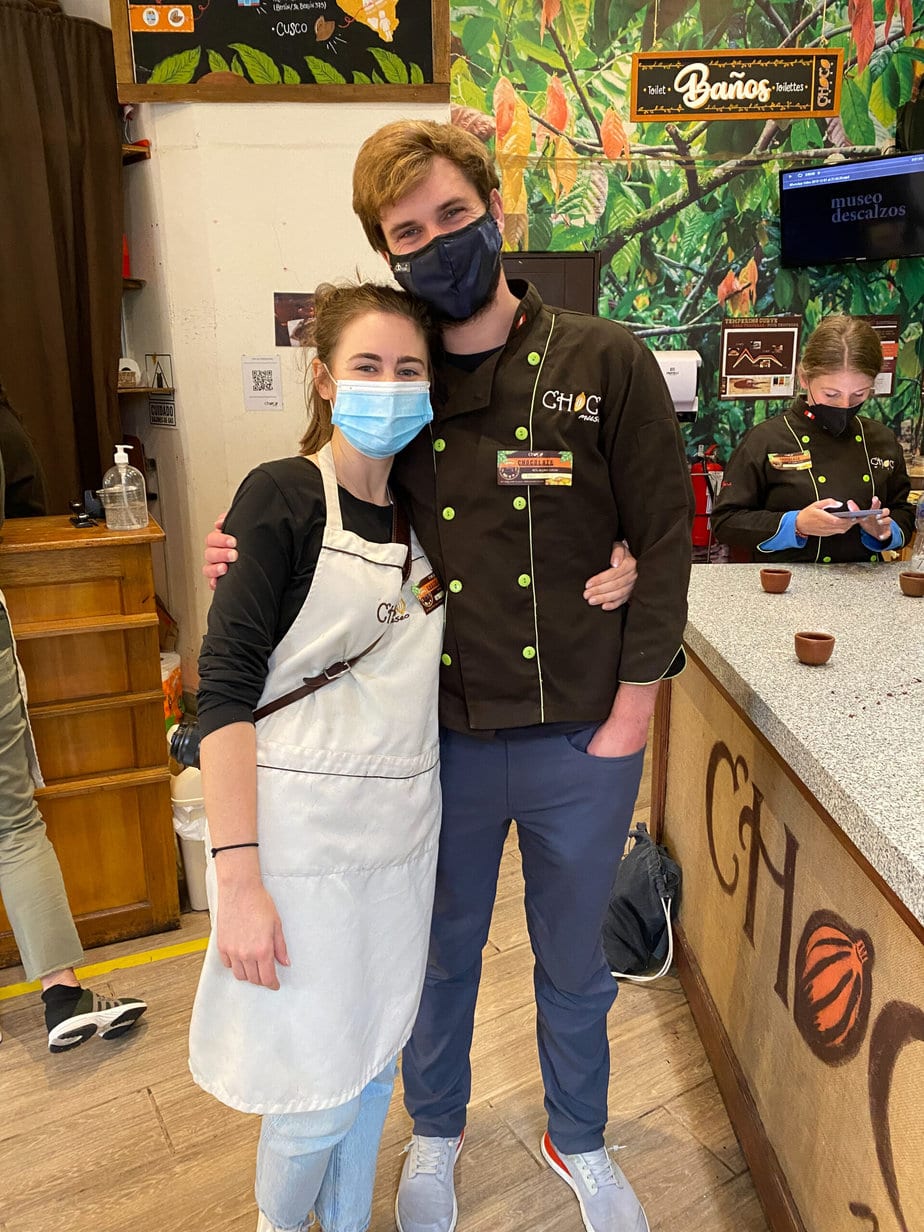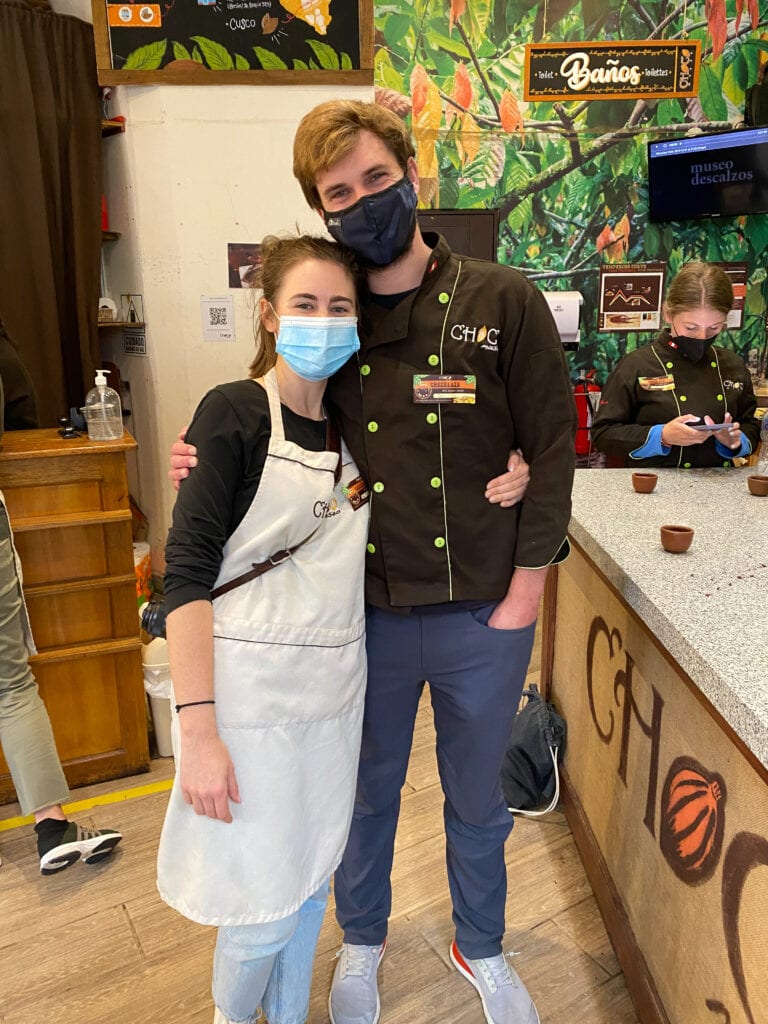 Selecting the Beans
After learning about Peru's chocolate history, we came back inside and were instructed in how to select the best quality cacao beans. The trick was to look for the biggest beans with the least wrinkles or dry spots.
We also had a couple fun contests, including which team could make the coolest design out of cacao beans. The winners got gourmet chocolate bars – they definitely did not skimp on the prizes!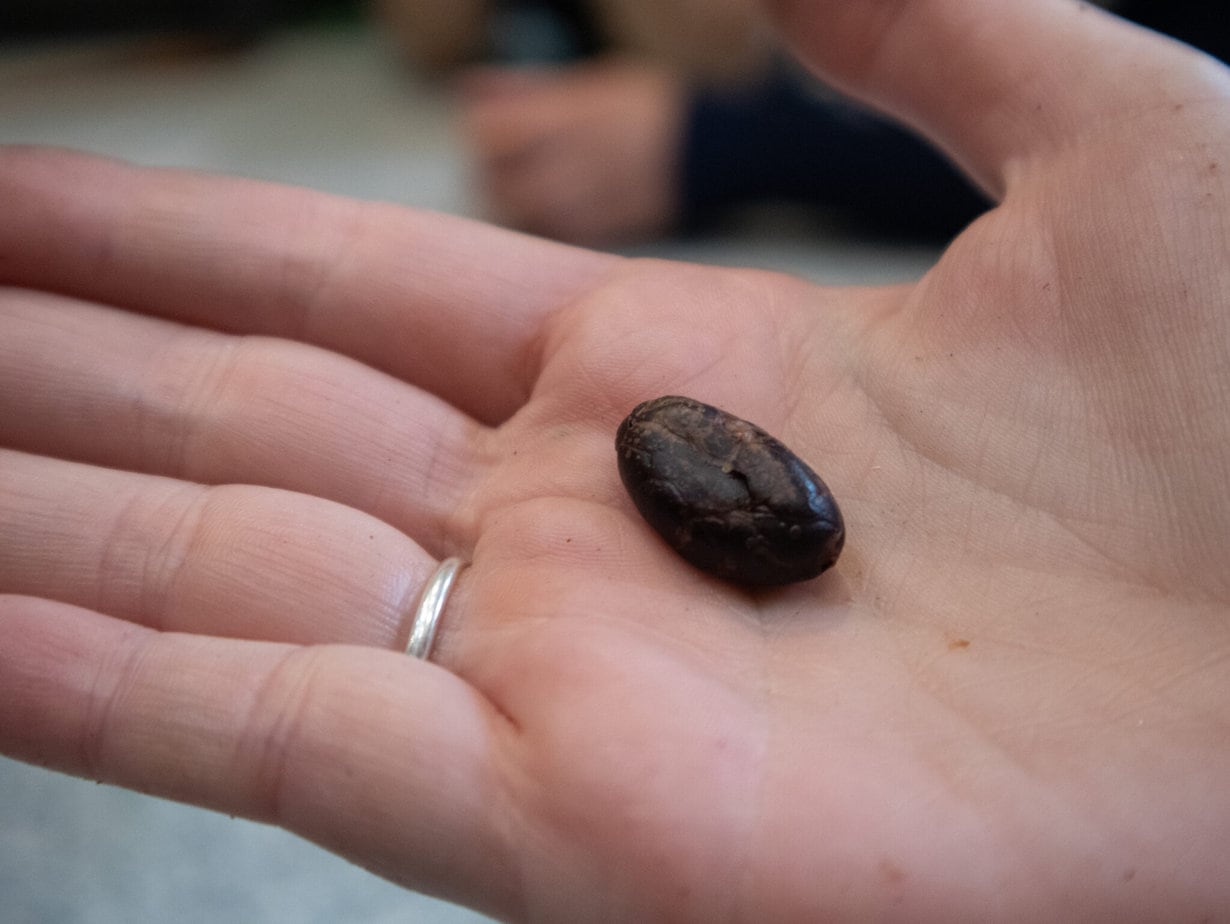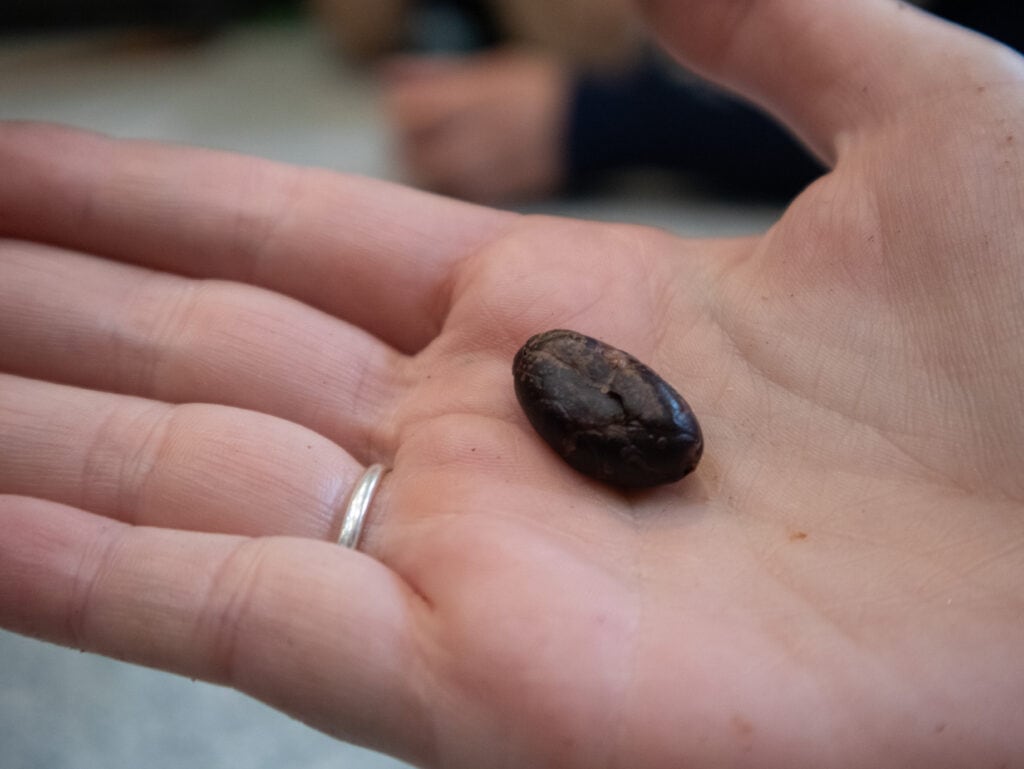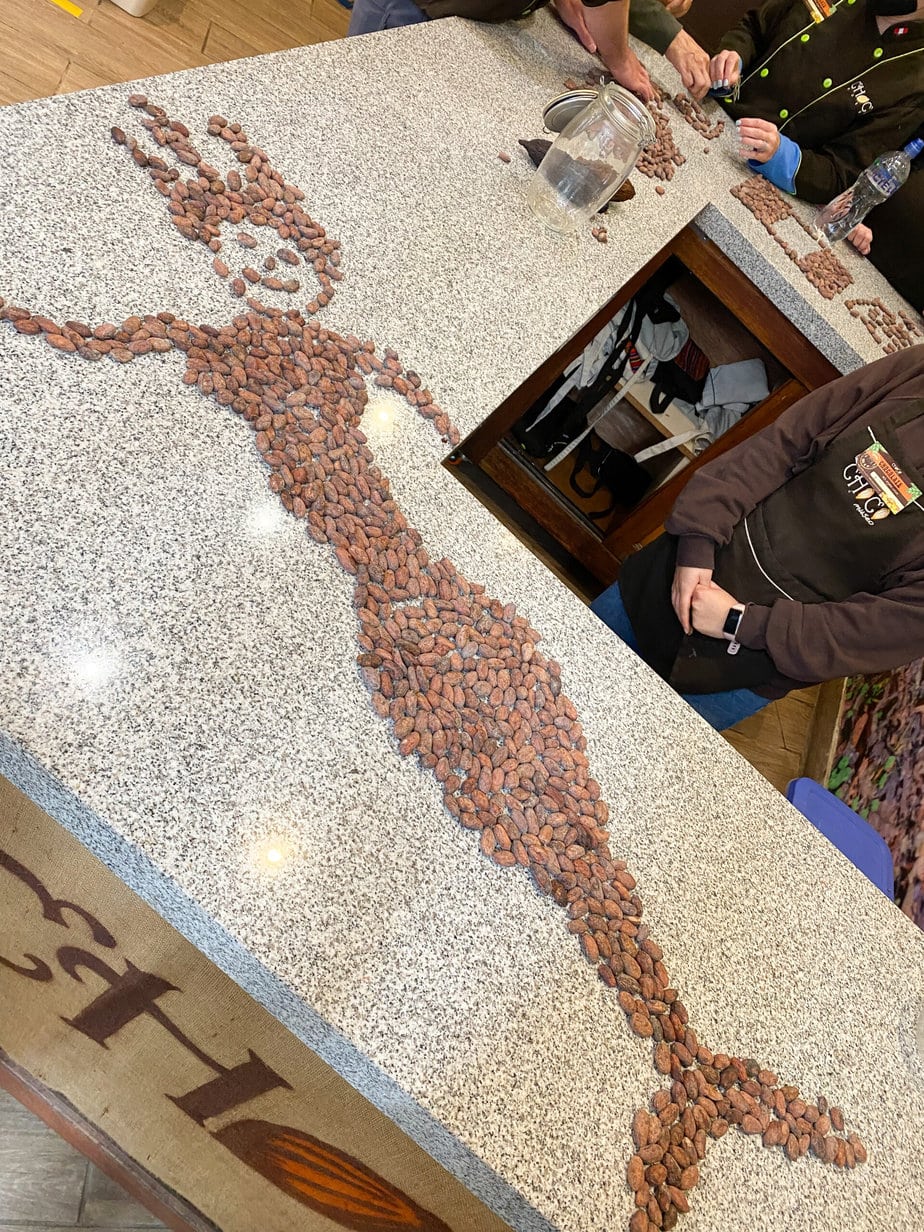 Roasting the Beans
The next step was to roast the selected beans. Nathaly put the beans in a small clay roaster and we had turns stirring the beans with a stick. The room began to smell very, very good.
Peeling the Beans and Making Cacao Tea
After the cacao beans were roasted and cooled, we each had the job of peeling a bowl of beans. Once they were roasted, the shells came off very easily.
The peeled cacao beans were put in one container to be made into chocolate. However, the peels were not wasted! Nathaly used them to make a cacao tea that was surprisingly delicious.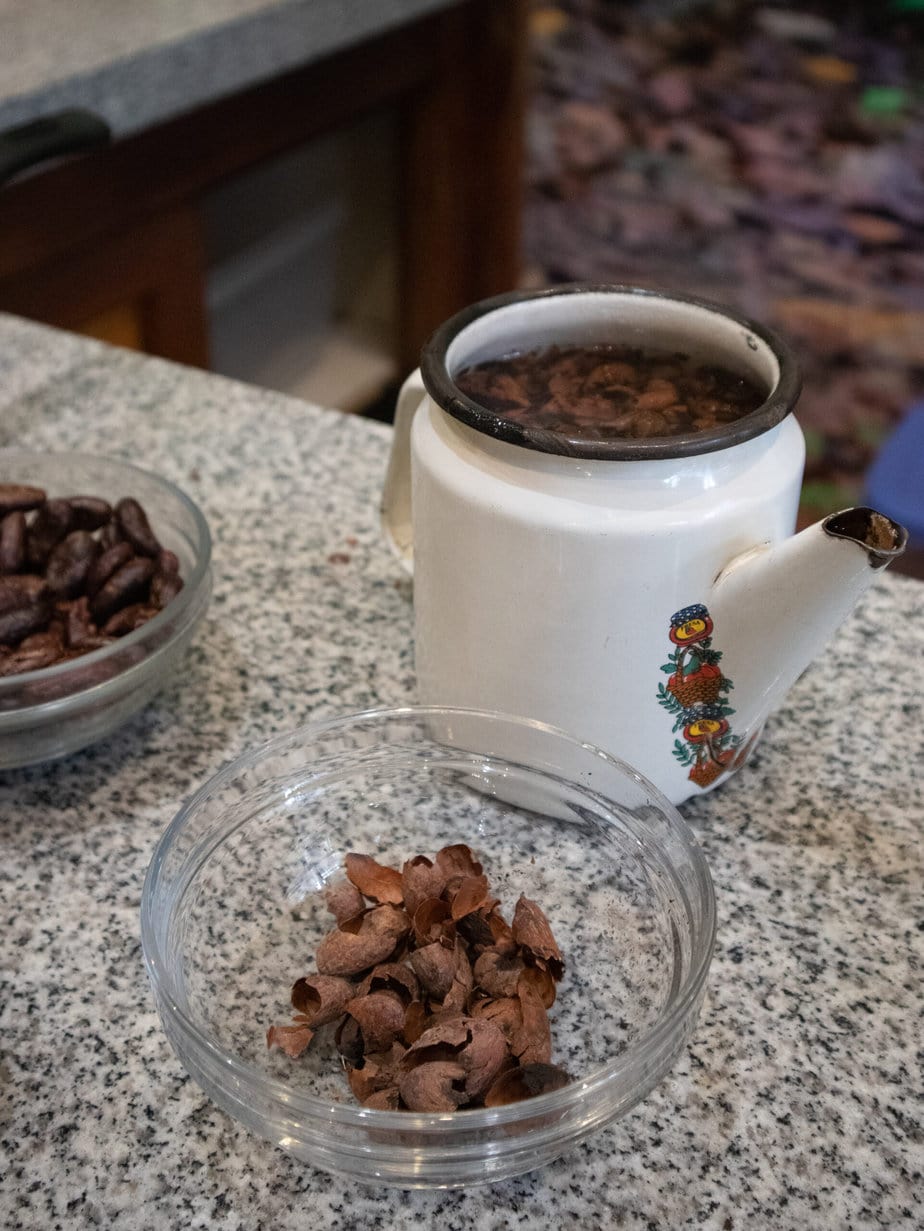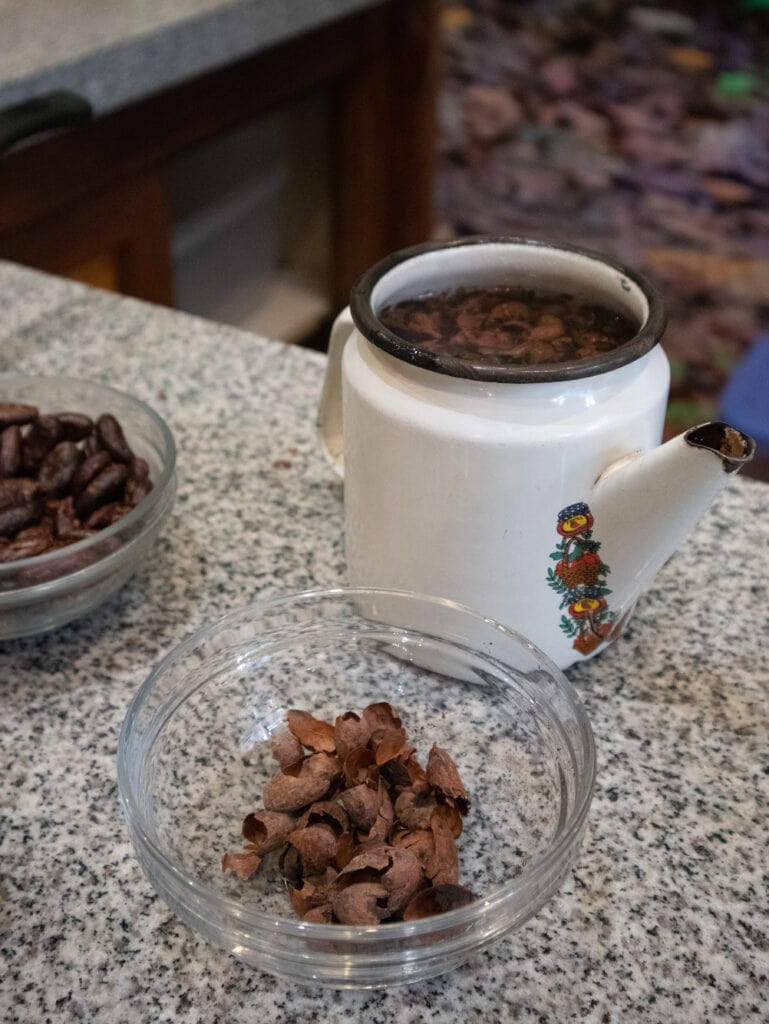 Grinding the Beans
Once we had our fill of cacao tea, it was time to grind the beans. We actually did this by hand with a mortar and pestle, and it was a lot of work!
At this point, we had another competition, and the person who made the best cacao paste within two minutes won a chocolate bar.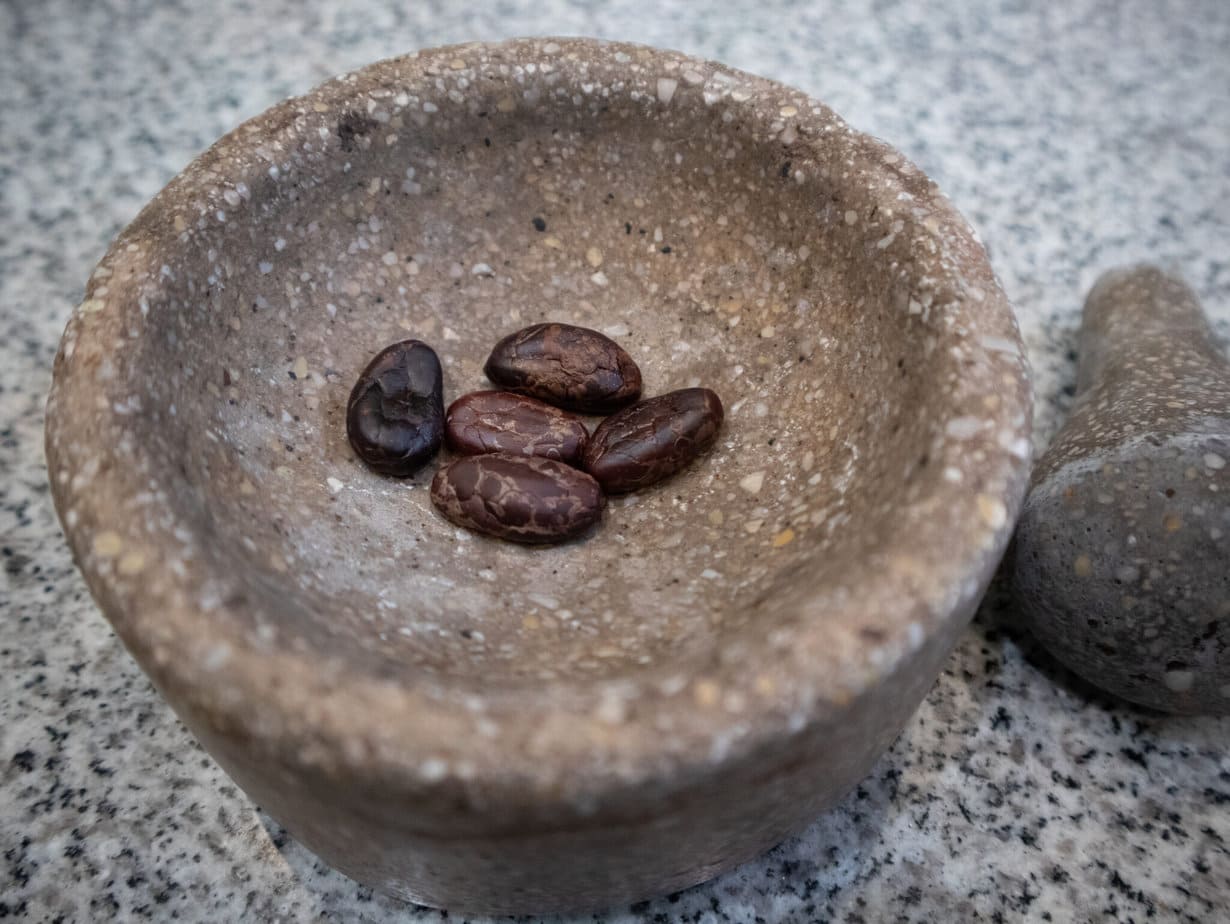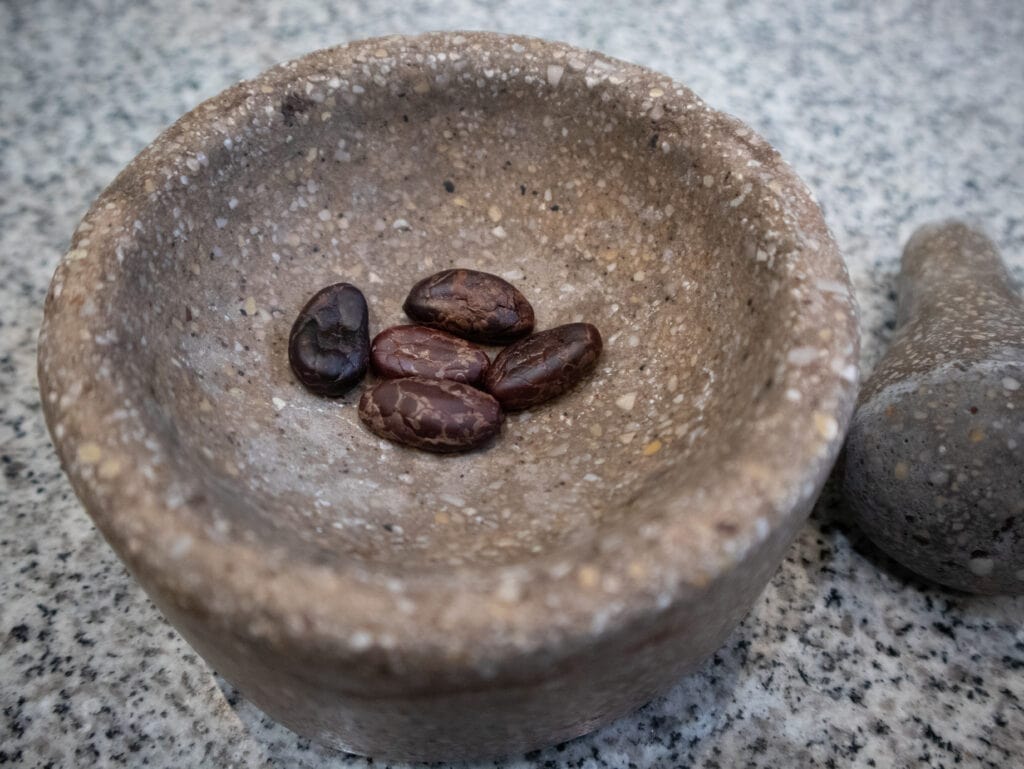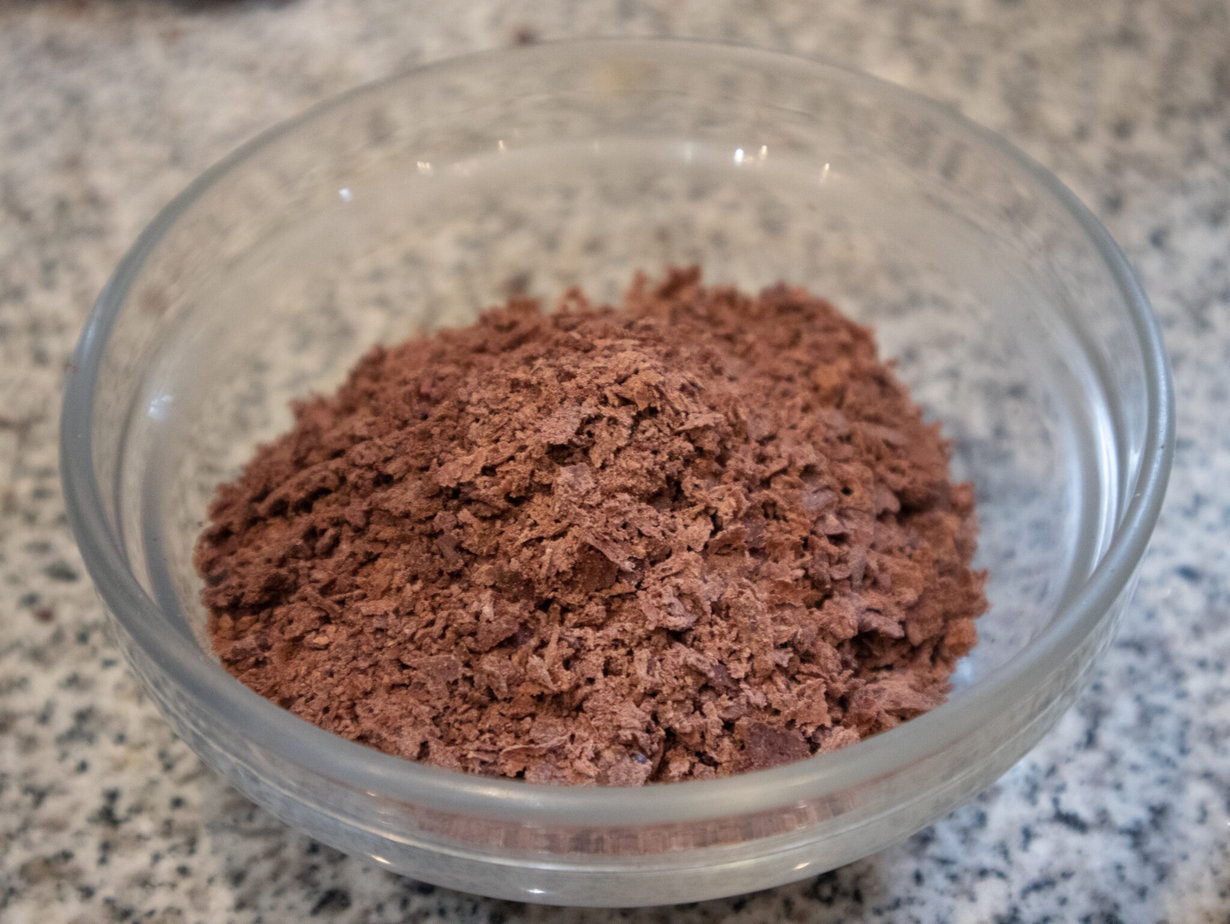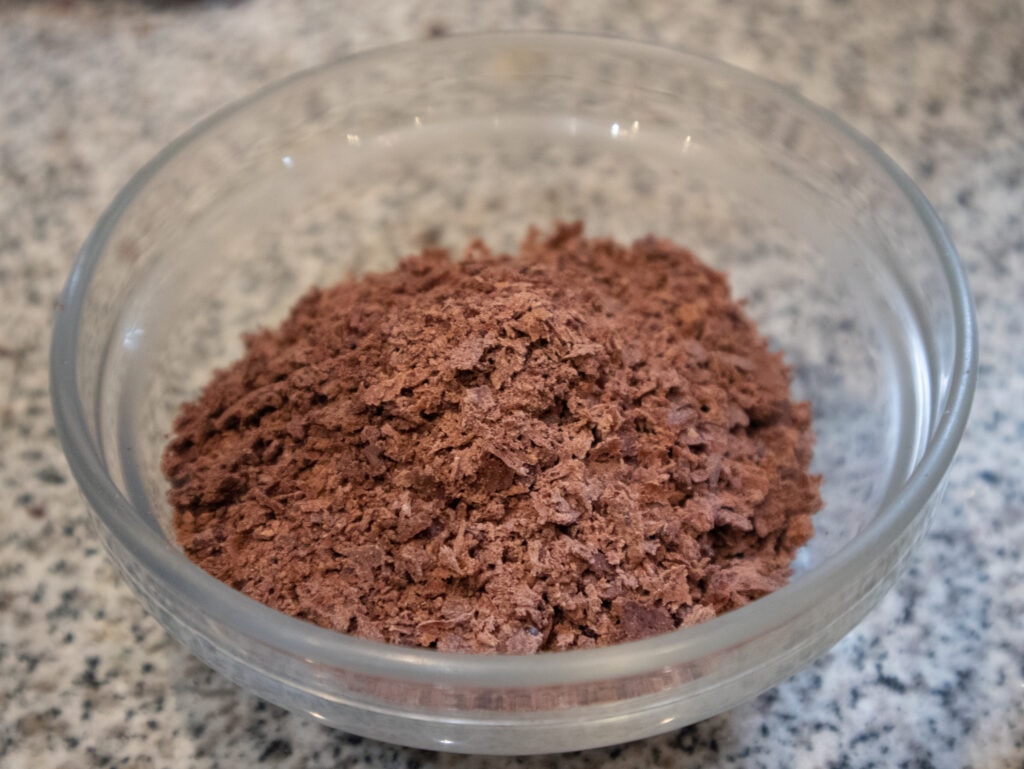 Hot Chocolates
Next, we used some of our ground cacao to make hot chocolates! (Yes, this was one of my favorite parts).
Nathaly showed us first how to make the Incas' "drink of the gods" which is a concoction of hot water, cacao, red pepper, honey, and traditionally the blood of a human sacrifice (but thankfully we did not use the original recipe…). I can't say I loved this drink but it was interesting to try.
Next, she showed us how to make Peruvian drinking chocolate. This included hot water, cacao, milk, and sugar. It also involved pouring the drink back and forth, quickly, between two large clay jugs. We all liked this drink a lot more and I'm pretty sure I had thirds and fourths!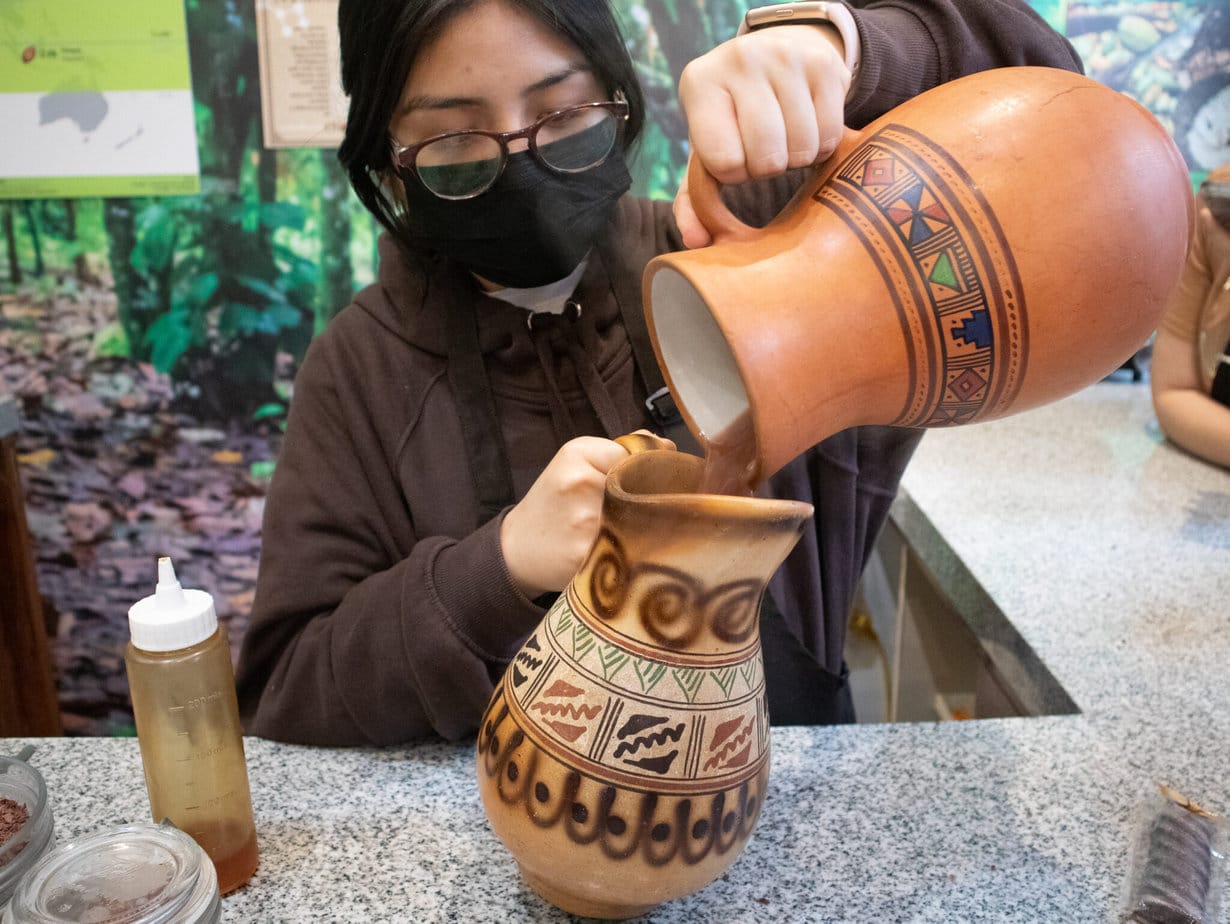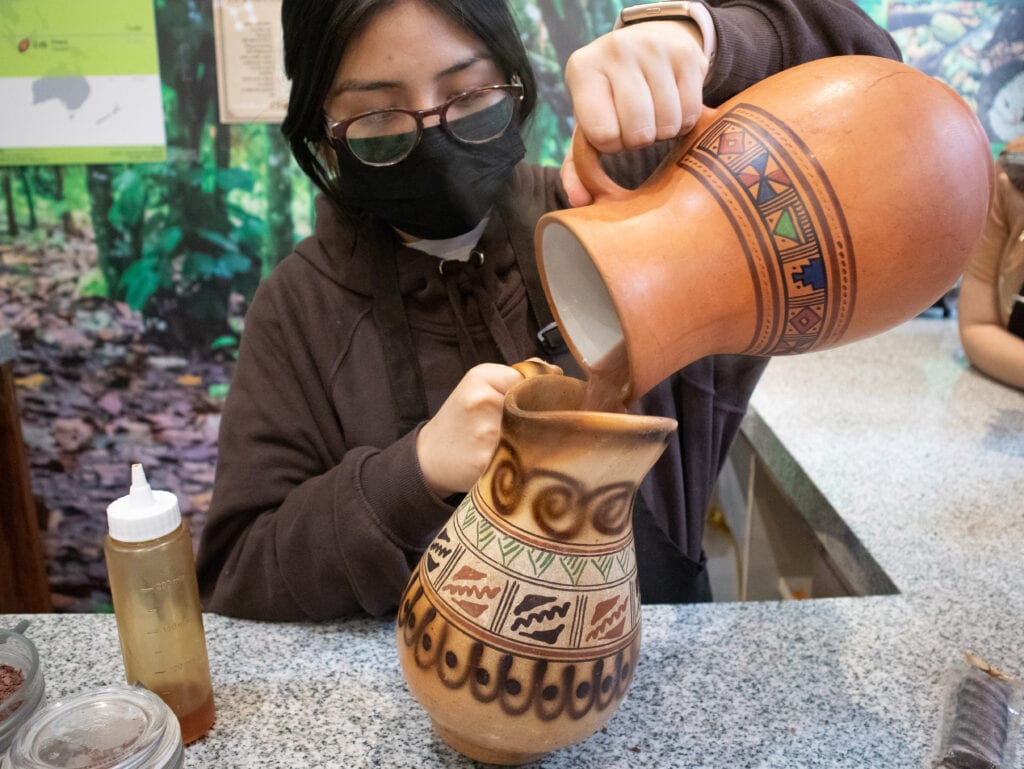 Making our Chocolates
After drinking our fill, we moved on to the most exciting part of the chocolate making workshop – actually making our chocolates!
The actual process of making chocolate takes specialized equipment and a few days, so Nathaly showed us a shortened version of it. Next, we each selected whether we wanted milk or dark chocolate (I chose dark, of course).
Then, we chose our own molds (I chose a cacao bean-shaped mold) and toppings. I made some plain chocolates, as well as sea salt, red pepper, and coffee bean flavored chocolates.
Then, we handed our chocolates over to Nathaly for safe keeping, and finished the workshop! Dan and I returned later in the evening to pick up our handmade chocolates (and devour them).
GLUTEN | All the toppings were gluten free except oreo cookies, and kept in separate jars, so I felt pretty safe from a gluten free perspective.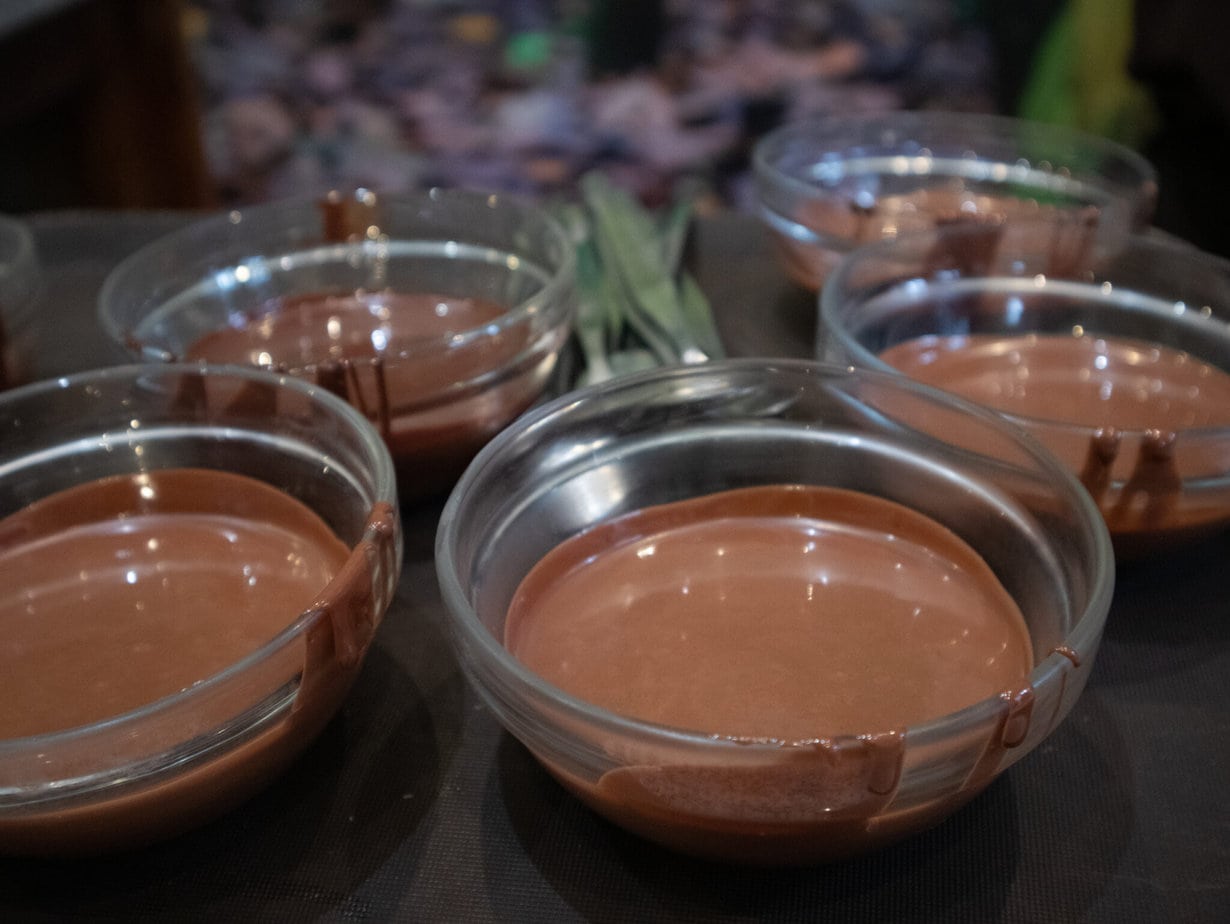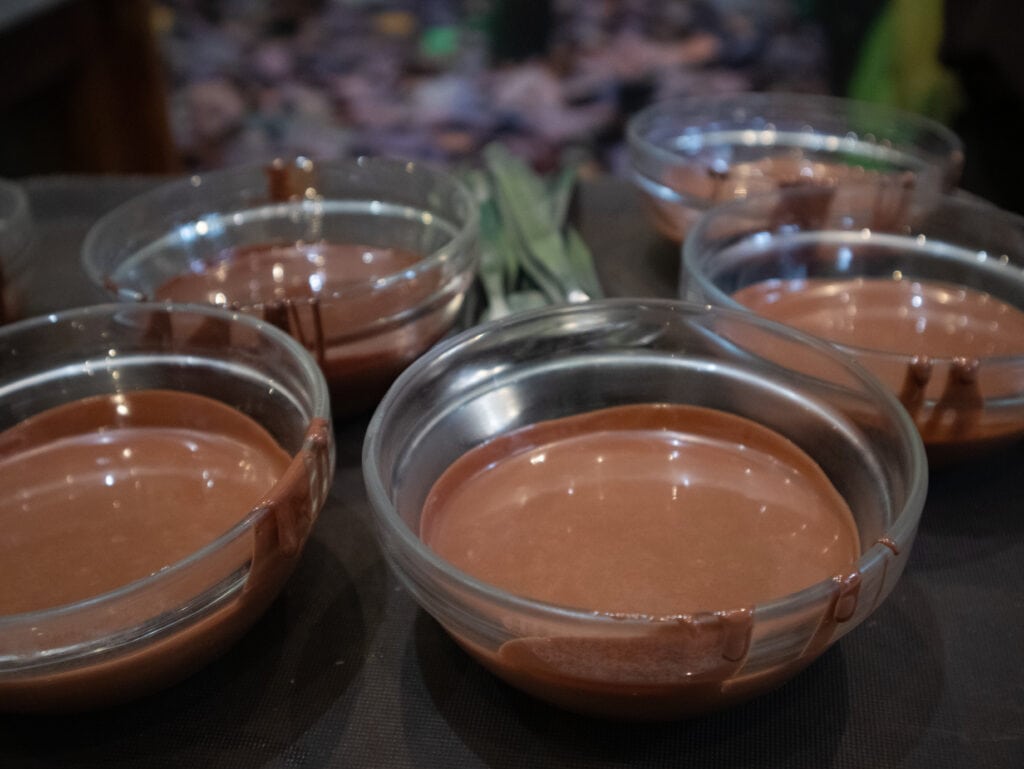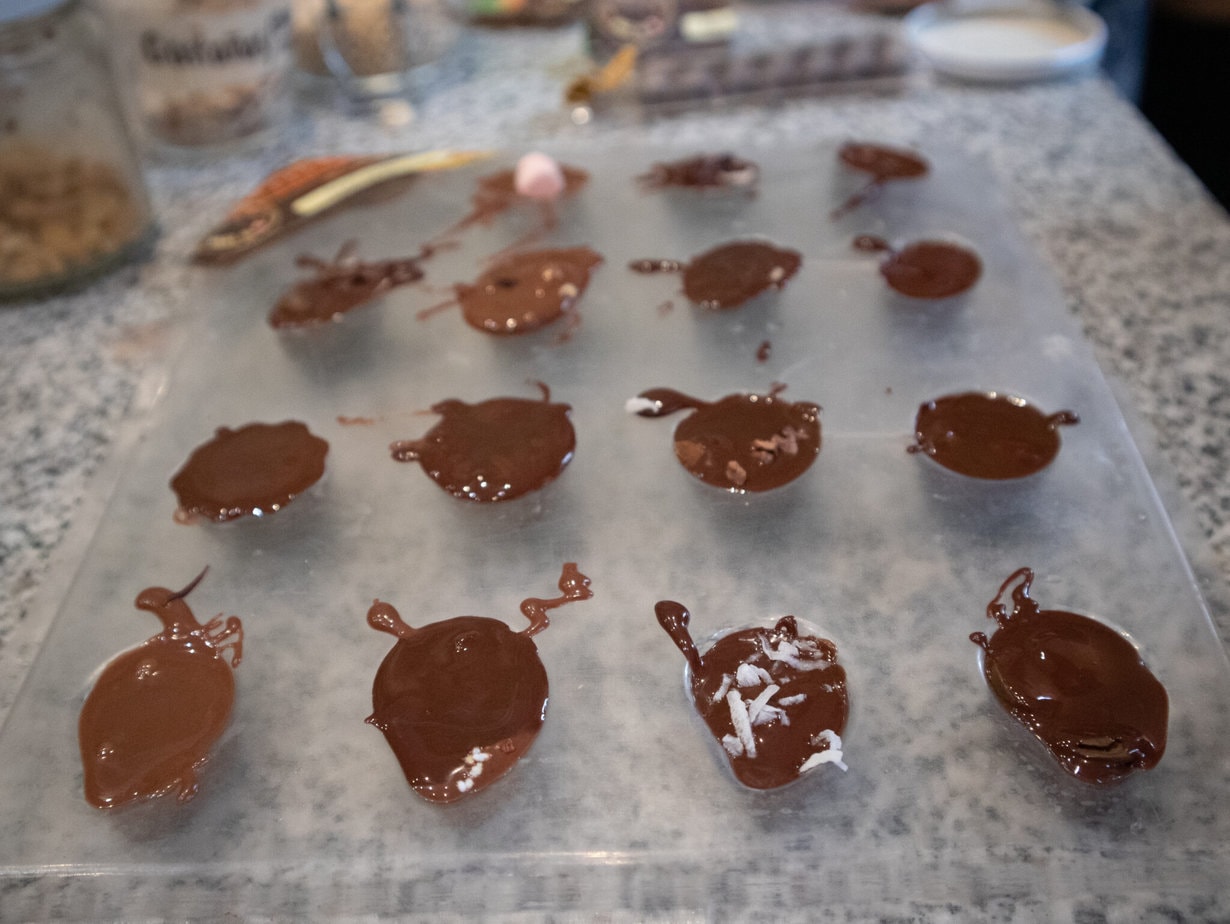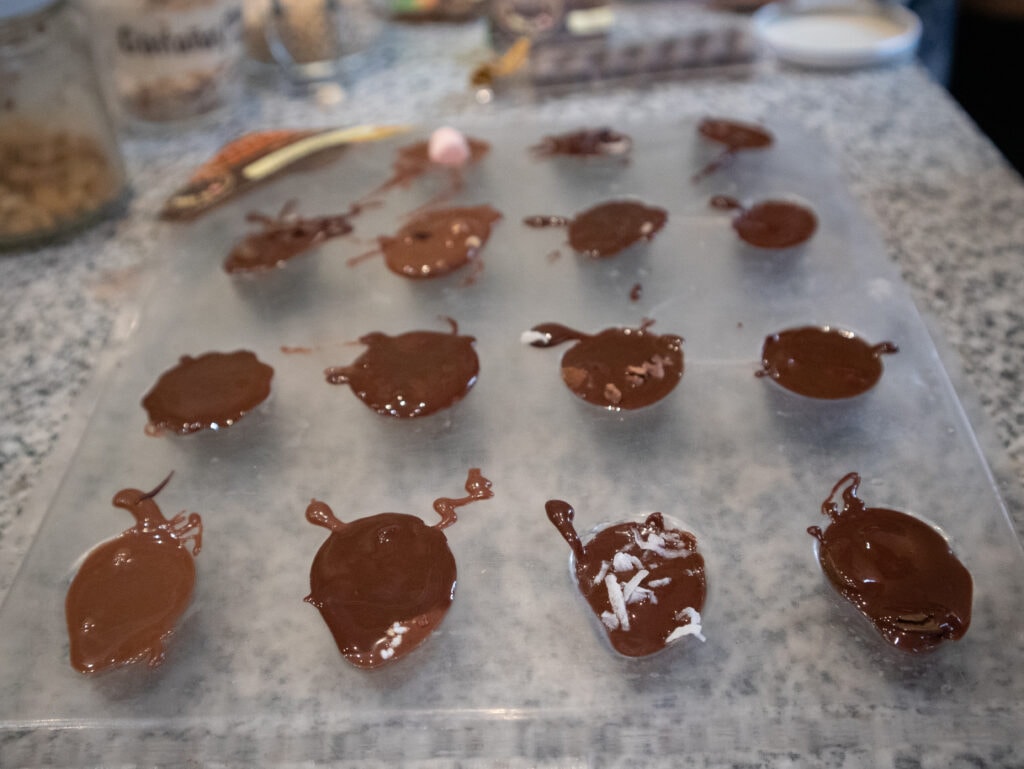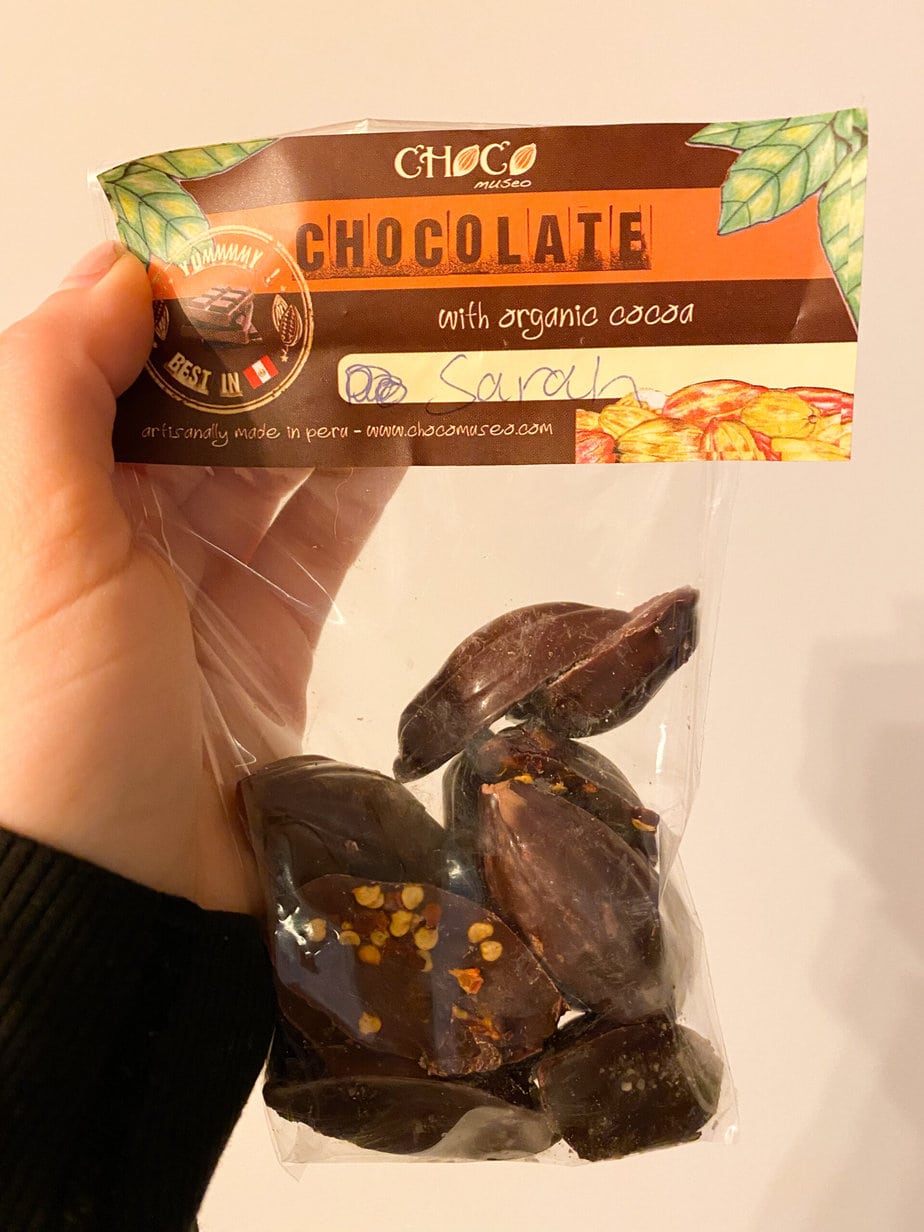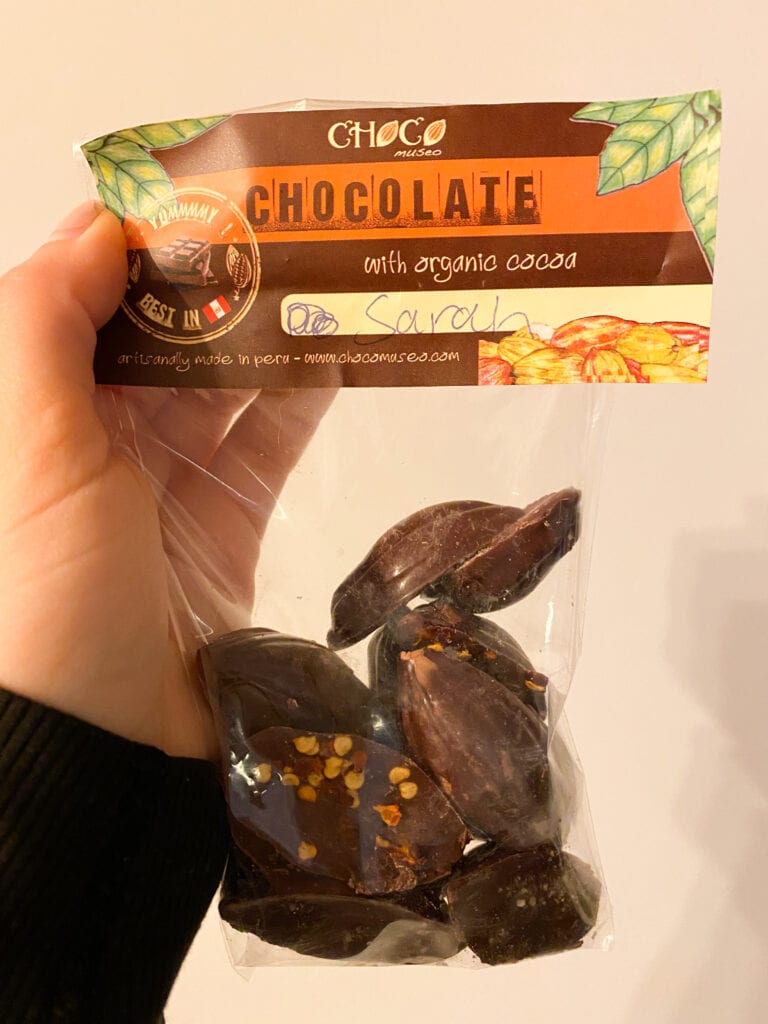 All in all, this was a really fun (and delicious) workshop. I really feel like it also gave a bang for your buck. Yes, it is pricy compared to many things to do in Lima, but you get tons of chocolate tasting, a bag of gourmet chocolates, the potential to win chocolate bars, and a really fun hands on experience.
In fact, this is probably my favorite thing we did in Lima besides our Spanish school!
The Details
What? ChocoMuseo Bean to Bar chocolate making workshop
When? 11am, 2:30pm, or 5pm daily.
Where? ChocoMuseo Miraflores is located in the Mundo Auténtico shopping complex near Kennedy Park (the cat park). The address is Diagonal 400 Entrada, Pje. San amon, Miraflores 15074, Peru. There are also locations in the Lima historical center, Cusco, and Ollantaytambo, Peru, as well as Mexico, Guatemala, and Nicaragua.
How Much? $25/person when booked on Viator which has a lowest price guarantee.