Gluten Free Vancouver Canada: The Complete Guide
If you're gluten free, you need to get to Vancouver, Canada stat. The gluten free Vancouver scene is on fire.
(And to convince your non-gluten free travel companions, just give them promises of gorgeous sunsets overlooking the city skyline, iconic suspension bridges, perfectly roasted coffee, and mountains within 30 minutes of the city center…. ahhh, take me back to Vancouver!).
Below I'm giving you my complete guide to gluten free Vancouver, including the best neighborhoods to stay in, the dedicated gluten free restaurants and bakeries you NEED to eat at, and the restaurants with gluten free options (as always, with celiac safe recommendations and notes on potential cross contact!).
So pull up a chair, and let's get started.
San Francisco Gluten Free Guide
Portland Oregon Gluten Free Guide
Cannon Beach Oregon Gluten Free Guide
New York City Gluten Free Guide
Where to Stay if You're Gluten Free in Vancouver
Gluten free travel already has its challenges and complications. Make it easy on yourself and book accommodation that is close to gluten free friendly grocery stores, bakeries, restaurants, etc.
After a lot of research (including chatting with local friends who are gluten free), and two weeks in Vancouver myself, here are my recommendations for where to stay if you're gluten free in Vancouver.
Mount Pleasant – Morning Walks to Fresh Gluten Free Croissants!
This is a very cute, somewhat hipster residential neighborhood, located south of downtown Vancouver.
Main Street is the central drag and is full of boutiques, vintage stores, a Save On Foods grocery store, and many of the restaurants I mention below. Even better, two 100% gluten free Vancouver bakeries (Lemonade – my fave, and The Gluten Free Epicurean) are in Mount Pleasant.
We stayed in Mount Pleasant, in an apartment conveniently (and coincidentally) epicenter between those two bakeries… a ten minute walk for freshly baked gluten free croissants each morning? YES PLEASE. (By this I mean yes I literally did do this every day, sue me).
We stayed in a family friend's apartment in Mount Pleasant, but here are some accommodations I recommend in the same area:
North Vancouver – Gluten Free Markets, Bakeries, and Easy Hiking Access!
On the other side of downtown Vancouver, you have North Vancouver. Depending where you stay, you'll get a more residential, industrial vibe.
North Vancouver is definitely a quieter area and doesn't have as much traffic – one benefit of staying here if you plan to hike is that you won't have to drive through downtown every time you head out! But the reason I recommend North Vancouver to gluten free travelers is that it's home to two 100% gluten free bakeries, as well as the Shipyards Night Market (read more about these below!).
Where to stay in North Vancouver:
Other than those two neighborhoods, Kitsalano also comes highly recommended, and of course there's downtown Vancouver. We actually preferred staying further out of downtown, which we found to be a bit overcrowded.
100% Gluten Free Vancouver Bakeries
Lemonade Bakery
My absolute favorite dedicated gluten free Vancouver bakery is Lemonade… and dare I say maybe my favorite bakery ever?!
Lemonade Bakery, located in Mount Pleasant, specializes in gluten free pastries. It was founded by a professional pastry chef who discovered she had celiac disease and decided to make lemonade out of a lemon-y diagnosis.
The croissants at Lemonade are hands down the BEST gluten free croissants I've ever eaten. A visit to Lemonade became my morning ritual while we were in Vancouver… nothing like a croissant in the sunny garden with my coffee in the morning! It might seem small but it was such a wonderful luxury.
I particularly recommend the chocolate croissants (and the almond croissants… and plain croissants… and cinnamon danishes…). I even let Dan have a few bites and he said they taste "just like they have gluten in them" lol!
Address: 3385 Cambie Street, Vancouver BC
RELATED | Gluten Free Quebec City, Canada Guide
The Gluten Free Epicurean
Another dedicated gluten free Vancouver bakery in the Mount Pleasant neighborhood is The Gluten Free Epicurean.
This was my second favorite bakery in Vancouver and totally needs to be on your list! They have a small cafe space, and serve a variety of treats like sticky buns, pizza rolls, cookies, cupcakes, brownies, and more.
They serve a specialty item every day (such as donuts, Boston cream pies, and croissants), so check the website before you visit.
My favorite item here was the chocolate chip salty oat cookies… these were soo yummy and filling. I advise buying a few and packing them for a mid-hike snack I also loved the sticky bun.
There wasn't as wide of variety in the pastry department as Lemonade, but toooons of cookies and sweet treats.
Address: Gluten-Free Epicurean, 633 E 15th Ave, Vancouver, BC, V5T 2R4
RELATED | Gluten Free Portland, Oregon Guide
Two Daughters Bakeshop
Two Daughters Bakeshop is a 100% vegan and gluten free bakery located in North Vancouver. It's a bit hidden away, in a literal alley, but definitely worth a visit (especially if you are also vegan!).
We made a side-trip one day on our way to a hike in North Vancouver… there is no on-site parking but you can park in the metered and unmetered spots on the nearby roads.
There are more limited options at Two Daughters Bakeshop than the previous two bakeries, and they definitely specialize in desserts/sweet treats. I asked what their signature item was and was informed their cookie sandwiches are very popular!
After testing one out myself, I can see why. I also got their vegan chia-chocolate chip cookie and it was also super tasty.
Address: 105-980 West 1st Street, North Vancouver, BC, V7P 3N4
Mountaintop Wheat and Gluten Free Bakery
Another 100% gluten free Vancouver bakery is Mountaintop Wheat and Gluten Free Bakery, also in North Vancouver.
We did not make it here ourselves but there are some rave reviews about the gluten free bread sold here. It is located within a larger shopping center.
Address: 1124 Lonsdale Avenue, North Vancouver, BC, V7M 3H6
Panne Rizo Gluten Free Bakery
Panne Rizo is a dedicated gluten free bakery that is located in the Kitsilano neighborhood – a somewhat bougie area with very cute cafes, boutiques, and beaches. The cupcakes are particularly yummy!
Address: 1936 Cornwall Ave, Vancouver, BC, V6J 1C8
Cloud 9 Speciality Bakery
Cloud 9 Specialty Bakery is an entirely gluten free bakery is actually located in Westminster, which is a suburb of Vancouver. So it's a bit of a drive out of downtown, but definitely worth a stop as you are driving either into or out of the city.
They sell baking mixes, as well as have tons of donuts, cupcakes, and cookies offered daily.
Address: 1840 Broadway Street, Port Coquitlam, BC, V3C 2M8
100% Gluten Free Vancouver Restaurants
Whilst Vancouver's strength is definitely in the gluten free bakery department, they aren't short of 100% gluten free restaurants either!
Iki Sushi
Iki Sushi is a 100% gluten free Vancouver sushi restaurant located in the Kitsalano neighborhood… yes you heard me. 100% gluten free sushi!!!
It had been nine years since I had tempura, special rolls, or that fancy peanut satay sauce they serve on salads at sushi restaurants. It was amazing to not have to choose my rolls based on which ones were the most basic, or fret about cross contact with soy sauce.
I ordered all the tricked out rolls with special sauces and tempura, salad, and miso soup. Actually, the waitress gave us a rather surprised look and Dan asked "Is that more than most people order?" And she was like "Um… yeah…" So we cut our order down by one roll, but what can I say, I was excited!!
Address: 2756 W Broadway, Vancouver, BC, V6K 2G4
Smak – CLOSED
SMAK was a healthy 100% gluten free fast-chain restaurant with a few locations across central downtown Vancouver. Unfortunately the restaurants were closed in October 2021 and will be missed. There doesn't appear to be any plans for a re-opening.
If you see this restaurant chain recommended in other gluten free guides then just know it is closed and the information presented is out of date.
Non-Dedicated Gluten Free Vancouver Restaurants
The restaurants listed below go above and beyond to accommodate gluten free, including implementing cross contact procedures to be celiac safe.
*I've included cross contact information for each restaurant, but I encourage you to always, always, always talk to your wait staff about concerns, and note that policies may have changed since my visit!
Meet on Main (Celiac Friendly)
MeeT is a 100% vegan restaurant in Vancouver, with locations in Gastown, in Yaletown, and on Main Street in Mount Pleasant (this is the location we ate at, twice!).
The majority of the menu is available gluten free, including poutine, salads, burgers, mac & "cheese" and more. Neither Dan or I are vegetarian/vegan but we both enjoyed the food!
The standout for me was the gluten free burger bun – one of the best I've had! Please note, though, that the classic veggie burger patty has wheat in it so you need to pay extra for the beyond meat patty. I ended up paying like $7 extra for the bun AND patty, which was annoying, but at least I didn't get glutened!
It is important to inform the staff here that you have an "allergy" so they take appropriate precautions, including preparing in the dedicated gluten free prep space. Also notable is that they have a dedicated fryer, and the fries are some of the best I've ever had!
Address: For Main St. – 4288 Main St, Vancouver, BC, V5V 3P9
Rocky Mountain Flatbread (Very Celiac Friendly)
Located in Kitsilano is Rocky Mountain Flatbread, a wood fired pizza joint. A local friend informed me that they had gluten free pizza bases, and after some investigating I found out they also have a dedicated gluten free wood fired oven!!
Although this is not a dedicated gluten free restaurant, they take a lot of precautions such as a dedicated prep space, and dedicated gluten free ingredient/topping containers so there really is no cross contact.
We ordered pizzas and ate them on the Kitsalano Beach during sunset… and I had absolutely zero reaction! I was so, so happy and can very comfortably recommend eating here. I ordered the sun dried tomato pizza and it was incredible – Dan didn't like his naturally meaty pizza as much as mine.
Also note – they have vegan cheese here and can make the pizzas vegan!
Address: 4186 Main Street, Vancouver, BC, V5V 3P7
Juke Fried Chicken (Very Celiac Friendly)
Gluten free fried chicken, y'all!!! (Oh wait, we're in Canada, do they say 'y'all' here?!). If you're in the mood, get yourself to one of the two Juke Fried Chicken locations, both in downtown Vancouver.
ALL the fried chicken is gluten free and prepared in a dedicated fryer. Most of the menu is gluten free apart from the mac & cheese and bread.
Indicate an allergy and the staff will take precautions in preparing your meal.
Address: 182 Keefer St, Vancouver, BC, V6A 1X4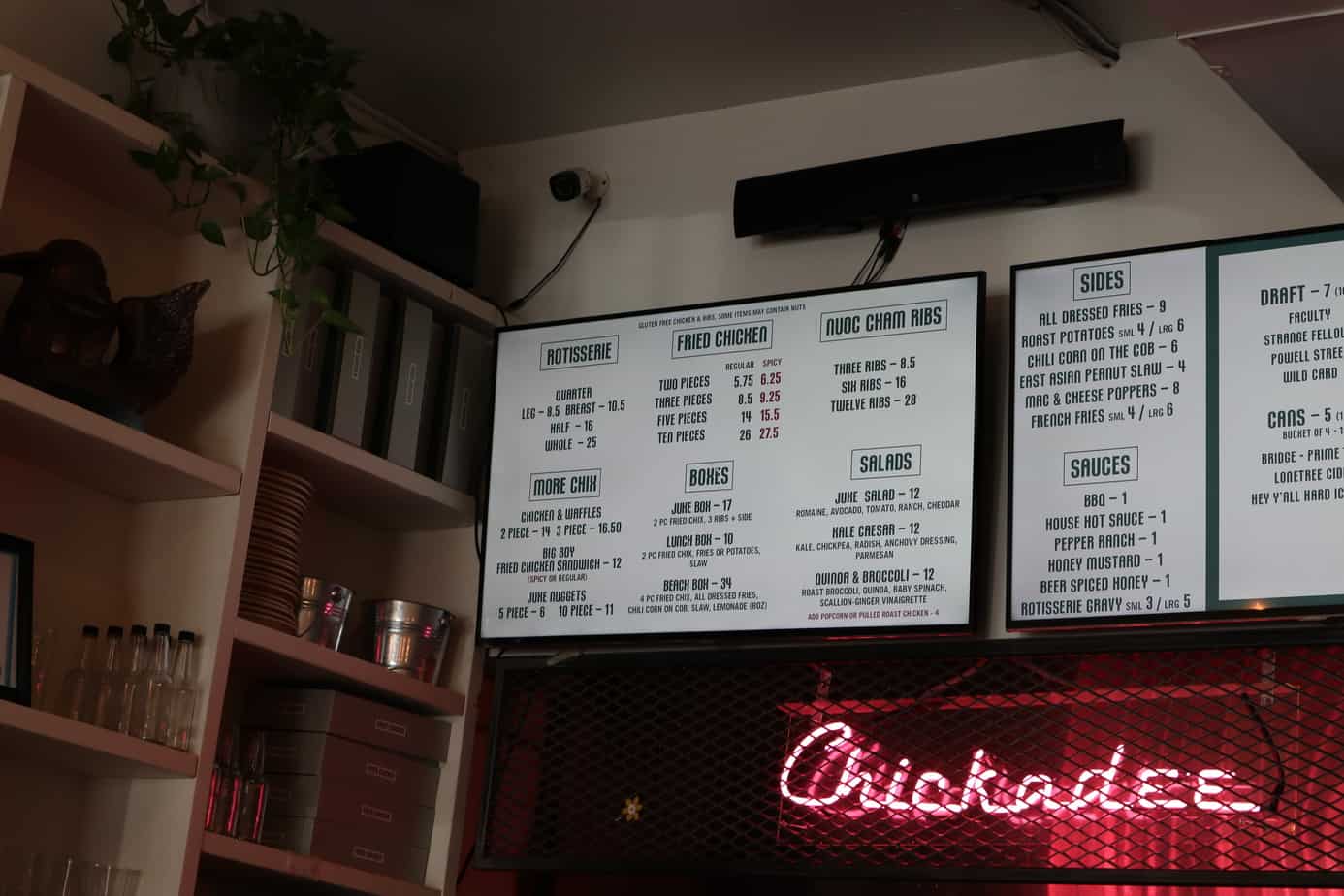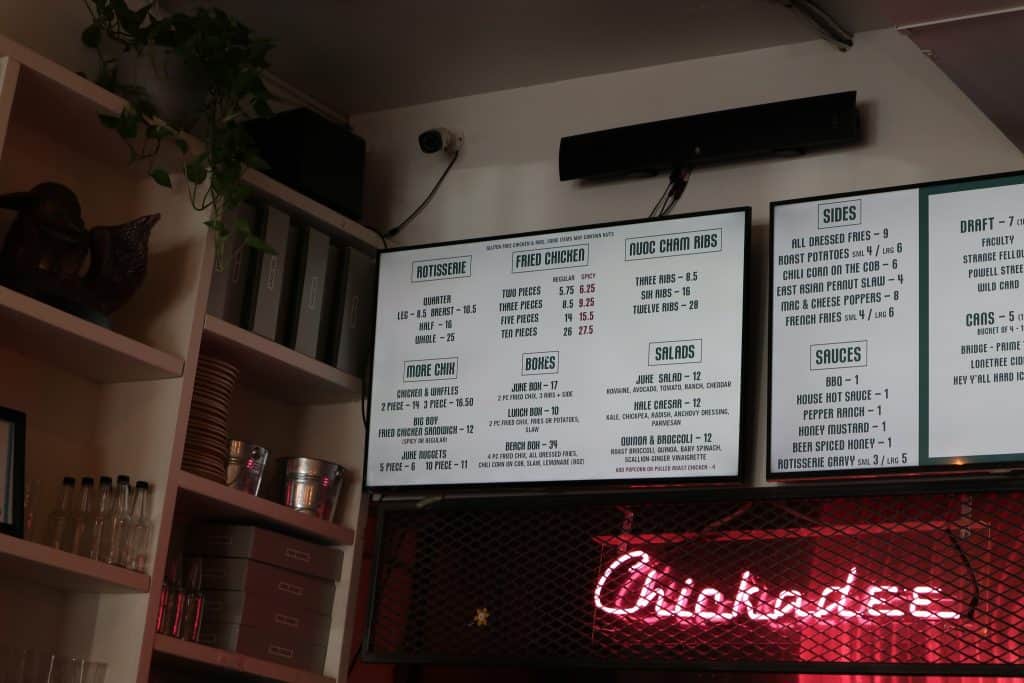 Red Robin (Downtown Vancouver Location)
Red Robin is a fast food, burger and shake type joint that has locations all across North America. They also happen to have gluten free buns!
Like any chain restaurant you need to be careful and communicate your needs to the staff – note that not all locations may take the same level of precautions. But the downtown Vancouver location goes above and beyond to keep your meal safe during preparation – and they even have a dedicated gluten free fryer for french fries!
Address: 803 Thurlow St, Vancouver, BC, V6E 1W1
Nuba Lebanese (Very Celiac Friendly)
We did not get a chance to eat at Nuba Lebanese (with locations in Gastown, Yaletown, and Kitsalano) – but it has fantastic reviews from the gluten free community so I wanted to pop it in this gluten free Vancouver guide.
There are a lot of naturally gluten free options (including falafel!), and when you notify staff of your needs they will prepare in a dedicated space (and use their dedicated fryer). This is definitely on my list for a return trip to Vancouver!
Address: Gastown – 207 West Hastings St, Vancouver, BC, V6B 1K6
Ask for Luigi (Very Celiac Friendly)
Some of my readers with celiac disease recommended Ask for Luigi before our trip, and unfortunately we didn't get a chance to eat here.
This isn't a dedicated gluten free restaurant but they do offer gluten free hand made pasta!! Apparently, it is out of this world. I can't wait to try this place out next time I'm in Vancouver. Fair warning – it's a bit pricy, so save this one for a special occasion.
Address: 305 Alexander St, Vancouver, BC, V6A 1C4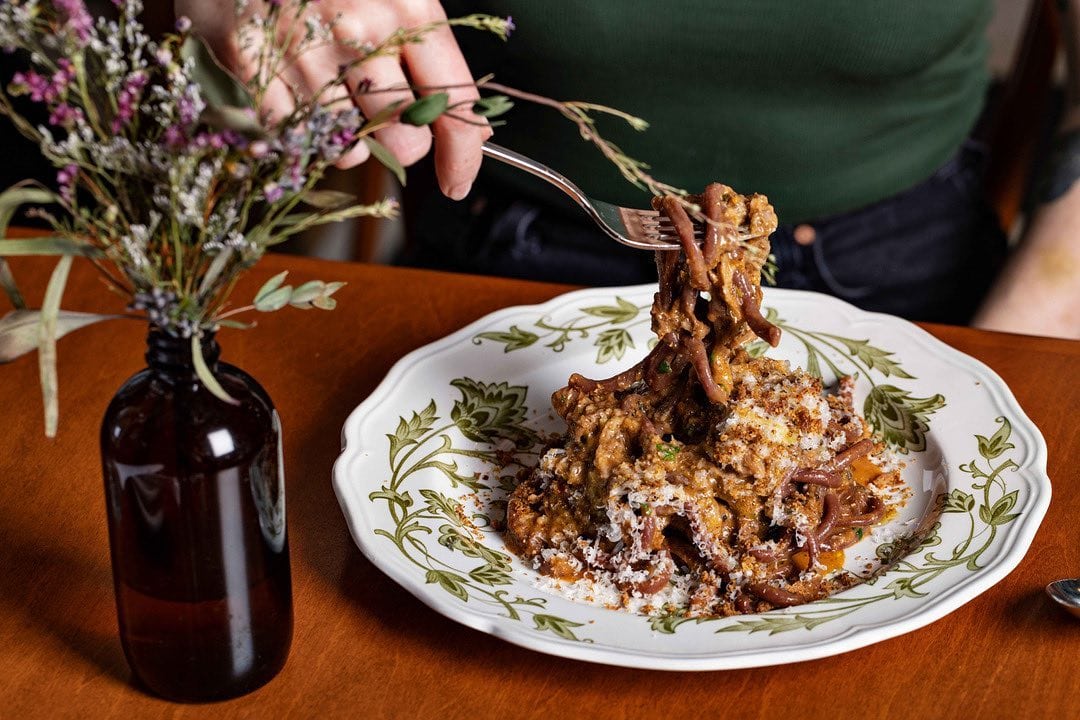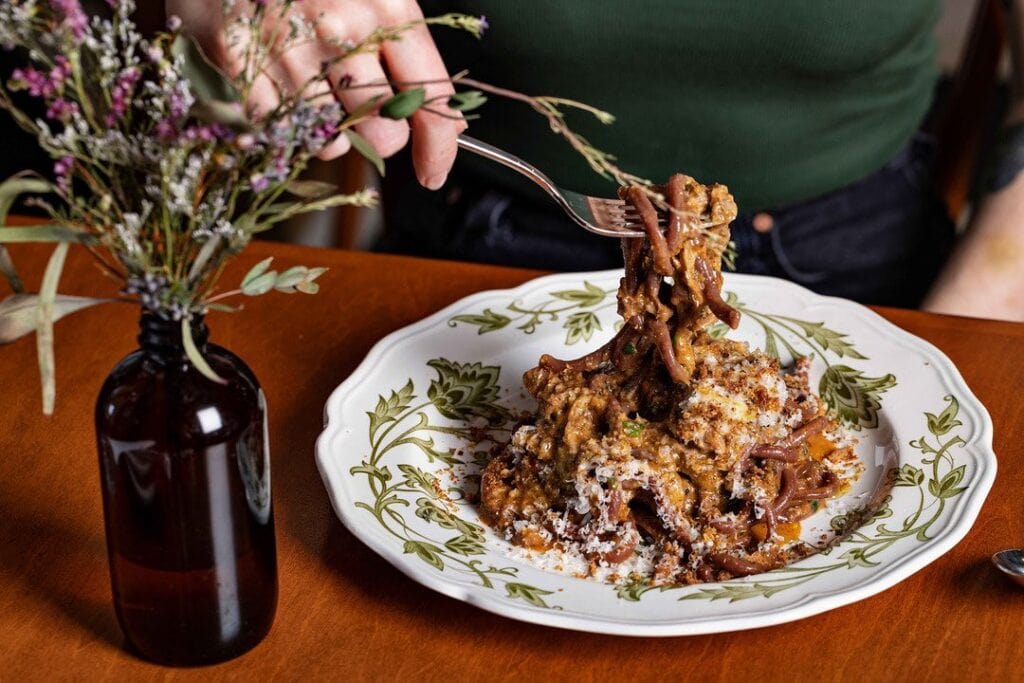 Gluten Free Vancouver Sweet Treats
Ohh you thought I was done with the sweet treats and baked goods? Not a chance 😉 Luckily, there's more where that came from in Vancouver…
Innocent Ice Cream (100% Gluten Free!)
Oh wait, there's one more dedicated gluten free Vancouver establishment!! Friends, meet Innocent Ice Cream.
This 100% gluten free ice cream parlor (with plenty of vegan options, too!) is located in Mount Pleasant on Main Street. Luckily for us, it was a short walk from our apartment, but even if it's not for you, I totally recommend a trip out here.
We went one evening with some friends who were living in Vancouver for the past year, and had some casual 10pm gluten free ice cream sandwiches!
Personally, I got the ice cream sandwich 'flight' – three mini sandwiches, so you can test the flavors! I got the 'salty peanut' (PB cookies and salty caramel ice cream), 'cherry bomb' (double chocolate cookies, cherry ice cream), and 'electric' (chocolate chip cookies and coffee ice cream).
Dan opted for one BIG ice cream cookie – the 'fairy tale' (vanilla sugar cookies and raspberry white chocolate ice cream). We LOVED the fairy tale and salty peanut! You can also mix and match cookie and ice cream flavors which is fun.
Address: 4895 Main Street, Vancouver, BC, V5V 3R9
Cartems Doughnuts (Not Celiac Safe)
Also on Main Street in Mount Pleasant (as well as a few other locations) is Cartems Donuts. This is a super iconic donut place with tons of creative flavors recommended to me by a local friend.
They offer a pretty big variety of vegan options, as well as 'gluten friendly' donuts. (Side note: I really hate this designation – it always turns me off as restaurants trying to cover their backs instead of truly taking steps to reduce cross contact.)
Cartems Donuts makes this statement on their website – "While we try our best to avoid any contact with gluten, we cannot guarantee that our gluten friendly donuts are 100% gluten free since they are cooked in a facility with gluten. As such, they should not be consumed by those with moderate to severe allergies."
Personally, in light of that statement, I opted not to try out the donuts here. If you choose to eat here I would be interested to hear about your experience.
Address: 2190 Main St, Vancouver, BC, V5T 3C5
Gluten Free Vancouver Beer
There is such an extensive gluten free beer scene in the Pacific Northwest, and I was really happy to see this extends to our northern neighbors in British Columbia, too! There are a lot of places you can find gluten free beer in Vancouver. Chances are you won't have to go hunting, but just in case, here are a few places you can find it:
Gluten Free Vancouver Markets
I loooove visiting markets when I travel – but it's always a bit sad when there's nothing gluten free to eat! Fear not in Vancouver. Here's a mini guide to the gluten free Vancouver market options.
Granville Island Public Market
The Granville Island Market is one of the most-loved and recommended things to do in Vancouver!
Dan and I definitely wanted to explore the market, and I was really happily surprised to see that there were lots of gluten free options. We didn't eat a full meal here but you definitely could.
Here are some gluten free shops/stalls that we found:
And of course there are tons of veggie, fruit, spice, and meat stands, many of which are completely naturally gluten free.
Shipyards Night Market
Shipyards Night Market is held on Fridays from the wharf in North Vancouver. It's basically a food truck market.
It's free to enter, you just wander around and order your meal from one of the many, many trucks! And then eat it while watching the sun set over the Vancouver sky line – bliss!
I was happy to find some gluten free options, including some 100% gluten free Vancouver food trucks:
Richmond Night Market
The Richmond Night Market is the largest night market in North America. They specialize in Asian foods, seafood, and just plain weird food that people love to Instagram.
Dan and I did not go to Richmond Night Market so I can't vouch for any gluten free options here – I just want to put it on your radar as it's such a big tourist spot in Vancouver.
If you do go – let me know if you find any safe gluten free options!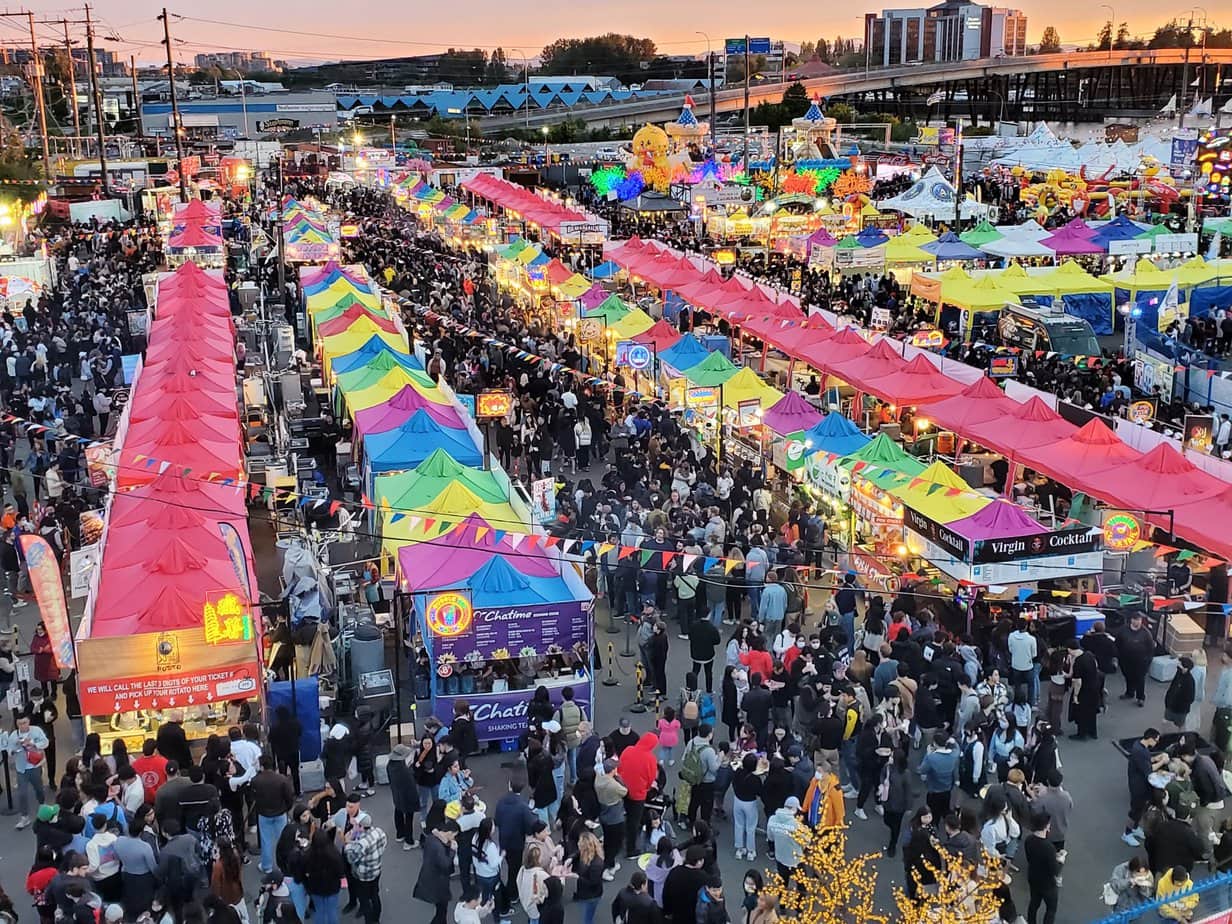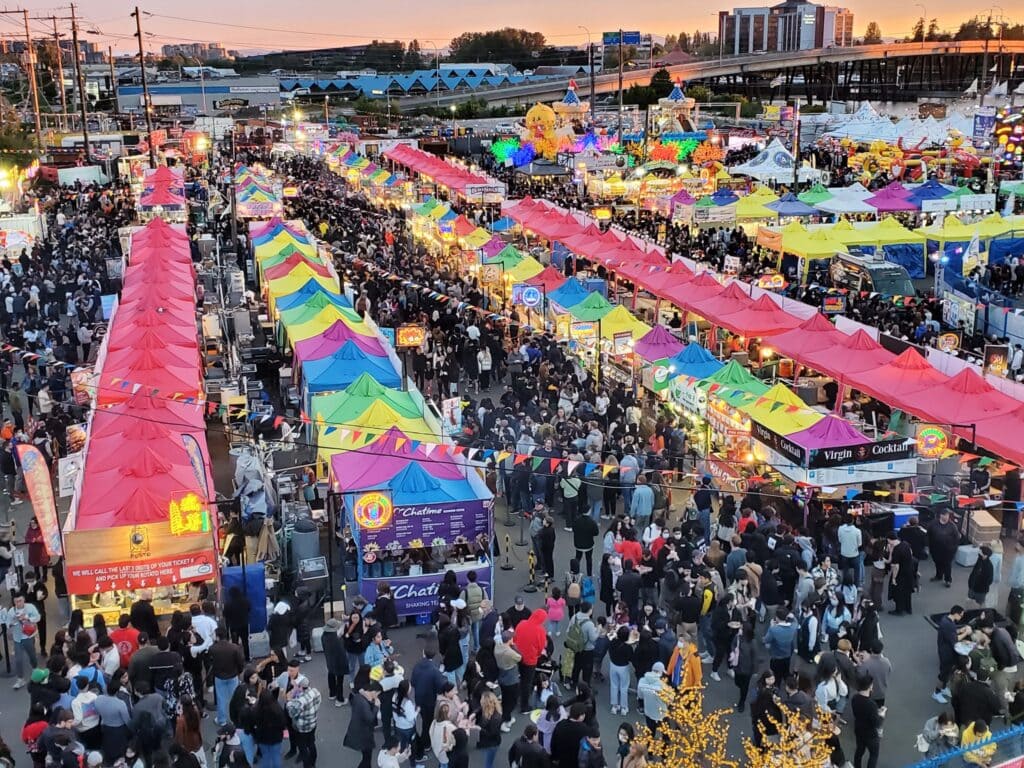 More Gluten Free Vancouver Options
Yes, there are even MORE gluten free Vancouver restaurants! I want to give a shout out to the following restaurants that various people recommended to me for safe gluten free options.
Unfortunately we didn't get a chance to eat at these but they are on my list for next time.
Gluten Free Squamish
If you are spending any amount of time in Vancouver, I highly recommend driving the gorgeous Sea to Sky highway up to Squamish. Think of Squamish like "adventure town."
Here, you have access to some must-do hiking trails like The Chief, the Sea to Summit trail (and the gondolas!), and any of the hikes in Garibaldi. It's also rock climbing capitol, if you're into that.
Zephyr Cafe
My friend Meghan, who is celiac and comes to Squamish a lot for rock climbing, recommended Zephyr Cafe to me.
We stopped by one (super early) morning as we were driving up to Garibaldi NP to hike Panorama Ridge. Not only is the coffee good, but the cafe itself is very cute, and there are lots of gluten free baked goods (mostly bars, brownies, and similar).
Zephyr is also open quite late and they serve gluten free meals like soups, salads, and sandwiches. There is definitely a focus on healthy food here.
Joe Pesto's Wood Fired Pizza
It absolutely BROKE MY HEART that Joe Pesto's Wood Fired Pizza was closed when we tried to eat here.
I'm including it on the gluten free Squamish list anyway because this place has a dedicated gluten free wood fired oven!! Not only that, but their gluten free pizza bases have very good reviews. It seems like an absolutely perfect spot to stop for a nice big pizza after a long day's hike in Squamish.
Note that they are closed on Sunday and Monday – don't make the same mistake as we did! (We knew it was closed and still drove by to check because we wanted to eat here so badly!)
Gluten Free Abbotsford
Abbotsford is a town about 1-1.5 hours from Vancouver, near the USA border with Washington.
I'm not sure I'd recommend a specific visit to Abbotsford, but if you're crossing the border I'd recommend a stop en route to try this dedicated gluten free restaurant!
The Polly Fox – 100% Gluten Free
Yes, another 100% gluten free restaurant to round out the list, which also has plenty of vegan options.
The Polly Fox is a little bistro serving a huge variety of gluten free baked goods (including cinnamon buns, churros, and donuts!), sandwiches, and on the weekend, a brunch complete with waffles! They close at 4pm so plan your road trip accordingly.
Gluten Free Bellingham, WA
If you're coming from (or driving down to) Seattle, Washington, then chances are your route will take you through Bellingham.
This is a midsize (yet still very quaint!) city in northern Washington, and totally worth a stop. On our drive from Vancouver to Washington, Dan and I got up early to beat the border crossing rush, then stopped here for brunch…
Old Town Cafe
I wanted to show Dan an "American Diner" – but I also wanted some gluten free pancakes, haha (we all know I'm obsessed with gluten free pancakes).
Old Town Cafe is the best of both worlds. There is a homey atmosphere and the menu is extensive, with items like omelettes, scrambles, pancakes, and tons of sandwiches. They serve gluten free pancakes, as well as have gluten free bread for sandwiches, french toast, etc.
Be sure to let staff know you have celiac, and they will take proper steps to prevent cross contact.
I was so impressed that when I asked for blueberries in my pancakes, the waitress actually informed me that the blueberries are kept on a shelf below the bread in the kitchen, and there's risk of crumbs falling on them.
I was so thankful she thought to mention that (something seemingly small to a non gluten free person!). I definitely didn't get the blueberries – opted for bananas instead (with their own gluten defense mechanism, I mean skin, lol).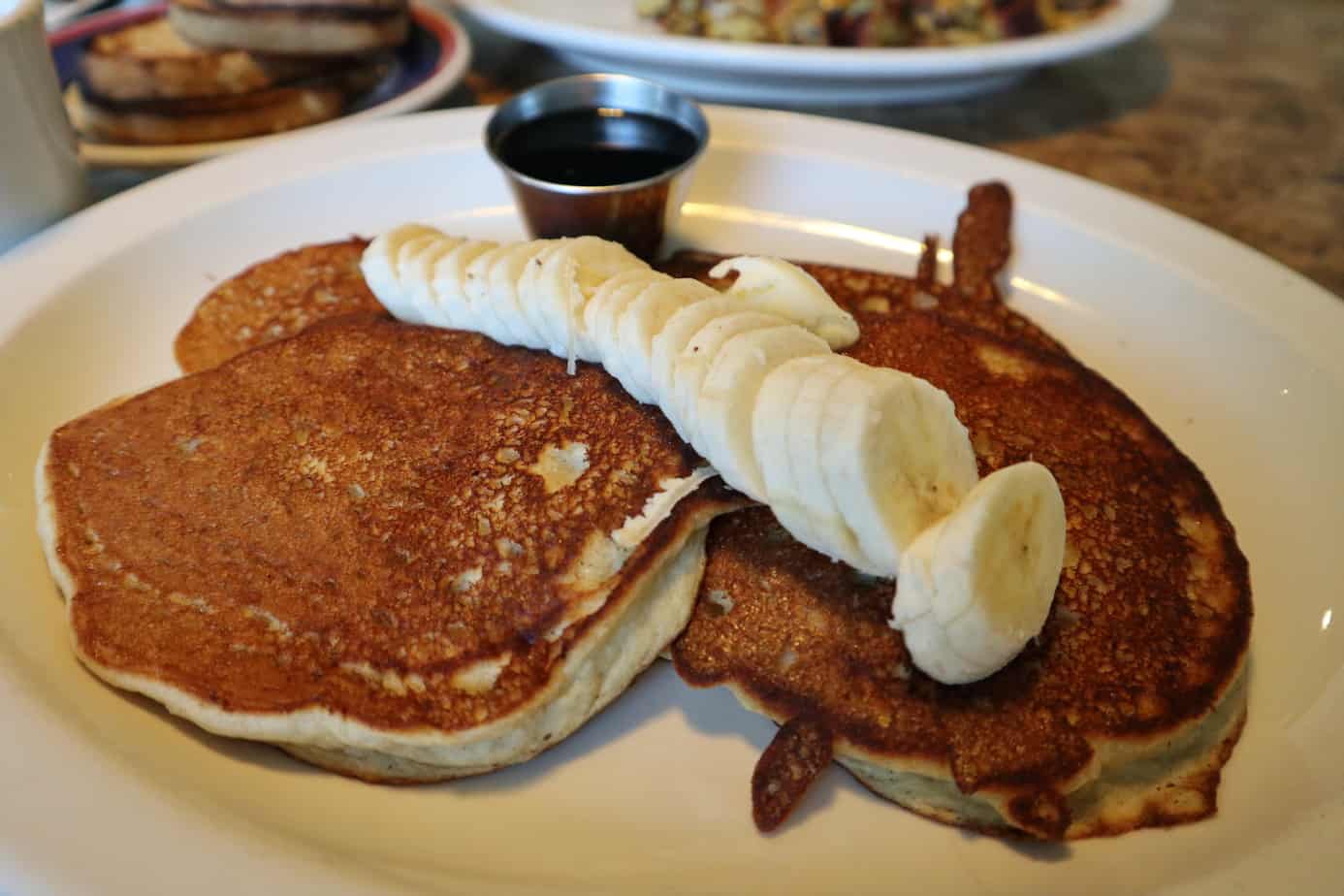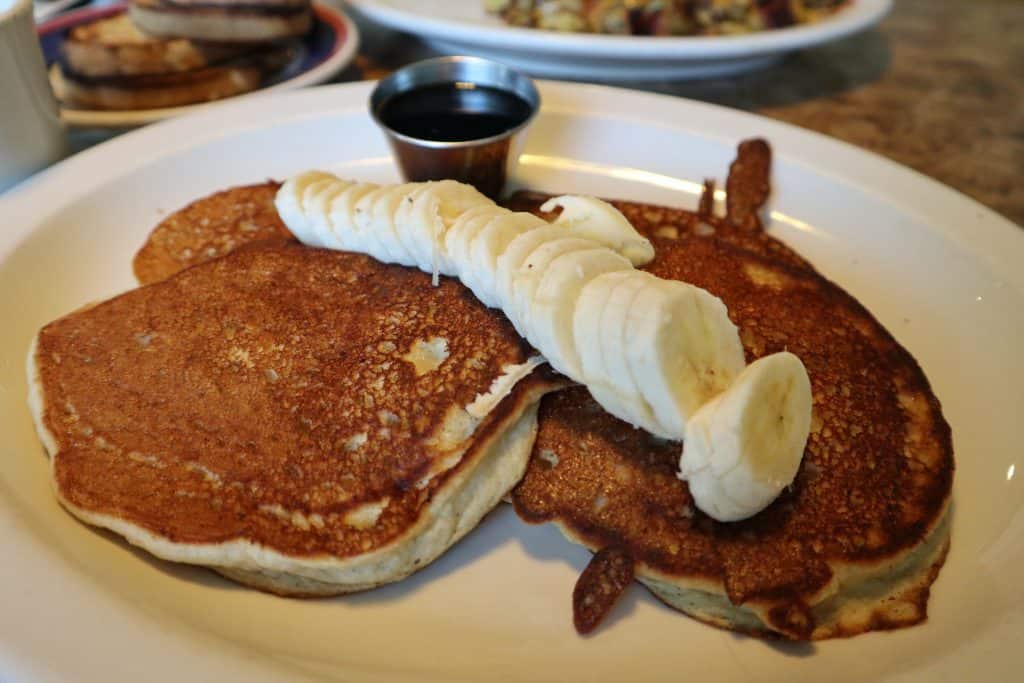 Gluten Free Vancouver: Final Thoughts
As you can see, Vancouver has sooo many gluten free options – you're going to be busy!
It's hard to pick a top three, but if you insist, I highly recommend a trip to Lemonade Gluten Free Bakery, Iki Sushi, and Innocent Ice Cream. Or just extend your stay and eat at them all!
Any gluten free restaurants in Vancouver that I missed?! Let me know below! And if you're looking for a Vancouver itinerary, check out my friend Olivia's post on two days in Vancouver.
San Francisco Gluten Free Guide
Portland Oregon Gluten Free Guide
Cannon Beach Oregon Gluten Free Guide