The Original Pancake House has over 100 locations in the USA – and luckily for us, plenty of gluten free options at each one! But are the Original Pancake House gluten free options safe for celiacs or those with severe gluten intolerance? Let's find out!
When I first discovered The Original Pancake House, my friends and I were staying in Fort Lauderdale. It was the end of an incredible trip through Miami and the Bahamas, and we wanted to celebrate over brunch. According to my research, The Original Pancake House gluten free options included – you guessed it – pancakes, which is pretty unusual for a chain restaurant in my experience.
I've since eaten gluten free options at The Original Pancake House in other locations, including ones in Oregon and Ohio. Call me the expert! In this article you'll find:
Information on Original Pancake House
My experience dining at Original Pancake House
Cross contact information
Everything you need to know if you're a celiac or gluten intolerant and heading to a Original Pancake House location!
Read more of my gluten free travel guides here.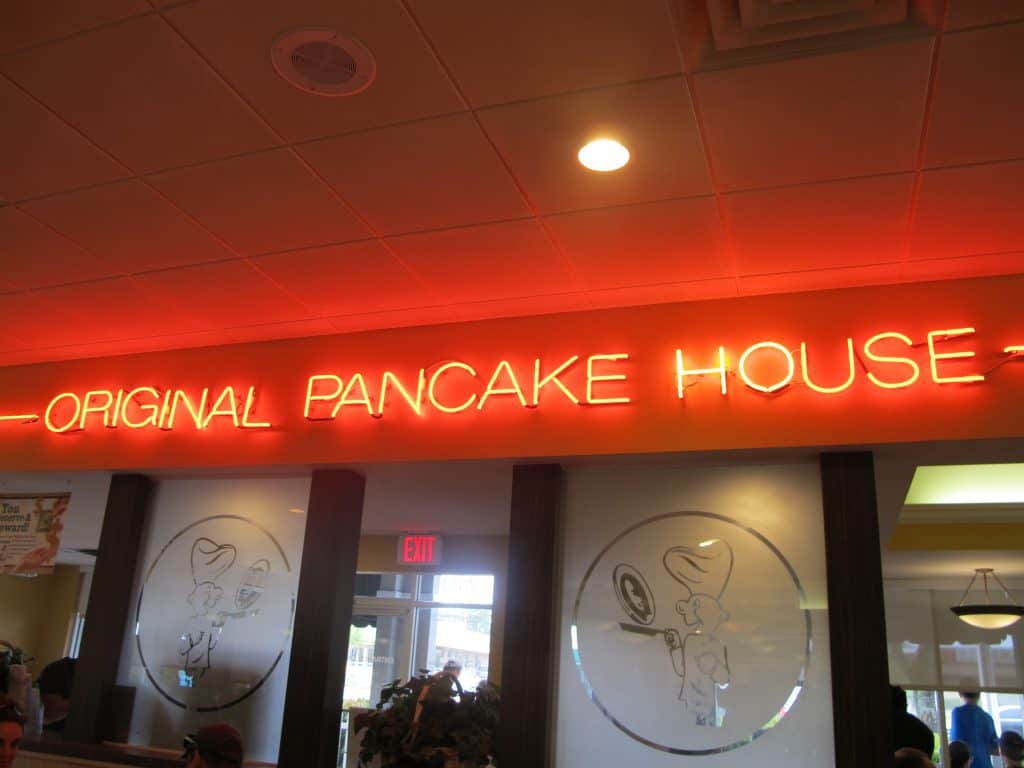 Original Pancake House gluten free options
Is there an Original Pancake House gluten free menu? Luckily for us, there is! I'll get to cross contact in a bit, but first let's look at the items that Original Pancake House can even try making gluten free:
Omelettes (Note: Excluding their sausage which contains gluten!)
Gluten free pancakes

Buttermilk
Blueberry
Pecan
Coconut
Banana
Chocolate
Bacon (yes, bacon pancakes are apparently a thing!)

Gluten free crepes

Original
Continental
Cherry Kijafa
Strawberry and whipped cream
Strawberry continental
There are also plenty of lunch options. You can review a sample Original Pancake House gluten free menu here (this is for the Sioux Falls location and specific options may vary by location).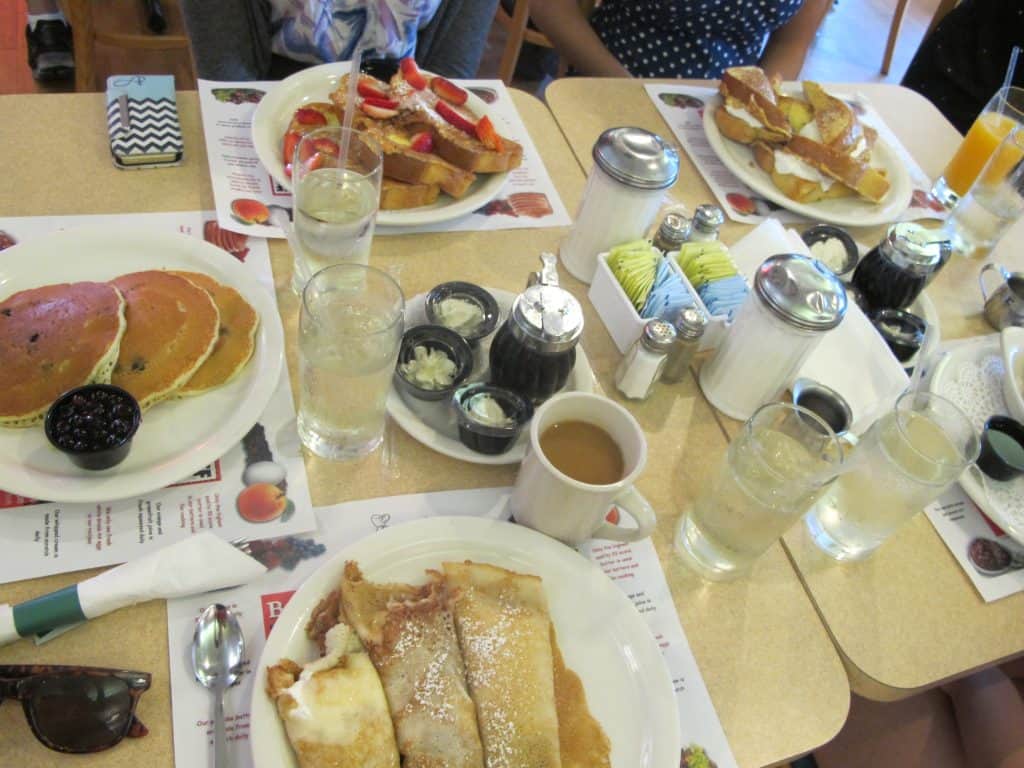 But what about cross contact?
Okay, that gluten free menu is all well and good, but are the pancakes and crepes actually gluten free? If you have celiac disease, or for some people with non-celiac gluten sensitivity (NCGS), cross contact is a big deal.
As you probably know, gluten cross contact is when small, even microscopic, bits of gluten get on your food during the preparation process. Red flags for cross contact include shared cooking spaces; shared griddles, pans, or spatulas; chefs not changing their gloves after touching gluten; storage; and so much more. We should always ask questions about cross contact when we dine out.
So how does Original Pancake House handle cross contact? Original Pancake House is a chain restaurant, but not a fast food restaurant. This means, with over 100 locations, each location may handle cross contact differently. However, because it is a sit down restaurant, it also means that staff should likely have the time and training to help prevent cross contact.
Before you even go to Original Pancake House, I would recommend looking up reviews on your specific location. Find Me Gluten Free or TripAdvisor (search "gluten free" in the review section) can be helpful. You can also call the specific location to confirm.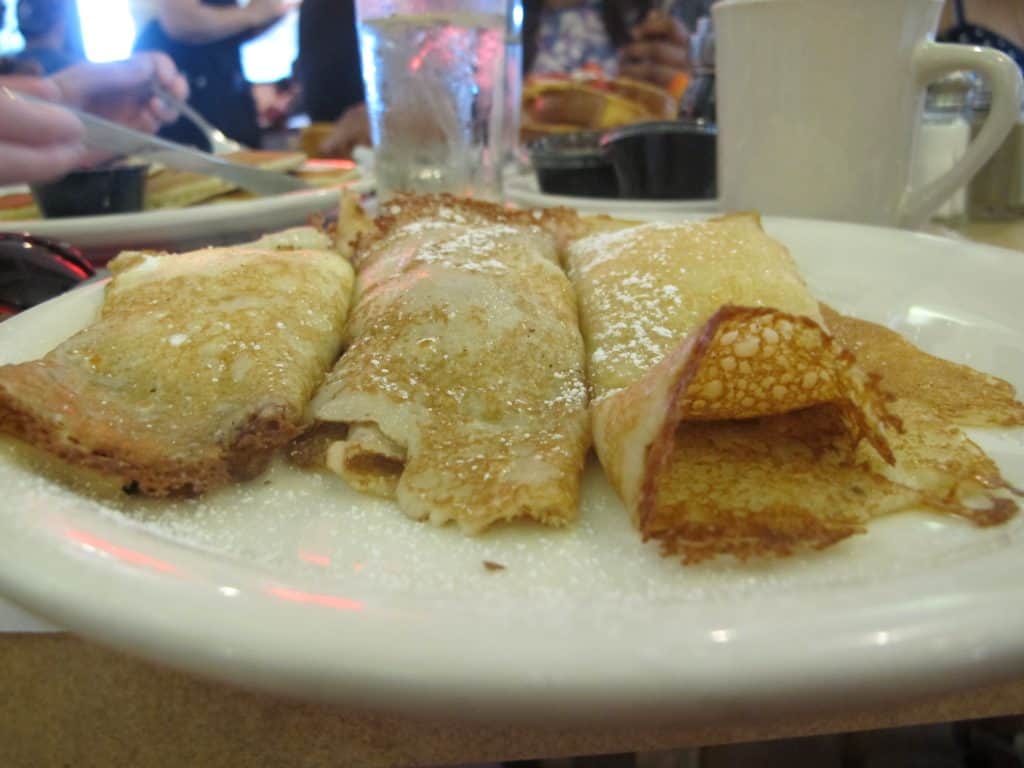 How to ask for a (safe) gluten free meal at Original Pancake House
I have had positive experiences at Original Pancake House locations in Florida, Oregon, and Ohio. All of these were shared kitchens but did take precautions to prevent cross contact. I can't speak for every Original Pancake House location, so I urge you to ask questions of your wait staff. Come prepared, know your own standards, and be prepared to leave if you're uncomfortable.
My advice is to make your needs clear – "I have celiac disease/NCGS/gluten intolerance/wheat allergy and I need to eat gluten free. This means I have to be very careful and I can't eat food that has even come in contact with gluten, or I will get very sick."
Because you're likely ordering pancakes or crepes, here are some questions to ask:
Are you able to clean the griddle or pan down thoroughly before preparing my meal?
Will your chef change gloves before preparing my gluten free meal?
Will you use a fresh, clean spatula when preparing my meal?
You may also want to check about the gluten free flour mix or batter used to make your gluten free pancakes. Upon my last visit to Original Pancake House, they used Bob's Red Mill gluten free pancake mix. This is a really common mix that I actually buy myself!
My experience eating gluten free at Original Pancake House
Let's rewind back to my time in Fort Lauderdale, and my first experience with Original Pancake House! Like I mentioned, I was traveling with some friends. I was the only one who had to eat gluten free, but one friend did have a nut allergy. Everyone else just wanted pancakes. We figured Original Pancake House had the potential to be a place we could all eat (safely) and enjoy!
The first step was obviously beverages. I usually don't order drinks when I go out to eat but I am a sucker for fresh squeezed juice…and it just so happened that our table was right by the Original Pancake House resident juice machine! We watched the fresh oranges and grapefruits roll down the assembly line and turn into perfect, pulpy, colorful juice. And no worries – no gluten cross contact here.
I broke down and ordered a fresh squeezed grapefruit juice, especially once I learned that one of my friends had never had grapefruit juice before! Shameful!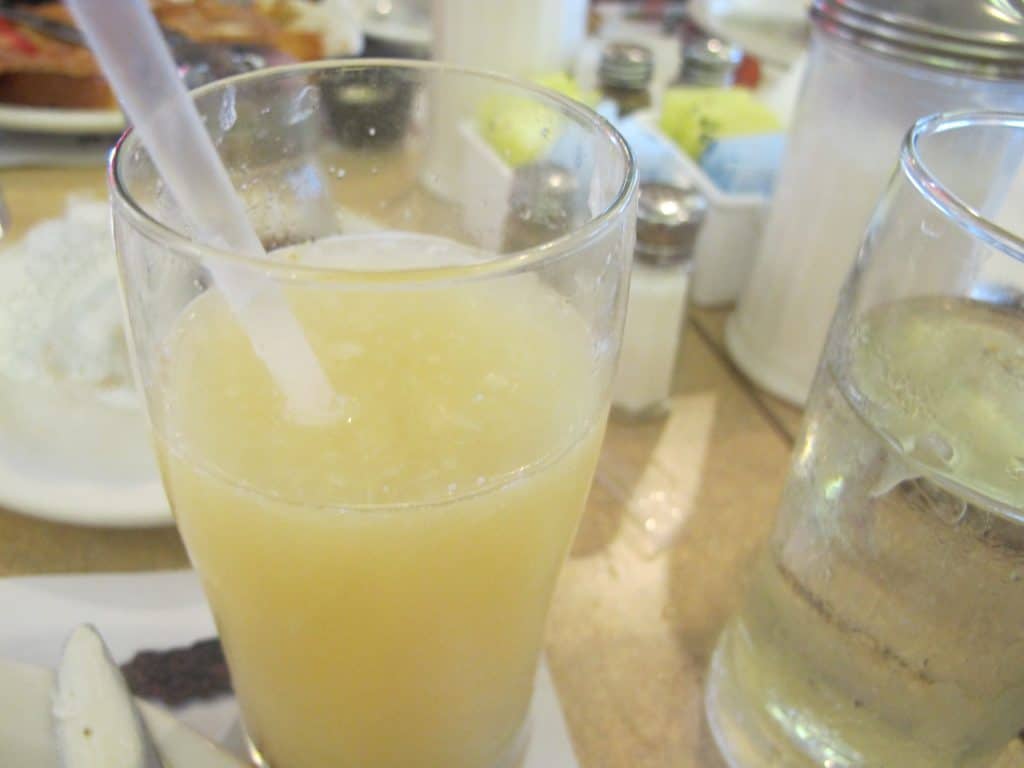 I was so, so, so happy reviewing all the gluten free options on the Original Pancake House menu. Like I mentioned, there are tons of options in addition to the usual potato/egg combo, including various flavored crepes, pancakes, and more. This location also had gluten free pigs in blankets and gluten free waffles available! (I did not order the gluten free waffles, but if you do I'd recommend asking if there is a dedicated gluten free waffle iron, or if they will thoroughly clean the waffle iron if you are comfortable with that).
I ordered sweet ricotta cheese and berry stuffed crepes, which is not on the online menu so might just be a specialty for the Fort Lauderdale location. After quizzing the wait staff with those questions above, I was assured that my crepes would be cooked in a clean pan, the chef would change gloves, and a clean spatula would be used.
The crepes were gooey and incredible and dusted with powdered sugar. I wanted to try every single flavor! (Until the food coma hit, of course). And even better – I did not have a reaction.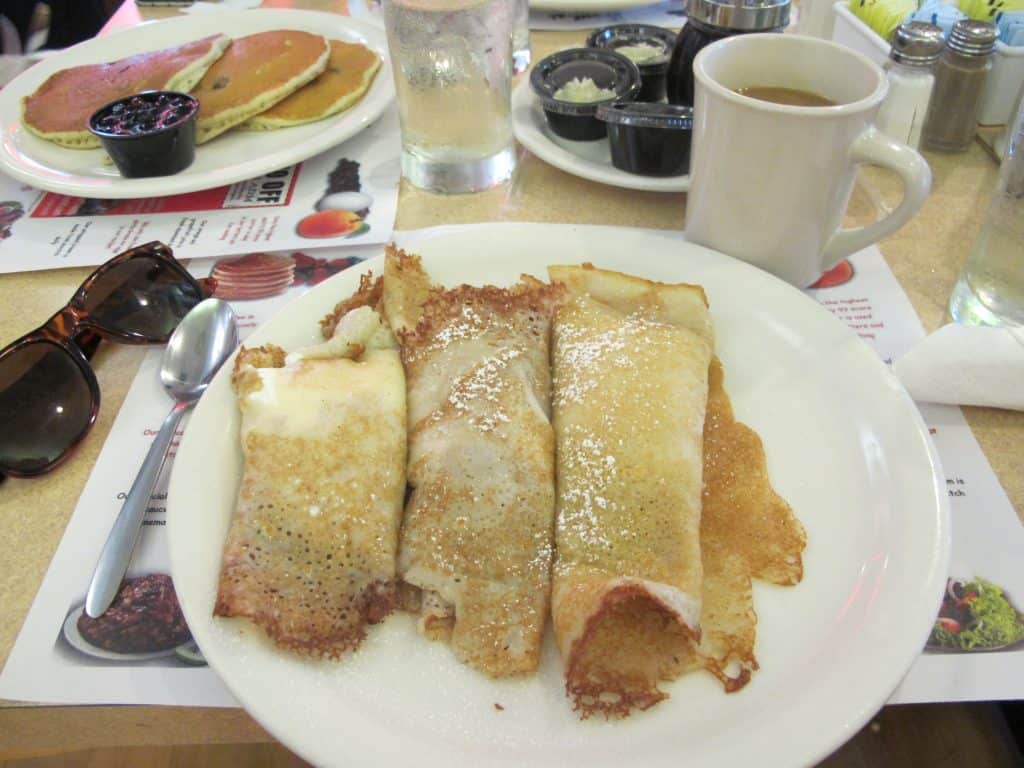 My friends never turn down a brunch (one of my top ten friendship requirements, maybe top five) and I think they were equally pleased as myself.
We did have one issue regarding an allergy order, however. My friend who is allergic to nuts ordered her crepe and asked to have it without nuts on top. However, the waitress brought the crepe and it had nuts inside. An oversight from them, but it ended up being fine as my friend hadn't taken a bite yet. It could, of course, have ended up very differently. So that is just a reminder that when you eat out with a food allergy, intolerance, or celiac disease, no restaurant, no matter how good the reviews, is infallible. So be careful and double check before you take your first bite!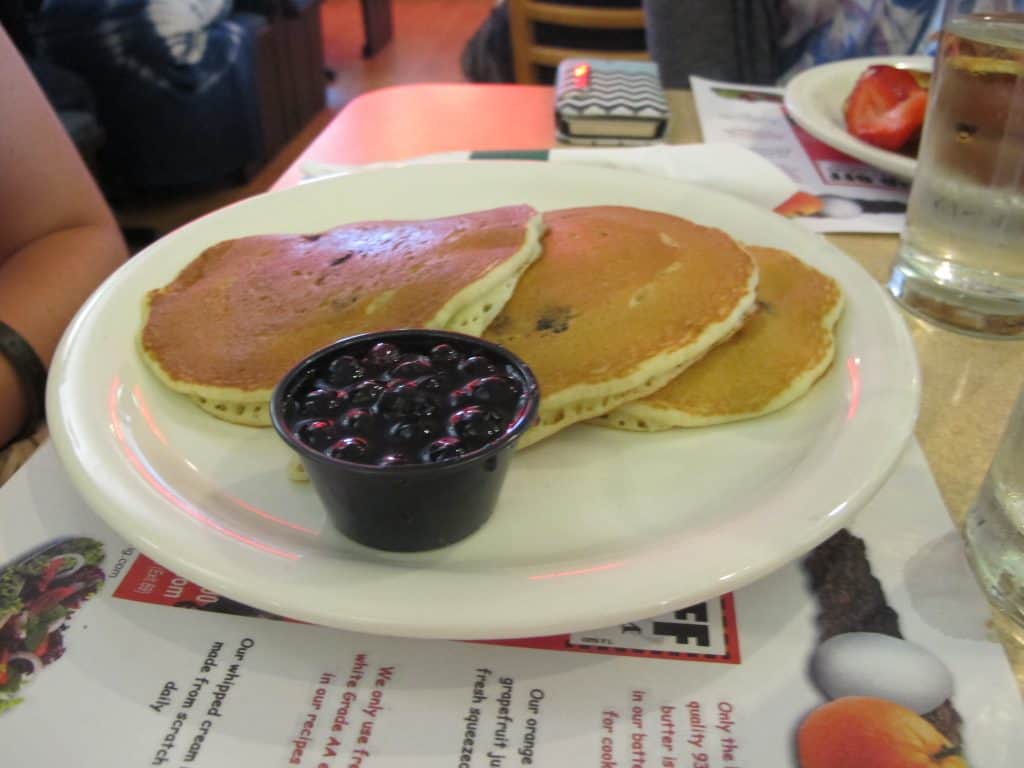 The details
What? Original Pancake House, a chain restaurant that serves gluten free pancakes and crepes
Where? 100 locations across 28 states. You can check for your closest location here.
When? Hours can vary by location so check with your closest branch.
Happy eating, everyone. Have you eaten a gluten free meal at Original Pancake House? I'd love to hear about your experience, if so. Comment below or email me!
Sarah xx
Read more of my gluten free travel guides here. Including:
And more!
Pin it for later…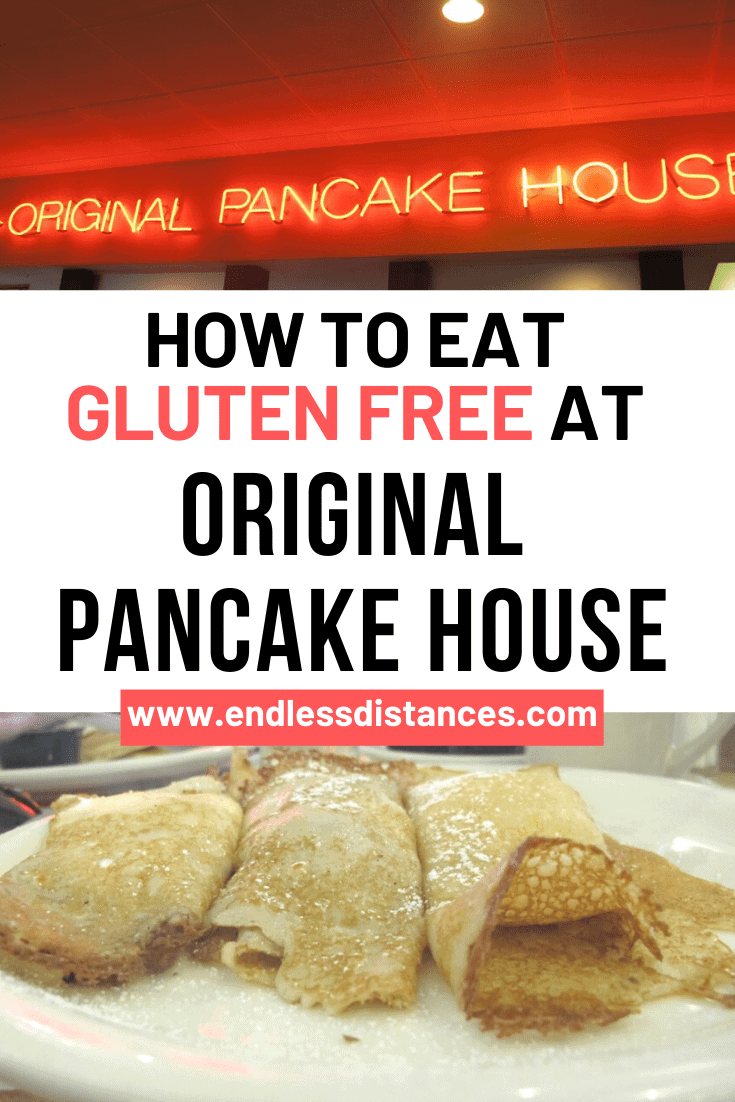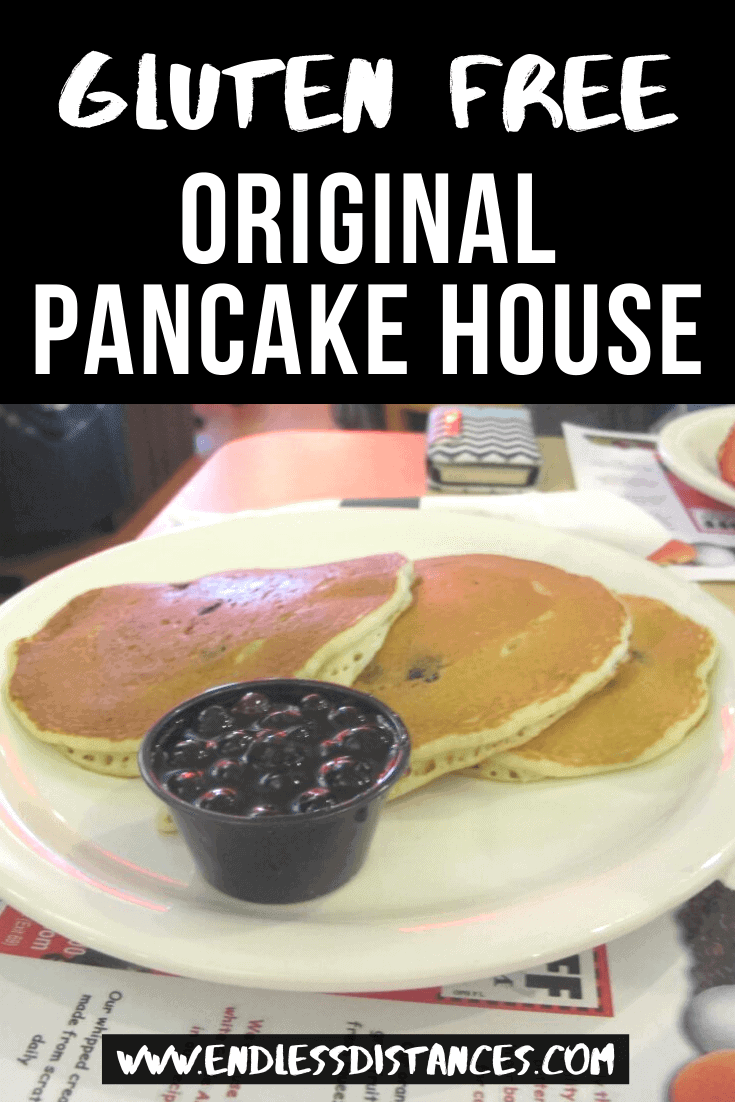 *This post contains affiliate links. If you make a purchase through one of these links I may make a small commission, at no extra cost to you.