A Minimalist's Carry on Packing List: Traveling Carry On Only
On my recent trip to New York City, I decided to curate a carry on packing list. In the past, I've succumbed to the hectic pre-travel packing rush: Even when I travel carry on only, I would only use about half the items I stuffed in my bag. So, I made the decision to very mindfully choose items that were versatile and sure to be useful. With the help of Encircled, and their multi-way chrysalis cardi design, as well as other travel-friendly designs, traveling carry on only was a treat. I'd love to share my carry on packing list with all of you!
Before we continue, why should you bother traveling carry on only? There are lots of benefits to traveling carry on only. First, there is a significant price benefit. Most airlines now charge hefty fees for checked luggage. Then, of course, you'd have to lug your heavy luggage around. Personally, I have been choosing carry on only for years now. However, that doesn't mean it's easy to pack a bag and go. There are many challenges to traveling carry on only, from fitting everything in, to managing airline restrictions on dimensions, liquids, batteries, and other items. But with time, patience, and the help of my minimalist carry on packing list, I hope you're able to enjoy the experience.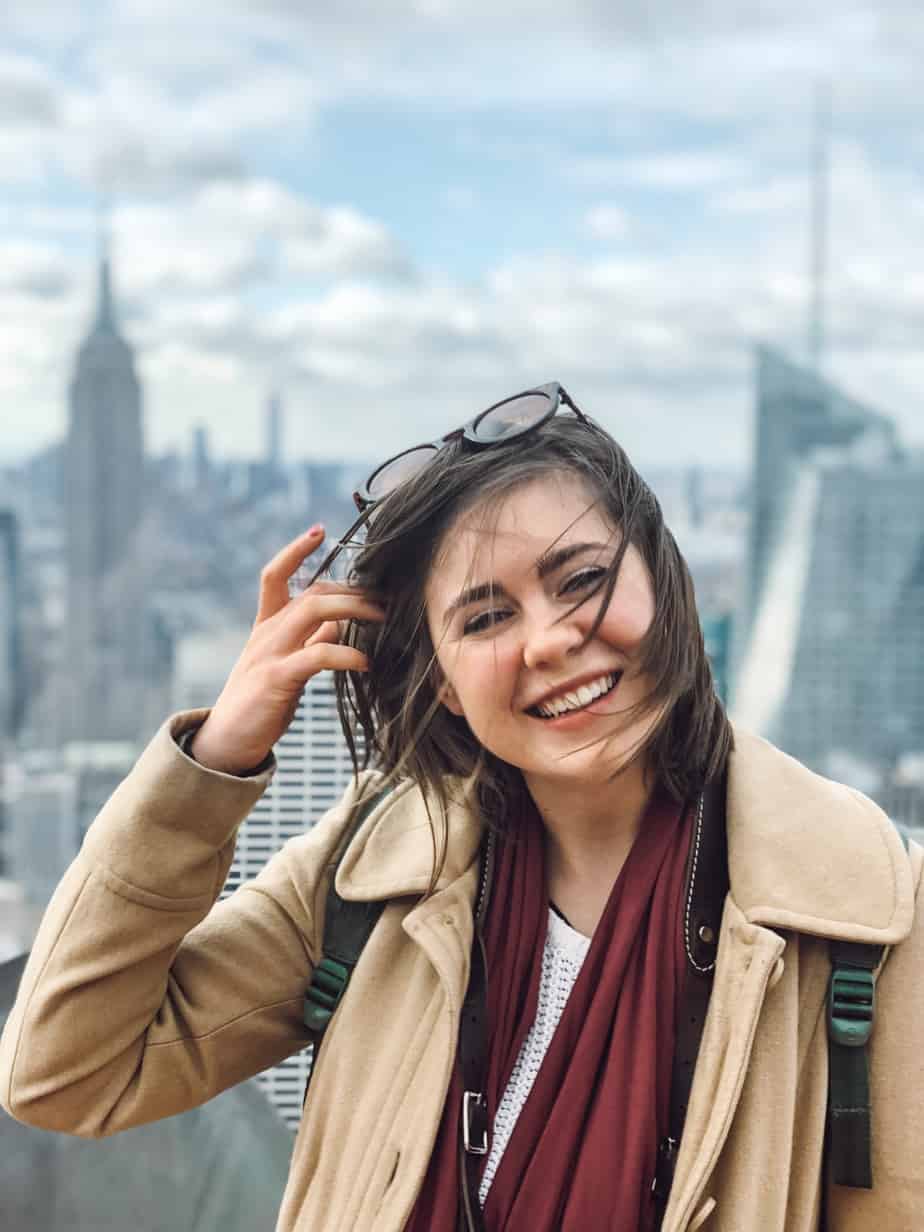 Your carry on packing list: Embrace the ideals of minimalism
The first step to my carry on packing list is not an item to cram in your bag, but rather a mental shift. You need to embrace the ideals of minimalism. Really! Think of this as an opportunity or puzzle, rather than a chore.
Lately, I've been trying to incorporate minimalism in all areas of my life. It was only natural that this extended to my carry on packing list, too. I'm in the process of cutting down my wardrobe (maybe not capsule wardrobe level, but still), and making the effort to choose more sustainable brands. One of these brands is Encircled. I met Encircled's founder, Kristi Soomer, last year. I was so impressed with her company's efforts at sustainability and transparency in the production line. But more on that in a bit! I want to thank Encircled because their minimalist and versatile clothing line really inspired this post, and my own efforts to pack mindfully. They also sent me the chrysalis cardi to review and give away to one of you! So scroll to the bottom of the post for how to enter the giveaway (for any of you eager beavers).
Related: The Best Travel Pants Ever
Carry on packing list: An overview
Everyone's carry on packing list is going to be unique, but I will give you some guidelines and tips. Some factors you need to consider that are specific to you are:
how long is your trip
will you be doing laundry
what will the weather be like
can you buy anything there
are you traveling to another country and need an adaptor, money, etc
Other general tips are to wear your bulkiest items (running shoes, winter boots, coats, scarves, sweatshirts, etc) on the plane. Pack your lighter items in your bag and save room.
For me, there are five main categories to consider for a carry on packing list. These are:
Toiletries (wet and dry)
Electronics
Documents
Health-related
Clothes
I will go into each of these categories below, but focus on clothes because that will take up the bulk of your luggage, and is the most important area to plan ahead!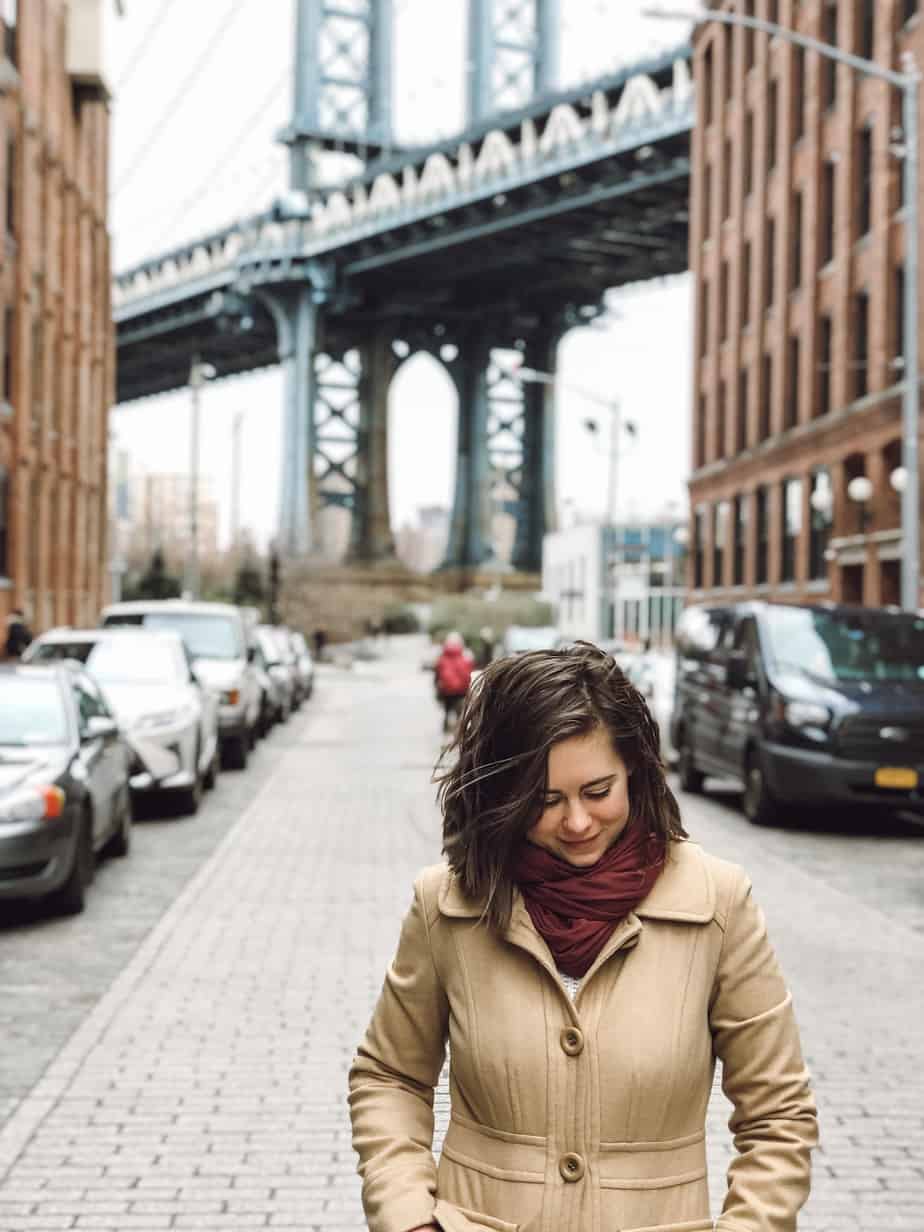 Carry on packing list: Choose the right bag
Not all carry on bags are created equal. When choosing your bag, be sure to check the dimensions that your airline considers 'carry on' size. Also, consider whether you will be taking lots of public transport and stairs (in which case a duffel might be a better choice), or if you will mainly be stashing your bag at the hotel (a rolling back might be more suitable). Here are two of my picks:
Lululemon Go Lightly Duffel: This is very similar what I use (although I would definitely buy it in black for a classier look next time!). I've had mine for many years and I like its durability, multiple compartments, and water resistance.
Travel Hack Rolling Suitcase: Made by a fellow travel blogger, this suitcase is both chic and the ideal dimensions for carry on only restrictions.
Need a vegan carry on? Check out my friend Ashley's guide to the best vegan backpacks to travel with.
Carry on only packing list: Toiletries
I'll keep this section brief because that's how you should keep your toiletries! Trust me, I know how easy it is to overpack in this category. One thing that helps me is to pack a bag of 'dry' toiletries and a bag of 'wet' toiletries. Keep in mind that the 'wet' toiletries AKA liquids need to be under 3.4oz/100ml and be in a clear 1 liter bag, in line with TSA regulations. I personally use this TSA-approved liquids bag. Some items to consider bringing are:
Toothpaste – I put some Tom's of Maine toothpaste in a 2oz glass container, instead of wasting travel-sized toothpaste tubes!
Toothbrush
Hairbrush
Dry shower powder
Makeup – I keep my makeup minimal to concealer, mascara, and that's pretty much it.
Any face creams, sunscreens etc. – Once again this is personal. I have sensitive skin so I do like to bring along my favorite brands instead of switching things up during travel.
Carry on only packing list: Electronics
Electronics can take up a lot of room if you let them. Think hard about whether you're bringing your laptop because it will make you feel better about work, or because you're actually going to work on it. This carry on packing list is deep stuff let me tell ya! Also, top tip, two days prior to your trip charge ALL your devices. If you trip is a shorter one, you can often avoid bringing tons of cables. Here are some electronics to consider bringing:
Phone
Laptop – If you really really need it. I use a Macbook Air which is extremely lightweight and I bought specifically with travel in mind.
Kindle – My Kindle Paperwhite is ideal for travel. Read this post on why traveling with a kindle is the best!!
Camera – I travel with my mirrorless Canon EOS M6, as well as an Instax Polaroid on occasion! Read this post for why I think travelers should consider traveling with a polaroid.
Chargers and charging cables – phone, laptop, camera, kindle, smart watch, etc
Portable charger – Good power banks are hard to find. I love Power Gear because it is compact but still holds a large amount of power. A slightly large option that holds way more battery charge is Anker Power Core. Both are lifesavers and really necessary!
Universal adaptor – Only necessary if you are traveling abroad. Using a Universal Adaptor means you only have to buy it once!
Carry on only packing list: Documents
You don't need many documents, but this is a VERY important category. For the sake of my sanity, I always bring a small folder with printed travel documents (think hotel confirmations, tour bookings, bus tickets, etc.). Here are some items you should consider bringing:
Happy traveling, everyone. And let me know – do you travel carry on only? Are you an over packer like I used to be? Are there any items I missed?!
Sarah xx
Pin it for later…
*This post is created in collaboration with Encircled. I received the Chrysalis Cardi complimentary from Encircled in exchange for an honest review. All opinions are my own.
*This post contains affiliate links. If you make a purchase through one of my links, I may make a small commission, at no extra cost to you. Thank you for supporting Endless Distances!
Passport or ID
Credit card – I use Bank of America travel rewards card! There are no foreign transaction fees so it's great.
Flight confirmation
Hotel confirmation
Carry on only packing list: Health
This category may not be so important to you depending on your health needs. Personally, traveling with multiple chronic illnesses, I strive to maintain my health routine as much as I can on the road. This means bringing my supplements and medication, as well as packing easy carry on friendly food items. Here are some health items to consider when you're packing:
All your medications and supplements
Alora Pill Case – I love love love my Alora Pill & Vitamin Case. It's cute and the perfect size. A lot of people ask me where I got mine from so I've linked to the exact one I bought.
Dry foods – I recommend gluten free oats (just add water!), pumpkin seeds, sunflower seeds, Justin's nut butter sachets, dry quinoa, and similar items.
Water Bottle – I sing the praises of the Berkey Sport filter water bottle for travel in this post.
Carry on only packing list: Clothes
Finally, we've arrived to the most exciting section! If you're like the average person, your clothes take up the majority of your carry on bag. AKA, this is where we've got to be really creative! I used to get really stressy about packing clothes in a carry on. I'm not the kind of person to plan out my outfits day by day. That's just not me… I like to be creative and go with how my mind, body, and the weather are feeling on a particular day. This previously made carry on packing a mammoth task… until I found Encircled. Honestly I love Encircled for so many reasons, and a big one is that their items are all so versatile. You can dress them up or down and create a million outfits from each one. They've also got a lot of outfit inspiration on their instagram. I've also got to love Encircled because they are a woman-owned company, a rare certified B-Corps, and use eco-friendly (and super soft) fabrics such as Modal, Tencel, and Bamboo. They also use low-impact dyes. You can read more about their sustainability initiatives here.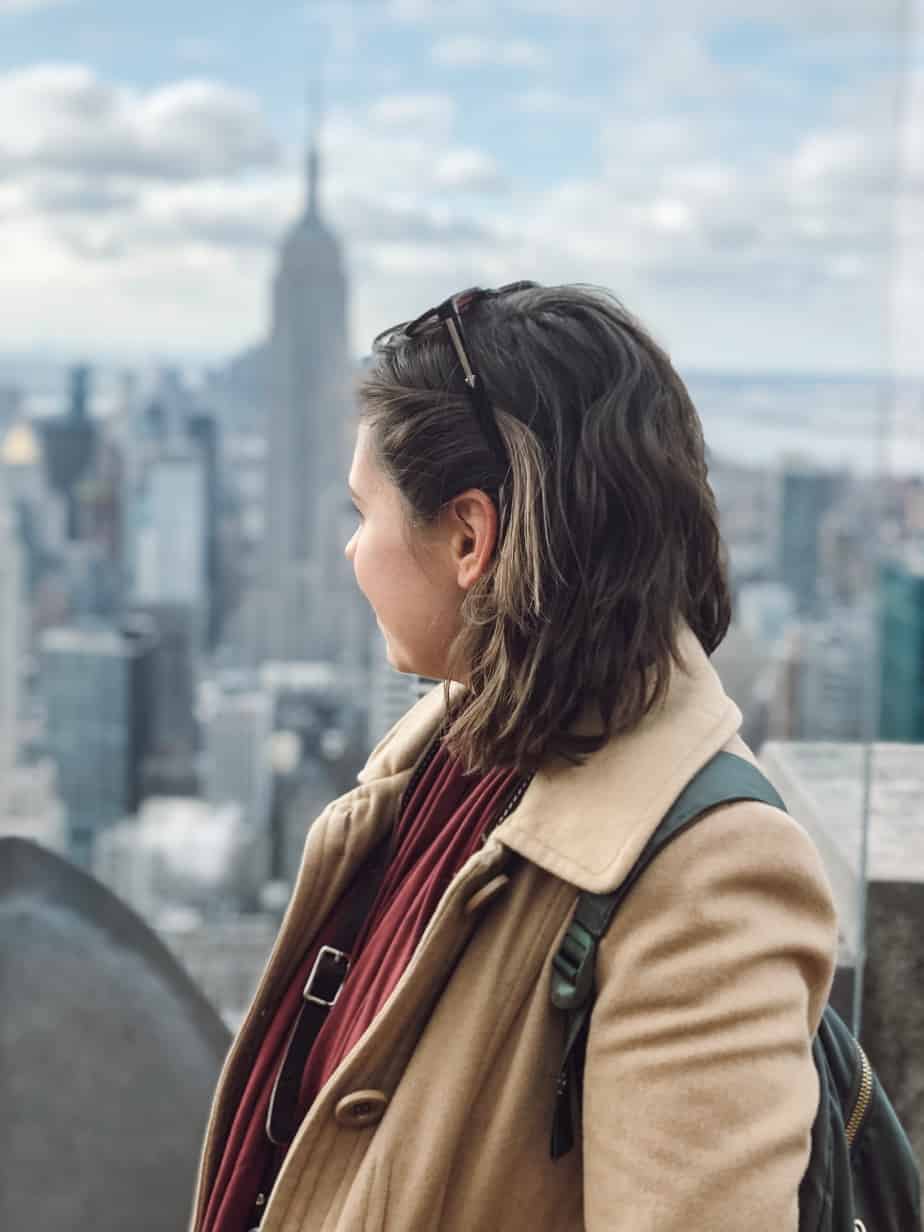 On this trip, I took three Encircled items:
Dressy sweatpants – read more about my love for the best travel pants ever here.
Essential long sleeve top – so comfortable and now a staple in my wardrobe.
Chrysalis cardi – there are three sizes (petite, regular, and maxi). I've linked to the petite here because that's what I'm wearing, but you can order it in any size! Personally I wanted something that was going to make an above-the-knee dress (I'm 5'3″) and that's one reason I chose petite.
I want to go a bit further in depth on the Chrysalis Cardi, because it is such a unique item for a carry on only packing list. This cardi was designed to be worn 8+ ways, all thanks to the little snaps discreetly sown into the lining. It comes with a how-to guide (and there are video tutorials as well), showing how to wear it each way. Kristi actually specifically designed the chrysalis cardi for carry on only travelers, as a way to bring a dress, scarf, shirt, cardigan, and more all in one small item.
When I was in NYC, the weather was pretty chilly. I thought this would limit me somewhat with the chrysalis cardi, but even so I got to try out multiple formations of it! Here are some of my favorites.
Chrysalis Cardi as a scarf – three lengths
Probably the easiest way to wear the cardi, and my favorite on this trip, was as a scarf. I adore traveling with scarves because you can layer them to keep you warm. The cardi is especially nice because it can be worn at three different lengths, depending how many times you loop it. Here I am wearing the chrysalis cardi in one loop:
I made a double loop as it got a bit chillier: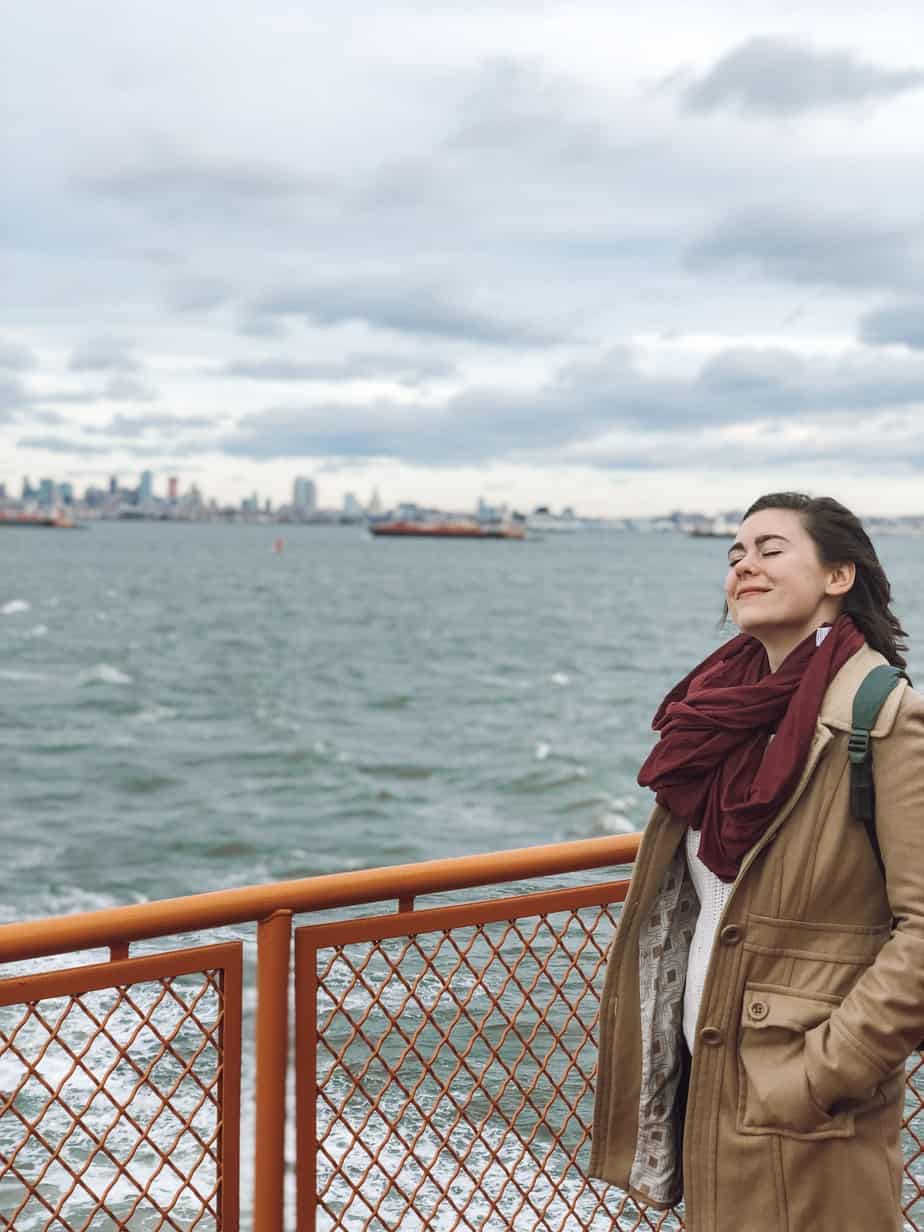 And finally you can comfortably triple loop it for when you need the most warmth, or a more professional look:
Chrysalis cardi as a cardigan
The chrysalis cardi can be, of course, made into a cardigan! I followed the instructions manual and video tutorials for this one. It creates a nice loose, light cardi look that I wore inside restaurants to dress up the essential long sleeve top a bit!
Chrysalis cardi as a shirt
I also styled the chrysalis cardi as a shirt. I actually deviated from the instructions a bit and pushed the 'sleeves' down for a more flirty, open-shoulder look.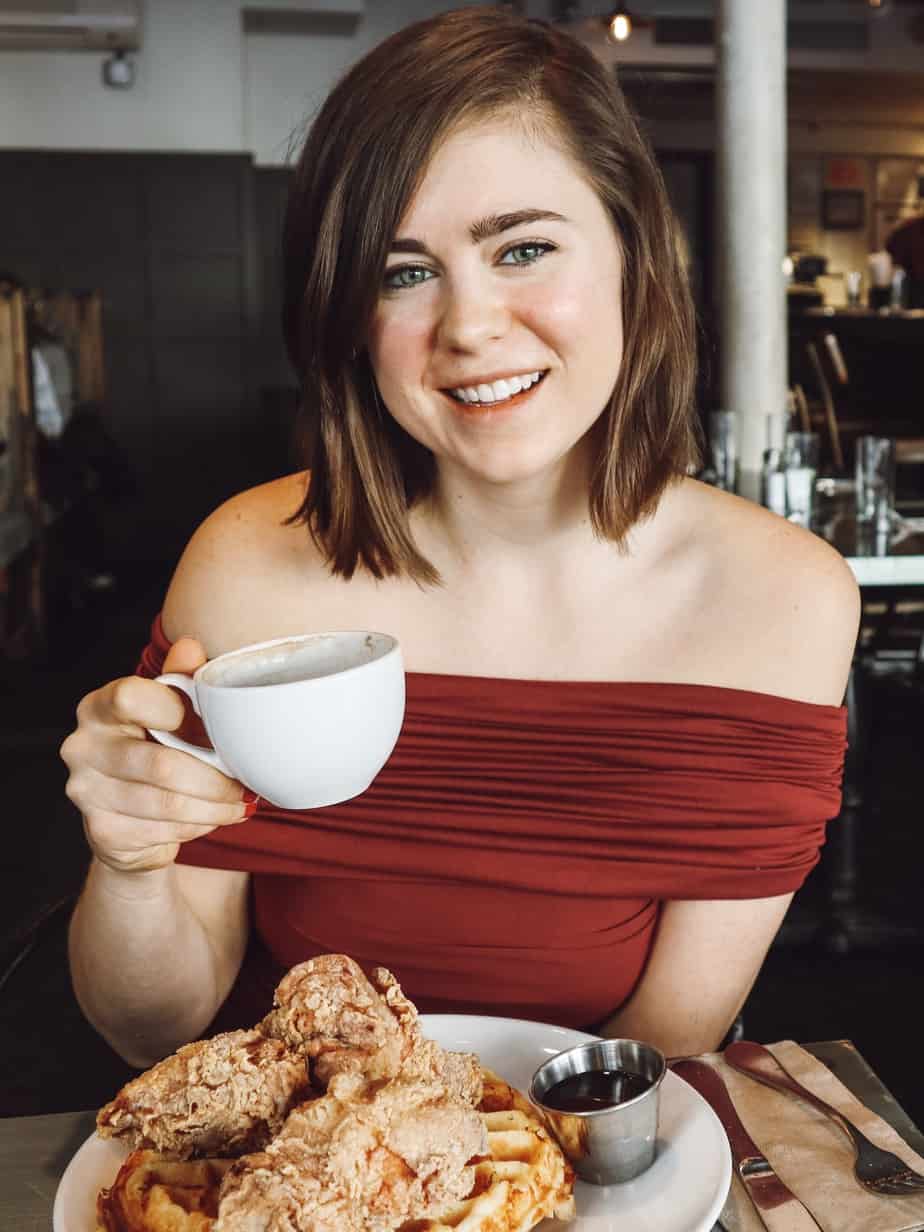 You can also wear the chrysalis cardi as multiple styles of dresses and shawls. I'll include a graphic below! I found it too cold in NYC to use the cardi as a dress. However, I am going down to Florida in a few weeks, and I'm really looking forward to once again traveling carry on only, and using the cardi as a dress down there! Stay tuned on my instagram for that.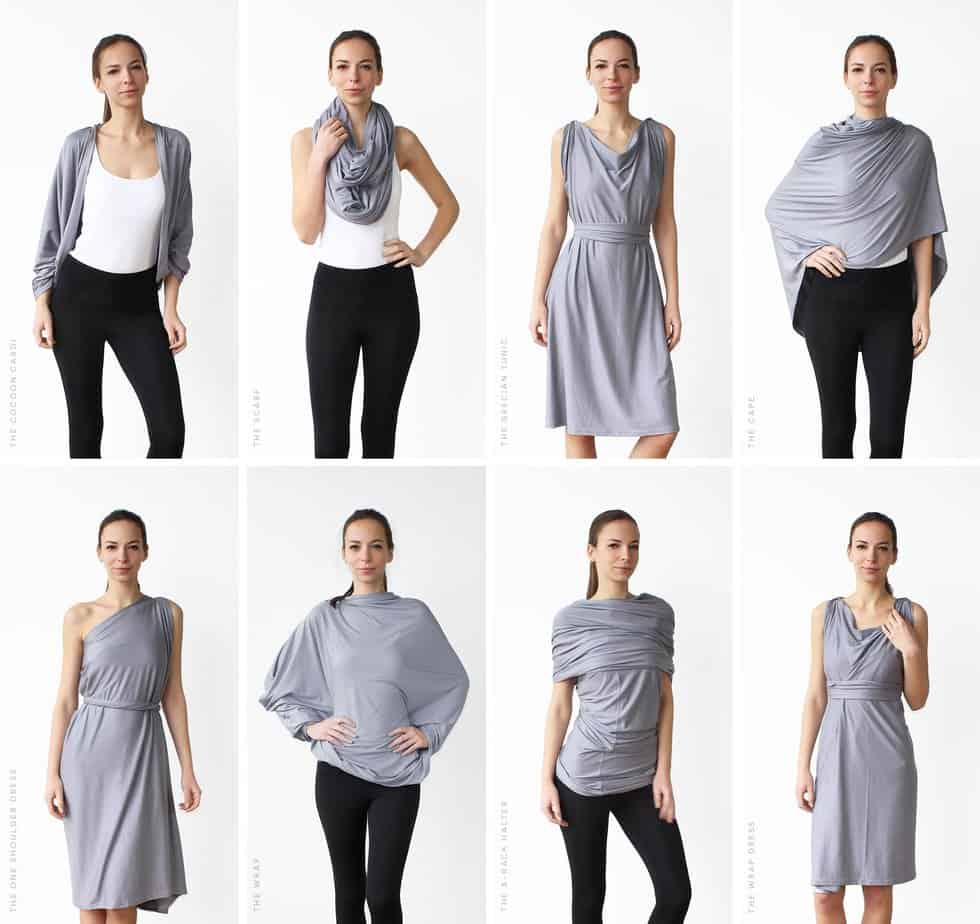 Between the chrysalis cardi, dressy sweatpants, and essential long sleeve top, you have a lot of different outfit options. Honestly, I did not need much more in the clothing department. Here are some other items you should consider bringing though:
Sweater – A nice knit sweater creates a good balance with the chrysalis cardi
T-shirt
Jeans
Pajamas
Socks
Underwear
Bra
Shoes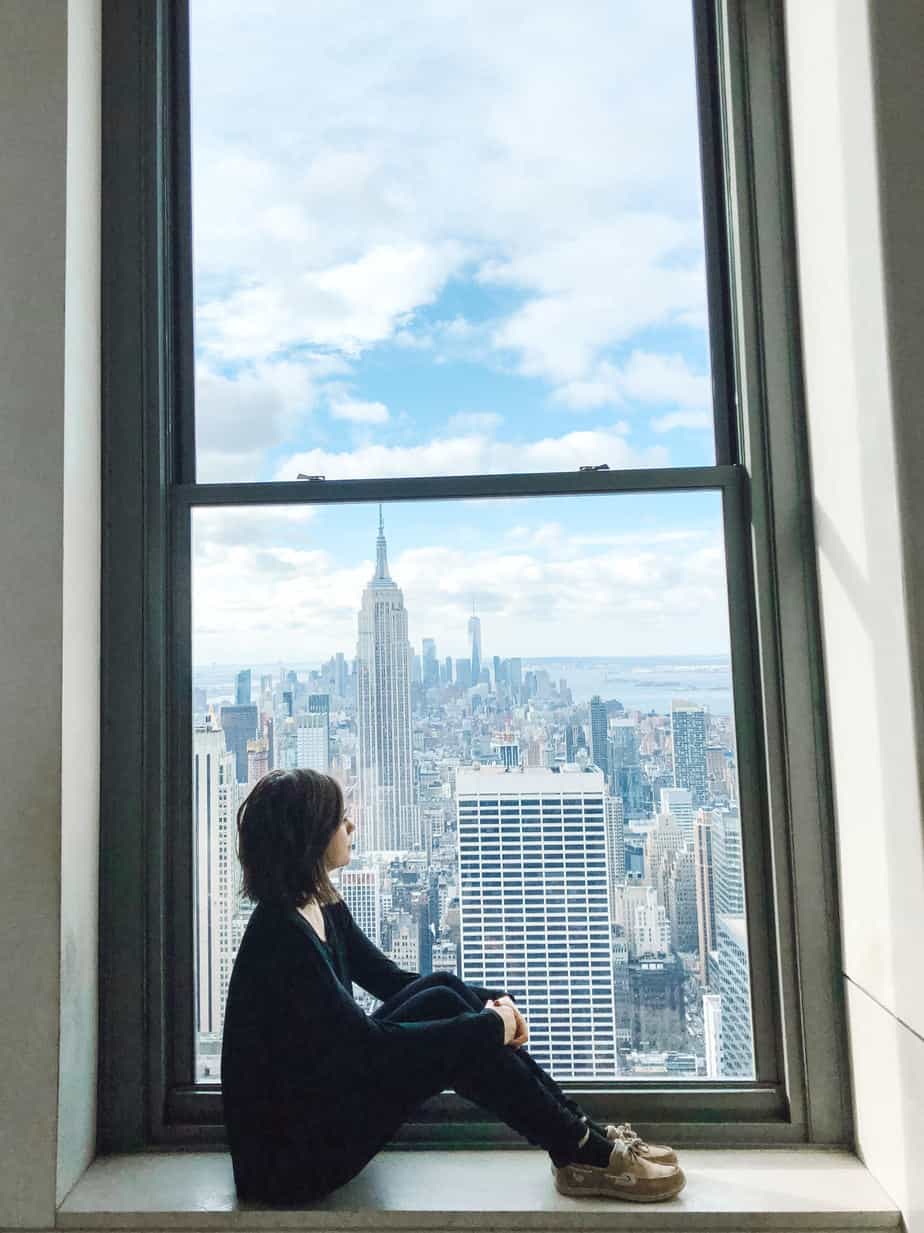 Like I mentioned earlier, the clothing portion of your carry on packing list will really depend on the weather of your destination. That's one reason I won't be like other guides and tell you an exact number of each type of item to bring. Really, just try to cut out the extra noise. Hold each item in your hand before you pack it away. Ask yourself – am I really going to wear this? Why am I bringing this? How do I feel when I wear this item? Do I want to feel that way when I am on this trip?
Happy traveling, everyone. And let me know – do you travel carry on only? Are you an over packer like I used to be? Are there any items I missed?!
Sarah xx
Pin it for later…
*This post is created in collaboration with Encircled. I received the Chrysalis Cardi complimentary from Encircled in exchange for an honest review. All opinions are my own.
*This post contains affiliate links. If you make a purchase through one of my links, I may make a small commission, at no extra cost to you. Thank you for supporting Endless Distances!