Santa Ana Volcano Hike in El Salvador: The Essential Guide (2023)
Our Santa Ana Volcano hike was the very first thing I planned in El Salvador. When I first started researching our trip to El Salvador, it was the blue-green crater lake at Santa Ana Volcano that caught my eye. I knew I had to travel to El Salvador and see this sight for myself!
Hiking Santa Ana Volcano was one of my favorite things I did while in El Salvador. It's not a difficult hike, but it gets the blood pumping for sure. You feel like you worked hard and really deserve those incredible views at the top.
However, the Santa Ana Volcano hike is not all straightforward. There are some important things you need to know about choosing a tour company vs. going independently, how to get there, why guides are required, and more.
Read the rest of this article for a comprehensive guide to hiking Santa Ana Volcano!
What is the Santa Ana Volcano Hike?
The Santa Ana Volcano, also called Ilamatepec, is special because it is the highest point in El Salvador, at 2,381 meters (7,812 feet). It is also the most active volcano in El Salvador.
Hiking Santa Ana Volcano is a feat because you will literally be standing at the top of El Salvador!
Even better, this hike is known for the gorgeous blue-green lake at the crater of Santa Ana Volcano. When you summit the volcano, you are rewarded with a totally unique view down into the crater.
How Long is the Santa Ana Volcano Hike?
You will hear varying estimates for how long the Santa Ana volcano hike takes.
Before we completed this hike, we read that it would take 2 hours up and 2 hours down.
In reality, it took Dan and I 3 hours and 8 minutes for this hike. That was about 1 hour 30 minutes on the way up, 48 minutes at the top taking photos and admiring the view, and 50 minutes on the way down.
We took a few water, bathroom, and photo breaks on the way up, but were generally moving pretty swiftly. I would estimate that for most people, anywhere between 3-4 hours is reasonable for the Santa Ana Volcano hike.
Santa Ana Volcano Hike Details
It always helps to know what you're getting into with any hike. Below are the relevant details for hiking Santa Ana Volcano.
Santa Ana Volcano hike details:
Distance: 4.3 miles.
Duration: 3-4 hours.
Elevation Gain: 1,532 feet.
Trail Type: Out and back.
Difficulty: Medium.
Hiking Guide: A guide is mandatory for this hike.
Directions: Check out the Alltrails directions here. I recommend using Alltrails Plus ($35.99/year) which lets you download maps and track your stats while offline. This is what I use – and I'm a subscription hater so you can trust me on this.
How to Get to the Santa Ana Volcano Hike
Have I convinced you to add the Santa Ana Volcano hike to your El Salvador itinerary? If so, then your first major challenge is figuring out how to actually get to the trailhead!
From El Tunco
It is not possible to get from El Tunco to the Santa Ana Volcano trailhead in one day, with enough time to complete this hike, if you are going by public transport.
If you are staying in El Tunco, like we were, then you have two options.
Option 1 is to book a Santa Ana Volcano tour from El Tunco. This is the most common option and it is what we did. We went with Tunco Life, a company I wholeheartedly recommend. They drive you door-to-door and the tour includes a visit to Coatepeque Lake. We also added on the famous rainbow slide. The whole day is about 5:30am to 4pm – leaving time for a beach sunset and pupusas to round out the day!
Option 2 is to travel to Santa Ana, stay overnight there, and follow the directions below from Santa Ana city to the trailhead. To get to Santa Ana from El Tunco you need to take the bus 287 from the main highway (leaves 6am or 1:30pm only) to Sonsonate. At Sonsonate, switch to bus 216 to Santa Ana. It'll be a long two days by public transport!
Where to stay in El Tunco: Kali Guest House (budget), Hotel & Bar La Guitarra (mid-range), Boca Olas (luxury)
From San Salvador
Again, it is not possible to get from San Salvador to the Santa Ana Volcano trailhead in one day by public transport, with enough time to do the hike.
Option 1 is to book a Santa Ana Volcano tour from San Salvador. Tunco Life also offers pick up and drop off if you're staying in San Salvador, and they are my top recommendation!
Option 2 is to travel to Santa Ana, stay overnight there, and follow the directions below from Santa Ana city. To get from San Salvador to Santa Ana go to the Terminal de Buses de Occidente and take bus 201 to Santa Ana, which leaves regularly until about 5pm.
Where to stay in San Salvador: Hotel Oasis (budget), Hotel Villa Serena Escalon (mid-range), Courtyard by Marriott San Salvador (luxury)
From Santa Ana
If you want to do this hike independently without a tour company, then your only option is to start early in the morning from Santa Ana city after spending a night there (this hostel came extremely highly recommended by fellow travelers).
Head to La Vencedora Bus Station and take bus 248 at 7:30am to Cerro Verde. You will get off at Tibet, which is the start of the hike (tell the driver you're going to Volcan de Santa Ana). On the way back, you need to take the bus at either 1pm or 4pm – or hitch hike.
While it's possible to get to the trailhead by public transport, I do think it negatively affects your overall experience because by the time you arrive around 9:30am, the trail will be VERY crowded.
I'm a fan of independent travel but in the case of the Santa Ana Volcano hike I really think booking a private tour is worth it – read more on why below.
Where to stay in Santa Ana: Pool House Hostel (budget), Hostal Casa Verde (mid-range), Equinoccio Hotel (luxury – actually on Lake Coatepeque)
My Experience Completing the Santa Ana Volcano Hike
After doing a lot of research into what was required to do this hike independently, we decided to do the Santa Ana Volcano hike with a tour company. We did Tunco Life's Santa Ana Volcano tour, and they did host our tour in exchange for this review.
However I would have paid for the tour even if we didn't partner, and I'm even more sure in that decision after completing the hike with them and having the WHOLE trail and summit to ourselves (and then seeing the hoards of people who took public transport and arrived later, as we made our way down)!
Here is what our experience hiking Santa Ana Volcano was like.
1. Depart El Tunco for Santa Ana Volcano
Around 5:30am our guide Chamba picked us up at our accommodation for the drive to Cerro Verde National Park and the Santa Ana Volcano hike. We had the option of choosing a 5:30am or 9:30am departure and we chose the earlier one so we could get the trail to ourselves – and boy, did that decision pay off!!
The drive took about 2.5 hours including a 30 minute break at a really nice gas station where we got coffee and a typical breakfast of eggs, chorizo, refried bans, plantains, and french bread buns (I packed my own snacks and bought an apple for breakfast because… gluten, but Dan raved about this breakfast!).
I'll be honest, Dan and I fell asleep during most of the drive – sorry Chamba!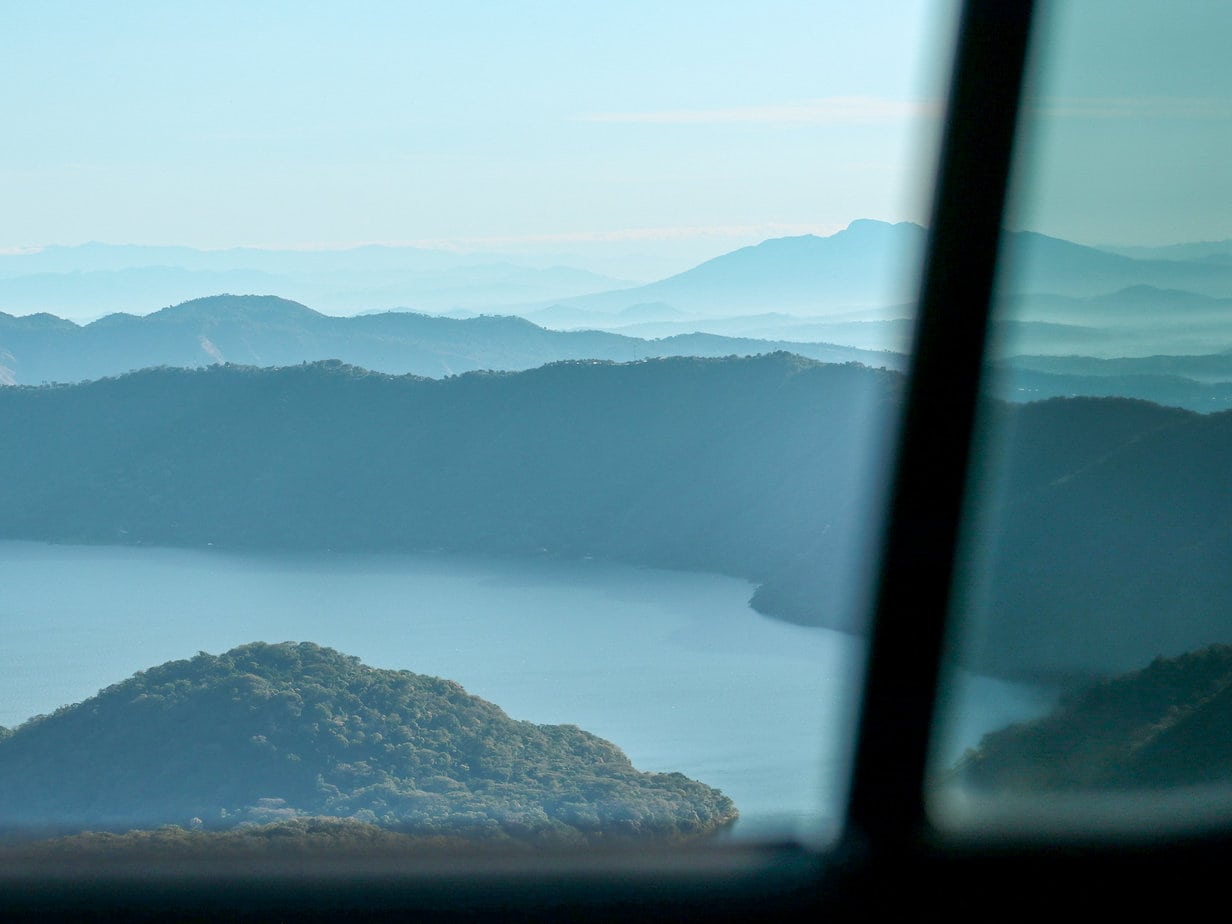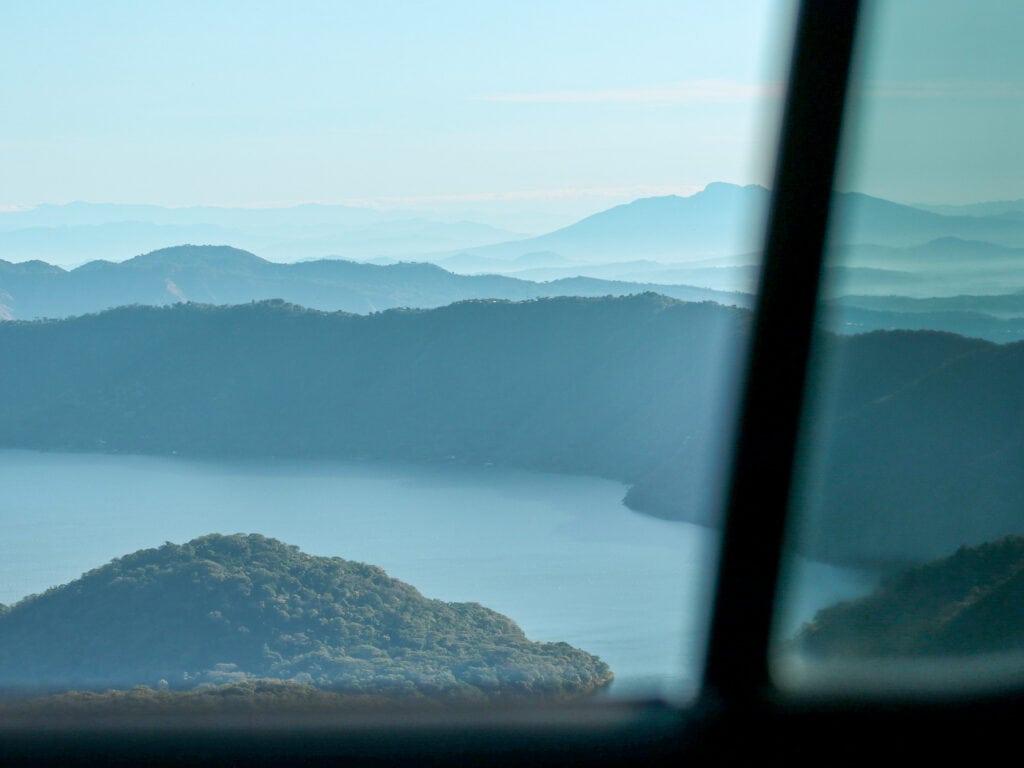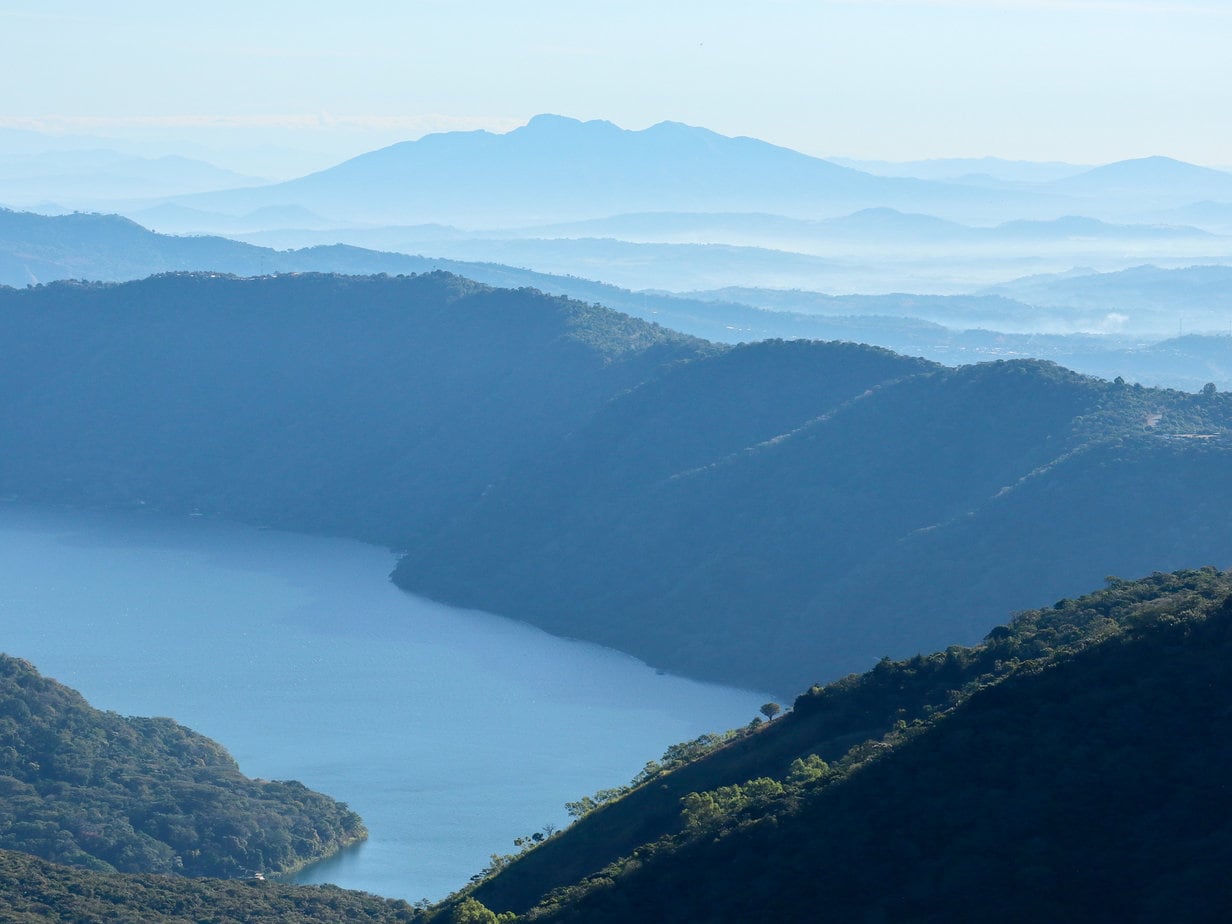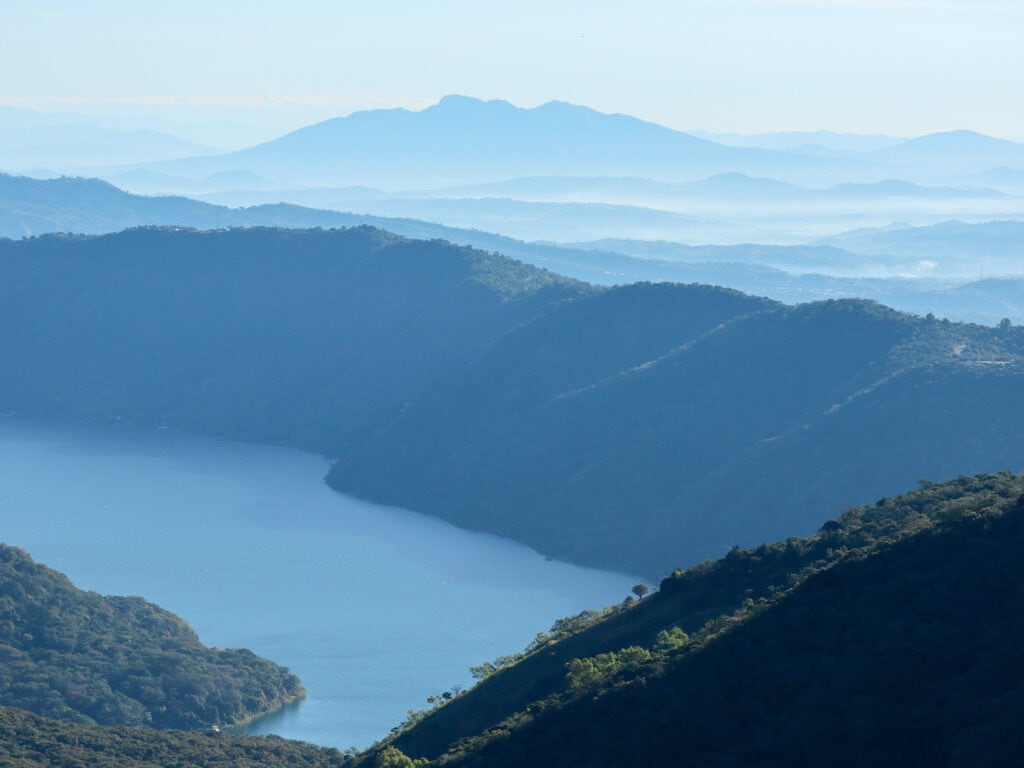 2. Begin Santa Ana Volcano Hike
We arrived to the parking spot around 8-8:15am, parked up, and began the hike. Our car was the ONLY car in the lot, meaning we were the very first ones to arrive for the hike and we had the opportunity to have the entire trail to ourselves!
3. Pay Entry Fees and Last Bathroom
After about half a mile and 432 feet of elevation gain on a nice trail, we came to an open area. Here there is a decent bathroom, some kiosks with snacks, and the environmental minister office where you have to pay your entry fee to Cerro Verde National Park.
Because we were on the tour with Tunco Life, Chamba took care of this and paid our entry fees.
If you are going without a tour company, then it costs $6 for foreign nationals to enter the park. You have to pay with cash, not card.
Also, if you are planning to hike Santa Ana Volcano independently, then this is the point where you have to hire a tour guide. YES, even if you didn't book a tour company, it is still MANDATORY to have a tour guide for this hike.
The guide costs around $3, so quite cheap, but you are lumped in with ALL the other arrivals who didn't book a tour. The only departure is around 10am (sometimes they try to leave earlier), and you will be hiking up the trail with dozens of other people, with one guide in front and one guide in back to keep you all together.
4. Hike to Summit
After we used the bathroom and Chamba paid our fees, the next portion was the actual hike to the summit, a total of 2.15 miles from the parking lot, or 1.65 miles from the environmental minister.
The trail starts out with some steep-ish stone steps. After about a quarter mile, you arrive to a flat area with a watchtower that has a good view of Coatepeque Lake.
The next three quarters of a mile are steeper (but not too bad) and quite rocky. There are some stunning views out toward Izalco Volcano, the youngest volcano in El Salvador.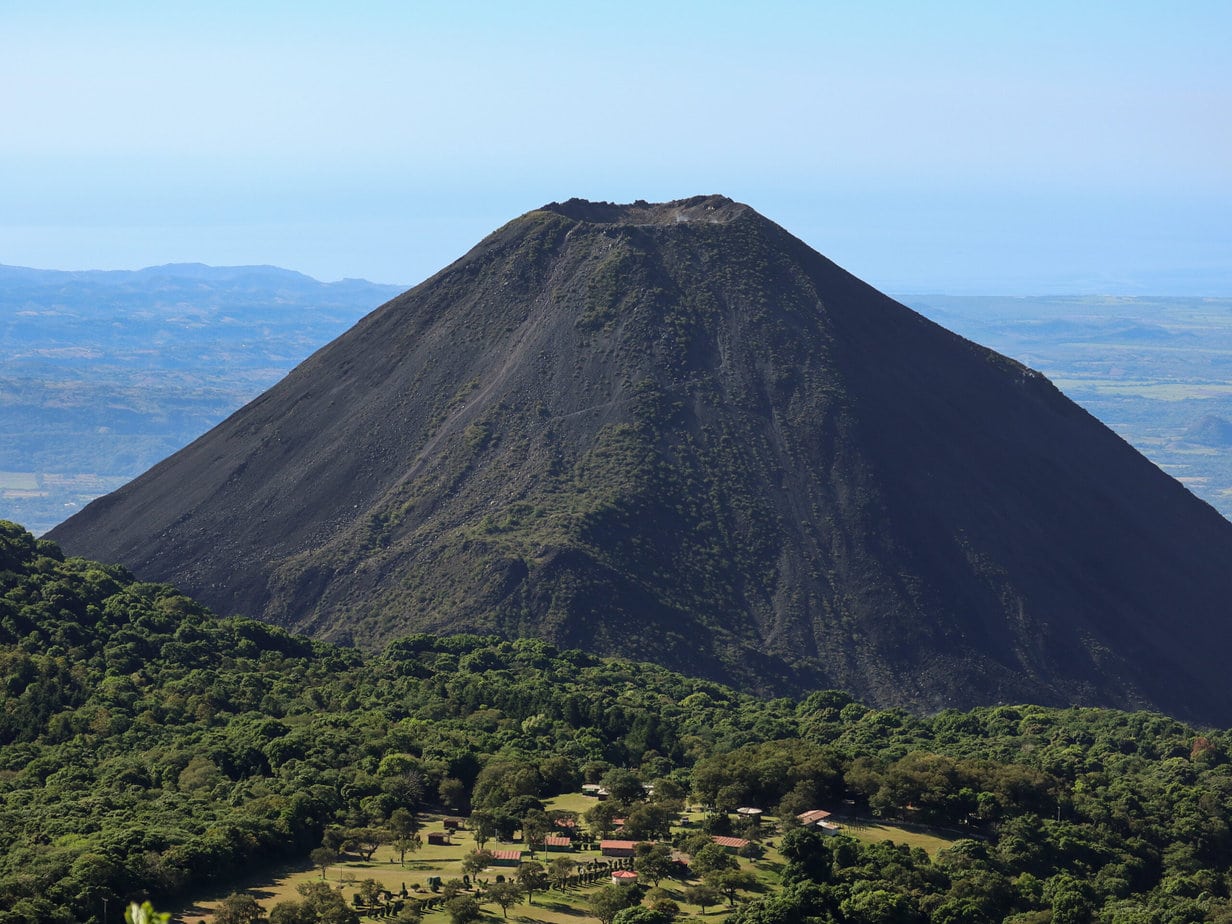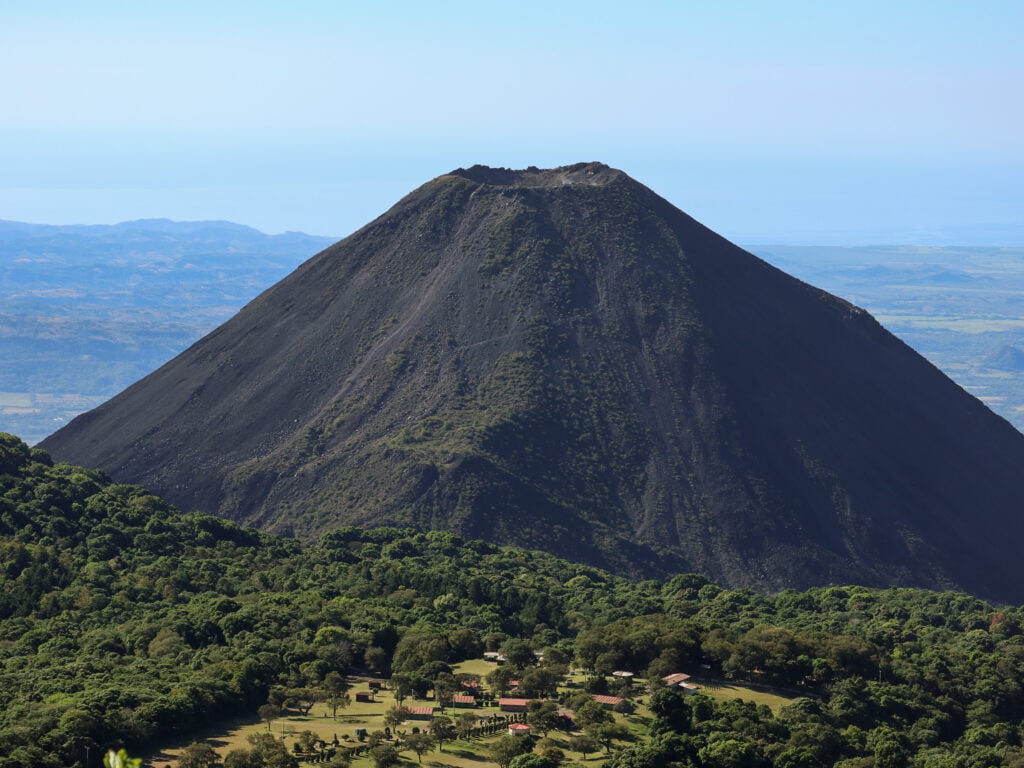 Chamba (who is totally fluent in English, by the way) gave us some interesting information about the surrounding volcanos and the unique Paramo Altimontino plant that you'll see throughout the hike.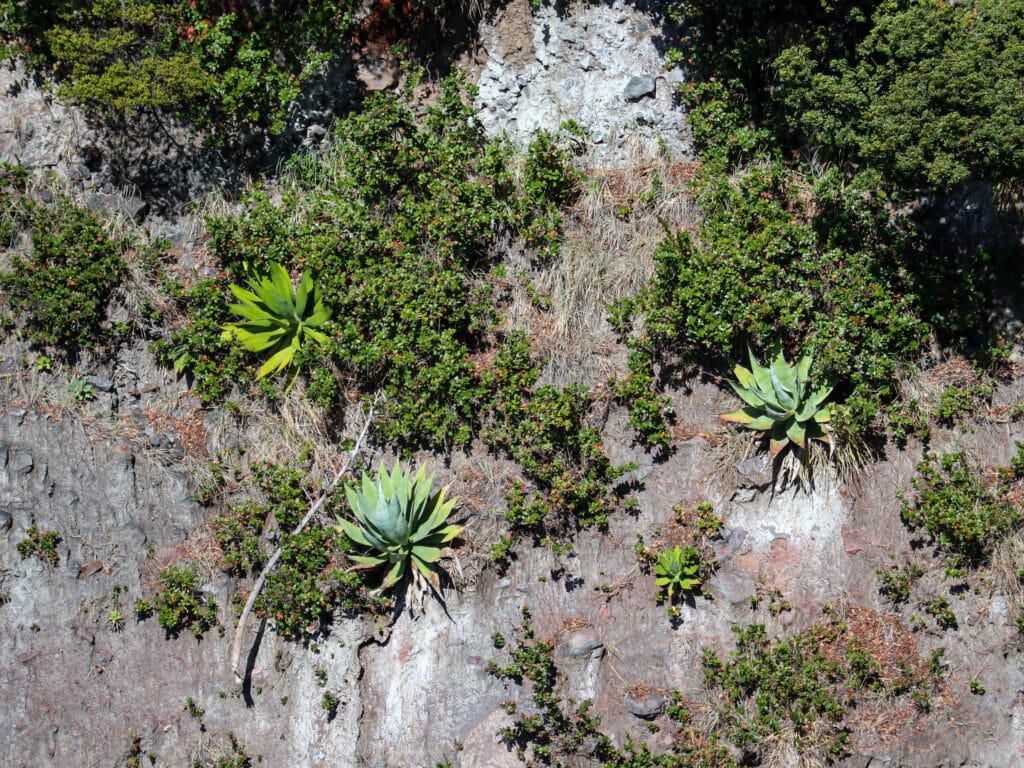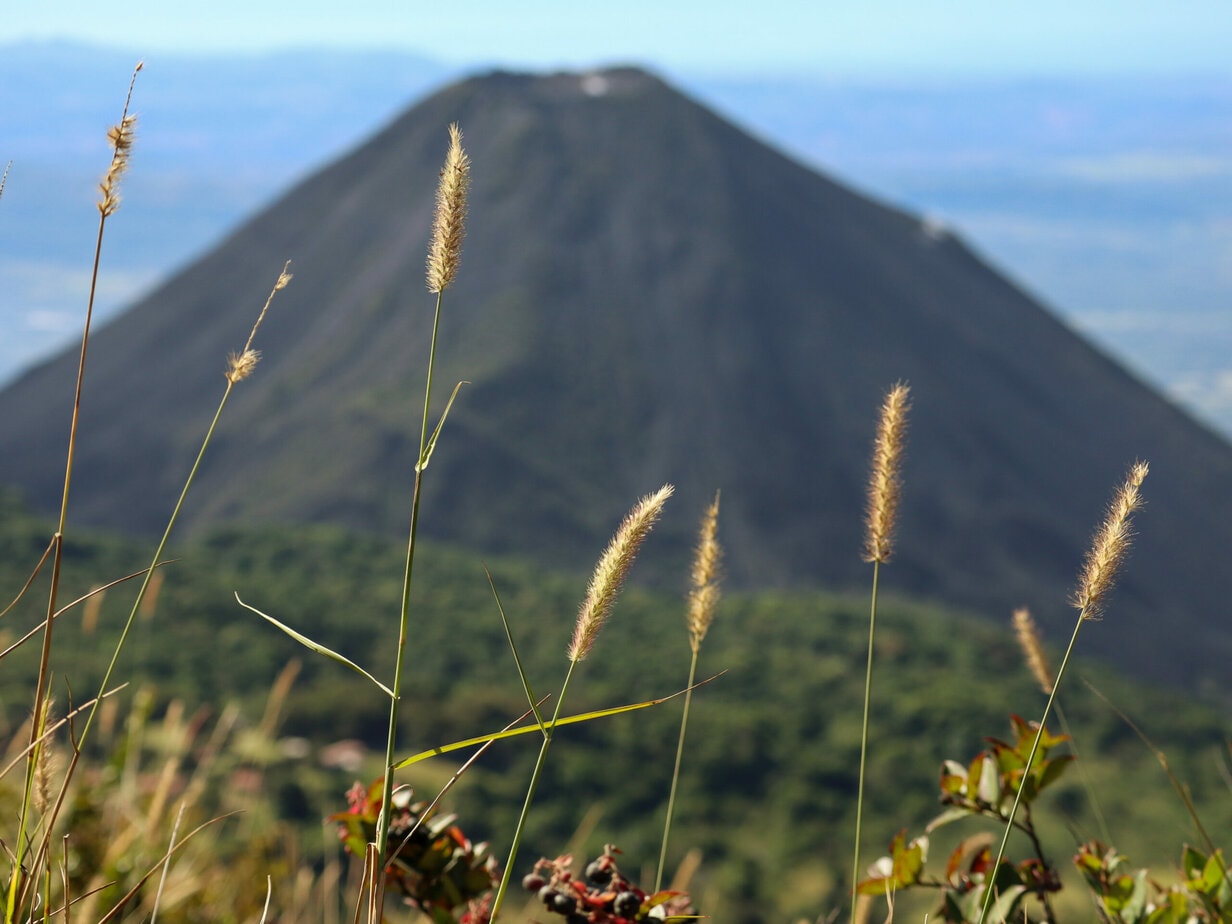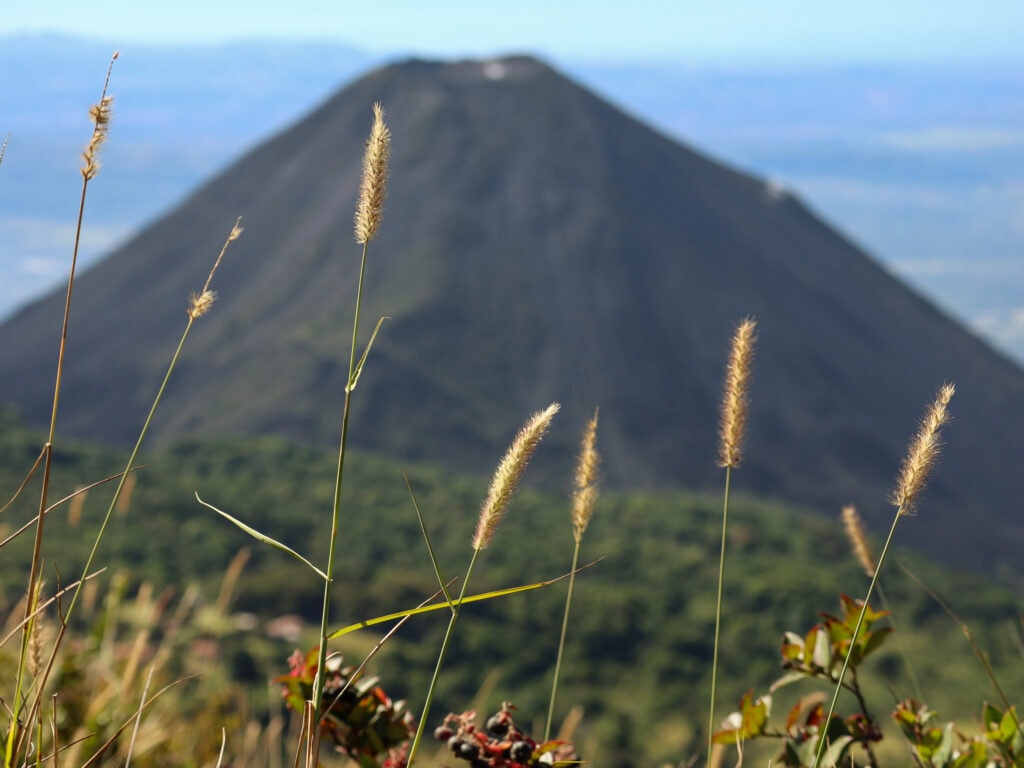 The final portion of the hike, just over half a mile, is less rocky, but more open to the elements. We started to smell the sulfur (stinky, but kind of exciting) and feel more wind.
5. The Summit and Crater Lake
We arrived to the summit of Santa Ana Volcano after 1.5 hours of hiking! And guess what? We had the trail entirely to ourselves the entire way, and now we had the whole summit to ourselves!
It was a total dream, for someone like me who absolutely loves hiking but hates when trails get overcrowded and crawling with people – that always ruins the atmosphere and for me, the whole point of getting out in nature!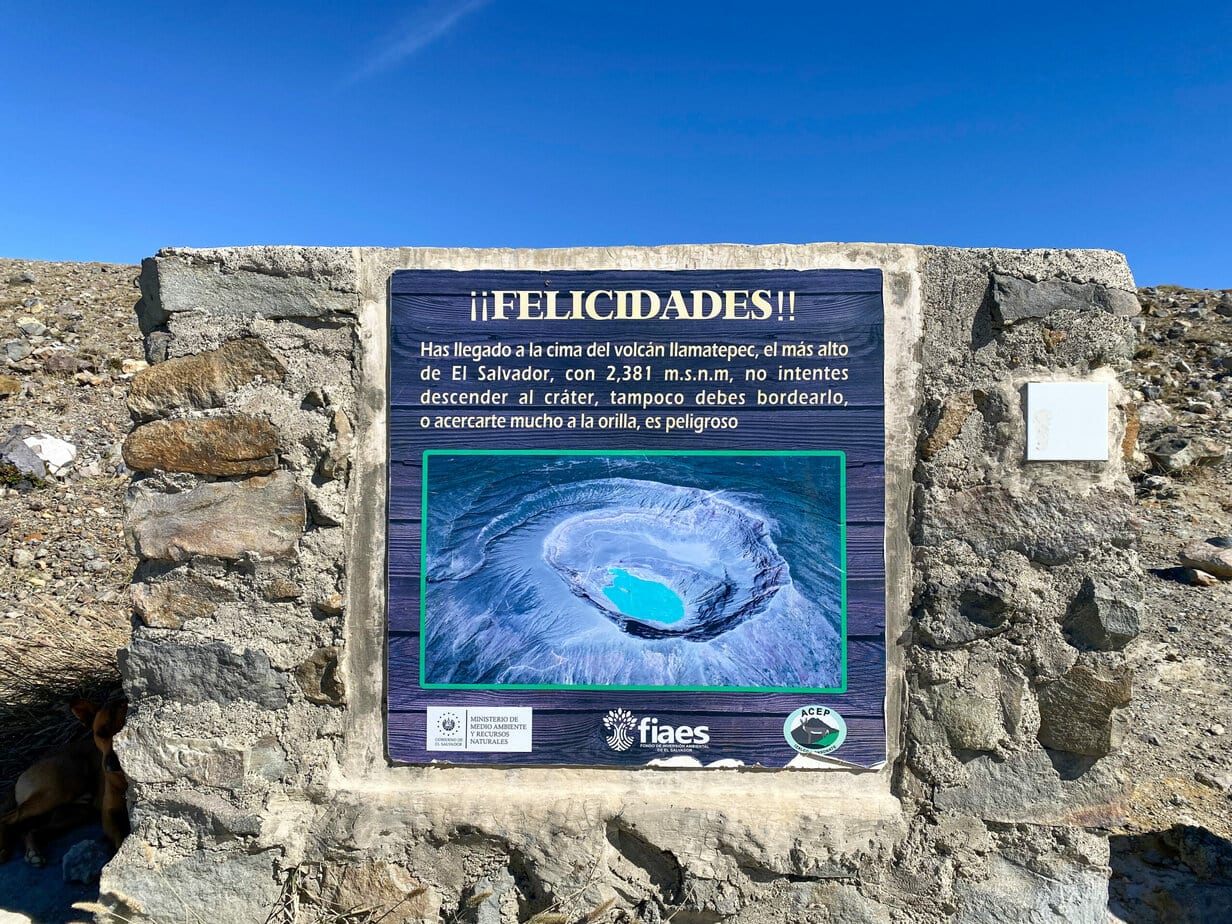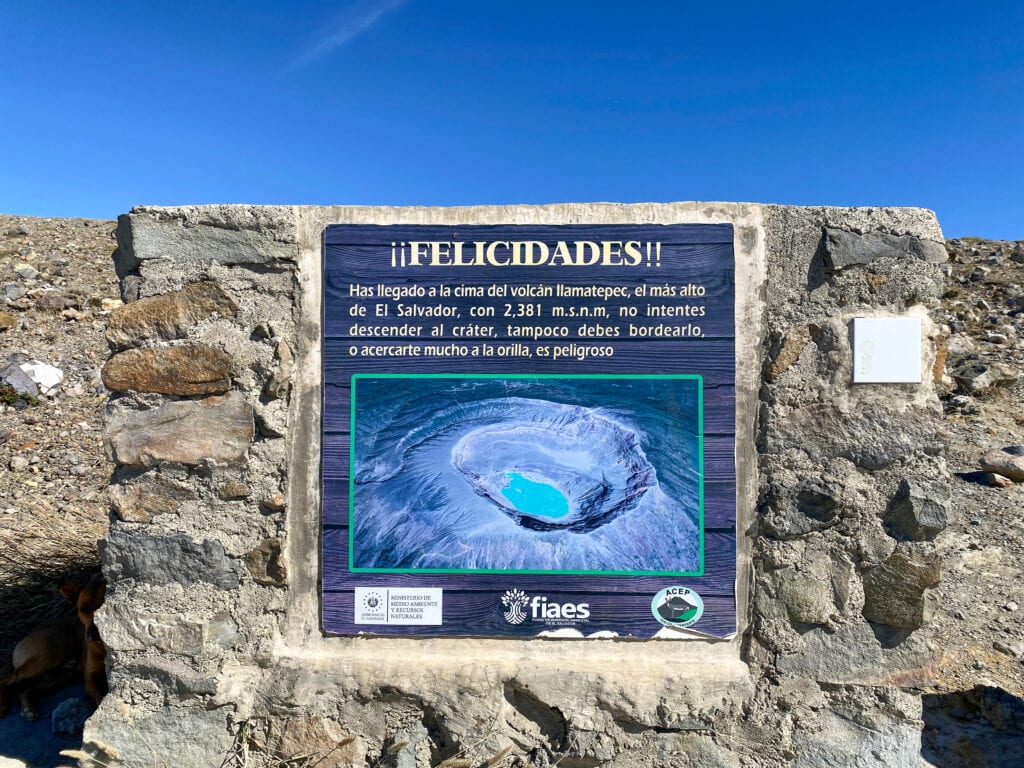 The summit itself is amazing. There is a large, rocky rim of the crater and you can walk around it and look into the lake (it is even better in person than in photos, in my opinion). Just be careful because it is treacherous if you were to slip and fall in!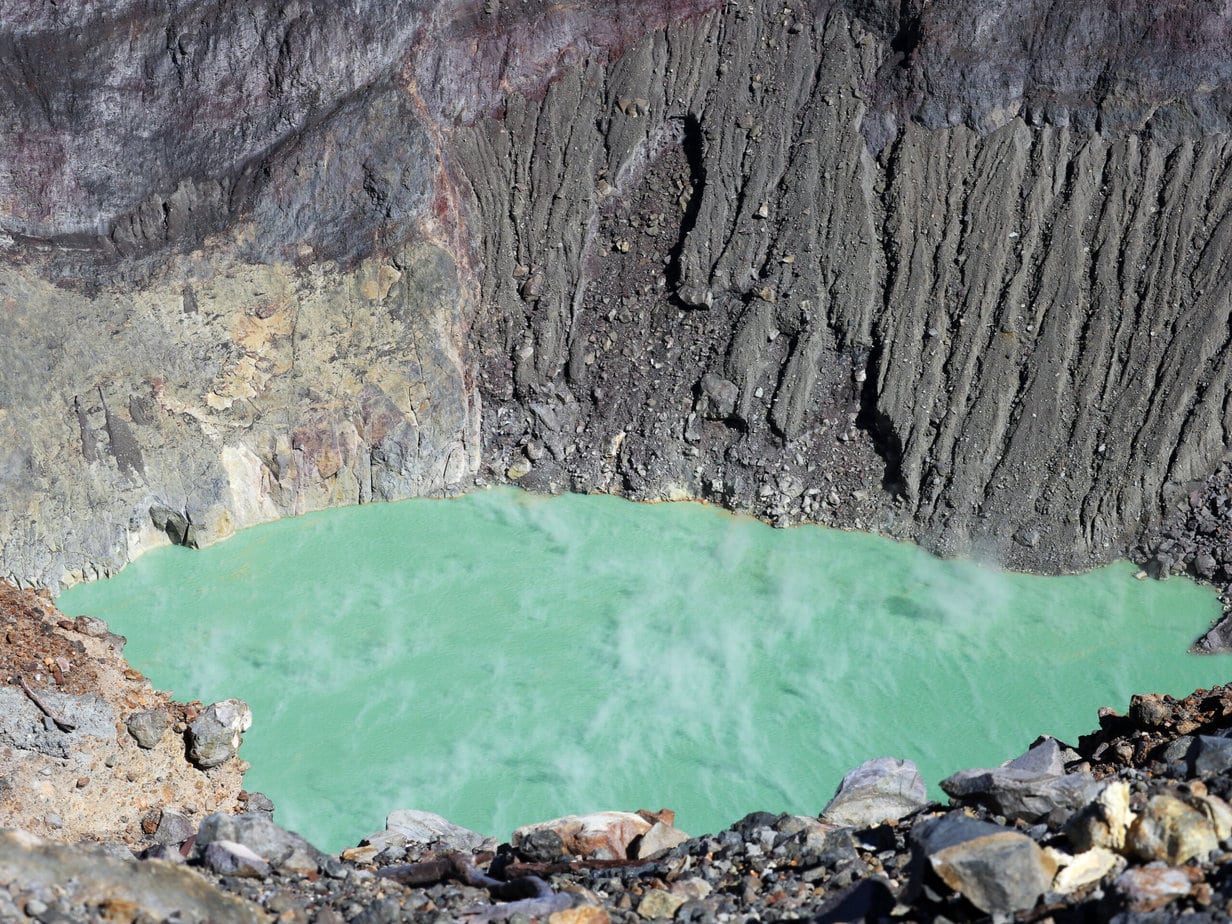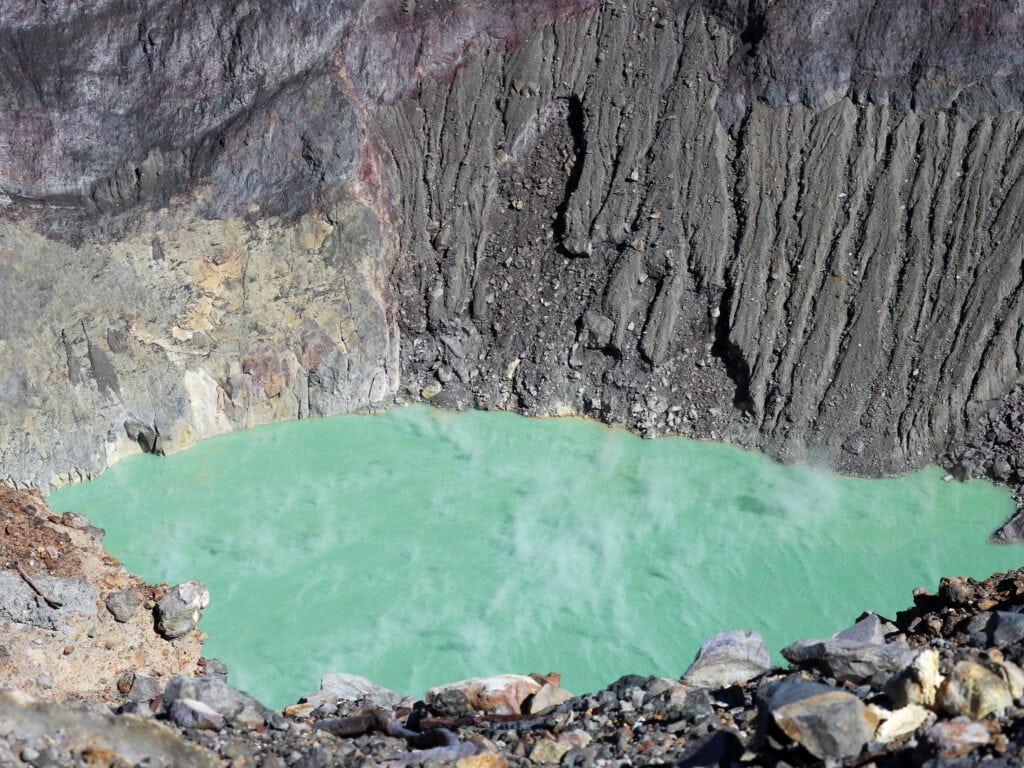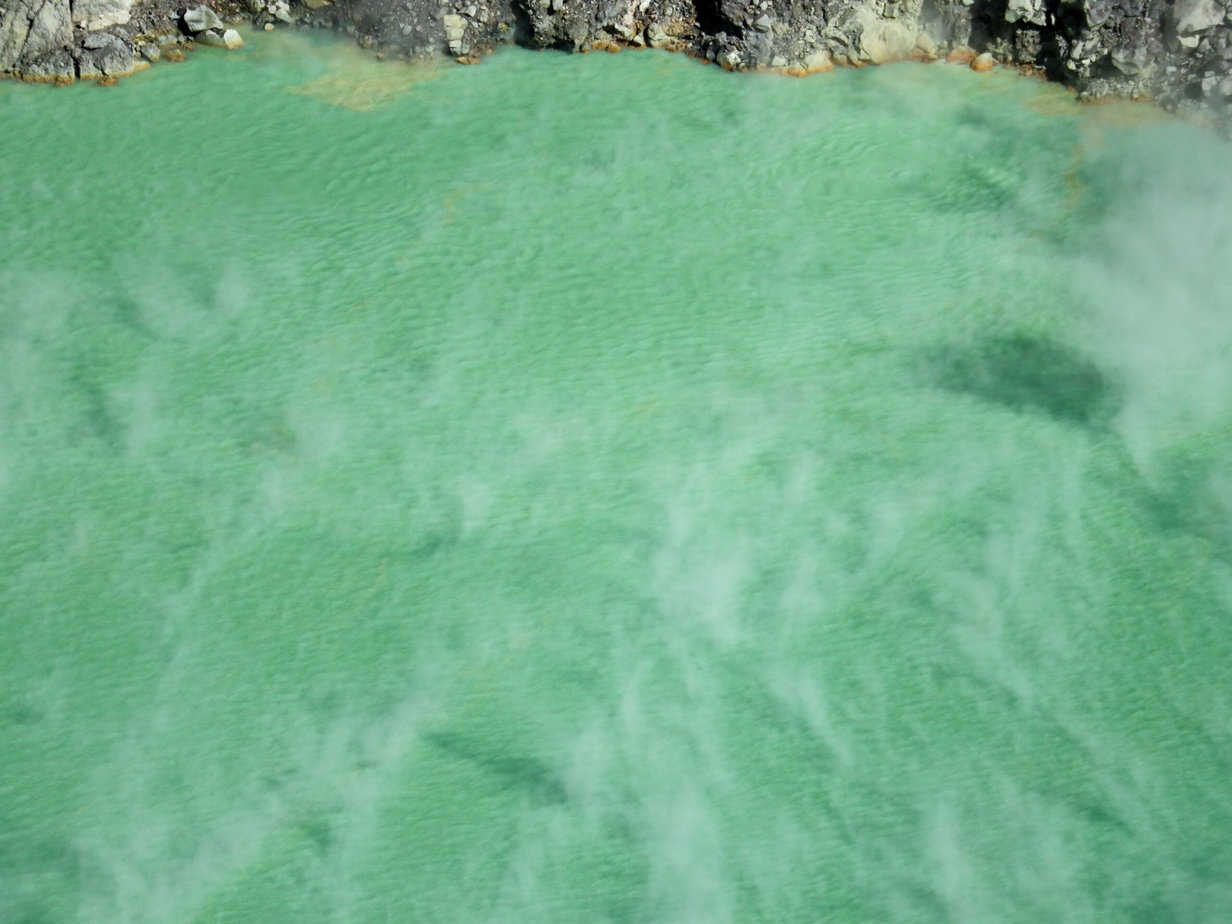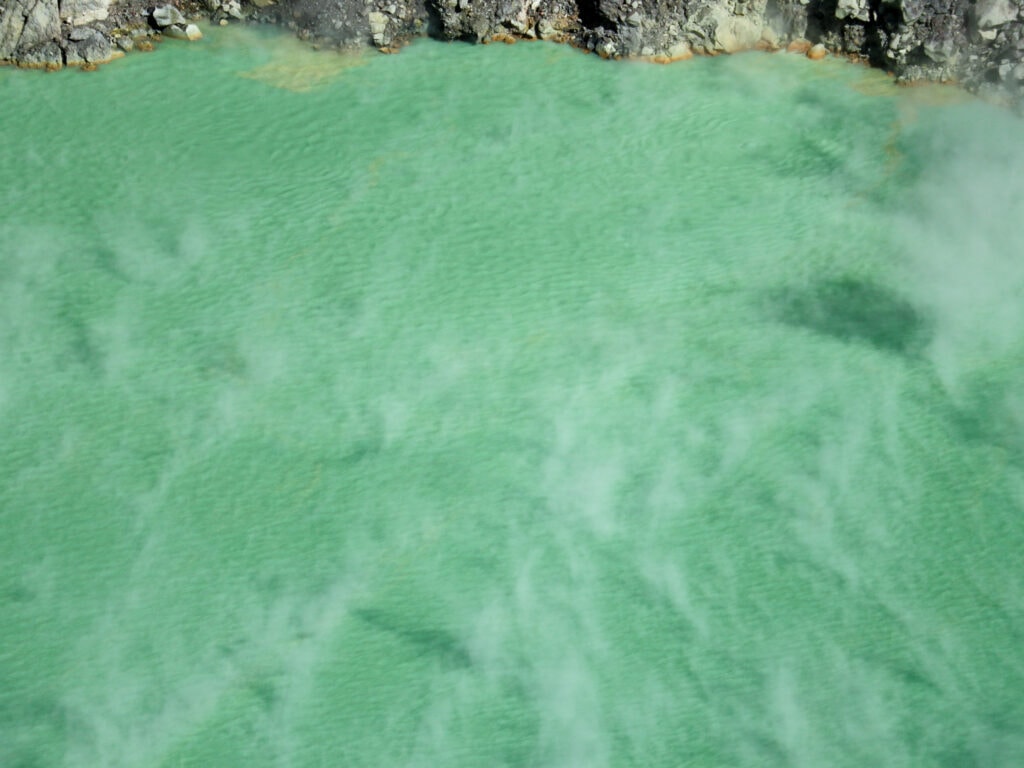 We took lots of photos from various angles. I recommend getting a photo sitting in front of the big boulder, while your photographer climbs on top of the boulder to take the shot from above, so you can really see the whole lake in it.
I will say it was quite windy, and apparently we came on a perfect weather day that had less wind than usual (the following day, the trail actually closed due to high winds!). So, bring a rain jacket, sweater, or some kind of windbreaker for when you reach the summit.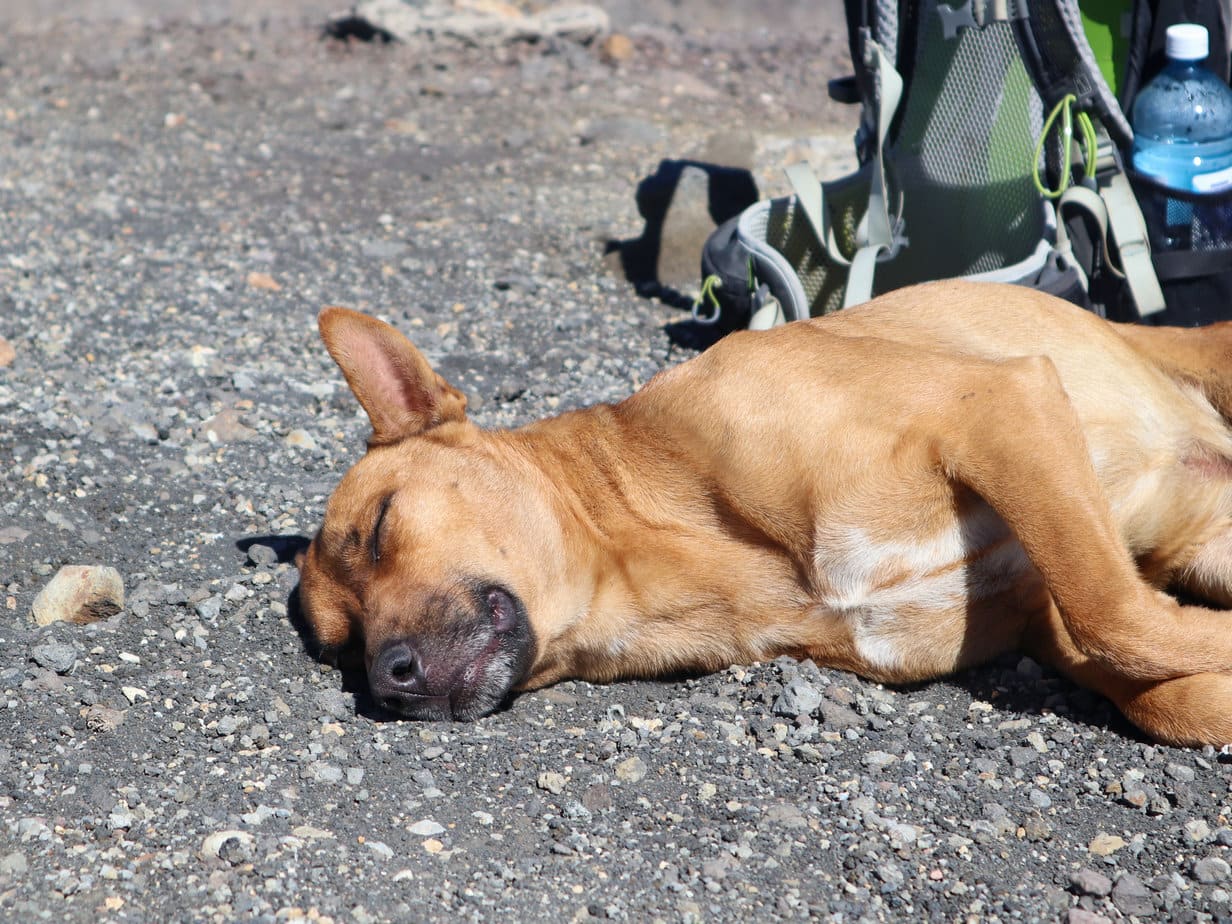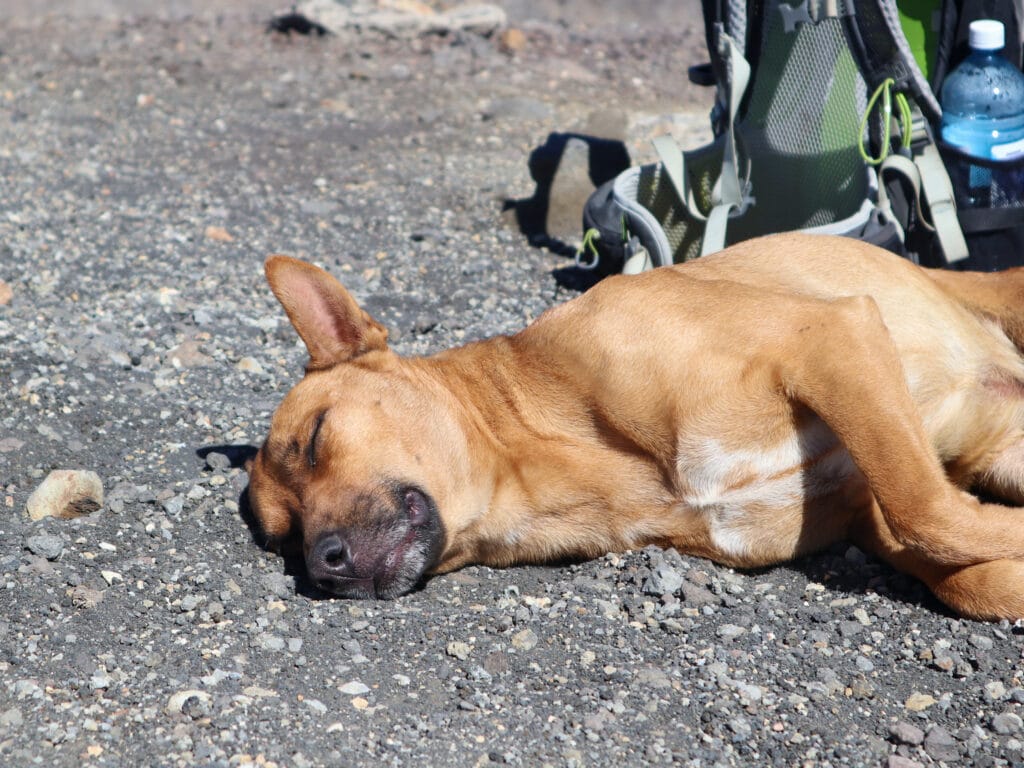 6. Walk Back Down
After about 50 minutes at the summit, which we had completely to ourselves for about 40 of those minutes, we began our descent.
We went a lot faster on the way down because the trail is easier and also, we didn't stop to admire the views quite as much.
However we DID stop quite a few times due to traffic jams. Yup, on our way down we met with all the people on their way up, who were hiking with the main 10am tour guide departure.
Honestly you guys, it looked horrible! There were whole mobs in groups of about 30+ people. I even took some timelapses and photos to show how crowded it was – and keep in mind this was just a random Tuesday, not even a weekend!
I am not saying this to discourage you from doing the Santa Ana Volcano hike, but I do want to give a dose of realism. This is the most popular hike in El Salvador for good reason (it's absolutely stunning), but if you don't leave early you will be stuck with lots of other people. This might not bother you, but personally it would have really affected my experience.
7. End of Santa Ana Volcano Hike and Drive Home
It took us 50 minutes to hike the way down and we finished the hike a little before 11:30am. Let's just say our car was no longer the only one in the parking lot, lol.
There was about a 2.5 hour drive back to El Tunco, but we broke this up with some great stops!
First, we drove to the beautiful Coatepeque Lake (that you can see throughout the Santa Ana Volcano hike). We stopped at a local restaurant and pupuseria which had a gorgeous panoramic view over the lake.
I was able to get some delicious (gluten free) shrimp and garlic pupusas, while Dan and Chamba ordered the typical meat platters.
At this point, we could've gone down to the lake and tried the $5 ferry or the jet skis. However, Dan and I asked if we could take a side trip to the famous rainbow slide near San Salvador, instead.
Chamba was super kind to adjust our itinerary and take us there on the way back to El Tunco! Luckily, we did not encounter any traffic and we arrived back to our accommodation in El Tunco around 3:30pm.
All in all… one of the best days in El Salvador!
Santa Ana Volcano Tour vs. Independently: Which is Better?
In this article, I've already provided you information on how you can do the Santa Ana Volcano hike either independently using public transport, or as a day tour.
I think it's important to have all the information in front of you and make a decision from there, depending on your unique budget, location, travel preferences, etc.
As I mentioned, we went on a tour with Tunco Life and I am so happy with that decision. Below are some pros and cons to choosing a tour vs. going independently.
Tour Pros
Convenience of pick-up and drop-off at your accommodation
Have the trail and summit ENTIRELY to yourself, or very empty
Learn about the landscape and history from an English-speaking private guide
Stops for breakfast and lunch
Stops at nearby sites like Coatepeque Lake and the rainbow slide
Don't have to spend a night in Santa Ana city if you don't want to
Totally stress-free
Independently Pros
Tour Cons
Independently Cons
You won't arrive until 9:30am/10am and have to go with the mandatory group tour guide
Very crowded trails and summit
Guides don't always speak English
Have to spend a night in Santa Ana city whether you want to visit there or not
Only one bus per day at 7:30am and if you miss that then you can't hike Santa Ana Volcano that day
Potential stress of taking public transport including getting off at the correct spot and getting the bus back to Santa Ana (buses back run ONLY at 1pm and 4pm)
As you can see, the main deciding factor is really your budget (trust me, I tried to think of other pros/cons and I couldn't!).
If you have the budget for a private tour, I recommend Tunco Life. They can pick you up from the El Tunco coastal area or San Salvador. Currently, they charge $70 for the whole day, and that's competitive with other companies.
Without a tour, you can expect to pay around $14 per person. If you are not already in Santa Ana and have to get there, then add on about $5 (for chicken buses) and $15-35 for that night of accommodation. Consider that you also pretty much lose a whole day of your trip by traveling to Santa Ana.
As you can see, the price difference is big (although it becomes closer once you consider that you have to get to Santa Ana). Your decision will just depend on your personal priorities about price vs. quality of experience!
What You Should Pack for the Santa Ana Volcano Hike
This hike isn't technical and it's not too challenging if you have a base level of fitness. However, there are still some things you should pack in your bag! It goes from super sunny to super windy in a short time frame so that's something to consider.
Packing list for the Santa Ana Volcano hike:
Running shoes or hiking boots
Sunscreen
Sunglasses
2L water
Wind protection (jacket or sweater)
Camera (I use and recommend the Canon EOS M6 for travel)
Snacks
USD cash for entry, guide, snacks, and bathrooms
Alltrails Plus subscription if you want to track your hiking time and other stats
Santa Ana Volcano Hike FAQ
How can I book a Santa Ana Volcano tour?
I recommend hiking Santa Ana Volcano with a tour company vs. getting there independently in order to avoid crowds. Tunco Life offers a Santa Ana Volcano tour leaving from El Tunco or San Salvador.
What is the Santa Ana Volcano weather?
The Santa Ana Volcano weather can go from very sunny to very windy at the summit. In mid to late morning it may also get covered by clouds. In general, the best weather is from November to Apil.
What are the best El Salvador hikes?
The Santa Ana Volcano hike is the most popular hike in El Salvador. Other El Salvador hikes include Taminique Waterfall, Izalco Volcano, Seven Waterfalls Hike, San Miguel Volcano, San Salvador Volcano, Hidden Waterfalls in El Impossible National Park, and others.
When was the Santa Ana Volcano last eruption?
The Santa Ana Volcano last eruption was in 2005 when several people were killed. Santa Ana's last eruption before that was over 100 years ago.
I very much hope that this Santa Ana Volcano hike guide was useful for you! Please let me know in the comments if you have any questions or updates. Whether you do this hike independently or with a tour, I hope you have a great time. It is sure to be a highlight of your time in El Salvador, like it was for me!
If you do decide to book your Santa Ana Volcano tour with Tunco Life, then tell them that Sarah from Endless Distances says hi!
El Salvador to Guatemala Border Crossing Guide
Nicaragua to El Salvador Border Crossing Guide
Our Santa Ana Volcano tour was provided complimentary by Tunco Life in exchange for an honest review. As always, all opinions are absolutely my own!