How to Go Cliff Jumping in El Salvador with El Salvatours
Have you ever considered going cliff jumping in El Salvador? There is a little-known tour called the "hidden waterfalls of El Salvador" with El Salvatours, that takes you to five incredible cliff jumps deep in the El Salvador jungle.
I didn't hear of this tour until our final day in El Salvador. It sounded so intriguing that we actually changed our plans to stay in the country two extra days to try it out!
This intense day trip takes you into the depths of El Impossible National Park where, with the help of two local guides, you trek through dense forests, jump off cliffs into rivers and pools, slip down naturally-made slides, rappel down cliffs, and marvel at waterfalls that few other people have ever seen.
I'll be honest – this tour is not for the faint of heart. It's one of the more adrenaline-inducing experiences from my year backpacking Latin America. If you want to learn more about El Salvatour's cliff jumping in El Salvador tour… and if it's right for you… then this blog post has all your answers! Let's get to it.
WATCH THE VIDEO | Want to see what the cliff jumps look like in action? Check out my Instagram reel here.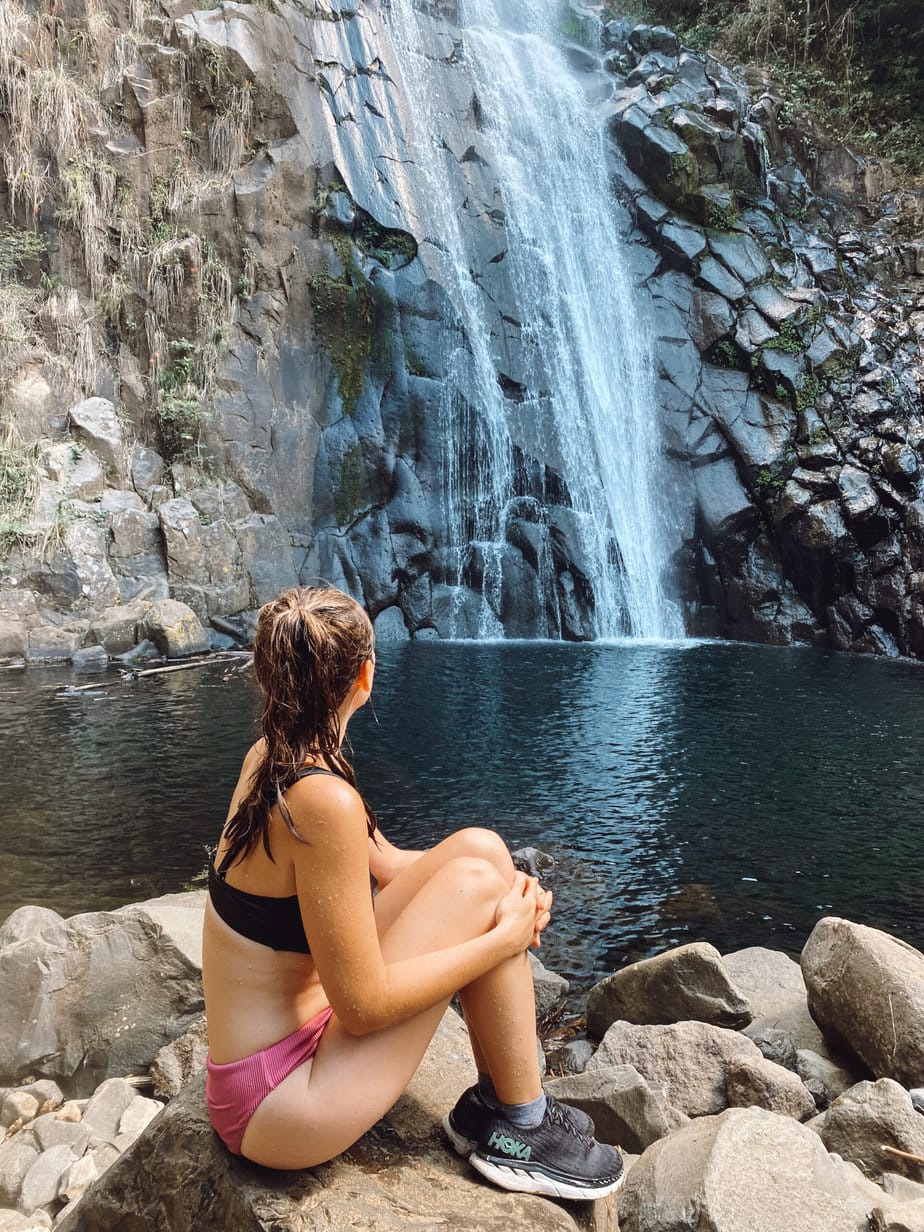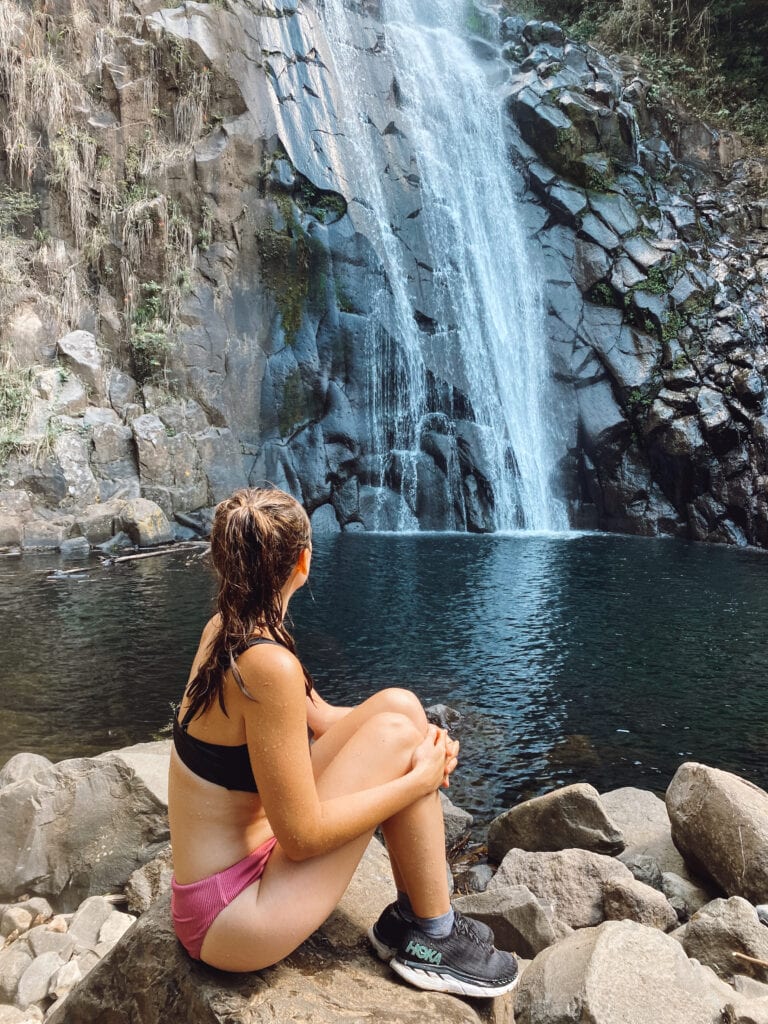 Where Can You Go Cliff Jumping in El Salvador?
Look, El Salvador has some awesome waterfalls where you can go cliff jumping – from Taminique Falls near El Tunco to the 7 waterfalls hike near Juayua. The problem with these waterfalls? Well, everybody knows about them so they are often crowded with people!
El Salvatours' hidden waterfalls tour, on the other hand, takes you to some honest-to-God truly hidden waterfalls where you can go cliff jumping in El Salvador. I have traveled all over the world including many multi-day treks, and I don't think I've ever felt like I was in a more remote, wild location than I did during this tour. In some ways, it was a little scary, but mostly it was thrilling.
All About El Salvatours' Hidden Waterfalls Tour
So, what is this hidden waterfalls tour? It is a full day tour that involves hiking deep into the jungle of El Impossible National Park with two local guides – William and Edwin. From there, you trek over rocks and boulders beside a river.
Along the way, there are opportunities for multiple cliff jumps (although there is always the option not to jump – read more about that below).
As you jump, climb, and scramble through the forest and river, you see dozens of waterfalls of all sizes. The culmination is Cascada el Perol, a 35 meter waterfall where you have time to swim, chill, and do choose-your-own cliff jumps of 3-13 meters.
Finally, you take a steep hike out of the forest before getting back in the pickup truck for the ride back to town.
Read all about my experience (and if I think it's worth it) below!
About El Salvatours
El Salvatours is an adventure tour company based out of Ataco, my personal favorite town along the beautiful Ruta de las Flores. It's run by two guys named William (yep, really!). William "Dos" is an Australian traveler and William "Uno" is a Salvadorean tour guide who lives near El Impossible National Park.
Back in 2018, the two Williams met when William "Dos" was backpacking El Salvador. William "Dos" really wanted to go cliff jumping in El Salvador and he enlisted William "Uno"'s help as his local tour guide.
That cliff jumping tour went well, to say the least, and the two Williams struck up a business partnership. Together they now help current backpackers in El Salvador experience the same cliff jumping and waterfalls tour – but with a bit more organization behind it!
William "Dos" runs the business behind-the-scenes, and is the one that you'll be messaging with as you book your tour. William "Uno" is your El Salvador tour guide. You'll meet him when he picks you up in a pickup truck and then guides you through the cliff jumping adventure!
Who else is on the team? Well, there's also Edwin (petition for Edwin to change his name to William "Tres"?). Edwin's another Salvadorean who lives locally to El Impossible National Park. He helped guide our group, carried gear, and was very motivational!
Where the El Salvador Cliff Jumping Tour Starts
As I mentioned, El Salvatours is based out of Ataco and this is where the hidden waterfalls and cliff jumping tour officially starts.
Dan and I were staying in Ataco at Casa Pino – one of our favorite accommodations from our time in Central America.
I highly recommend spending 3-5 days along the Ruta de las Flores, and basing yourself in Ataco. Note that the hidden waterfalls tour takes a whole day, so add an extra day to your Ruta de las Flores itinerary to account for it! (While you're there, spend at least one day at the Juayua Food Festival, too!).
You don't technically need to stay in Ataco in order to join this tour, though. You could stay anywhere else along the Ruta de las Flores and just take bus 249 to get to Ataco for the start time.
Alternatively, the other five people on our tour were actually all staying in Santa Ana at this hostel (that they raved about). They all met there, and then drove a rental car to Ataco early in the morning – it's doable!
Who Should Go on the Hidden Waterfalls Tour
Before we get any further, I want to be really clear that the hidden waterfalls tour is NOT for everyone. I had an amazing and super memorable time on this tour but as I mentioned earlier, it is not for the faint of heart.
On this tour, you'll be clambering over boulders and rock ledges. You'll jump off cliffs into deep pools of water… There's always the option not to jump, but honestly jumping is occasionally less scary than the alternative. In most cases, you can hike down instead of jump, but at one jump you have to rappel down a sheer cliff face if you don't jump (more on that later)!
You're also in an incredibly remote location so God forbid anything happen to you… it would be very difficult to get out of the jungle and get medical help. Luckily, I found our guide William really careful and preoccupied with our safety (although we did not wear helmets or life jackets). Side note: you're going to want travel insurance for this trip!
Altogether, this is a tour for people who are adventurous and a bit thrill-seeking. Apparently, people from ages 5 to 75 have all done this tour, but any kids 16 and younger will need an accompanying adult.
I wouldn't describe myself as an adrenaline junkie, but I still had a good time. However, if you're afraid of heights, not confident in your balance or hiking skills, or can't swim, then I wouldn't recommend this tour to you.
Cliff Jumping in El Salvador Tour: Our Experience
If you already love the sound of this cliff jumping and hidden waterfalls tour with El Salvatours, then skip the spoilers below and just scroll down to my section on how to book the tour and what to bring (your gear is very important for this one!).
However, if you're a bit on the fence and, like me, not necessarily an adrenaline junkie… then you may want to read more about what this tour is actually like, to determine if it's right for you.
I've tried to not share everything about the tour, so you'll still have some (pleasant) surprises when you're on it. But if you need to read a bit more information before you make your decision, I've got you covered!
Breakfast Buffet
Our day started early around 7:30am at Comedor a la Vista y Pupuseria, a local breakfast buffet in Ataco. Actually, this breakfast place was literally just a 1 minute walk from Casa Pino, where we were staying. Dan and I liked it so much that we came back here another time, too!
Pickup Truck Drive
After breakfast, around 8am, we met up with our fellow cliff-jumping-backpackers and William "Uno" – our tour guide for the day! This is where the adventure truly began.
We all piled into the back of an old pickup truck. You know those pickup trucks with the cages around the back? If you've traveled in Central America long enough, you'll have seen trucks driving by with dozens of locals standing smushed in the truck bed. Well, now it was our turn for that (although with seven of us, we weren't smushed at all).
We stood in the truck bed, gripping tight to the bars as the truck groaned its way up the steep cobbled streets of Ataco and then onto the dusty roads leading toward El Impossible National Park.
It was windy and thrilling and dare I say, every backpacker in Central America needs to travel this way at least a few times!
Hiking Through El Impossible National Park
Around 9am, after a break at a lookout spot where we could see Guatemala's famous Volcan Fuego smoking in the distance, we reached our parking spot on the edges of El Impossible National Park.
Our day began with a downhill hike through grass fields, and then dense forest. William and Edwin, our other guide, had machetes to help hack away any plants that had overgrown the path.
Along the hike, William told us about various plants and their medicinal properties. Note that William is learning English, but mostly he speaks Spanish. I can get by okay in Spanish, but luckily a guy on our tour was totally fluent so he acted as translator, which we were all grateful for.
We got quizzed a few times about the flora and fauna that William introduced us to. Having done my research before our tour, I knew the quizzes were coming so was sure to pay attention and store those answers in my brain, haha.
William's reward to me for "winning" the quiz was to write my name on the back of this plant… apparently, those marks can last for years so be sure to look out for the leaf that says "SARAH" if you do this tour!
The First Cliff Jump
After a while hiking through the forest, we arrived to our very first cliff jump! The tour includes five cliff jumps in total, ranging from about three to 13 meters (the 13 meter one is at the end and completely optional!!).
The first cliff jump was about three meters high, into a deep pool at the base of a small canyon. But that wasn't the scary part. You had to walk across two sticks to get from one side of the canyon to the other, in order to do the jump!
Luckily, William was there and he reached out his hand and helped each of us cross the canyon to get to the jumping spot. Once at the cliff edge, he plunked a small stone into the water below, to show us exactly where to jump.
I'm not gonna lie… I got a little hesitant as I stood on the cliff edge looking down at the dark water below me! I've done a few cliff jumps in the past but for whatever reason, it got to me this time.
Other members of the group weren't quite as hesitant…
My advice to you is NOT to pause and think about it too much. That's when you get in your head! Just follow William's advice, look at the spot he marks, and make a smooth walk up to the edge and JUMP!
After a bit of encouragement, I made the leap into the water below…
(Keep in mind, there was the option to hike around this instead of do the cliff jump, but I'm glad I challenged myself to do the jump! One guy in our group hiked instead of jumped, so know that you have that backup option.)
More Hiking and Cliff Jumps
After that first cliff jump, the sweat and dust from our pickup truck drive and jungle hike were thoroughly wiped off. Our whole group had high energy and we were running on adrenaline!
We continued making our way, scrambling over boulders and rocks at the edge of the river.
There were a couple other cliff jumps along the way, and some natural slides as well!
Dan and I both opted not to do one of these cliff jumps. William warned us that we had to jump far out, to avoid a boulder in the water. I think he could tell I was hesitating, and he said if you hesitate it's not safe because you may not jump far enough.
That's totally fair and I'm glad he supported me not to do that jump… it was super easy to just hike down the boulder instead.
Jump vs. Rappel
Eventually, we arrived at the top of a big, powerful waterfall with a large black pool below it. William told us this jump was eight meters.
I'll be honest here. I stared down from the edge of that cliff and I thought "oh hell no." One by one, the other people in our group made the jump.
When it came down to the final three, including Dan and I, we asked what the alternative to jumping was.
Turns out, you couldn't hike your way around this cliff jump. No, the alternative was rappelling down the cliff face, with a harness that Edwin was carrying in his backpack!
At William's urging, I put on the harness and began my rappel. Now, I had actually gone rappelling in Costa Rica a couple months prior. That was quite a different experience, though, because the rappel was bolted into a chain system, and I essentially walked down the cliff with my back parallel to the ground!
The only thing anchoring my ropes on this cliff, though, was Edwin and William, holding onto the ropes themselves! So I opted for less of the "classic rappel" form and more of a "bump and slide your way down this cliff and try not to smash your face into a rock" form, haha.
In all honesty, I think just jumping off the cliff would've been easier so I'd encourage you to go that route, instead.
However, all was well when I finally touched down into the cold water, gave a sigh of relief, and took off my harness so William and Edwin could haul it back up for Dan's turn!
The Big One: Cascada el Perol
After trekking a bit further along the rocks and river, we came to the top of Cascada el Perol, the biggest of all the day's hidden waterfalls at 35 meters. Looking down the waterfall from the top was unreal… the water was so powerful and the pool looked so tiny below.
(My first thoughts: Uhhh, we don't have to jump off this, right?! Lol.)
We all took a breather here and dried off in the hot sun, with a lunch of fresh guacamole, corn tortillas, and oranges that Edwin unpacked from his backpack.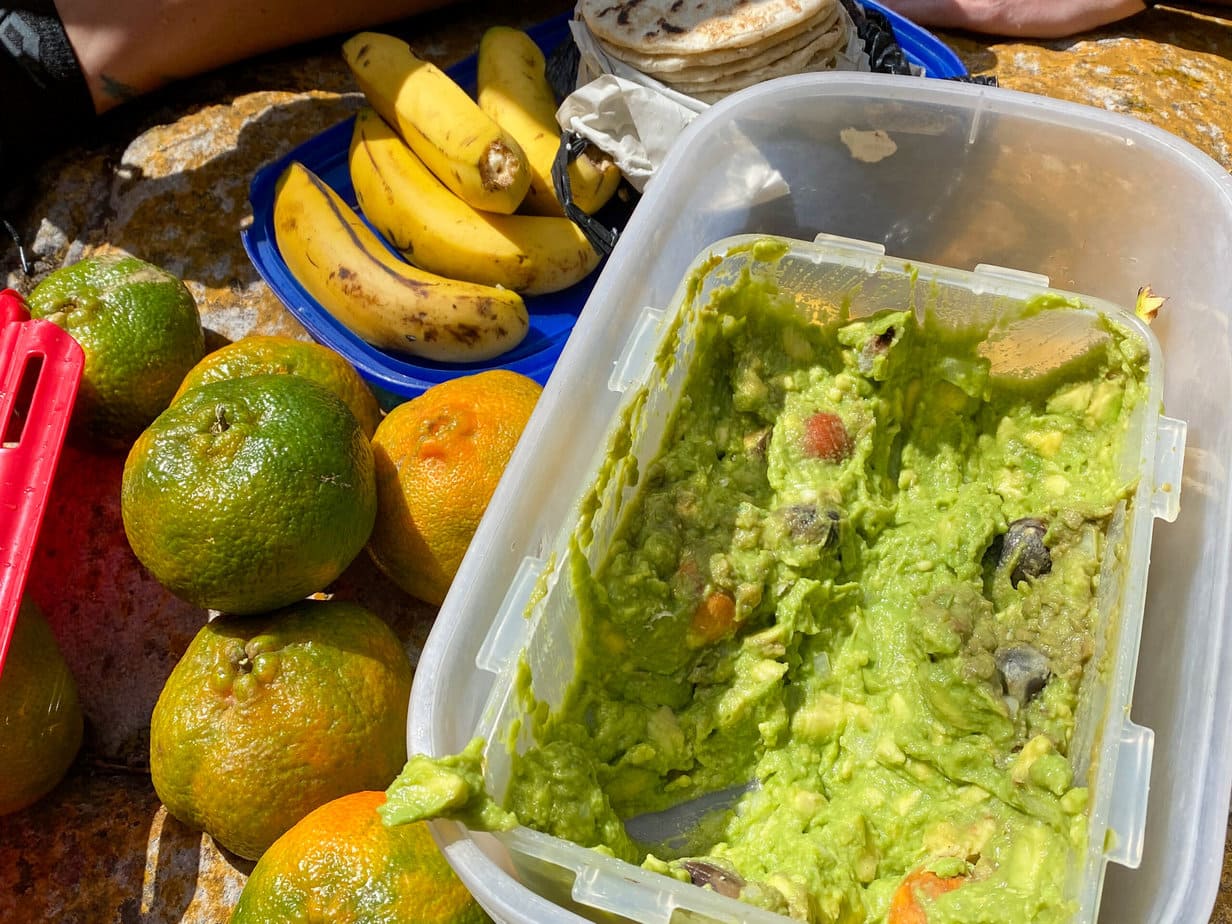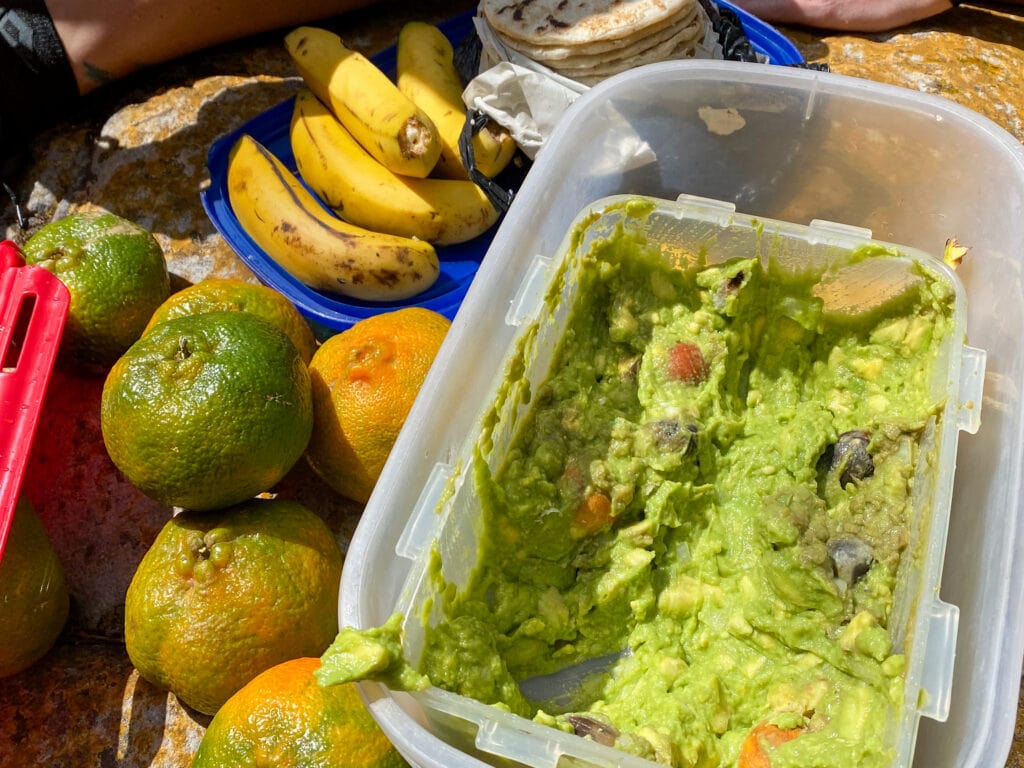 After lunch, it was time to hike down to the base of Cascada el Perol. After clambering down a steep forest path, we made it out to the big open pool and really got to see the glory of this giant waterfall from below!
At this point, we had about 30 minutes to swim in the pool, and do more cliff jumps.William showed us the spots to jump at three, five, eight, and even 13 meters.
We all took our turns jumping and of course videoing each other. If you want to see a video of what the jumps look like, go to my Instagram reel here!
Trekking Out of the Forest
Finally, it was time to make our way out of El Impossible National Park. This involved an uphill hike on a forest path, for about an hour.
We just spent all day trekking downhill along a river with rushing waterfalls, so it makes sense that the final hike back up to the pickup truck was pretty steep!
I definitely sweat my way up the hill, but it wasn't too bad. If you don't have any experience hiking you may struggle a bit, which is why you should definitely have some base level of fitness before booking this cliff jumping in El Salvador tour.
Pickup Drive Back to Ataco
Once we reached the pickup truck, it was time for the hour-long drive back to Ataco. We all climbed back into the truck bed, where we held on tight as we bumped along the dirt roads.
As we drove, I looked out at the expansive views of the El Salvador forest, and the hills and volcanoes beyond that, knowing that I'd just had one of the most wild and remote experiences of any of my travels throughout the world.
How to Book with El Salvatours
To check availability and book the cliff jumping and hidden waterfalls tour, you need to reach out to El Salvatours directly.
You can do so on their website, by email ([email protected]), or by messaging William "Dos" on Whatsapp (recommended): +61 448 584 472.
Currently, the tour costs about $50 USD per person (honestly, a steal) however the price can fluctuate based on how many people are in your tour group.
If perhaps cliff jumping in El Salvador sounds a bit too intense, El Salvatours has a couple other options. Inquire about their La Llorona hiking day trip, or create a custom tour.
What to Bring
Okay, I needed to add a section on what to bring because I feel like your gear could make-or-break your experience on this cliff jumping tour!
Here are a few items I highly recommend you pack:
Sturdy shoes (very important)
Swimsuit
Shorts and tank top
Rain coat / windbreaker (for the windy pickup truck drive)
Waterproof phone case – I use the Axis Go underwater case and hiiiighly recommend it!!
Water bottle
Sunscreen
Bugspray
USD cash for tips for the guides
Travel insurance (more on that in the next section)
The MOST important item from the list above is sturdy shoes. I just wore my running shoes, and got them wet. Dan wears Tropicfeels, which are "water friendly."
Also try not to pack too much stuff. Edwin was kind enough to carry my water bottle and my phone in its waterproof case for some of the cliff jumps (you could damage your phone by jumping with it, so avoid that). We left our rain coats and a couple items in the pickup truck, but otherwise anything else you'll have to carry!
You Will Need Travel Insurance
Two non-physical items you need to pack? A sense of adventure AND some travel insurance!
Yeahhh, this is one of those experiences that you'll either be really grateful you have travel insurance, or really anxious the whole time that you don't have travel insurance!
Personally, I use this Safetywing travel insurance which is about $42/month and is designed for backpackers and digital nomads.
Be sure to purchase your travel insurance in advance, and double check the policy that it will cover you for cliff jumping in El Salvador!
Final Thoughts
So, what do you think… would you go cliff jumping in El Salvador?
This is one of the most TRULY "off the beaten path" experiences I've ever had, anywhere in the world. Everyone likes to call experiences "off the beaten path," but I promise those have NOTHING on the cliff jumping tour with El Salvatours.
Throughout the entire tour, Dan and I and the rest of our group just kept marveling at how we were in the middle of nowhere, doing this crazy thing. It was exhilarating and when I think back to my time in Central America, it's one of the most memorable experiences for sure.
Saying that, you do NEED a sense of adventure for this tour. You also need a reasonable level of fitness, good balance, and to be okay with either jumping off an 8-meter cliff or rappelling down it, haha. I love a bit of adventure here and there but I'm by no means an adrenaline junkie, so if I could do it, you probably can, too.
Any questions? Concerns? Just leave me a comment below and I'll do my best to answer!
Check out my other El Salvador blog posts…
How to Hike Santa Ana Volcano in El Salvador
Juayua Food Festival in El Salvador: Everything You Need to Know
Nicaragua to El Salvador Border Crossing Guide
El Salvador to Guatemala Border Crossing Guide
Note: Our cliff jumping tour was provided to us complimentary by El Salvatours. They found my Instagram reel about visiting El Salvador, and offered us two spots on their tour that was leaving the next day. I'm so glad we were able to extend our time in El Salvador to make this work! As always, all opinions are my own.