When my Mom and I road tripped to Stratford Ontario, we were expecting to see great theatre (thanks to the world-famous Stratford Shakespeare Festival)… what we weren't expecting was all the great food! Stratford Ontario is a small city but it has a big foodie scene. As always, I was on the hunt for gluten free restaurants, and the gluten free Stratford Ontario restaurants did not disappoint! We truly ate our way around the city. It wasn't too hard to find gluten free restaurants, but luckily we got even more advice on gluten free Stratford Ontario restaurants from locals, courtesy of Visit Stratford.
*Our trip was sponsored by Visit Stratford, who provided advice on gluten free Stratford Ontario restaurants. However, we paid for all meals at all restaurants ourselves, and I would never recommend a restaurant with unsafe gluten free practices. All opinions remain my own!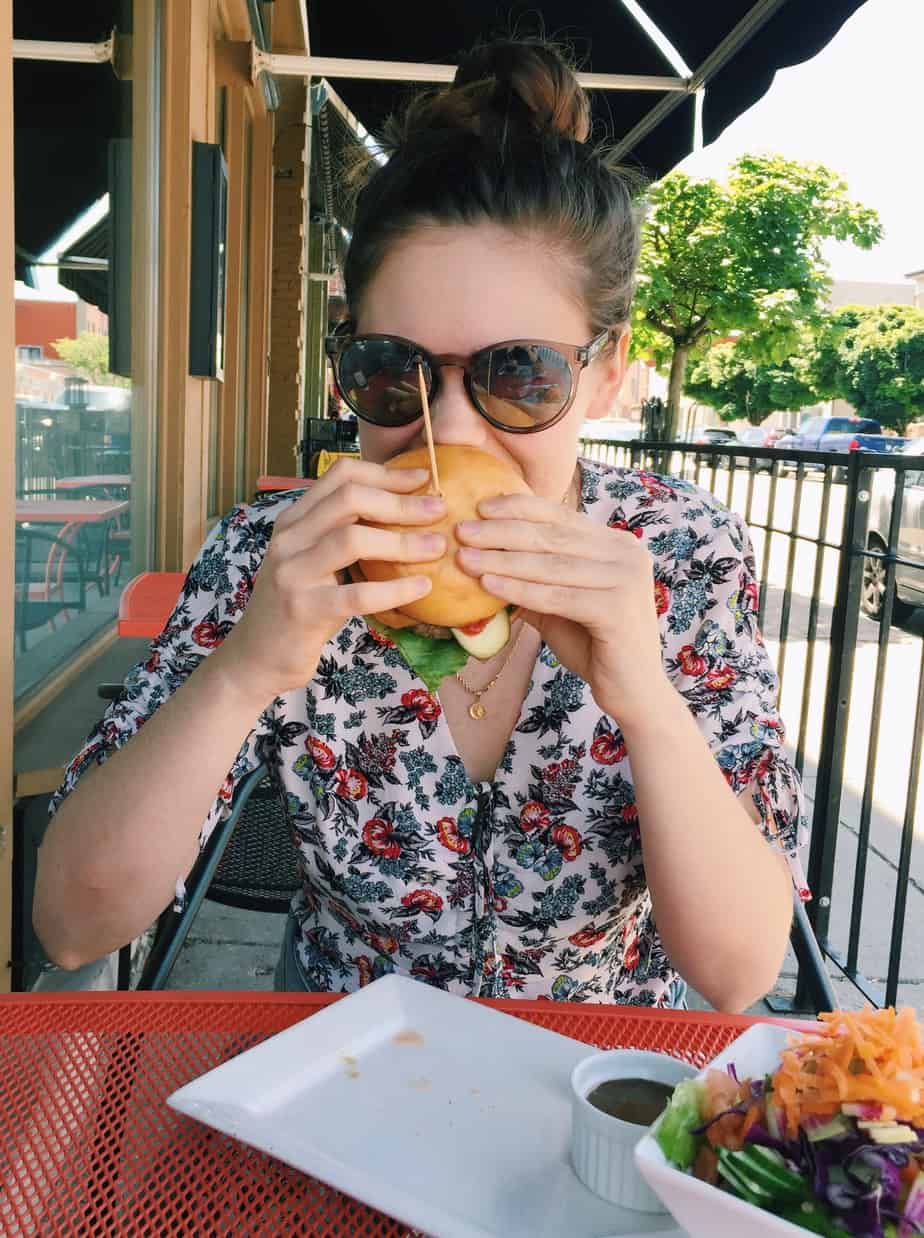 Where to Stay in Stratford Ontario for Gluten Free Travelers
Before we get to the restaurants, let's talk gluten free friendly lodging…
Forest Motel & Woodland Retreat
We stayed at Forest Motel & Woodland Retreat*, and I couldn't recommend it more, especially for gluten free travelers. "Retreat" is much more fitting than "Motel" as a descriptor for this gorgeous property, nestled in 32 acres of woodland, only 5 minutes drive from downtown Stratford.
Forest Motel is great for gluten free travelers to Stratford Ontario for a few reasons. First, our room (the Canadiana suite) had a mini fridge and kitchen counter/supplies which is always a plus for gluten free travel. There is also a continental breakfast served daily, with gluten free bread and gluten free cereal. The only downside was there was no separate gluten free toaster, but this of course could be remedied by toaster packets – which I've just discovered and will never again travel without!
Book your gluten free stay at Forest Motel here.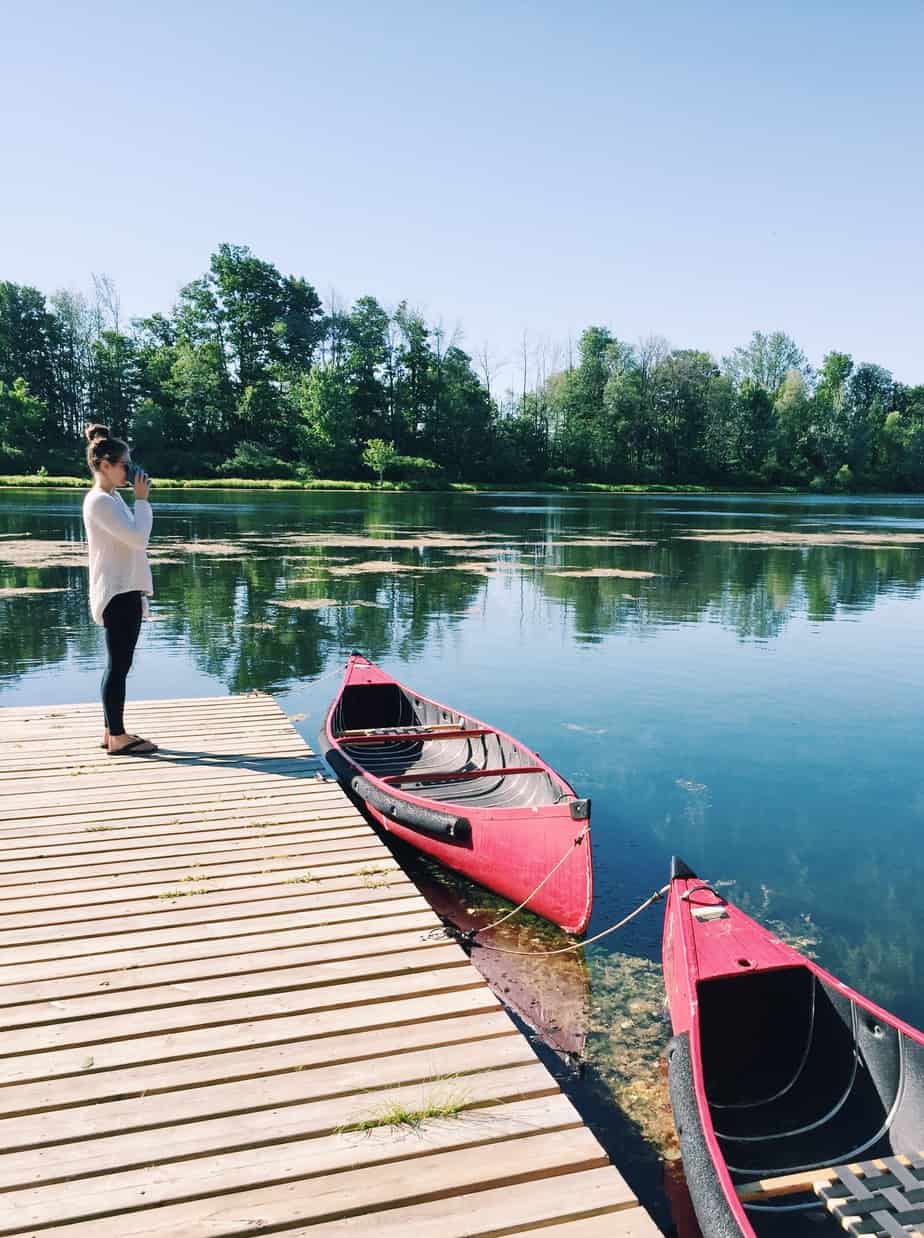 My Favorite Gluten Free Stratford Ontario Restaurants
There are so many fabulous gluten free restaurants in Stratford…we truly ate our fill. My only regret is that our stay was too short to try them all. Below are the gluten free Stratford Ontario restaurants that we ate at and I can review from ~in person research~ (my favorite kind of research).
The Planet Diner
Planet Diner is a diner where "herbivores can take their carnivores." I love their tag line, almost as much as I love gluten free diner food! Planet Diner's awareness extends beyond vegetarians, and is inclusive of gluten free and dairy free people too. It is even inclusive of carnivores (I had the pulled pork sandwich on gluten free bread)! We truly stuffed ourselves here… my mom ordered the gluten free Mac & Cheese (she is not gluten free, but occasionally she is kind enough to order that way so I can take a nibble too #momgoals). We also shared a massive ice cream sundae made from cashew-based ice cream which was melty and sweet and perfect.
I really love how inclusive this restaurant is… often as a gluten free traveler it feels like you're dragging your travel-mates to restaurants that accommodate/are safe for YOU. The Planet Diner is a place your gluten-loving counterparts will also be happy eating.
Related: Gluten Free Guide to Quebec City, Canada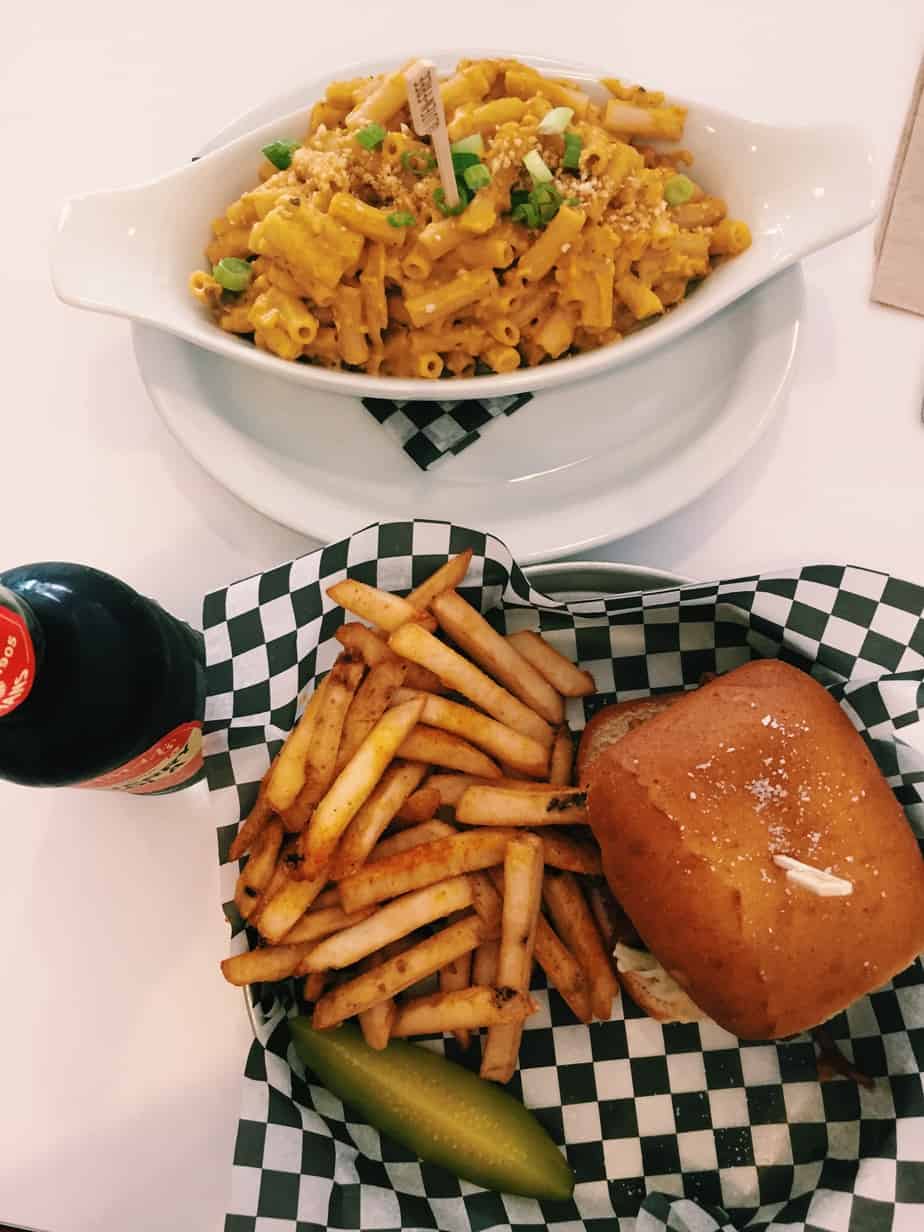 York Street Kitchen
York Street Kitchen is a lovely little hole-in-the-wall place, hiding down by the Avon River on historic York Street. Our first day we arrived just before closing (7pm, and on Sundays & Mondays it's 4pm), so we made sure to make it a priority our second day! York Street Kitchen has lots of naturally gluten free options in their salad/buddha bowls. They also carry gluten free bread, and have celiac staff members who ensure safety! My mom and I split the reuben on gluten free bread, and a buddha bowl. We LOVED this cute little place. You can also get takeout from here to eat along the river!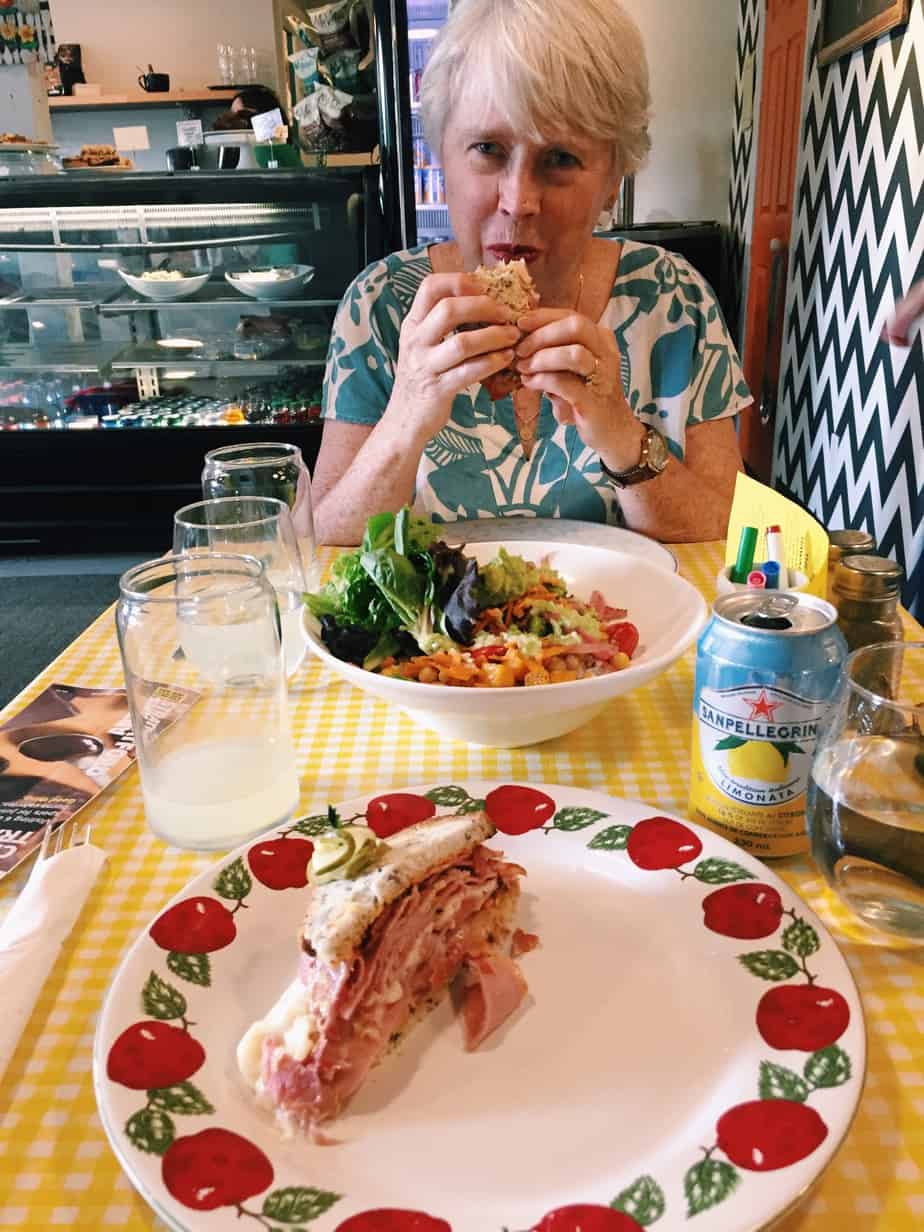 Downie Street Burgers
Downie Street Burgers is, literally, a stone's throw from the Avon Theatre, making it a perfect stop for lunch or dinner before a play. The list of burgers is long and mouthwatering, and best of all… they carry gluten free buns! And they are actually good buns. I ordered the Bacon Cheeseburger which was voted one of the 10 best burgers in Ontario by Thrillist… and you can tell! Next time I'd try the Dirty Burger, just for funsies, which has bacon, peanut butter (!), potato chips (!!), and garlic aioli, among other eccentric toppings.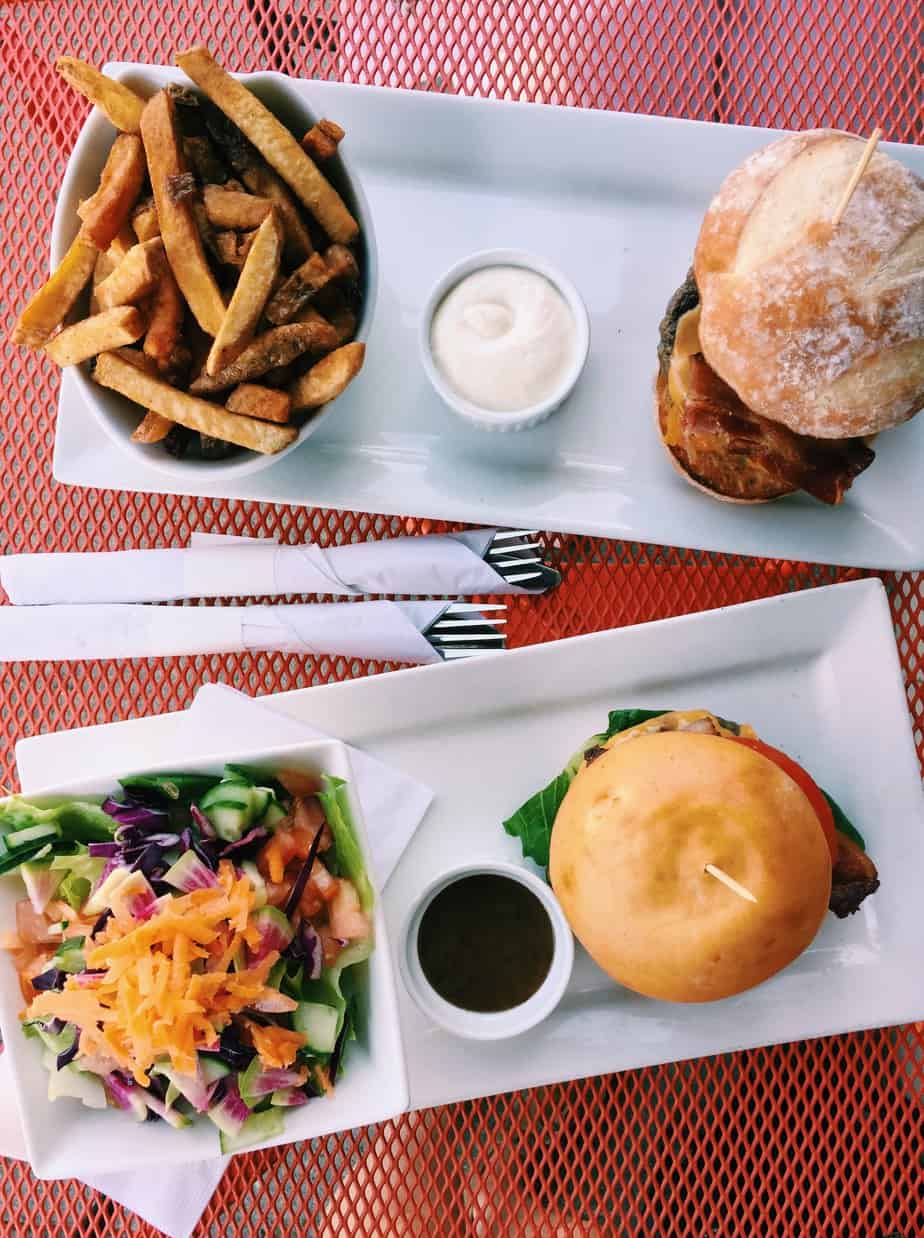 Boars Head Pub
Boars Head Pub checks the box as a gluten free friendly authentic pub, which is hard to come by. Trust me, as soon as I walked in the doors I felt as if I was back living in England. I'm not sure if it was the decor, the soccer football match on TV, or the pervasive smell of beer/cider, but it was like I was teleported to Stratford's sister city Stratford-Upon-Avon.
The menu marks all gluten free options, which are extensive! There are many naturally GF options, as well as GF bread, buns, fried onions, and even chicken strips. There is also a GF chocolate cake for dessert, which of course we tried as part of the Stratford chocolate trail…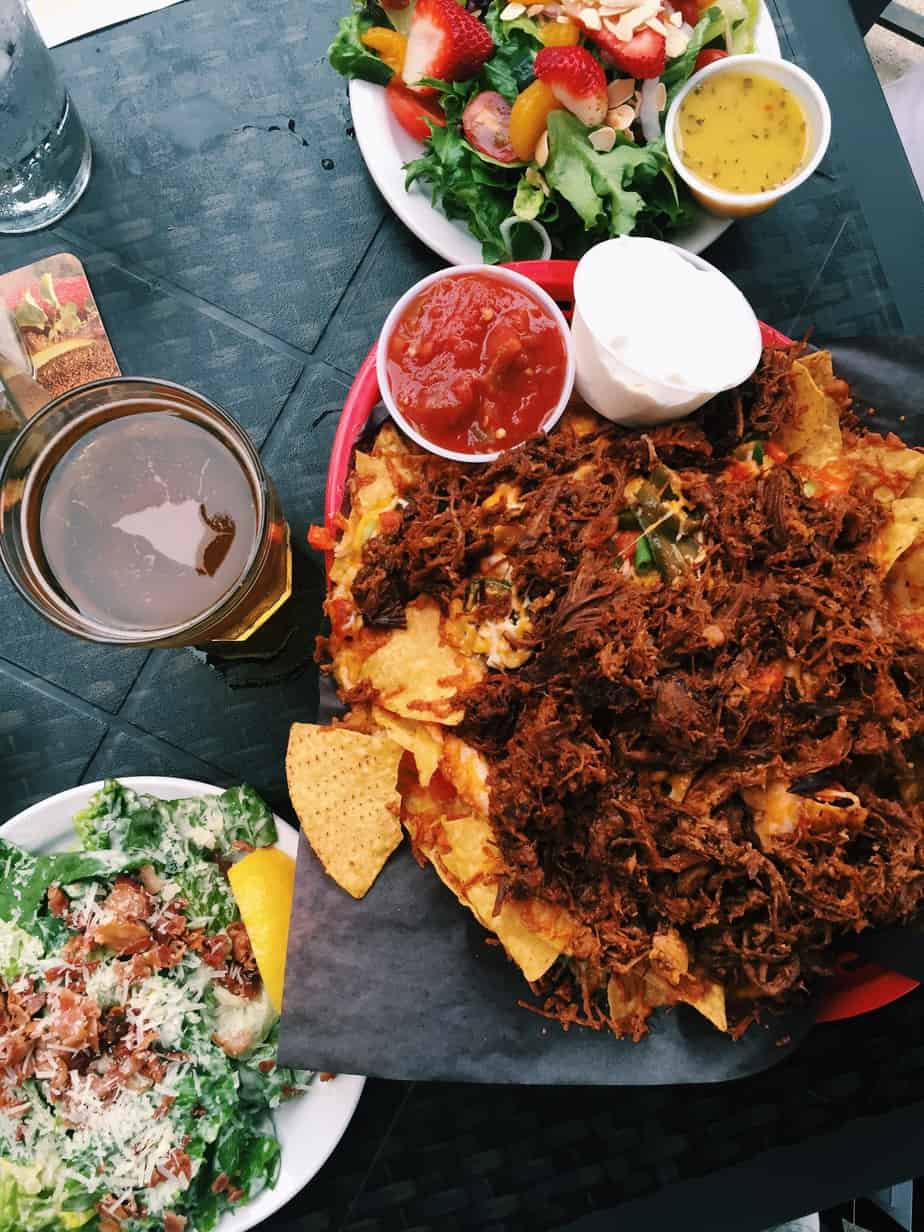 Sirkel
We happened upon Sirkel on our last afternoon in Stratford, and I'm so glad we did! It is a breakfast and lunch cafe that carries gluten free bread as well as gluten free baked goods (the day we went there were gluten free brownies and gluten free white chocolate and cherry scones!!). The staff are also very knowledgeable about cross contamination practices. I had the special on gluten free bread, which was a twist on a BLT. My Mom and I also shared the pumpkin and cinnamon soup which tasted almost like dessert (in a good way). We loved the casual and comfy vibe at Sirkel, where you can also order your lunch to go!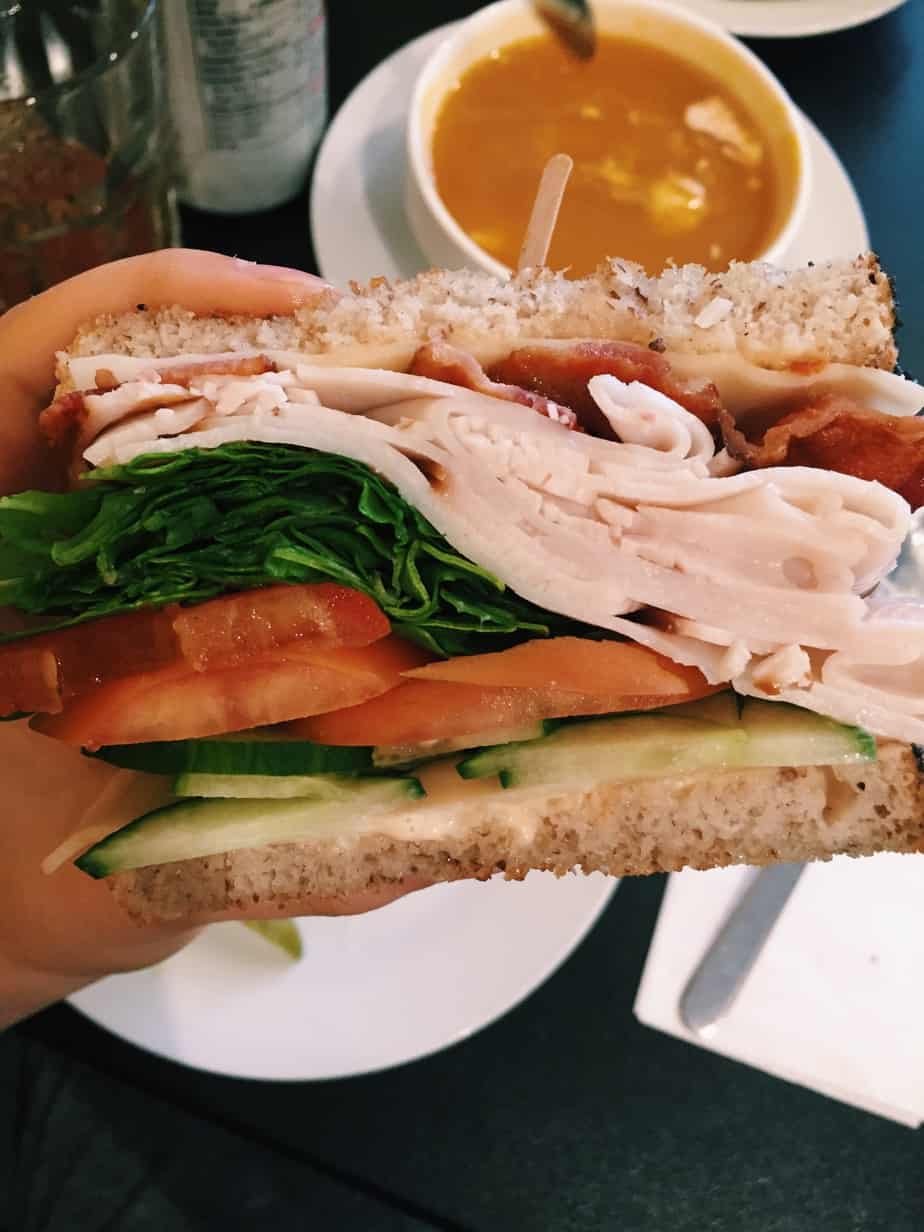 Balzacs
I'm throwing in Balzacs which is an adorable coffee shop… it's actually a franchise now but it originated in Stratford! A visit to the original Balzacs is a must for anyone, gluten free or not. Luckily, they carry gluten free cookies, brownies, and energy bars here! I really appreciated that they placed the gluten free goodies under a separate glass dome from the rest of the baked goods to help prevent cross-contamination.
Other Gluten Free Stratford Ontario Restaurants
As I mentioned, time and stomach-capacity constraints meant I couldn't try every single gluten free restaurant in Stratford. There are many more restaurants with gluten free options that I want to go to next time I'm in town. We discovered these restaurants by looking at menus as we walked through town, and also from advice from Visit Stratford's resident celiac employee 🙂 I have put a * by the recommendations from the local Stratford celiac.
Bonus Gluten Free Experience in Stratford Ontario…
Finally, as a little bonus, I also recommend trying out the self-guided Stratford Chocolate Trail! The premise is that you pay $30 for a chocolate "passport." There are 27 locations across Stratford and you can pick up a chocolate-themed treat at six of your choice. It was so hard to choose! There are TONS of gluten free options on the chocolate trail.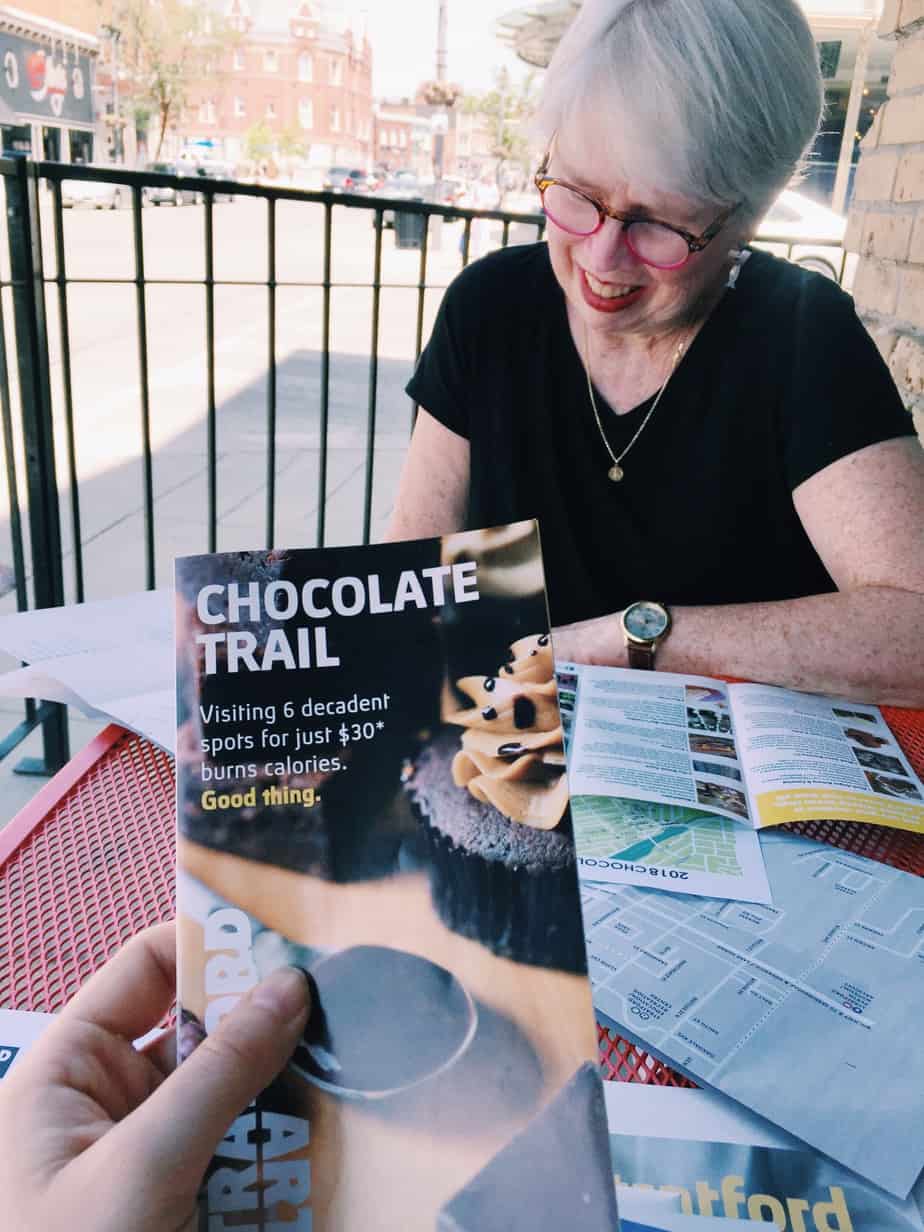 Gluten Free Stratford Ontario Restaurants Map
Have you ever been to Stratford? I recommend a visit; even if you're not a theatre-lover there is so much else to do! And of course, you can always just spend your time eating 😉
This post is now available as an app! Download it on GPS My City so you can take it as a walking tour with you. 
Sarah xx
Pin it for later…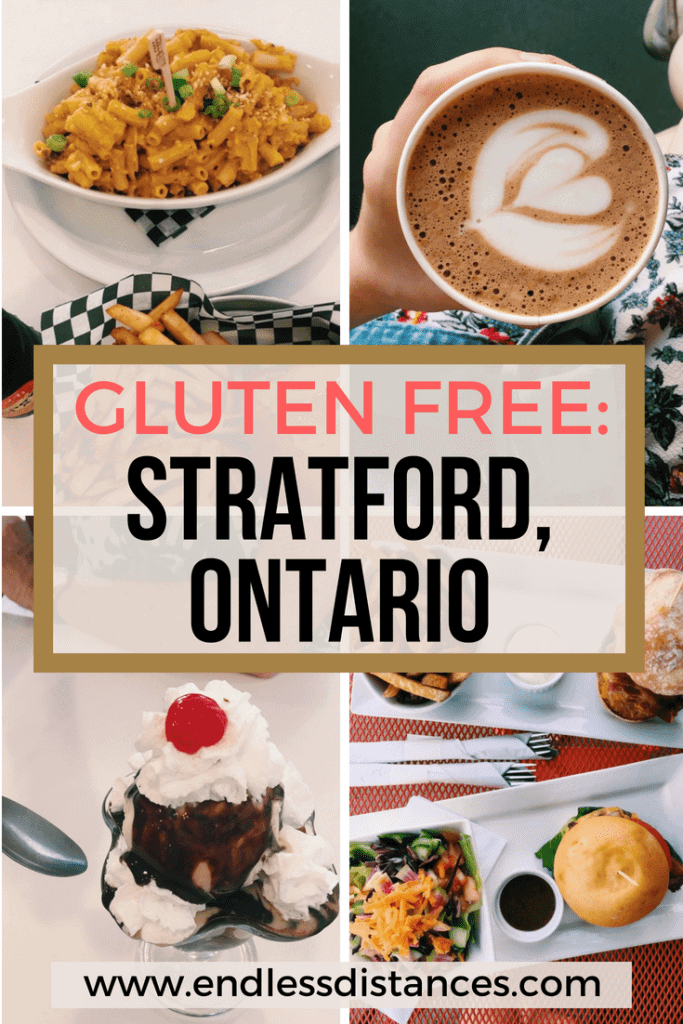 *Our trip was sponsored by Visit Stratford, who provided advice on gluten free Stratford Ontario restaurants. However, we paid for all meals at all restaurants ourselves, and I would never recommend a restaurant with unsafe gluten free practices. All opinions remain my own! 
*This post contains affiliate links. If you purchase something through one of my links I may make a small commission, at no extra charge to you. This helps me in the running costs of Endless Distances.