29 Things to do in Quebec City in Winter that are Worth Braving the Cold
Quebec City is a magical place, no matter the season… but it's particularly special in winter. You can trust me on that one. I just got back from my fourth trip to Quebec City and have now experienced it in all seasons! We wondered at the flutterings of the season's first snowfall, bathed outdoors in a Nordic spa, and cuddled up inside with hot mulled cider. As I discovered, there are plenty of things to do in Quebec City in winter.
Things to do in Quebec City in Winter
If you didn't know, the entirety of Old Quebec City is a UNESCO heritage site. You're driving through typical Canadian towns and then BAM – you're hit with a charming hilltop village that looks like it was dropped straight outta 18th century France.
This historic and European element makes Quebec City the perfect spot for a winter weekend getaway. Just pack your mittens!
1. Have a Thermal Experience at Strom Spa Nordique
One of our favorite activities in Quebec City was the thermal experience at Strom Spa Nordique. We made our way down to the Ports de Quebec, where Strom Spa Nordique is set along the banks of the Saint Lawrence River.
After a quick tour, we bundled into cozy white robes and were left to our greatest worry of the day: which steaming bath should we dunk in next?
Strom Spa Nordique is filled with a variety of indoor and outdoor baths, saunas, steam rooms, pools, and cold plunges. The typical 'thermal experience,' inspired by Nordic bathing techniques, follows this cycle: 1) heat 2) cold 3) relax. We did precisely that for a few delicious hours.
The spa is open all year round, no matter the weather. In fact, winter is one of the best seasons to have a spa day at Strom Spa Nordique. The outdoor sidewalks have underground heating, and heat lamps ensure your bathrobes remain toasty warm while you take a dip.
515 Boulevard Champlain, Québec, QC G1K 0E4, Canada
9am-10pm
2. Grab Lunch Overlooking the Saint Lawrence River
Don't leave Strom Spa Nordique without grabbing lunch at the Nord Restaurant. This beautiful, Scandinavian style restaurant is set in a glass building directly overlooking the Saint Lawrence river. You'll feel like you're dining al fresco in the snow… but actually be kept warm by the crackling indoor fireplace.
The Nord Restaurant sources 90% of the ingredients locally during the winter months – which is a big feat for a snowed-in province! It is also open to both spa and non-spa guests alike. Just be sure to make a reservation ahead of time.
515 Boulevard Champlain, Québec, QC G1K 0E4, Canada
11am – 7pm, Sunday – Wednesday and 11am – 8pm, Thursday – Saturday.
RELATED | Gluten Free Quebec City Travel Guide
3. Explore the Quartier Du Petit Champlain
Don your cap and mittens, and head to Quebec City's quaint Quartier du Petit Champlain. This neighborhood is really a row of streets at the bottom of the Old Quebec City hill, right by the ferry port.
Descending the many staircases into Quartier du Petit Champlain feels like going even further back in time. The streets are full of colorful doorways and cute boutiques to pop into.
In the winter, Quartier du Petit Champlain is frosted in snow, each window display blinking in fairy lights. As night falls, the streets light up with an overhead Christmas light display. Definitely set aside a couple hours to wander.
4. Warm up with a Hot Mulled Cider
One of my favorite winter drinks is hot mulled cider (or wine – I'm not too picky!). I discovered a love for this back when I lived in England. Thanks to its European influences, Quebec City's mulled cider scene does not disappoint.
On a frigid afternoon, we ducked into Le Lapin Saute, one of the cutest and coziest restaurants in Quartier du Petit Champlain. We both ordered a hot mulled cider which more than hit the spot. Across the street, you can also pop into La Cidrerie et Vergers Pedneault, which stocks dozens of locally produced ciders.
5. Buy a Pair of Local Wool Mittens
While you're still in Quartier du Petit Champlain, be sure to visit Charlevoix Pure Laine. This shop is also a workshop, that features the beautiful crafts produced from local Charlevoix wool. Peruse the offerings – ranging from hats and mittens to scarves, ornaments, skeins, socks, and more.
If you're like us, you won't be able to resist buying a little something here. Particularly as the snow falls outside, you'll want something to keep those fingers and ears warm… we've got plenty more exploring to do!
61½, rue du Petit-Champlain, Québec City, Québec, G1K 4H5
10am-5pm
6. Take the Levis Ferry for the Best View of Quebec City
One of the very best views of Quebec City can be found on the $3.85 ferry to Levis. Levis (pronounced Lee-vee) is a town across the Saint Lawrence river. Many people live there and commute via the ferry into Quebec City. However, it is also a perfect activity for travelers!
The ferry runs in all seasons, including winter of course. We each grabbed a hot coffee from Cafe La Maison Smith, before boarding the ferry for our scenic journey.
You can buy return tickets at the Quebec City ferry terminal. The journey is approximately 12-15 minutes each way, and you do need to disembark once you reach Levis (although, like us, you can immediately reembark!).
Check the Quebec-Levis ferry schedule here.
Quebec City Ferry Terminal, 10 Rue des Traversiers, Québec, QC G1K 8L8, Canada
7. Take the Funicular
You know by now that Old Quebec City is set on a hilltop…but some of the cutest areas, like Quartier du Petit Champlain, are at the bottom of the hill.
If you're not a fan of stairs, don't worry. There is a funicular that runs between Dufferin Terrace (the top of the hill) to Quartier du Petit Champlain (the bottom of the hill).
The funicular is set at a 45 degree angle, and although the journey is very short, it does offer beautiful views. Tickets are $4 each way… in my opinion, higher value for money on the way up, ha!
It runs in all seasons, although it is closed on Christmas day.
16 rue du Petit-Champlain, Québec, QC, G1K 4H4
9am-9pm
8. Take a Ride in a Toboggan
Quebec City is pretty famous for its toboggan slide, which originates from 1884. This is one of the oldest winter traditions in Quebec City.
What is a toboggan, you say? Basically a steep slide you sled down, reaching up to 70 km/h!
The Quebec City toboggan slide is open from mid December through mid March, depending on weather. It is generally open 10am-5pm, depending on weather. At $4 for the basic slide, this is a steal. You can also order a slide + hot chocolate for $7, or a four slide package for $12.
Check opening times and weather announcements here.
9. Sleep in a Monastery
During our most recent trip to Quebec City, we stayed at Le Monastere des Augustines. This hotel entered my radar on my previous trip to Quebec City…and I just knew I had to stay here one day. A bucket list experience for sure.
Why is Le Monastere des Augustines so special? Well, this is not only a wellness hotel, but it is also the site of the first hospital north of Mexico, and home to the Augustinian Sisters, who founded the monastery in 1639.
A few years ago, the sisters realized they needed to protect their heritage, and the hotel was founded.
"Hotel" really is not representative of all that Le Monastere is. It is a non profit, a museum, a retreat, and so much more. We had the opportunity to sleep in the "authentic" rooms, where sisters slept years ago (you can also book contemporary rooms).
Winter, in my opinion, is the season to turn inward, reflect, and maybe even hibernate a bit. If you're looking to do so in Quebec City, Le Monastere is for you!
77 Rue des Remparts, Québec, QC G1R 0C3, Canada
10. Take a Tai Chi or Yoga Class in the Ancient Vaults
Le Monastere, as I mentioned, is a wellness hotel. That means they have plenty of daily events and classes, many of which are also open to the public if you book ahead of time.
Every day, at 12:30pm and 5pm, Le Monastere offers a gentle fitness class in their underground vaults. Classes are taught in both French and English, so no worries there.
A tai chi or yoga class is a perfect activity to warm up your body on a cold winter day. Practicing in these ancient vaults was an experience not to be forgotten!
11. Attend a Vespers Service of the Augustinian Sisters
Yes, there are still eight remaining Augustinian Sisters who live at Le Monastere. Each day, they hold a vespers at 5pm, which is a short 20 minute service full of beautiful singing. They also hold lauds at 8am if you are an early bird.
Little known is that these beautiful services are open to the public, just head inside Le Monastere lobby, and up to the second floor where you can enter the church.
12. Linger Over a Six Course Dinner of Local Food
I absolutely love to try the local cuisine when I travel. Quebec City has an incredible foodie scene, with many restaurants focused on sourcing their ingredients locally.
I definitely recommend going all out for dinner in Quebec City – I'm talking tasting menu, six courses, the whole shebang.
For an intricately designed six course meal, make a reservation at Le Monastere's restaurant. Another great pick is Bistro L'Orygine, which serves gourmet tapas style dishes.
RELATED | Gluten Free Quebec City Travel Guide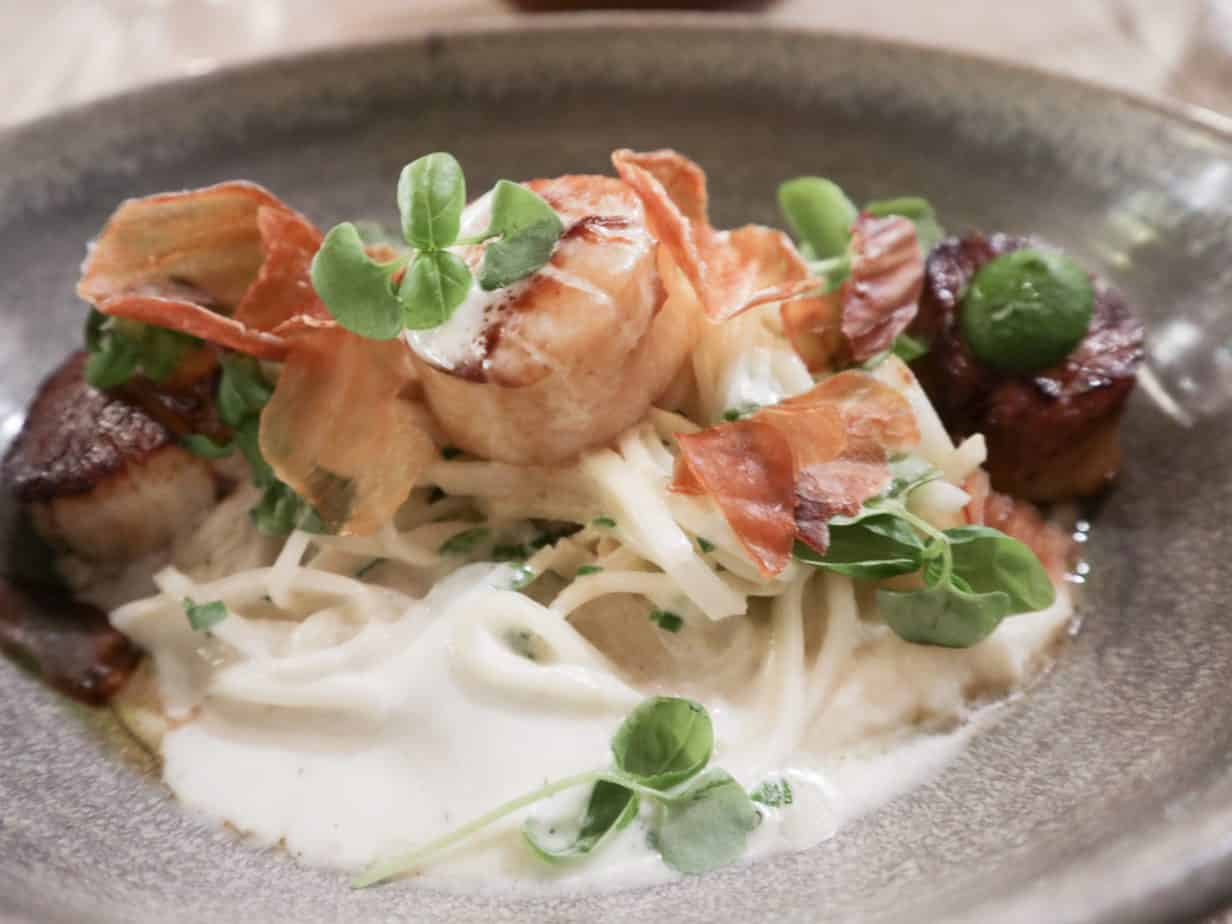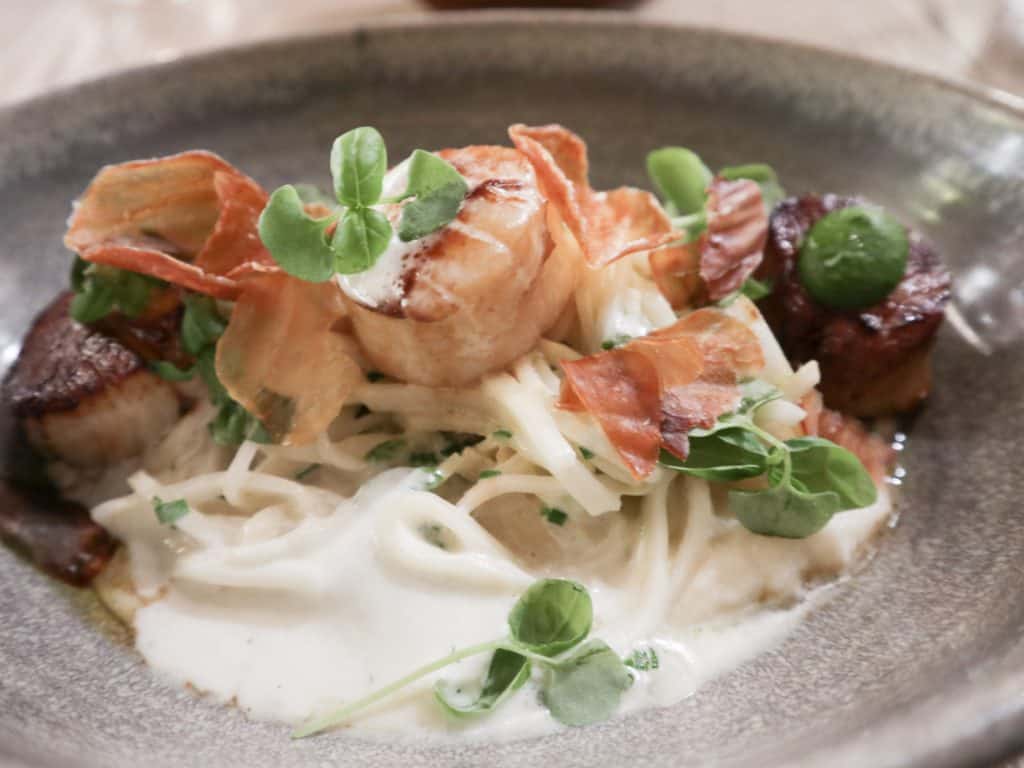 13. Explore Quebec City's Ice Hotel
Quebec City is home to North America's only Ice Hotel… yep, you read that right. A hotel literally made from ice. Talk about a winter wonderland.
Most people will opt to just visit the Ice Hotel. Bundle up in your coat, and enjoy a cocktail out of a glass made of ice from the Ice Bar.
To go all out, you can actually book a room to stay at the Ice Hotel. These come with entrance to an outdoor spa, and a room that is actually made of ice!
Ice Hotel opens for the season on January 4 2023 and closes in mid March.
Guided tours are run 12pm-5:30pm, the Ice Bar is open 10am-12am. Entrance is $29.99.
14. Wander Through the Christmas Market
In keeping with the wintery European vibes, Quebec City actually has its own German Christmas Market.
The heart of Old Quebec City comes alive with sparkly lights, and dozens of Christmas stalls. Peruse the stalls for crafts, sweets, and of course (because it is Canada after all) poutine!
Place de l'Hôtel-de-Ville, 2 Rue des Jardins, Québec, QC, G1R 429
Open from November 24 until December 23.
Thursday-Saturday 11am-9pm, Sunday 11am-6pm.
15. Shop at Le Grande Marche de Quebec
In addition to the Christmas market, winter in Quebec City is still a good time to visit a regular market. Quebec City has some great markets that feature local crafts, foods, drinks, and other products. Unfortunately, many of these shut for the winter months when produce is hard to come by.
The brand new Grande Marche de Quebec, however, is open all year! This market is a gourmet spot that can't be missed.
ExpoCité, 250, boulevard Wilfrid-Hamel, édifice M, Québec, QC, G1L 5A7
Monday-Friday, 9am–6pm. Saturday-Sunday, 9am-5pm.
16. Go Skating at the Place de You'ville
Along Rue St Jean, you'll find place D'Youville – a public square in the heart of Old Quebec City. In winter, the square is transformed into an outdoor ice skating rink!
Better yet, skating is absolutely free… you just have to rent your gear if you don't have any.
995, place D'Youville, Québec, QC, G1K 3P1
Open mid November until mid-March
10am-10pm.
17. Go Shopping in a 100% Christmas Themed Boutique
While you're in place D'Youville, don't go too far… you can easily make your way over to La Boutique de Noel.
This shop is all about the Christmas decorations, and all year 'round! However, a visit to La Boutique de Noel is definitely one of the best things to do in Quebec City in winter… especially if you haven't finished your shopping.
There are also plenty of (non-Christmas themed) shops nearby worth checking out.
47 Rue De Buade, Québec, QC G1R 4A2, Canada
Sunday-Wednesday 9am-9pm, Thursday 9am-10pm, Friday-Saturday 9am-10:30pm.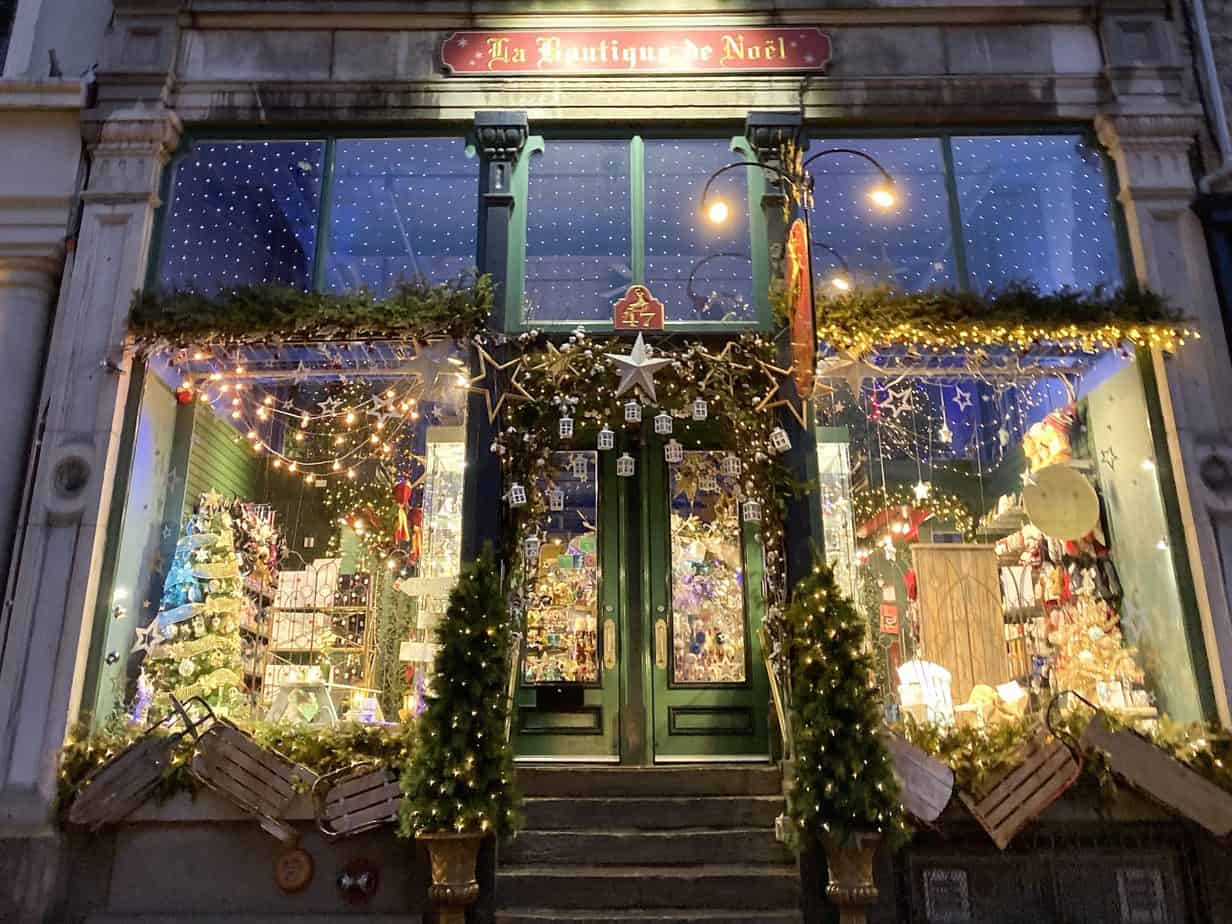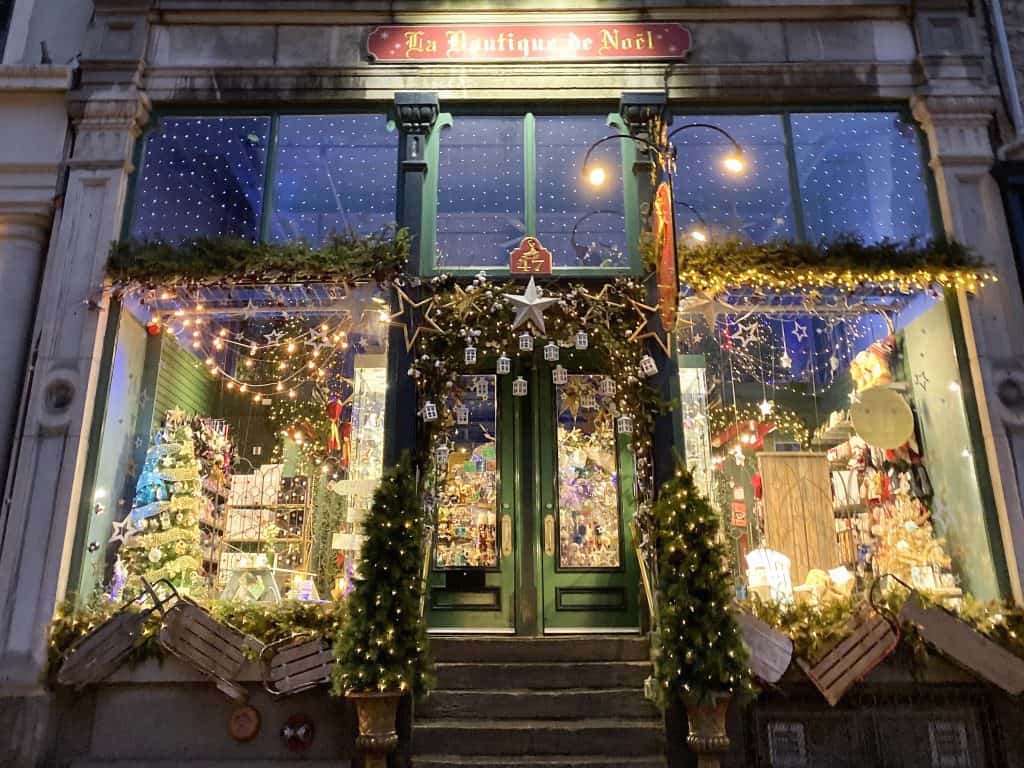 18. Have Afternoon Tea in a Castle
You won't be able to help noticing that a massive and elegant castle stands proud over Quebec City. This is the Chateau Frontenac – a luxury hotel and arguably the most iconic piece of architecture in Old Quebec.
Staying a night at the Chateau Frontenac is just how you would imagine sleeping in a castle (this is where we stayed on our previous trip to Quebec). However, even if you're not a guest, there are plenty of experiences to be had at the Chateau.
You are able to take a guided tour of Chateau Frontenac for $23 (adult, non-guest). There are also plenty of dining options.
Personally I would opt for the afternoon tea, which is offered on weekends for $55. Afternoon tea comes with live music, scones, devon cream, sandwiches, kombucha, and of course the tea.
Check rates and details on Chateau Frontenac here.
19. Go to the Quebec Winter Carnival
Quebec City transforms into a winter carnival for one week each year. And the phrase 'carnival' is not taken lightly. The streets are taken over by parades, ice sculpting competitions, ice skating, polar plunges, and ice canoe race, an ice palace, and so much more.
The winter carnival is from February 4-11 in 2023.
20. Browse La Maison de le Litterature and the Morrin Centre
If you want to warm up inside with a good book, then make your way to La Maison de la Litterature and the Morrin Centre. The Morrin Centre is a cultural center and museum, whilst the Maison is where all the books are! It is mostly in French but there are also exhibits in English.
This is also a beautiful spot for any design lovers to check out. The white interior, spiral staircase, and story-spanning windows must be seen (and photographed!).
Maison de la Litterature, 40 Rue Saint-Stanislas, Québec, QC G1R 4H1, Canada
Tuesday-Friday 10am-8pm, Saturday 10am-7pm, Sunday 10am-5pm, Monday closed.
21. Check Out the View From Observatoire de la Capitale
One of the best views in Quebec City can be found at the Observatoire de la Capitale. Climb to the 31st floor and catch a view over the entirety of Old Quebec City!
There is also the 'horizons discovery experience' at the Observatoire, which is an educational exhibit that explains the surrounding skyline.
Adult tickets cost $14.75, more details and pricing can be found here.
1037 Rue de la Chevrotière, Québec, QC G1R 5E9, Canada
Tuesday-Friday 10am-5pm, Saturday-Monday closed.
22. Check Dogsledding Off Your Bucket List
Have you ever been dog sledding? I went for the first time in Michigan last year, and it was the most exhilarating experience. I was so happy to find that Quebec City offers dog sledding in the winter!
There are a few companies near Quebec City that offer dog sledding packages – check them out here. Each company varies in price and length of sledding.
Based on my experience I highly recommend a package where you drive the sled yourself.
23. Go Snow Tubing
Being from the north, I know how fun snow tubing can be! If you've never tried it, you need to give it a shot whilst in Quebec City.
Not far from Quebec City, Village Vacances Valcartier turns into an absolute winter playground. There are over 35 various snow and ice runs to tube down!
You can also go snow rafting in a group, or ice skating. This is something people of all ages will enjoy.
Entrance to Village Vacances Valcartier is $25.99/per person. You can book here.
The Village opens for the season mid December and closes mid March.
24. Take in the Art at Musee de National des Beaux Arts
Head indoors and take in some of Quebec City's museums during your winter visit. I always love to visit art museums, and Quebec City has a very good one in the Musee de National des Beaux Arts.
The museum is located outside the city walls, on the top of the hill. It could easily be combined with a visit to Strom Spa Nordique (although you will have a long staircase to climb to reach the bottom!).
Adult tickets cost $25, more details and pricing can be found here.
179 Grande Allée O, Québec, QC G1R 2H1, Canada
Tuesday-Sunday 10am-5pm, Monday closed.
25. Get Tipsy Over Craft Cocktails
Winter is a great time to spend a night, indoors, sampling craft cocktails. After a few of Quebec City's finest, you won't feel quite so cold on your walk back to the hotel…
We loved our craft cocktails at Bistro L'Orygine – each was a surprising concoction and mix of flavors. 'The Violet,' which had a rum base, blackberry syrup, and foam, was our favorite by far.
Or, you can head to Batinese and order the massive 'Grosse 'Rita' – just be sure to take a few friends with you to finish it off.
Check out more Quebec City cocktails to die for here.
26. Admire the Notre Dame de Quebec
The Notre Dame de Quebec is a stunning cathedral that was built all the way back in 1647. It is a centerpiece in Old Quebec City and worth a visit.
Unfortunately, during my past two trips to Quebec City, the Notre Dame has been undergoing construction. However, you are still permitted to go inside and admire the architecture from there.
Notre Dame de Quebec Basilica-Cathedral, 16 rue de Buade, Quebec City
27. Take a Food Tour of the Ile d'Orleans
The Ile d'Orleans is an island in the St. Lawrence River that is known for its agricultural products.
It is one of the top attractions and day trips from Quebec City. I figured due to the agricultural emphasis that in the winter, there wouldn't be much going on here. I was so wrong!
The foodie scene of Ile d'Orleans is alive and well at all times of the year – there is plenty to see (and taste) in the winter, including wineries, cideries, a chocolate factory, a fromagerie, maple syrup farms, and more.
Book a three hour food tour here.
28. Take in the Sights of Montmorency Falls in Winter
The Montmorency Falls are a stunning set of waterfalls just a short drive from Quebec. It is definitely worth a visit in winter, to take in the frozen formations at the base of the falls.
The more adventurous among us may opt to go ice climbing here, as it is one of the premier destinations for ice climbing in Canada.
29. Dig in to Some Poutine
Last but not least, I can't forget Canada's delicacy: poutine. Yup, those fries slathered in gravy and cheese curds are what you came to Canada for, right? Whether that sounds appetizing to you or not, you absolutely need to give poutine a try while in Quebec.
For the best poutine in Quebec City, Le Chic Shack generally takes the title. If you have to eat gluten free like me, then head over to Bistro Le Veravin, which offers five types of gluten free poutine!
RELATED | A Gluten Free Guide to Quebec City
Where to Stay in Quebec City
Have I convinced you to pay a visit to Quebec City in winter, yet? I hope so! I've mentioned some places to stay in Quebec City already. But let's review my top recommended hotels for all budgets.
Le Château Frontenac ($$$)
Far and away the most classically luxurious accommodation in Quebec City. Sleep in a literal castle, enjoy gorgeous views, and old-world charm in the center of it all. I've stayed here twice and it is always a treat.
Check rates and book Le Château Frontenac here.
Le Monastere des Augustines ($$)
Quebec City's premier wellness hotel, but so much more than that. When you choose to stay at Le Monastere des Augustines, you are supporting a non-profit, museum, hospital, and monastery. This is my own personal top pick. I have to say, it's one of the most memorable hotel experiences I've ever had.
Check rates and book Le Monastere des Augustines here.
HI Quebec City Hostel ($)
I'm a lover of hostels, especially the Hostelling International brand which I regularly write for. They are a super reliable brand (and non profit) that I have frequented all around the world. Here, you'll find cheap prices for clean and cozy accommodation. If you want a step above dorm sleeping, book a private room.
Check rates and book HI Quebec City Hostel here.
Things to do in Quebec City in Winter – The Details
What?
Quebec City, a UNESCO heritage site and city.
Where?
In the province of Quebec, Canada.
When?
Quebec City is fabulous all year round, but I recommend a visit in winter! This list of things to do in Quebec City in winter covers everything you need to know to plan a wintery visit.
How to get there?
We drove to Quebec City (from Michigan… yup it was a long drive!). You can also book a VIA Rail train, or look into flying into Québec City Jean Lesage International Airport (YQB).
I hope this list of 29 things to do in Quebec City in winter got you excited for your trip! And if you haven't booked your trip to Quebec City yet… what are you waiting for?!
I'd love to hear your own favorite things to do in Quebec City… it's difficult to pick but my top choices would be bathing at Strom Spa Nordique, experiencing the wellness hotel Le Monastere des Augustines, and of course exploring the incredibly quaint Quartier du Petit Champlain.
*Quebec City Tourism Board hosted my most recent trip to Quebec City. In addition to that trip, I have also visited Quebec City three other times (on my own dime!). As always, all opinions remain my own.