Staying at an Eco Hotel in London: Qbic Hotel Review
When Dan and I were booking our most recent stay in London, we wanted to experience the city differently. We've both been to London countless times, and while it's a city that it is difficult to grow bored of, I still wanted to see it in a new way. A big part of that comes down to accommodation and location. That's when I started looking for an eco hotel in London — a phenomenon I've experienced in Amsterdam and seen across the USA, so I was curious how London would compare. From my searches, it was obvious that the best eco hotel in London was Qbic in East London. It's the only hotel that has completely branded itself around its efforts at sustainability. Which honestly came as a surprise to me in a city as innovative as London, but maybe nobody wants to compete with Qbic? We stayed at Qbic for three days, and this is what we thought!
*We received a media rate during our stay at Qbic. I was not required to write a blog post review, but this hotel is so cool I just had to share it with you! As always, all opinions are my own.
Related: A Cozy & Sustainable Stay at Ecomama Hotel in Amsterdam
Qbic: The Best Eco Hotel in London
You might be wondering what an eco hotel is, or why I even wanted to stay in one. An eco hotel is just a hotel that makes efforts at sustainability, lowering their environmental impact, etc. As someone who travels often, I know I contribute to climate charge and carbon emissions more than the average person, so it has become increasingly important to me to balance this out when I can. This means supporting sustainable businesses, and is why I looked for an eco hotel in London. Most hotels do have policies that support the environment, like only washing your towels when you leave them on the floor, but a truly eco hotel is one that builds their entire company around this goal. Of course, being the most eco friendly you can be comes with expenses, and for this reason eco hotels are few and far between, and they often come at exorbitant rates. Not Qbic hotel in London, though!
Qbic comes at affordable prices, starting at 69GBP for their most basic room, which is a steal in London. They also regularly run deals so check their website or subscribe to their email list for flash sales (btw, not something they've asked me to say, just a little hack I've noticed after signing up to their list myself).
Qbic's eco hotel initiatives
Qbic's efforts at sustainability are unparalleled. Really, no other eco hotel in London compares, and they are setting industry standards across the world! As proof of that, they are the first hotel in the entire world to receive B-Corporation status! Here are a few things that make Qbic special as an eco hotel in London:
The furniture is pre-loved and refurbished
Their CO2 emissions are 67% less than other hotels
Their water consumption is 41% less than other hotels
The shower heads inject air into the water stream so you get the same water pressure with less water wastage
The toiletries are organic Stop-The-Water-While-Using-Me brand
Guests get a free drink at the bar if they ask not to have their room cleaned
The hotel's rooftop solar panels partially supply its energy 
All lighting is LED and solar efficient
The (super comfy) matresses are produced by sustainable, organic, and hand-made company Naturalmat in Devon (my former home so I was quite happy about this one!)
All guests are provided free bikes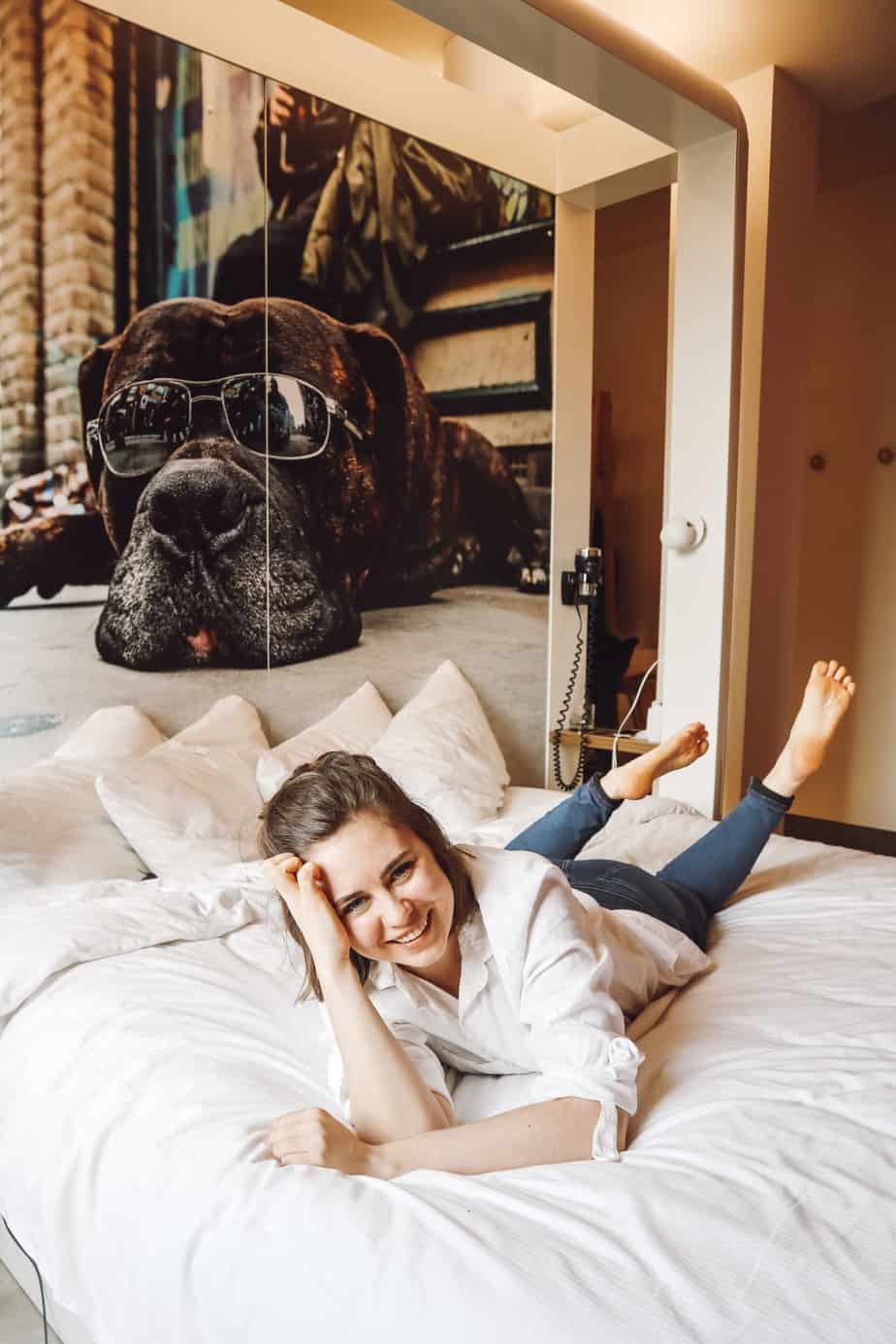 Our stay at Qbic
Dan and I chose a 'Cosy Room' which is an upgrade from the cheapest 'Smart Room' option. Basically the difference is Cosy Rooms have windows, giving natural light. The bed was obscenely comfortable (probably thanks to that organic Devon lambs wool…), and we loved the funky head board, which is part of the quirky Qbic design aesthetic.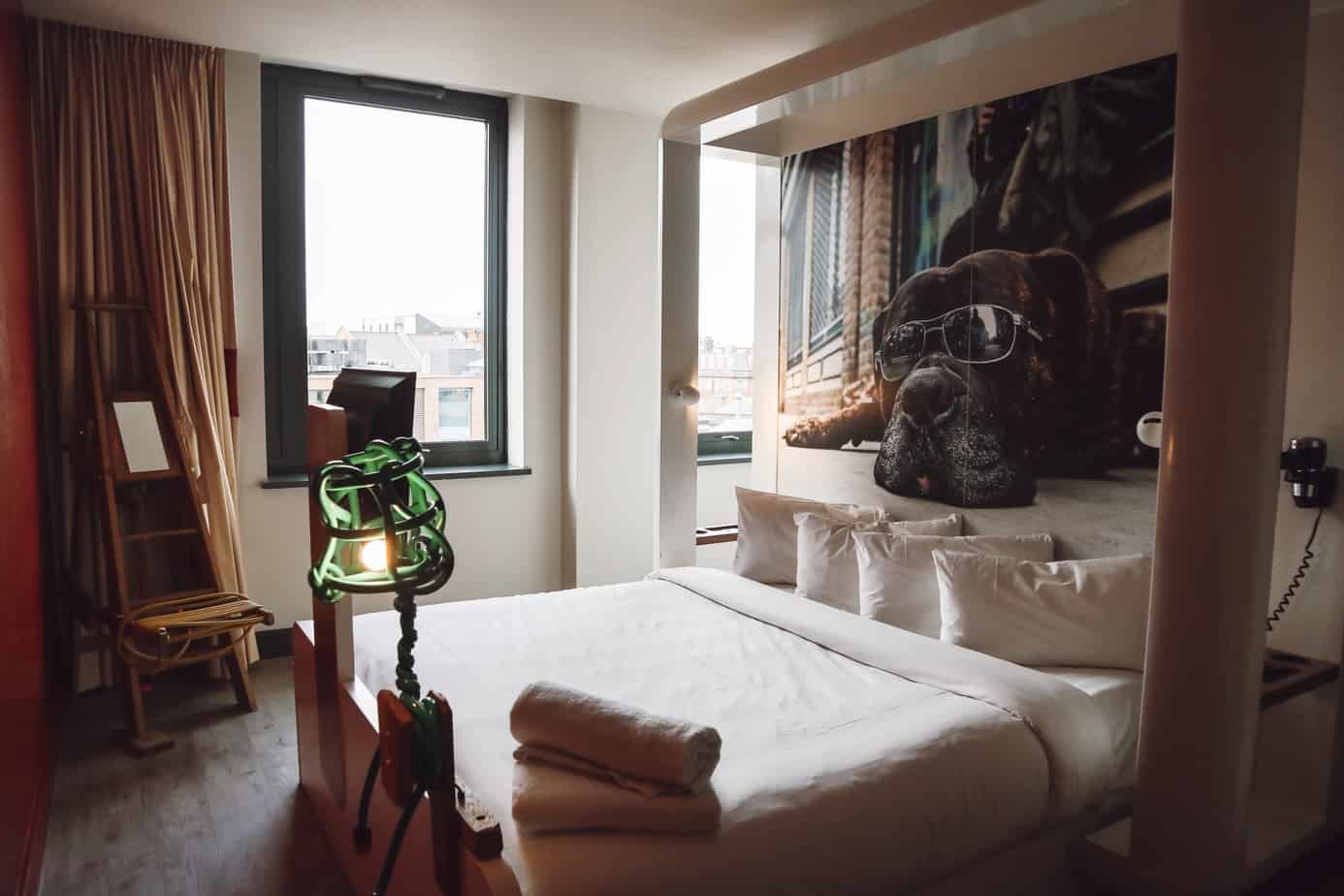 We found the entire room clean and comfortable, and Dan approved of the shower pressure (he is quite picky). The only thing we would have wished for in the room was a mini fridge, as we like to travel with our own food and take back leftovers. It did seem like a big thing the room was missing, but if that was the worst thing about our stay, you know it was a pretty good one!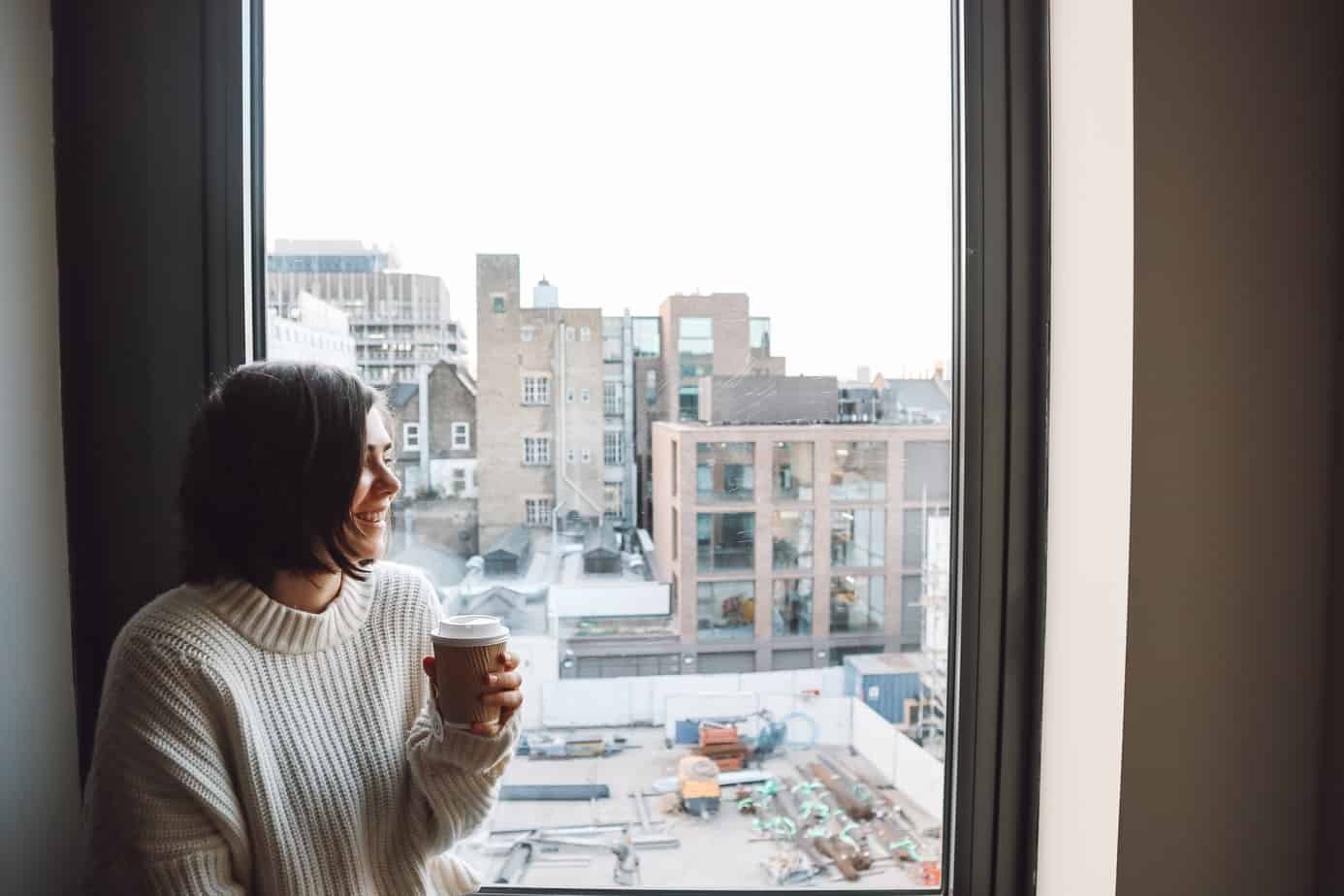 We also loved the lobby and bar area of the hotel, which is actually an add-on business called Motley. We spent a happy evening sipping on a craft cocktail (me) and lager (Dan), and playing Exploding Kittens, an odd little game kept on the bookshelves that now I think Dan and I have to order!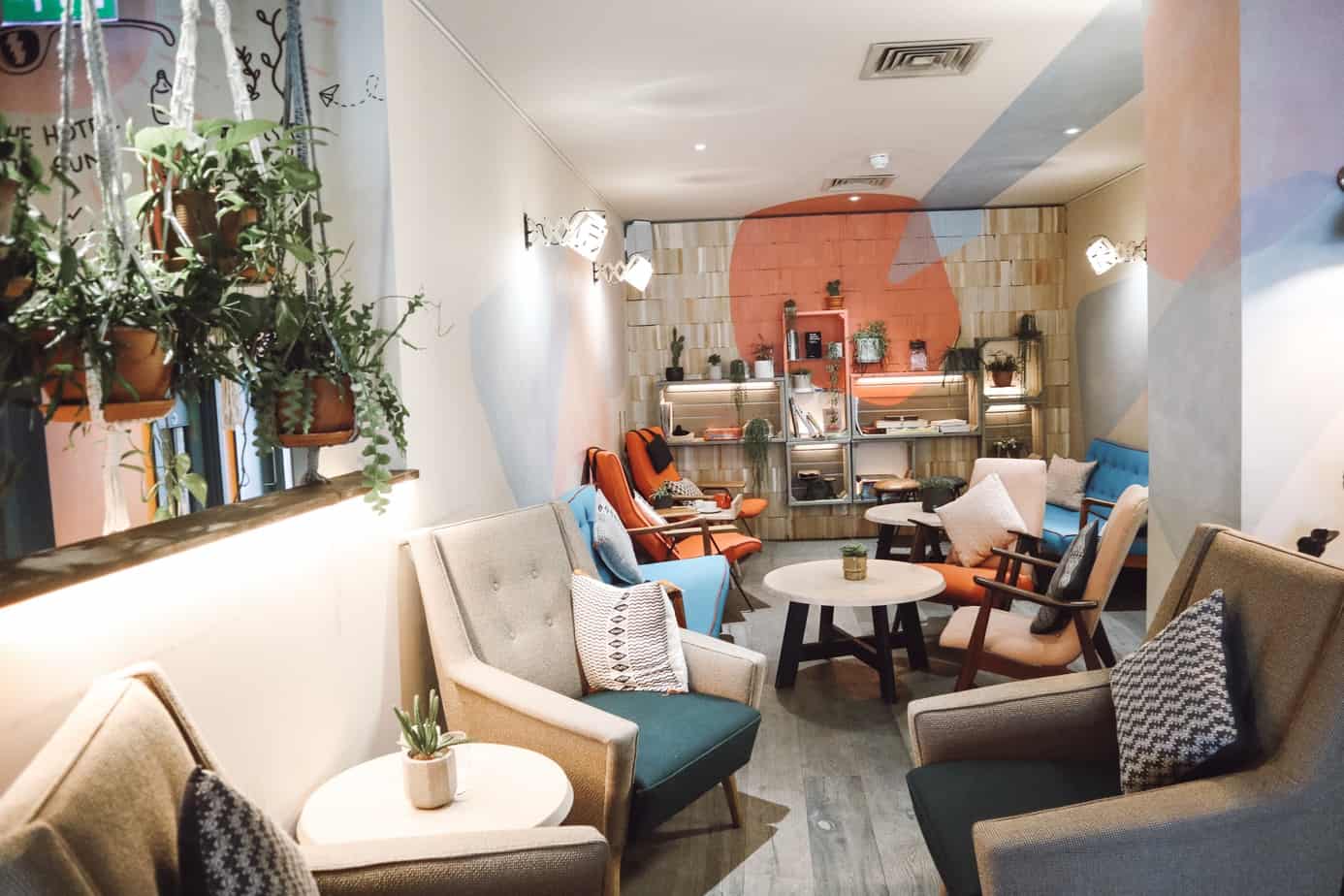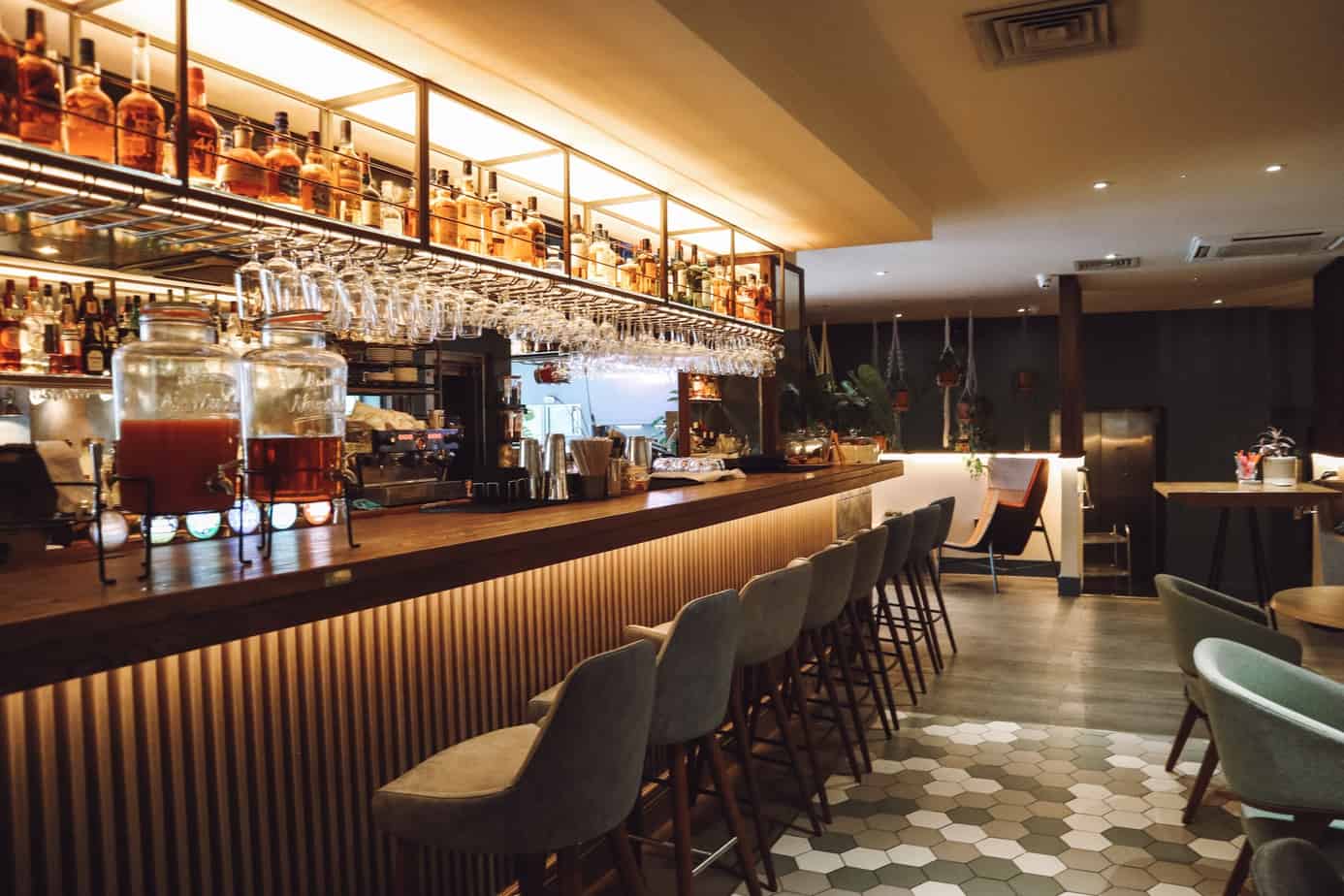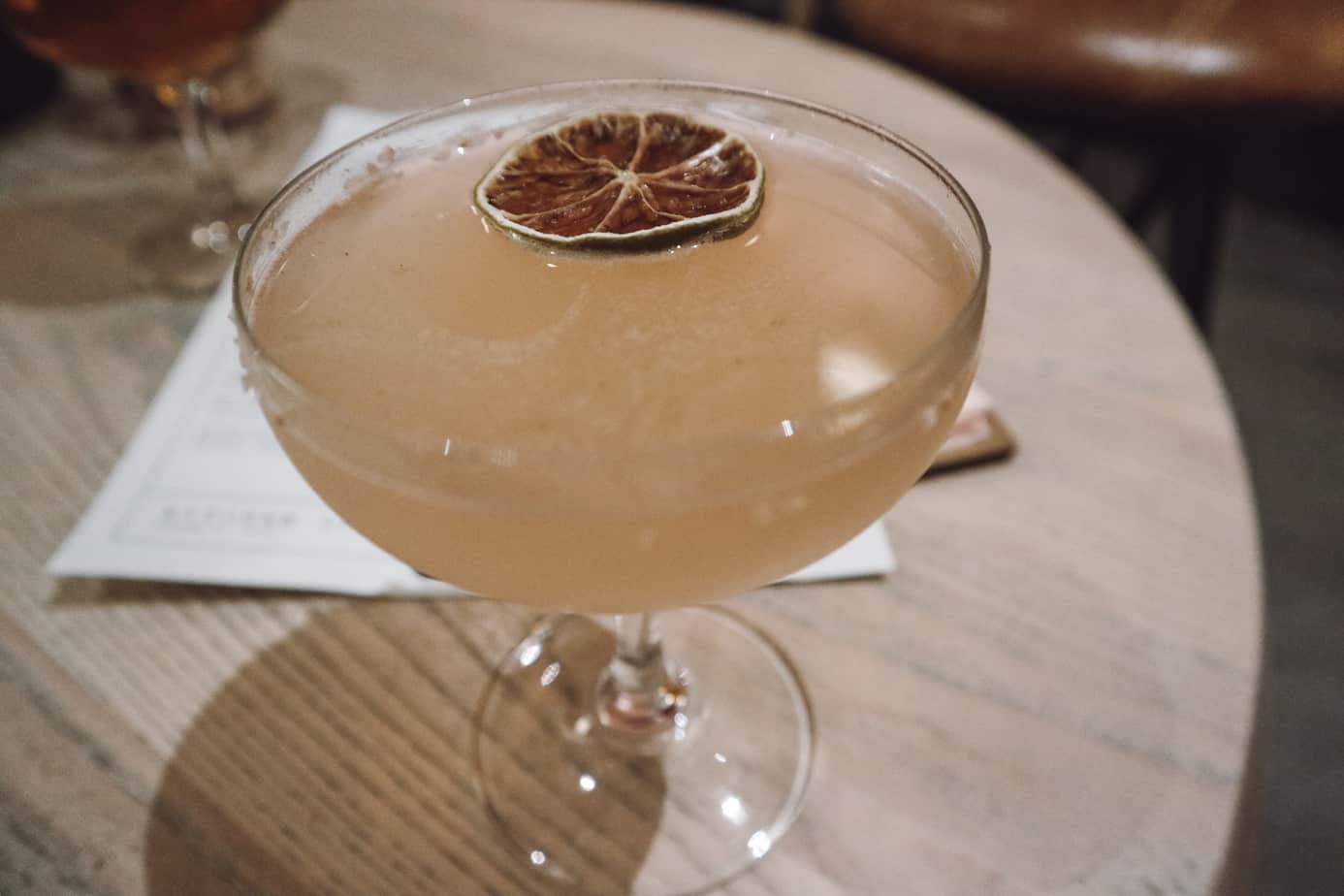 We also had breakfast at Qbic one morning and I have to say, this is not your average hotel breakfast buffet. In fact, I couldn't believe Qbic doesn't advertise their breakfasts more as this spread was seriously ridiculous. But that's the thing… this hotel does so many things, from sustainability to design to food, and it does them all well. So I really shouldn't have been surprised.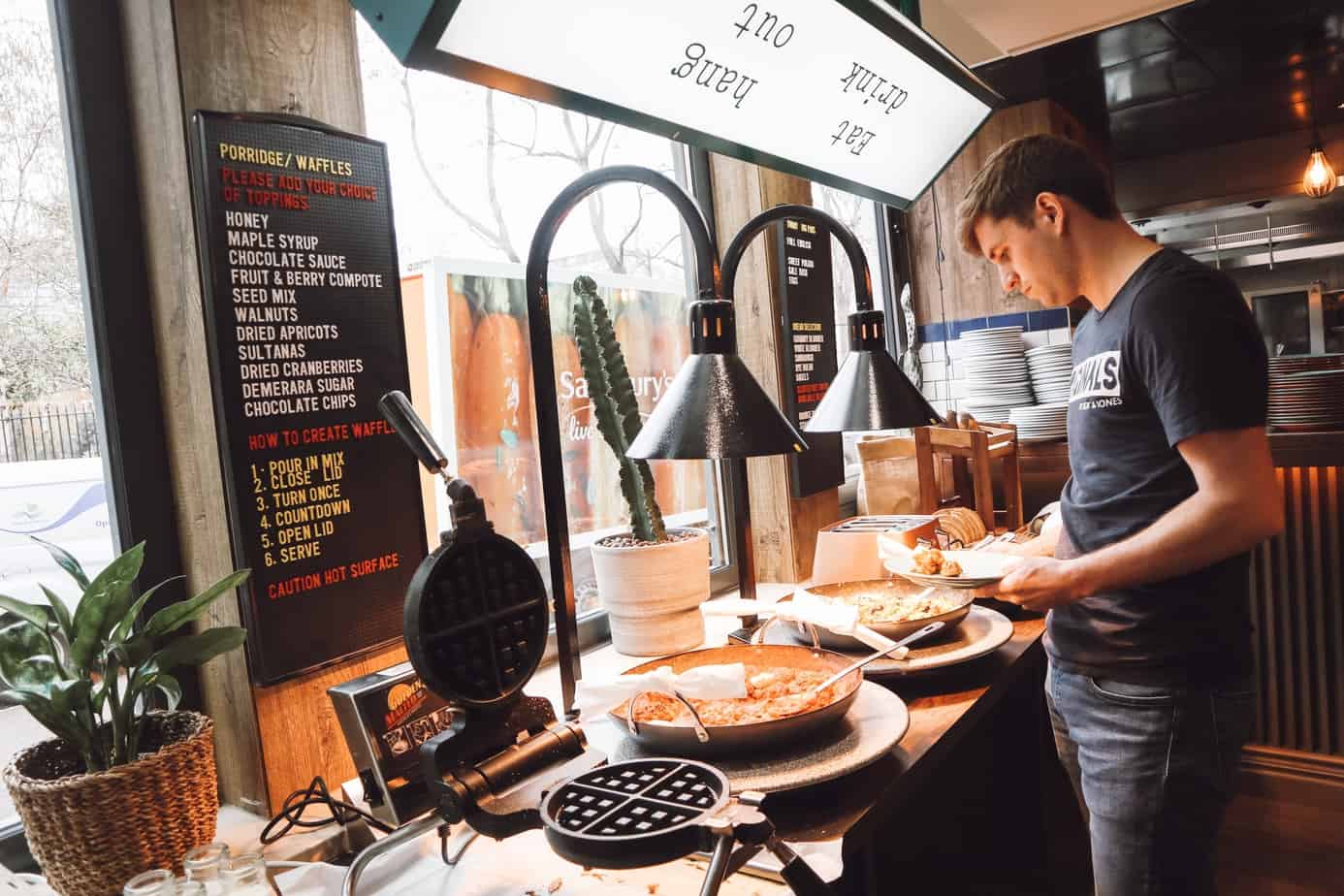 Oh, and for my fellow gluten free travelers, Qbic does have gluten free options! There were various safe options such as sweet potato and kale hash, and they do provide gluten free bread (although I don't believe they have a dedicated toaster…best to bring your [amazon_textlink asin='B0751CPRCM' text='cross contamination toaster packets' template='ProductLink' store='sarahbence06-20′ marketplace='US' link_id='dc3f109f-5b7e-49d7-ab43-f06e4b49bdcc']).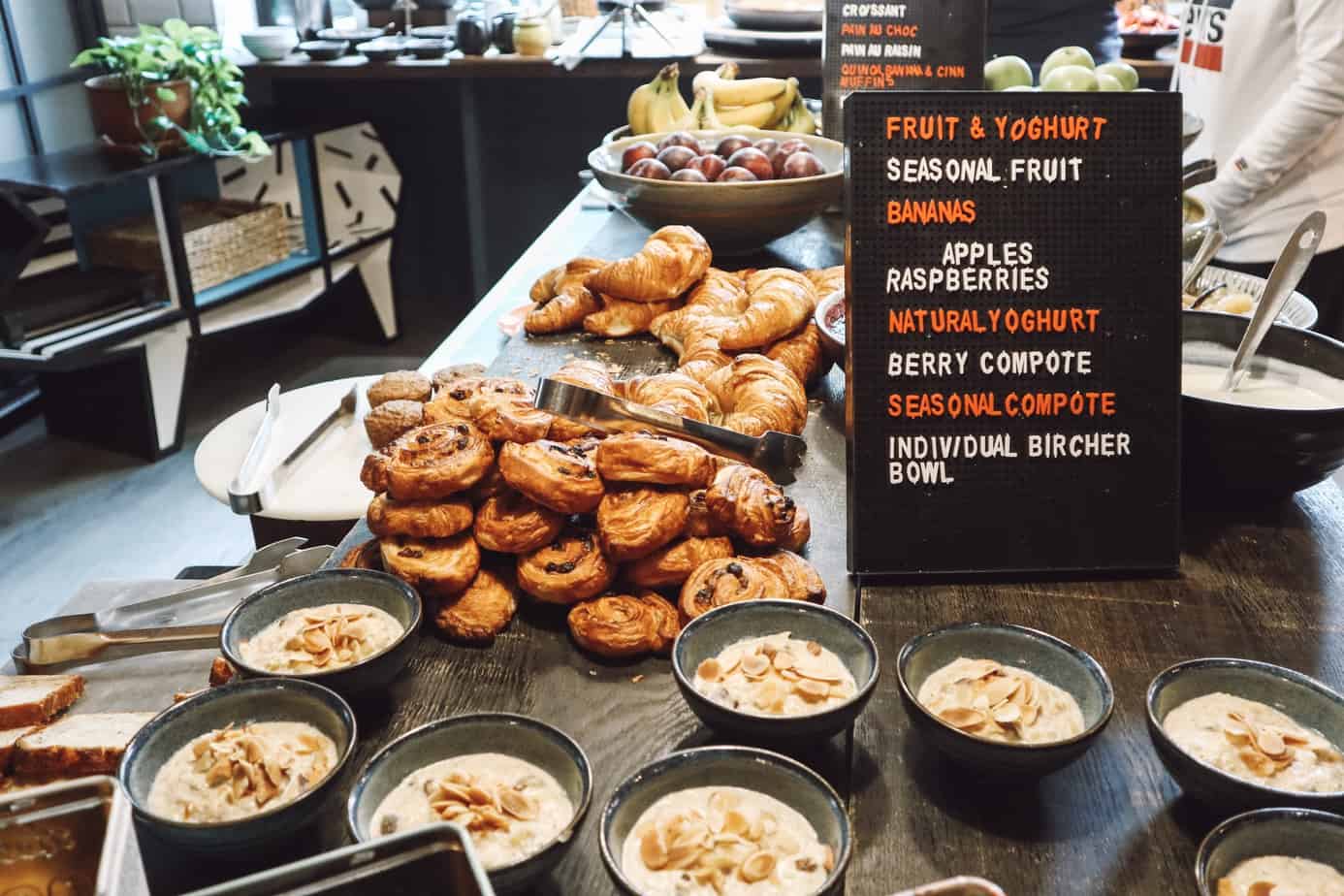 We also really enjoyed all our interactions with the staff at Qbic. They were so friendly and accommodating, including helping me store my massive luggage before check in time. We were accidentally charged too much on our bar bill at check out, but after a few phone calls it was easy to sort out. We really appreciated that — it's so rare!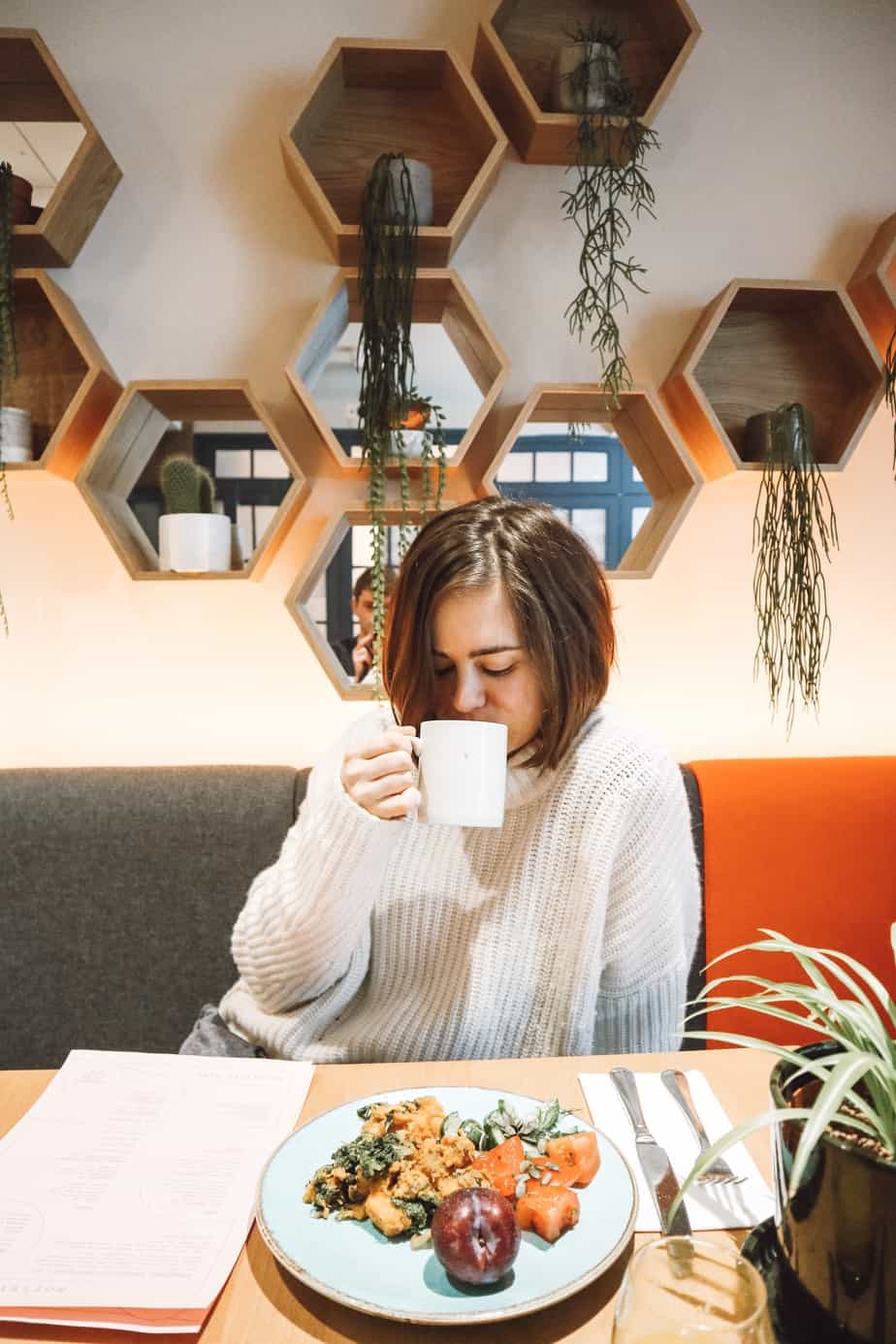 Things to do around Qbic during your stay
Now… we're getting to the good stuff. Oh, you thought we already had? Well in addition to the fabulous environmental initiatives, well-designed room, and scrummy food and drink, Qbic also has a very interesting location. I say interesting because it might not be everyone's favorite, but if you're like Dan and I, and you've seen the tourist traps of London and want something different, you couldn't choose a better location.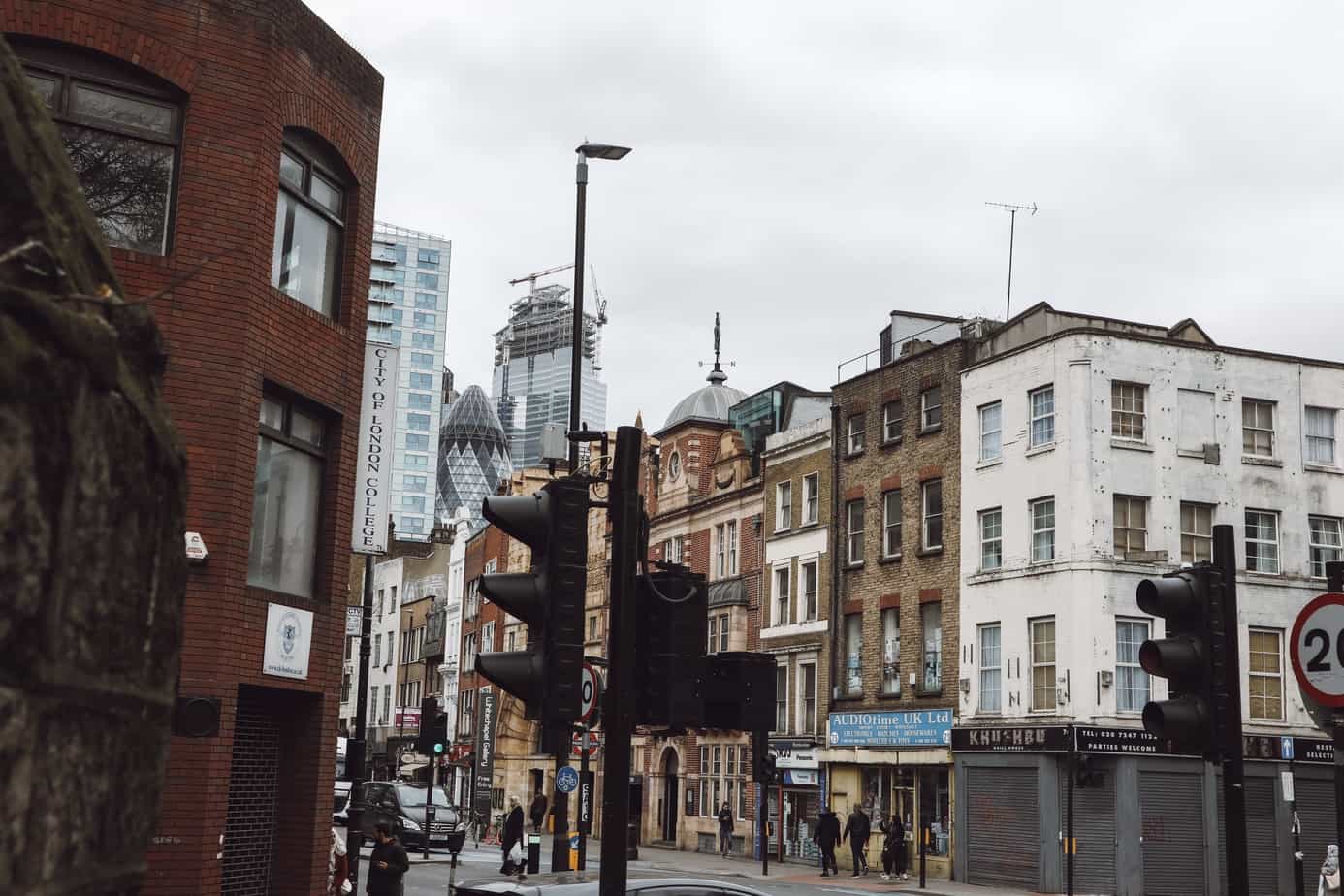 Qbic is located in Shoreditch in East London, which is traditionally seen as the 'edgy' or 'hipster' neighborhood, but in years of late has definitely become more part of the traveler's trail. The hotel has an ideal location just a couple minutes' walk from Aldgate East tube stop, making it easy access (I came from Gatwick Airport and Dan came from Victoria Coach Station and we both just hopped on the tube). It also has a Tesco Express close by for any of your essentials shopping needs.
But onto the fun stuff! There is so much to do around Qbic and we ended of focusing all our London adventures around this location. If you want to stay at Qbic for its eco hotel London status, but are worried you won't find enough to do in the neighborhood (or constantly be traveling into more central London) — DON'T WORRY! I'm here to assuage your fears. Here are some of our favorite activities walking distance from Qbic:
Brick Lane market – Open on Sundays
Brick Lane – Explore the road itself any day of the week, go vintage shopping, and definitely bargain for a curry
Boxpark Shoreditch – A pop up market of shops and restaurants made out of shipping containers
Dinerama – Grab some late night eats in this street art filled warehouse
Ballie Ballerson – OUR FAVE. An adult ball pit bar… need I say more.
Old Spitalfields Market – A classic must-visit market in London, with food, shops, crafts, and more.
Duck & Waffle – My favorite London restaurant. Get sky-high views of London whist enjoying top notch food. Open 24 hours so you can even catch sunrise! Definitely book ahead.
Chroma Yoga – Yoga classes offered with therapeutic and kinda psychadelic 'therapeutic' light and sound shifting.
Triyoga – My favorite chain of yoga studios across London, specialize in Ashtanga with traditional and high quality classes.
AIDA Shoreditch Cafe – A boutique cum trendy cafe. Order the instagram famous rose latter.
Lady Dinah's Cat Emporium – London's premier cat cafe. Book ahead.
Planet Organic – A healthy/trendy grocery store that I love.
Tower of London – A must for any history buffs or London first timers.
Coppa Club – Drink in an igloo by the Thames. Need I say more. 
Sky Garden – A free botanical garden on the top floor of one of London's tallest buildings, with amazing views! Although it's free, be sure to book ahead. 
Borough Market – A further walk but still easily doable from Qbic. My favorite market in all of London!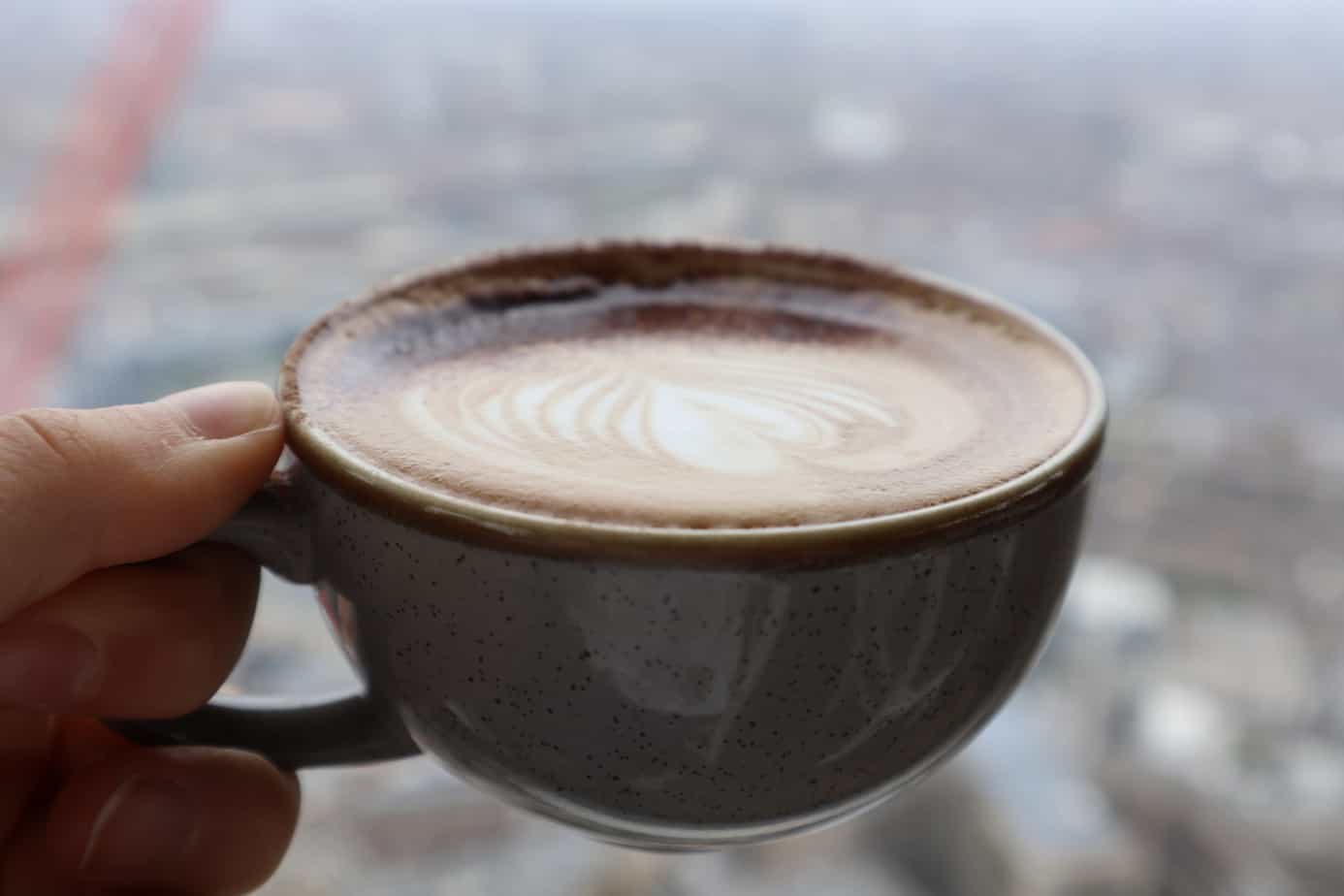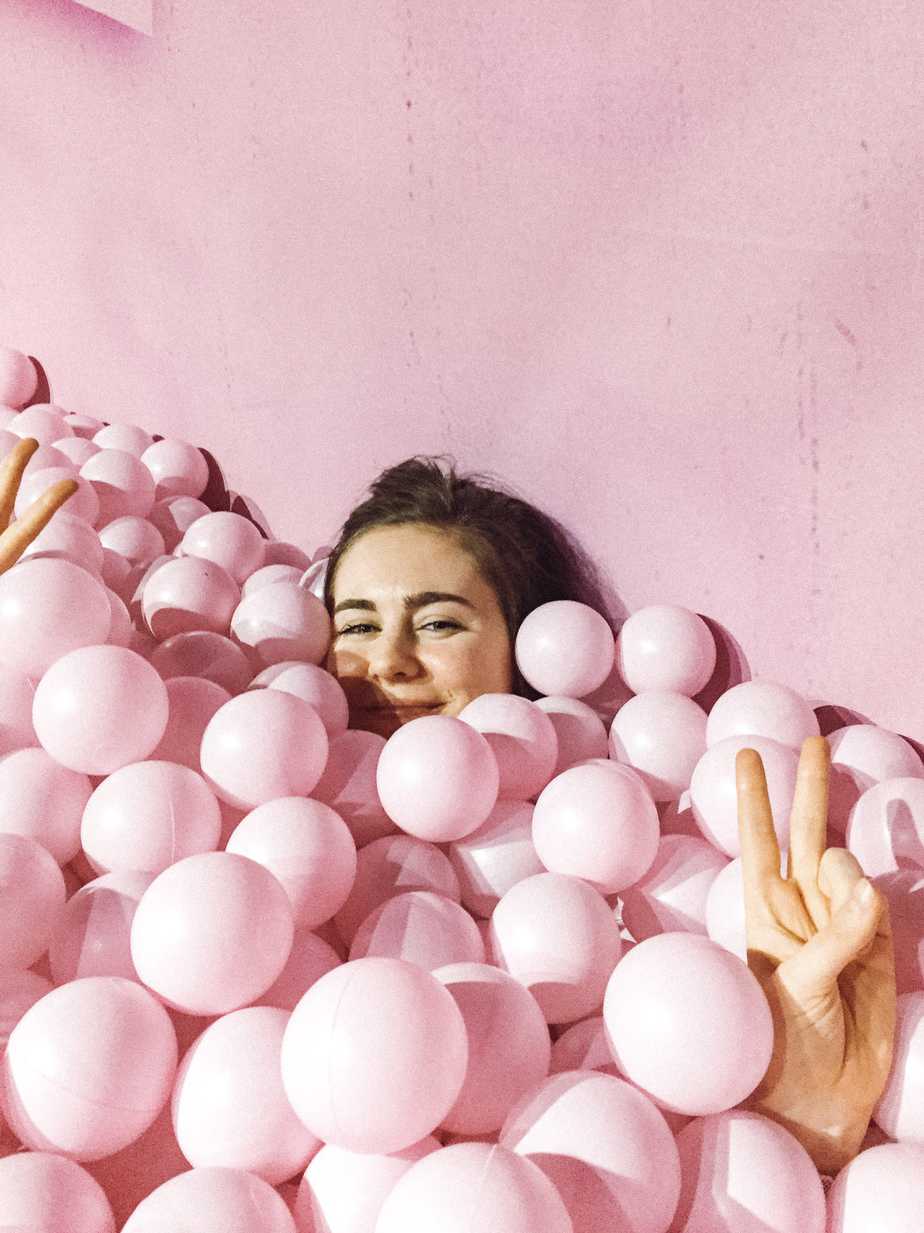 The Details
What: Qbic, an eco hotel in London
Where: 42 Adler Street (Shoreditch neighborhood in East London)
How much: Check for booking and prices on Tripadvisor or Hotels Combined
We really enjoyed our stay at Qbic, not just for its status as an eco hotel in London, but also for its location! We had so much fun exploring Shoreditch, a place Dan and I have both been before, but actually staying there lets you experience it with much more depth. I would certainly stay at Qbic again and really recommend it to any travelers — particularly those of you who are already familiar with the more central London offerings!
Sarah xx
Pin it for later…
*We received a media rate during our stay at Qbic. I was not required to write a blog post review, but this hotel is so cool I just had to share it with you! As always, all opinions are my own.
*This post contains affiliate links. If you click on one of these links, I may make a small commission, at no extra cost to you. Thank you for supporting Endless Distances!