How to See Nesting Sea Turtles in Florida on a Turtle Walk
Seeing nesting sea turtles in Florida feels like a once in a lifetime experience. Yes, 90% of sea turtle nesting in the USA happens in Florida, but a lot of factors still have to combine for you to witness this for yourself on a turtle walk.
I've spent a lot of time in Florida – at least one visit a year for my entire life, to visit family. But it still took until this year for me to go on a sea turtle walk and, luckily, see a nesting turtle. That's because you need to be in Florida during sea turtle nesting season, and preferably the height of nesting season. (And even then, you are not guaranteed to see a sea turtle!).
So… I am writing this blog post to share my incredible experience seeing a nesting sea turtle (scroll down or click here to jump to that!), and to help you navigate the complexities of booking your own Florida sea turtle walk – with the best chance of actually seeing a turtle!
You might also like these blog posts…
How to Sustainably Swim with Manatees in Florida
6 Ways to Travel Responsibly and Leave a Positive Impact
Travel Impressions of Vero Beach, Florida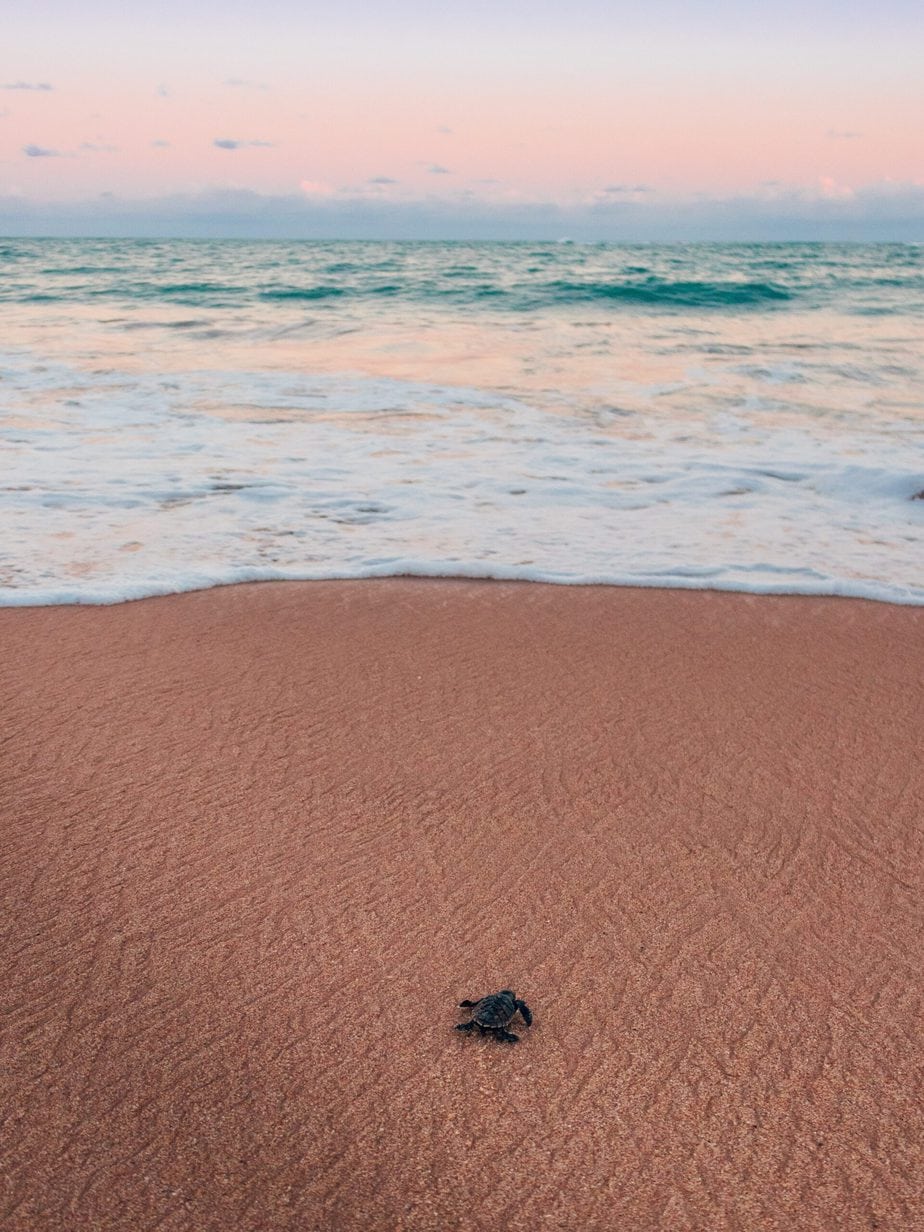 Sea Turtle Nesting Season in Florida
Sea turtle nesting season in Florida runs from March-October.
However, you are most likely to see a nesting sea turtle during peak season, which is June and July. July is typically the best month.
Best Time to See Sea Turtles in Florida
Sea turtles nest at night, and most organized sea turtle walks run from 9pm-1am.
Phase of the moon, high or low tide, temperature, weather, and other factors do NOT affect wether sea turtles will nest on a certain night. Sometimes it just comes down to luck.
The best thing you can do to increase your chances of seeing a nesting sea turtle is visit during July, and visit an area with the highest nest concentration.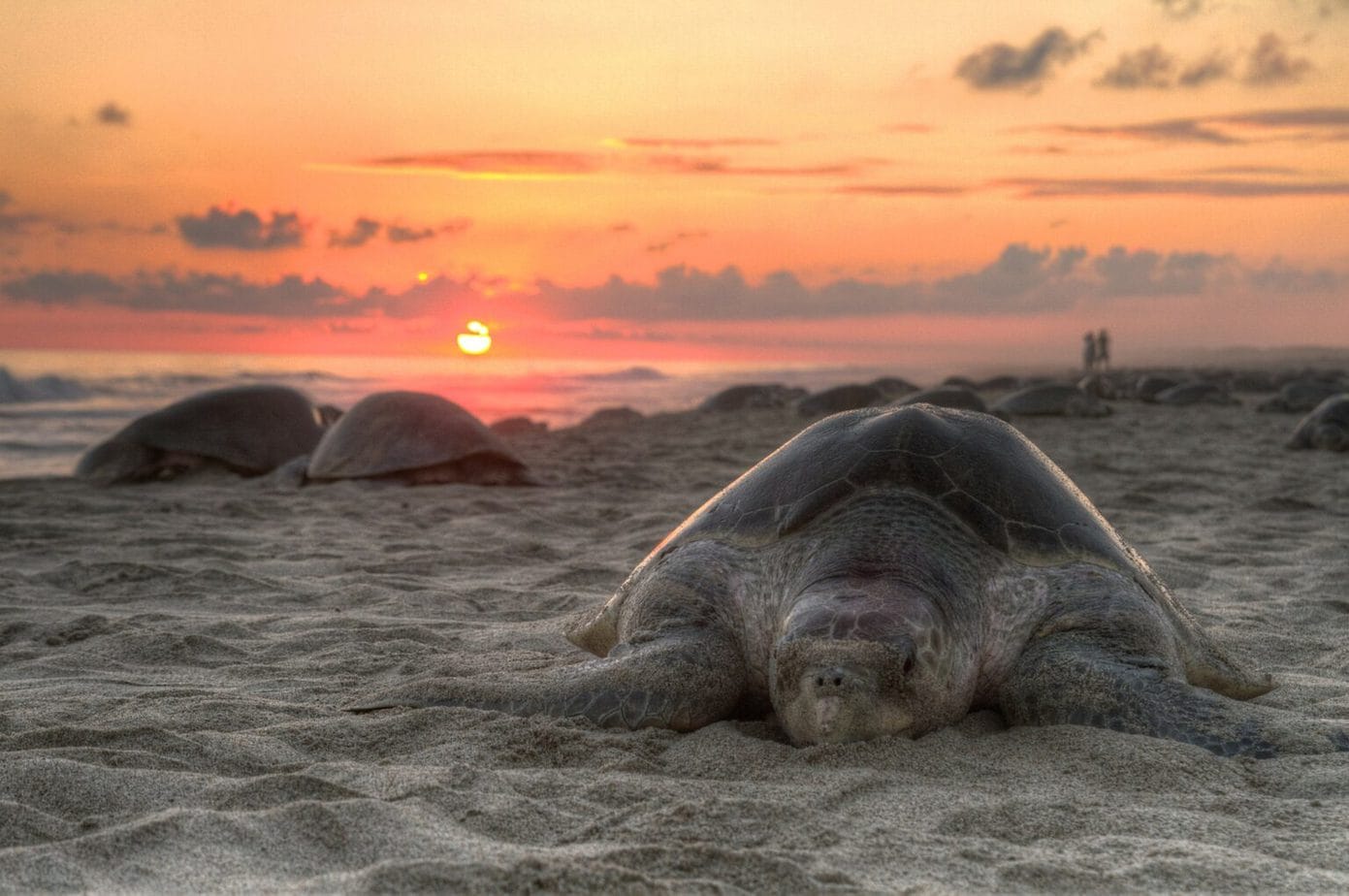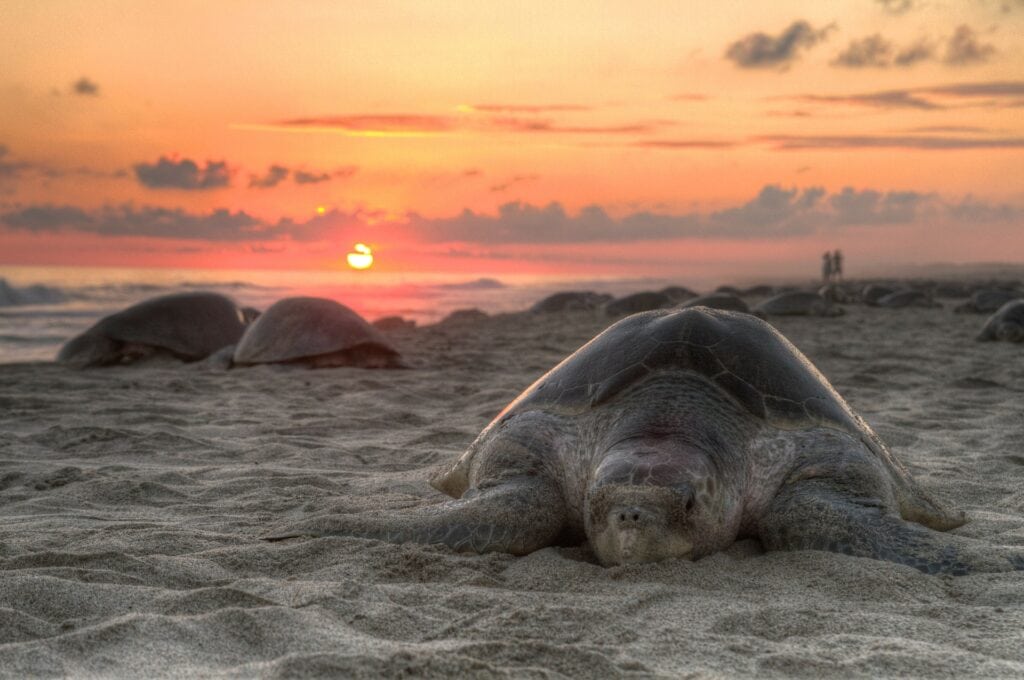 Where to See Nesting Sea Turtles in Florida
While sea turtles do nest up and down Florida's Atlantic coast, organized walks are somewhat limited. They must be Marine Turtle Permit Holders (MTPH) by Florida's Fish and Wildlife Committee.
In Florida, the Atlantic coast has the vast majority of sea turtle nests, and the majority of loggerhead nests are found in five counties:
Brevard
Indian River
St. Lucie
Martin
Palm Beach
I went on a sea turtle walk in early July in Sebastian Inlet State Park, which is in Brevard county. This is part of the Archie Carr National Wildlife Refuge which was created to preserve endangered sea turtles. The Barrier Island Sanctuary and Stella Maris are other options within Archie Carr. This park has the highest number of loggerhead sea turtle nests in the WORLD!
The night we went, three sea turtles were nesting all in a close area. However, earlier that week one of their walks did not get to see any sea turtle nest. So like I said, sometimes it is just luck of the draw.
RELATED | How to Swim with Manatees in Florida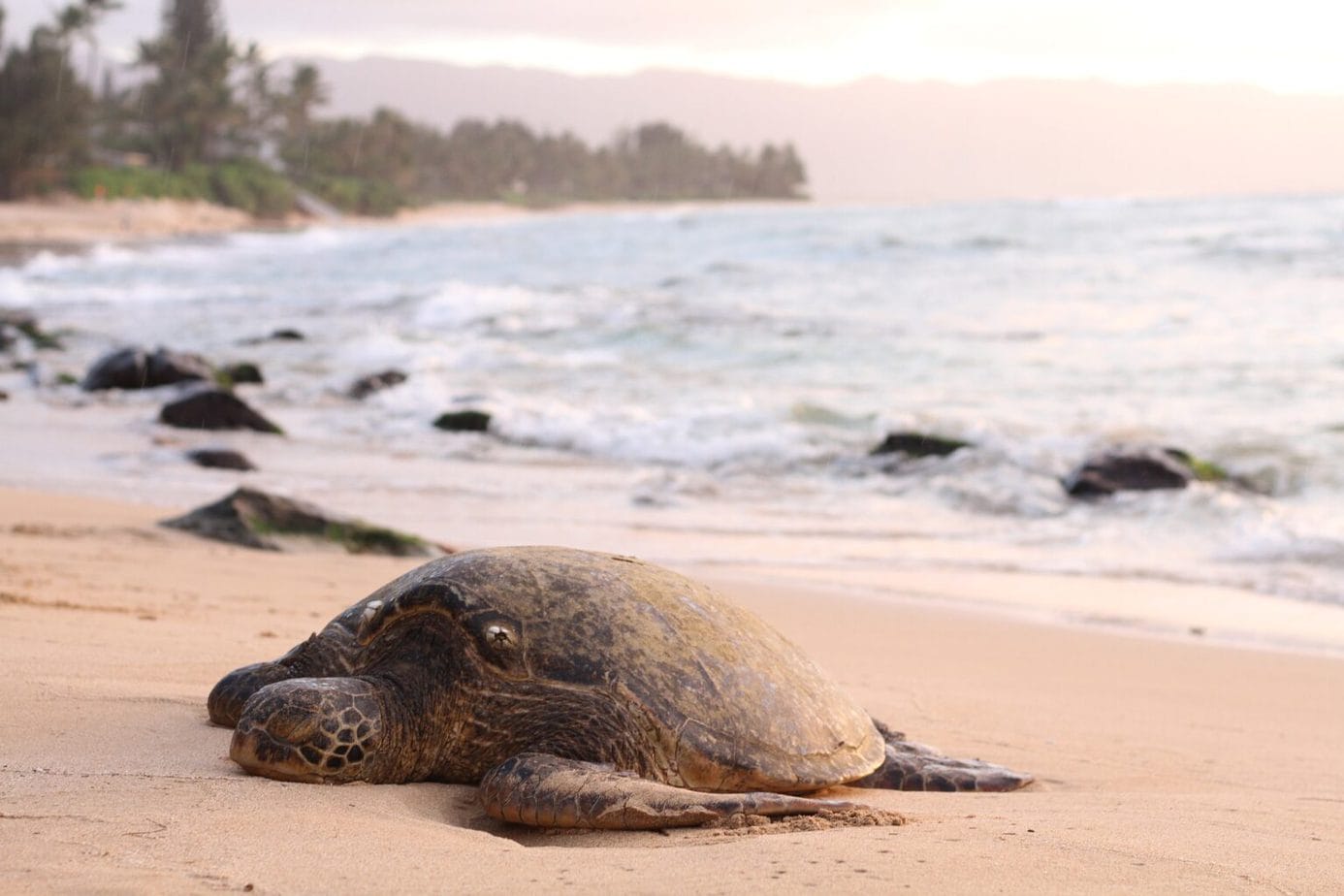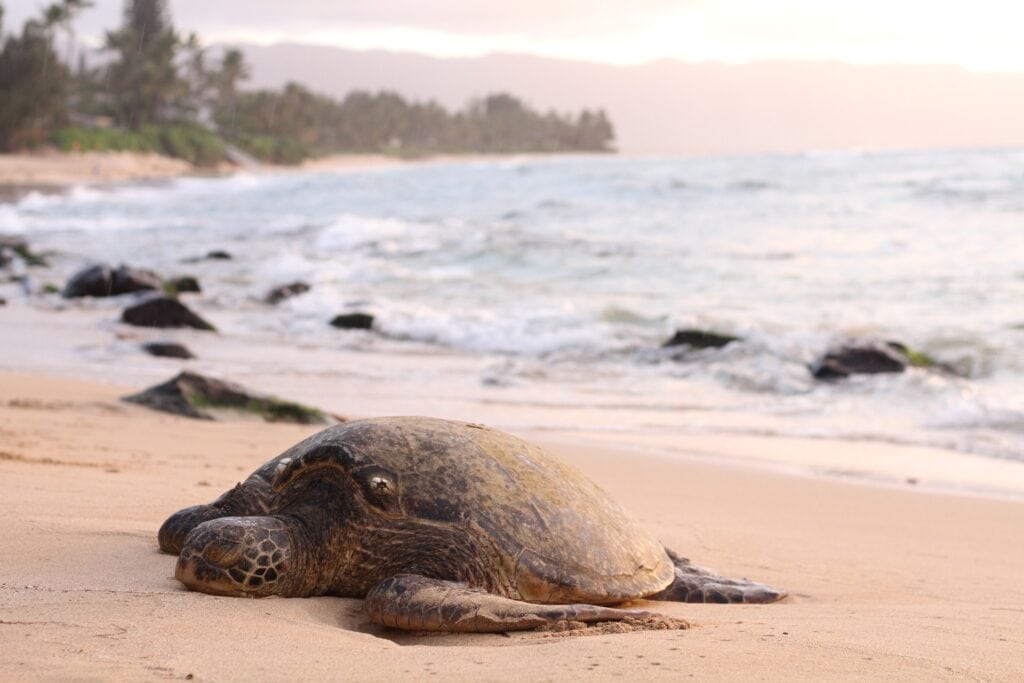 How to See Nesting Sea Turtles in Florida
Your best chance to see a sea turtle in Florida, and the most environmentally responsible thing to do, is to book onto an organized sea turtle walk (I list these below). Make reservations in advance as walks can book up. We snagged the final two spots on a 10-person sea turtle walk, booked a month ahead of time.
Each sea turtle walk will begin with an interactive presentation about Florida sea turtles. This is a requirement by Florida's Fish and Wildlife Committee (FWC), which licenses different organizations to offer turtle walks.
Typically, during this presentation a few volunteers, called "turtle scouts," are sent out to the beach to start looking for turtles.
IMPORTANT NOTE | Leatherback, green, kemps ridley, and loggerhead sea turtles all nest in Florida. However the FWC only allows turtle walks to view loggerhead sea turtles. This species is threatened, whereas the others are endangered. (So, if your turtle scout sees a green sea turtle, you wouldn't be able to go see it nest!).
If a loggerhead sea turtle is spotted, the group immediately is led down to the beach where you will witness the sea turtle laying her eggs. Absolutely no flashlights or flash cameras are allowed, apart from your guide who will have a special infrared light. This is because light will disrupt her nesting, and potentially disorient her so she doesn't return to the sea!
I'll share more about what you actually witness – which is pretty amazing – in the section about my own experience below!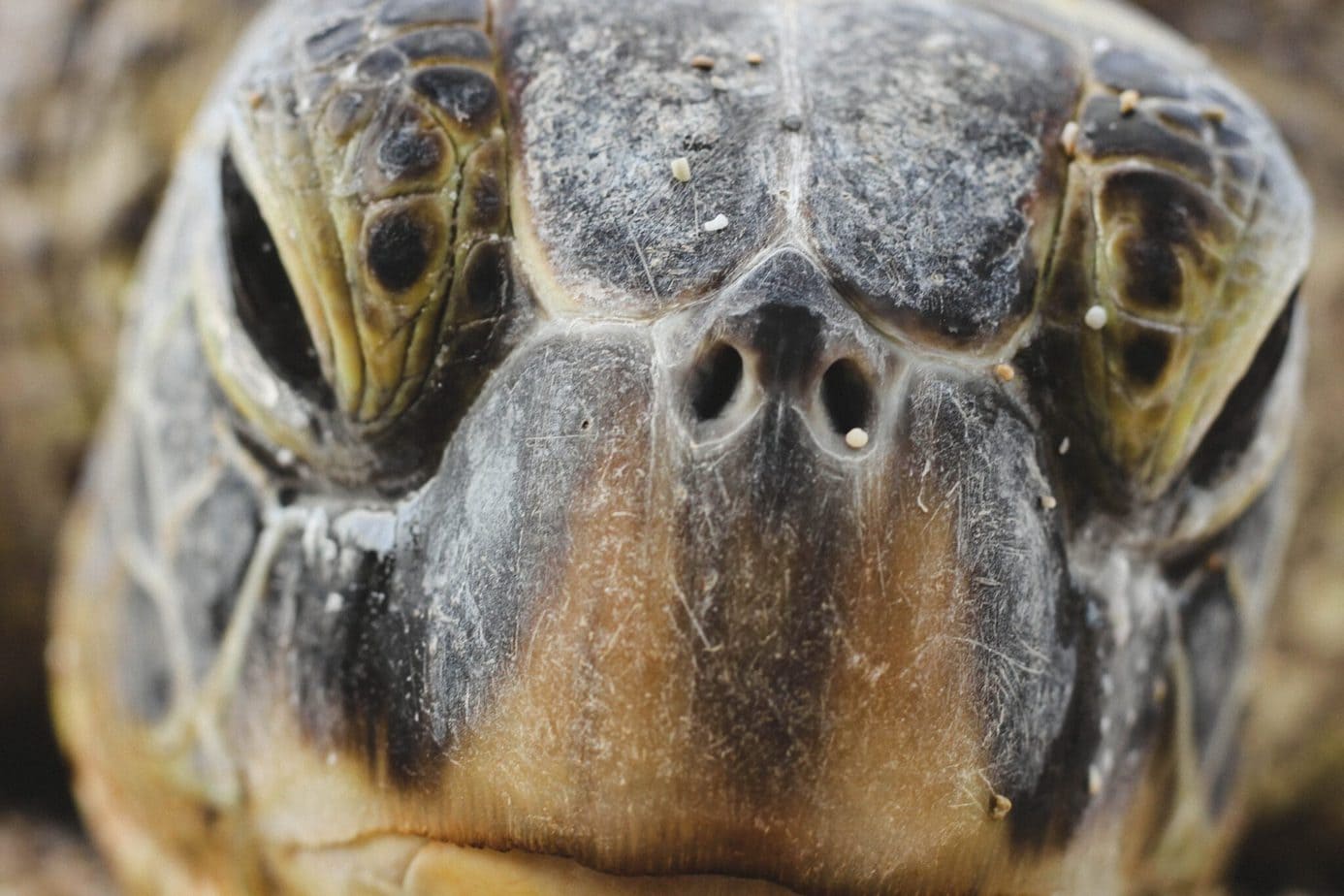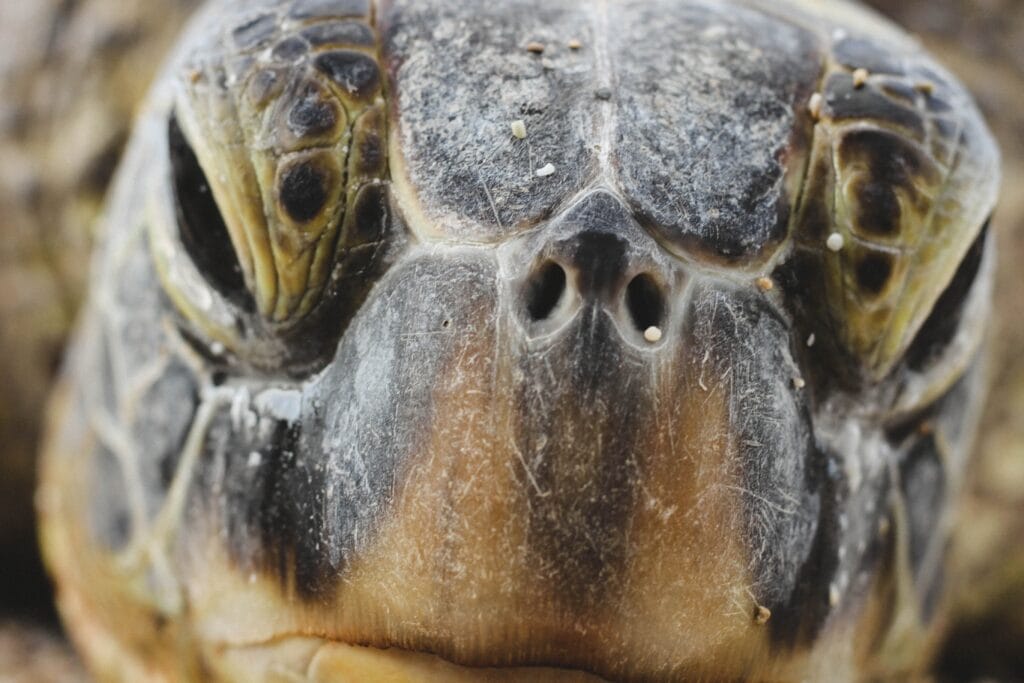 What to Bring on a Florida Sea Turtle Walk
It's important to come prepared to the sea turtle walk because otherwise you will be VERY uncomfortable. After all, you could be out on the beach past 1am looking for sea turtles!
This is what we were recommended to bring on our sea turtle walk (and I'm so glad we did!):
Bug spray, and lots of it
Water
Lightweight long pants in a dark color
Rain coat / windbreaker
Closed toe walking shoes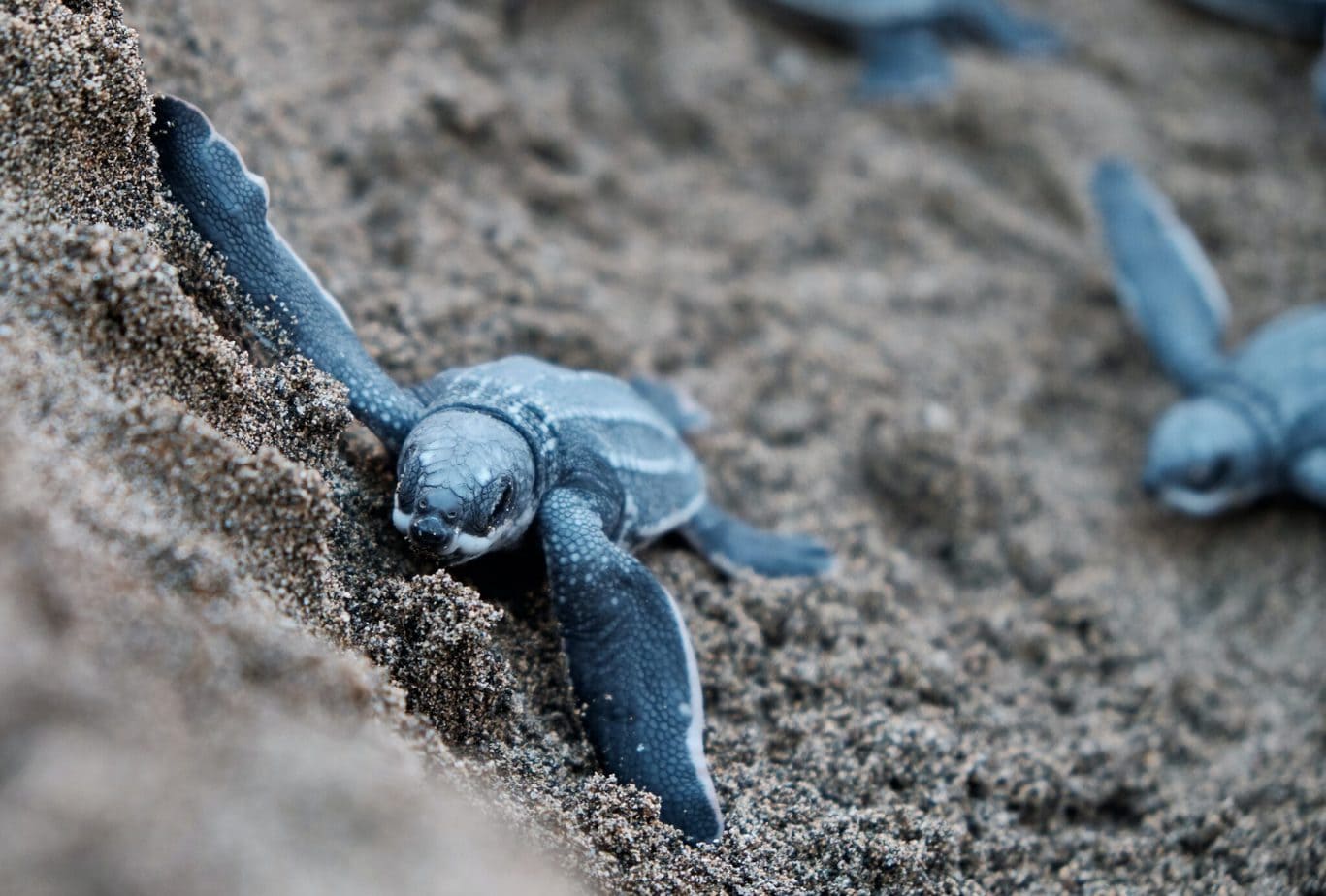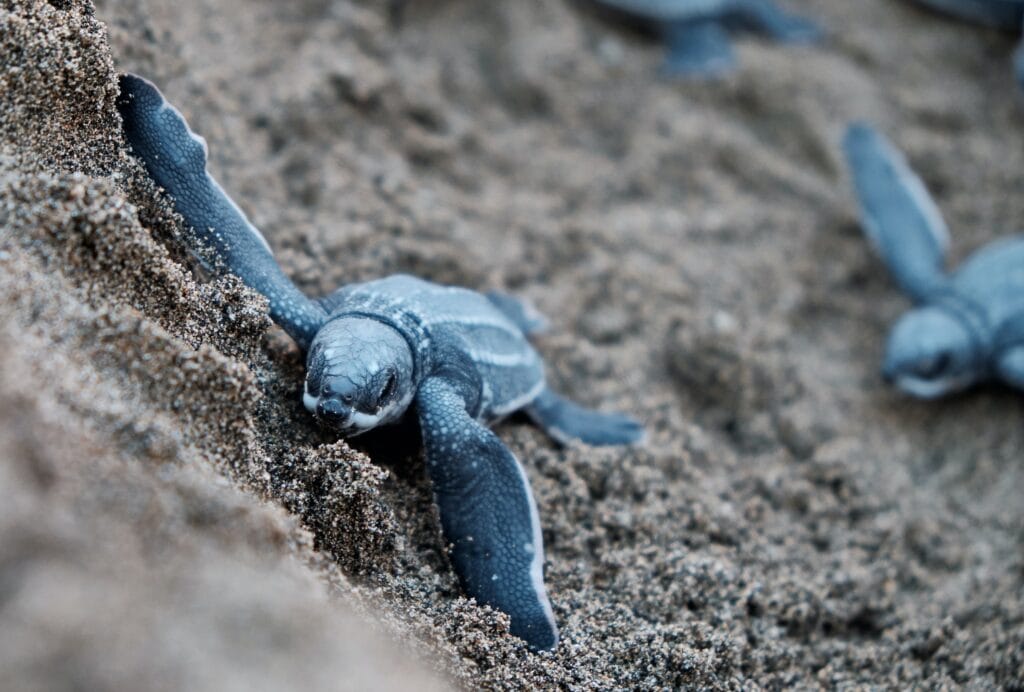 14 Sea Turtle Walks in Florida
*This is the sea turtle walk that we did while staying in Vero Beach! Scroll down or click here to read more about the experience!
Address: Sebastian Fishing Museum, 9700 S Hwy A1A, Vero Beach, FL 32963
Cost: $10
When: Tuesday, Wednesday, Thursday, and Friday nights June 1- July 31
Address: Barrier Island Sanctuary, 8385 S Hwy A1A, Melbourne Beach, FL 32951
Cost: $15
When: Monday, Tuesday, Thursday, and Friday nights in June and July
Address: Riomar Beach Club, 2426 Ocean Dr, Vero Beach, FL 32963, USA
Cost: $20
When: Fridays in June and July
Address: Coconut Point Park, 3535 S. HWY A1A, Melbourne Beach, FL
Cost: $19
When: Various days in June and July
Address: John D. MacArthur Beach State Park, 10900 Jack Nicklaus Dr, North Palm Beach, FL 33408
Cost: $15 + $5 possible park admission
When: Not running turtle walks in 2021 but check back for next year!
Address: Gumbo Limbo Nature Center, 1801 N Ocean Blvd, Boca Raton, FL 33432
When: Not running turtle walks in 2021 but check back for next year!
Address: Disney's Vero Beach Resort, 9250 Island Grove Terrace, Vero Beach, FL 32963
Cost: $35
When: Various days in June and July
Address: Different locations in South Brevard County
Cost: $16
When: Various days in June and July – sold out for 2021
Address: 6503 N. Ocean Drive, Dania Beach, 33304
Cost: $6 for park entrance
When: Wednesdays and Fridays in June and July
Address: Loggerhead Marine Life Center, 14200 US-1, Juno Beach, FL 33408
Cost: $22
When: Most nights in June and July – however 2021 season is fully booked. Reservations for 2022 begin May 1, 2022.
Address: Hobe Sound Nature Center, 13640 SE Federal Hwy, Hobe Sound, FL 33455
Cost: $5 (must be cash!)
When: Thursdays and Fridays May 27th-July 23rd 2021 – however 2021 season is fully booked. Reservations for 2022 begin April, 2022.
Address: Playalinda Ranger Station, Playalinda Beach located near Titusville, FL (there is no address per se for the station but the coordinates are 28.644540, -80.683250)
Cost: $14
When: Every week on Friday and Saturday until July 31
Address: Museum of Discovery and Science, 401 SW Second Street
Fort Lauderdale, FL 33312
Cost: $21
When: Once weekly throughout July
Address: The Energy Encounter, 6501 S Ocean Dr, Jensen Beach, FL 34957
When: Not running turtle walks in 2021 but check back for next year!
My Experience on the Nesting Sea Turtle Walk in Sebastian Inlet, Florida
Now the fun part… my personal experience seeing a nesting sea turtle! On my recent trip to Vero Beach, we booked a sea turtle walk with Friends of Sebastian Inlet State Park (just a 25 minute drive from where we were staying – ironically at the Sea Turtle Inn in Vero Beach!).
STAY | Check availability and rates for Sea Turtle Inn here
Preparing for our sea turtle walk
I booked the walk about a month in advance, and my mom and I were lucky to get the last two spots. I've visited Vero Beach over 25 times but never in July before so we were really excited to try something new.
I also made sure to pack long pants and sneakers, and we bought some bug spray and completely sprayed ourselves down before the walk. The beach gets REALLY buggy with sand flies, mosquitos, "no-see-ums" etc. so it was really important – our ranger reminded us again and again to spray ourselves.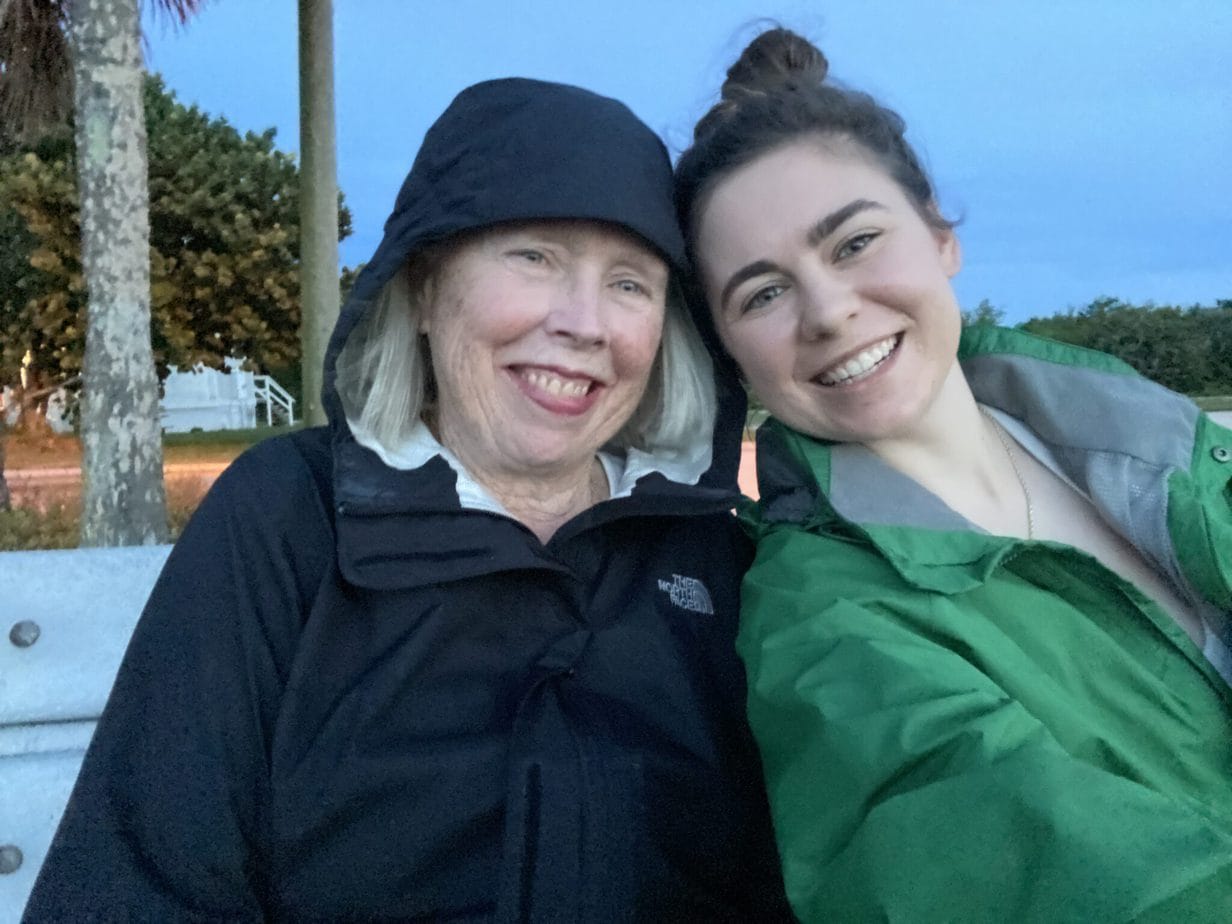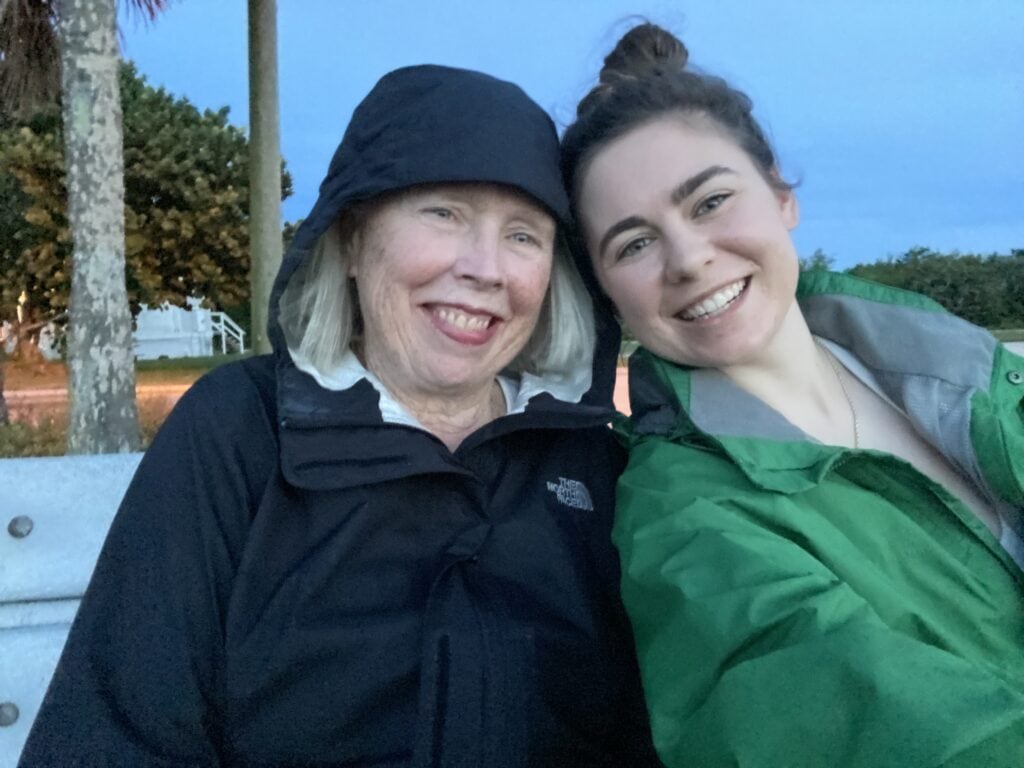 The Presentation
We arrived to the Sebastian Fishing Museum around 8:45pm. Then, we all (us + the other 8 people on our walk) sat socially distanced in the museum, which thankfully had AC, while our ranger started a presentation on sea turtles.
It was really interesting to learn about different types of sea turtles, how huge they are, and also see the statistics on how many nests are laid across the state. We couldn't believe we'd conveniently lucked into being in the #1 loggerhead sea turtle nesting spot in the WORLD!
However, I think we were all a little anxious throughout the presentation as we were waiting for the ranger's radio to go off. Two volunteers were out on the beach scouting for sea turtles.
Waiting for a Turtle Sighting
Finally, the radio went off around 9:45pm! However, it was just one of the volunteers saying that some kids were setting off fireworks on the beach and she needed to stop them. Talk about a let down.
The presentation ended around 10:30pm and I think we all started to get a little nervous that we wouldn't see a sea turtle after all. Our ranger had warned us that the previous Tuesday, no turtle was sighted. He set us free to go to the bathroom (and apply more bug spray).
In the bathroom (which, in its defense, opens to the outdoors, not to the fishing museum) I saw two of the hugest cockroaches of my life that gave real life meaning to the word "skittering." I began to wonder if that was the closest I would get to mother nature's creations that night lol!
After surviving the cockroaches, my mom and I went to the car to apply more bug spray. All of a sudden everyone was pouring out of the fishing museum and heading to their cars. We rushed toward them asking, "has a turtle been sighted?!"
One of the scouts had found a sea turtle around 10:45pm and our ranger was ushering us into our cars. "Everything's happening fast and she's nearly ready to lay her eggs," he told us as we ran back to our car.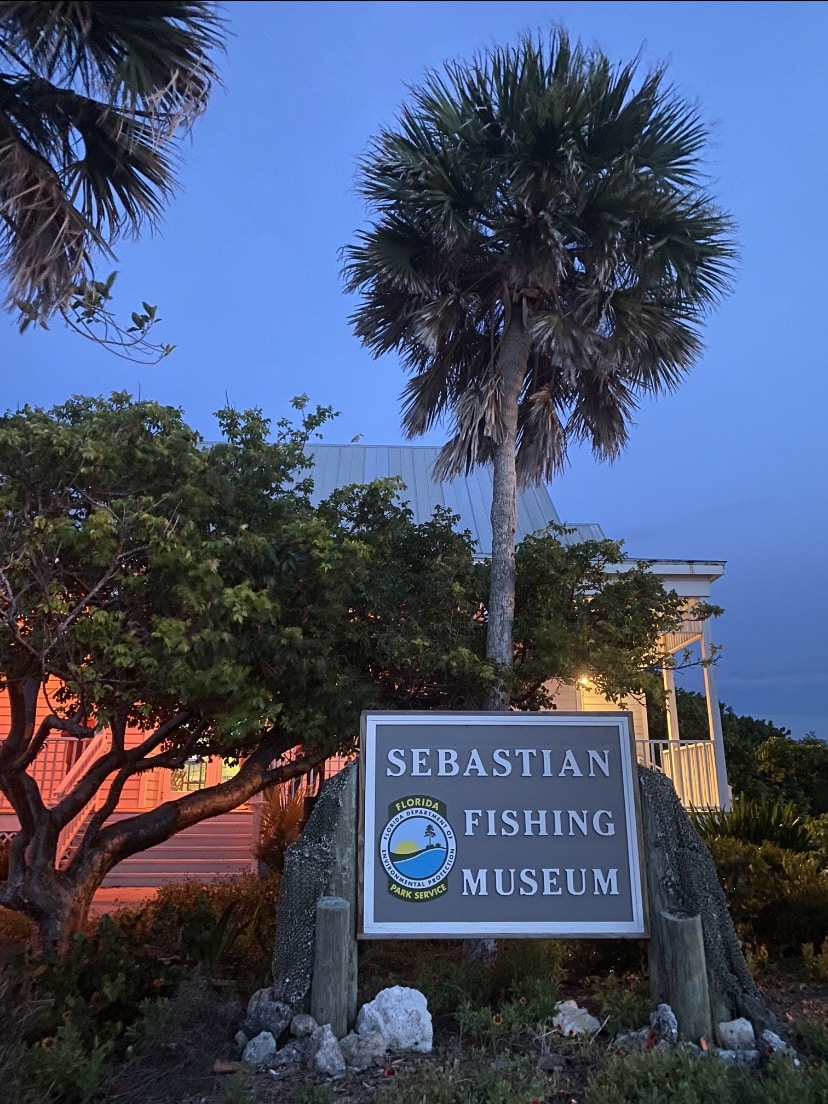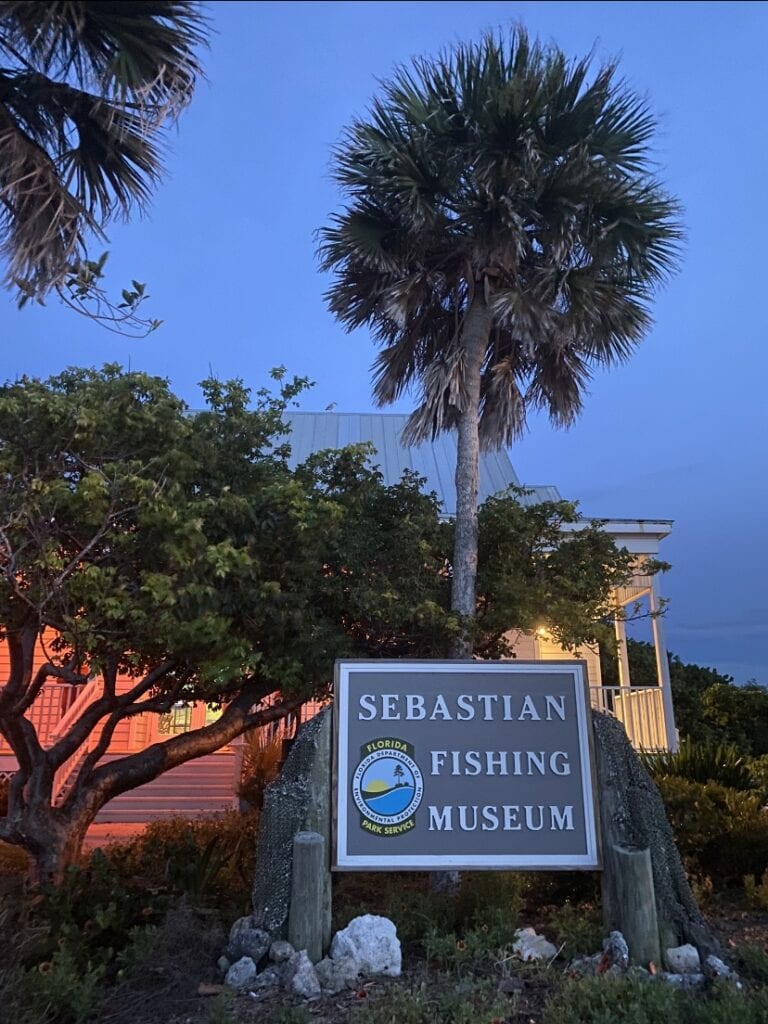 Walking the Beach
We followed our ranger along A1A and parked on the side of the road. Then, we had to walk through the dunes to the beach. It was a moonless night and completely dark out. Like I mentioned, NO flashlights are allowed. I held my mom's hand as we stumbled through the sandy path to the beach – and thankfully didn't fall!
Once we were all on the beach, our ranger led us along the water to get to the turtle. It was a very short walk (but we had been warned to be ready to walk up to three miles).
The Nesting Sea Turtle
Our loggerhead sea turtle had already climbed out of the ocean, and you could see her flipper prints in the sand. She had also already dug her nest and used her back flippers to dig out an egg hole. In keeping with the Marine Turtle Permit, we actually aren't allowed to watch that part happen, however we ARE allowed to watch the eggs get laid.
Our ranger took us up close to the sea turtle. We all had to stand behind her, not surround her. Then, our range placed his infrared flashlight in the sand so the egg hole filled with red light. Crouching down, I had an amazing view to see the sea turtle lay her eggs.
She had already laid quite a few eggs. Every few seconds, she would drop another egg – they were white and round like a golf ball, but with soft shells that dropped into the deep hole safely. Everyone was completely silent, and we counted that she laid 76 more eggs.
Then, she started flapping her flippers, filling the egg hole with sand. She got really into it, with sand flying everywhere and even burying the infrared flashlight a few times!
The Journey Back to the Sea
As she finished up covering her nest, our ranger took our group away from the turtle. This is another part of the process that the Marine Turtle Permit requires guests to step away for. After doing research, they found that nests performed better (had better hatch rates) if people did not stand closeby as the turtle covered it.
We all stood down by the ocean. I swear I could see the milky way in the sky – with absolutely no light pollution it was a rare sight. Bursts of yellow light lit up the sky over the ocean – perhaps heat lightning or distant storms. It was stunning and peaceful.
Then, she started her journey back to the ocean, slowly pulling herself forward over the sand with her flippers. We didn't move an inch as she made her way toward us, and then was slowly washed over by the waves and disappeared into the sea.
It was around 11:30pm by the time it was all over – very good timing and I know we were lucky with that! We carefully made our way off the beach, said our goodbyes, and then drove home. What an experience!
However, I think my favorite touch came the next day, when our ranger emailed us a photo of our turtle (who one of our group members named "Serenity"). Our ranger took this photo with a special infrared camera with no flash, so as not to disorient the turtle.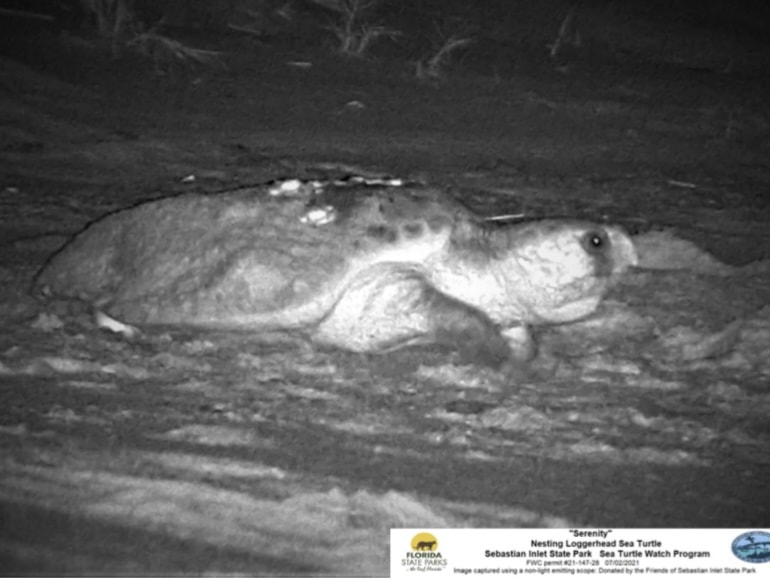 This was definitely one of my favorite wildlife encounters I've had (swimming with manatees is pretty high up there, too). If you choose to go on a sea turtle walk, I really encourage you to go with one of the licensed organizations I've listed above.
By keeping within their licensed agreement, these are ethical encounters that won't disorient or scare the turtle, or cause her to disrupt her nest. I do NOT recommend attempting a sea turtle walk on your own, ever.
These creatures are amazing and it was really an honor to witness one lay her eggs. If you have any questions about sea turtle walks in Florida, just comment below!