Ready to head Up North – but don't want to bring the tent? I feel that. Glamping in Michigan is your answer!
Honestly, Michigan was made for glamping. We've got sandy beaches and dunes that stretch for miles. Dense forests where you can only hear the drop of pine needles and the twitter of birds. Winding lazy rivers, ripening blueberry patches, skiing, sailing, snowshoeing… you name it!
I've scoured my home state and found these top 15 glamping sites. This list has something for everyone – from the luxurious bell tents with home-cooked breakfasts each morning (#1 below), to an adventurer's heaven at Mount Bohemia in the upper peninsula (#7).
Check out the full list below! Instead of dragging along the camp stove and sleeping bags on your next outdoor getaway, relax with a Michigan glamping adventure…
Related: 19 Tiny Houses in Michigan You Can Stay in on Your Next Vacation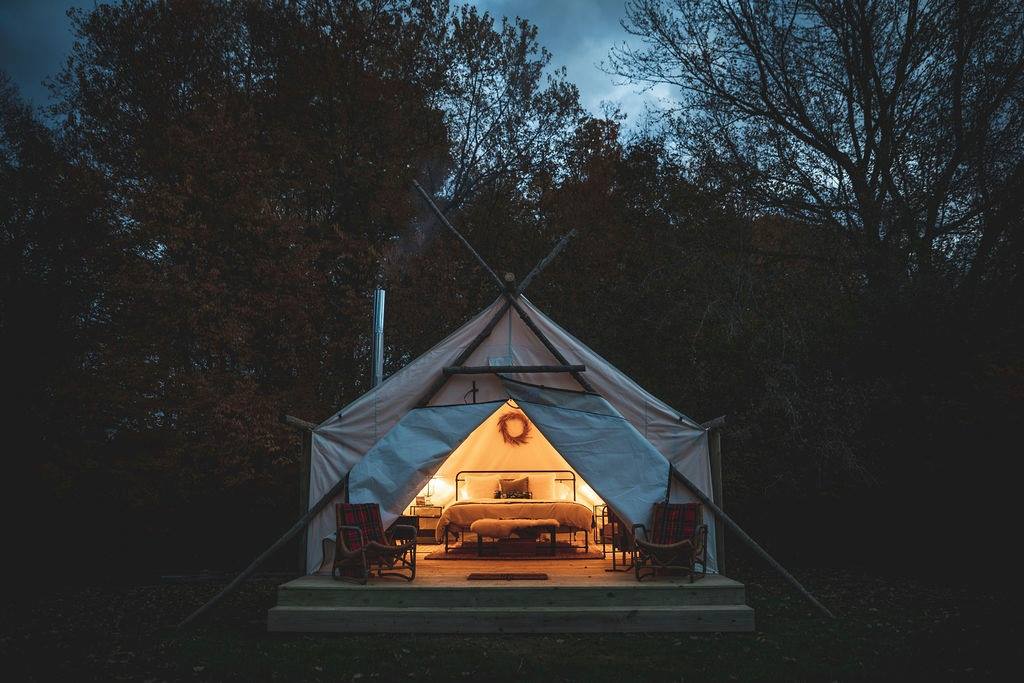 15 Best Spots to go Glamping in Michigan
From luxurious bell tents in blueberry farms, to lakeside yurts in the upper peninsula, here are 15 of Michigan's absolute best places to go glamping!
1. The Fields of Michigan – boutique blueberry farm glamping!
South Haven, Michigan
The Fields of Michigan is first on this list for a reason, folks. If you're looking for the BEST glamping in Michigan, then head to this boutique getaway, set in a picturesque blueberry farm near South Haven, Michigan.
The yurts themselves are gorgeously designed, with comfy king beds, a fully operational bathroom (a boon for any glamping experience!), and a wood-burning stove to keep you cozy in the chillier months.
Outside, you can toast s'mores over the bonfire, wander the blueberry patches, and nibble on freshly made pies. A sumptious cooked-to-order breakfast is also provided each morning (I'm thinking blueberry pancakes, anyone?!).
The location is also fab – just hop on one of the provided bikes, and head to South Haven or the beach. Wine tasting, sailing, fishing, and pretty much any other Michigan favorite activity is nearby, too!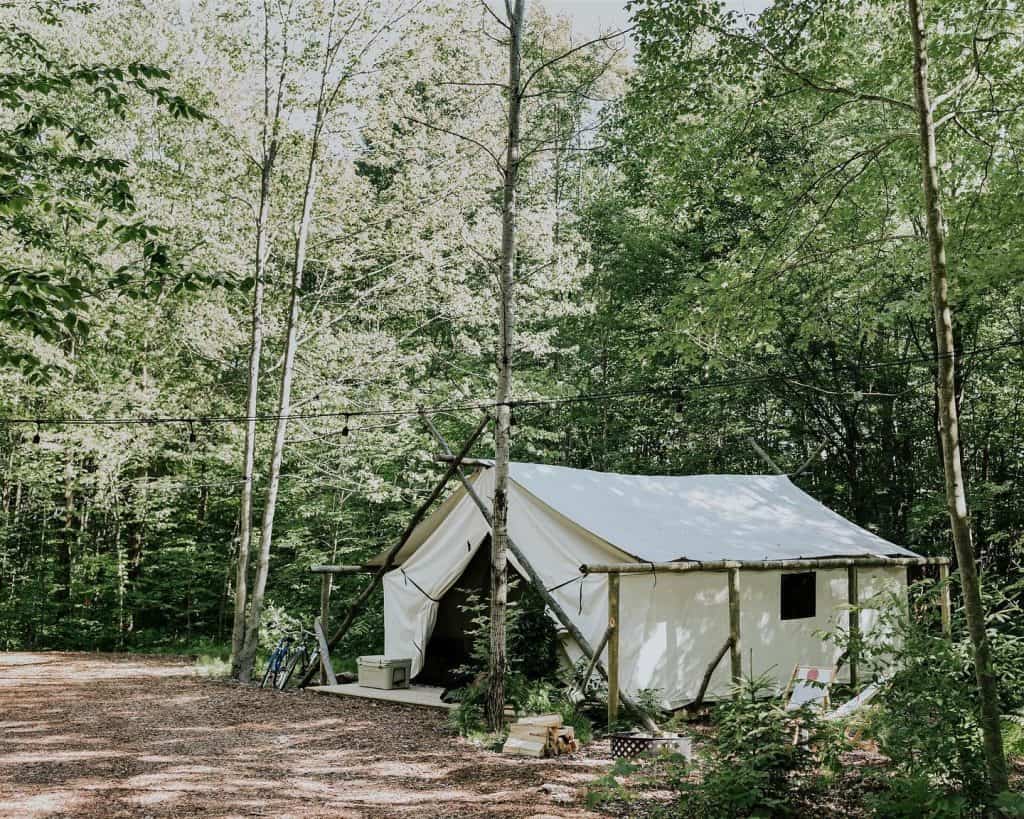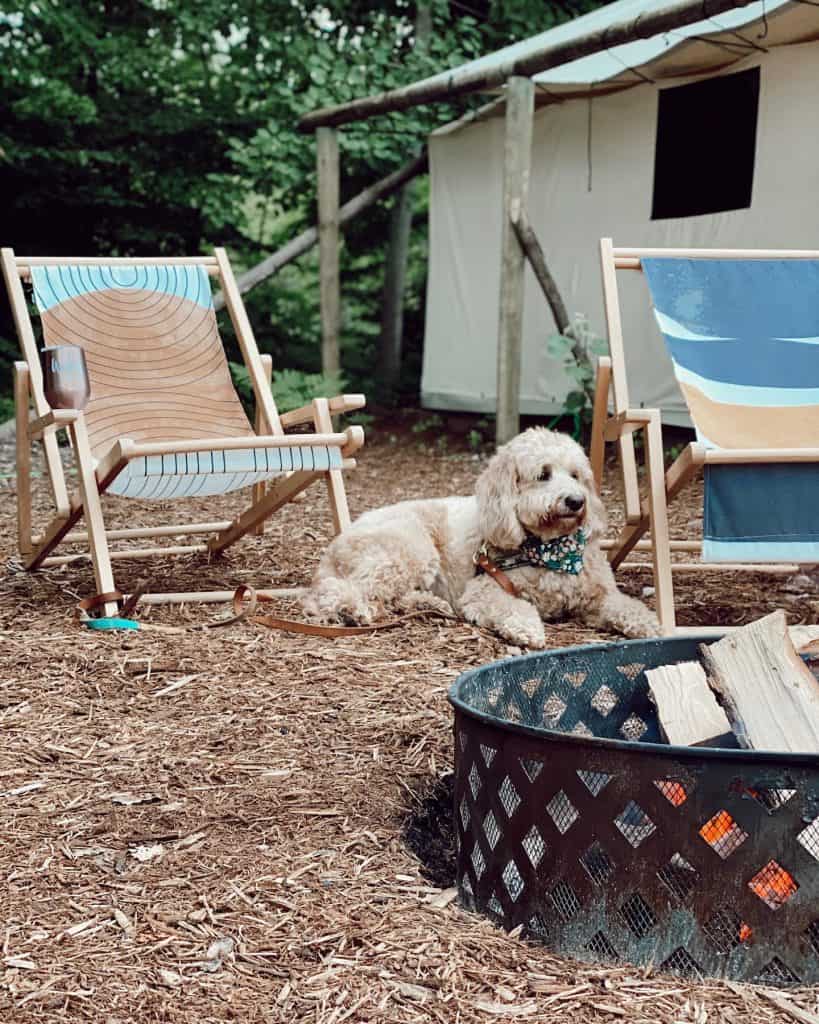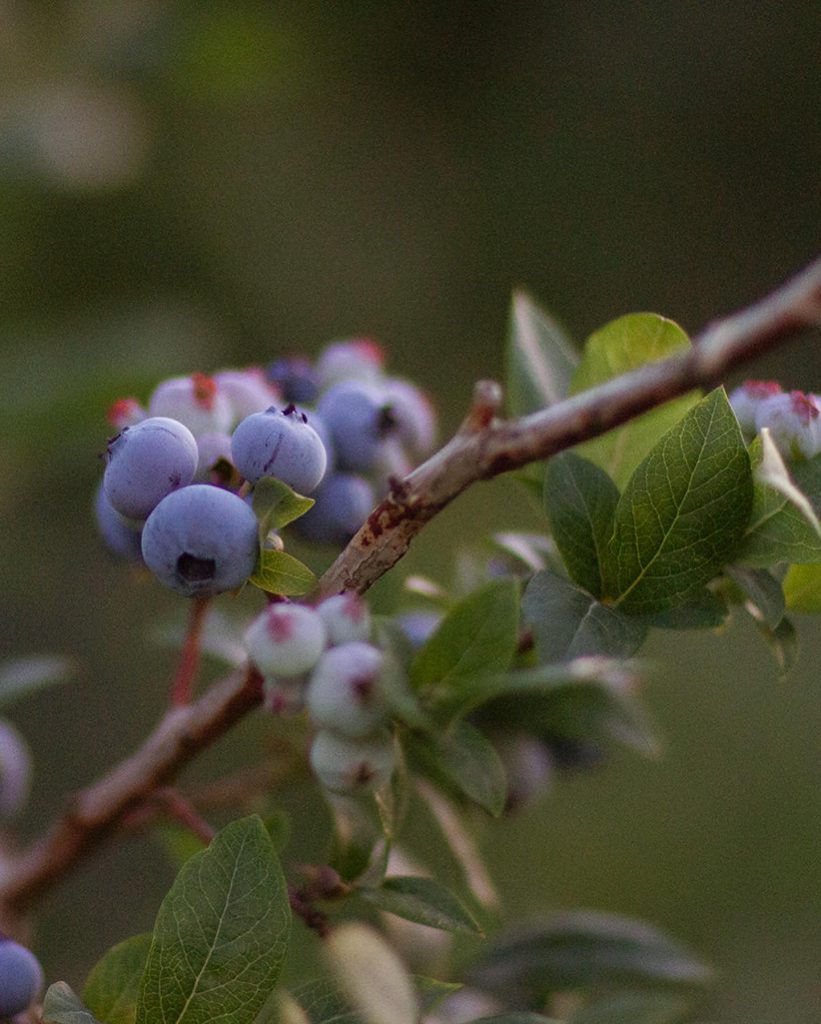 2. Off Map
South Haven, Michigan
Off Map is one of the newest options for glamping in Michigan – it opened in 2021. Located close to South Haven, Saugatuck, and Holland, Off Map is a glamping site with luxury safari tents and a continental breakfast included in your stay. Each tent has a luxurious bed with fresh linens and blankets, a heater, and a nearby indoor bathroom.
You can cook s'mores on a bonfire, hike wooded paths, star gaze, and pick wild blackberries all without leaving Off Map's 75 acres of land. That's a lot of land. Or, drive 10 minutes and experience the wineries, breweries, beaches, and resort towns of southwest Michigan.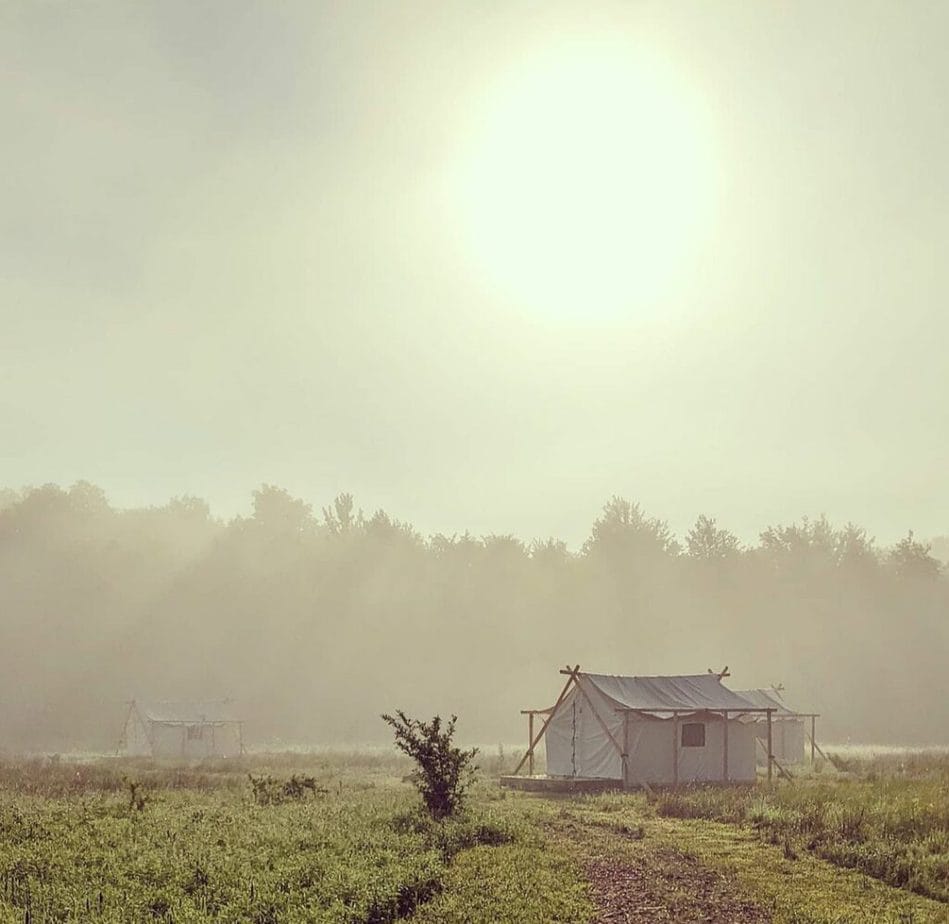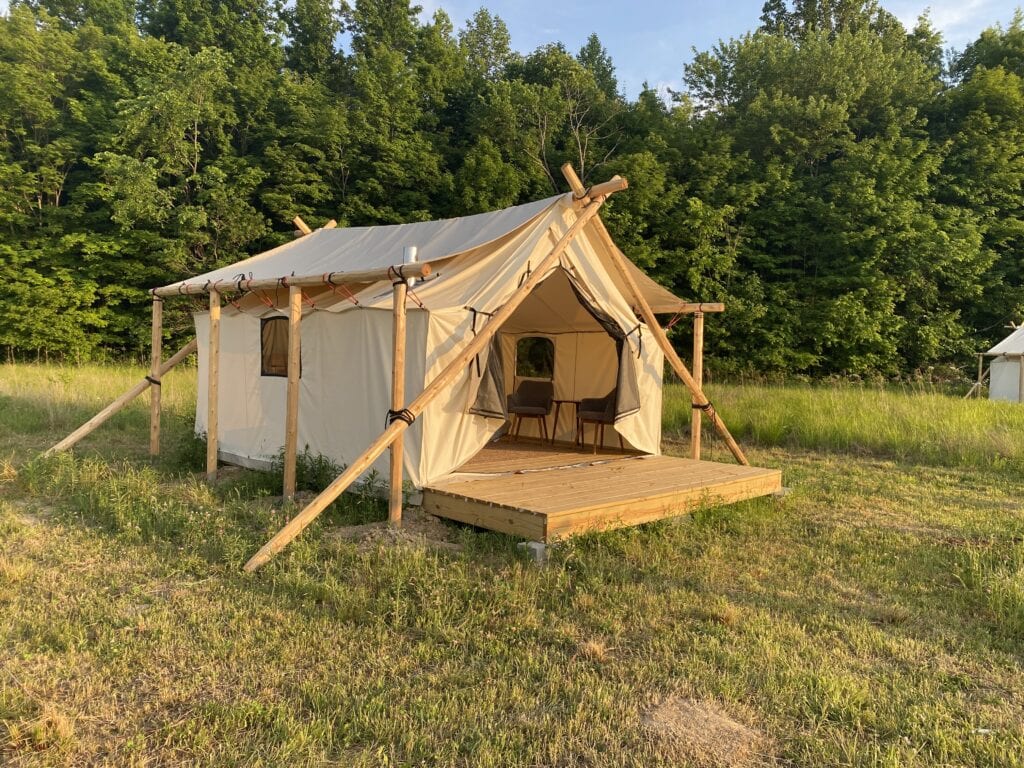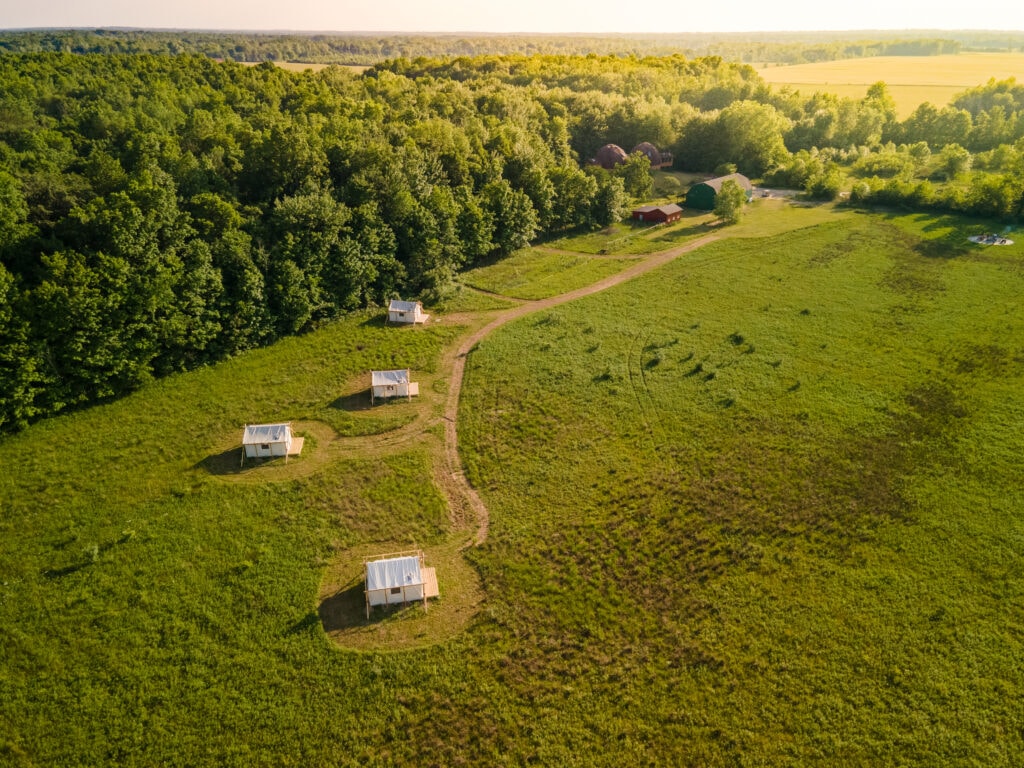 3. Glamping in the North
Kalkaska, Michigan
Sleeps: 4
Glamping in the North is an adorable little glamp site that offers an idyllic getaway in Michigan. It's fitted out with 16-foot bell tents – each equipped with a full bed, and cozy chairs, plus some glamping essentials (think… marshmallows). Enjoy hammock days, river kayaking, fishing, and canoeing in the summer. In the fall and winter, take a chance with snowmobiling or snowshoeing!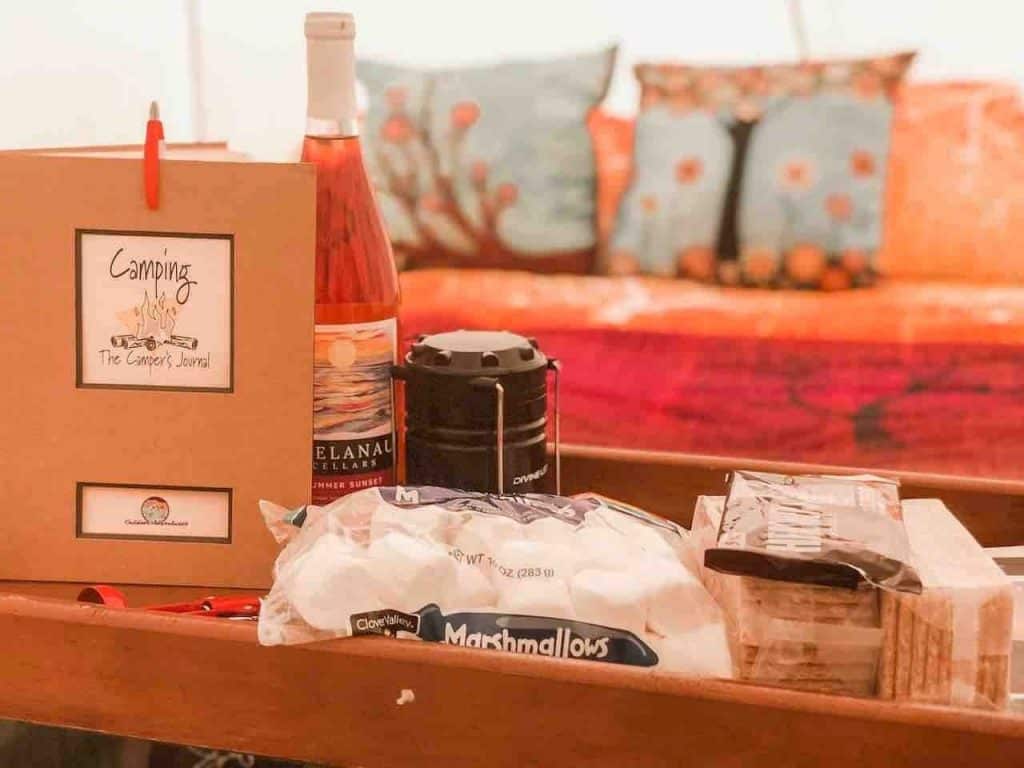 4. Cozy Camper in the North Woods
Williamsburg, Michigan
Sleeps: 4
Cozy Camper in the North Woods is an adorable red-and-white camper with a great location close to Traverse City and Elk Rapids. You will have 11 acres of private land to explore, close to state-run land with plenty of hiking trails and beaches. The camper itself is modern (2019) and has full electricity.
Your host can also offer yoga, meditation, and reiki sessions during your visit. What's not to love?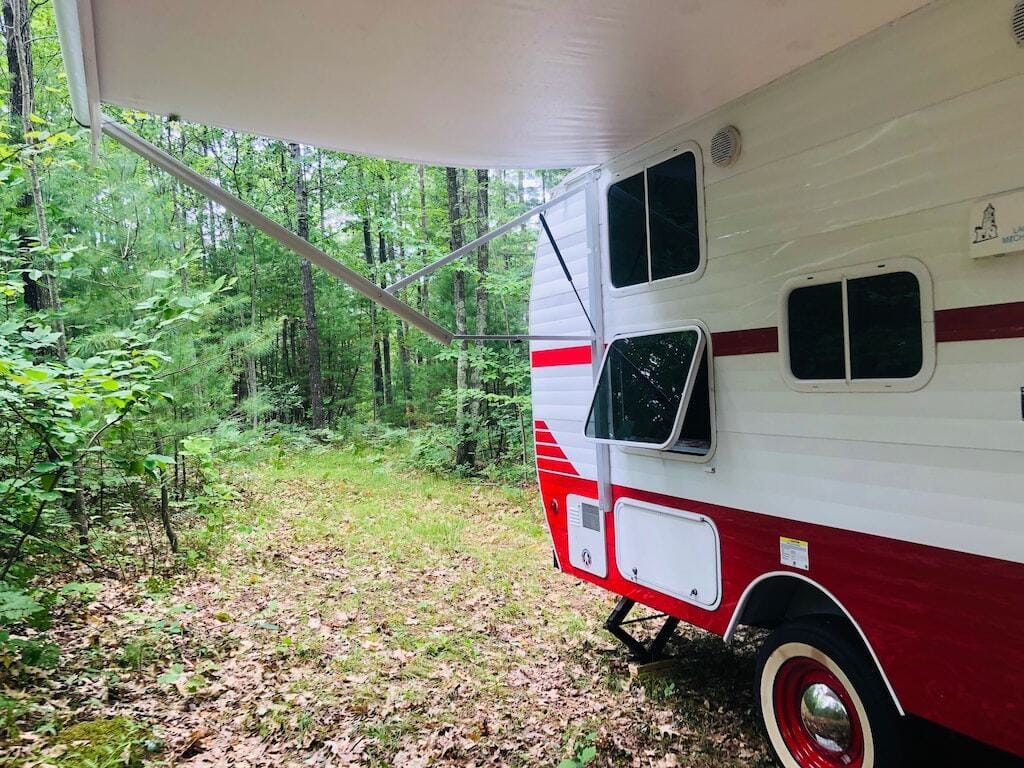 5. Lulabelle Glamour Tent
Fennville, Michigan
Sleeps: 3
Lulabelle Glamour Tent is an off-grid glamping tent set in a field, next to an apple orchard. It's close to Lake Michigan, Saugatuck, Douglass, and Holland. The tent itself has a comfy double bed, a floor mattress, a heater, and a chest of drawers. You also have access to a large shade tent, a fire pit with a wood bundle included in your stay, three gallons of clean water, a cooler, a propane grill, yoga mats, a composting toilet, and pretty much everything you will need for a romantic, secluded glamping getaway.
Related: 17 Michigan Lavender Fields to Visit This Summer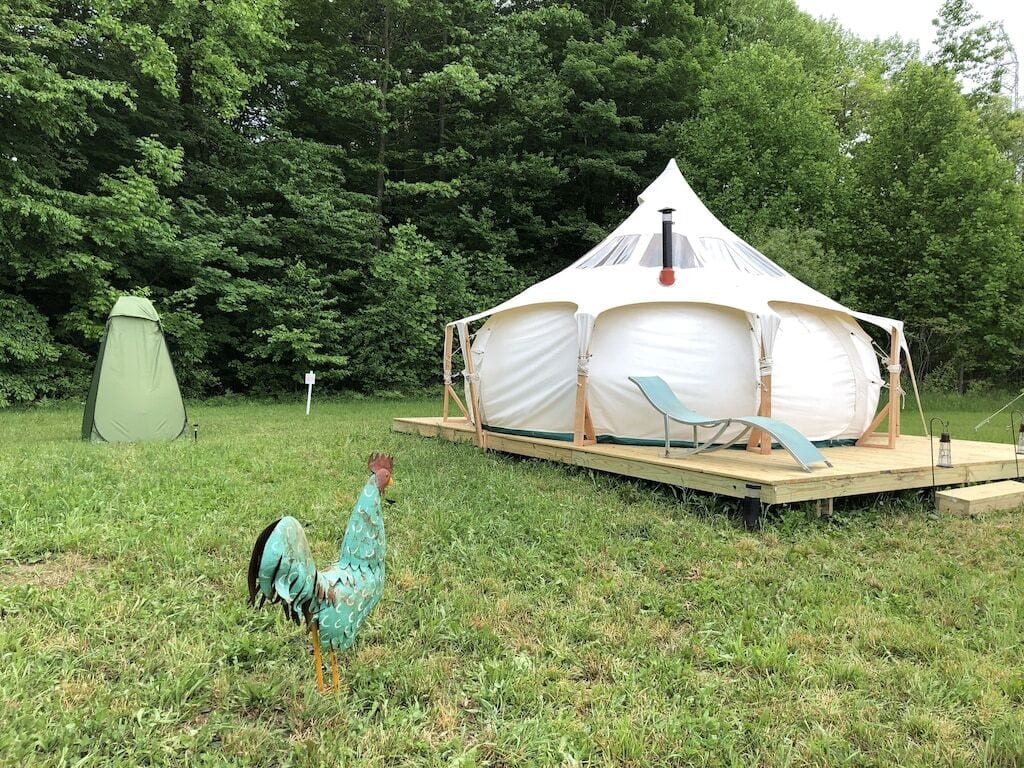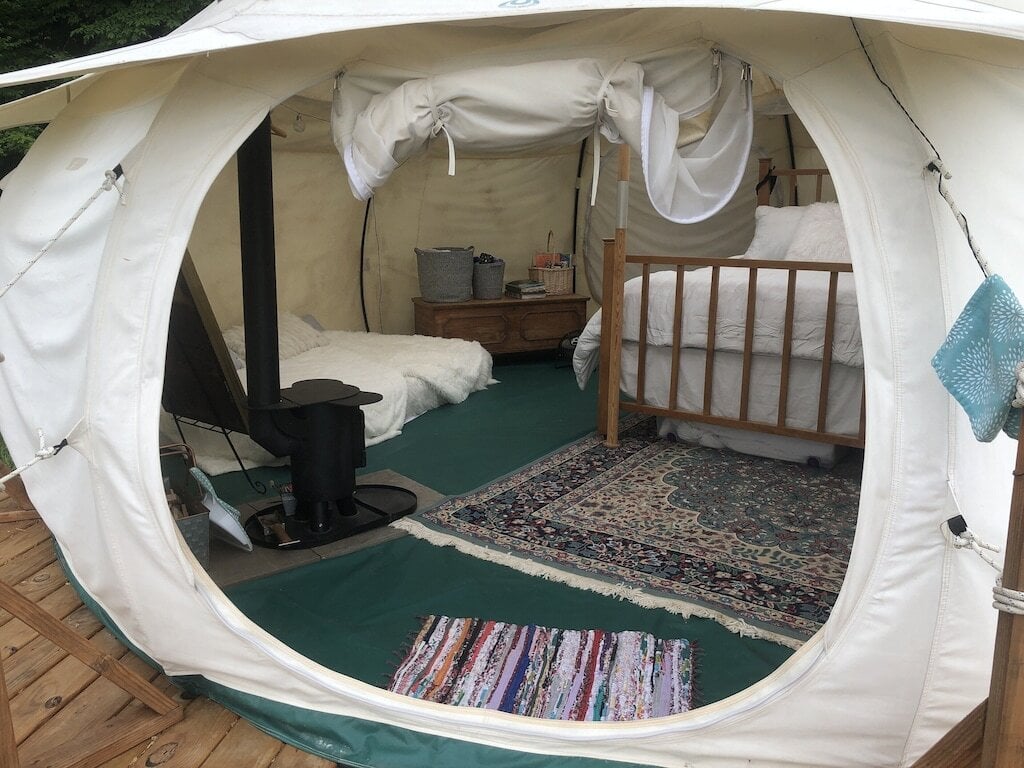 6. Uncle Ducky's Paddler's Village
Christmas, Michigan
Uncle Ducky's Paddler's Village lets you sleep in a well-fitted safari tent or yurt located right on Lake Superior. You'll wake up to stunning views of the lake and Grand Island, and spend your days lazing by the beach, kayaking through Pictured Rocks, exploring the cute cafes of Munising, or maybe grilling out by your yurt or safari tent.
7. Mount Bohemia
Lac La Belle, Michigan
It may be remote, but the UP's Keweenaw Peninsula is one of the most gorgeous places in Michigan. Here, you'll find Mount Bohemia, which is the ultimate glamping destination with yurts, cabins, camping, and more. There's even a Nordic Spa! It's especially great in the winter – as you'll be right in the shadow of Mount Bohemia (which has double black diamond runs) – which undoubtedly offers Michigan's best skiing.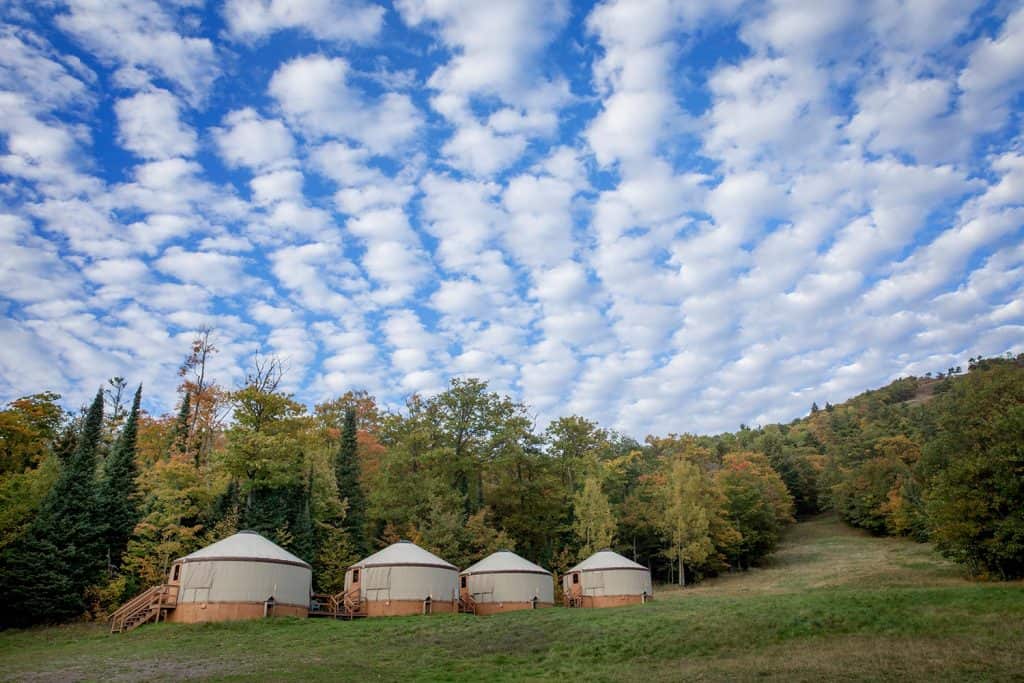 8. Tentrr Signature – Pine Meadows
Interlochen, Michigan
Sleeps: 2
Tentrr Signature Pine Meadows is located close to gorgeous Glen Arbor and Traverse City in northern Michigan. In addition to your spacious, pre-assembled, luxury tent on a wooden platform, you also have a fire pit, Adirondack chairs, outhouse, picnic table and beautiful private dock out to a lake.
Tentrr is a tent rental service that makes camping sooo much easier. Your tent is already set up and hosts provide lots of amenities, making this more glamping than camping. You don't need any special gear! It is kind of like Airbnb for camping. There are lots of other Tentrr glamping sites in Michigan in addition to this one.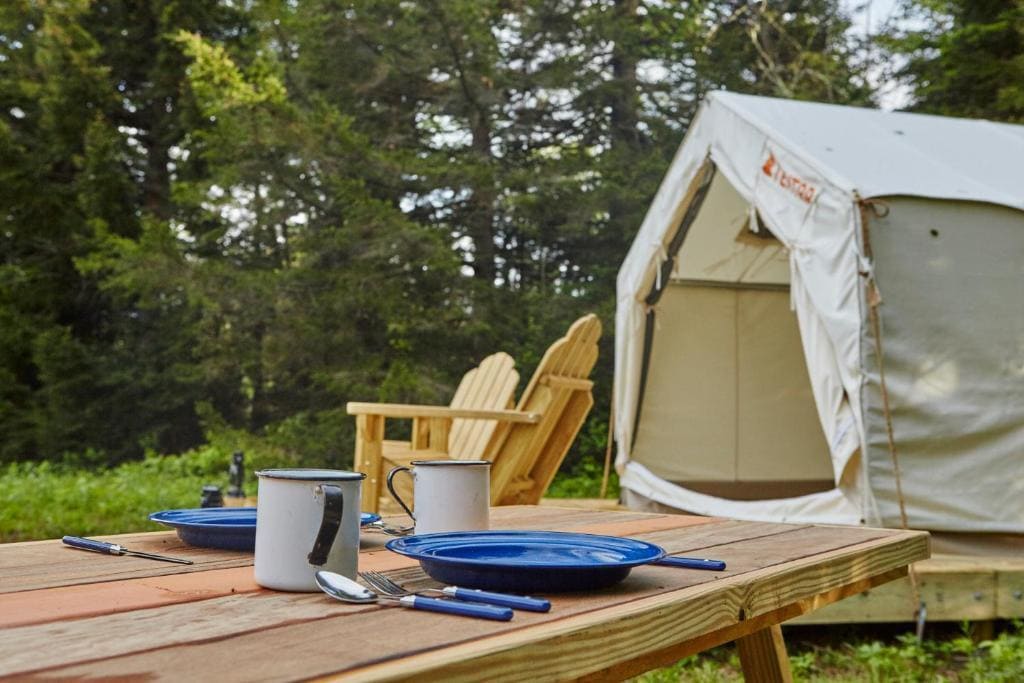 9. Wild Cherry Resort
Lake Leelanau, Michigan
Wild Cherry Resort has one of the best locations of any glamping site in Michigan. Choose from staying in a yurt, tent, cabin, or RV – either way, you'll find yourself tucked away in gorgeous woodland in the heart of Leelanau Peninsula. This means 24 wineries are on your doorstep, plus countless beaches, hiking trails, and small towns. And it's just a short drive to both Traverse City and Sleeping Bear Dunes National Lakeshore.
Related: 10 Best Old Mission Peninsula Wineries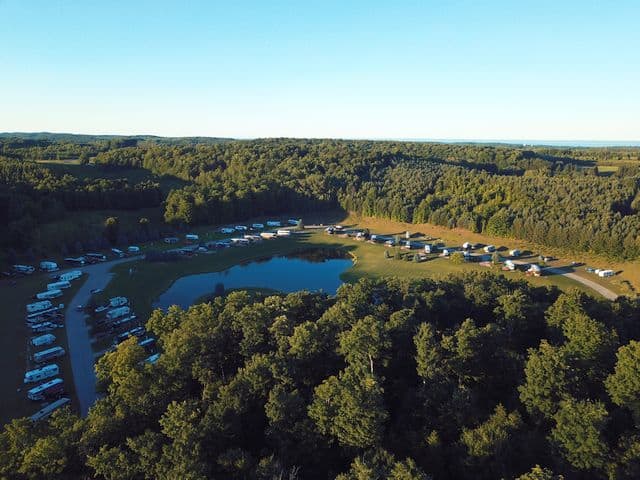 10. Luxury Yurt Near Marquette
Ishpeming, Michigan
Sleeps: 6
Looking to go glamping in the Upper Peninsula? Then the Luxury Yurt Near Marquette might be your perfect fit! The very spacious 1300 square foot, two story yurt includes a fully finished downstairs, a hot sauna, and a large deck perfect for grilling. It's nestled in farmland just over the hill from Marquette, with six breweries also close by.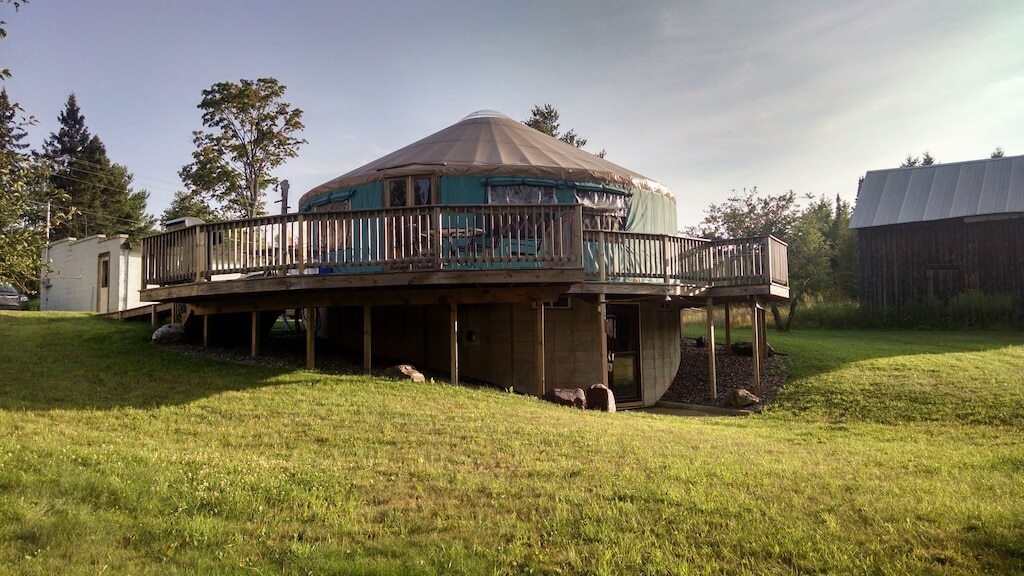 11. Mai Tiki Resort Lake Huron
Oscoda, Michigan
Head to the sugar sand beaches of Lake Huron for this glamping getaway at Mai Tiki Resort. You'll be sleeping in a colorful beach hut literally right on the beach itself, with panoramic views of the turquoise Great Lake waters. Enjoy volleyball, swimming, bonfires, BBQ grills, and even free movies shown on the beach.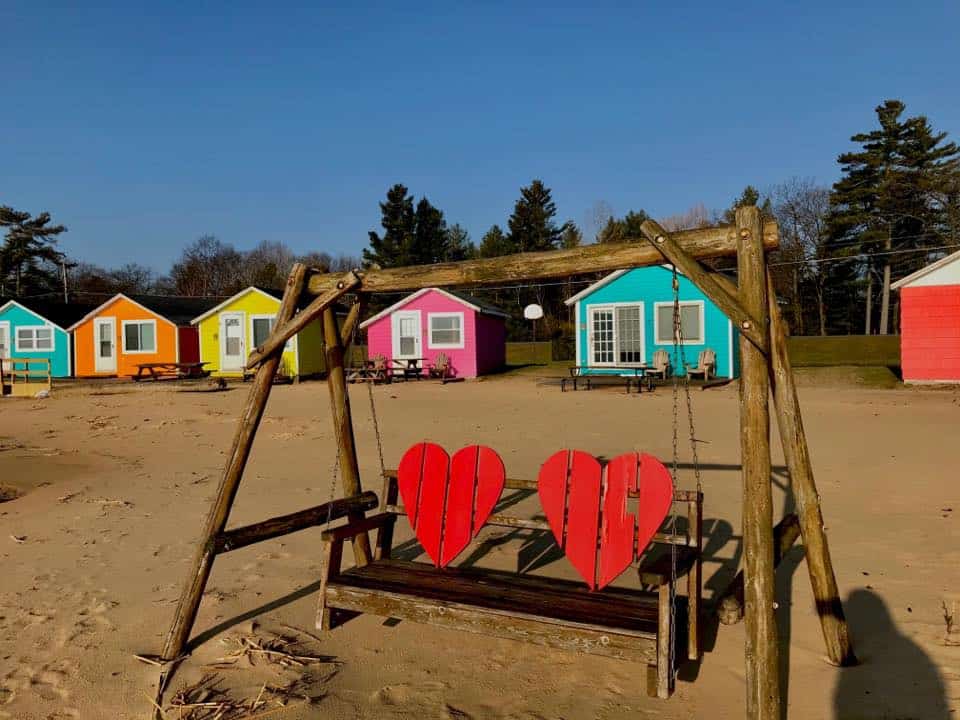 12. Outpost Treehouse
East LeRoy, Michigan
Sleeps: 2
The Outpost Treehouse is one of the very few treehouses in Michigan that you can stay in! Set in the pine trees, overlooking a gorgeous field, this is a perfect place to relax in nature with a bit of luxury. It's built in the style of a forest lookout, and sits on a 65-acre farm, so there will be plenty of wildlife to watch while you're here. Continental breakfast is even provided.
Related: 6 Adorable Charlevoix Mushroom Houses You Can Rent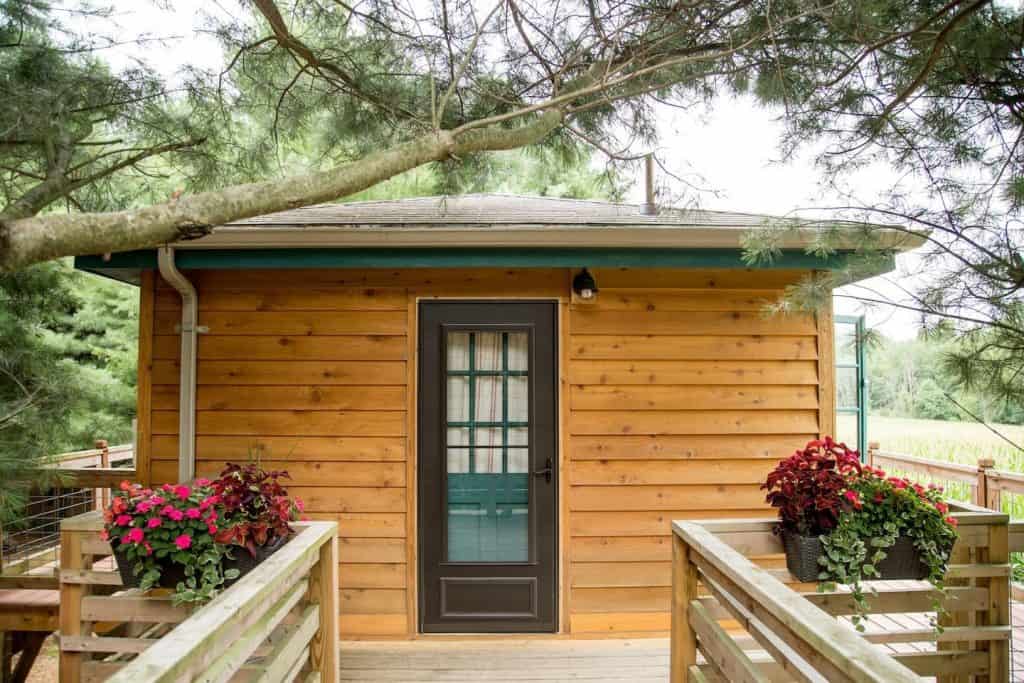 13. The Love Shack
Marquette, Michigan
Sleeps: 2
The Love Shack is maybe the most romantic and secluded place to go glamping in Michigan. The house itself is enclosed by glass, and sits on a 500 foot cliff directly overlooking Lake Superior. Think peaceful Milky Way views, an outdoor fire pit for s'mores, and just 20 miles from Marquette – the prefect getaway!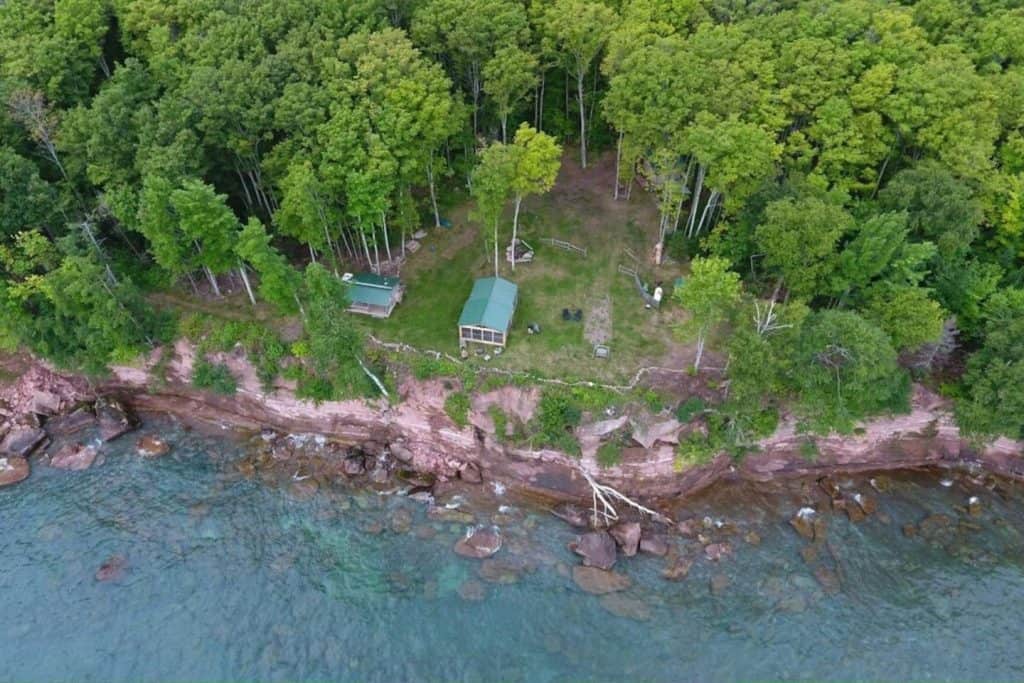 14. Classic Airstream in Houghton
Houghton, Michigan
Sleeps: 4
Nothing screams "glamping" more than the iconic silhouette of this classic silver Airsteam. This one is set in the RV park overlooking the beach in Houghton, Michigan (you can also ask to relocate within 250 miles of Houghton). It can accommodate up to four people thanks to its spacious interior.
It comes equipped with a blue ray player and surround sound, a full bathroom and shower, and even hammocks, a YETI cooler, a gas grill, and mountain bikes!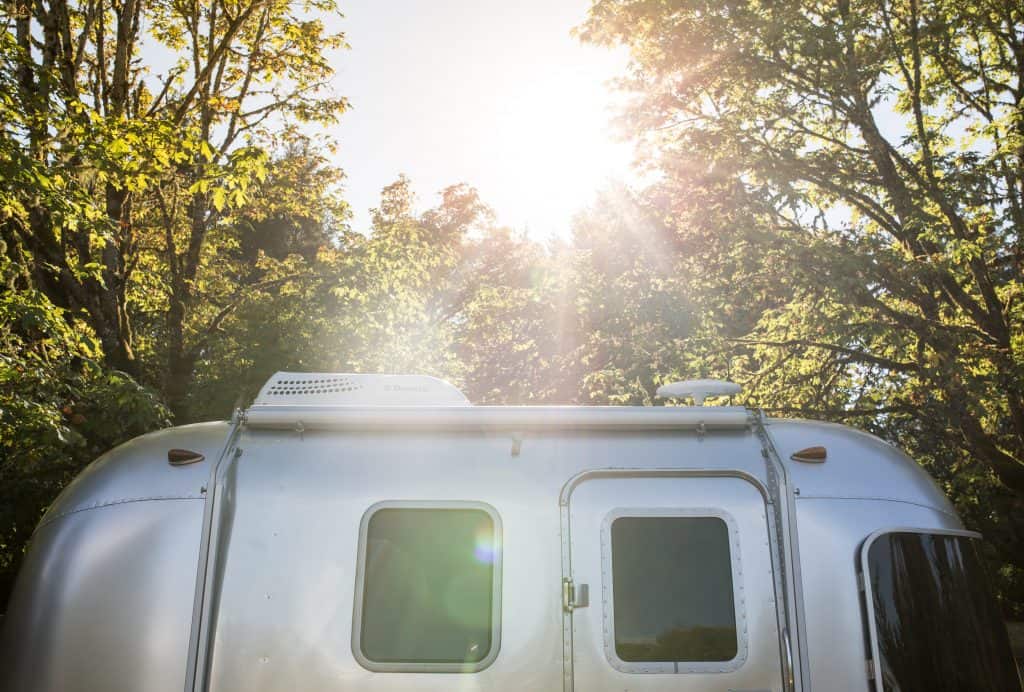 15. Creekside Glamp Camp
Niles, Michigan
Sleeps: 4
You'll absolutely fall in love with Creekside Glamp Camp – an 80-year old chicken coop, refurbished with vintage vibes to make the cutest glamping experience in Michigan. You'll have your own private fenced in garden, with a firepit perfect for s'mores, and bicycles to take for a spin. The barn-style doors slide open giving stunning views of the Dowagiac creek and your own private nature oasis.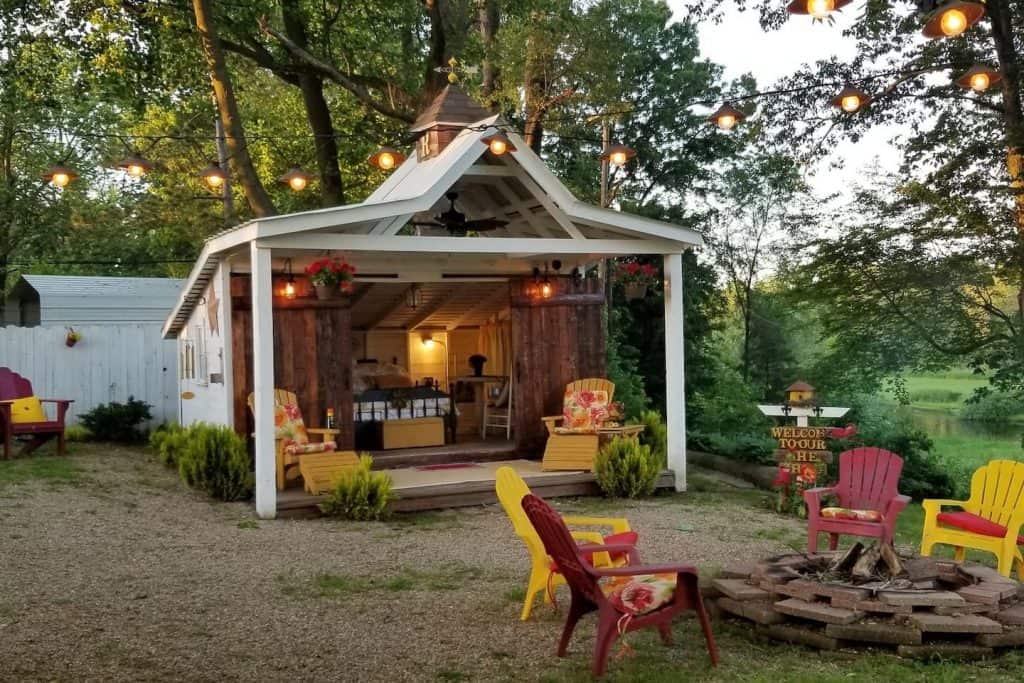 What to pack when you go glamping in Michigan
Obviously a perk of glamping is you don't have to pack a tent and all the technical items that go along with classic camping!
Still, pack carefully so you're not disappointed (many of these places are quite remote!). Here are a few things you should be sure to pack to have the most pleasant time: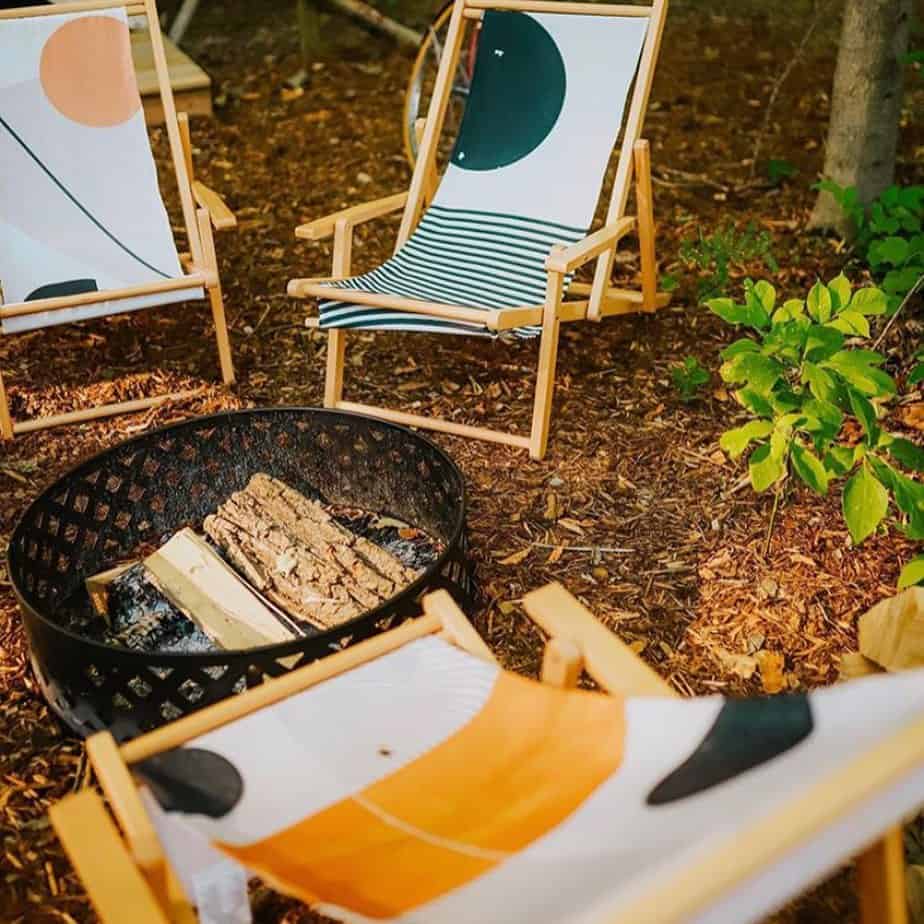 What do you think? Are you ready to cozy up at one of Michigan's top glamping sites? You'll get the perfect mix of outdoor vibes and comfort at any of these sites.
The only question now is… which one do you choose?
Want to see more Michigan blog posts?
19 Tiny Houses in Michigan You Can Stay in on Your Next Vacation
6 Adorable Charlevoix Mushroom Houses You Can Rent
10 Best Old Mission Peninsula Wineries 
12 Best Coffee Shops in Grand Rapids, Michigan
I've got you covered when it comes to Michigan travel! You can browse through ALL my Michigan blog posts here!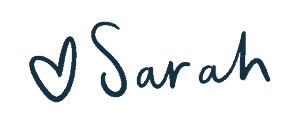 Pin it for later…