Everyone loves a good Amazon deal, and carry-on bag filled with Amazon travel accessories is testament to that. Truthfully, I try to shop at small businesses whenever I can. But man, does Amazon have its benefits when it comes to travel accessories. From amazing prices, free shipping, and unique travel items, no place can beat Amazon when it comes to these travel items.
Below I'm sharing my top 25 Amazon travel accessories… no, not the "top selling" items or a rehashing of other lists on the internet. I own all these items myself and take them on my travels (minus #18, which has been on my own wish list for a while!). That's why I've recommended specific brands… I actually went back through my purchase history to pull up the exact items for you. So peruse my travel favorites, and start your own wish list!
TIP: You can sign up for the handy free trial of Amazon Prime to take advantage of better sales.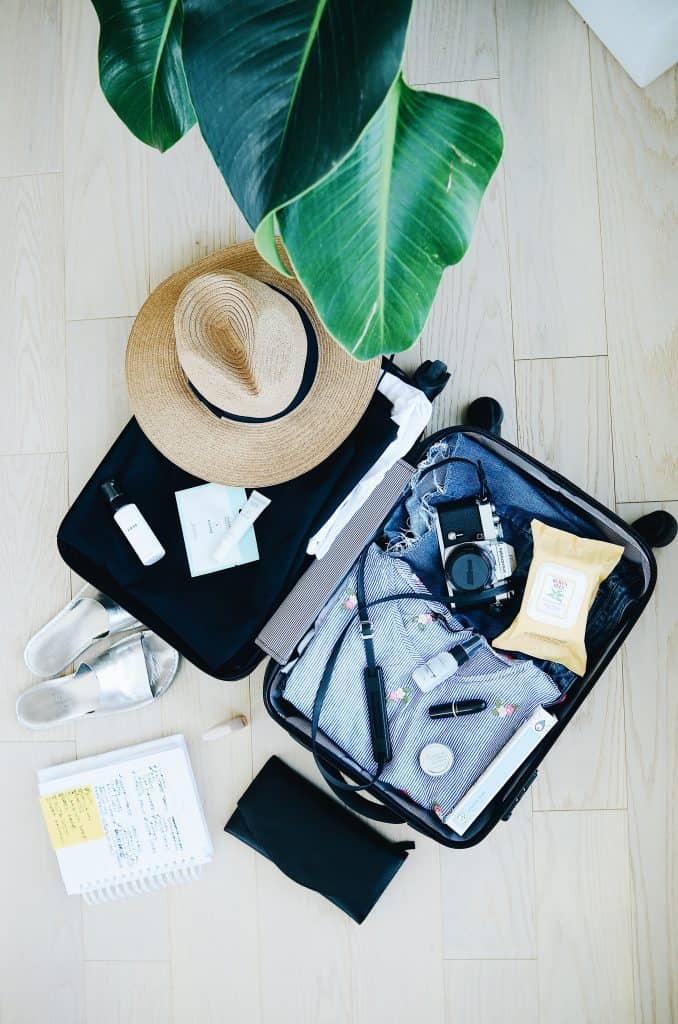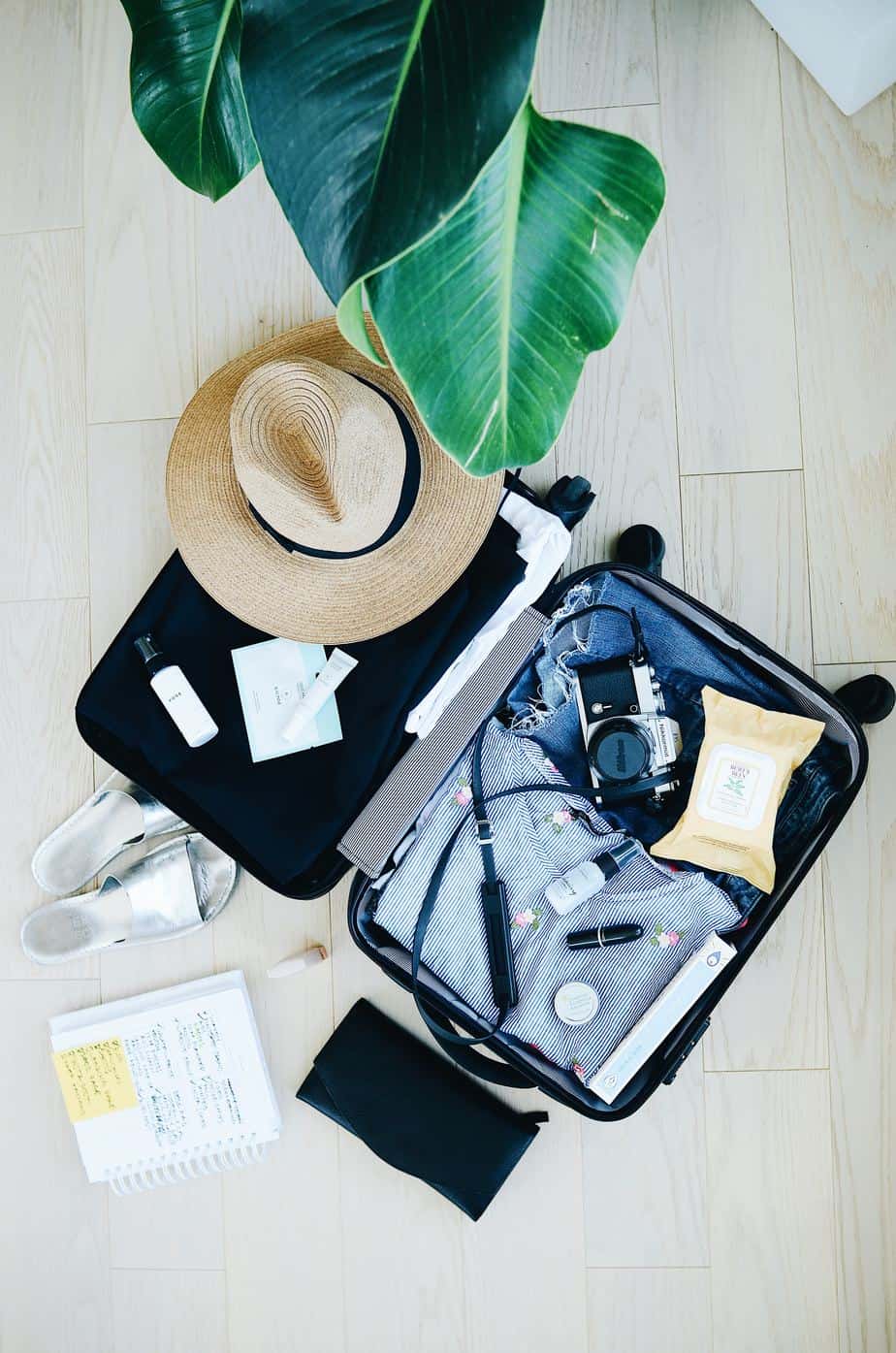 25 Best Amazon Travel Accessories
1. 5-Piece Travelwise Packing Cubes
I was late jumping on the packing cubes bandwagon, but man did they make life easier on my recent trek in Nepal! I used this exact 5-piece Travelwise packing cube set. It is the perfect combination of sizes and they are very durable. I don't use packing cubes for every trip, but they are beyond useful on trips to multiple climates or outdoor adventures!
2. Trtl Travel Pillow
Frequent travelers may have seen this cult-classic neck pillow before. It's ergonomically designed to support your head leaning to one side. I finally purchased one and I can personally vouch that this will change your life on long haul flights! Plus it is thin and can easily clasp to the outside of a backpack. I will never travel without my Trtl Neck Pillow again, and highly recommend buying one yourself!
3. TSA Approved Toiletry Bag
This TSA approved toiletry bag makes packing carry-on liquids so much easier. It is 1-quart and is approved by TSA to go through security – basically the volume is the same as the classic plastic bags, but its cube design makes it much easier to fit in bottles and tubes. I feel like I can carry on twice as many liquids! Plus, it is durable and has a handle on top.
4. OLESILK Sleep Eye Mask
This OLESILK sleep eye mask was a very small investment that had a big impact on my travels. If you ever struggle to fall asleep on planes, buses, or hostels, then this is one of the Amazon travel accessories that you should purchase. Plus, it's super soft, eco-friendly, and comes with ear plugs!
5. Alora Pill Vitamin Case
This Alora pill vitamin case is the exact case I've been using on my travels for years – and I'm always recommending it to people! Inside it has a compartment for each day of the week, plus an extra compartment. The case itself is durable, and has a zip pocket on the outside. It is the perfect combination of compact and spacious. I bring it on all my travels.
6. Natural Vitality Magnesium Powder
Speaking of supplements and vitamins, I highly recommend all travelers take this Natural Vitality magnesium powder. Most people are deficient in magnesium, which is especially important for travelers as it reduces stress, promotes relaxation, and regulates bowel movements (all things that suffer when we're on the road…). I've tried many brands and Natural Vitality is my favorite. Plus it's very affordable and is easily purchased on Amazon! It comes in bulk so I just take a small tupperware of it when I travel.
7. TSA-Approved Padlock
This one is simple but definitely an essential among Amazon travel accessories. I always travel with at least two TSA-approved padlocks. They are useful for locking up your belongings in hostels or luggage storage. I also sometimes just keep one on the outside of my backpack or luggage to deter potential thieves. I recommend using one where you make your own code, as keys can easily be lost.
8. Wrightsock Coolmesh Trekking Socks
Whether you are going on a trek or not, I recommend Wrightsock coolmesh socks – my absolute favorite socks for travel! They have a unique double layer which helps prevent blisters.
9. Dr. Frederick's Blister Bandages
On the topic of blisters (the topic of many travelers' nightmares), be sure to pack your bag with some high quality blister bandages. I recommend these hydrocolloid Dr. Frederick's blister bandages, which have saved my feet many a time.
10. Universal Travel Adaptor
Many travelers forget about travel adaptors – one of the most overlooked of Amazon travel accessories! This universal travel adaptor has lifetime warranty and will cover you in 160 countries. 
11. PowerGear Rechargeable Portable Battery
Don't go traveling without a portable battery charger – you don't want to get stranded with a dead phone, trust me! With so many options on the market, take my advice for the PowerGear rechargeable battery. I personally use this one and love it – it's lightweight, compact, can charge three devices at once, and holds a ton of charge.
12. Berkey Sport Filter Water Bottle
If you aren't traveling with a filter water bottle, this is your wakeup call. I've already proclaimed my love of filter water bottles for travel in this post. My favorite brand, which I purchased via Amazon myself, is the Berkey sport filter water bottle. It filters out 97% of viruses and toxins. It helped me drink tap water in Nepal without getting sick, and from sketchy sources anywhere from Portuguese outhouses to airport bathrooms in Ukraine!
Related: The Best Travel Filter Water Bottle (& Why You Need One!)
13. Organicup Menstrual Cup
For menstruating travelers, period cups are the answer. They are super convenient during travel, as many countries do not sell tampons or pads. So if you want to avoid packing a suitcase of tampons (and want to be zero-waste while you're at it), I recommend OrganiCup's menstrual cup. Very affordable and this brand in particular is eco-friendly!
14. ProBar Bolt Organic Energy Chews
I discovered ProBar Bolt organic energy chews a few months ago and they are now a staple on hikes, treks, and long travel days! Naturally gluten free, they are packed with antioxidants and B-vitamins. You can buy a single pack or a set… I recommend the set as these things are just so good!
15. Kindle Paperwhite
The benefits of Kindle e-readers for travel are pretty obvious. They're lightweight and let you pack as many books as you want without weighing down your bag. The best Kindle for travel, in my opinion, is the Kindle Paperwhite, which I personally use. It's even waterproof and has 2x the storage of previous models. The battery life also lasts ages!
Related: How to Read More On the Go
16. Canon EOS M6
One of the best Amazon travel accessories? A camera of course! I bought my own camera on Amazon and can personally vouch for their reliability. After tons of research, I purchased, and recommend, the Canon EOS M6 camera for travel. As a mirrorless camera, it is extremely lightweight but still has the capabilities of a DSLR. 
17. Fujifilm Instax Mini 9 Instant Camera
Looking for a travel camera but not quite ready to commit to a mirrorless camera? For something fun, why not try an Instax camera. I wrote about why I love traveling with Instax and polaroid cameras in this post. The best instant camera for travel is the Fujifilm Instax Mini 9. 
Related: Why You Should Take a Travel Polaroid Camera on Your Next Trip 
18. FOREO LUNA Portable Facial Cleansing Brush
Travel can be rough on our skin, so it's important to make sure you're cleansing all the dirt, grime, and oil away. If you want a deeper clean, I love the FOREO LUNA portable facial cleansing brush. FOREO has multiple different styles, but this one is the best for travel due to its small size and long battery life!
19. Mountain Warehouse MicroFiber Towel
A fast dry towel for travel is definitely worth investing in. I have used the Mountain Warehouse microfiber towel (in size large) for six years now! I can verify it does dry extremely fast, it's compact, and obviously it lasts a long time. You can also purchase it in size medium. 
20. Vacuum Storage Bags
If you're on the opposite end of the spectrum from carry-on travel, you're going to love vacuum storage bags. These things suck the air out of the bag so you can pack triple the amount of clothes. I love these for huge trips, moving abroad, or packing for longterm travel or differing climates. 
21. Bose Noise Canceling Headphones
Noise canceling headphones are a must have for travel – honestly sometimes I even use mine as earplugs as they are so much more effective! I love Bose's noise canceling headphones for their comfort and quality.
22. Nuun Electrolyte Tablets
For long travel days or active travel adventures, you'll want to replenish your electrolytes (not to mention if you unfortunately fall victim to "Bali Belly" or "Montezuma's Revenge"…catch my drift?). My favorite clean and gluten free brand is Nuun electrolyte tablets. They come in a huge variety of flavors so pick your favorite! Plus, their tube packaging is so small and ideal for travel.
23. Homesick Scented Candles
For the traveler who's not currently traveling, one of the best Amazon travel accessories is a scented candle by Homesick! They design candles with scents relating to specific locations. Longing for home? Or the beach? Or a childhood vacation spot? Just pick the country, state, or city of your choice!
24. Leminimo Passport Holder
Passport holders add a special touch, not to mention protecting your most precious belonging. This Leminimo passport holder is minimalist and elegant.
25. Resistance Bands Set
A sneaky tip for keeping fit during travel? Buy a pack of resistance bands from Amazon! These guys are so small and travel well, and you can pull them out anywhere in the world for a quick and fun workout session.
Shop my favorite Amazon travel accessories…
[amazon_link asins='B01AVDVHTI,B079T324L1,B06WP2GZY7,B077BQ6KZ7,B07CXG6C9W,B00B97A4FO,B06XTP34DD,B00HHBR008,B00LB7REFK,B07C7Y8QSW' template='ProductCarousel' store='sarahbence06-20′ marketplace='US' link_id='d42c1c50-a697-4a49-8d94-bc7e4ebe6748′]
Happy Amazon shopping, friends! Remember, you can use a free trial of Amazon Prime to score even better deals if you aren't already a member. 
Sarah xx
Pin it for later…
*This post contains affiliate links. If you click on a link and make a purchase I may make a small commission, at no extra cost to you. Thank you for supporting Endless Distances!