I have big news, everyone. I got all my Christmas shopping done before December 1st this year. I know, right? No, I'm not a super organized person (ha!). What I do have to thank for this feat is a little coastal town in Northern Michigan: Traverse City. I've loved Traverse City for years, from childhood visits to my cousin's destination wedding a few years ago, but always viewed it as a summer town. What I discovered during my most recent visit, though, is that the Traverse City shopping scene is another reason to love this town.
And when I talk about Traverse City shopping, I don't mean department stores or commercialized malls. I mean small businesses, boutiques, and a focus on local and sustainably made products. For anyone else trying to shop more locally and ethically this year, Traverse City is your personal fairy tale! I was so excited to bring Dan to this northern Michigan gem, introduce him to the snow (yep, we get snow even in November!), and do some Traverse City shopping! For anyone else heading up north this season, here is my Traverse City shopping guide for the holidays.
Traverse City Shopping Holiday Events
Even beyond the shops themselves, there are some wonderful holiday events in Traverse City this season! Unfortunately a few have passed, but there are many more on the schedule for December.
Traverse City Shopping: The Lay of the Land
In my experience, there are three main destinations for Traverse City shopping. These include:
Front Street: the downtown street that runs parallel to Lake Michigan's shore. This street is so fun to stroll down… it's full of twinkling lights, window displays, and Traverse City's most well-known boutiques and restaurants.
Warehouse MRKT: near the Western side of Front Street. This area is edgy and hip but also a great for holiday shopping.
Village at Grand Traverse Commons: This is a collection of shops built in a former mental hospital from 1884, surrounded by a gorgeous arboretum.
Below I'll go through each of these three areas, including my favorite shops from each!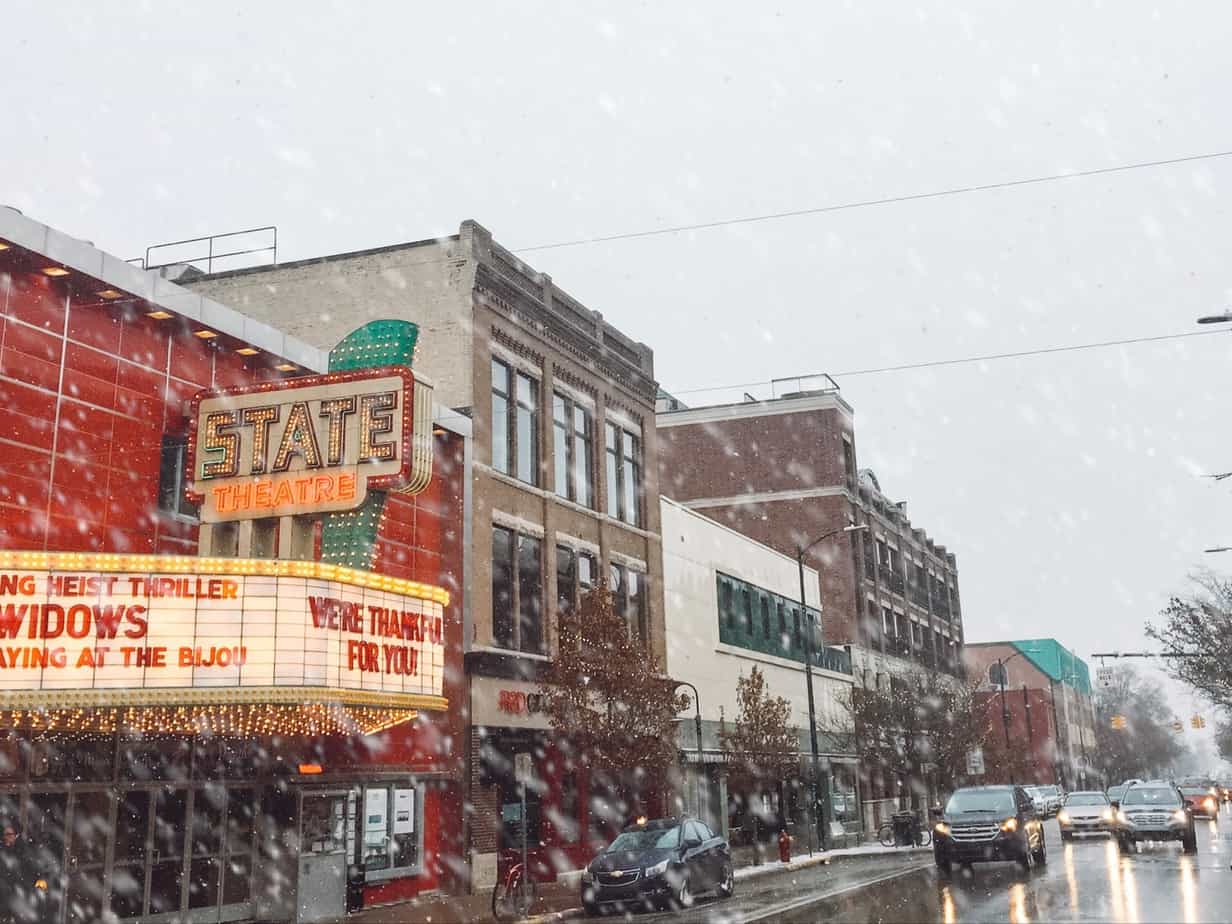 Front Street
Definitely carve out an afternoon or evening for Traverse City shopping along Front Street. In fact, Dan and I spent an entire day just doing one side of Front Street, and had to return the next day for the other side! We really savored our time, wandering into each shop, meandering the aisles, smelling the candles, sampling the treats, and more. There is metered parking along Front Street and adjacent roads, and it's free after 6pm! Here is a selection of our favorite Front Street Shops…
Taproot Cider House
Alright, Taproot isn't a shop per se, but I wouldn't be me if I didn't stop for food first. Taproot is a cider bar and restaurant, with a huge variety of gluten free items. Even better, they are serving up $2 hot local Michigan cider for holiday shoppers!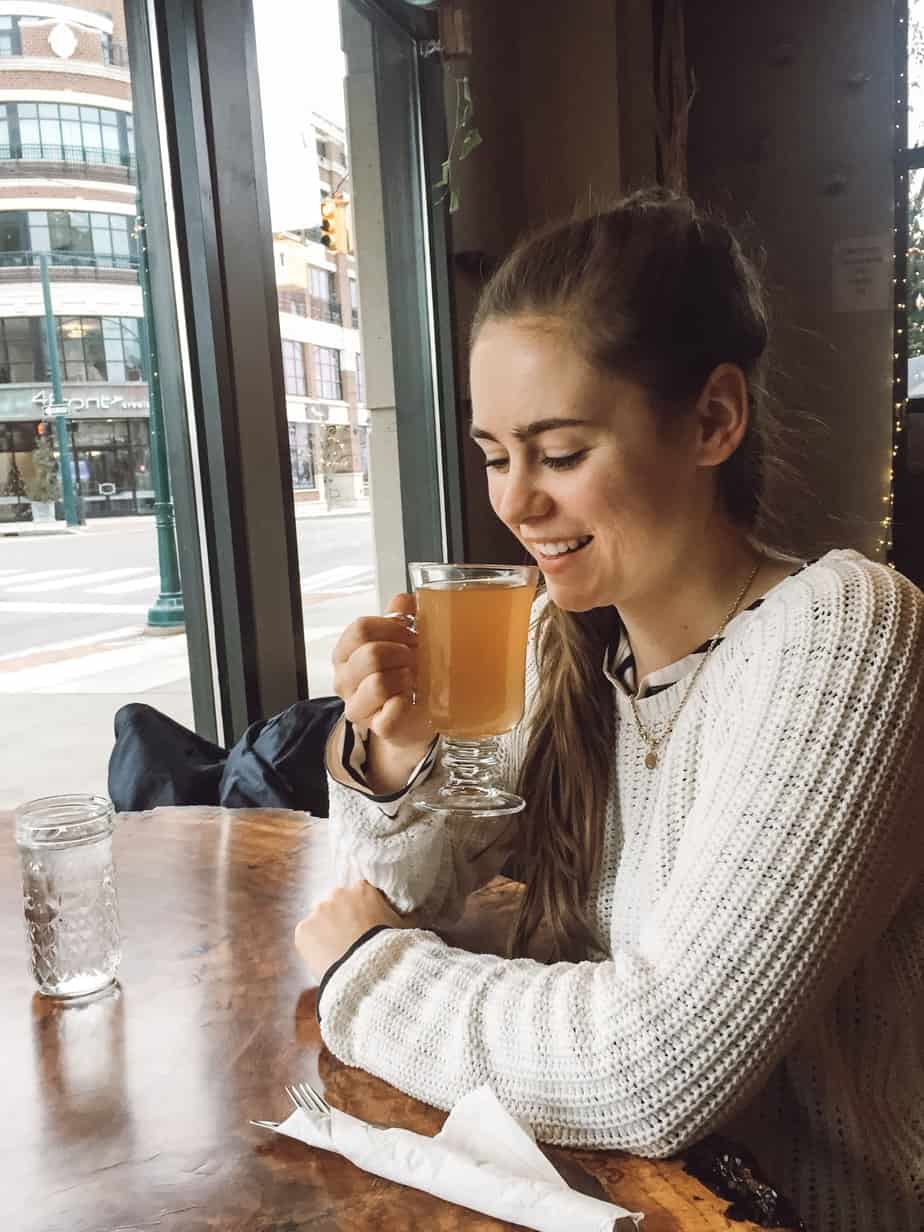 Cali's Wardrobe & Home
If I could live in Cali's I would. Think Natalie Portman in 'Where the Heart Is' (that movie where she lives in a Walmart for six weeks), except way more chic and probably a lot harder to go unnoticed…. Can you tell I've thought about this more than I should've? Annnnnywho, in Cali's you'll find women's clothing on the ground floor, and home ware on the top floor. Everything is beautifully curated.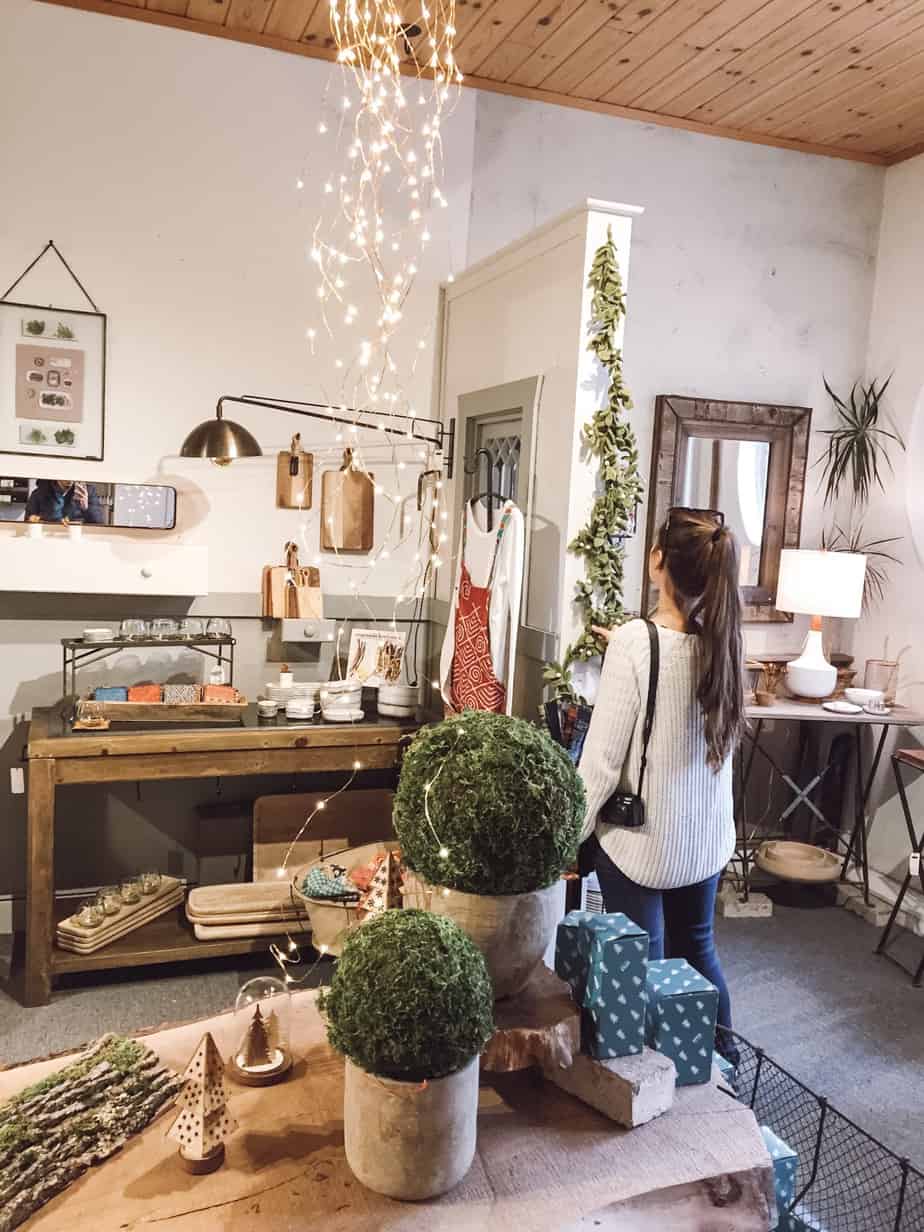 Cherry Republic
A personal favorite of Dan and mine (and where the majority of our holiday shopping was done), is Cherry Republic. Traverse City is famous as a cherry producing region, and Cherry Republic prides itself on producing all cherry-related products! What's more is that you can try dozens of samples (and no the staff won't openly judge you when you go back for your fifth cherry salsa sample *ahem*), and there is even complimentary wine tasting.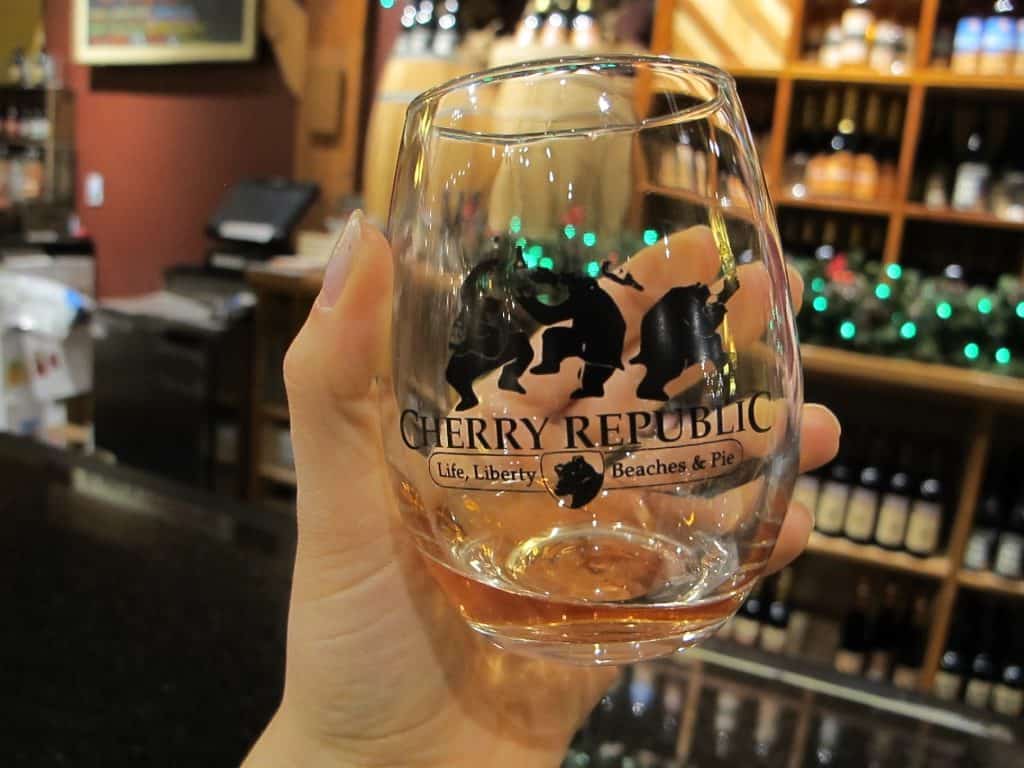 Great Lakes Bath & Body
Great Lakes Bath & Body is like a black hole of soap sniffing, and I mean that in the best way possible. We spent about forty minutes doing rounds of the shop, smelling each soap, bath bomb, bath salts, and more. The scents are all inspired by northern Michigan, and you can even see the staff creating the products in their open workshop. We both snatched up some soap and bath bombs as Christmas presents here.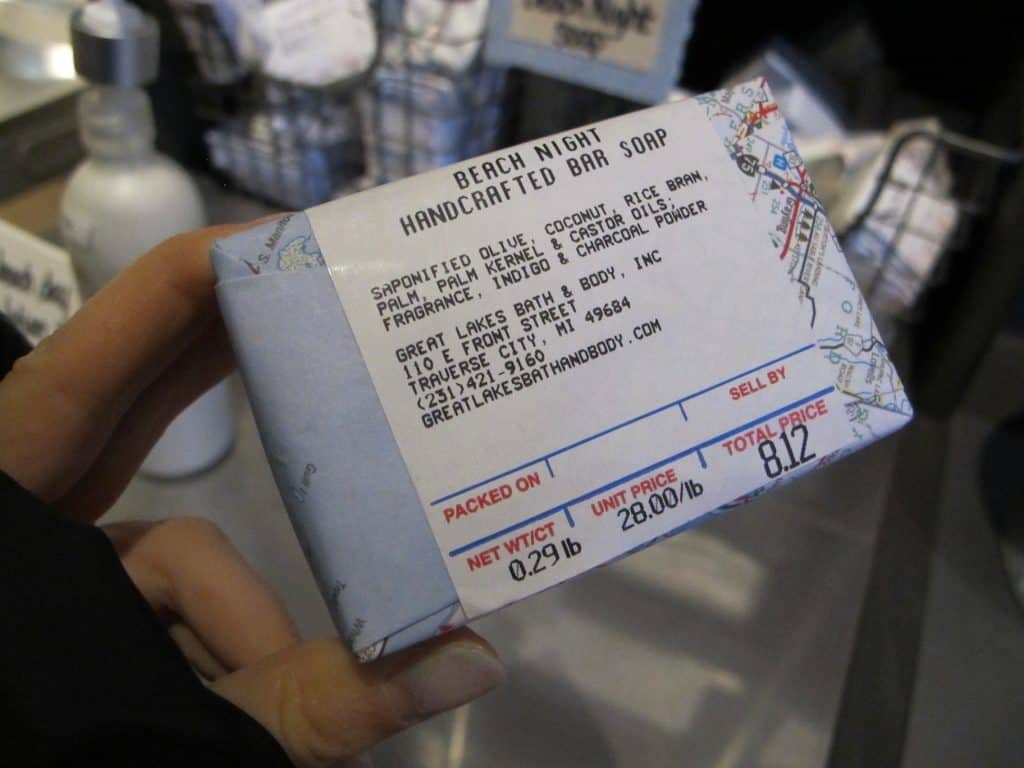 Brilliant Books
I have a soft spot in my heart for local bookstores. The fight against Amazon is real y'all, and we should all be supporting brick and mortar bookstores with our holiday spending (in my opinion). I particularly love Brilliant Books (where I actually did a poetry reading way back in 2013). It has a homey atmosphere and the staff are so friendly and helpful.
M22
M22 is a northern Michigan brand that uses the name of a local scenic highway to inspire its products. The shop offers clothes and gear aimed at leading a more adventurous, outdoor life. I love that they even have 'micro adventure' cards that help you explore the local area. I ended up getting Dan an M22 shirt for his birthday which was last week! He loved it and even wore it on the plane home. This holiday season M22 is donating a shirt to a Michigan family in need for every shirt that is bought (online or in store!).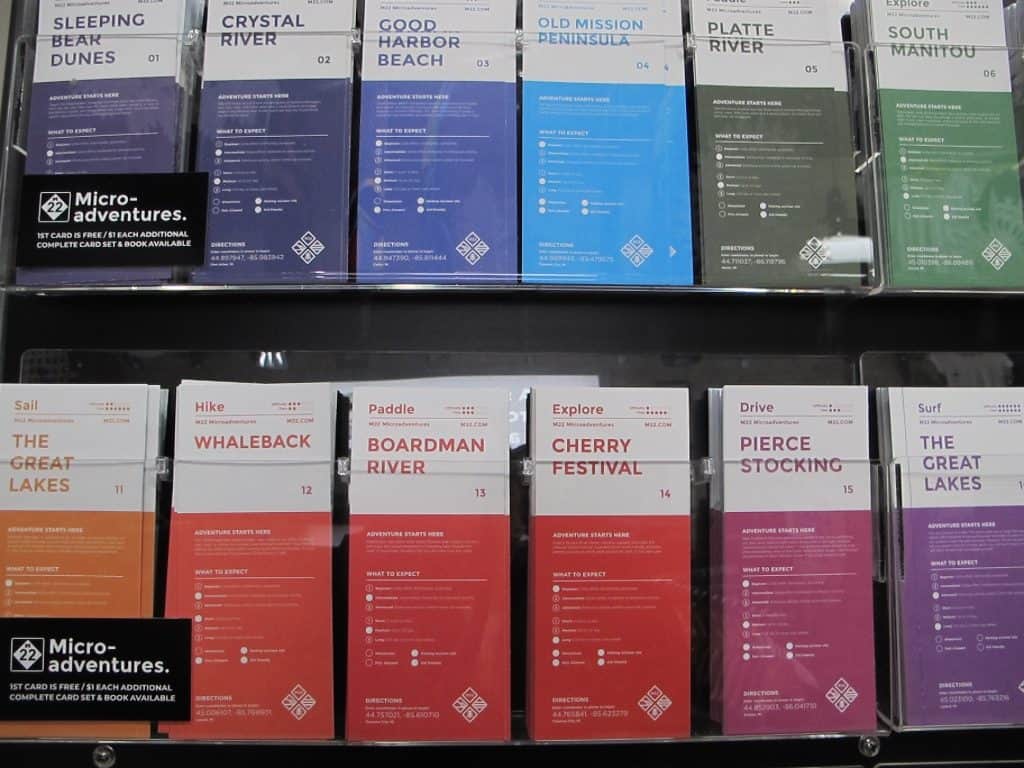 Fustini's Oils and Vinegars
If you enjoyed the samples at Cherry Republic, then you should also make a stop at Fustini's Oils and Vinegars. Here, the walls are lined with different flavored and infused oils and vinegars. You can buy sizes ranging from stocking stuffers to massive bottles. Our personal favorite was the cherry vinegar.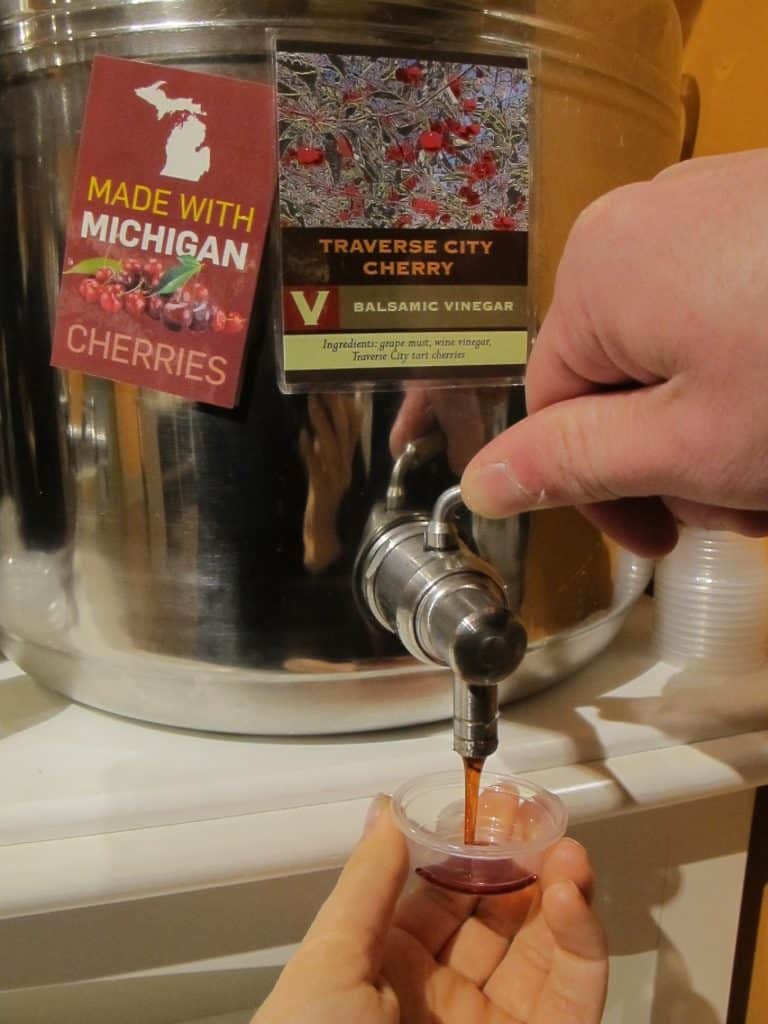 State Theatre
Finally, finish up your holiday shopping with a movie at the old fashioned State Theatre. With its flashing bulbs and signage, the State Theatre is an unmissable center-point of Front Street. Every Wednesday, there is a 25 cent Classic Movie program…during the holidays they are showing classics such as The Miracle on 24th Street, Holiday, and more!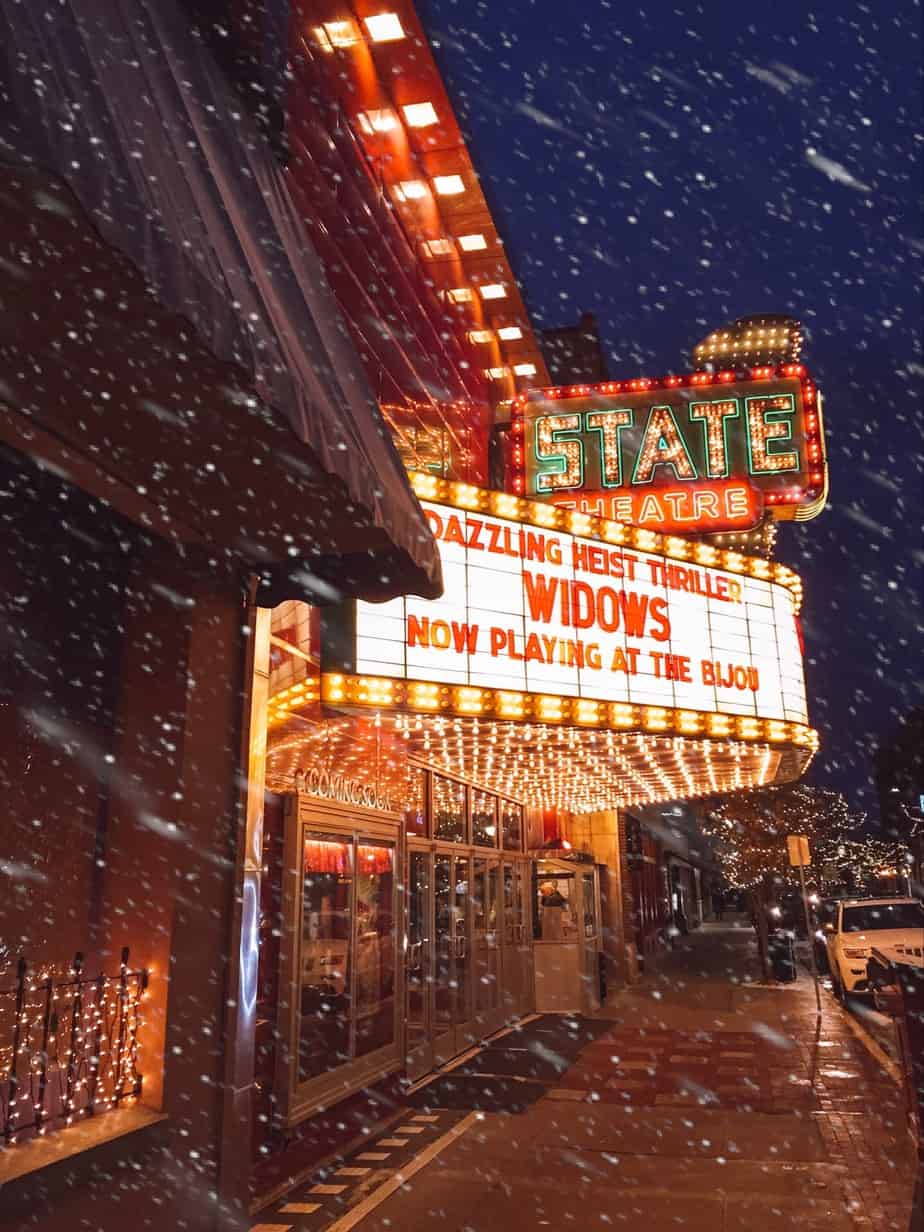 Some other favorites along Front Street were Yen Yoga & Fitness (where you can participate in their giving tree for the Women's Resource Center), Running Fit (I always buy energy gels as stocking stuffers!), Daisy Jane (a gorgeous women's clothing boutique), Suhm Thing (full of knick knacks and Michigan wares), American Spoon (for jams, jellies, salsas and more made from Michigan produce), Espresso Bay (for locally roasted coffee beans), My Secret Stash (for art and products made by over 100 Michigan makers), and more.
Warehouse MRKT
When it gets too cold to wander Front Street, head to Warehouse MRKT. This is a shopping area in a (yes) literal warehouse. The whole place has an edgy and industrial feel to it, and each business is locally owned. Oh, and if you're looking for an instagram-friendly environment, this is your place. You can easily walk to Warehouse MRKT from Front Street. However, there is also metered parking nearby. There are nine businesses in Warehouse MRKT (and you should explore them all), but here is a selection…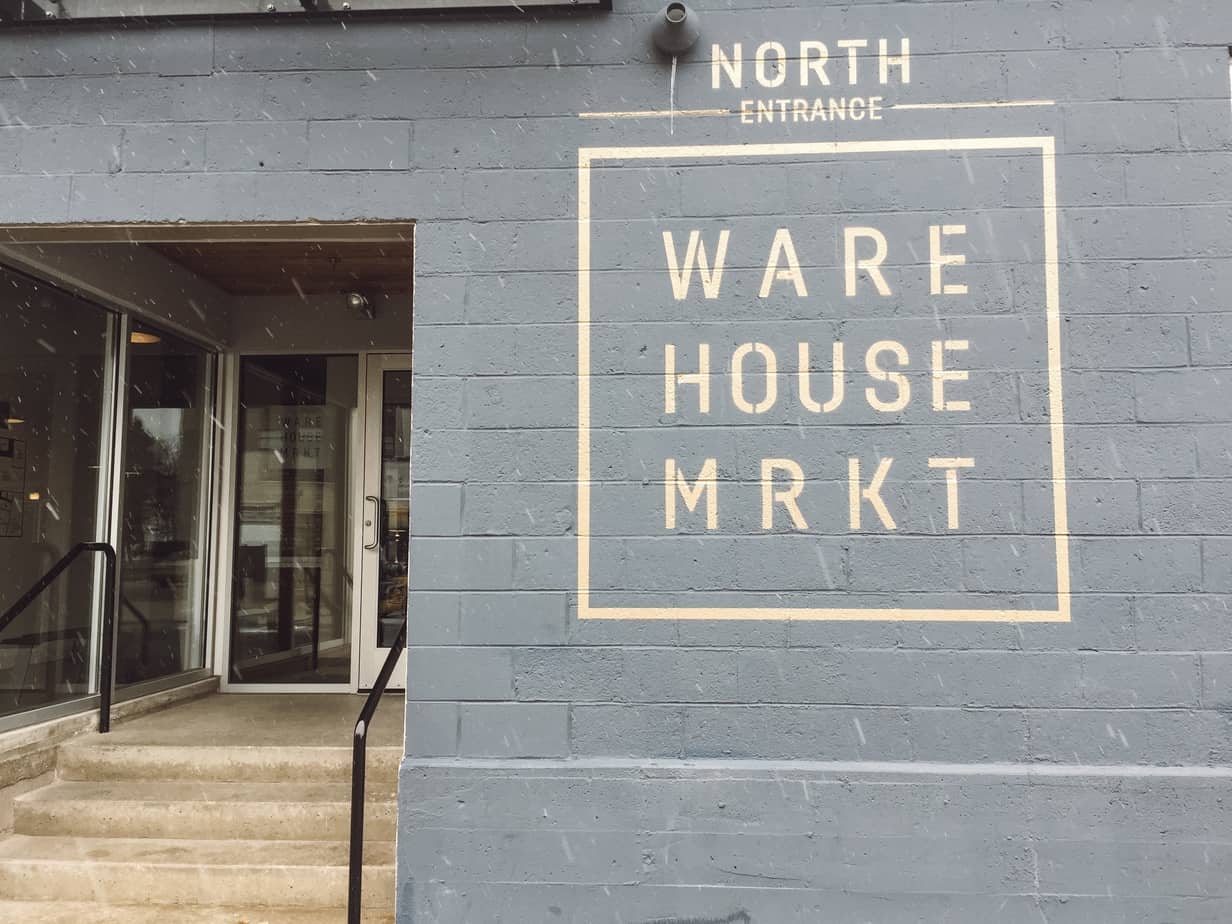 BLK\MRKT
Sip an espresso or cappuccino in the minimalist and uber insta-friendly BLK\MRKT. I loved just soaking up the atmosphere in this gorgeous coffee shop. They mostly serve light roasted coffee, and have some merchandise such as chemex and more that you can pick up for the coffee lover on your Christmas list.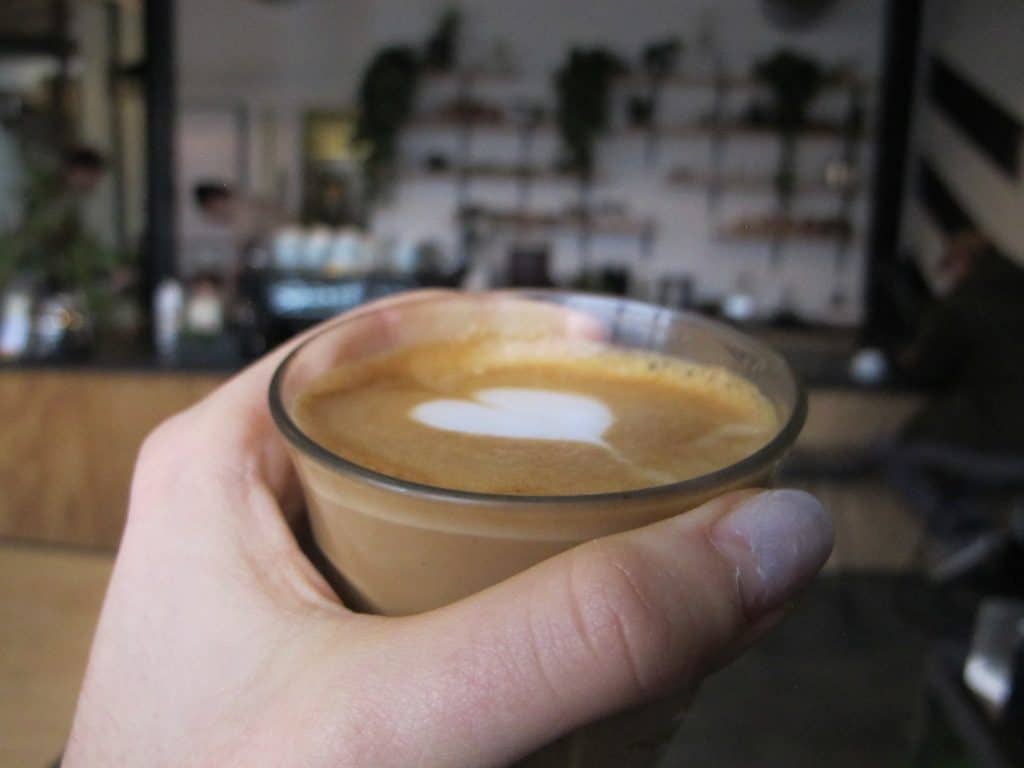 Wood + Cloth
Wood + Cloth is another homewares shop that is on par with Cali's in my I Want To Secretly Live Here list. I loved perusing the prints, textiles, and kitchen-ware, as well as the boutique skincare and bath products. This would be a great place to shop for a new homeowner, or someone who appreciates quality products such as shaving soap sets or handmade pottery.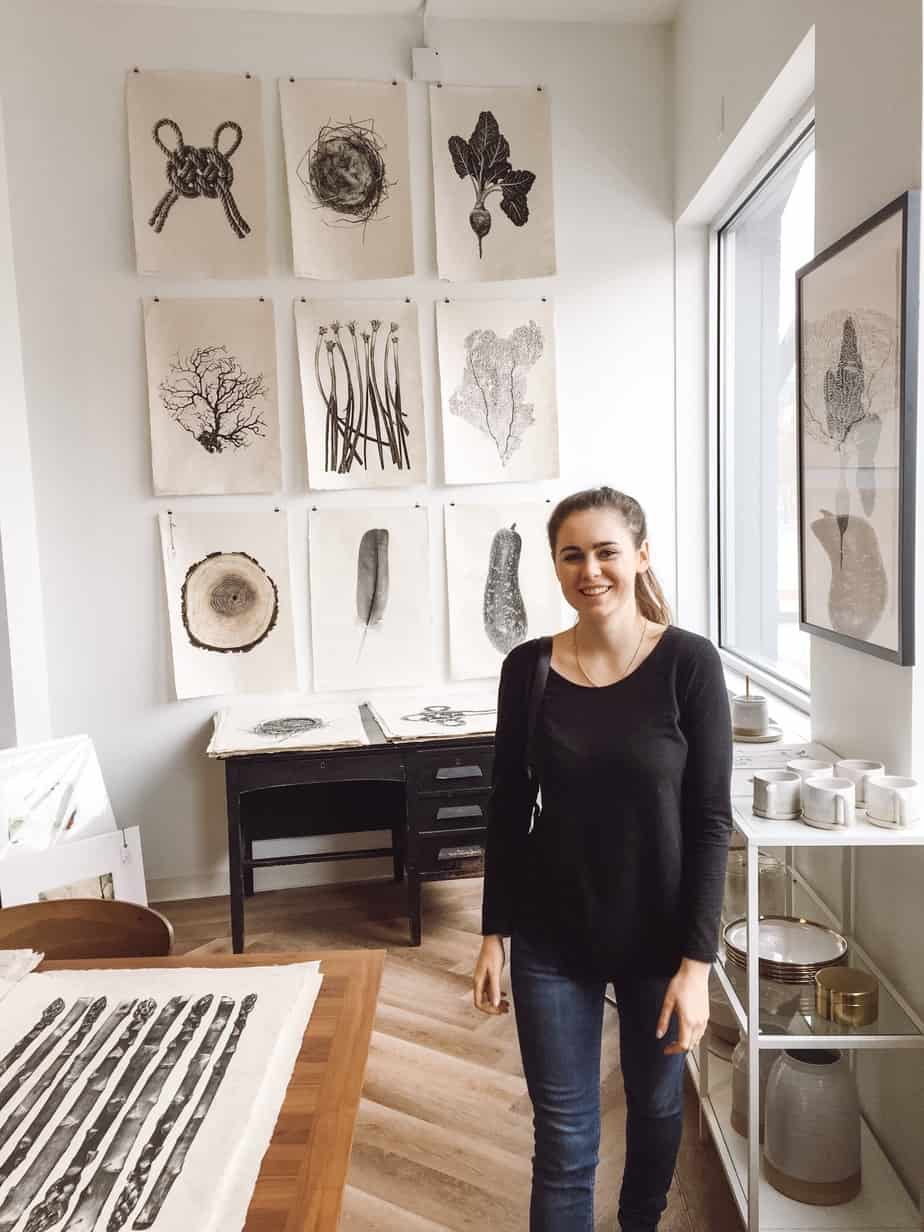 Darling Botanical Co.
Walking into Darling Botanical Co. is like walking into a millenial's REM cycle. And by that I mean it is FULL OF SUCCULENTS. I may sound facetious but really I am just so excited that someone created a shop to celebrate all the things I love: tiny hardy plants I can't kill, board games, cute pottery, and a wide open archway leading to great coffee (ie BLK\MRKT). This is where you shop for all the 16-35 year olds in your life who own instagram accounts.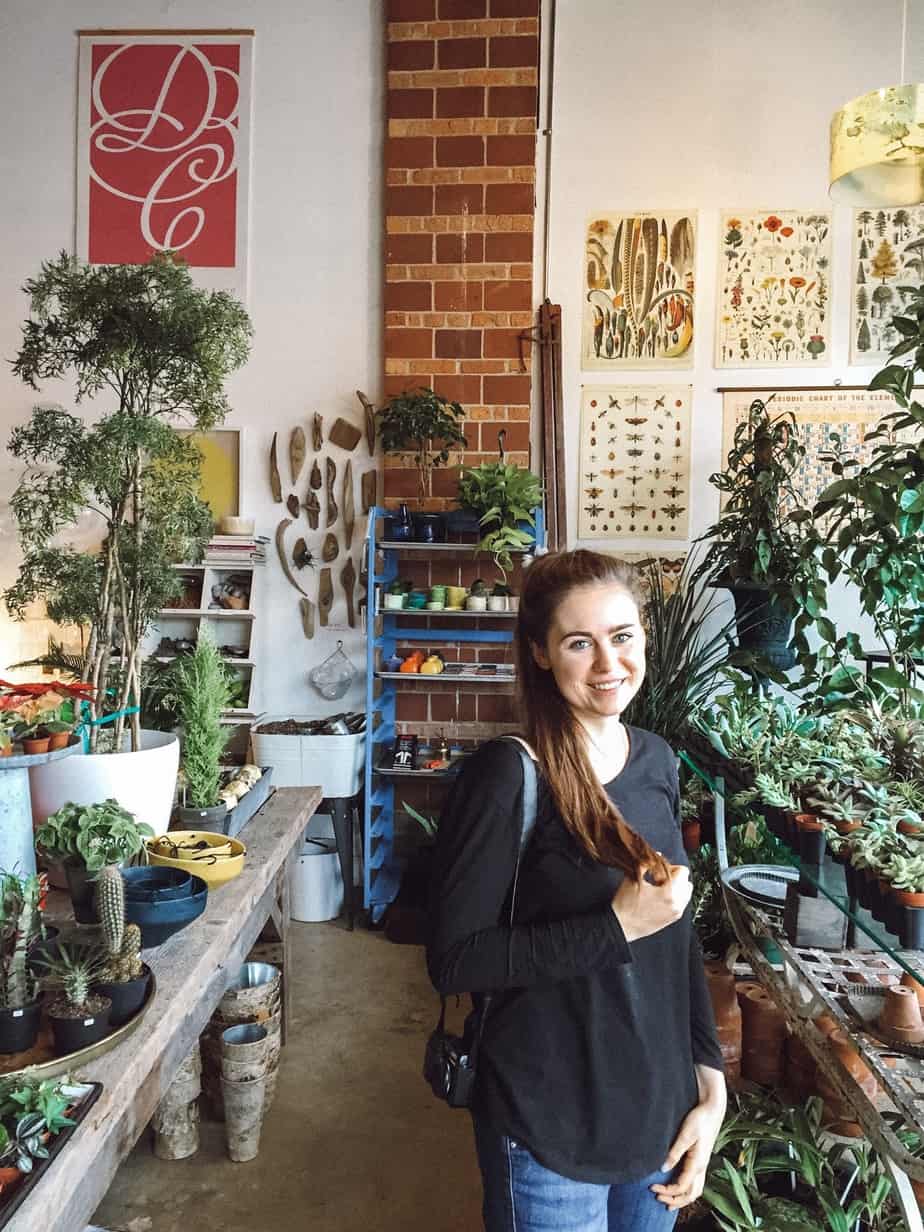 The Village at Grand Traverse Commons
The Village at Grand Traverse Commons is a couple mile drive from downtown Traverse City, with plenty of on site parking. As I mentioned earlier, the village is actually a collection of shops located inside a repurposed mental hospital from the 1800's. In fact, this is one of the most extensive adaptive reuse developments in the entire USA. Visiting the Village at Grand Traverse Commons is more than just holiday shopping… you get to taste a bit of history, read the placards about the former hospital, and even go on tours of the underground tunnels if you choose. We enjoyed wandering through the commons, but did pick out a few favorites from the many shops…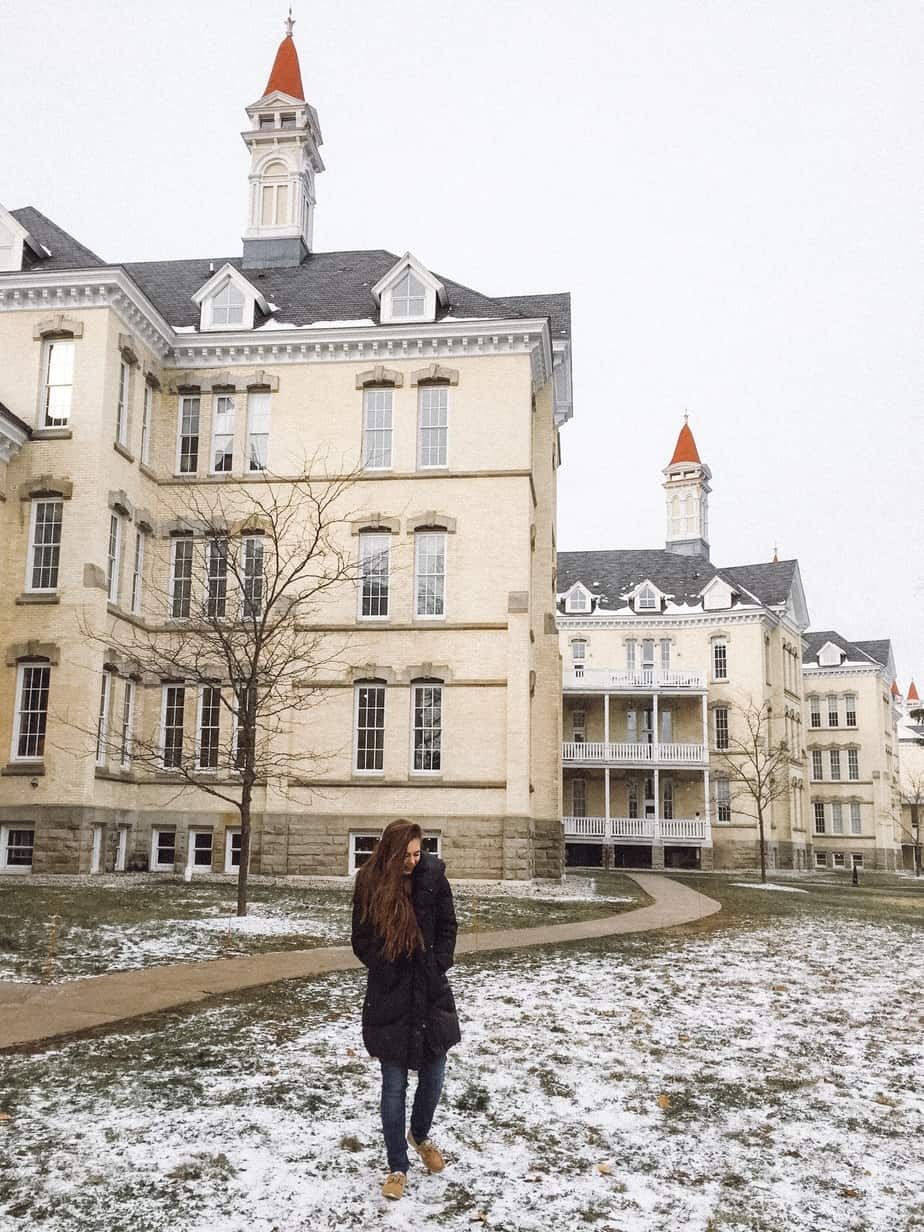 Hi Five Threads
Hi Five Threads is all about celebrating Michigan pride. Everything in the store celebrates the great lakes state, even down to the dog treats and bandanas! My personal favorite item was the 'not so ugly Christmas sweater' which features screen print that looks like cross stitch.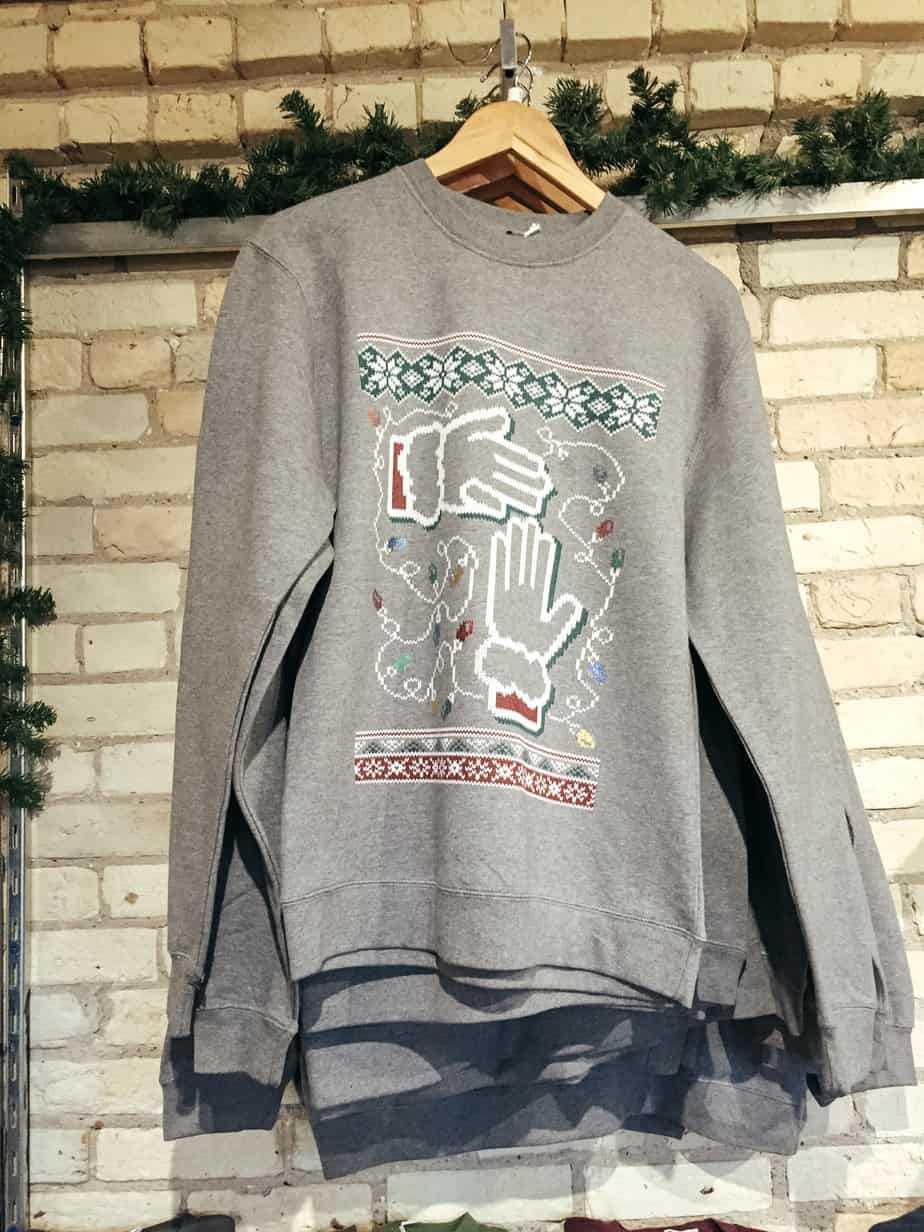 Landmark Books
Another bookstore on the list, but this one is all about the used books. Wandering through Landmark Books you may come across the perfectly priced and pre-loved Christmas present for any bookworms in your life.
B50 The Village Store
Everything at B50 is either Michigan themed or relating to the Village. Here you can pick up merchandise relating to the Village at Grand Traverse Commons, from clothing to even an actual brick that was formerly part of the hospital. This is a great place to shop for any history buffs in your life.
More Traverse City Shopping
Of course there is more to Traverse City shopping than just these three areas! The whole coastline surrounding Traverse City is known as Grand Traverse Bay. If the roads aren't too icy, take a drive up Old Mission Peninsula (for wineries galore) or Leelanau Peninsula (for more wineries, cute port towns, and stunning vistas).
You may also want to check out a farmer's market for some fresh local produce. Unfortunately the renowned Sara Hardy Farmer's Market closes in October, but you can still check out the farmer's market at the Village at Grand Traverse Commons, which runs year round on Saturdays. You may be able to pick up some local cherries or preserves which make a great holiday gift.
Finally, I have to mention online shopping! And no, I'm not referring to Amazon or Ebay. Fellow Michigan blogger Megan Gilger is based in Traverse City, and recently launched her online store called Shop Fresh Exchange. Here, she features local northern Michigan makers in a gorgeous selection of homewares (I'm partial to the pottery, myself). So if you can't make it to Traverse City for some in-person shopping this season, you can still do some shopping from your couch 🙂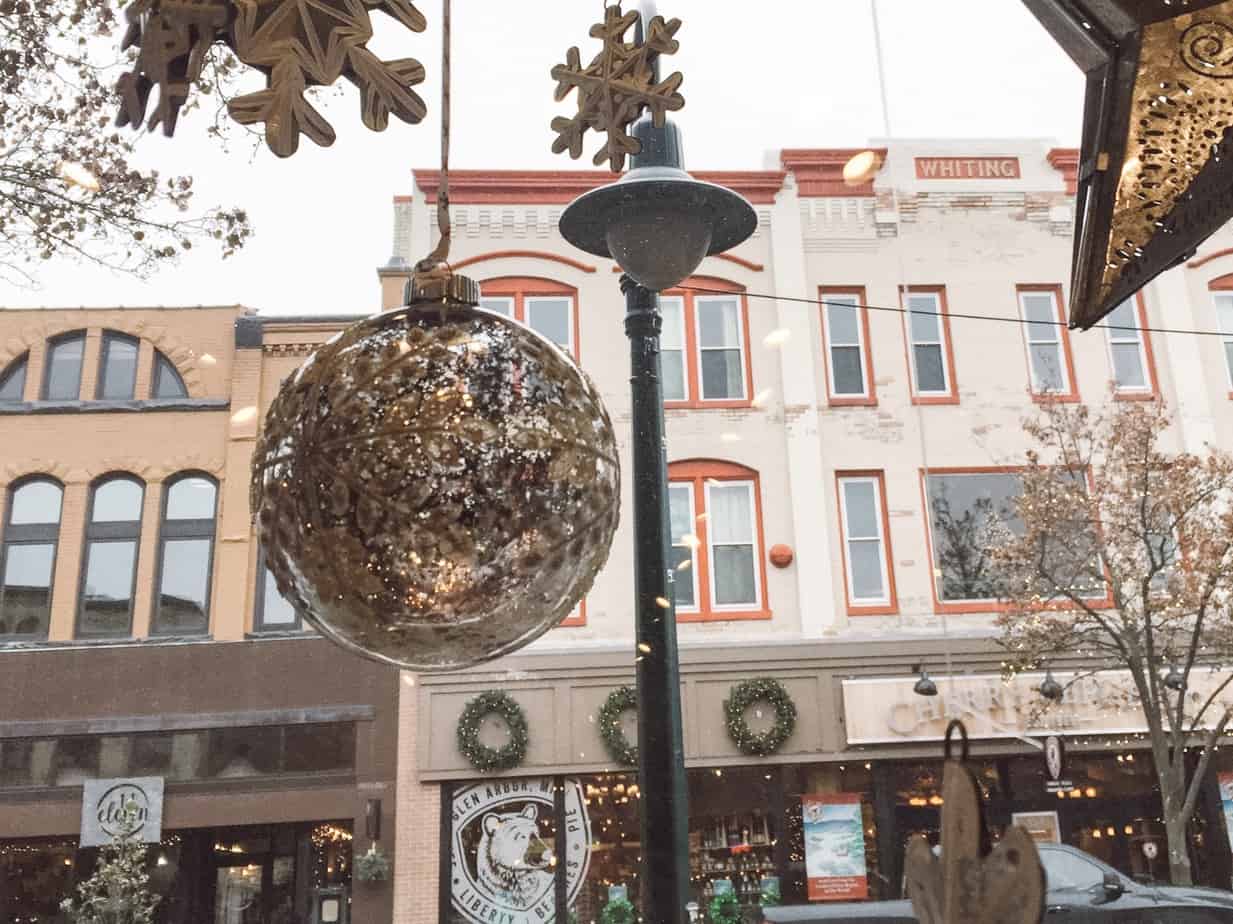 Traverse City Shopping Map
In this map I've marked every shop (and a few extras!) mentioned in this post. You can download it on your phone to use without wifi on Google Maps. It's a great way to orient yourself, however I would recommend getting lost in the joy of wandering. Dan and I had so much fun exploring, not knowing where we were going next, and just popping into the next shop that looked cute (or if we got cold, ha!).
Our Traverse City Shopping Haul
Oh, and as a wee bonus I thought I would share our shopping haul! (At this point I would encourage my family and Dan's family to close the tab!!). Not pictured are a few cherry wine bottles from Cherry Republic, and an M22 shirt that I'd already wrapped up for Dan's December birthday.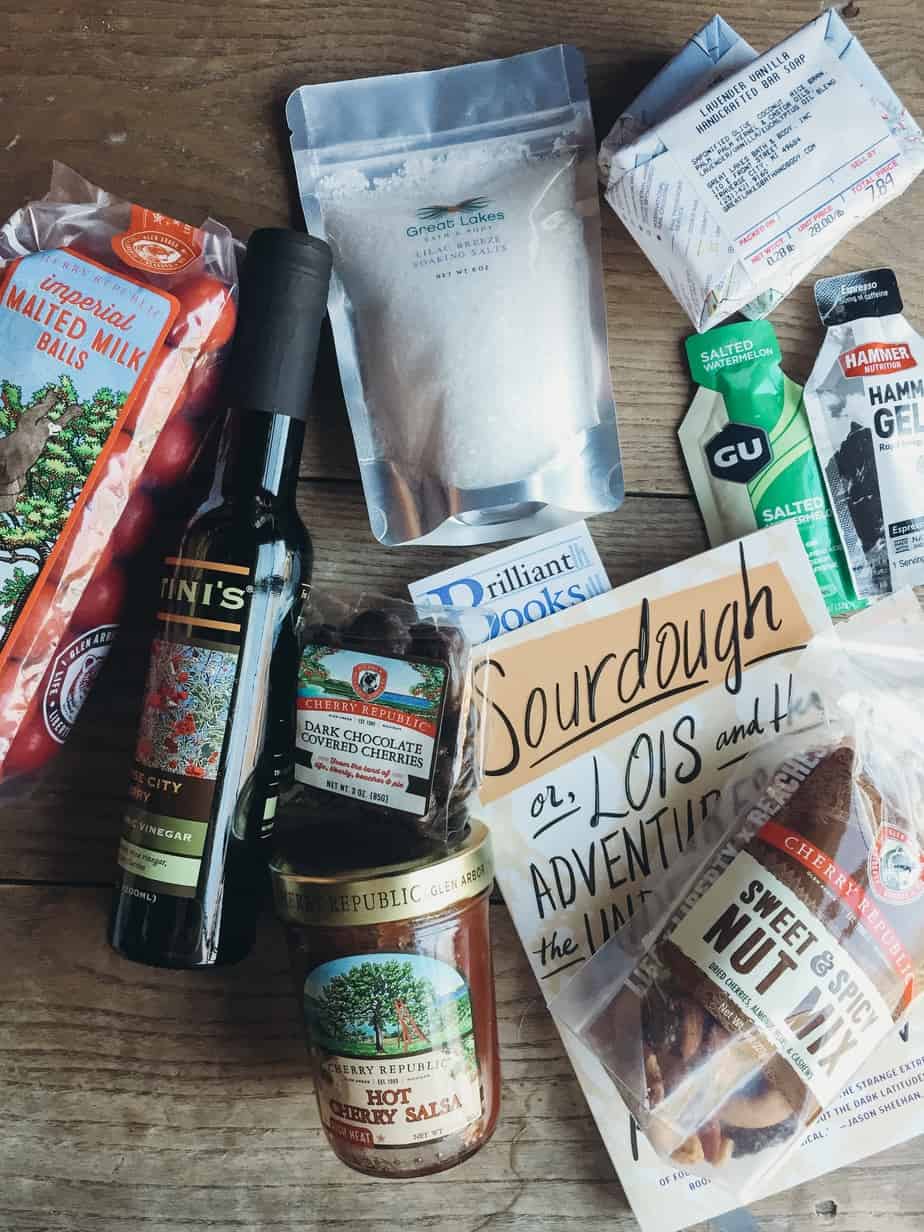 Happy holiday shopping, friends. Remember the season isn't about the material products. It's about the spirit of giving, it's about intention, it's about forgiveness and so much more. Whether you are in Traverse City or not, I encourage you to be intentional with your holiday shopping and support local makers and business owners when you can. Let's use our money and our spirits for good this season. <3
Sarah xx
Book your stay in Traverse City for the best price here…
Pin it for later…
*Thank you to Traverse City Tourism  for sponsoring this post and our visit to Traverse City. I have loved this Northern Michigan town for years and I'm grateful for this partnership enabling me to share it with you all! As always, all opinions are my own.
*This post may contain affiliate links. If you click on a link, I may make a small commission, at no extra charge to you. Thank you for supporting Endless Distances!
*This post is now available as an app. You can download it here on GPS My City.