Hey dudes! Can you believe September is gone? As this post is published, I am likely under general anaesthesia, away with the fairies in the hospital! I've had a rather last minute surgery scheduled to cap off a month of medical frustration (or maybe, to start a new month?). I chat a bit more about this in the 'health' section. But luckily, there were lots of fun things in September to complement my ongoing medical saga.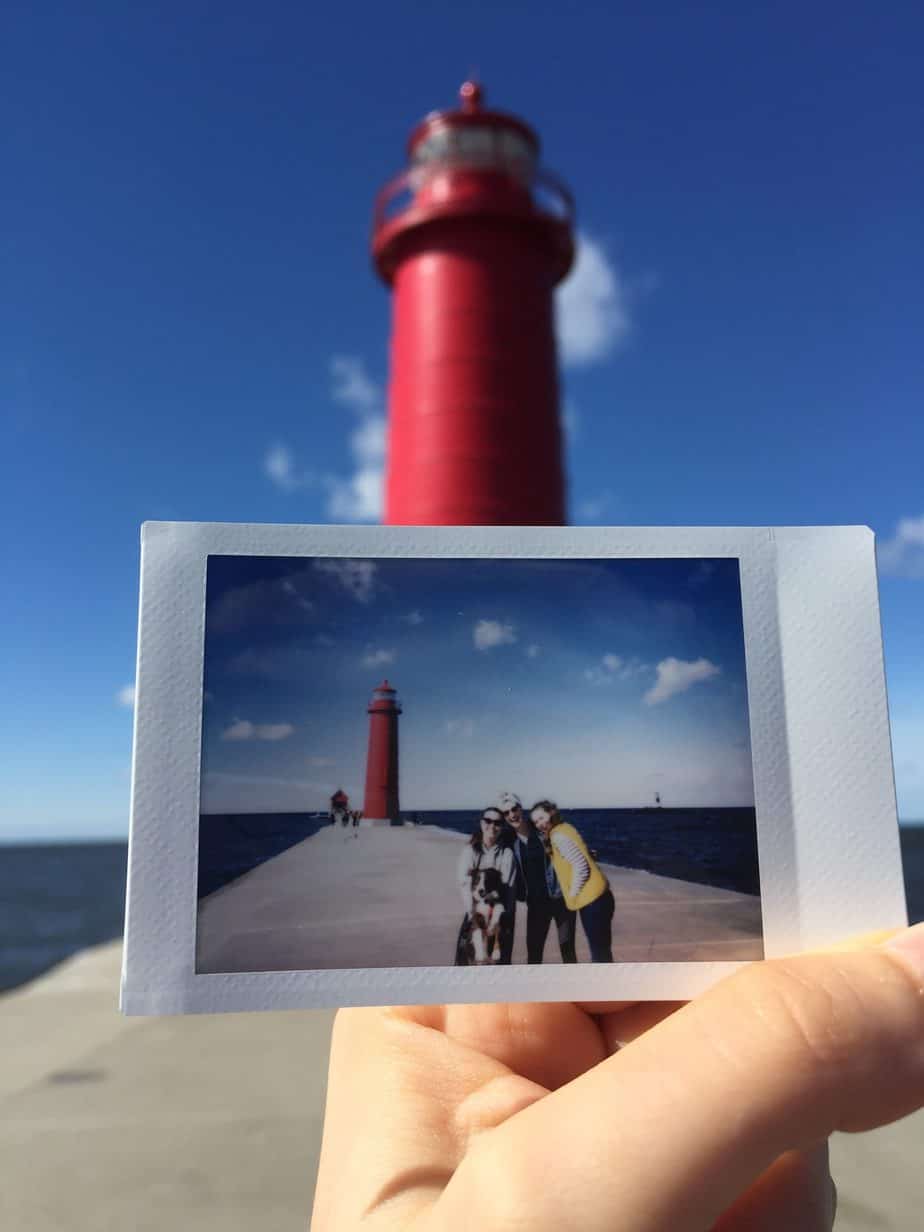 Where was I in September?
Michigan (Lansing, Grand Rapids, Ann Arbor, Traverse City, Old Mission Peninsula, Grand Haven… all over Michigan!)
Most popular Instagram in September…
My favorite Instagram in September…
September adventured like…
At the beginning of the month I spent about four days on Old Mission Peninsula at my mom's friend's cabin.  I thought I would get a lot of work done because I was just with my mom and her friend, but I ended up having so much fun hanging out with them! (AKA not much work was done)
I went on a kinda #extra (read: 2 hours each direction, omg) roadtrip for gluten free donuts. I read that there were gluten free donuts at Yates Cider Mill and so I jumped in the car to go see for myself! (With my mom in tow… my poor mother. I keep dragging her on these adventures! She might regret the day she wished for me to move back to the USA). Donuts were A+.
I finally got to go to ArtPrize in Grand Rapids! I wrote a big post about it here. It also gave me the opportunity to go to Marie Catrib's Lebanese deli one last time before it closes forever *cries*.
I've signed up for a 'strength training for runners class' at the gym with my dad. He is super into triathlons and it's a bit cult-ish but he is so happy (and so good! He was in the USA Triathlon National Championships for his age group this year! #DadBrag). The class is with all his triathlon buddies and I feel like I am getting inducted into the cult… watch out!
I've started dog sitting again! I loved doing this in the UK and I'm excited to do a bit over here.
I spent the last weekend of the month in Grand Haven, Michigan with a couple long-time friends. Will be sharing some photos of the most beeeautiful red lighthouse on insta soon 🙂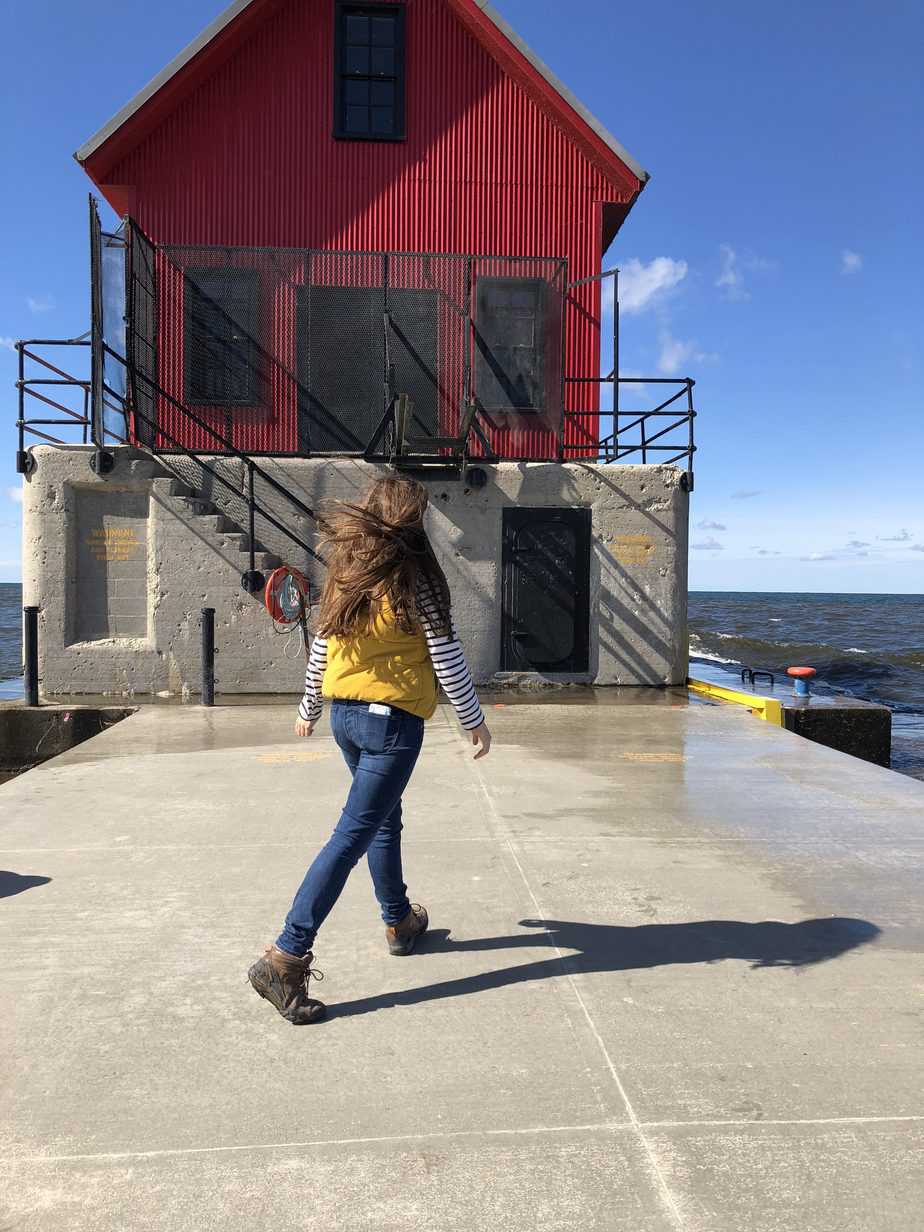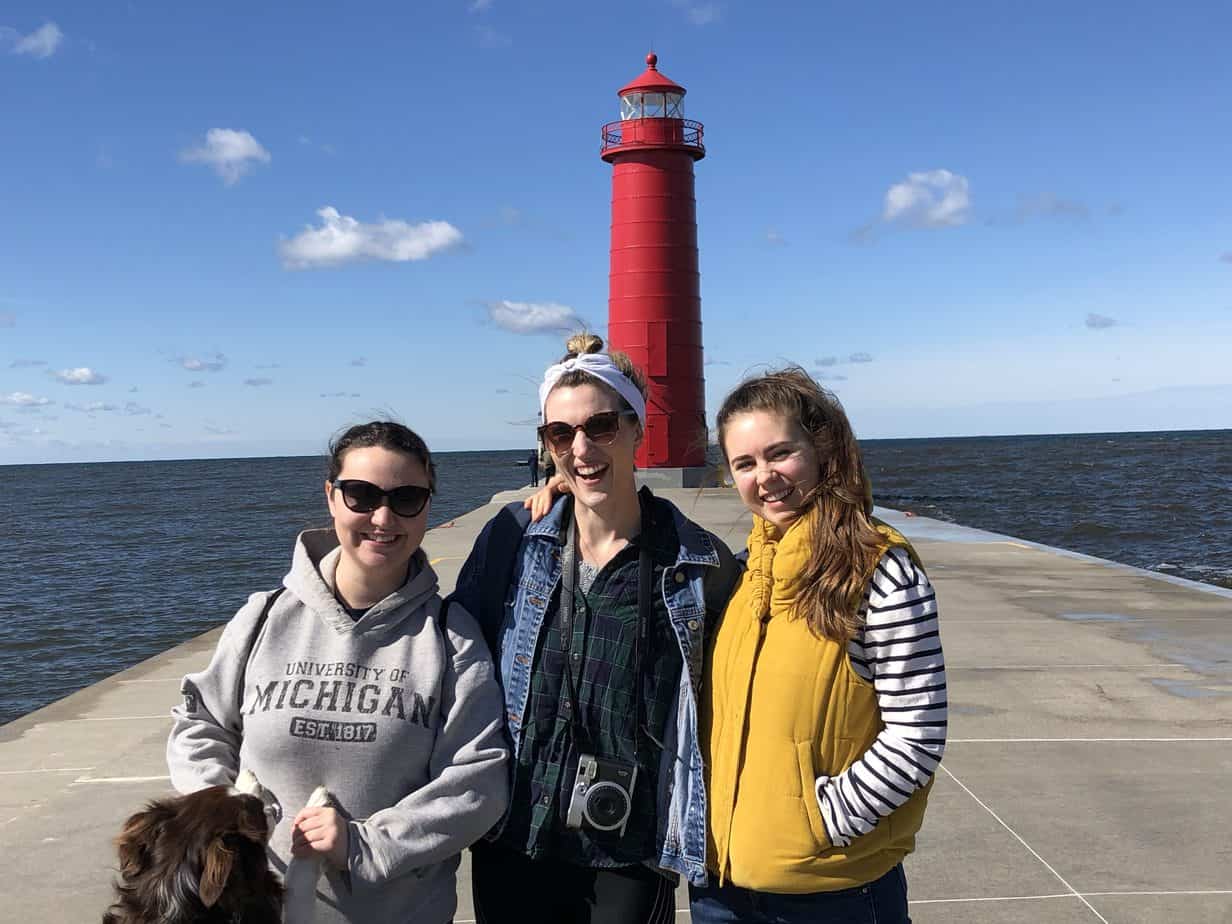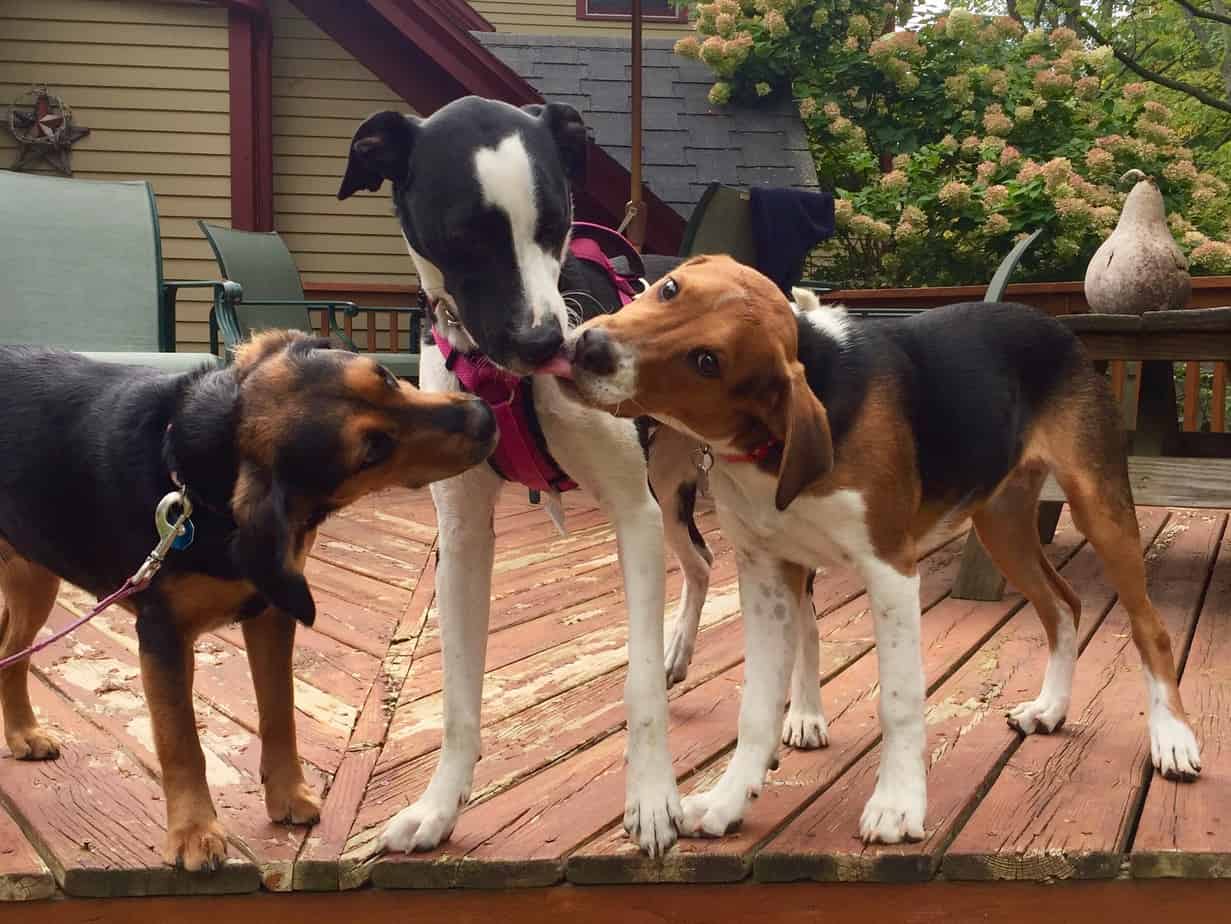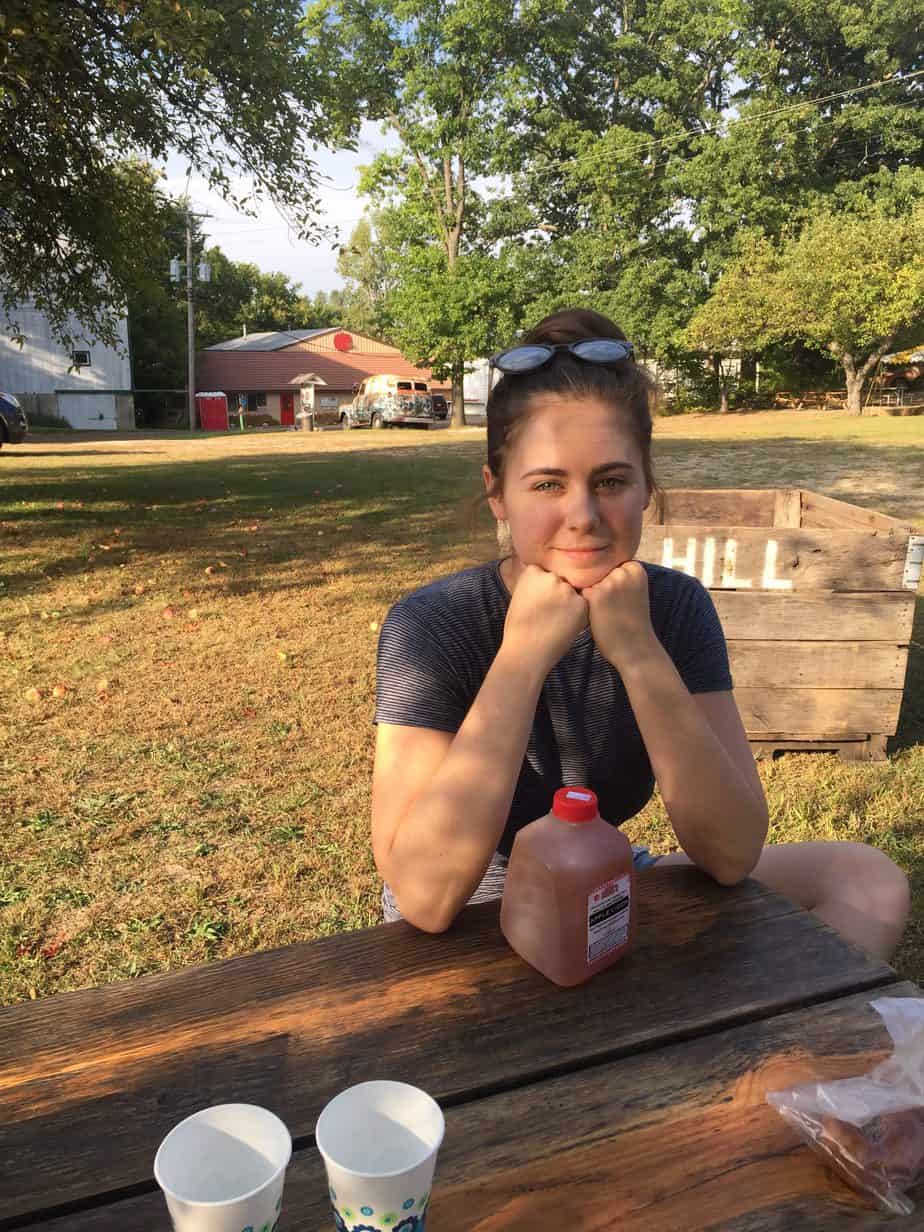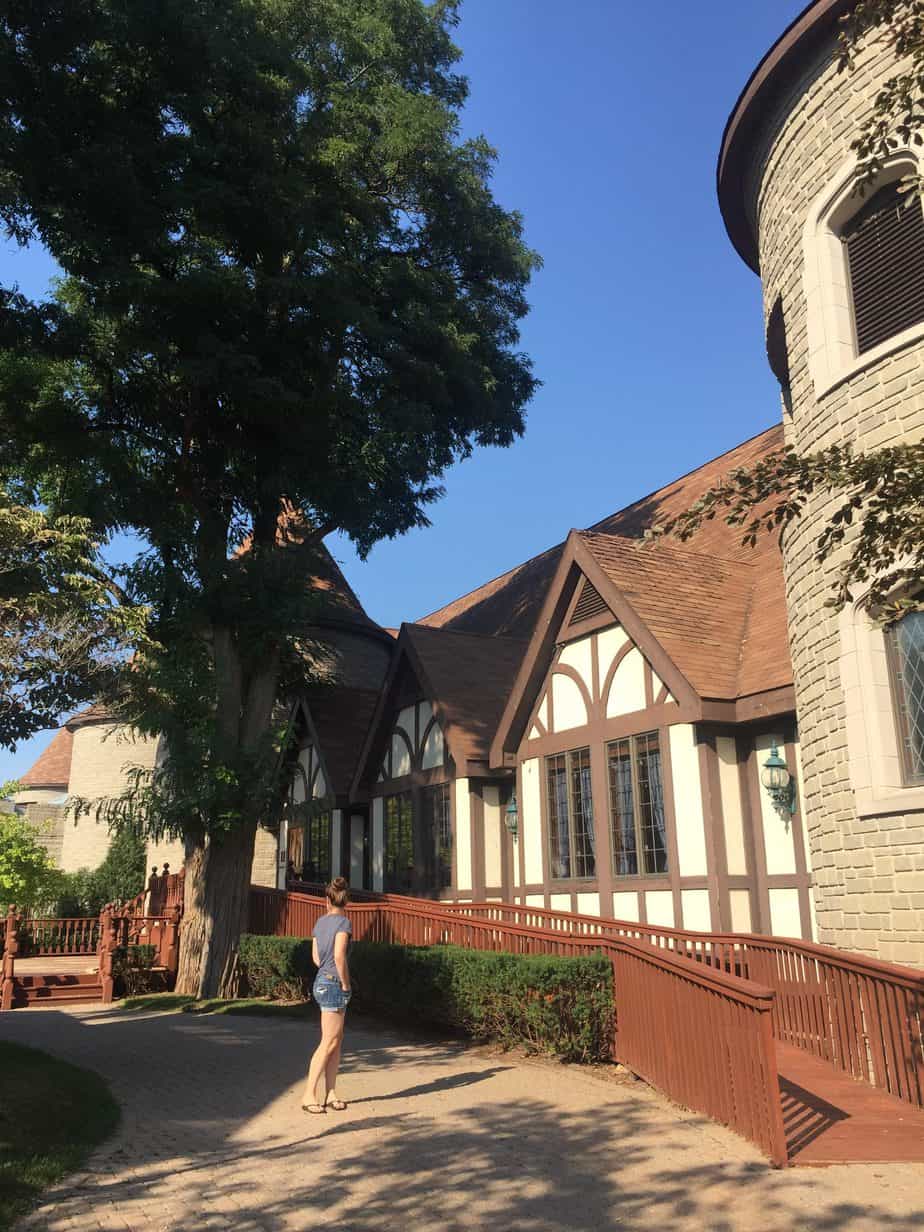 September in health…
I am continuing to see my clinical nutritionist, a health coach, and a chiropractor! I super lucked out here as I am getting most of this complimentary (bc they feel bad for me lol, completely unrelated to le blog) or covered by insurance. Will do a dedicated post just about my 'holistic medicine' experience if people are interested!
I had my second appointment at UofM gastroenterology which was a defecography. The short story is this came back abnormal and I found out I have something called a rectocele! Which is puzzling to my doctors as rectoceles occur in women who have traumatic childbirth, or hysterectomy, or somehow damage their pelvic floor. Just casually continuing to be a medical mystery! We are still discussing options for surgery or physical therapy.
ALSO, if you've seen my Instagram today, you know that I'm getting a laparoscopy surgery today. My doctors are investigating the possibility of endometriosis. I don't have the classic symptoms for endo, but sometimes it can present like IBS. So… we will see! (Very very shortly…)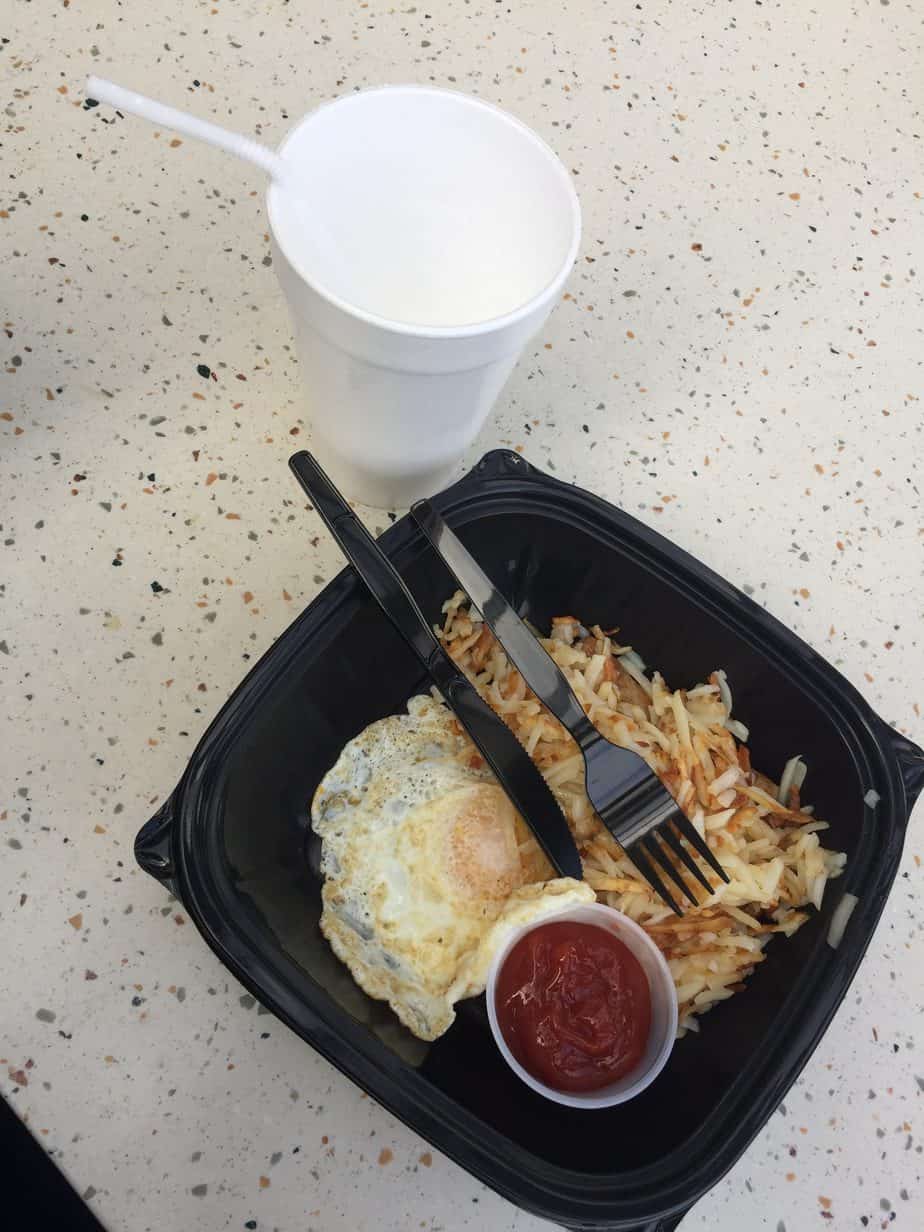 September read like…
I'm still on track to read 52 books in 2018, and even a bit ahead of schedule, although I've slowed down lately! Here's what I read in September:
[amazon_textlink asin='1101971061′ text='Homegoing by Yaa Gyasi ' template='ProductLink' store='sarahbence06-20′ marketplace='US' link_id='710b998e-c519-11e8-8e51-610018be9e74′]- Follows the descendants of two Asante sisters separated at birth in Ghana. One line of family stays in Ghana whereas the other is taken to the southern USA as slaves. You follow the families through multiple generations, from Ghana to the deep south to Harlem and more. It was an incredibly moving read and personally I think every white person should give it a read as it gives a stunning insight into transgenerational transmission of trauma.
[amazon_textlink asin='B00JYHQJ9G' text='Jamaica Inn by Daphne DuMaurier' template='ProductLink' store='sarahbence06-20′ marketplace='US' link_id='92dde533-c519-11e8-a644-b5a3f21ec345′] – I love this author and her female protagonists, set in my beloved Cornwall. Her novels are always atmospheric and dark and this one was no different. Possibly my favorite of all her novels!
[amazon_textlink asin='0345803450′ text='Sweet Tooth by Ian McEwan' template='ProductLink' store='sarahbence06-20′ marketplace='US' link_id='db22dfb7-c519-11e8-983c-1b7eb74f21ff'] – OMG this book. Ian McEwan's only female protagonist besides Atonement… follows a woman who is recruited by MI5 to onboard authors for a project where the British government tried to influence authors and journalists so as to sway the public's opinions during the cold war. The ending… is just shocking. And genius. You need to read this!
September shopped like…
I finally signed up for another pottery course! I took the summer off as I was doing so much travel. I'm excited to get back into it, although I'm hoping my recovery from the surgery doesn't interfere too much :/
ALL THE SUPPLEMENTS. As I mentioned I am seeing a clinical nutritionist now who has ordered me to use certain supplements, which I will link below. These are mostly short term. Once my blood test levels start improving I will stop some of the supplements!

[amazon_textlink asin='B004GLCX2M' text='Metagenics Probiotic' template='ProductLink' store='sarahbence06-20′ marketplace='US' link_id='518e93db-c51a-11e8-b6f3-117e4a943067′] – incredible quality. I love these! Been taking for 3 months so far.
[amazon_textlink asin='B01G5EQEF4′ text='NOW Liquid Iron' template='ProductLink' store='sarahbence06-20′ marketplace='US' link_id='63814d85-c51a-11e8-92d9-93254a36f7bd'] – non constipating so ideal for people who are anemic and still need iron (like myself)
[amazon_textlink asin='B003800UXG' text='Liquid D3′ template='ProductLink' store='sarahbence06-20′ marketplace='US' link_id='a6e5a7a7-c51a-11e8-840c-7db4680c0da9′]
[amazon_textlink asin='B005J9DK22′ text='Metagenics AdvaClear' template='ProductLink' store='sarahbence06-20′ marketplace='US' link_id='bc2b35b9-c51a-11e8-873e-0b0941454711′] – a multivitamin but specifically formulated to support the liver
[amazon_textlink asin='B000OQ2DL4′ text='Natural Calm Magnesium Citrate' template='ProductLink' store='sarahbence06-20′ marketplace='US' link_id='c3eb76a2-c51a-11e8-80d0-f300fc108bc1′]
[amazon_textlink asin='B00NR20W92′ text='Digestive Enzymes with HCl' template='ProductLink' store='sarahbence06-20′ marketplace='US' link_id='eb85dc93-c51a-11e8-9f6d-77e441c55495′] – I don't use these everyday, only when I'm eating things like red meat that are difficult to digest.
September mantras…
Ohh, September. A fun month but a rough one too! I'm looking forward to October which happens to be my faaaaave month of the year. Partly because it includes my birthday!! I don't have a ton of plans this month other than catching up on work, recovering from surgery, and maaaybe a trip to Chicago.
What are your plans for October?
Sarah xx
*Some links in this post are affiliate. I may make a small commission through these links, at no extra cost to you.