My Experience Traveling from the USA to UK During the Pandemic (+ Resources For You)
After six months separated from my boyfriend, a week of light-speed travel booking, and a couple weeks of sneakiness – I made the announcement on Instagram. I'm in England. And yes, I flew here internationally in the midst of a global pandemic.
In today's post, I'm going much further in depth about why I flew to England during the pandemic, all of the factors that went into our decision making, the precautions I took, and of course what it was like to fly internationally and quarantine right now.
In addition to sharing my own personal experience, I'd love for this to be a resource for anyone else in a similar position. Maybe your travel isn't essential, but it doesn't feel like "leisure" travel either. Maybe you're like me, and separated from your partner for 6+ months. Maybe you've been separated from family, and you want to reunite but you're worried.
[su_note note_color="#c3e2e2″]Necessary caveat: This post is not written for those seeking guidance on purely leisure travel. It is not my intention to encourage that right now. I am writing this for those looking to travel internationally to reunite with loved ones they've been separated from due to the pandemic.
I'm sharing my own experience and the resources I used. You should also do your own research and check updated government guidelines.[/su_note]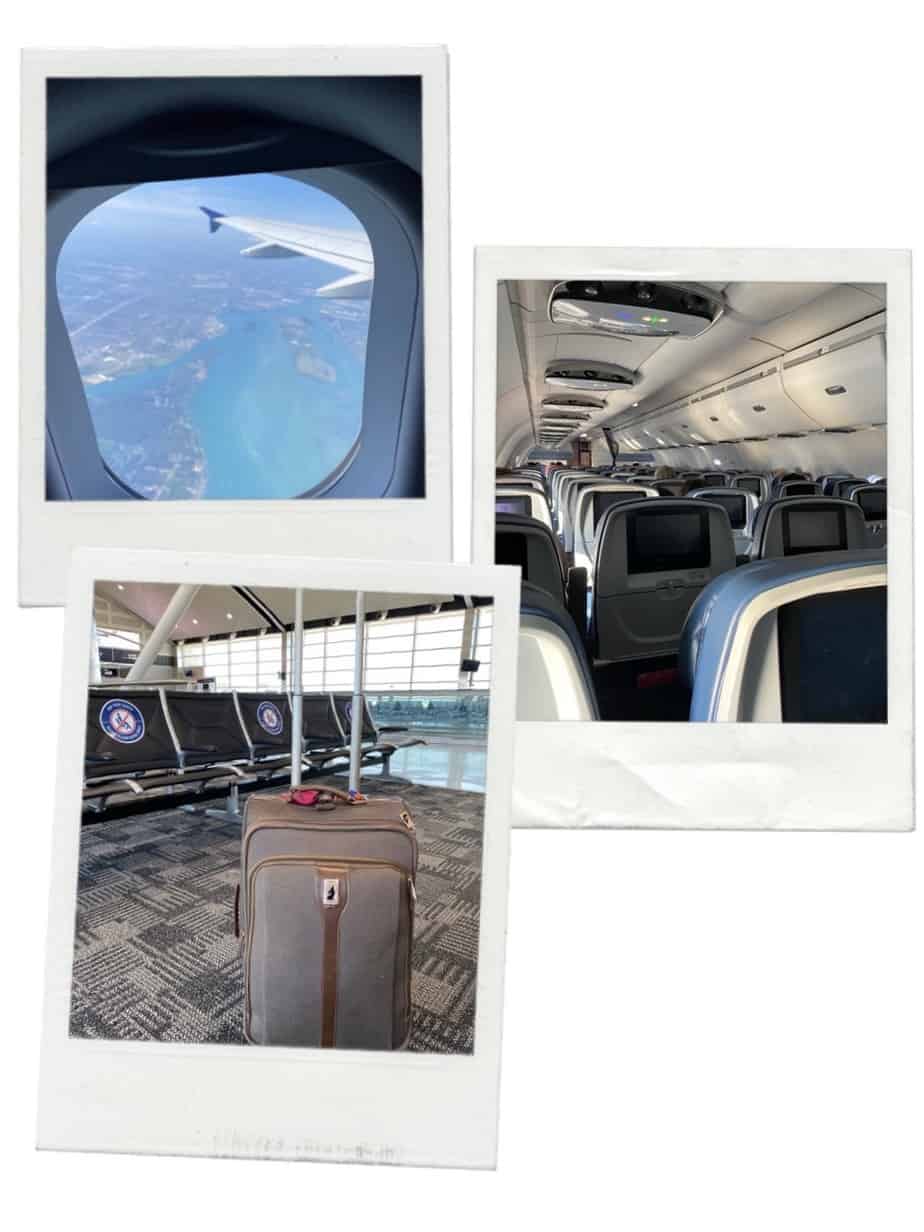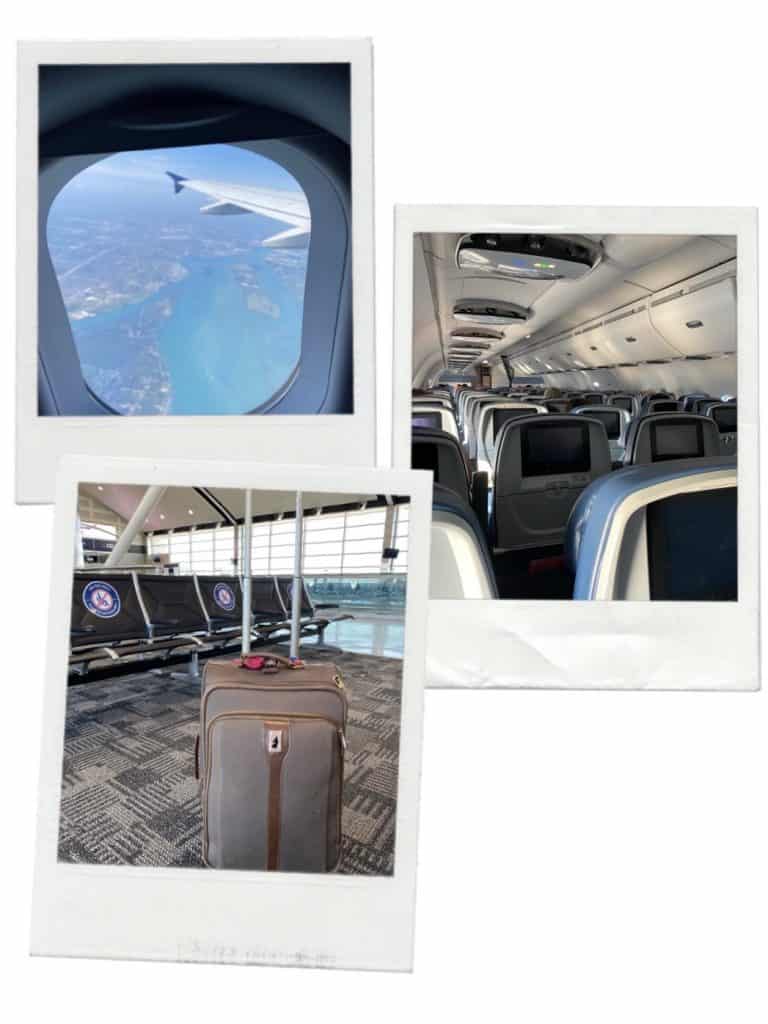 Our situation + How I decided to travel from the USA to the UK during the pandemic
As many of you know, I am in an international long distance relationship. My partner, Dan, is a British citizen and lives in England. I'm an American citizen and live in Michigan.
Of course, the closer you are to our exact scenario, the more applicable this article will be for you (due to drastically different border rules in each country!). But even if your situation is different, this should still give you a taste for what international travel is like right now (and some of the things you should consider).
As a British citizen, Dan was (and is still) not allowed to enter the USA. It seems to be a less known fact, but as an American I could actually enter the UK this entire time! In fact, it was only in June that a mandatory 14-day quarantine for Americans upon entry to the UK was enforced.
Why I did not fly to the UK from March-July… even though I could
Even though I was technically allowed to enter the UK this entire time, I still stayed put in Michigan, and the days and months of our separation dragged on.
I believe just because you're allowed to do something, doesn't necessarily mean you should. Traveling internationally during a raging global pandemic is one of those things – and during March, April, May, June, and even July when cases were higher than they are currently in Michigan and the UK, I did not feel like international travel would be responsible or compassionate.
Other practical factors I was worried about, and that prevented me from traveling earlier were:
Flight cancellations, which were much more frequent in the Spring and early Summer
The possibility of contracting COVID and having to deal with international healthcare and travel insurance
Quarantining in the UK and upon return to the US (which is not mandatory, but recommended)
How I might put vulnerable family members and others in danger
US government's Level 4 warning against international travel (which expired August 6)
Losing my unemployment benefits because international travel would make me ineligible for continued benefits
Suffice it to say – there were a lot of factors on our minds that delayed our reunion. It got to the point in August where cases were lower in both the UK and Michigan, and I thought… there will never be a time that feels right. That's when I began my research in earnest.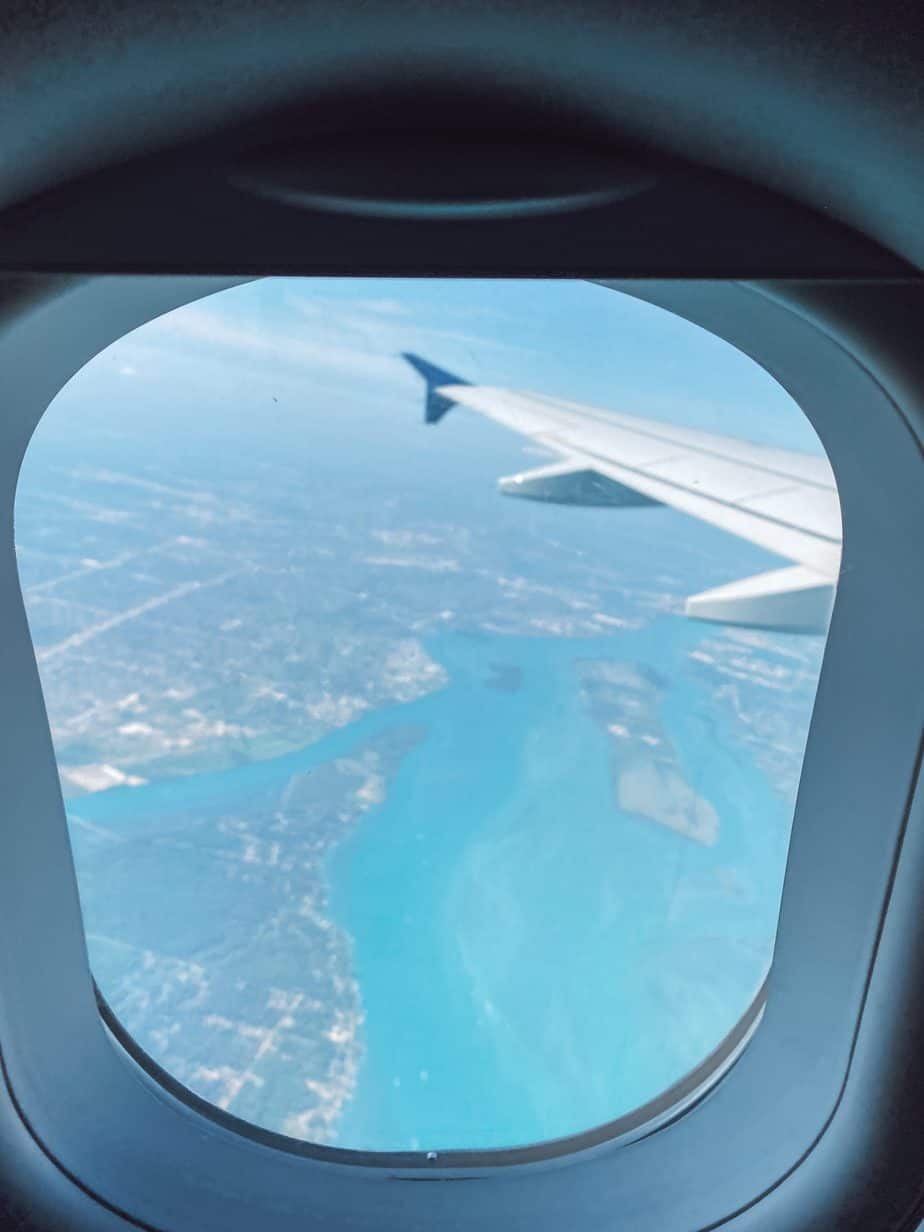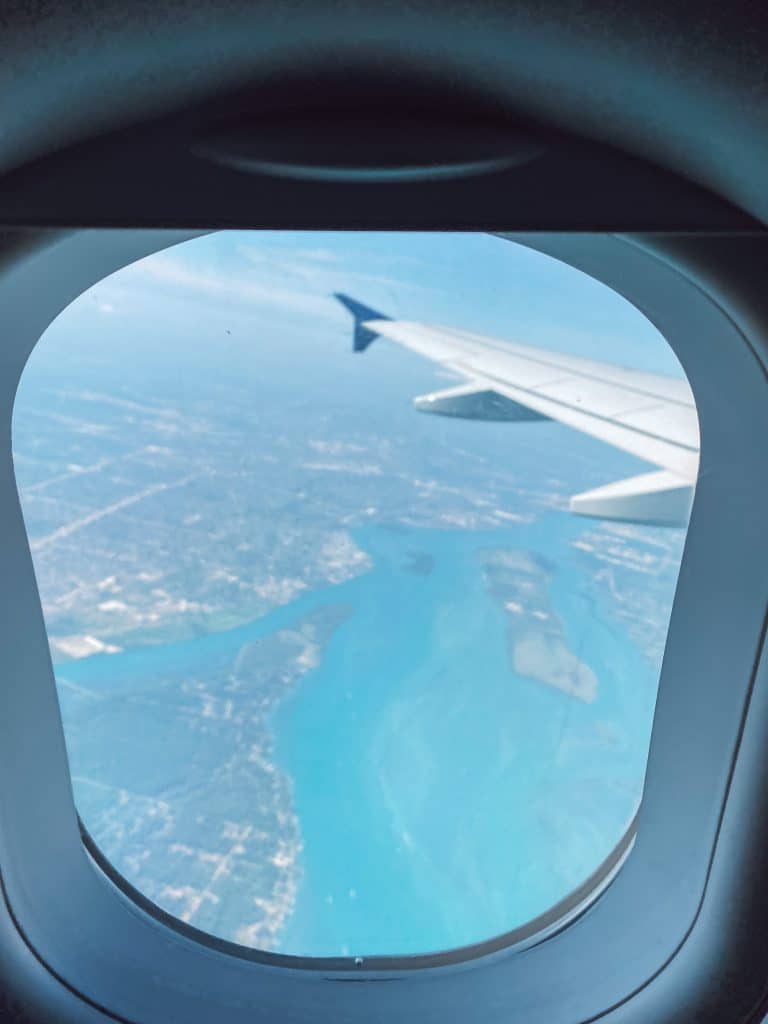 ---
Resources | Determining risks and rules for travel to the UK
Once I came to terms that I'd never feel 100% comfortable traveling during the pandemic (and I actually think… that mindset it a good thing!), I knew that I had to do my research to be the absolute most prepared I could be.
Obviously these resources will be most specific for someone traveling from the USA to the UK. However if you are considering travel between different countries, try to look for equivalent documents from your governments.
→Check U.S. travel advisories
The United States government issues travel advisories – which are not mandatory restrictions on us as citizens, but are meant to guide our decision making. There are four warning levels. In March, the US government made the unprecedented move to mark the whole world as Level 4 (Do Not Travel).
Then in August, before I departed for London, the advisory was lowered for the first time since March. In earlier August, the UK was a Level 2 (Exercise increased caution). I felt relieved the travel with that warning level. Shortly after, it was heightened to a Level 3 (Reconsider travel).
[su_note note_color="#c3e2e2″]Check updated UK travel advisories here, and check advisories for other countries here.[/su_note]
→UK entry guidance
Probably the most important thing to check is the government rules from the country you are entering. As we know, border rules are ever changing during the pandemic.
Even though things have roughly stayed the same for Americans since June (entry is allowed, but there's a mandatory 14-day quarantine), it's still important to keep updated.
[su_note note_color="#c3e2e2″]For the UK, check the 'Traveling to the UK' page of the UK Border Control.[/su_note]
→US Embassy in the UK information
Another good source of information for me was the US Embassy in the UK. Check your own relevant embassy page as it likely has guidance and important links for other information you might need.
In particular, the US Embassy in the UK has updated information for England, Wales, Northern Ireland, and Scotland, which all have slightly different rules at the moment!
→COVID-19 Statistics in the UK
I also found it important to keep an eye on COVID-19 statistics, regulations, restrictions, and the overall situation in the UK. Obviously having Dan in the country helped give me an idea of what it was like here (ie, a lot less restricted than it is in the US, and lower overall cases).
[su_note note_color="#c3e2e2″]Some government pages I kept an eye on were the UK Government Coronavirus page and the regularly updated UK Coronavirus outbreak FAQs (what you can and can't do).[/su_note]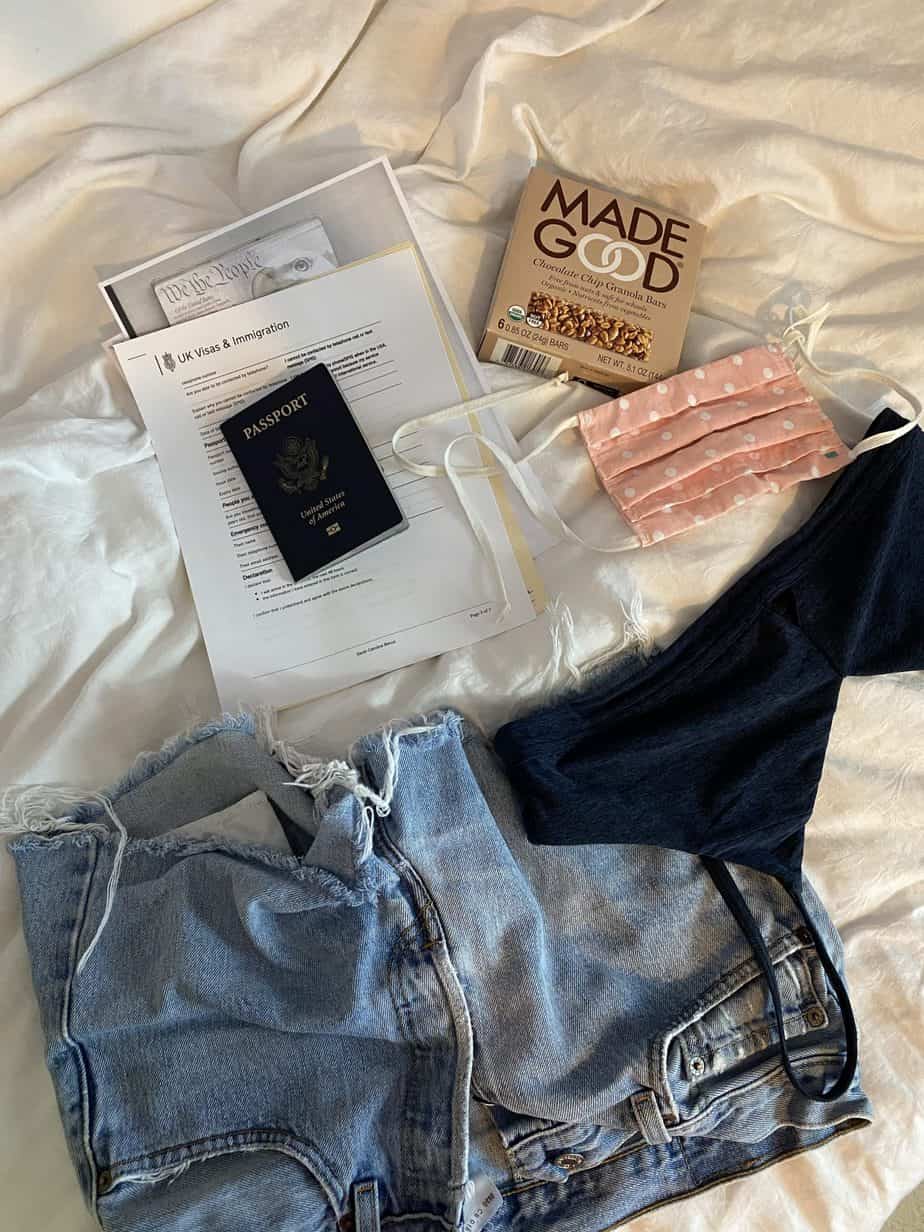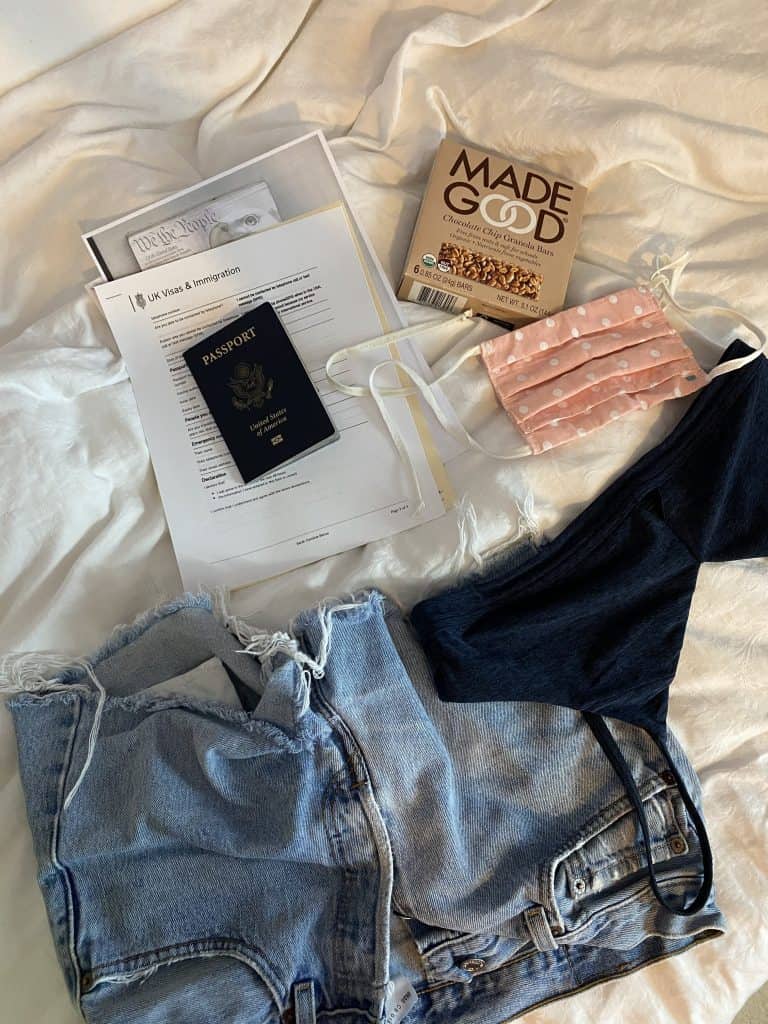 ---
Resources | Personal preparation for travel to the UK
I also needed to look at more personal issues. Mainly – what if I got COVID? Would I be covered, and if so, what did the fine print on all my insurance say? Here are some of those "fine print" issues I researched before booking my travels.
→Checking my own health insurance coverage
As Americans, we have our own private health insurance (if we are lucky…). Each insurance plan is different, but many actually do provide overseas coverage in the case of emergency.
To check my coverage, I called the customer service line on the back of my health insurance card. It turns out they do provide overseas coverage, in the case of emergency only, and that COVID-19 would be covered in this instance. I made copies of my health insurance card before I traveled as well.
→Check NHS coverage / healthcare coverage within the country you're visiting
The NHS is the public healthcare here in the UK. I love it dearly and worked for it back when I lived in the UK! Yes it has its flaws, but it does provide coverage for everyone who is a UK citizen or resident.
Through my research I found this is NOT the case if you are a visitor. Technically, visitors like me (who no longer have a UK visa) need to pay 150% of normal costs, and unpaid balances over one thousand GBP will bar future entry to the UK.
However, the NHS does proclaim they provide free testing and treatment for any visitor (even those from outside the EU) with Coronavirus.
[su_note note_color="#c3e2e2″]Read the full NHS document on care for visitors from outside the EU here.[/su_note]
→Research and purchase travel insurance – that actually provides coverage for pandemic travel!
I'm not going to lie, travel insurance stresses me out majorly and I struggle to cipher through all the legal jargon. I was not looking forward to doing the in depth research required for pandemic travel. But I did it!
Here's the cliff notes version of what I found (and which plan I bought):
Whatever travel insurance plan you buy, it should cover medical evacuation
There should be NO pandemic exclusion clause
Check the fine print around "fear of travel" – ie, if a country's outbreak worsens, and you subsequently cancel your trip, you will likely not be refunded unless it is the airline that cancels
I knew that World Nomads was one of the few travel insurance companies that did NOT have a pandemic exclusion clause… meaning they WILL cover COVID related issues (ie, you get sick with COVID in a country and need medical care, etc).
I did a chat with their customer service and asked further questions. I would recommend you do the same, and be aware of government travel advisories that may affect your coverage.
[su_note note_color="#c3e2e2″]Check out the travel insurance plan I bought (and recommend) for international travel during the pandemic.[/su_note]
→Sort out unemployment or work-related details
For unemployment, it was pretty much impossible to get a chat with someone as they are so backlogged. I did find out that if I traveled, I would become ineligible for unemployment benefits. My potential travel plans coincided with when the PUA (extra $600/week) ended, and I knew that my unemployment would no longer be enough to live on.
I thought, better to travel internationally to see my partner, give up my benefits, and hope for the best I could build up my freelance income further to cover my expenses, while still applying to full time jobs. I am privileged that has been the case, and I am able to fully cover my living costs with freelancing now that I can no longer receive unemployment. And luckily, I was able to still do my freelance work when I was quarantining and in the UK.
If you are employed, it is my personal (strong) opinion, that you should only consider international travel at this time if you are 100% sure you can work while in quarantine.
I say that because during the month I've been in the UK, they've brought new 14-day quarantine mandates for Greece, France, Spain, and Portugal. Each time there was only a couple days' notice and people were scrambling to get home here because they couldn't do their job while quarantined! Unfortunately, this is just one of the characteristics of travel during a pandemic… If you have an unexpected quarantine, will your employer fire you? Research this!!
---
Resources | Actually booking my flight and flying to the UK!
Next step… actually booking the flight and the associated quarantine Airbnb. Definitely not as simple as travel booking in normal times.
→Book a flight with an airline that blocks middle seats
It was very important to me that whatever airline I flew with blocked the middle seats. It is COMMON to have packed flights right now, and I was not about to sit on an eight hour flight right next to someone else.
Maybe you don't have these same qualms. But if you have the same concerns as me, I highly recommend booking a flight with Delta or Virgin Atlantic (Delta's partner airline). Alaska, JetBlue, and SouthWest are also blocking middle seats, but have less international routes. Delta recently extended their seat blocking and capacity limitations, to October 31 and January 6 respectively. You can read more about it here.
Inflated costs: My flight to London had one layover (each way) and cost $1,754 – to put this in perspective, in recent years I've been paying about $500 for roundtrip flights to London. So… flights are pricy right now. This is a major factor you should consider.
I used SkyScanner (as always) to help identify the cheapest flight with my date and airline restrictions. I highly recommend SkyScanner. You should also check out their own resource on flying during the pandemic, which makes navigating airline policies a bit easier.
→Book a quarantine Airbnb / Find suitable quarantine accommodation
Scroll down further to my section all about what went into our quarantine Airbnb. Keep in mind you need to book or choose this accommodation well before your flight, as all the details go into your Passenger Locator Form before you fly.
I made a huge list of quarantine-appropriate Airbnbs (entire accommodations, and some kind of private outdoor space). This is the one we ended up staying in. Check out the full list below!
→Fill out your Passenger Locator Form online before you fly!
This is VERY important if you are flying to the UK! You need to fill out an online Passenger Locator Form before you fly.
This can be done starting 48 hours before you fly, but it needs to be completed before your flight departs. You also need to either have printed copies, or screenshots of the document on your phone to show Border Control when you arrive.
This form is used to locate you during your mandatory 14-day quarantine. Becuase yes, the UK government will (potentially) surprise visit to make sure you are quarantining at the address you state.
Not filling out the Passenger Locator Form ahead of time results in a £100 fine. So put a reminder on your phone!!! (Actually breaking quarantine results in a fine up to £3,000, although apparently only 11 of these have actually been issued).
[su_note note_color="#c3e2e2″]Fill out your UK Passenger Locator Form here. [/su_note]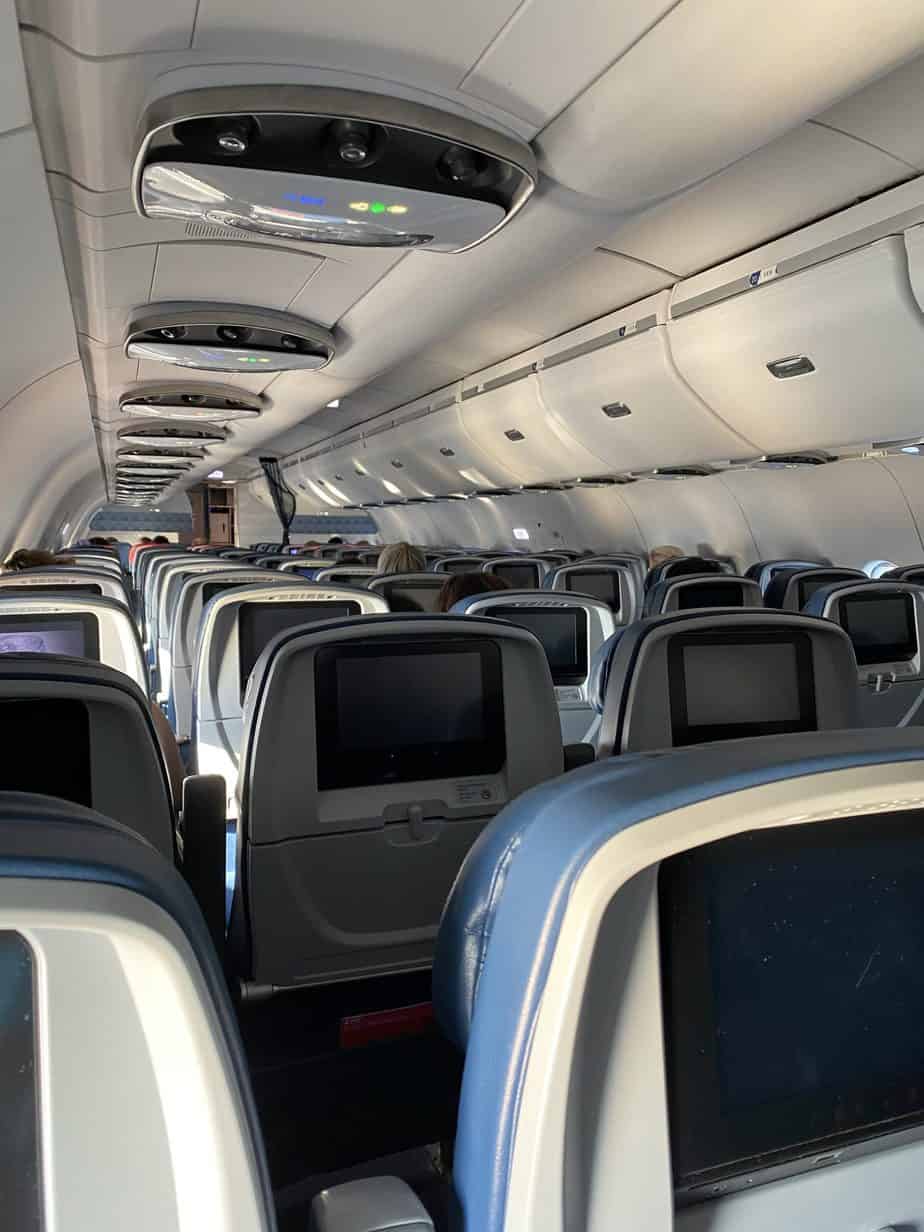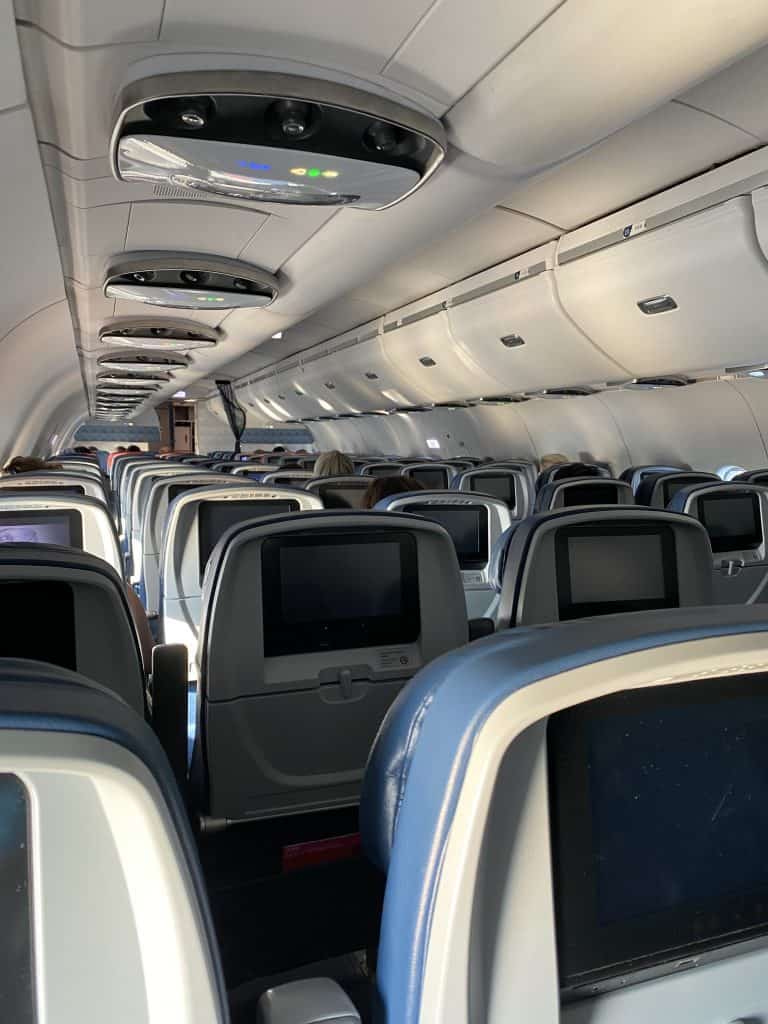 ---
My experience flying to the UK during the pandemic
I shared a bit more about the actual flying experience over on Instagram, so I'll keep this section shorter!
Flying internationally during the pandemic is weird AF. Haha, wait you want more information?
I flew from Detroit to New York, then from New York to London. The first difference was obviously that there are no longer direct flights from Detroit to London, so I had to have this layover.
Here's a quick list of some things I noticed, that you might need to know, too:
Masks are, obviously, mandatory.
Everyone follows this mandate, except quite a few people wear their masks incorrectly (below their nose). Cover your nose, people!
You do have to pull down your mask going through security, so they can check your ID.
Disposable masks are WAY more comfortable and breathable than reusable masks for a long journey like this. This is the only time in the whole pandemic I've worn disposables! Replace them every 4 hours.
You can take masks off when you are eating. It's polite, therefore, to eat far away from others in the terminal, or quickly replace your mask. On the plane, you might prefer to eat your meal after everyone else has finished and replaced their masks.
Almost every shop and restaurant (besides McDonald's LOL) was closed in the USA airports. I noticed a few more shops open at Heathrow in comparison.
At all three airports, every other seat in the terminal was blocked off.
Airport transport is either canceled or extremely limited. I had to get a ride from my Dad to the Detroit airport because our public Michigan Flyer bus has canceled all routes. (Subsequently, I had to book my flight for a time when I could be dropped off at the airport!).  Dan had to pick me up from the airport in London.
On my domestic flight, snacks were passed out in a pre-packaged plastic bag. This flight was pretty empty with 23/67 seats filled.
On my international flight, there were two meal times (dinner and breakfast). Beverages were combined with passing these meals.
THERE WERE NO SPECIAL REQUEST MEALS. I ordered a gluten free meal for my flight, but was informed (upon arriving at the airport) that they were not providing these due to COVID-19 (I'm assuming less staff or production line issues? Idk).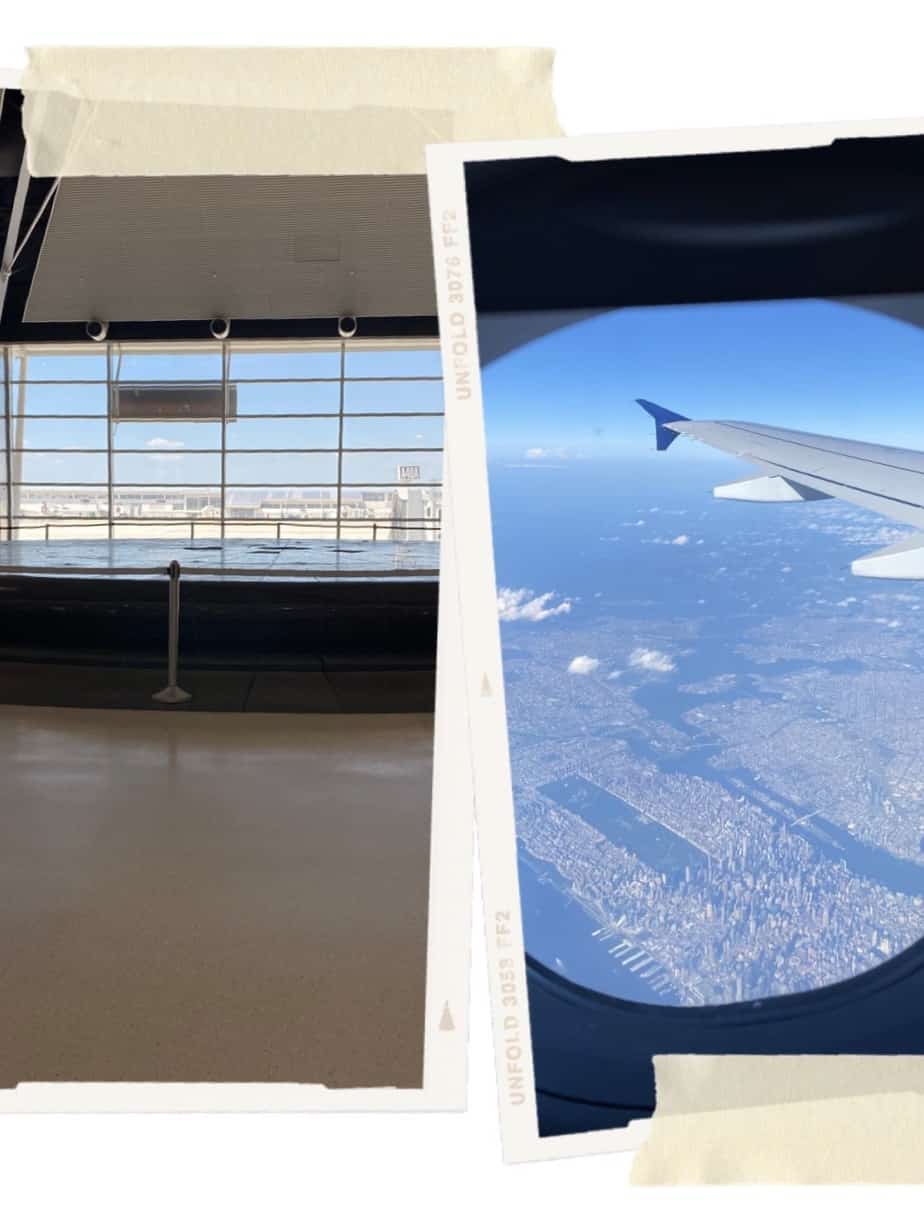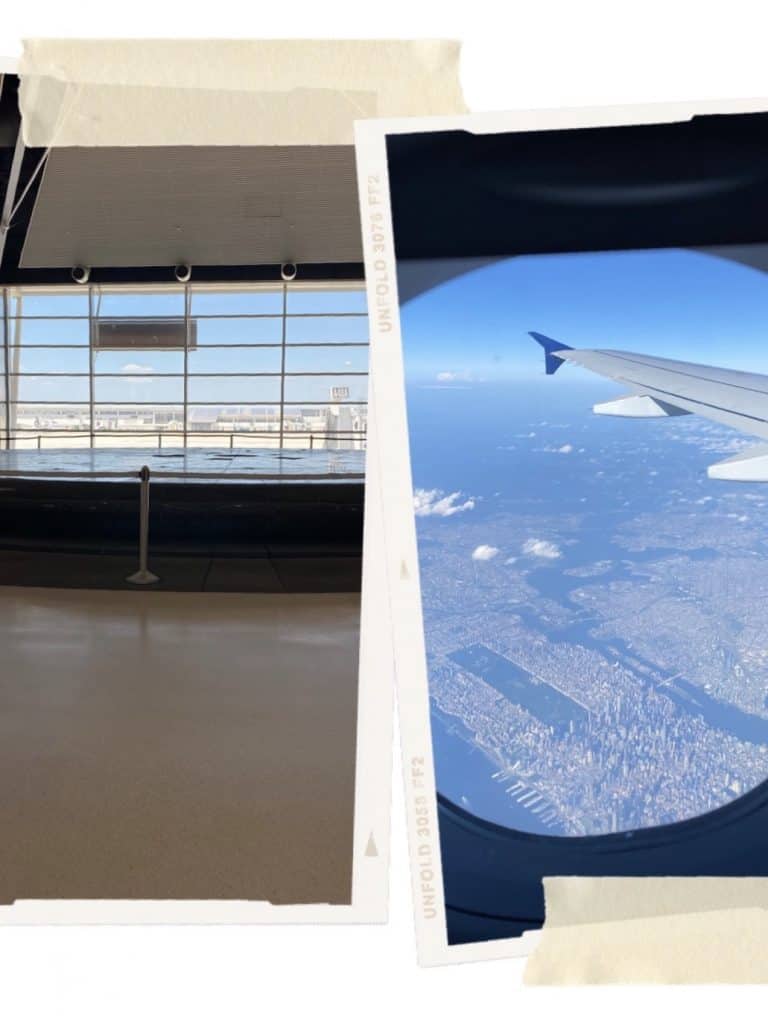 ---
My mini COVID-19 international flight packing list
In addition to what you'd normally travel with, I did of course bring some extra items for this travel journey. I'm very satisfied with what I brought and I believe it helped keep me safe!
Disposable masks | As a I mentioned, these are way more comfortable to fly with than cloth masks, in my experience. Bring enough so you can replace every 4 hours.
2 sealable plastic bags | One marked 'clean masks' and one marked 'dirty masks'! I used this for my cloth masks, but also for my disposable masks so I could cut their strings and dispose of them properly outside the airport.
4 mini hand sanitizers | We still have to keep to the 3oz liquid limit for international flights. I used a LOT of hand sanitizer during my flights – basically after I touched anything that wasn't mine. So bring a few in your carryon liquids bag!
Bag of food | You'll need plenty of food in case your inflight meals are canceled, and because most airport restaurants are shut. My bag of food was technically an "extra" bag not included in my flight ticket… but nobody questioned me about it (I often do this, and recommend you do if you have allergies). If I was to be questioned about it, I'd just say "I have a food allergy and am traveling for 18+ hours and need to eat, and your airline is not providing me a meal!"
World Nomads travel insurance | Because they actually cover COVID-19, unlike many other travel insurance plans!!
Disinfectant wipes | I bought a ton of these exact disinfectant wipes on Amazon before my trip. I'm so grateful I had these! I used them to wipe down my airport seats, my airplane seat, my window, light and fan panel, the seat back in front of me, and my suitcase after passing through security.
Lavender essential oil | Yeah, this obviously isn't necessary. But I loved having it to dab on my wrists every few hours, and I think it helped keep me calm!!
Pandemic travel essentials
---
Finally! Quarantining in the UK after international travel
Unlike some other countries, the UK government does not force you into mandated hotels. There is a certain amount of freedom in how you choose to quarantine – which comes with both positives and negatives in my opinion.
Deciding where to quarantine… is shared accommodation okay in the UK?
As I've mentioned, I've been taking the pandemic restrictions very seriously. So the thought of 'quarantining' at Dan's family home did not seem like a suitable quarantine to me. Even if I stayed in his house for 14 days, his family who also lives with him could become community vectors if I infected them. And of course, I could not ask them all to also quarantine for 14 days.
Keep in mind there is NO RULE against this. There were people on my flight who I know were "quarantining" in shared living spaces, and this is technically "okay" with the government. This, however, goes back to my earlier statement. Just because something is allowed, does not necessarily it is smart, responsible, or compassionate.
Isolated accommodation is more responsible
So, Dan and I decided to quarantine in an isolated Airbnb for the 14-days. Of course, Dan was putting himself at risk by doing this with me. It was a risk we took together and is obviously a personal decision. But we knew that risk would not impact others because he would not be leaving the accommodation either. This, for us, was the positive of the more lax "quarantine" rules that the UK government currently has.
These are factors we considered when choosing our Airbnb:
Affordable price
Entire place to ourselves
Kitchen
Washing machine
Desk spaces (we were both working)
Outdoor space
Availability – we booked the whole trip two weeks before arrival
The Airbnb we ended up staying in was lovely for a few reasons. It was just over an hour from Heathrow Airport, so pretty convenient. It was affordable, in comparison to other properties available at such late notice. It had a kitchen and washing machine, and our host created a large workspace for us.
And best – there was a HUGE outdoor space. I'm talking two large fields/pastures where two horses grazed (that was all part of the private property). It was a mile circumference and we walked it multiple times a day.
The downside to this Airbnb was it was just one massive room (plus the bathroom and small kitchen)! I was worried about not having that separate work/living area, but it turned out totally fine in the end.
Check my full list of UK quarantine Airbnbs:
I made this massive list as we were doing our own research, and will definitely refer to it if I have to quarantine here again in the future! I hope it's able to help some of you, as well.
---
Questions about international travel right now?
PHEW! I think that mostly covers what went into our travel planning process.
This has been a very straight forward blog post, but I don't want to underplay that traveling right now was really an agonizing decision. It took six months separated from Dan, and the UK and Michigan's cases to go down, plus a myriad of other factors, for me to feel able to do this. Witnessing the moving #LoveIsEssential and #LoveIsNotTourism campaigns also made me feel less alone in having to make this decision!
Ultimately, I'm very happy I flew to the UK, despite the expense and stress that went into it. I have now been in the UK over a month and obviously have had no symptoms of COVID along the way. We 100% complied with quarantine as well, so I deeply hope my journey hasn't endangered anyone else.
If you are in a similar situation as us, I truly hope this gives you some peace of mind, as well as the resources to make your own travel decision for yourself!
Any questions or comments? Just pop them below!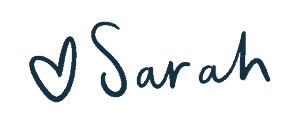 Remember to buy your travel insurance before your trip… and be sure it's a company like World Nomads that covers COVID-19!
Pin it for later…