Less Scrolling, More Traveling with JORD Watches
When JORD watches reached out to me for a collaboration, my YES came not from the watch itself (although look at it, it's gorgeous), but because I suffer from a certain affliction…. the Scrolling Monster.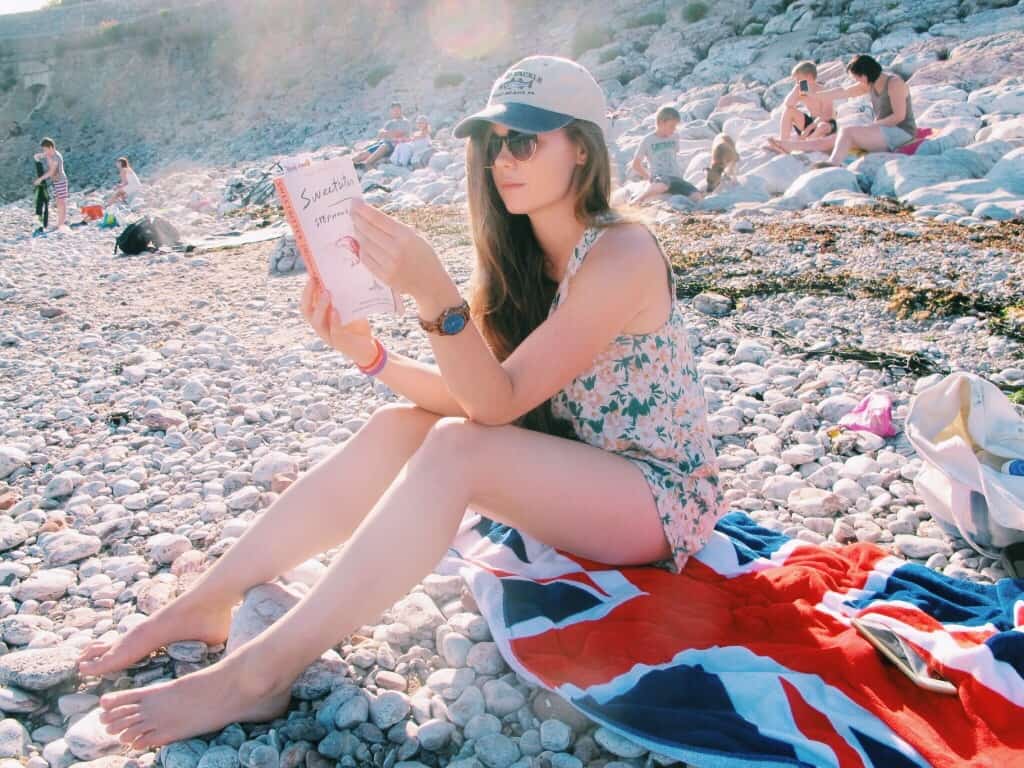 Hi, my name is Sarah, and I'm addicted to scrolling.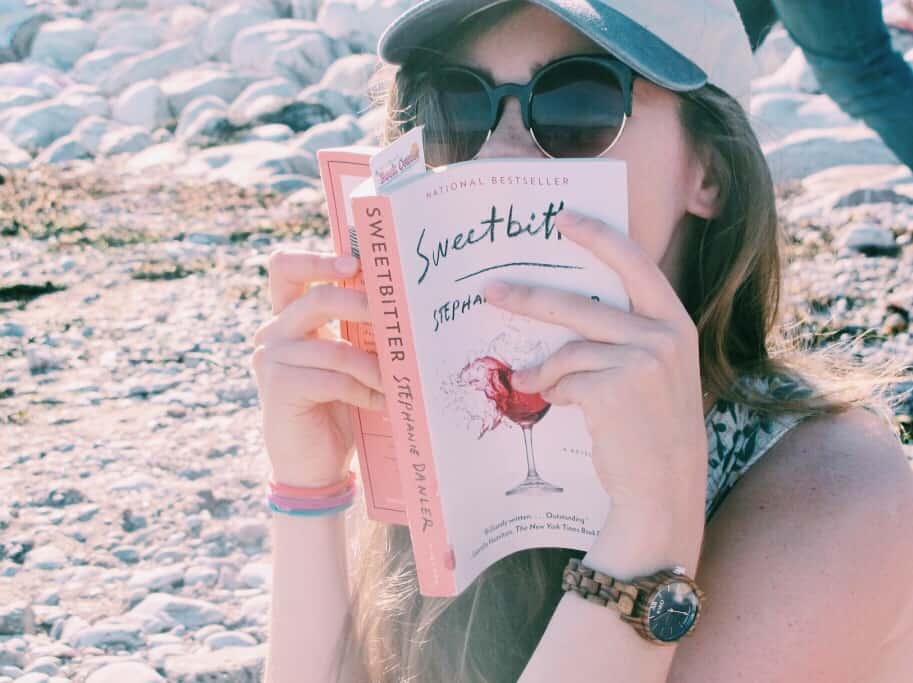 Let me explain. Recently, as I lay in bed with my hair wrapped in a towel, mindlessly scrolling through Skyscanner for no apparent reason, it occurred to me how much "extra" time I'd have if I just put my phone down. What would I do with those extra hours? Travel, of course. Lay in the sun. Feel the sea breeze. Finish a book!
But how is JORD watches helping me beat the scrolling monster and get those hours back?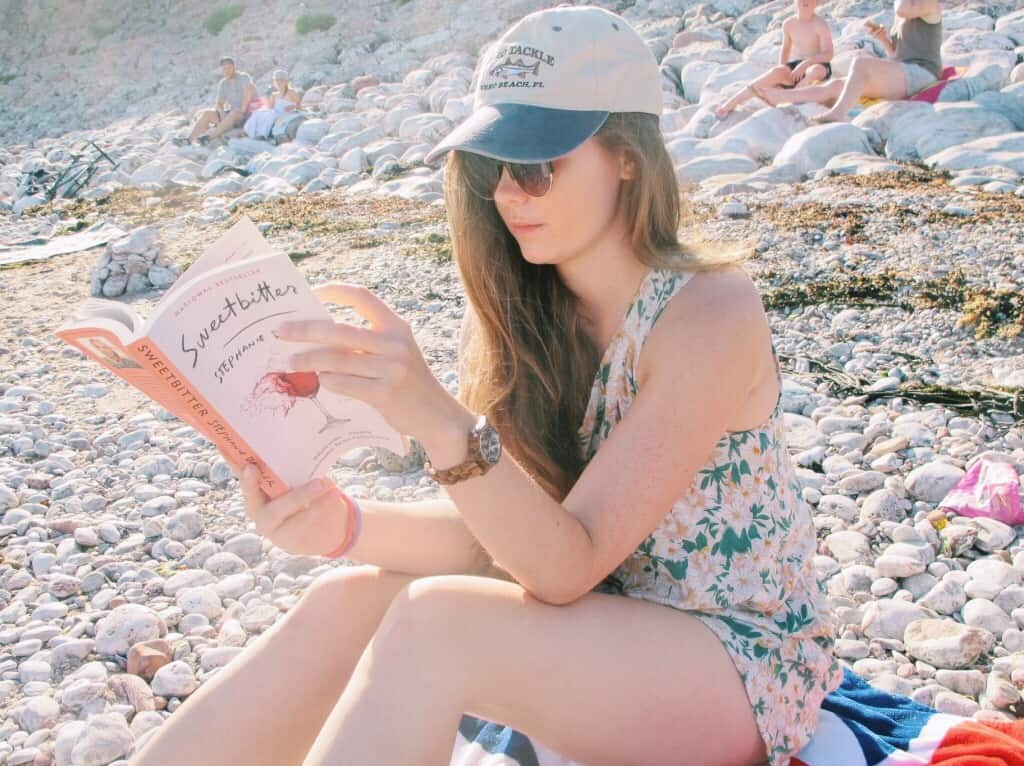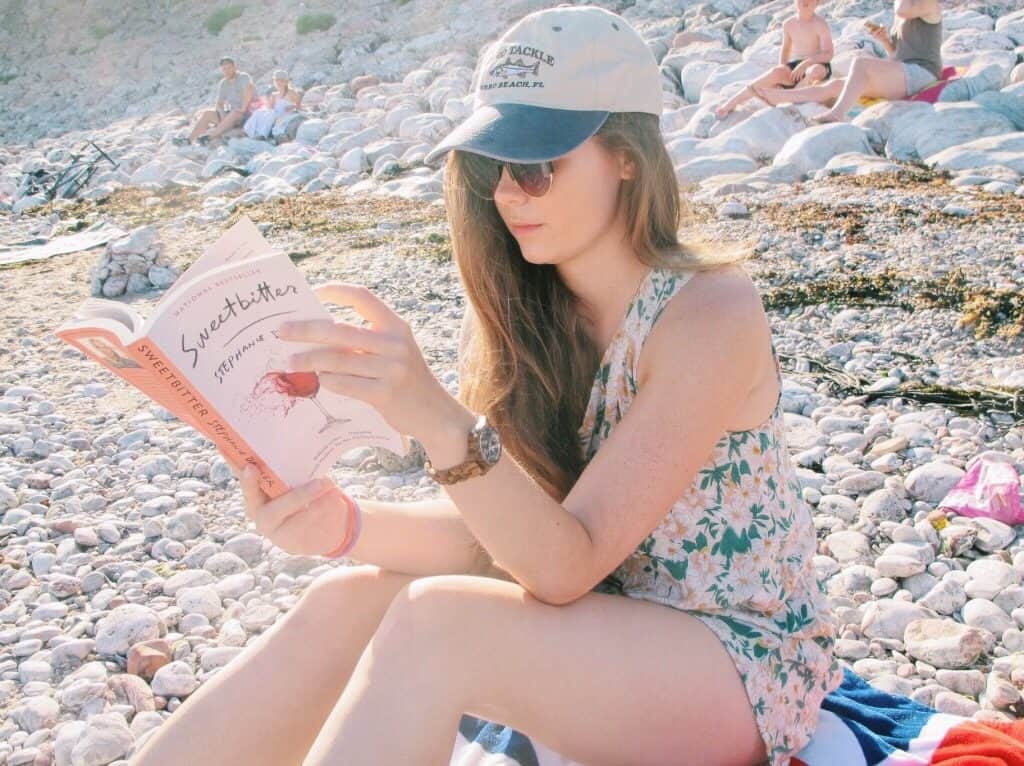 Here's my theory: iPhones are the millennial pocket watch. But instead of a quick glance to the wrist when we want the time, iPhones suck us into their quicksand of memes and stress-inducing notifications.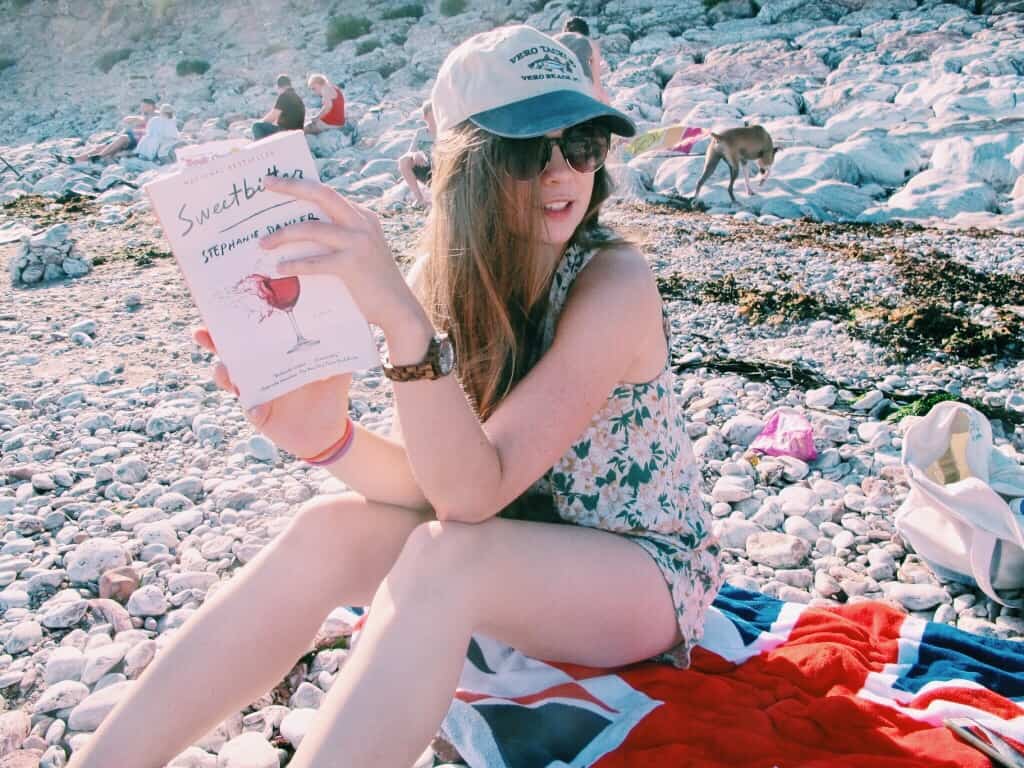 And for us travelers who are constantly scrolling through potential destinations, flight deals, and hotels… the scrolling can get exhausting! Enter… JORD watches.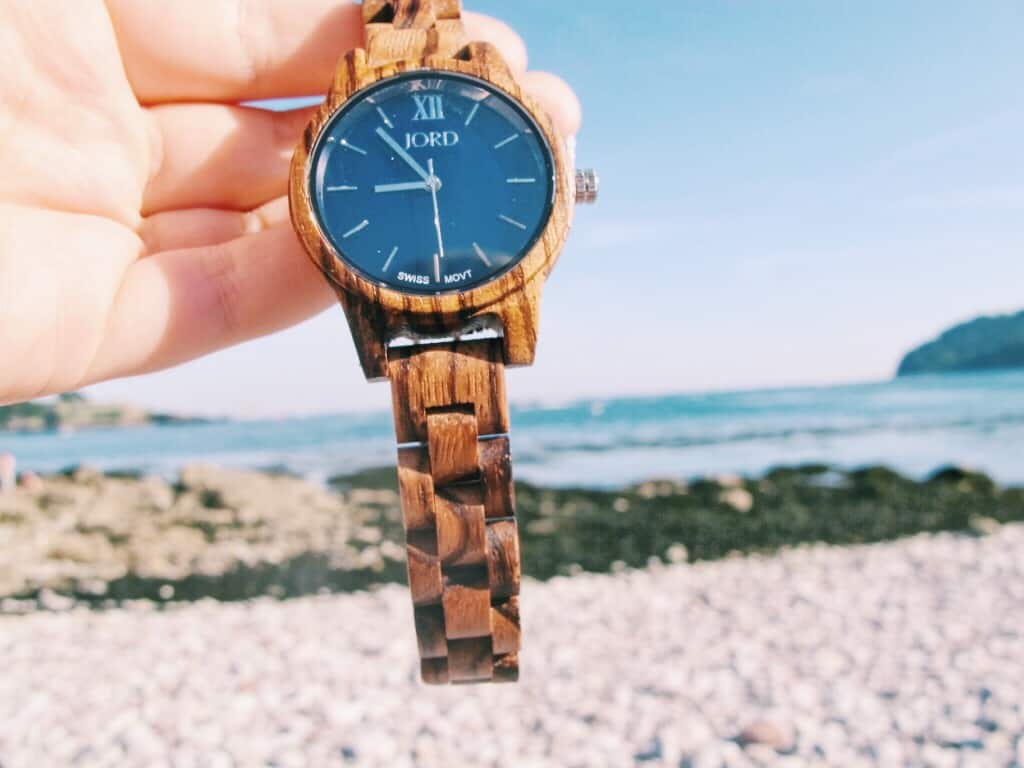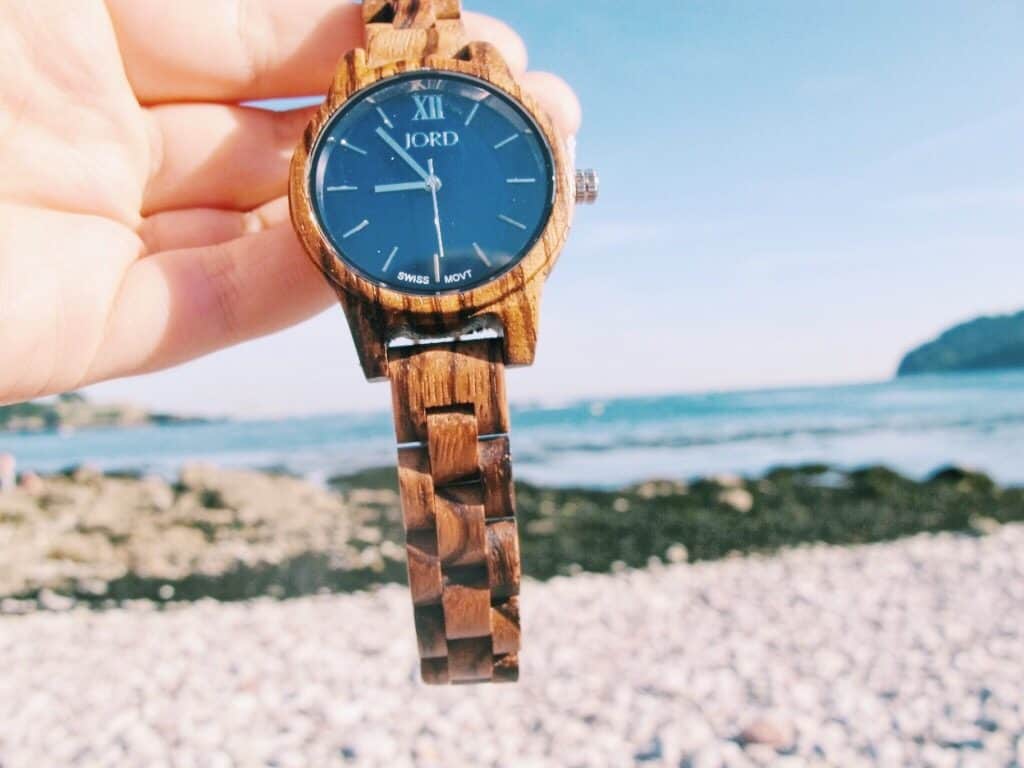 When JORD offered to send me a wooden watch to review, I (undoubtedly lying in my towel, scrolling) had a snoop through their website. I discovered their mission statement:
The value of a watch is not in being able to tell how much time has passed, but in being aware of the need to make that time count. Moments are bigger than minutes and your watch should tell more than time.
UM, YES.  I need more than time. I need to start making my time count.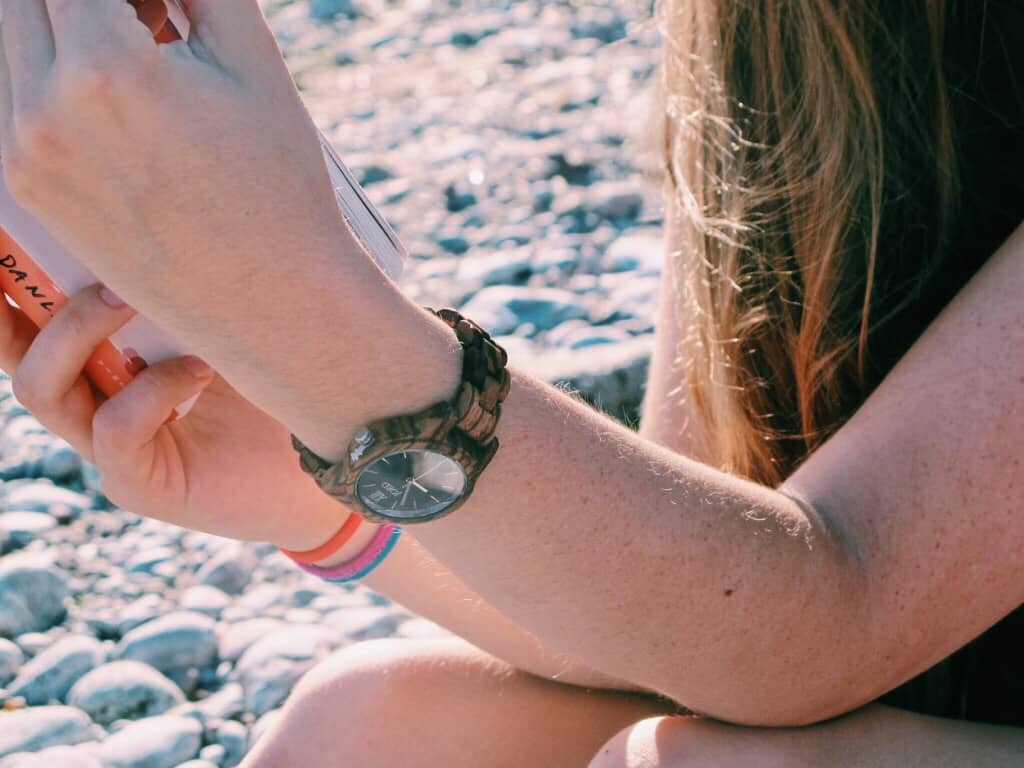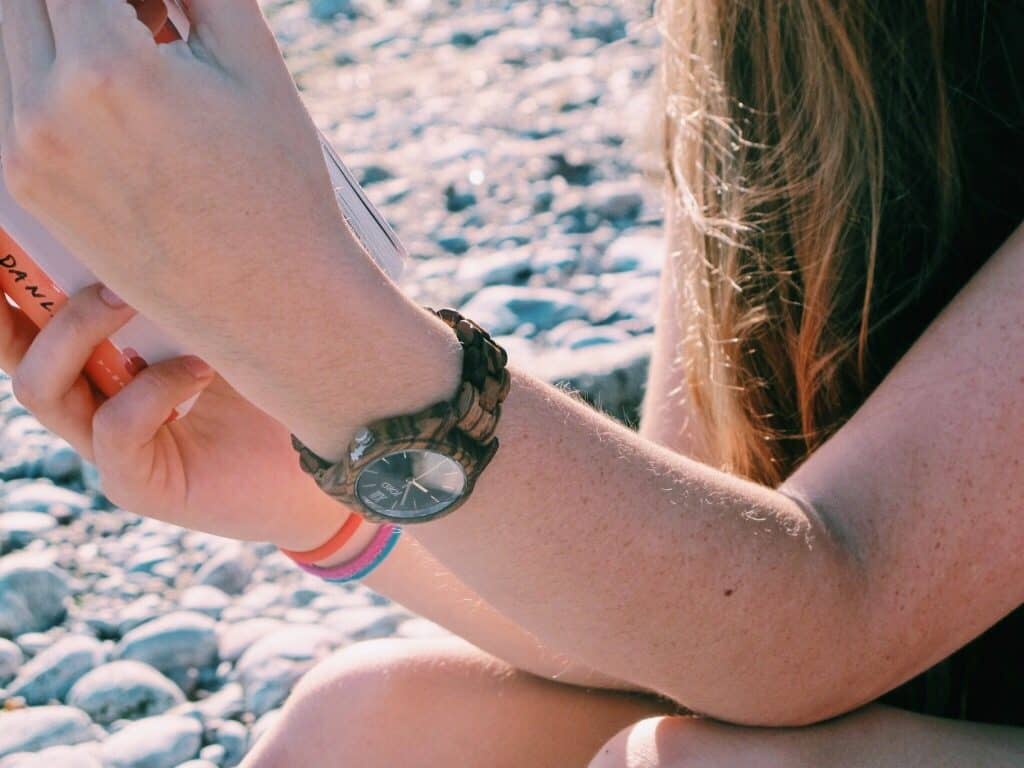 Well, since wearing my gorgeous wooden watch from JORD watches, I've noticed a difference. I pick up my phone less; I'm more in the moment.
On Monday, I spent the afternoon today lying on the stony beach with some friends by a sea pool. In this gorgeous and heady heat wave, I sprawled out on my (v British) beach towel. I pulled out the book I've been trying to finish for two months (that scrolling has been preventing me from finishing!). I dog-spotted, like any good British beach-goer. And… I didn't look at my phone once.
Thanks to JORD watches, not only do I know what time it is, but I'm more mindful. I feel… peaceful. For the first time in a loooong time. Who knew a watch could do all that?!
I've gotten lots of comments on the watch – it fits my style, which is simple, casual, and comfy-elegant (if I do say so myself). And even though I was skeptical of wearing a wooden watch to start with, I have to say it feels right. It's lightweight, smooth, and the natural wood makes me feel grounded. As a traveler with a hectic life and a scrolling problem, some grounding is just what I needed.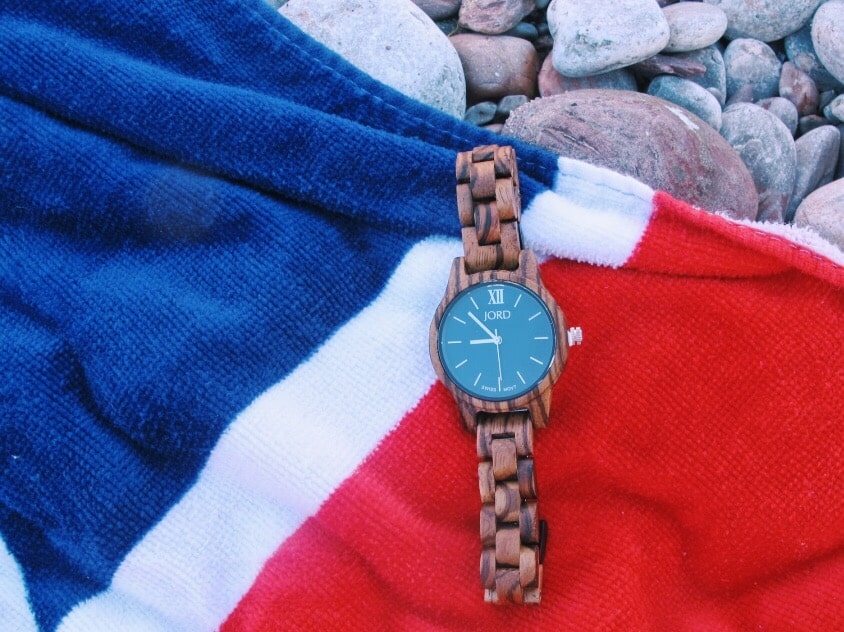 Now that you've heard my spiel, I have something for you!
I'm partnering with JORD Watches for a GIVEAWAY!
One person will win a $100 gift card! And that's not it… EVERY ONE who enters is guaranteed a $25 gift card even if you don't win. I mean, literally all you need to do is enter the giveaway and you've got $25 to spend! I was pretty floored by that, but I guess that's how JORD watches roll. You can enter by clicking here or through the link on my instagram.
The giveaway ends July 16th at 11:59pm. After that, your giveaway codes will expire September 30th. Get entering!
I'm interested to know… do you think scrolling gets in the way of your traveling? Of your life? What do you do to handle it? Would you ever get a watch, like me, to beat the scrolling monster?
Sarah xx
Pin it for later…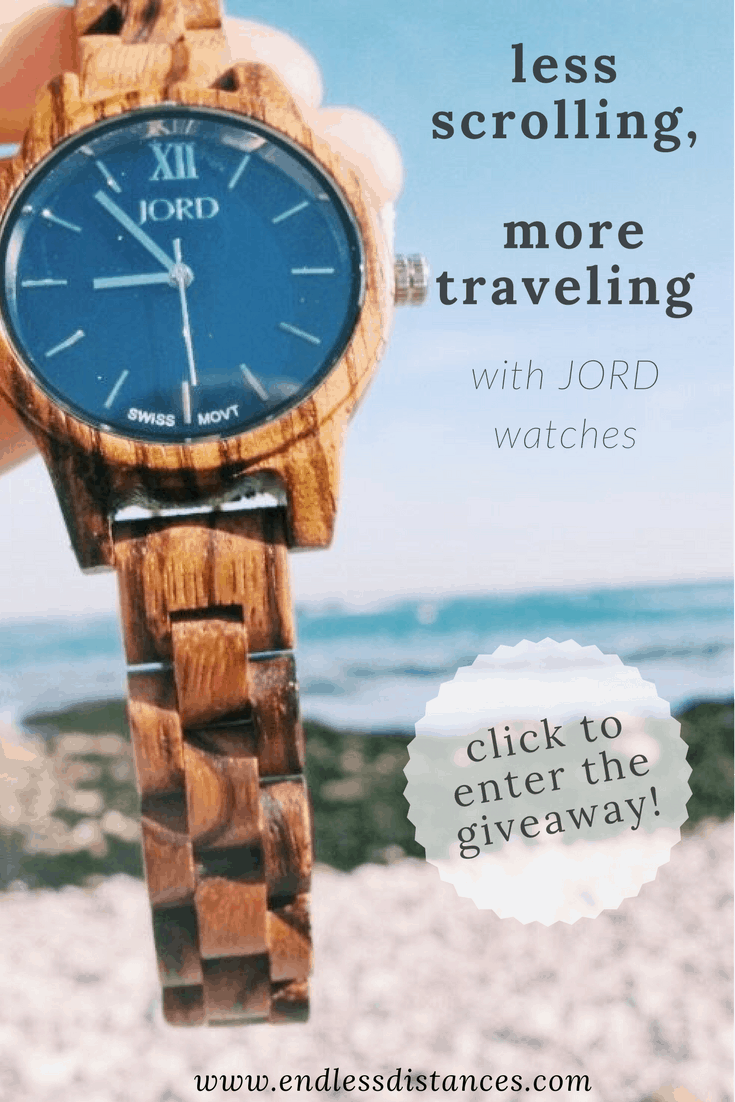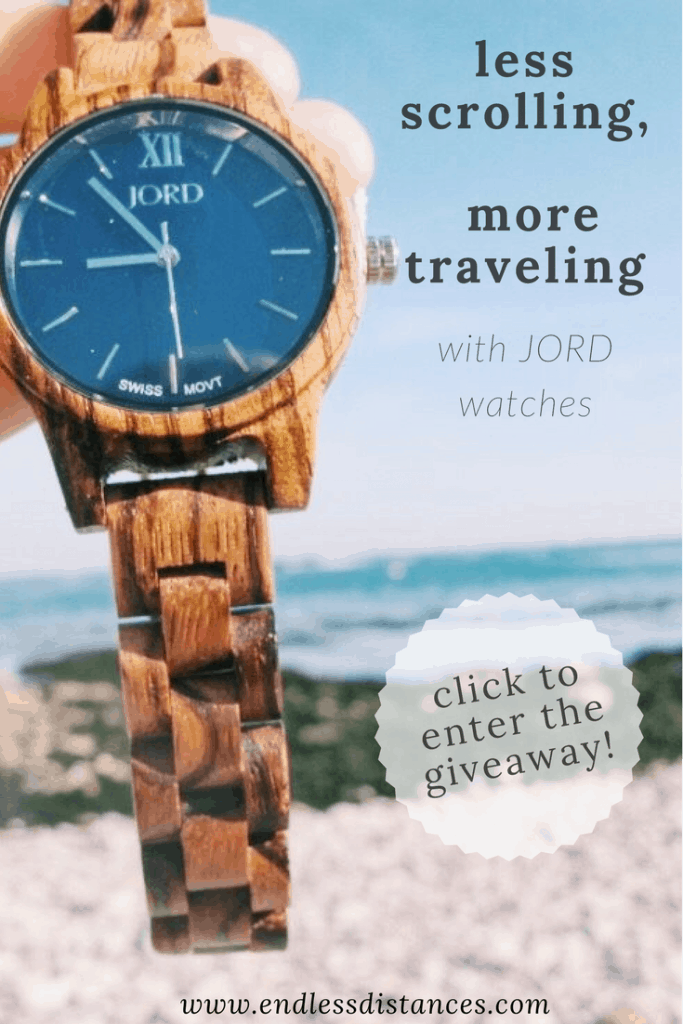 P. S. It comes in this gorgeous wooden box (with a secret compartment!! Yay!!). You can shop my watch here – it's part of the Frankie series, zebrawood and navy.
I received this watch complimentarily from JORD in exchange for an honest review. Of course, all opinions are my own and I would not endorse anything on my blog that I did not truly love!