Our Lake-Inspired Save The Dates With Basic Invite
It's a little weird how excited I was for our save the dates. I am so happy with how they turned out and I can't stop staring at them!
Here, I'm sharing our gorgeous save the dates and how we created them, in partnership with Basic Invite. Plus, I'm sharing a little update on our wedding planning process so far. Expect lots more wedding content over the next 12 months!
DISCOUNT | Right now Basic Invite is offering 15% off with coupon code: 15FF51
Our Wedding Planning Journey So Far
As you all know, Dan and I got engaged last year, and in between our round-the-world trip, we've been planning our wedding.
Now, I'm not someone who ever gave a remote thought to what my wedding would look like growing up. But as soon as Dan and I got engaged, we both suddenly had all these ideas.
At first it was overwhelming; we nearly eloped. Actually, my friends have multiple times voted me "most likely to elope" (spoiler: they were in for a surprise). Together, Dan and I had a long, hard think about what we wanted.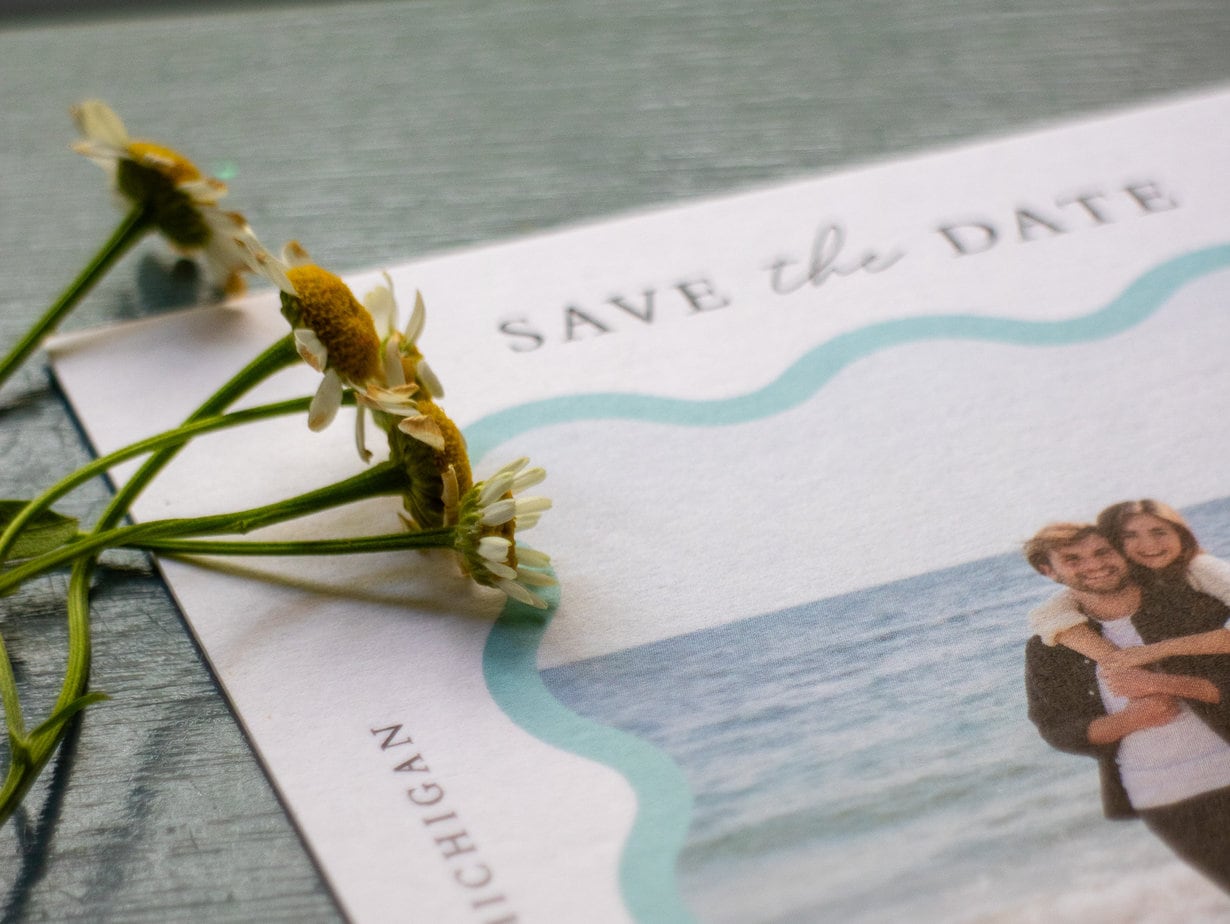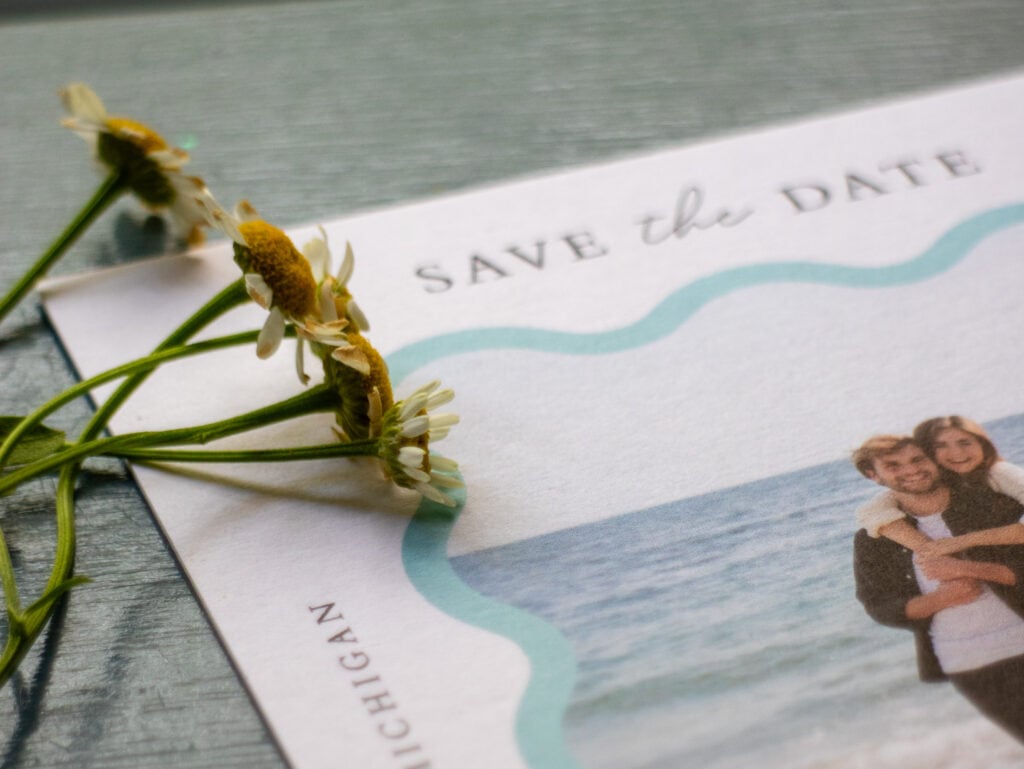 We're both big into memories > things, and together we decided that we intentionally wanted to have a big wedding weekend, celebrating in a beautiful place while uniting our friends and family from around the world. In other words, a wedding didn't feel like a given, but more like a very conscious choice.
Being from different countries (Dan is a British citizen and I am an American citizen), we sadly are never going to have that "normal" experience, that so many people take for granted, of our family and friends mingling together over the years at various holidays and gatherings.
So, the possibility of a wedding weekend became especially meaningful to us. It is quite literally the singular time in our lives that we will have these people together in one country. So, that's how we went from "let's just elope" to "let's have a weekend-long dream wedding event at a resort on the shores of Lake Michigan"!
RELATED | The Proposal Story
Our Save The Date Inspiration: Whimsical, Minimalist, Lake-Day Vibes
Of course, when it came to our save the dates, we wanted them to match the vibes of our wedding weekend. We're focusing a lot on guest experience, because we know our guests will have to make long journeys from around the world to join us on our wedding weekend.
So, we wanted our save the dates to offer a first peek into what to expect: lake day vibes, minimalist elegance, whimsicality, adventure, comfort, fun, and beauty.
Making Our Save The Dates With Basic Invite
For designing our save the dates, we used Basic Invite. I was first introduced to Basic Invite by my blogging friend Amanda, who swears by them for anything stationary-related.
I browsed their website and was immediately sold. Making our save the dates with Basic Invite gave me a lot of creative control over what they ultimately looked like, while still having the benefit of an actual company to handle the finer details (despite my best wishes, I am not a DIY bride haha).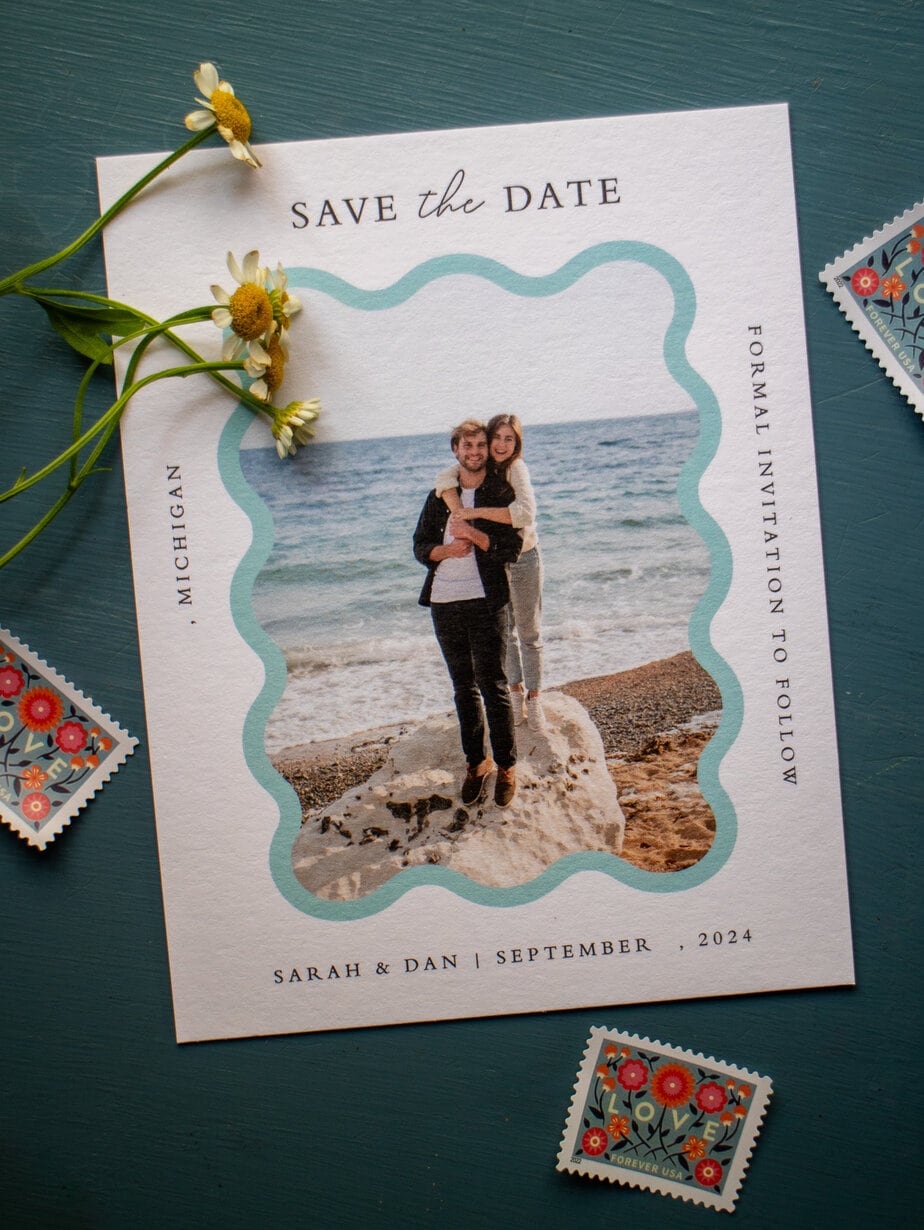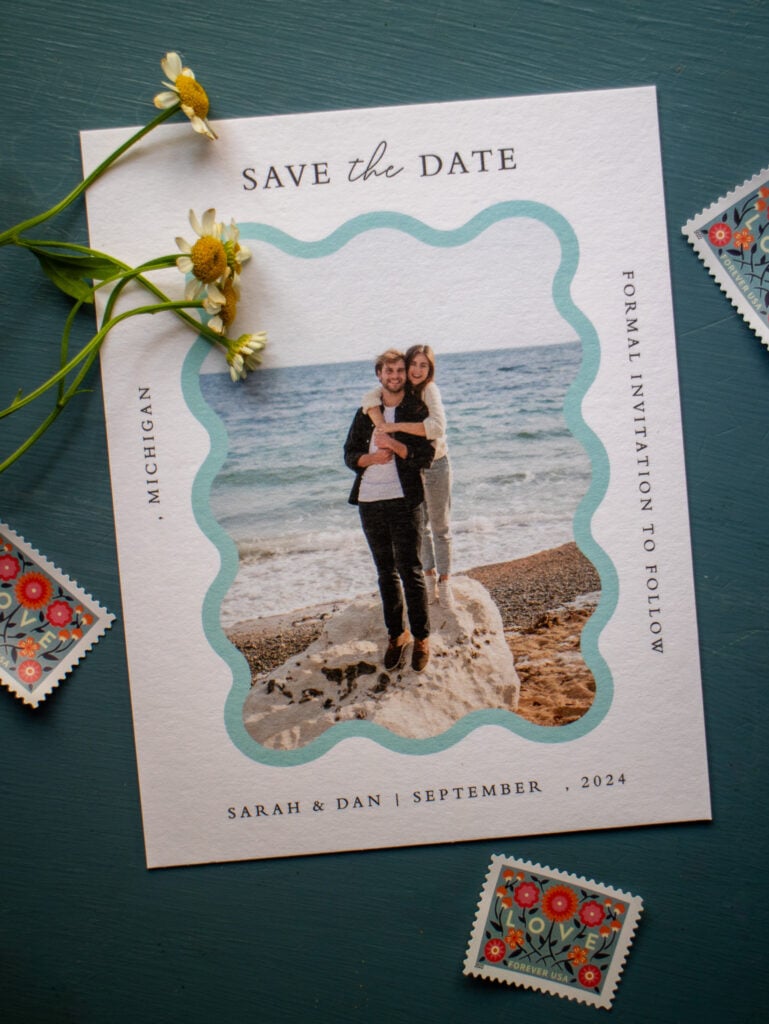 Extreme Customization
Perhaps my favorite thing about Basic Invite is the extreme level of customization that we had.
I knew that I wanted these features on our save the date:
Photo, to showcase our beautiful engagement photos taken by Lyra and Moth
Light blues, greens, and whites to elicit a "lake day vibe"
Serif font to add a touch of elegance
Whimsical design elements to balance the serif font
Finding any save the date design that matched all of those factors exactly was an impossible task. Which was fine… after all, I didn't really want our save the date to end up looking exactly like someone else's, anyway!
Luckily, Basic Invite gives you an incredible amount of customization options.
You can alter existing design templates by:
Changing the font
Altering the text size and placement
Altering photo and design element size and placement
Choosing from 180+ colors
And that is exactly how I took this design template and customized it into our save the dates! Suddenly, the design felt a lot more like us, and the way we wanted to introduce our wedding to our guests.
Custom Samples
Another benefit of Basic Invite is that they are one of the few wedding stationary website that allow customers to print and mail samples of their customized stationary, before placing a final order.
This way, you can see how it feels and looks in real life before spending the money on tons of prints.
Free Addressing
Basic Invite also has a feature that addresses the envelopes for you. This looked really professional and clean, and saved a ton of time (and potential mistakes) of handwriting.
I was even able to use the same font from our save the date cards for the addresses on the envelopes, so it all looked cohesive!
Uploading the addresses is pretty easy. You just have to create an excel spreadsheet with their template, and then upload it to the Basic Invite website. Dan had already created a spreadsheet of guest addresses so this wasn't too time consuming.
Paper Quality
There are a number of options for paper quality and weight: Signature Matte (matte finish, 110 lb., white), Smooth Coated (semi-gloss finish, 110 lb., white), Premium Shimmer (shimmer finish, 110lb., pearl white), Double Thick (matte finish, 200lb., white), Luxe Velvet (velvet matte finish, 110lb., white).
For our save the dates, Dan and I chose the Double Thick (matte finish, 200lb., white), which felt like a little splurge and step up from your average save the date card.
When I felt them in person, I was sooo happy that we decided to get the thicker paper. It's a very simple way to elevate the cards and make them a little bit more luxury and memorable. I was so pleased with how that came out.
International Shipping (Ideal For Our USA-UK Wedding)
Now, this feature is quite specific to Dan and I, and our international relationship.
One thing I really appreciated about Basic Invite was that they do international shipping, for a really reasonable rate. And better yet, the international shipping was fast.
We ended up purchasing one order of save the dates to my address in the USA, and one order to Dan's mom in the UK. From there, we were able to ship all our save the dates domestically (apart from a few friends around Europe, India, and Australia!). We saved quite a bit of money than if we'd bought international stamps for each card individually.
RELATED | How to Make an International Long Distance Relationship Work
And More!
Yes, there are even more features on Basic Invite that I didn't take advantage of (this time), but you might love.
These include:
Address Capturing Service – Share a customized link to request your guests' addresses.
Foil – Add shiny foil to select cards in gold, silver, and rose gold. You can can choose from flat or raised foil on all of Basic Invite's foil designs.
Envelope Colors – Basic Invite offers 40+ different colors of envelope. Just select the color you want during the design process.
Peel and Seal – All of Basic Invite's envelopes are peel and seal so the envelopes can be closed quickly and securely.
Final Thoughts on Our Lake-Inspired Save The Dates
Designing our save the dates was the first "public" thing that Dan and I did for our wedding. Of course, we'd been working behind the scenes on budgeting and booking the venue and vendors, but nobody (except us and my parents!) saw any of that.
So, sending out these save the dates feels very special because it is the first glimpse that our guests will get into our wedding weekend. I'm so pleased with how they turned out, and feel like they really represent our "vibe" quite well!
As for the rest of wedding planning, things are ramping up as we are now less than a year out from the big weekend! I'm sure I'll be returning to Basic Invite in time, to peruse their other wedding stationary (wedding place cards, a wedding programme, menu cards, personalized coasters, and a guest book chief among them!).
Let me know what you think of our save the dates in the comments below, and of course I'd appreciate all your wedding planning words of wisdom!
DISCOUNT | Right now Basic Invite is offering 15% off with coupon code: 15FF51

This is a collaborative post with Basic Invite. All opinions are my own.