Gluten Free Portland Maine: A Complete Travel Guide
Chances are if you are traveling in Maine, you will pass through Portland, the state's largest city. But is it a good place to stick around if you are gluten free? This was my third visit to Portland but my first in the eight years I've been gluten free! I have to say, the gluten free Portland Maine scene totally surpassed my expectations, and months later I still dream of some of the meals I had here.
When I was growing up, my family spent a year living on Cape Cod in Massachusetts. I also have lots of family along the northeast coast in New York and New Jersey, so I've always associated this area of the United States with fun, cozy, fond memories. Maine itself is one of my favorite states, being 90% covered in forest, and lined in quaint coastal villages and islands. My mom has actually been in a "retire to Maine" Facebook group for years, and is always reporting the gossip back to me. I'm not gonna lie, if my parents did retire to Maine, my first stop would be for a gluten free donut in Portland, haha! (Of course, I'd have to bring them some donuts, too).
I'm getting ahead of myself, though. This state and Portland in particular are really special and if you have celiac disease you won't be left out. This gluten free Portland Maine guide includes:
Dedicated gluten free restaurants
Restaurants with gluten free options (discussing cross contact)
Where to find gluten free lobster rolls
Must-visit gluten free restaurants elsewhere in Maine
Where to stay in Portland Maine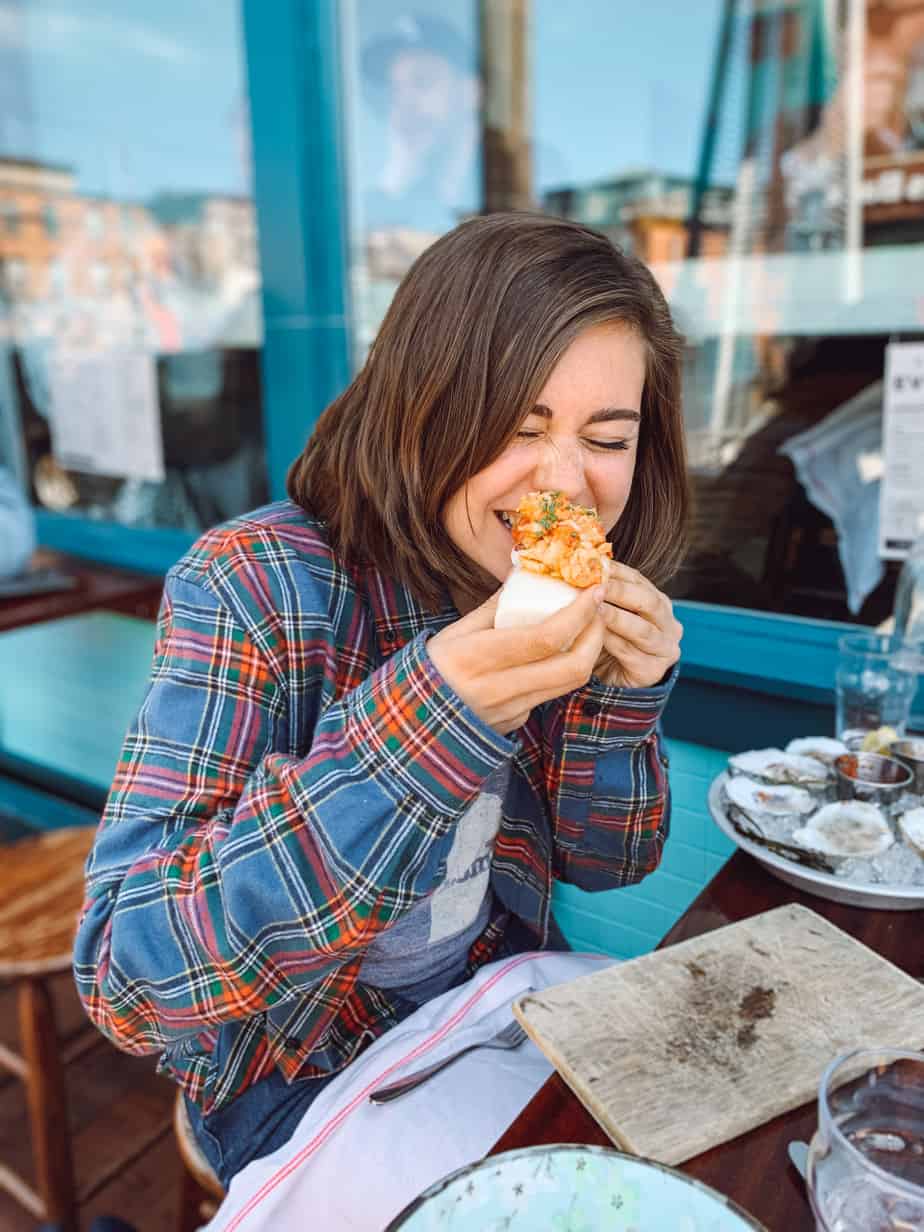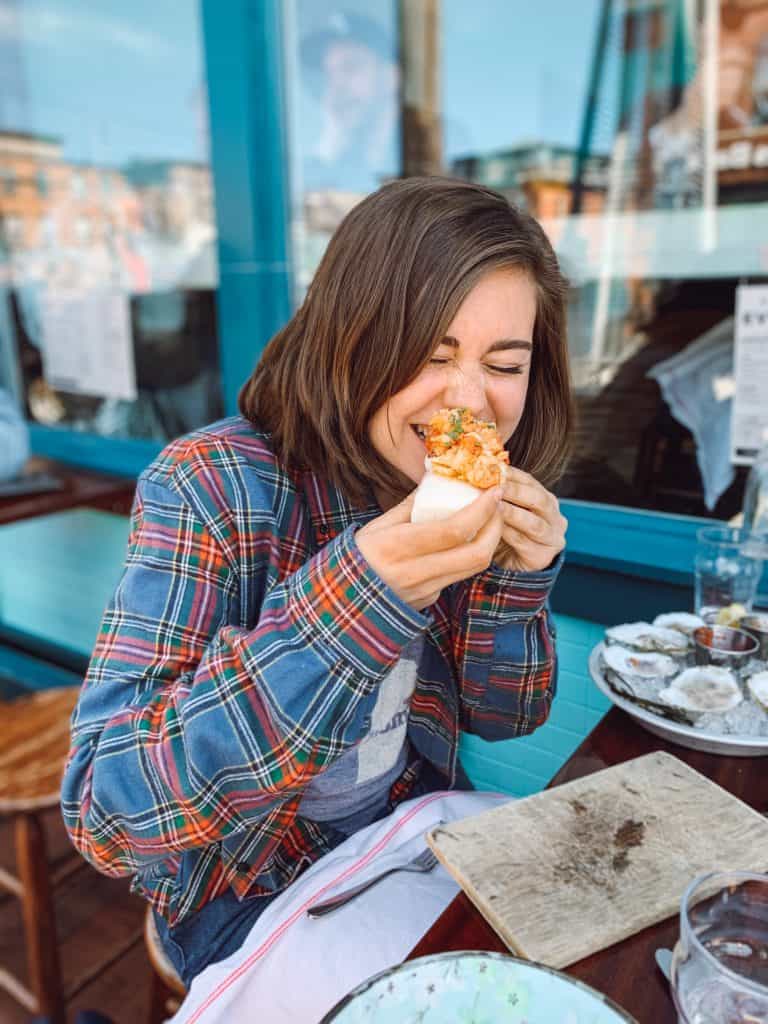 Where to stay in Portland Maine if you're gluten free
The Inn on Carleton
The Inn on Carleton is a Victorian Bed and Breakfast located in central downtown Portland, walking distance from most of the restaurants I discuss below! They are able to cater to gluten free needs, by providing gluten free options at their two course breakfast (which is included in the rate). Just let them know when you book!
I unfortunately didn't stay here when we were in Portland as part of my trip was attending the Women in Travel Summit, hosted at the Holiday Inn (which is also a good central hotel in Portland… just no amazing gluten free breakfast). So I can't recommend the Inn on Carleton based on personal experience, but I've read some really stellar reviews. The Inn on Carleton is top of my list for when I return to Portland!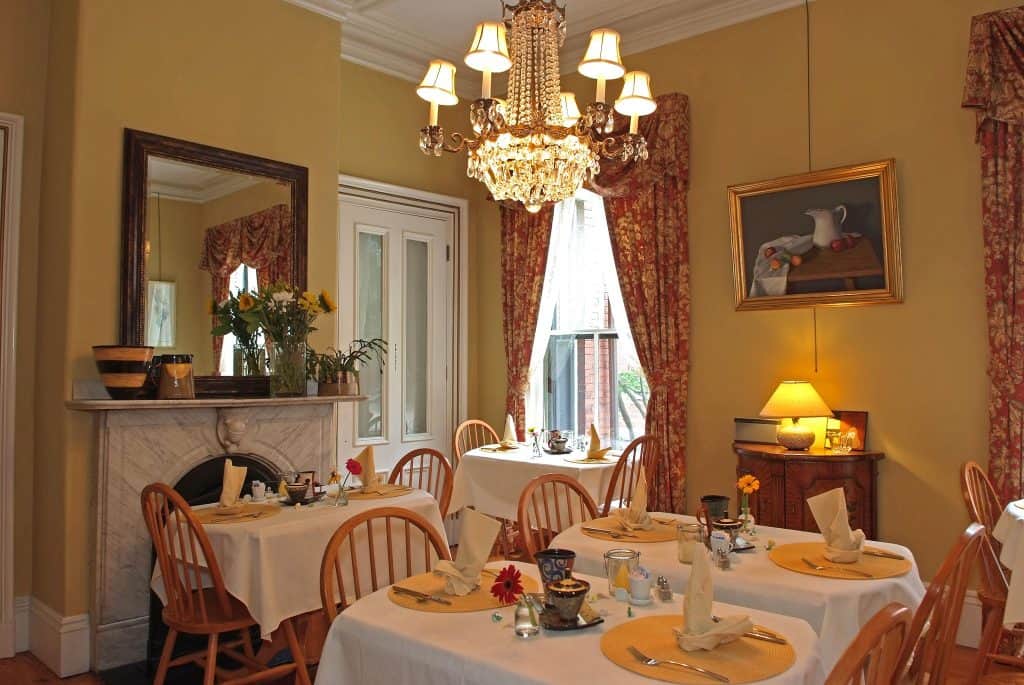 Dedicated gluten free restaurants in Portland, Maine
Maiz Colombian Street Food
Maiz Colombian Street Food doesn't overtly market themselves as a dedicated gluten free restaurant, but they are (minus some gluten-filled beers served in bottles – I've found this is pretty common in dedicated gluten free restaurants though). The reason is probably that most of their dishes are naturally gluten free – think chewy, crispy arepas, alfajores, empanadas, and more. They even have gluten free cakes for dessert.
Colombian food is naturally very gluten free friendly, but it helps that one of Maiz's owners has celiac disease herself. So I felt really confident they knew what they were doing!
Bam Bam Bakery
*2021: CLOSED! They are building a new location. Stay tuned for their opening, which I will update here!*
Bam Bam Bakery is a dedicated gluten free cafe and bakery in Portland, on Commercial Street which is right by the water! Seriously, I think my jaw dropped the first time I set foot in here. The counter and multiple glass cases plus a glass refrigerator are FILLED with gluten free pastries, cakes, breads, cinnamon buns, cookies, brownies, lemon squares, and so much more.
I came here… I don't even know. A LOT. Mostly I picked up cookies and whoopie pies (a Maine specialty) and what not to go. However you can also have a sit down meal at Bam Bam Bakery. The one time I came for lunch, I ordered a soup and a gluten free chicken pot pie. Yup. Chicken pot pie!!! That is the one and only time I've had chicken pot pie in nearly a decade and it was incredible.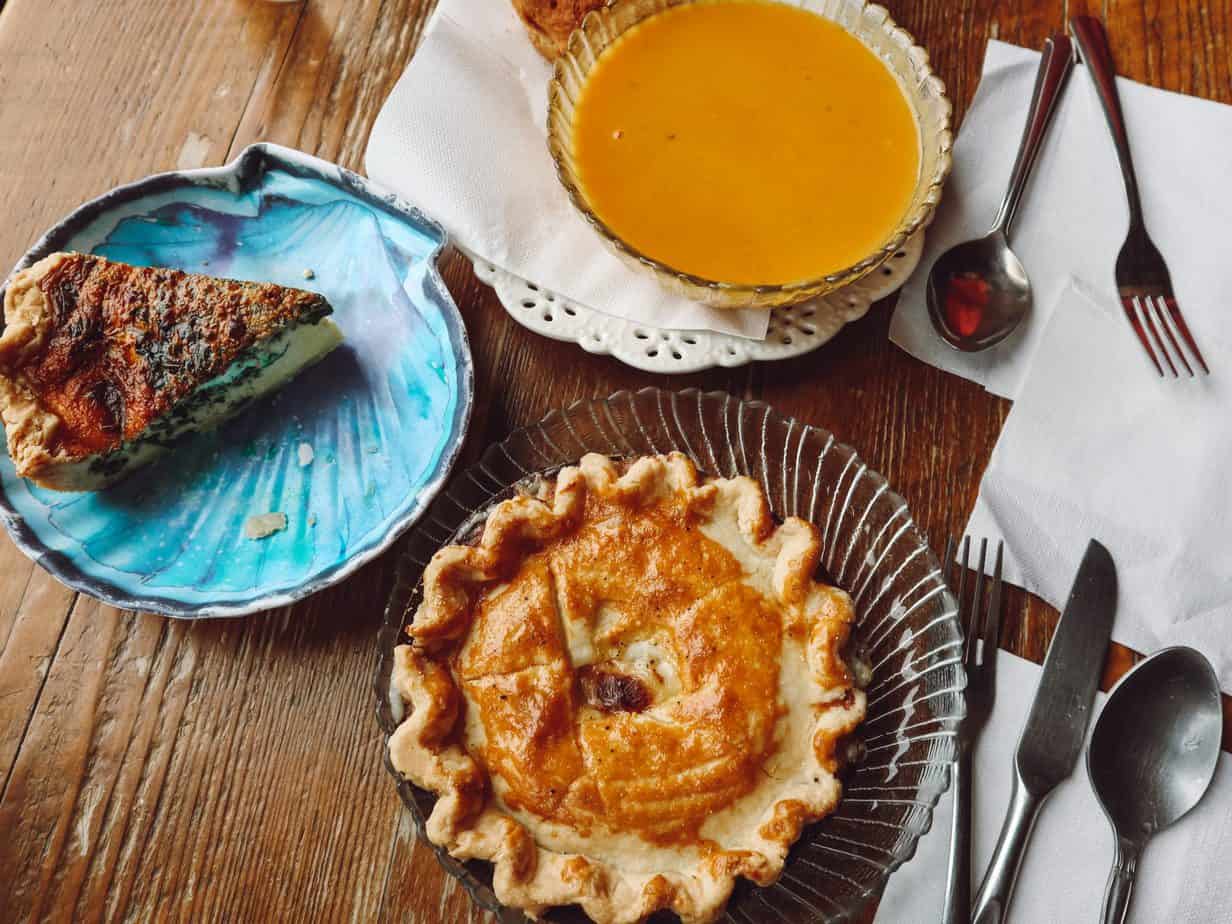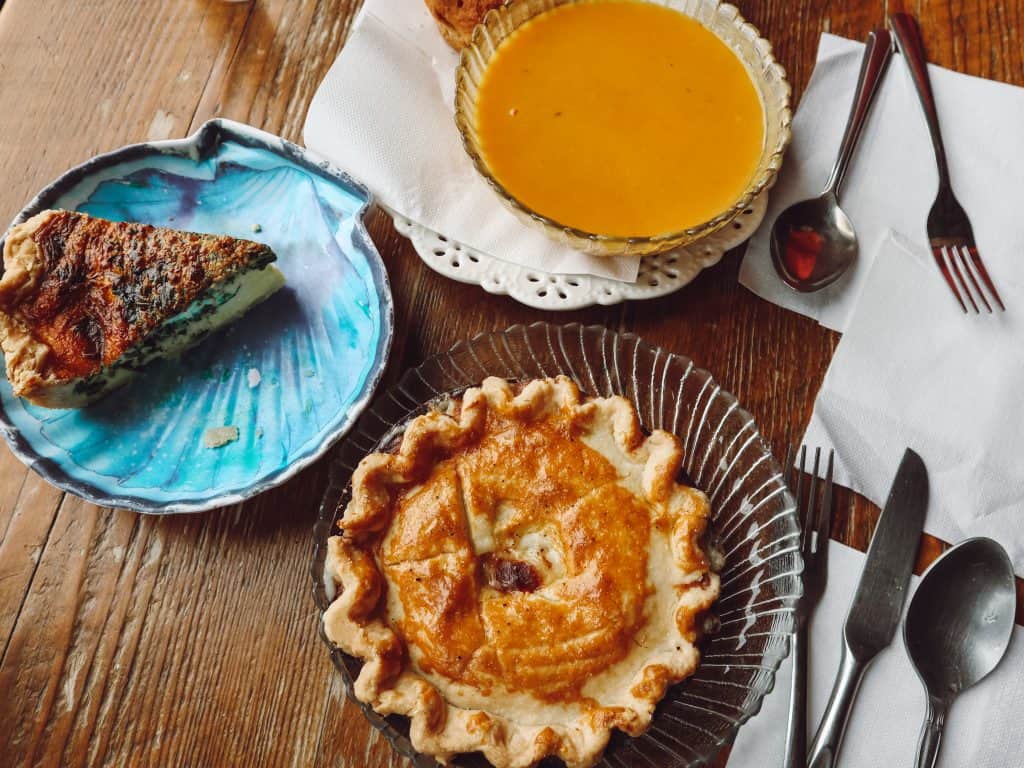 Non-dedicated gluten free restaurants in Portland, Maine
Empire Chinese Kitchen
GLUTEN FREE DUMPLINGS.
Wait, you need more explanation? You probably know how hard it is to come by safe gluten free Chinese food if you've had celiac disease or been gluten free for any amount of time. When I first read about Empire Chinese Kitchen, which describe themselves as a "deluxe Chinese restaurant," I knew I had to eat here.
Empire Chinese Kitchen has gone out of their way to offer a ton of gluten free options, which are all clearly marked on the menu. Our server knew what celiac disease was, and pre-empted me with explanations of their dedicated kitchen space and prep methods.
I had both the pork and the lobster dumplings (OMG – just incredible), the hot and sour soup (I feel like I can still taste this – highly recommend!), and the bacon fried rice (I was too hungry and ate this before I got any photos!).
Empire Chinese Kitchen // 575 Congress St, Portland, ME 04101
Note: Make a reservation as this place gets crowded!
Related: Gluten Free Restaurants in New York City
Eventide Oyster Company
Eventide Oyster Company is an oyster bar in Portland that was recommended to me by my friend Cat for their ultra-fresh oysters, many straight from Casco Bay. I was already planning to eat here, but you can imagine how excited I was when I sneakily discovered on their website that Eventide Oyster Company also serves a gluten free lobster roll!
Lobster rolls are absolutely a staple in Maine (and I actually have an entire blog post all about where to find gluten free lobster rolls in Maine). However Eventide definitely puts their own spin on the classic lobster roll.
The roll itself is a steamed bun – super spongy, sweet, and not at all crumbly. They split the bun down the center and stuff it with fresh lobster and clarified butter. This is such an unexpected combination that, I'm not going to lie, I'm still drooling over months later. Additional good news is that because the buns are steamed in dedicated baskets, there is very little chance of cross contact (which the staff is particularly careful about!).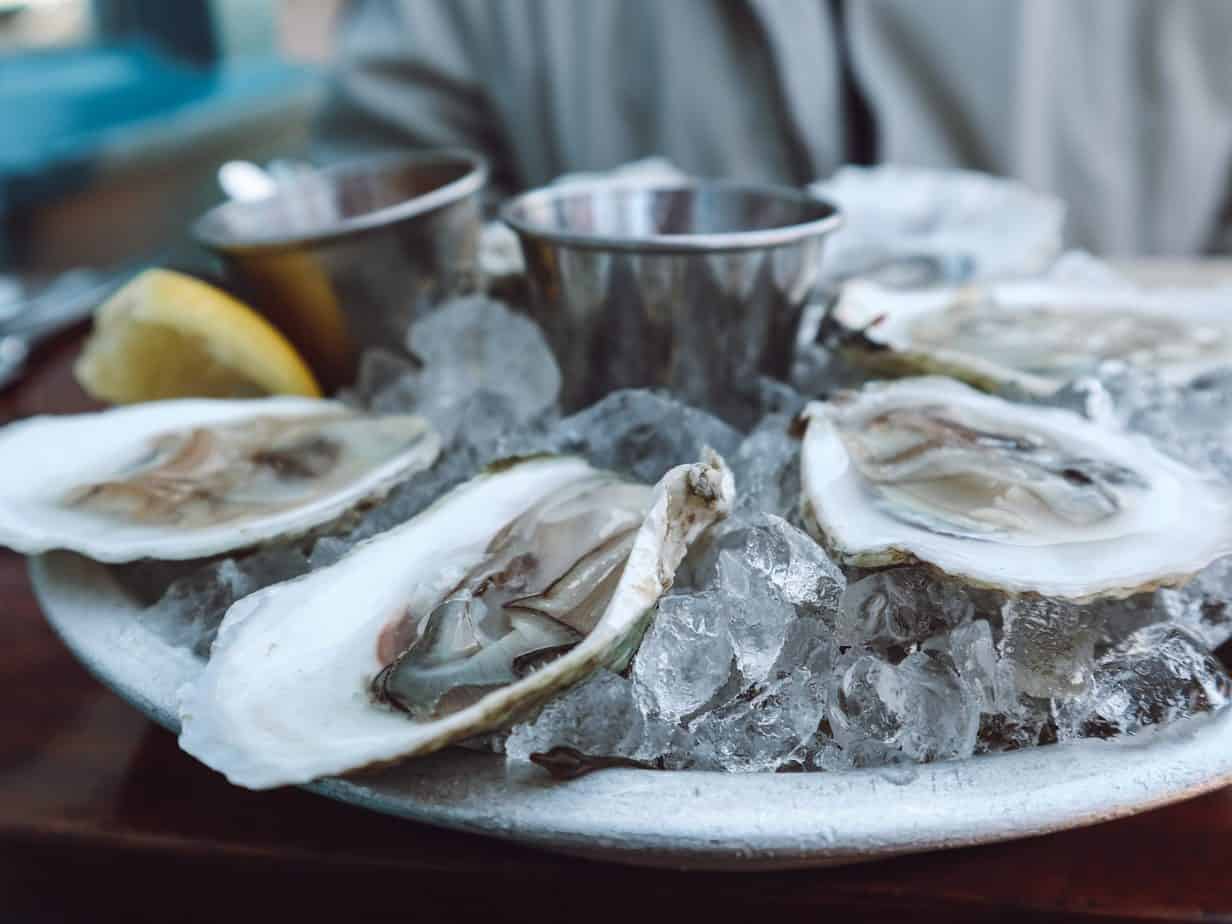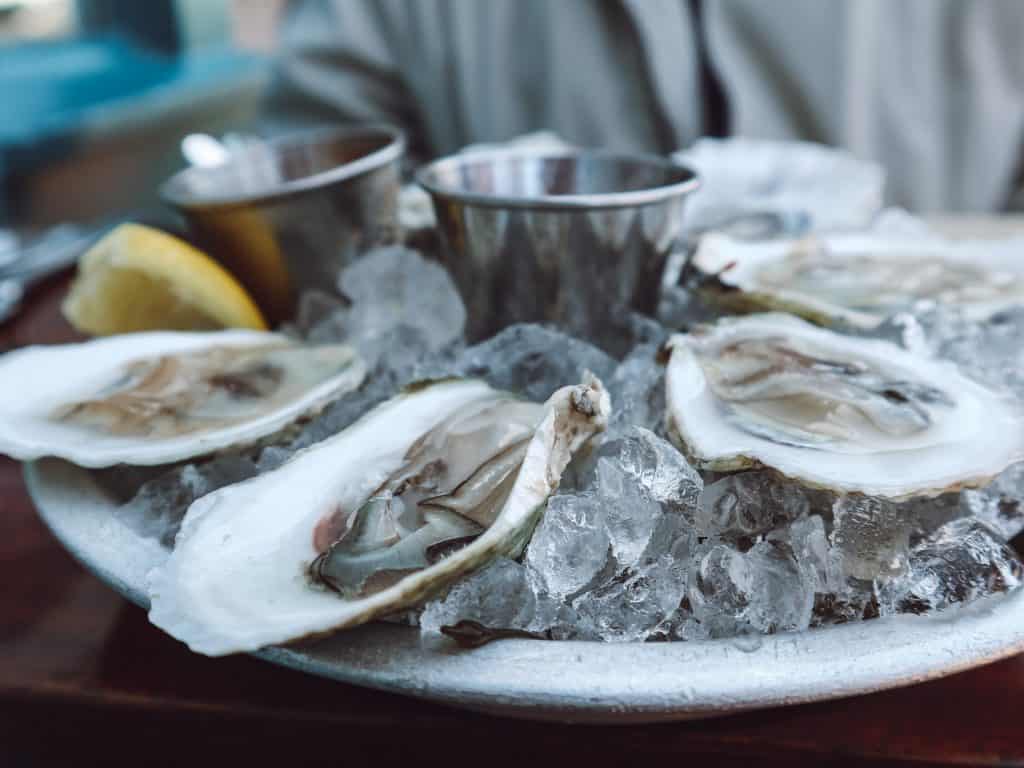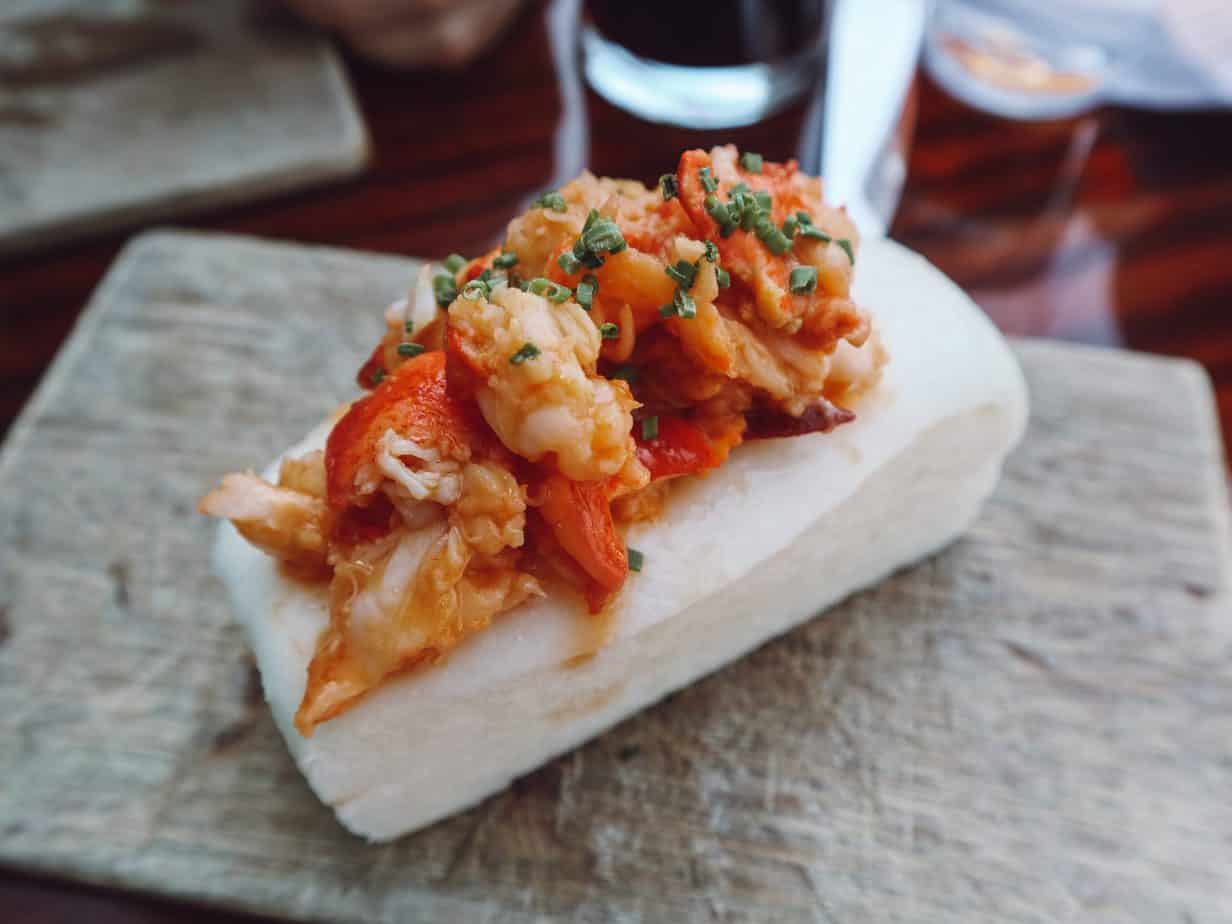 The Holy Donut
The Holy Donut is freakin' ICONIC (I'm definitely using a lot of all caps in this blog post but, trust me, this is deserving). They serve "Maine potato donuts."  The Holy Donut's founder originated this recipe, featuring, you guessed it, Maine potatoes! The other ingredients are also largely locally sourced.
The Holy Donut is not a dedicated gluten free facility, but they do serve gluten free donuts that are safe for celiacs. These donuts are prepared in a separate fryer, using separate dedicated gluten free equipment. They also keep the gluten free ingredients separate, and all the gluten free donuts are stored on the top shelf to prevent cross contact. 
Confession – I came here every morning (except one) that we were in Portland, and when we left Portland I ordered a bag of gluten free donuts to go. I've honestly never tasted donuts (gluten free or otherwise) as good as these! I'd recommend coming here first thing in the morning as the donuts sell out fast. There are three locations, two in Portland and one in Scarborough.
Flatbread Company
Flatbread Company is a national franchise, but not what you think of when you think "franchise." They focus on whole foods, locally sourced, and organic ingredients, and each location is super tailored to its local surroundings. The Portland location is down on Commercial Street, right over the water, and they have tons of gluten free options (including gluten free flatbread!).
I found the staff at Flatbread Company really knowledgeable about cross contact. There is a separate prep area in the kitchen and they have dedicated gluten free equipment. This included a disposable tin pan for baking the pizza in, so you know that is also dedicated gluten free! My pizza also came out unsliced, and the server brought me a fresh, clean pizza slicer to use myself (I love when places do this).
One thing to be aware of is that it takes longer to cook the gluten free pizza, partly because of all these extra precautions. I'd estimate about 45 minutes overall. I didn't mind this as we ordered a gluten free salad appetizer and drinks, and looked out over Casco Bay. But it's something to keep in mind if you are in a time crunch!
Flatbread Company // 72 Commercial St #5, Portland, ME 04101
Note: There's another location in Rockport, Maine, which I also ate at and had a good experience.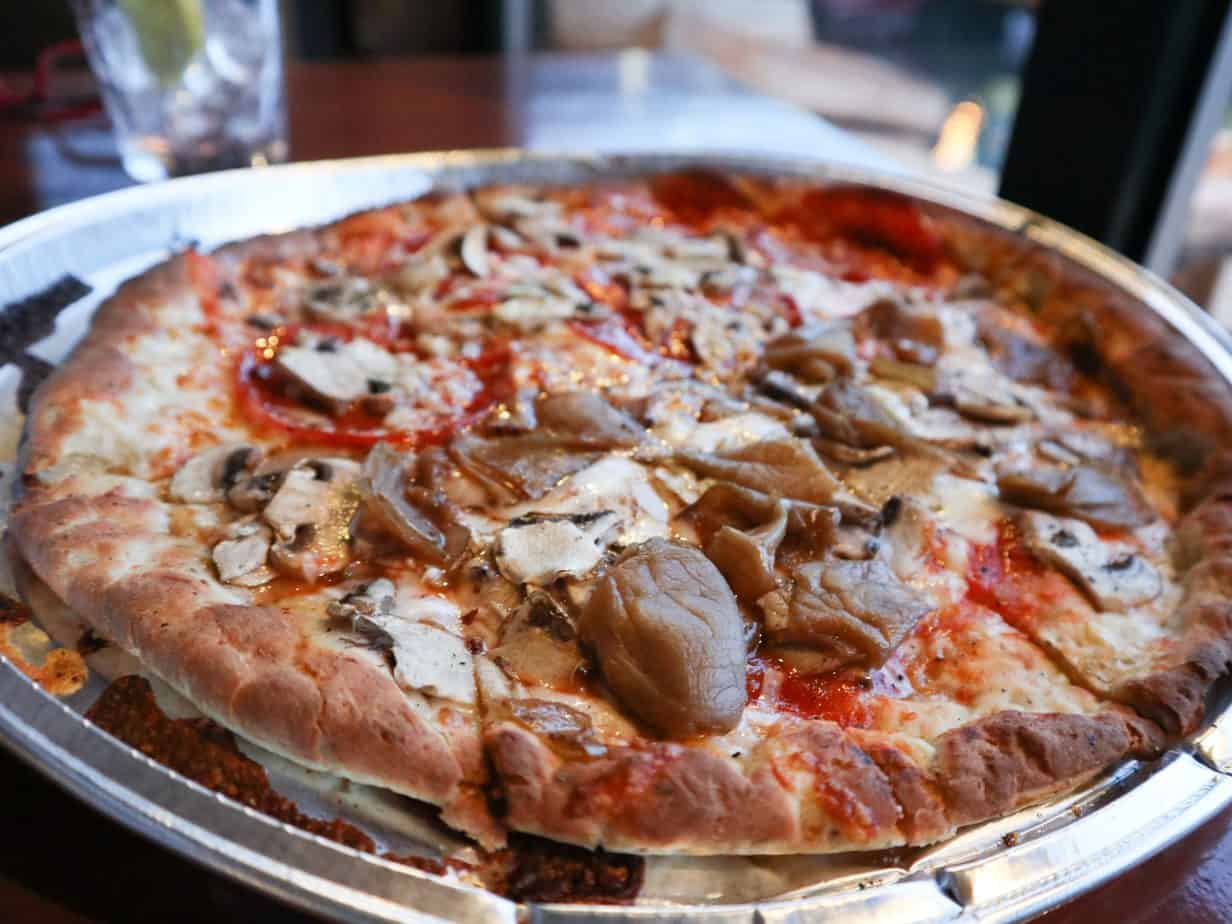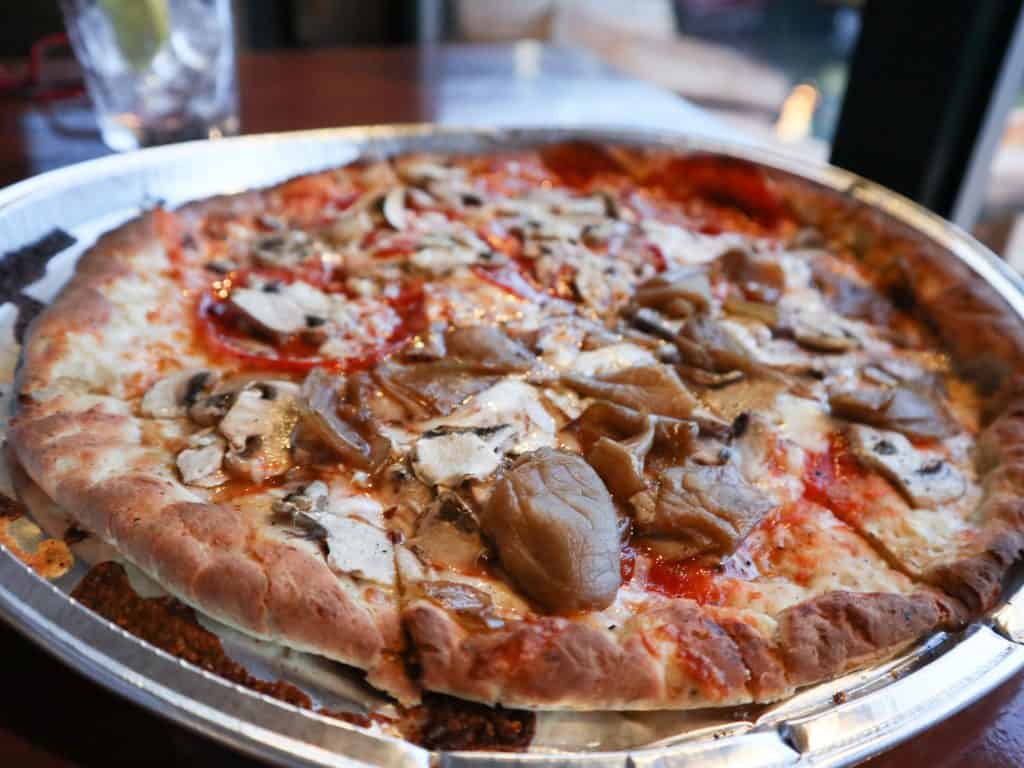 Boda Thai
Boda Thai is a really popular Thai restaurant in downtown Portland, that also serves quite a few gluten free options! This is where I ate on my first night in Portland (on this trip), and I had a great experience.
The menu very clearly marks gluten free options, and when I asked our waitress about how they were prepared she assured me they used tamari sauce, and took precautions in the kitchen. She said one of the managers has celiac disease.
We ordered the pork satay skewers as a starter, and shared the fried rice with crab and shrimp and apple salad (which came out kind of like a soup, with spiraled apple, roasted peanuts, and sweet and sour sauce). I would recommend any of those dishes!
Boda Thai // 671 Congress St, Portland, ME 04101
Related: Gluten Free Quebec City Travel Guide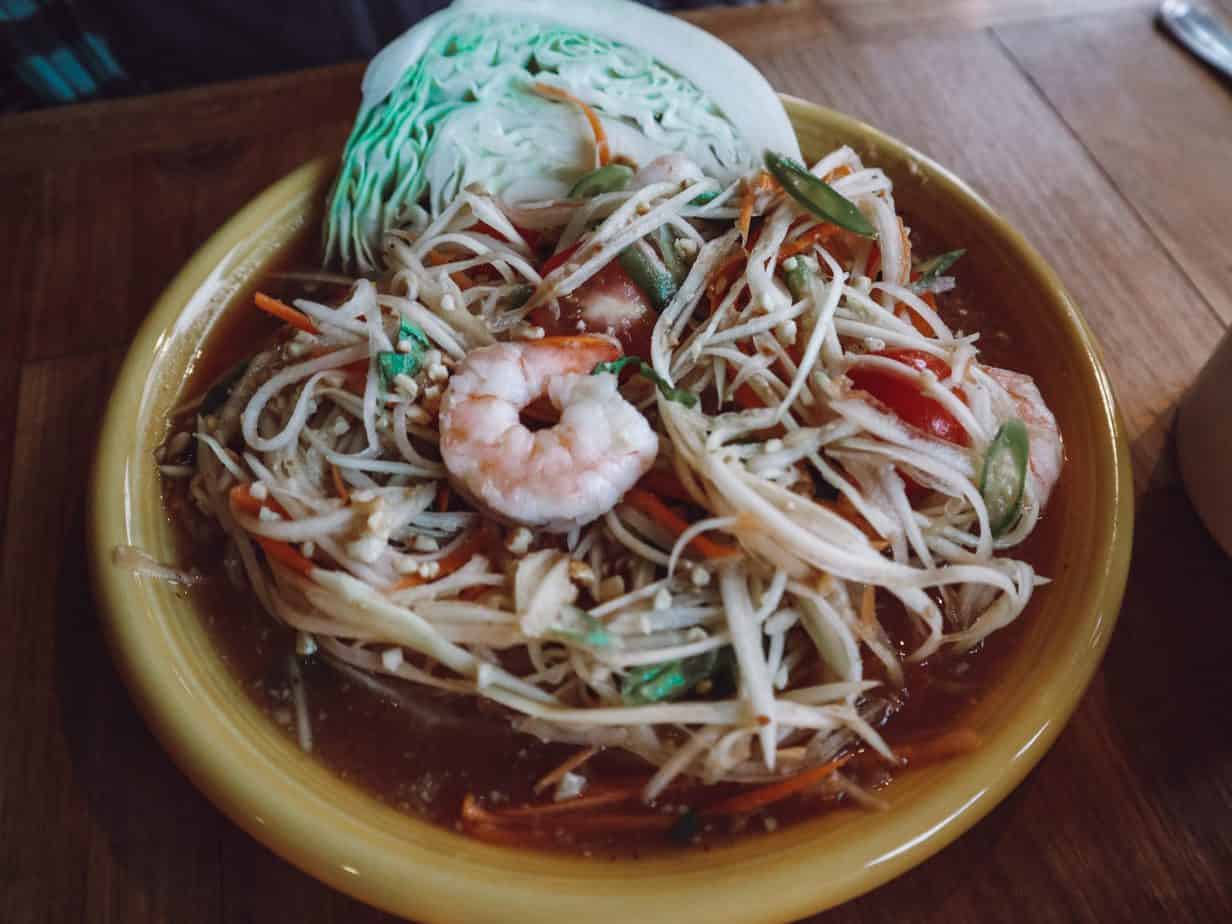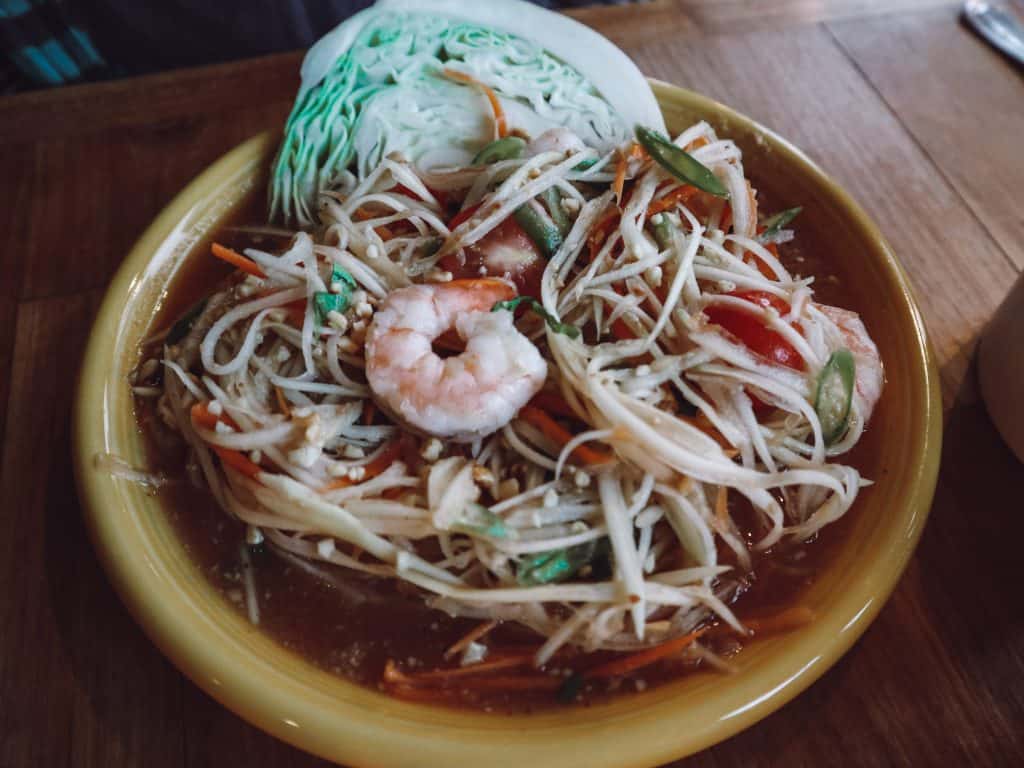 The Highroller Lobster Company
The Highroller Lobster Company came highly recommended from a family friend in Portland (who is not gluten free) so we decided to check it out. It has a super cool red-and-white, diner-esque decor, but I was hesitant about the extent of gluten free options I'd find here.
This place is well known for their totally unique takes on Maine lobster rolls, so I was a little disappointed to find they didn't have gluten free buns, or mark gluten free options on the menu. However the staff told me they do have one lobster roll that is actually gluten free! This is the "lobster cheese crisp taco" which is pretty much what it says it is. The taco is entirely made of cheese, so it's naturally gluten free. I asked our waitress and she said this could be prepared on a clean, separate area of the grill that wasn't used for any gluten-containing products.
Other than that, the options are pretty limited. You can't have the fries here (they are cooked in shared oil), but you can for instance have plain crab or lobster tail on a stick. The clam chowder was also gluten free when we went (it was great), but double check about the ingredients when you go in case they change (chowders are often not gluten free). Would I recommend The Highroller Lobster Company if you're gluten free? Maybe. It's worth it if you're dining with non-celiacs, but if it's just you, I wouldn't go out of your way. You need to be sure and explain your cross contact needs.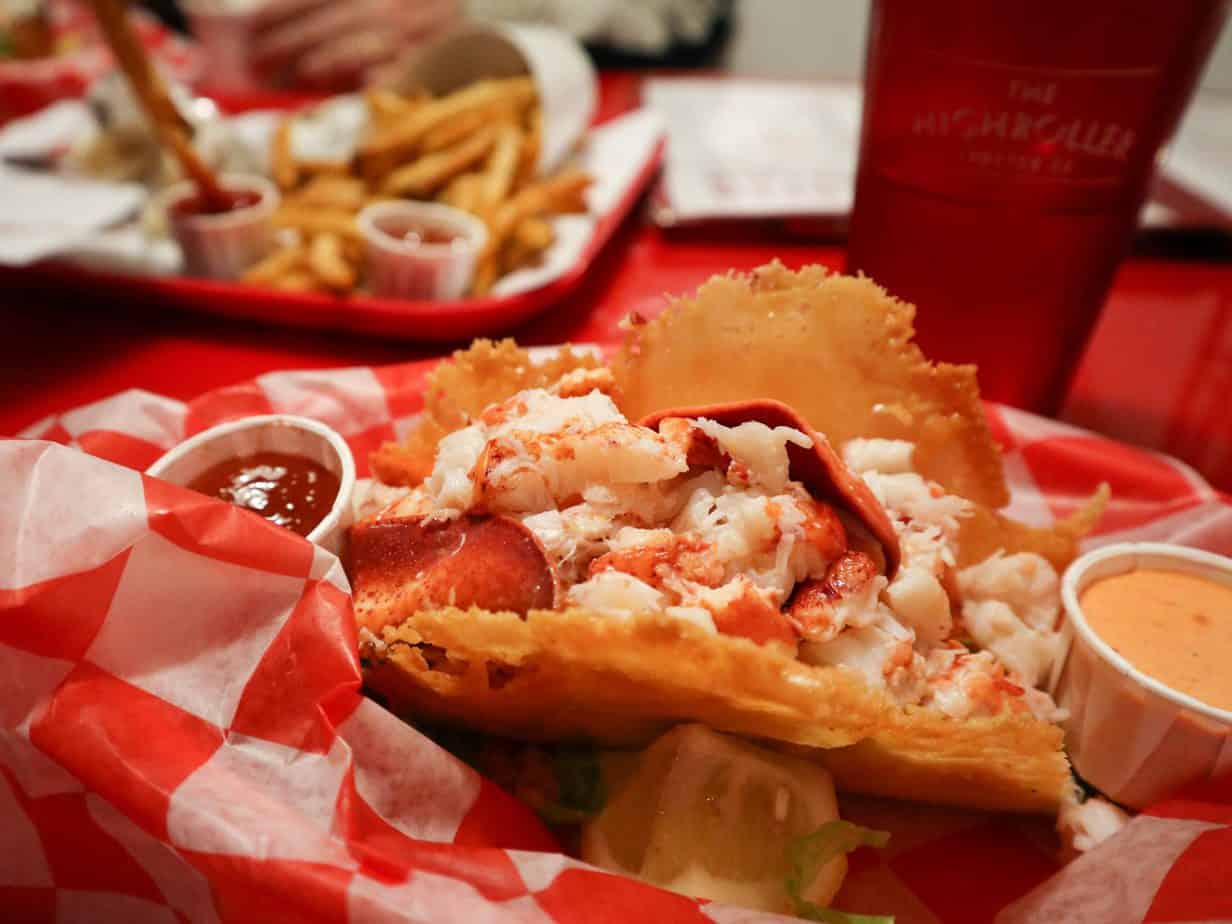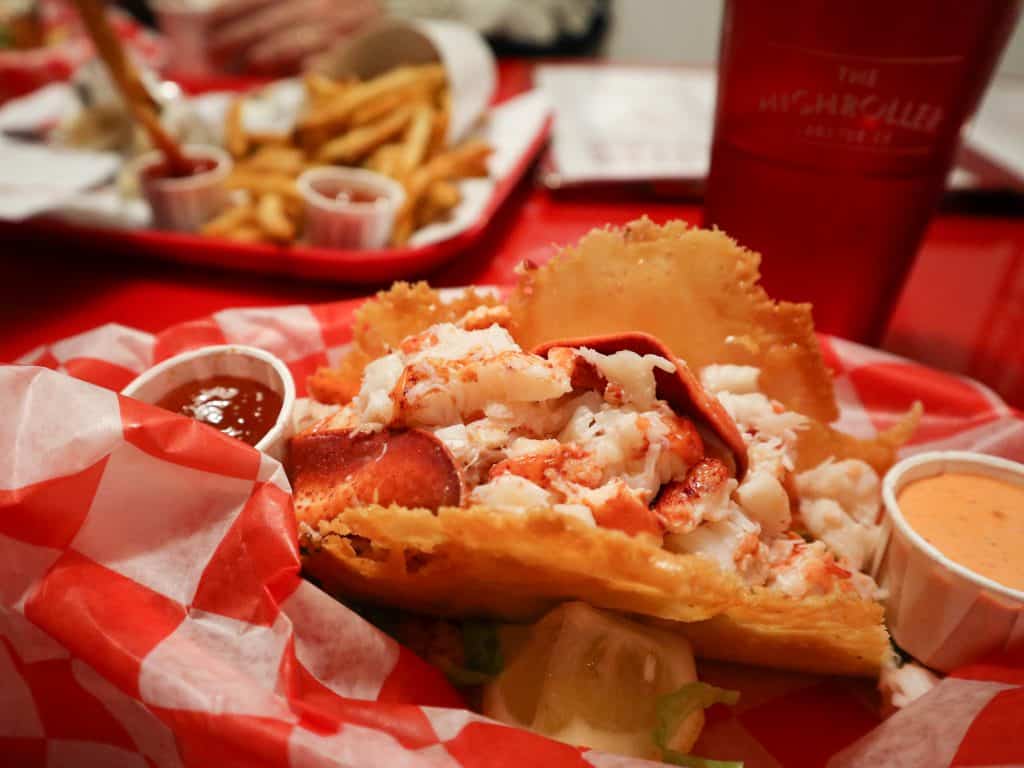 Bite into Maine
Bite into Maine originated as a food truck serving  lobster rolls around the Portland area. There are now three locations, including one in downtown Portland. (I actually ate at the Scarborough location so my experience is from there). 
Why do I recommend Bite into Maine? They have gluten free lobster rolls! I was on a mission to eat all of Maine's gluten free lobster rolls (check that link for the full low down of what I found), and I'd say Bite into Maine's version was the most "classic."
They use Udi's gluten free buns and if you ask, they will melt fresh butter and grill this on a separate, clean pan. Definitely ask, though, because otherwise there is risk of cross contact from the shared butter and grill. You can read more about my experience here.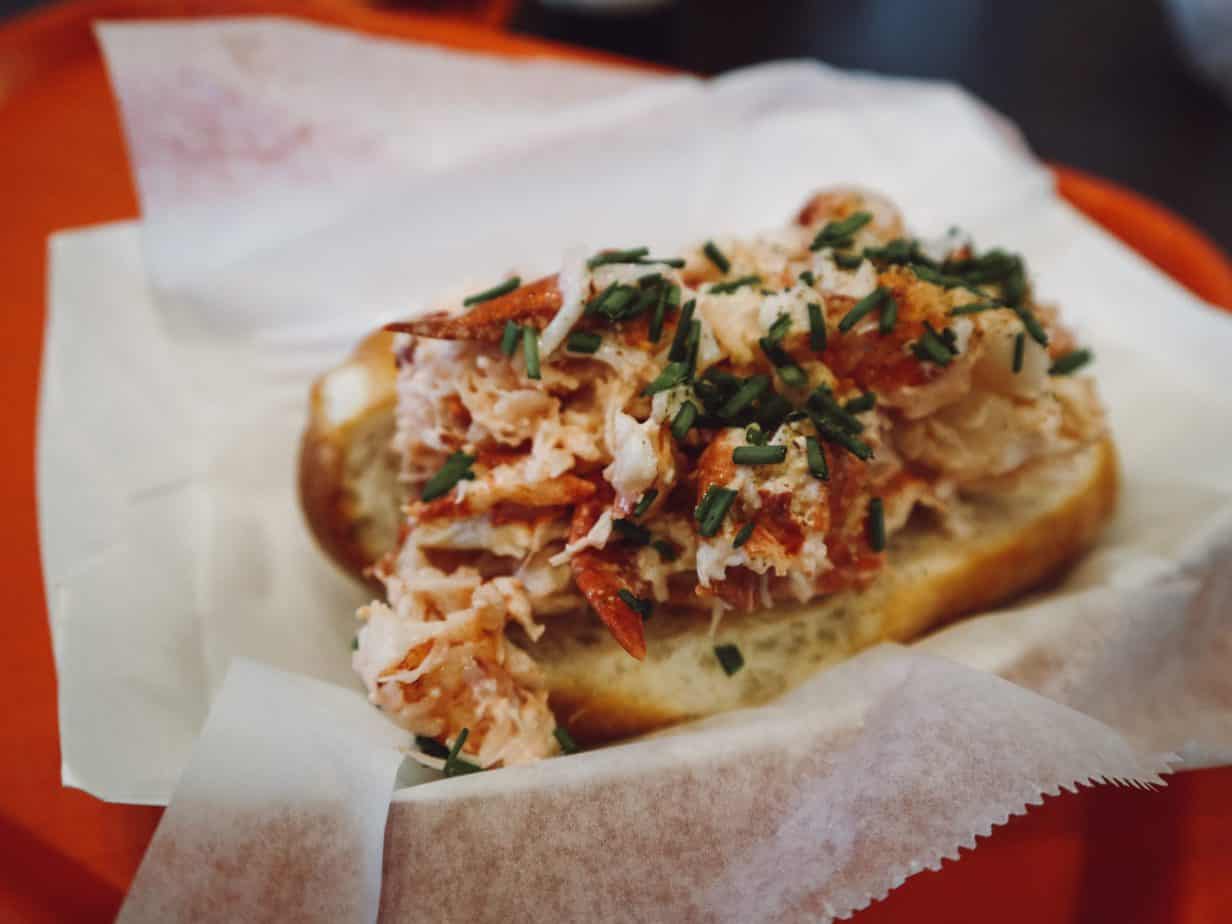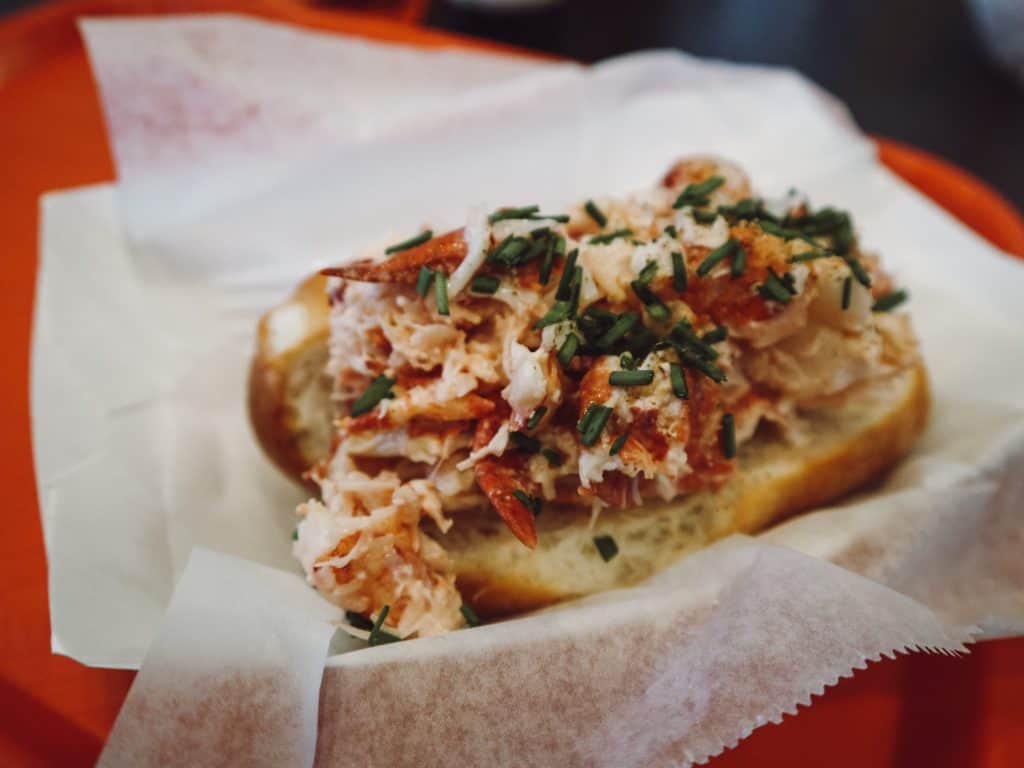 Sea Dog Brewing Company (South Portland + Other Locations)
Sea Dog Brewing Company is in South Portland, which is actually a separate city. South Portland is super close to Portland, though, and also close to the Portland airport so this might be a good stop on your way to or from there. Sea Dog Brewing Company also has locations in Broadway, Bangor, Camden, and Topsham. I ate at the Camden location so my experience is specific to there (but they have the same gluten free options at each location).
When you arrive, ask for a gluten free menu. This contains quite a few options, mostly because they offer Udi's gluten free buns (you should confirm this can be cooked on a clean grill). I had a gluten free lobster roll here which I think had like four lobster claws in it?! Crazy. The lobster roll itself was really good although the sides were kind of unimpressive (you can't have fries here due to a shared fryer). 
Check here for all the locations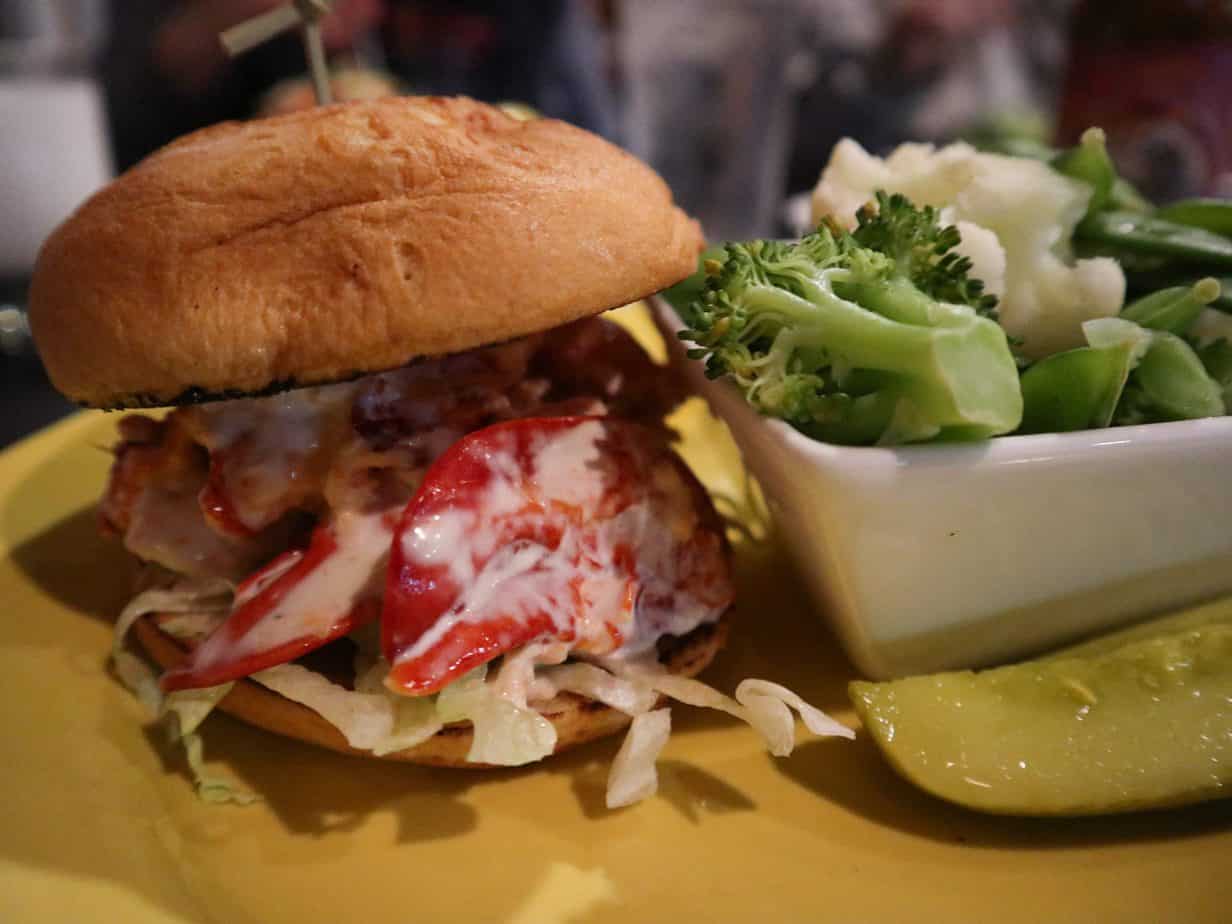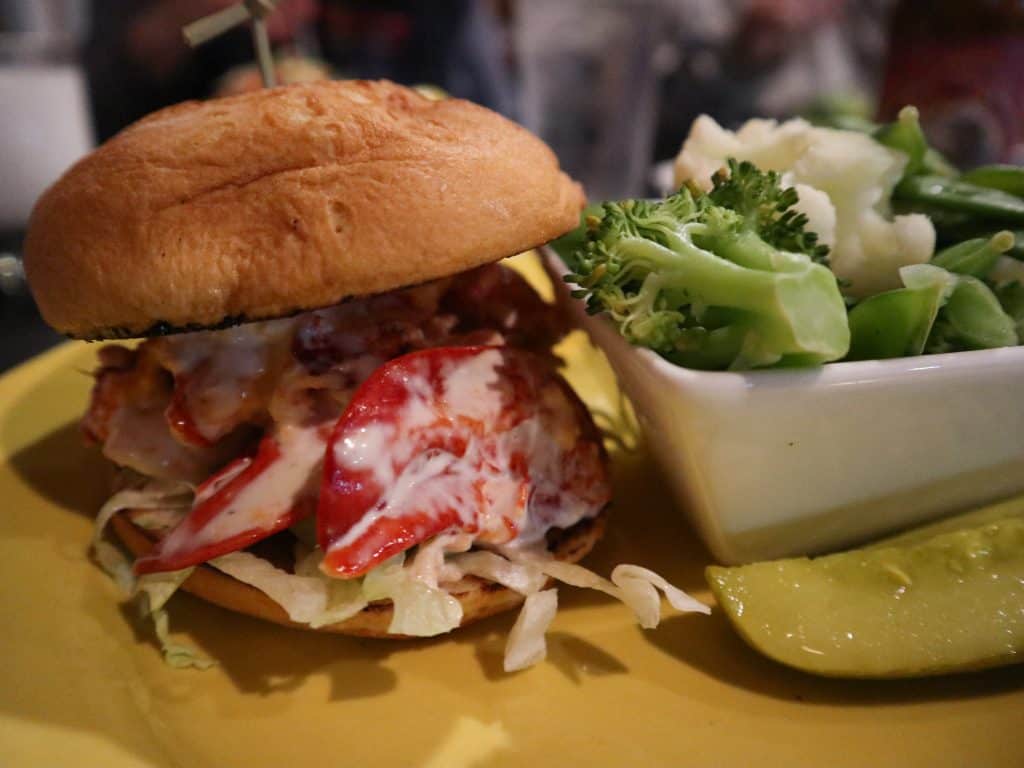 Docks Seafood (South Portland)
Docks Seafood is another restaurant that is actually in South Portland. It is even more conveniently located than Sea Dog Brewing, as it's close to the bridge to Portland. Chances are you will probably visit the Portland Head Light and Fort Williams Park during your trip, in which case Docks Seafood is only a 12 minute drive away. That's when we ate here and it was very convenient!
I loved Docks Seafood. It is an unpretentious, family run fish market and restaurant. The menu is also quite cheap! It's not always easy to eat at those kinds of places if you're gluten free, but here it is!
Docks Seafood has a separate gluten free menu. A member of their family has celiac disease which inspired them to create it. You can't get a gluten free bun or anything fried here, but they do have gluten free seafood chowder (which I swear to god had SO MUCH seafood in it). They also serve lobster salad which is incredible. Additionally, they sell gluten free desserts, including classic Maine whoopie pies, that are made at a separate gluten free bakery.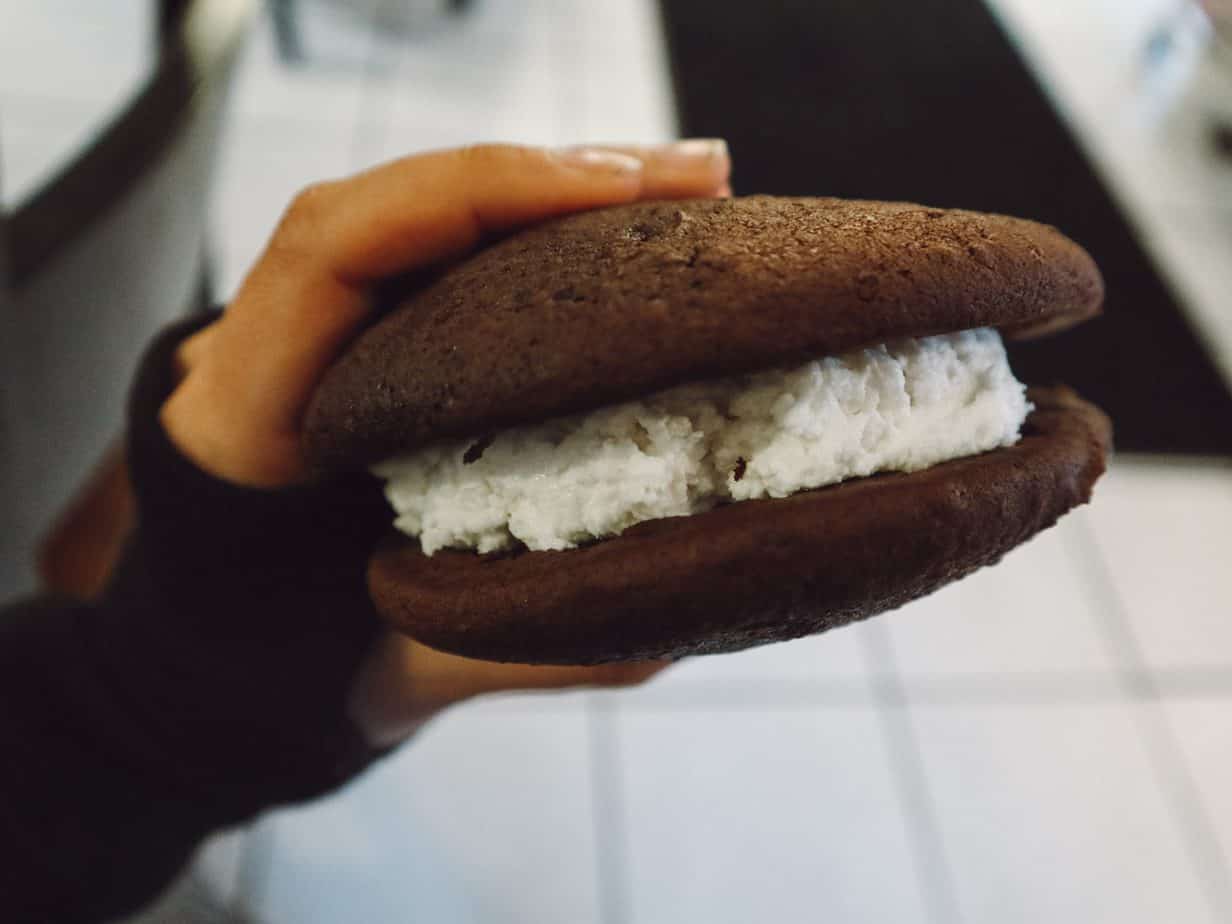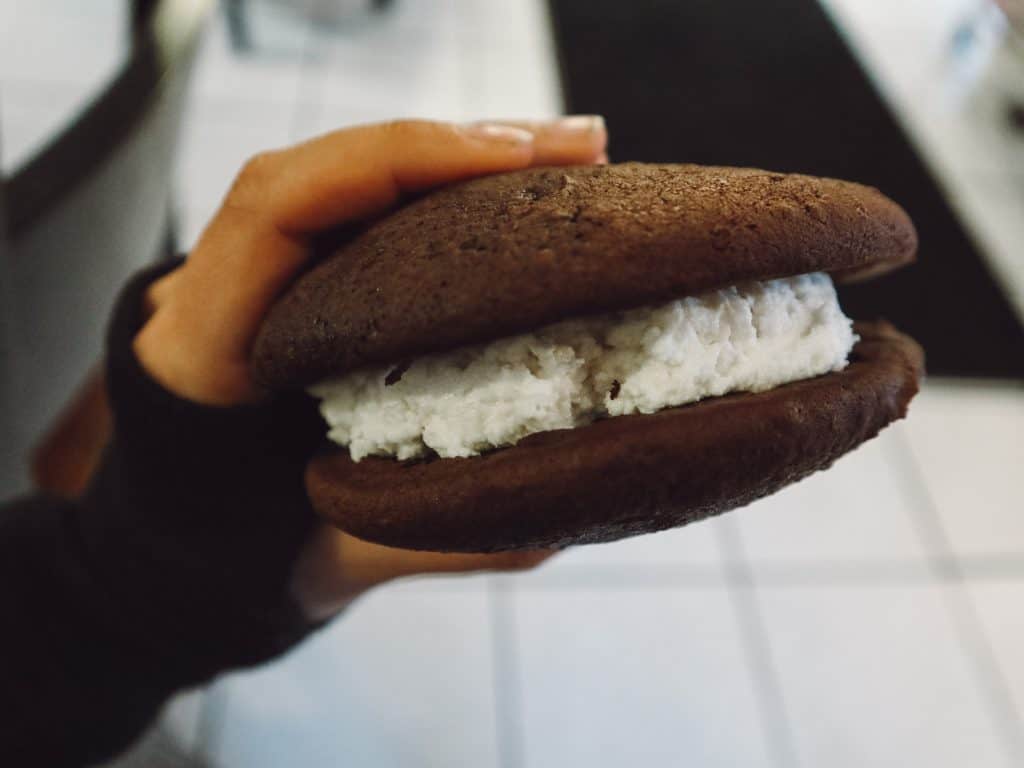 Gluten free Portland Maine: Other restaurants
I didn't get a chance to eat at all the gluten free restaurants I'd researched in Portland. I usually prefer sharing restaurants I've personally eaten at in my gluten free travel guides, for safety's sake, but at the same time I definitely don't want to limit you! So for the restaurants below, I have the disclaimer I have not personally eaten at them. But they are on my list for next time!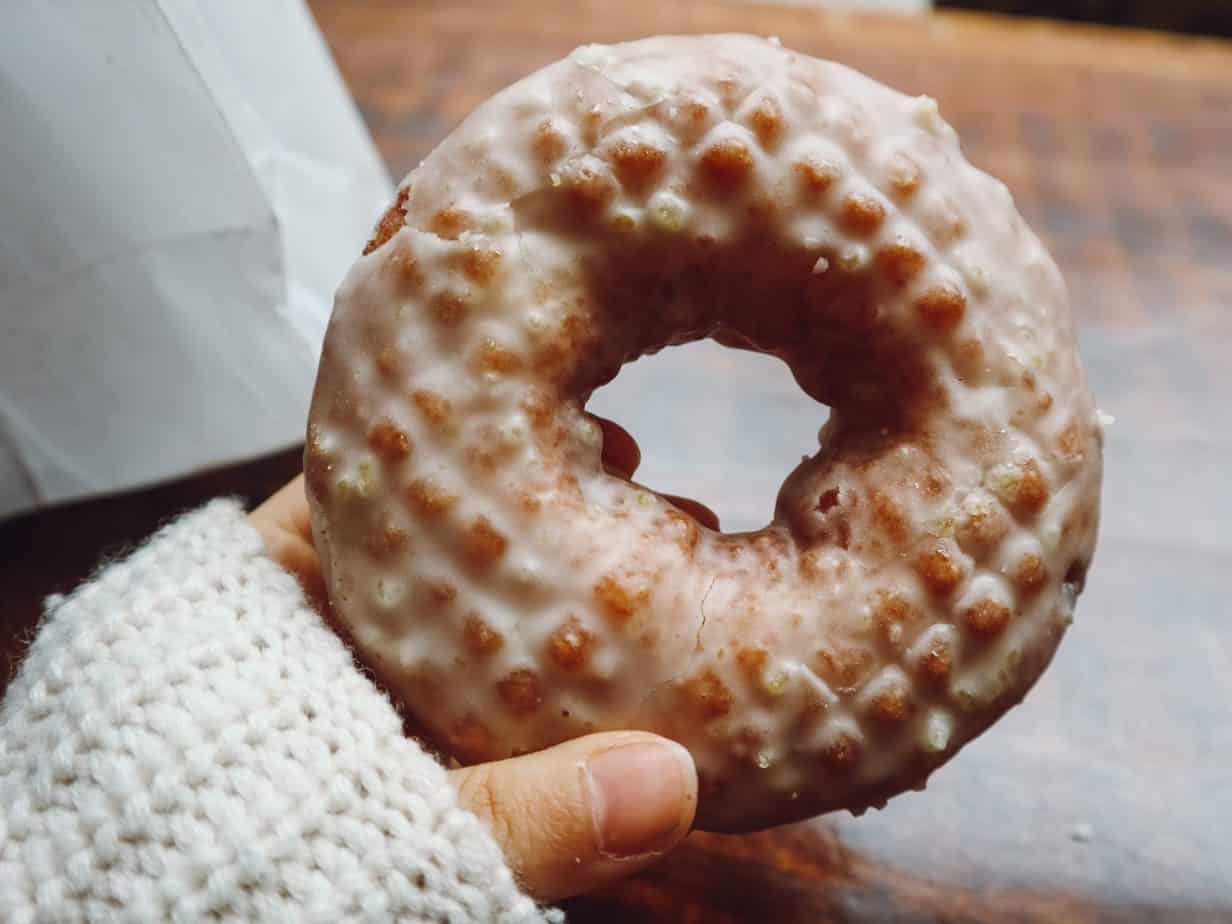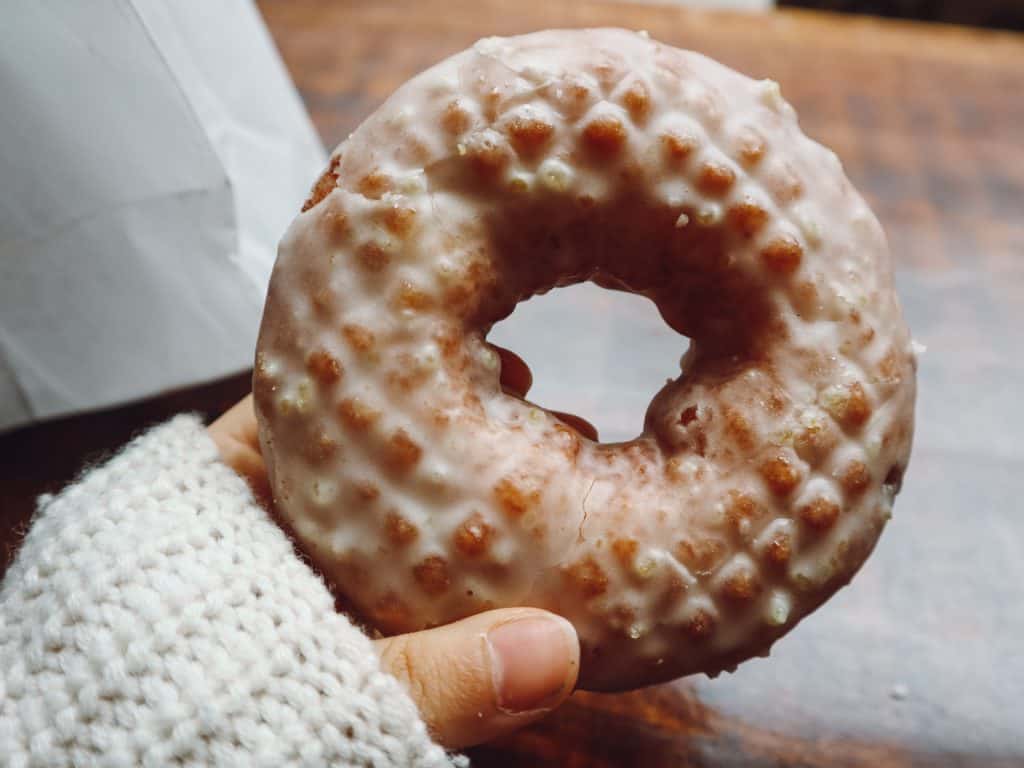 Gluten free lobster rolls in Maine
I made it my mission to find all the gluten free lobster rolls I could, and ultimately I discovered, and ate at, five restaurants in Maine that offer gluten free lobster rolls. Some of these restaurants have small franchises, meaning there are dozens of locations across Maine.
I've mentioned some of the Portland locations above, but if you are roadtripping Maine or traveling further afield than Portland, check out my full guide to Maine's gluten free lobster rolls. 
Related: Where to Find Gluten Free Lobster Rolls in Maine
Gluten free Maine: Other cities and towns
On this trip to Maine, we actually spent a little over two weeks roadtripping throughout the state. I discovered many gluten free Maine restaurants along the way, and have listed them below by location. Portland is definitely the state's gluten free capital. However, I also found great gluten free options in Brunswick, York, Camden, and the Harpswell Islands. 
Gluten free Harpswell Islands / Bailey Island
The Harpswell Islands are quintessential coastal Maine. We stayed in a rental house on Bailey Island for a few days and it was one of my favorite parts of the trip. 
Morses Cribstone Grill
Morses Cribstone Grill is located right over the water on Bailey Island, just across the famous Cribstone Bridge. It's a seafood and grill place that's super fresh. They offer gluten free buns made in a dedicated gluten free bakery (Wildflour Bakery – read more about it below!). I had a burger here, and a lobster roll, and both were great!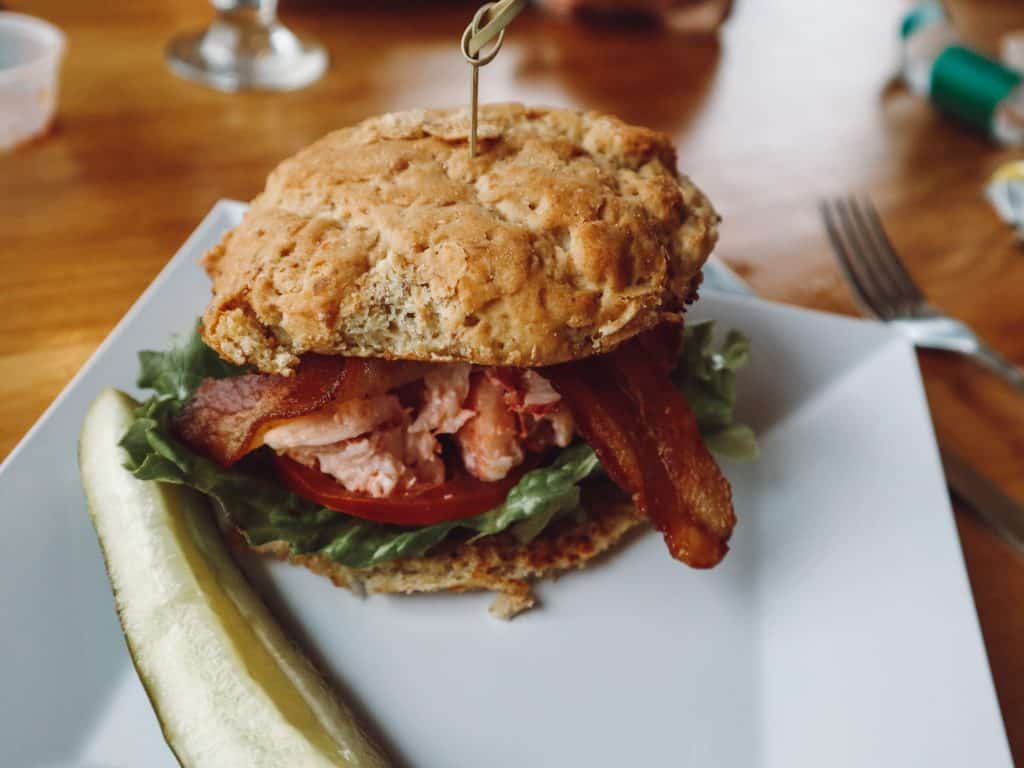 Gluten free Brunswick Maine
Brunswick is the biggest town before driving off to the Harpswell Islands. It's a good place to stop en route to the islands, or if you're heading back toward Portland like we were. 
Wildflours Gluten Free Bakery
Wildflours Gluten Free Bakery is a 100% gluten free bakery! There were lots of options here. To nobody's surprise, I ordered a gluten free donut. Definitely worth a stop if you are in the area, or to stock up if you're planning to spend a few days out on the Harpswell Islands.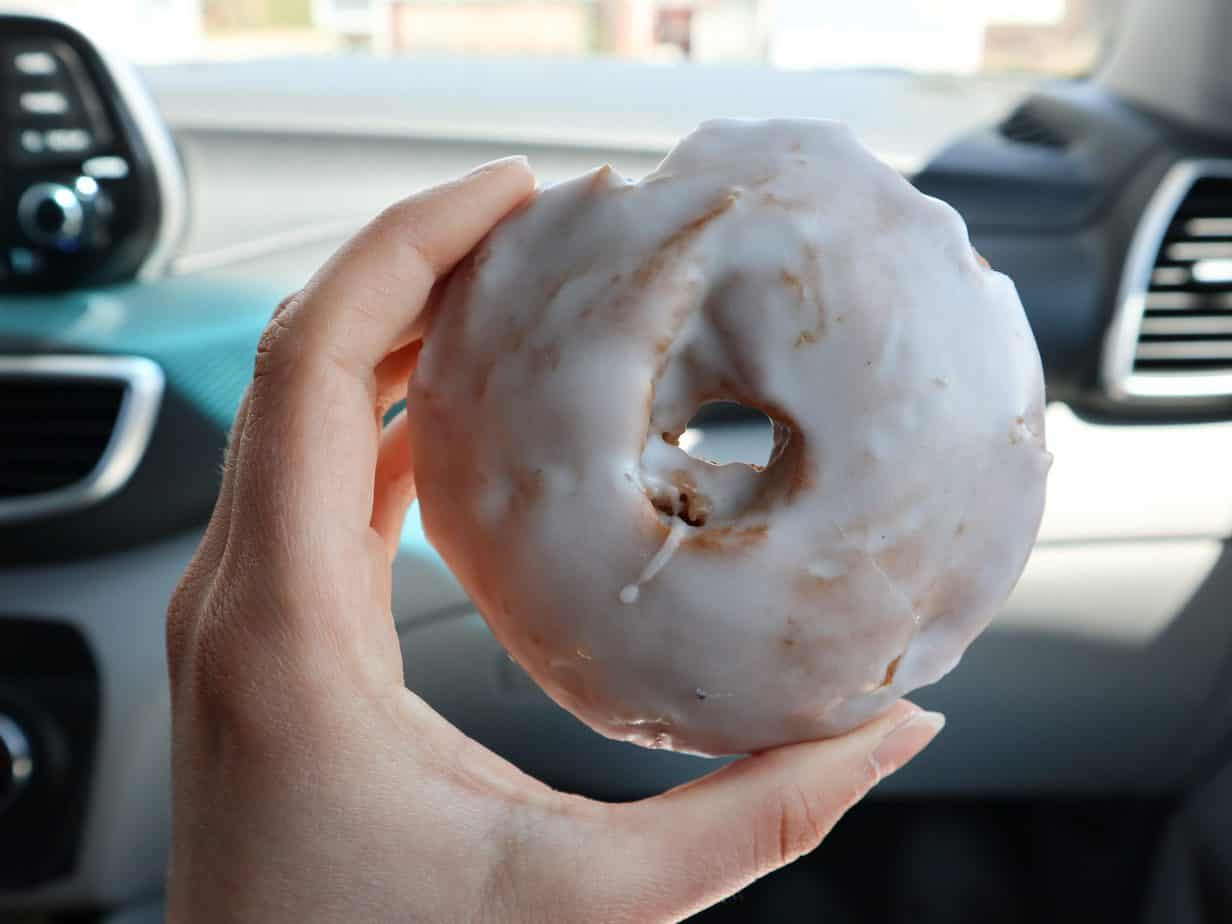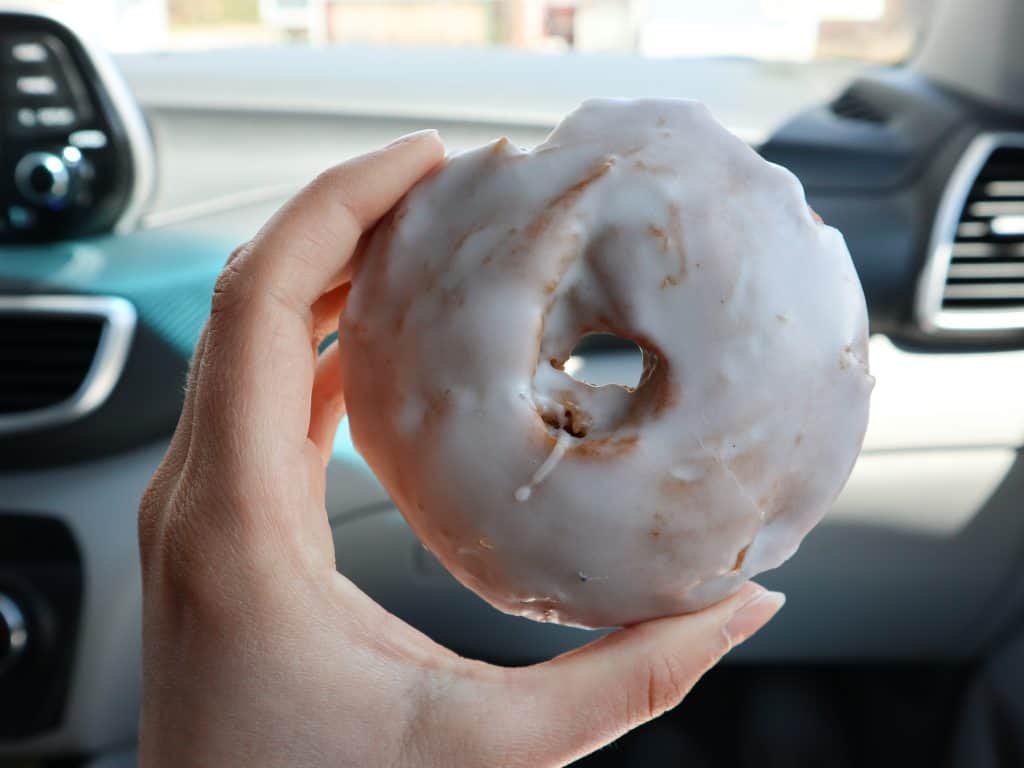 Gluten free York Maine
York is a town along Maine's coast, south of Portland. We were just driving through, but it is the PERFECT place to stop for a meal on the road as it's home to one of the best places I ate while in Maine!
Wild Willy's Burgers
Wild Willy's Burgers was such a lucky find as we were driving along the Maine coast. This is a cozy burger place with a cheap menu and SO many gluten free options. The staff is highly aware of celiac disease. They offer burgers on a gluten free bun, and they also have a dedicated gluten free fryer for the fries (tell them you are celiac so they make them in this fryer!).
My receipt even came out with *Celiac* printed on it, and the staff confirmed with me all along the way. Definitely stop here if you can!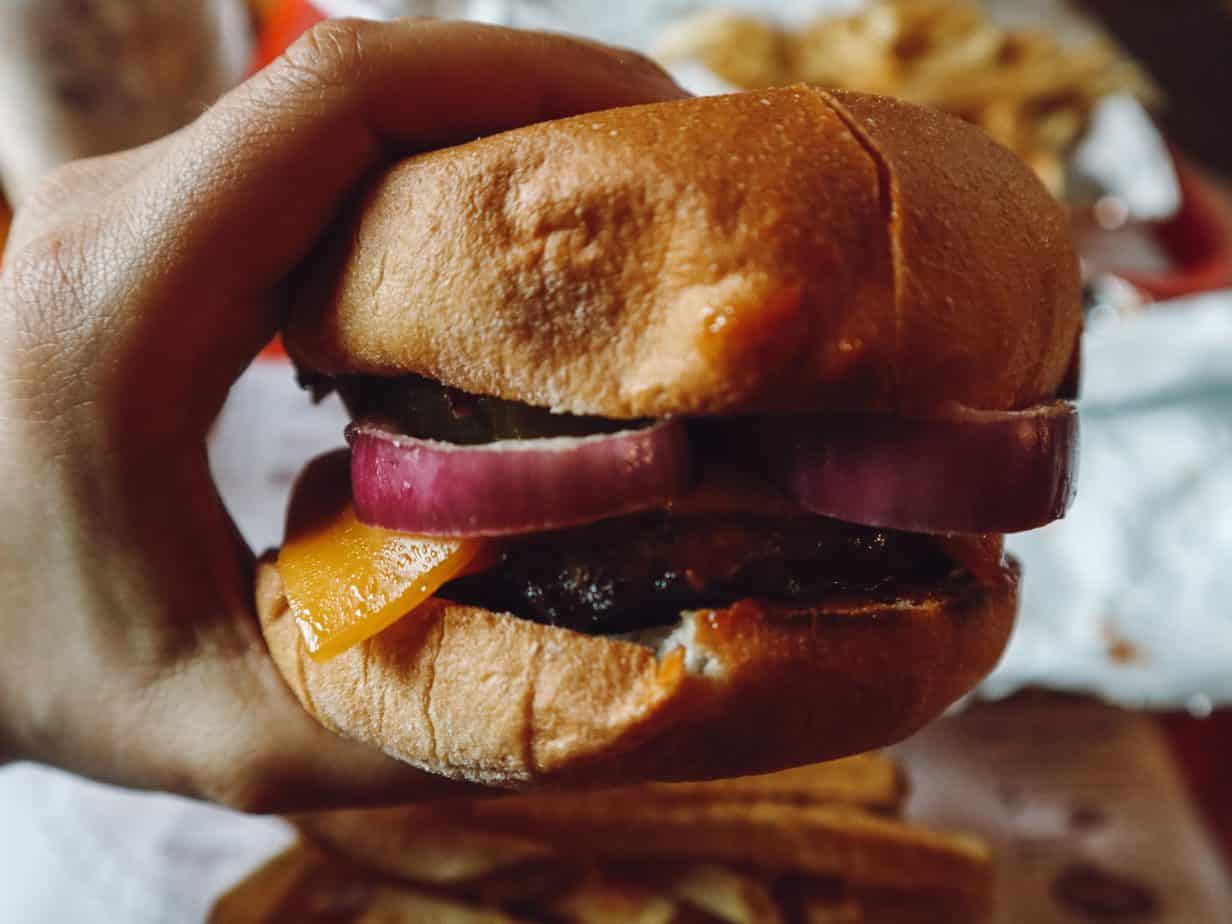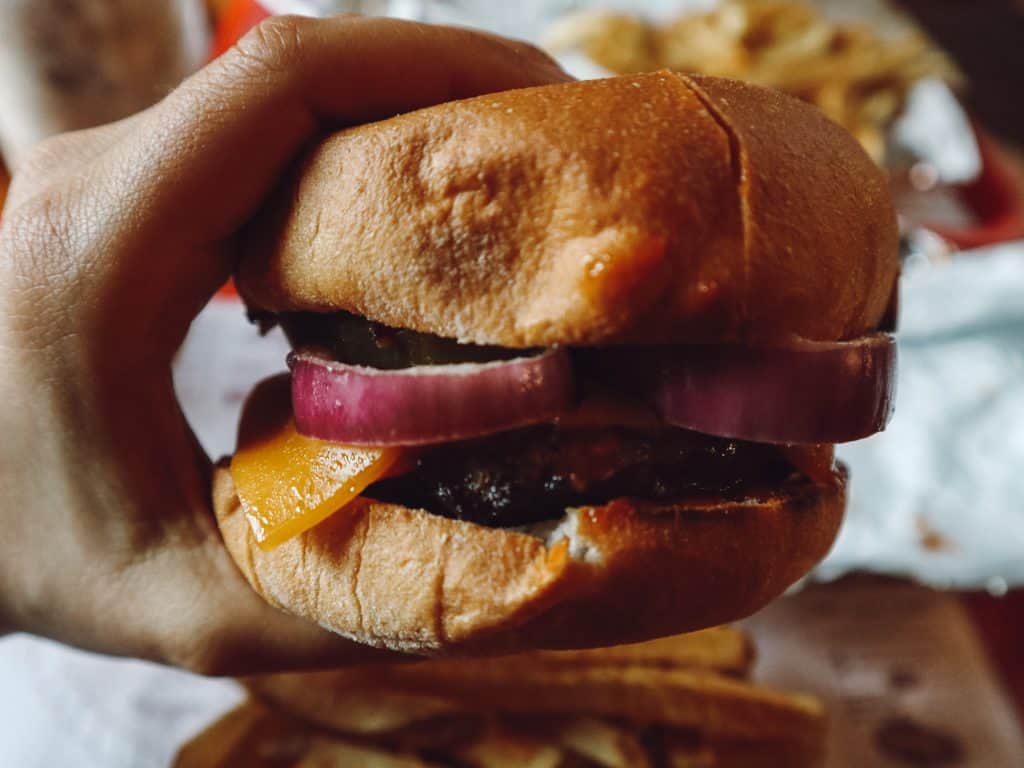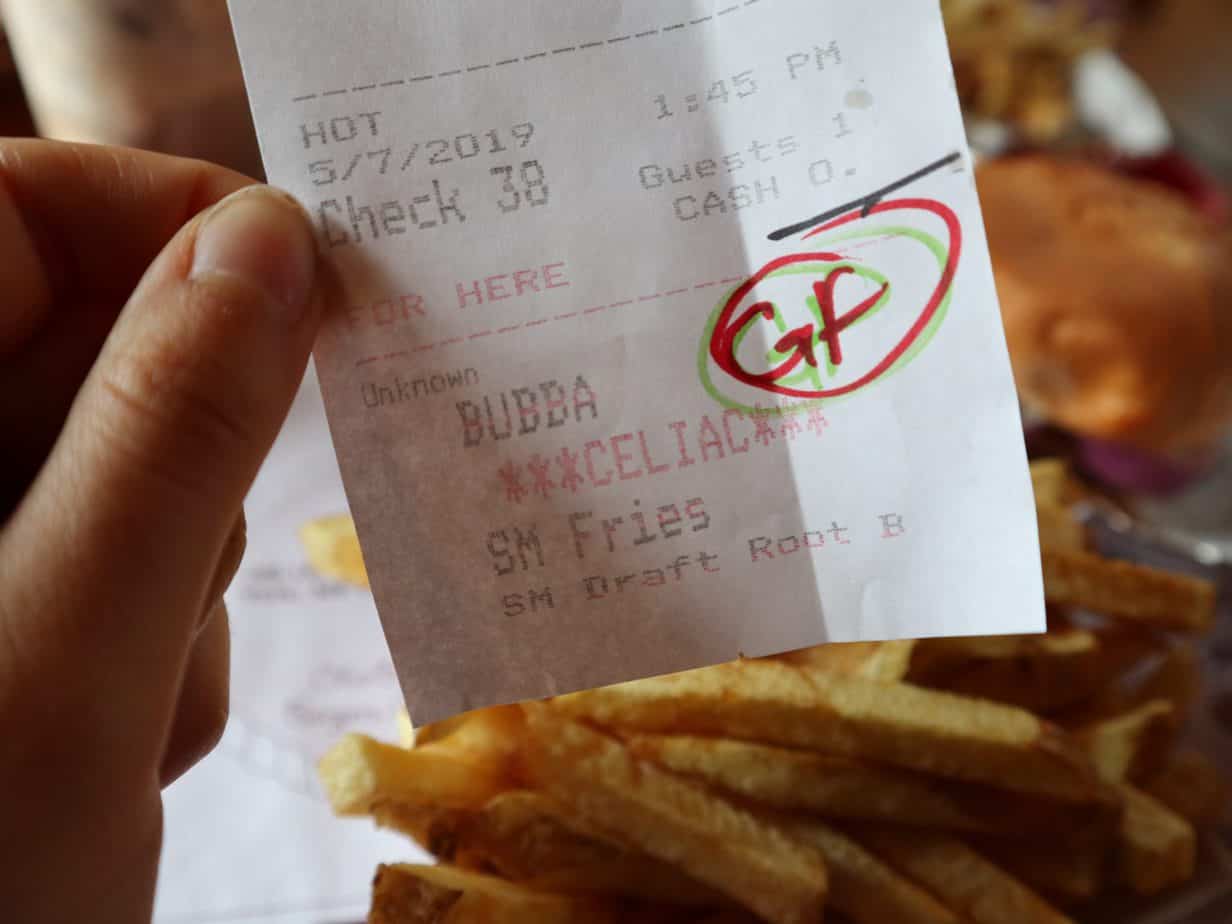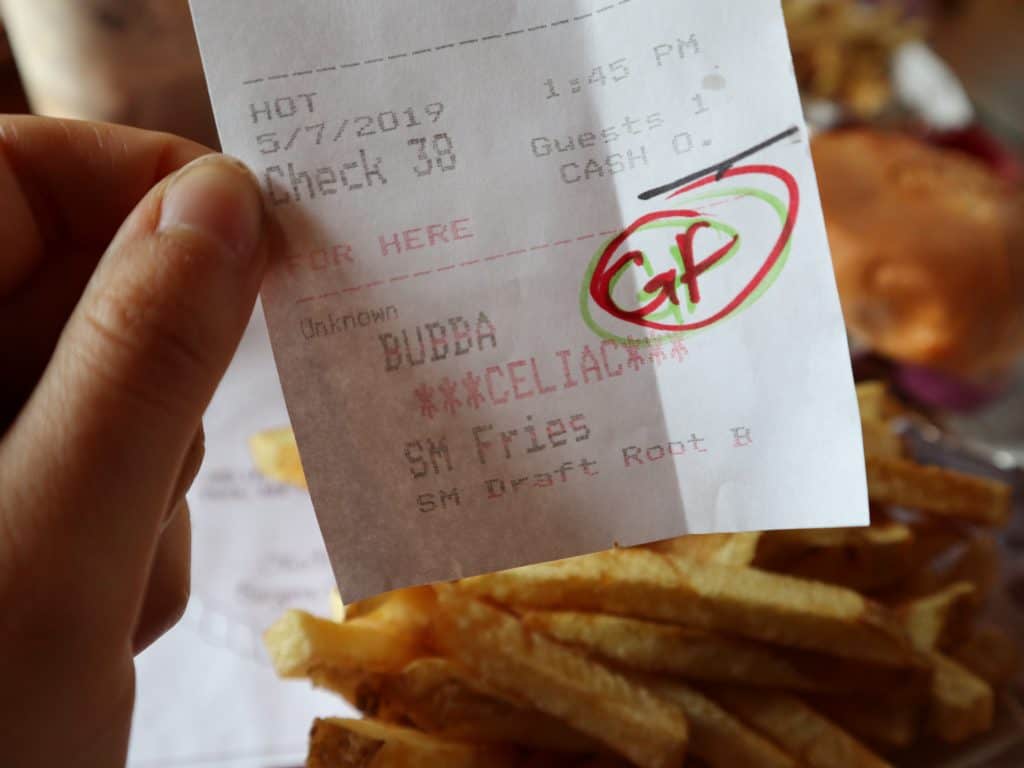 Gluten free Camden Maine
Camden is another coastal Maine town you should visit. It's located between Portland and Bar Harbor, and a good stop along the way. Bonus is there are a few good gluten free options here.
Camden Bagel Cafe
Camden Bagel Cafe serves Udi's gluten free bagels, and they are able to prepare these in a dedicated gluten free convection oven. They also had really good coffee!
Sea Dog Brewing Company
I've written about Sea Dog Brewing Company above so refer to that for the full details. In addition to their Portland location, there's one in Camden (where we ate).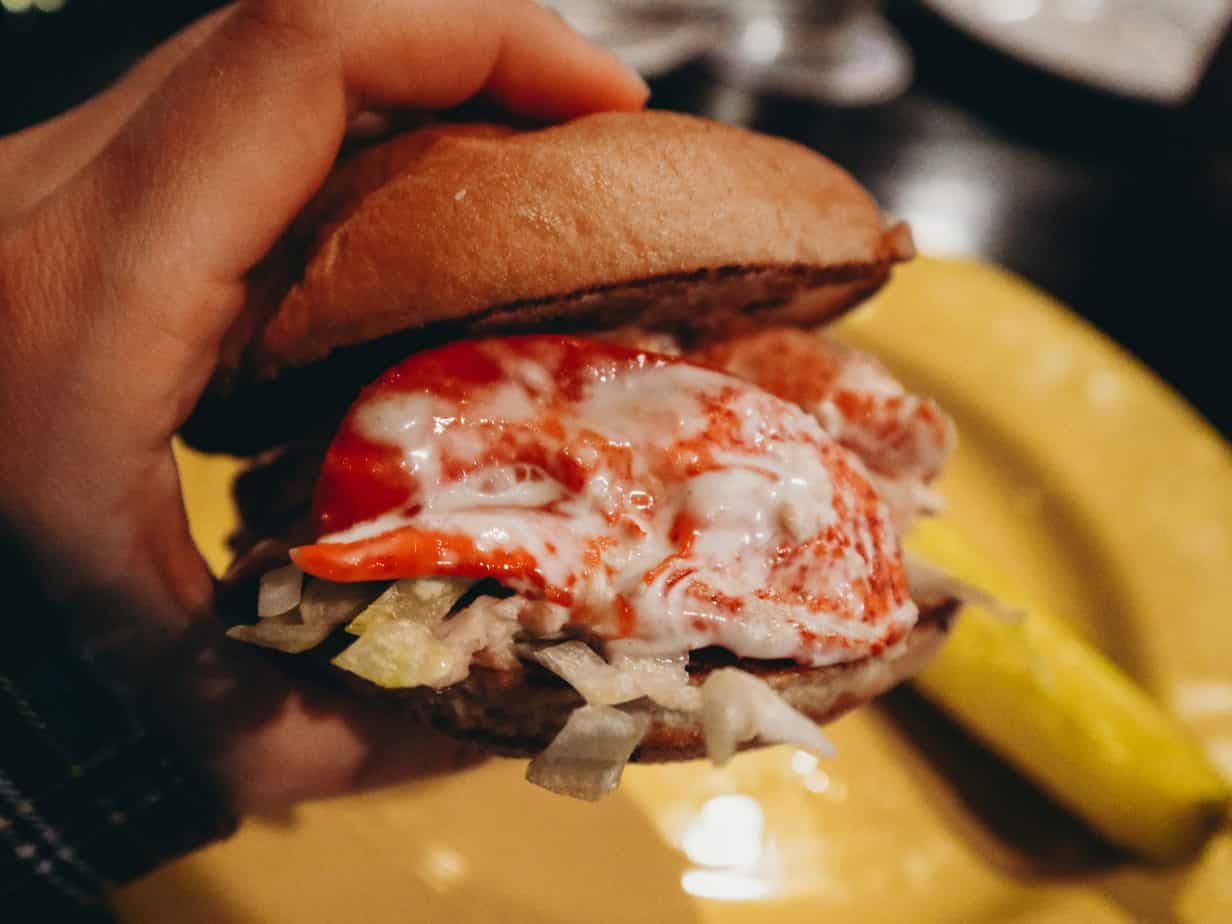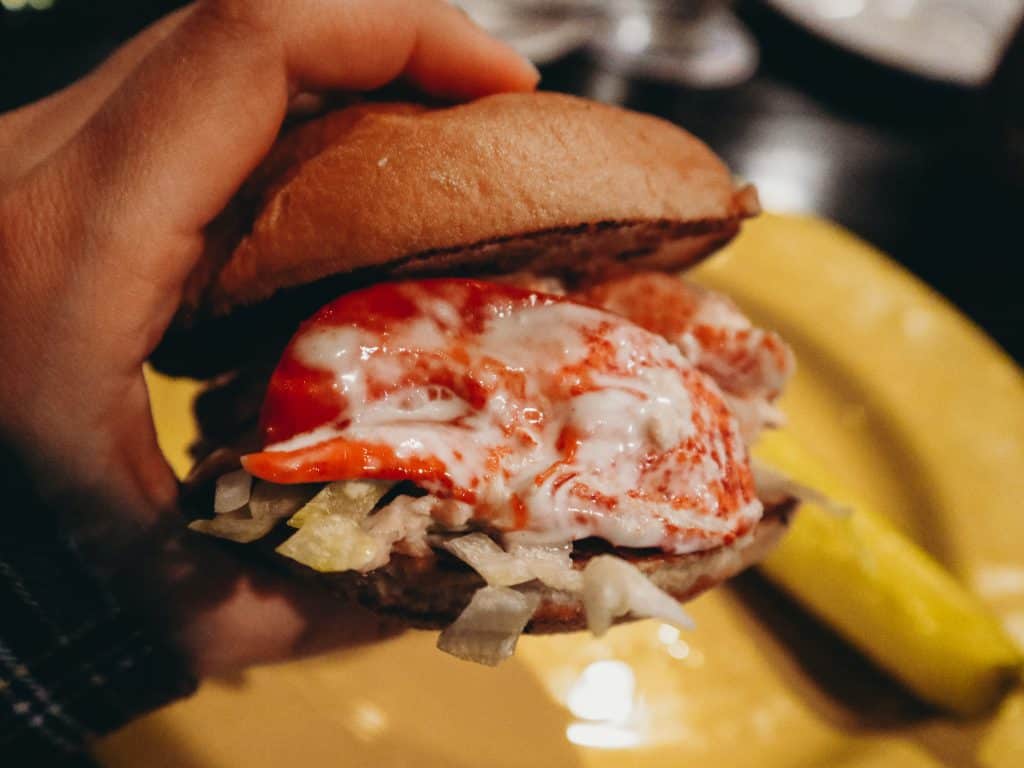 Gluten free Rockport Maine
Rockport is another coastal town and it is only a very short drive south from Camden. We stayed in Camden but came to Rockport for dinner once.
Flatbread Company
I totally fell in love with the Flatbread Company while we were in Portland, so we also ate at their Rockport location. You can read more about the restaurant in the write up above, but I will reassure you that I found the service regarding cross contact equally good at this location.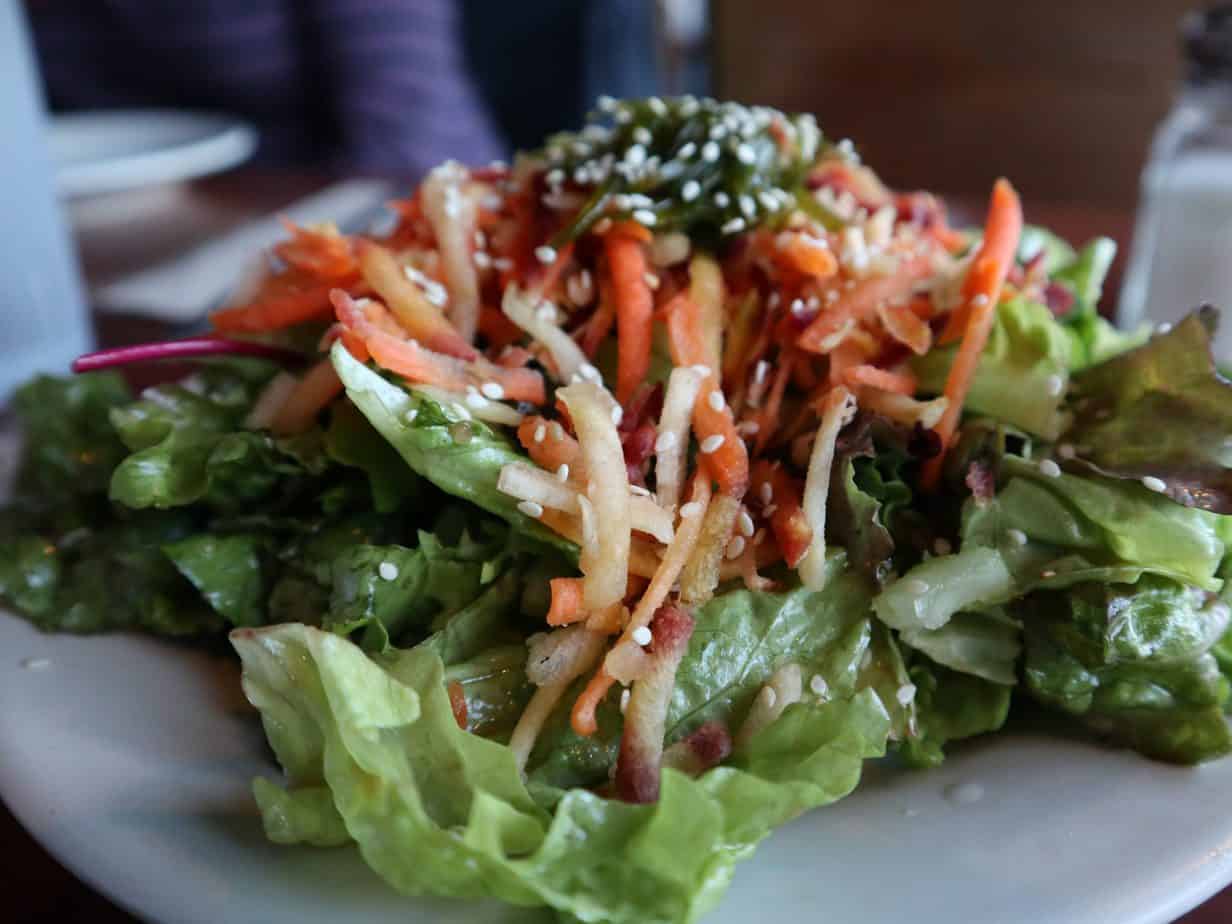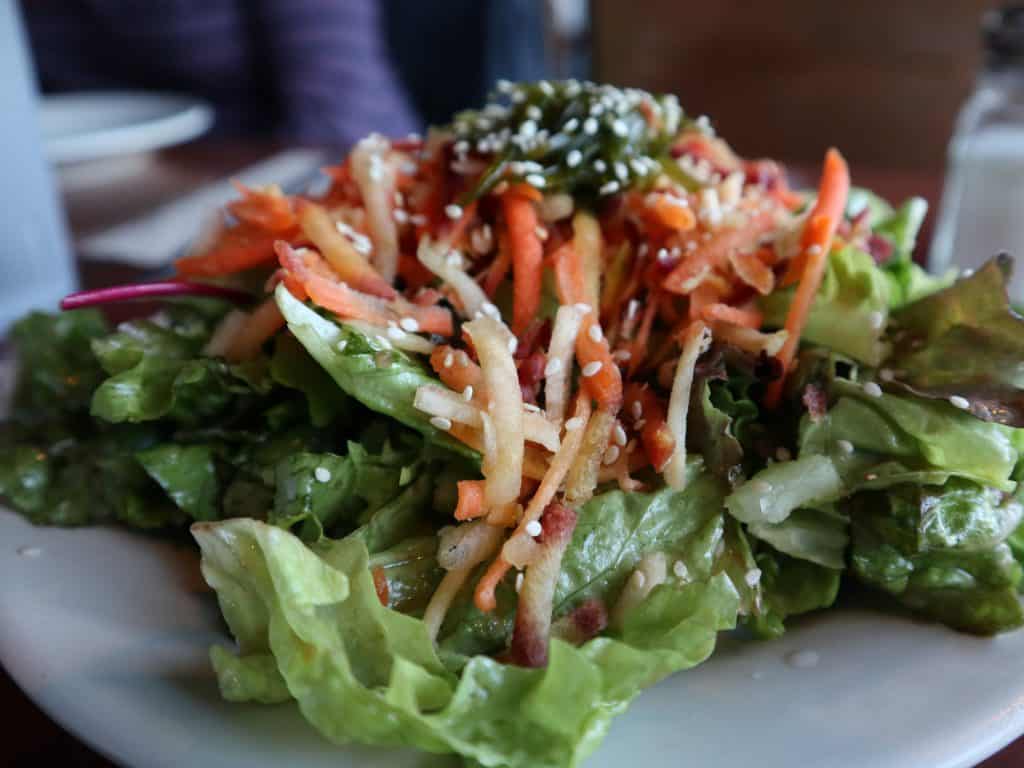 Gluten free Portland Maine Map
Below you'll find my personalized map of gluten free restaurants and notable destinations in Portland, and across the rest of the state of Maine. 
Gluten free Portland Maine & the rest of Maine
I hope this guide gives you a good place to start as you're planning your gluten free travels throughout Portland, and the rest of the state. The gluten free scene in Portland itself is definitely thriving, and honestly some of the best gluten free meals I've had anywhere in the world.
You will love traveling through the rest of the state as well, and although the gluten free options are patchy in some areas, there are still quite a few restaurants that can cater to us – including gluten free lobster rolls!! And if you're looking for roadtrip snacks to keep you from getting hangry between destinations, check out my favorite gluten free snacks on the go.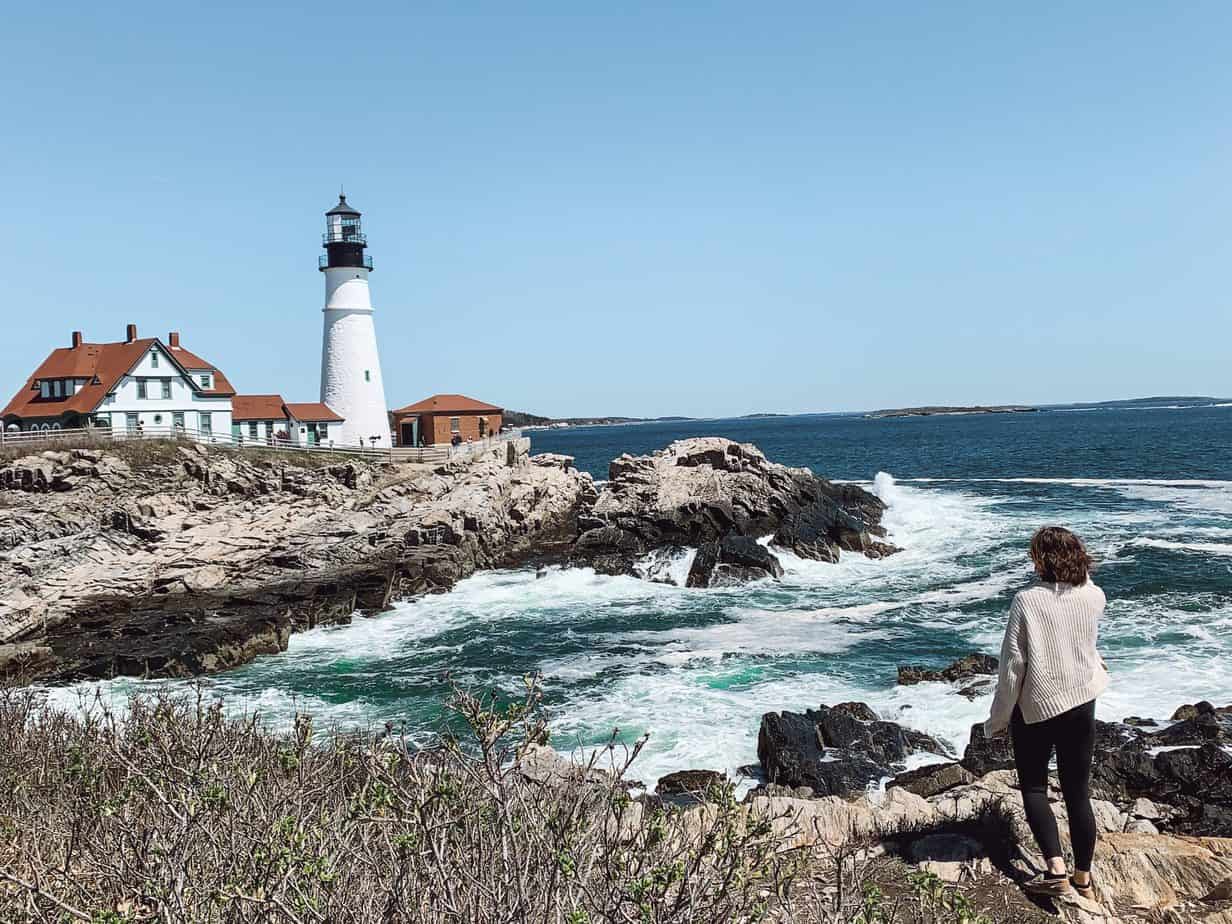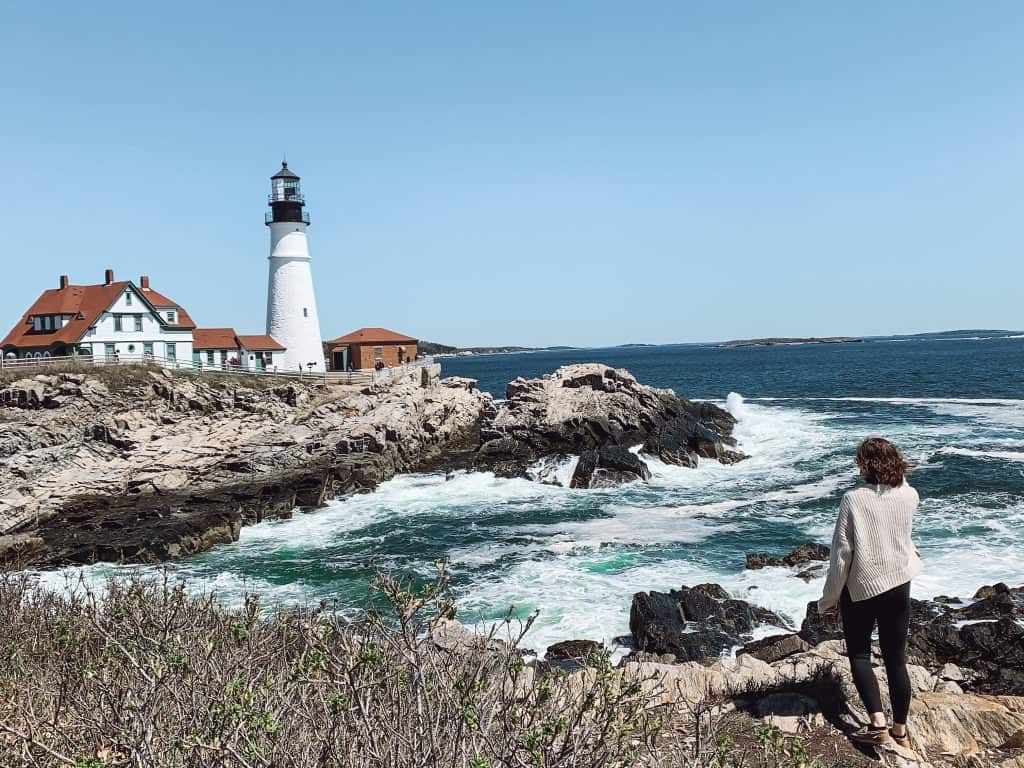 If you're curious how I've traveled to 30+ countries completely gluten free, then check out my guide to eating out gluten free, and my article on how I find gluten free restaurants. And if you'd like to see more destination-based gluten free travel guides, check those out here.
Let me know how your trip goes, and any more recommendations or tips you have on gluten free Portland Maine in the comments below!
Sarah xx
Pin it for later…