In Michigan, you can go anywhere, including over 100 miles south, and as long as it involves a lake we will still call it "up north." And there are lots of lakes here.
So when we went to Sleeping Bear Dunes National Lakeshore on a long day roadtrip, it was both literally and figuratively up north. 
This area of Michigan that stretches along Lake Michigan in long dune-y miles and pine forested, hilly roads is one of my favorite parts. It's not far from the cherry obsessed, slightly hipster Traverse City, and is home to some wonderful memories including childhood road trips and my cousin's wedding a couple Augusts ago!
What's the recipe for a true Michigander roadtrip up north to Sleeping Bear Dunes National Lakeshore?
The drive north
Wake up at 7am, fuel your body with coffee and your car with gas, and start the drive north! For us it was about a 4 hour journey.
Not including mandatory breakfast stop. As we had my British boyfriend in tow, it was necessary to stop at a particularly American diner for breakfast: Big Boy. A well loved chain restaurant, Big Boy is home to huge pancakes, lots of retirees playing checkers, and random larger than life size statue of a very cheerful…big boy.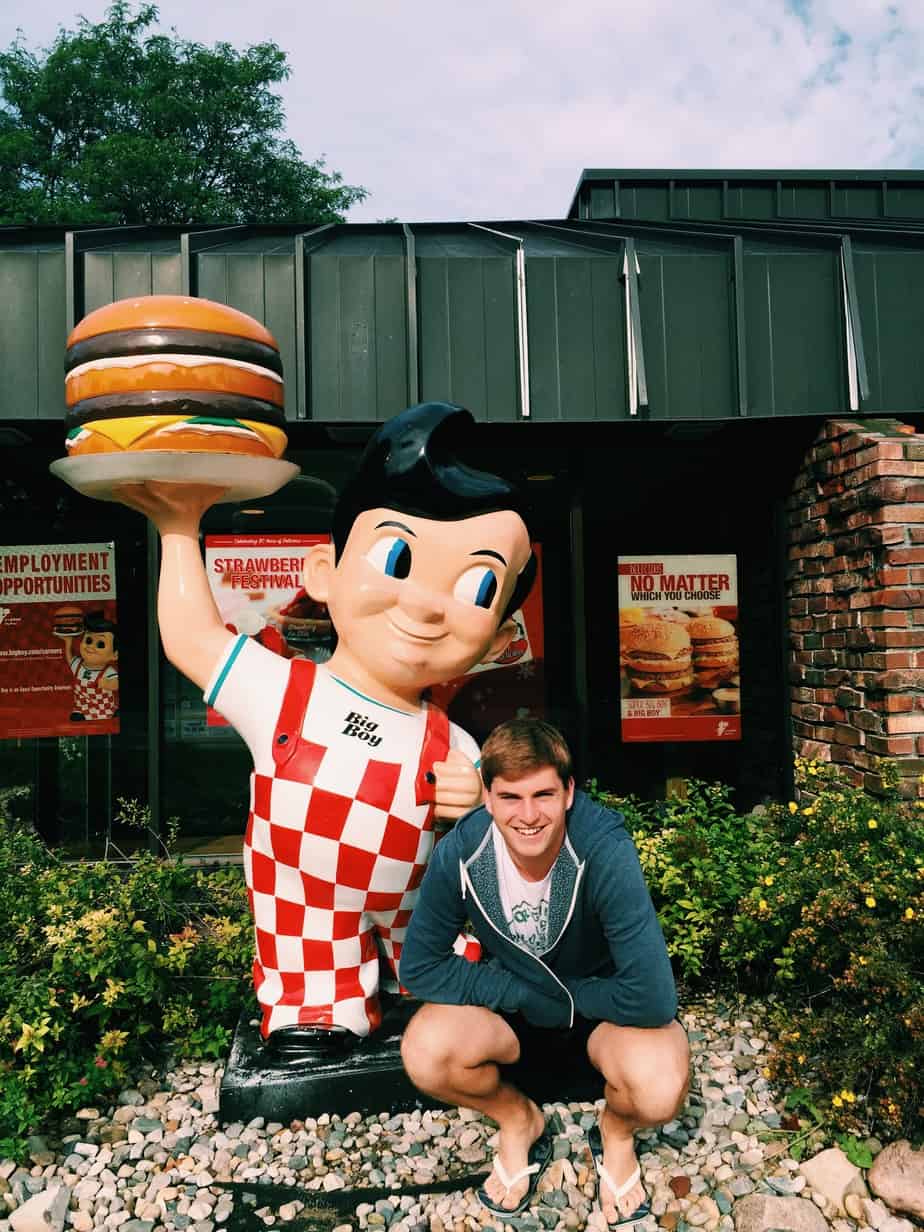 Sort the essentials at the sleeping bear dunes visitor center
From breakfast we drove on toward the Sleeping Bear Dunes visitor center, where you need to purchase a parking permit for the park. There's also an exhibit on the dunes' geology and the famous storybook I read as a child that tells the fable of the dunes.
Sleeping bear dunes fable: a family of bears swim across Lake Michigan to escape a fire in Wisconsin…but only the mama bear makes it to Michigan. She sits on the dunes staring out to the lake waiting for her children to arrive, but they never do, for many seasons… The Native American gods then bless her by turning her into the giant dune, and raising her two cubs from the lake to create the Manitou islands, so she can watch over them and they can be together forever. Very sad and bittersweet 🙁
Stock up on chocolate at the Grocers Daughter
Before you actually drive into the park, there's an amazing chocolate shop called Grocers Daughter which we alway stop at! Their chocolate is gourmet and incredible. I also love their "fat toad" chocolate drink made with goats milk!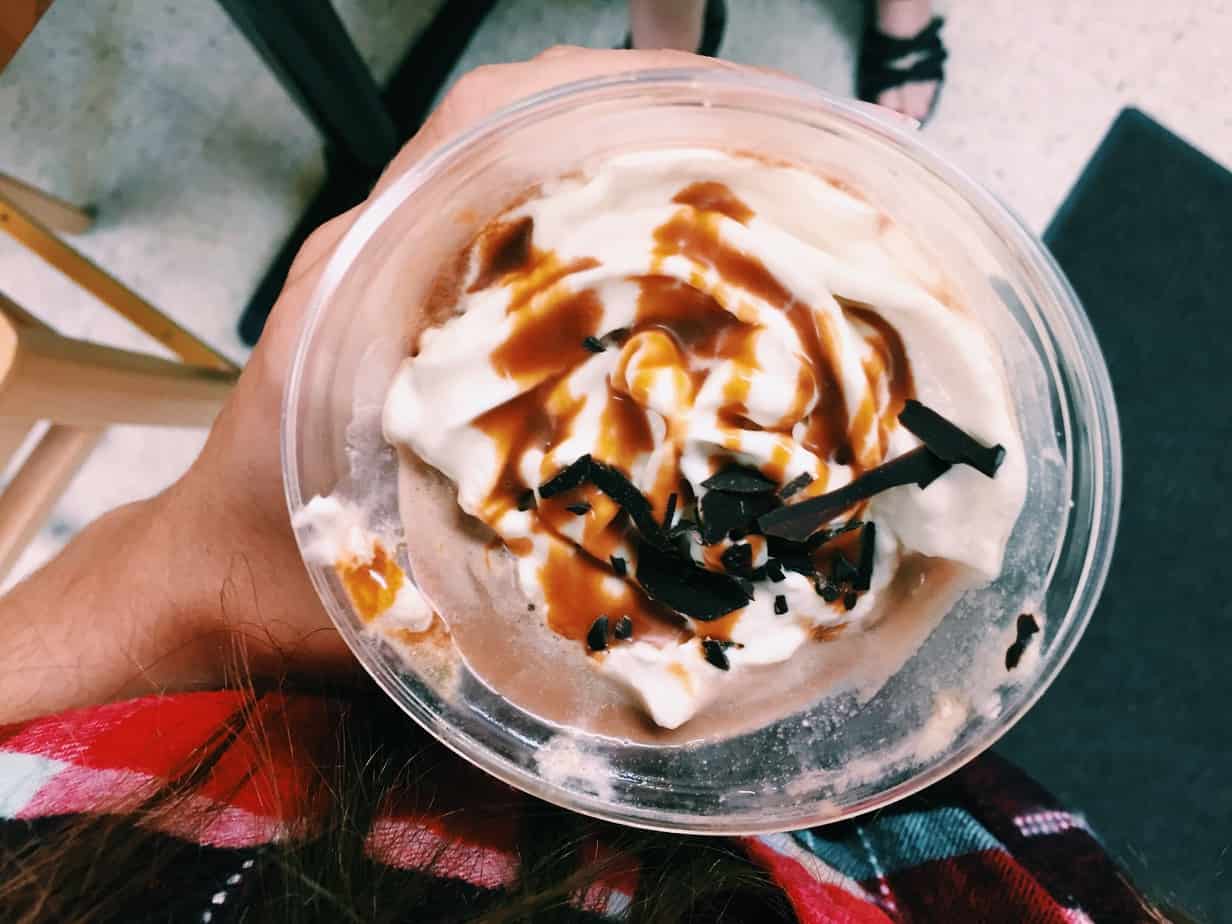 Drive the Sleeping Bear Dunes National Lakeshore route!
The drive through the actual lakeshore has lots of markers where you can stop off and enjoy the view of inland lakes or take a short hike…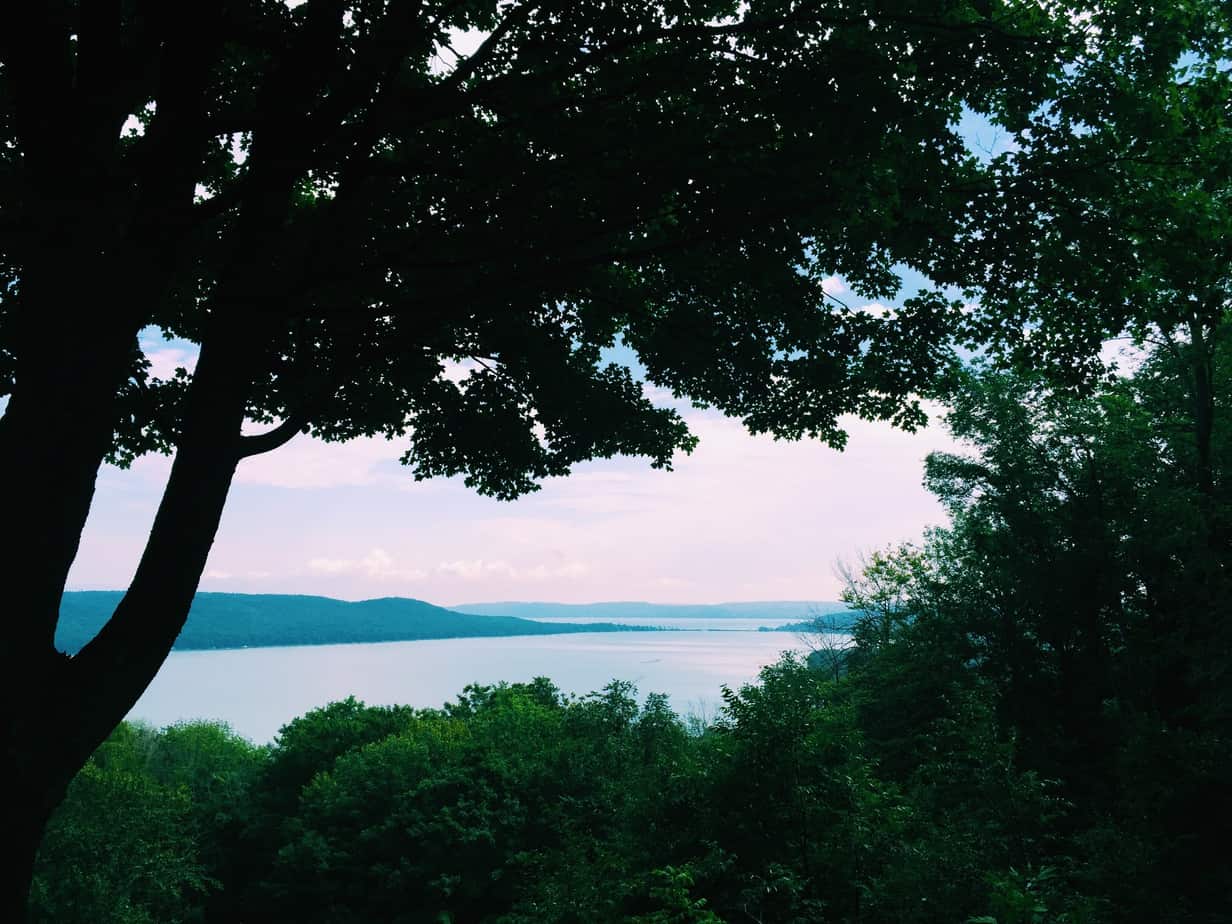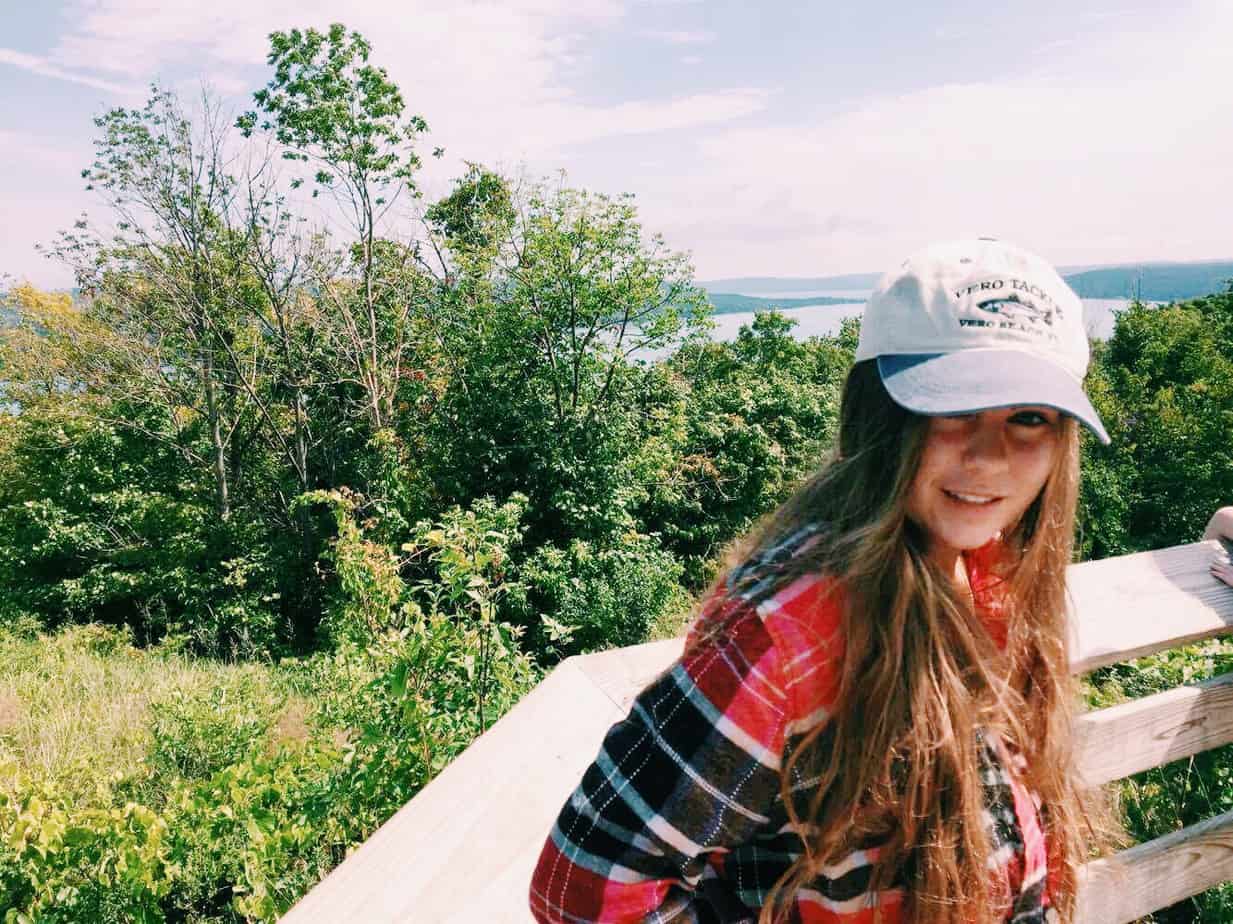 But the best view is definitely at stop off number 9 (out of 10 stops). This is the famous view from "mama bear" dune over the vast lake.
Do the dune climb at Sleeping Bear Dunes!
Stop number 9 is also home to the dune climb!!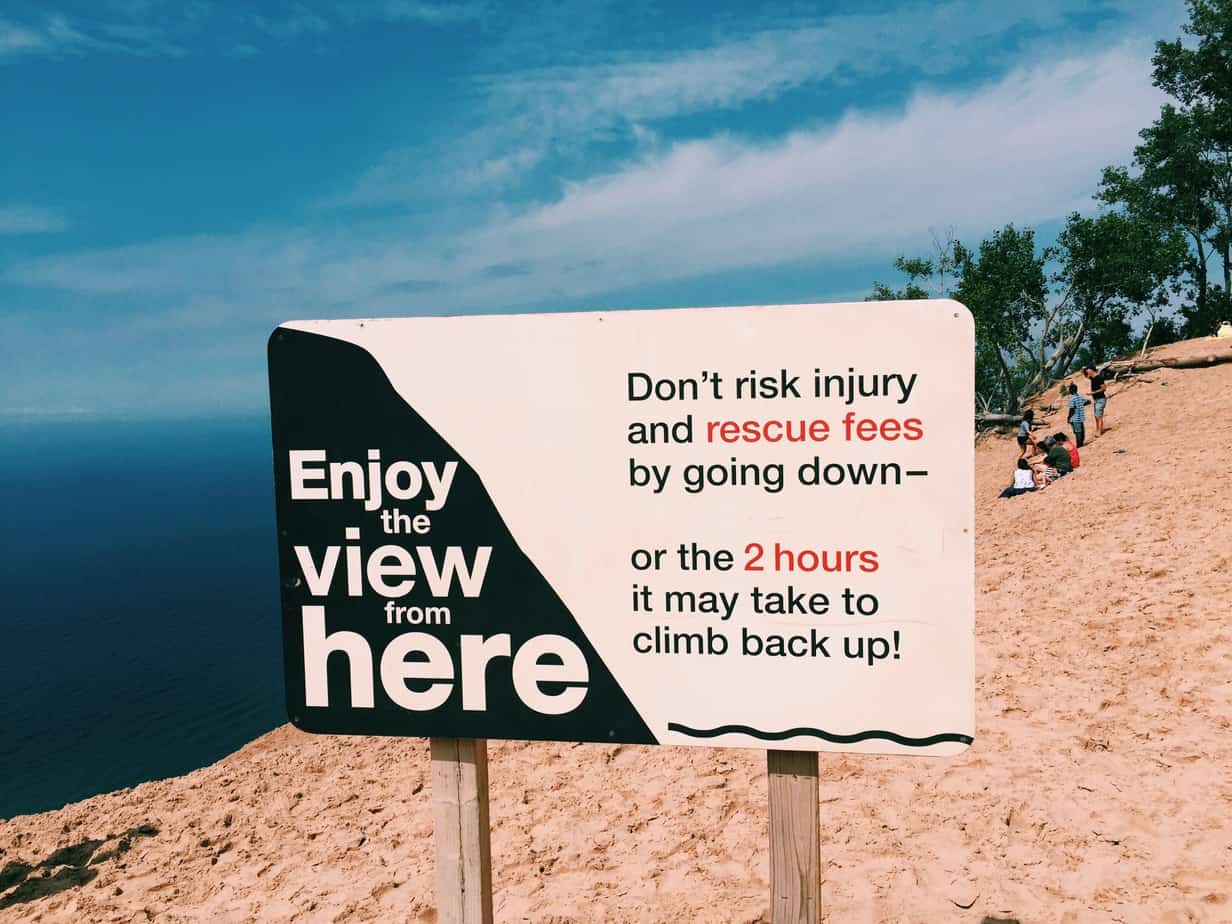 Yeah, they don't really recommend the dune climb, and it's definitely at your own risk (you could pay thousands in rescue fees) but I've done it twice with no issue, and it's one of those incredible experiences you remember your whole life!
It takes about 5 minutes to fly down the almost 90 degree angled dune into the lake, and depending on your fitness/determination, anywhere from 20 minutes to 2 hours on the way up.
Of course, the dune climb is a big contributor to erosion. In fact, rumors are that it will be permanently shut down in the next couple years due to increased erosion.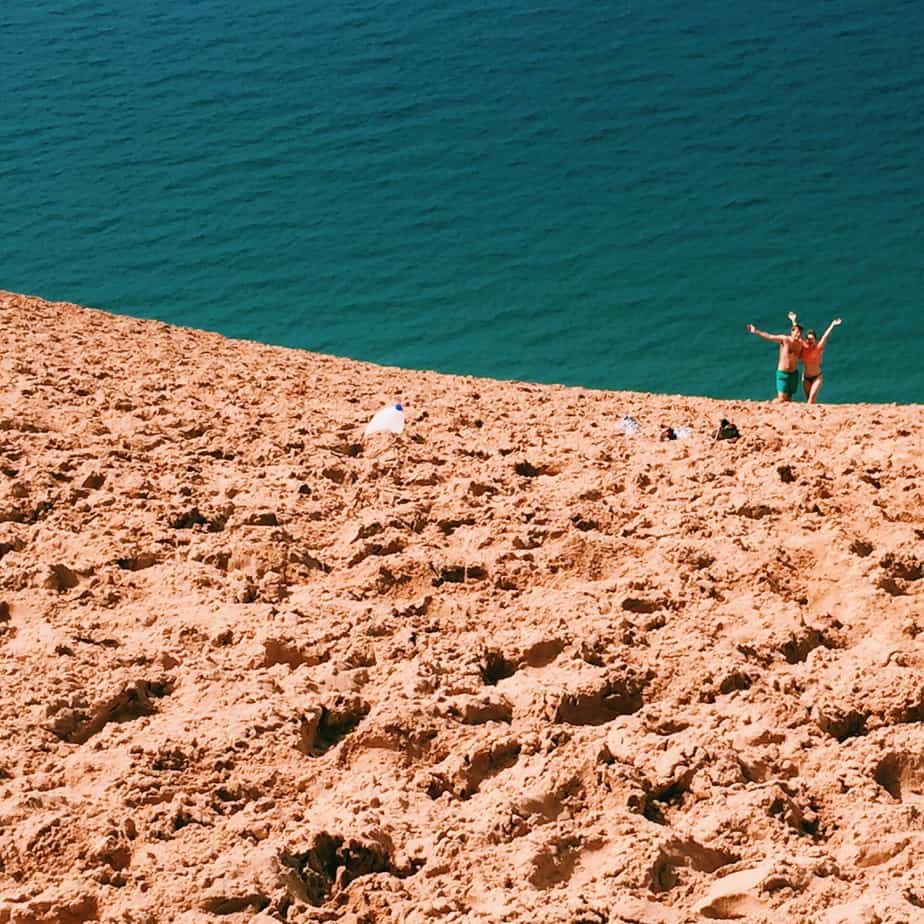 I try and be really conscious about the environment and sustainability but the sleeping bear dunes climb is one of my exceptions – definitely something to take into consideration, though!
Tubing on the Platte River
If you have time like we did, another great "up north" classic thing to do is tubing! We used Riverside Canoes to rent tubes (you can also rent rafts, kayaks, or canoes) and spent the afternoon floating down the Platte River.
It was slow and winding and lazy and gorgeous. The sun was blazing into the early evening so it was the perfect temperature and not too crowded.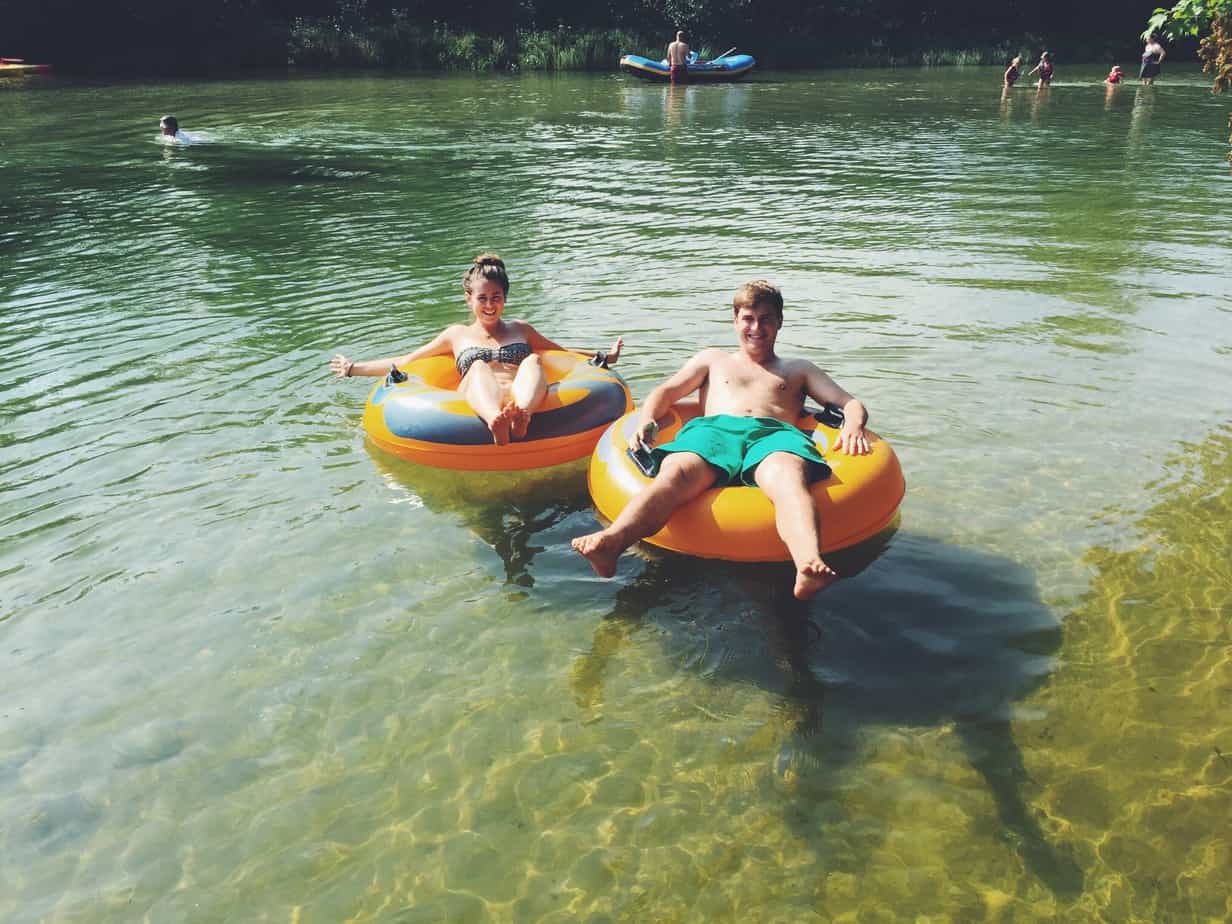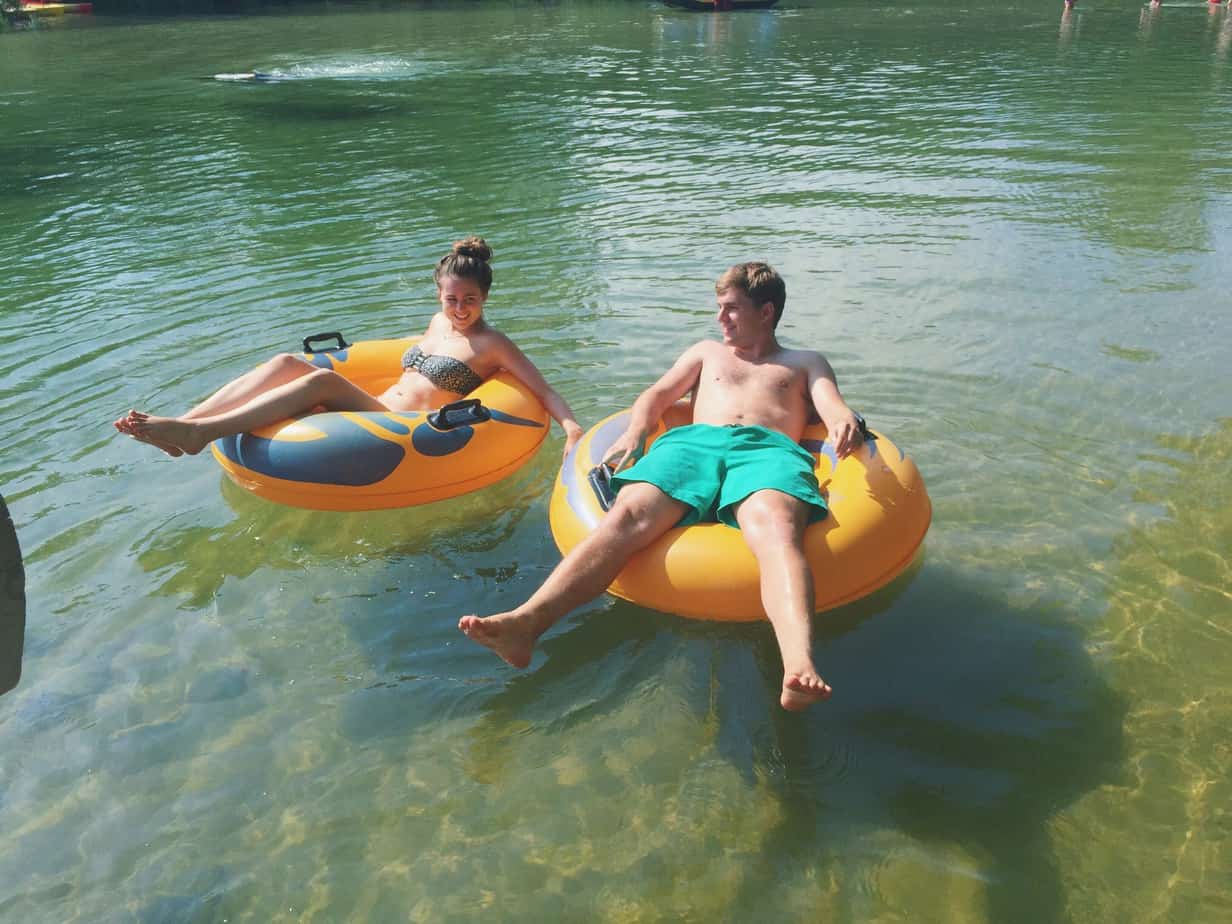 The river opens up into Lake Michigan, where we returned our tubes and hopped into our car for the return drive home.
Drive home… with dinner at Clam Lake Brewery!
For dinner we stopped in Cadillac at the Clam Lake Brewery, where we watched US Open tennis over fish tacos and burgers. They have plenty of gluten free options there!
As the sky darkened and lightning struck in the distance, we drove on back home. An exhausting day stuffed with quintessential "up north" adventures!!
Sarah xx