The Best of Hotels in Stratford Ontario: Forest Motel and Woodland Retreat
I was perusing hotels in Stratford Ontario for my recent mother-daughter road trip when I realized… of all the times I've been to Stratford, I'd never stayed overnight. Stratford Ontario is named after the UK's Stratford-upon-Avon, and is similarly besotted with Shakespeare, to the point that it hosts its own world famous Shakespeare festival. In fact, it is practically a rite of passage for all those growing up in the vicinity (as I did in Michigan) to do a school field trip to the Shakespeare festival. But Stratford is most definitely worth more than a day trip, least of all for the many wonderful hotels in Stratford Ontario. One hotel, however, rises above the rest, and that is Forest Motel and Woodland Retreat.
*We received a media rate at the Forest Motel and Woodland Retreat, courtesy of Visit Stratford. All opinions are and remain my own.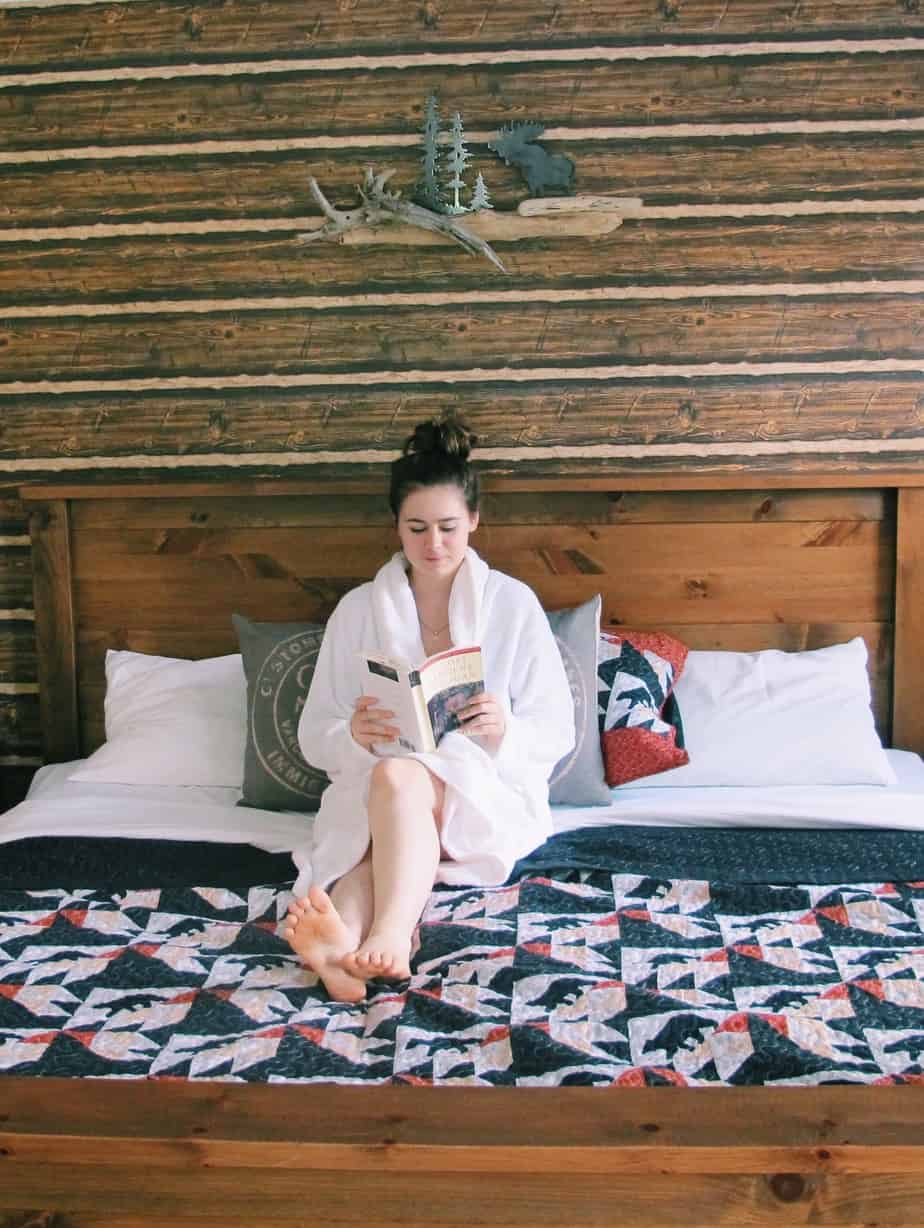 Now, I don't want you to be distracted by the word "motel," which in my opinion has negative connotations. The Forest Motel and Woodland Retreat definitely leans toward the "retreat" end of the spectrum, and what a retreat it is! I suppose that Shakespeare would have to say "A Forest Motel by any other name would smell as sweet," but maybe I got that wrong… 😉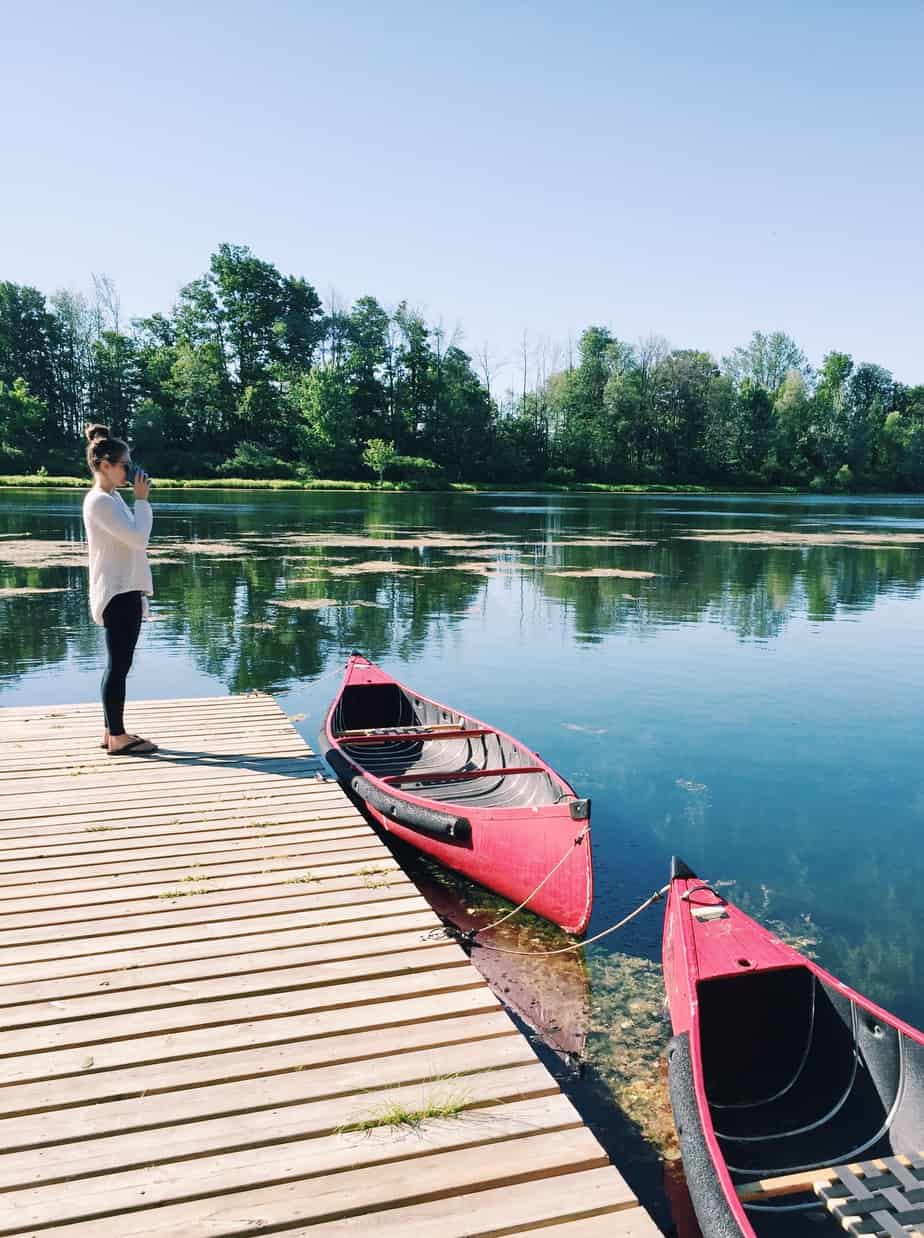 Why Forest Motel is different than other hotels in Stratford Ontario
Forest Motel and Woodland Retreat is unlike any other hotel in Stratford, which is why I would encourage you to stay here! It is located a five minute drive from downtown Stratford (don't worry, there is free parking downtown). But with those five minutes comes a complete transformation from a bustling yet quaint downtown, to a beautiful forest oasis. Forest Motel is actually located on 32 acres of land, complete with many well-kept walking trails and even a private lake! With the lake comes some wildlife friends…but I'll explain that later 😉
Forest Motel offers a true retreat and is ideal for travelers, like myself, looking for a way to maintain their wellbeing during travel. Our days in Stratford were packed with eating, seeing plays, and doing everything we could. To begin and end the day in such a peaceful setting was what we needed.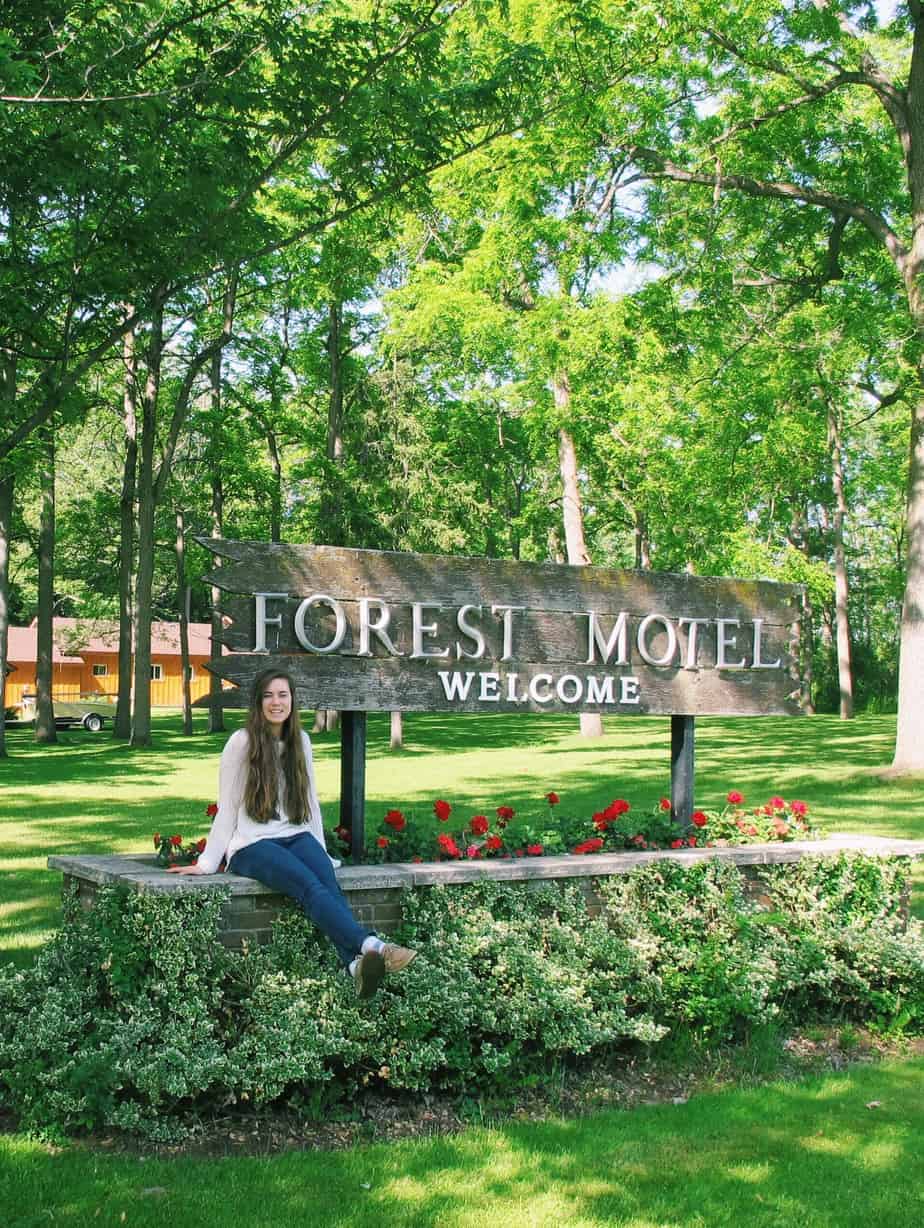 Checking in: Our room at Forest Motel
Forest Motel and Woodland Retreat is my favorite of the hotels in Stratford Ontario because it offers such a range of rooms. The hotel actually has three separate buildings (easy when you have 32 acres of land!). There is one more traditional "hotel" building, McCarthy House (luxurious little house with two Queen beds), and the B&B.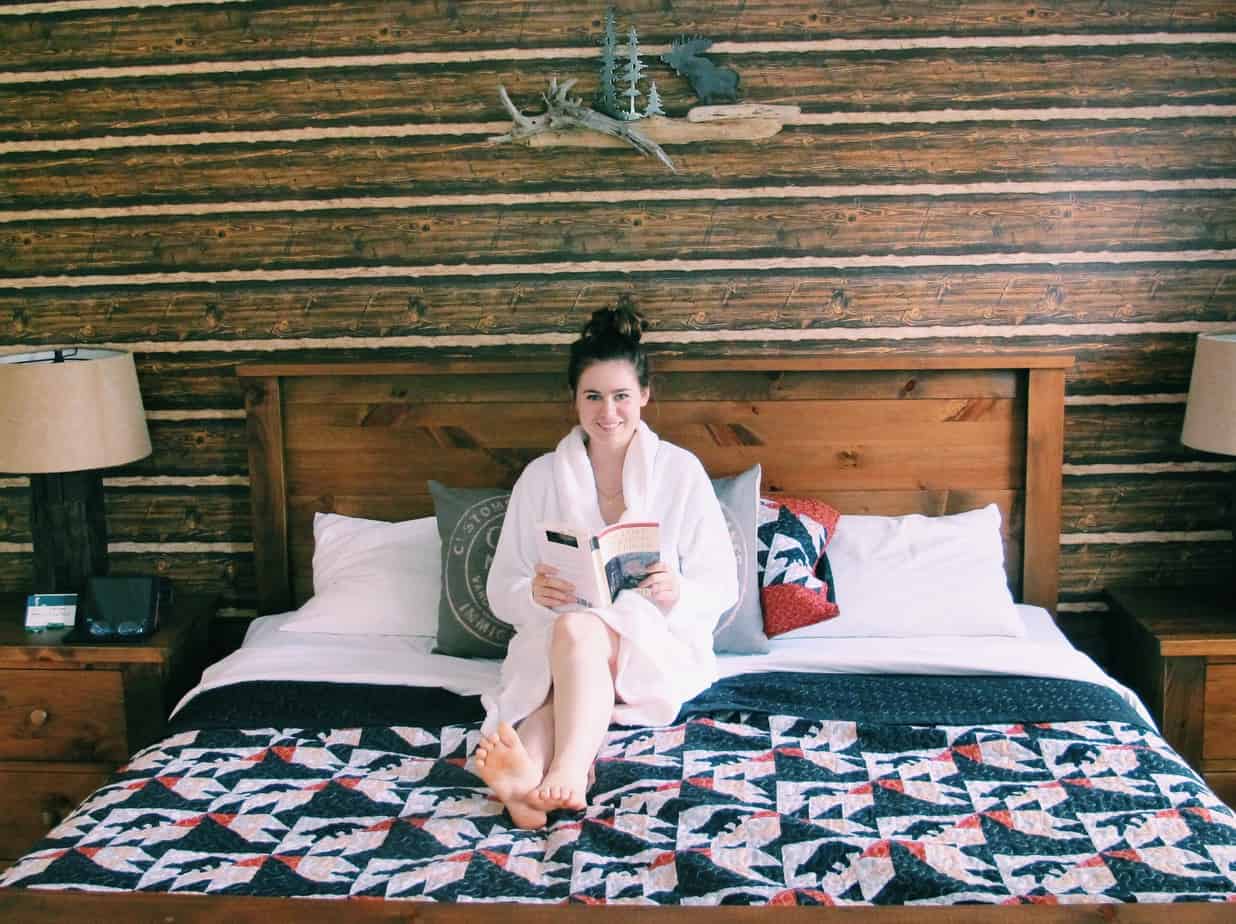 We stayed in the Canadiana Suite in the B&B, which is across the street from the main building. Our suite was absolutely beautiful – we had a King bed and a double bed, a gorgeous bathroom, and a small kitchen area. It was decked out in rustic Canadian decor, and even came with two of the softest bathrobes in existence (see above!). Our suite also had its own private deck with hot tub! I mean really, I am all about hot tubs. I went in it every day!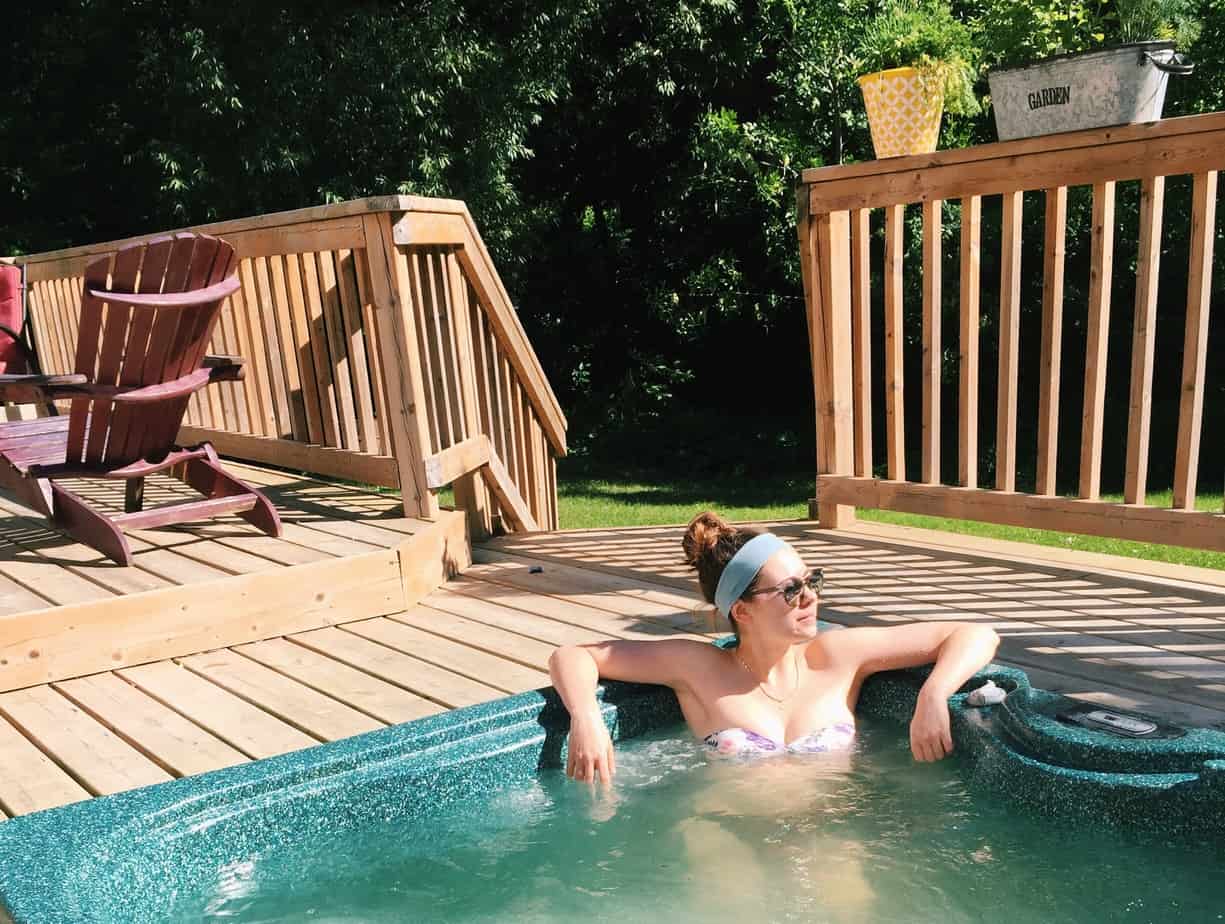 The finishing touch on our room, though was the popcorn! I've never had microwave popcorn left for me at a hotel before, but I think ALL hotels should introduce this practice. It makes it feel like home. When I mentioned my love of popcorn over breakfast, they even dropped off some extra for me 🙂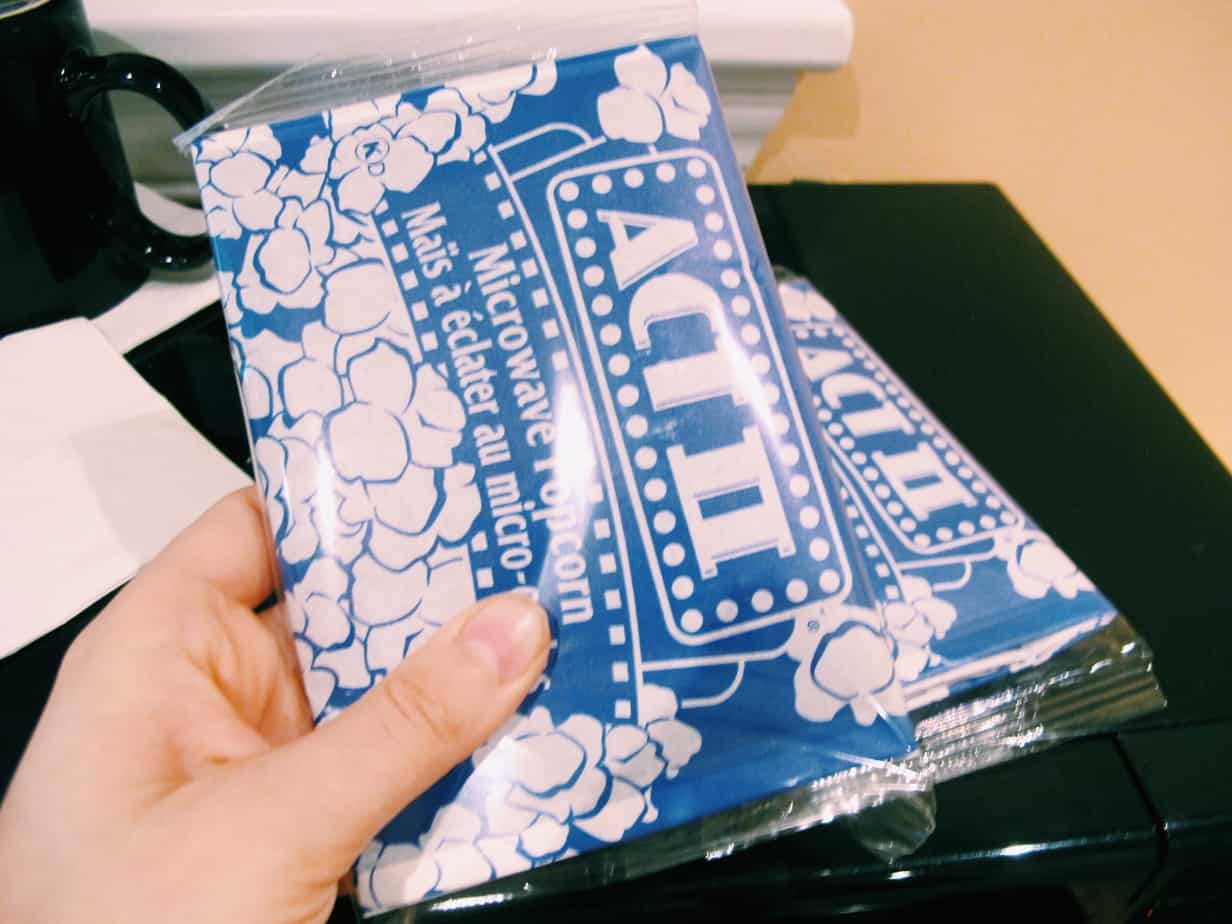 Human & nature connection at Forest Motel 
As much as I love the luxuries of staying in a nice hotel, I appreciate human connection even more. This is why you see me staying at such a range of places, from homestays to boutique hostels to more unique hotels. At Forest Motel the luxury was abundant, but what I appreciated most was the human connection. It is hard not to run into the owners (Kim and Conroy) who are always bustling about greeting guests, fixing things up, or "tending" to the local wildlife (see below…). Kim was even kind enough that when I mentioned upon check out how much I loved the bathrobes in our rooms, she let me buy one (half off) directly from her! What a treat… I still wear this robe nearly daily.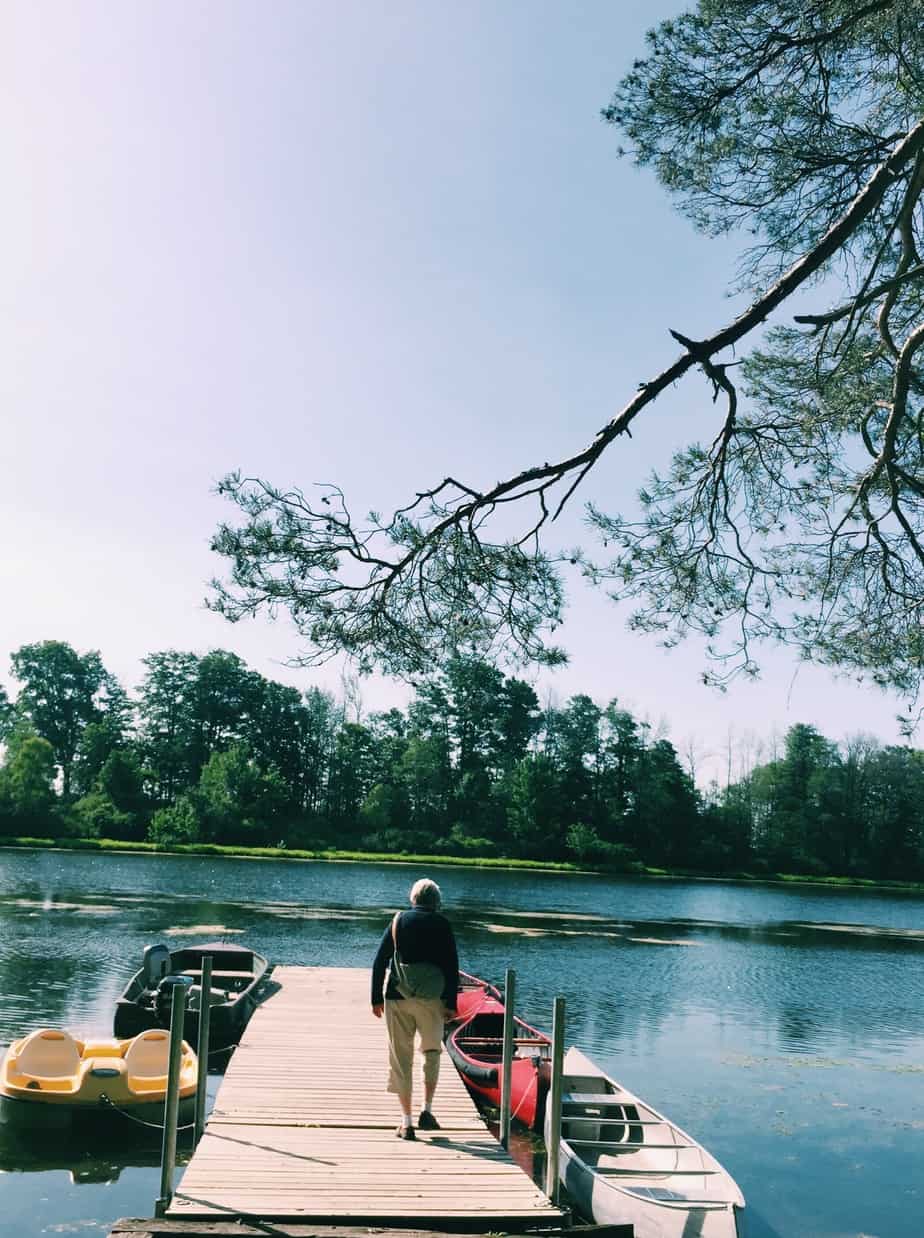 The people working at Forest Motel are as lovely as the nature it is surrounded by. Because our visit was during the summer, we took advantage of the forest walking trails, and the free lawn games and canoes. Every morning we walked out our coffee from the continental breakfast and drank it on the dock. You can, of course, also visit in the winter, when you can enjoy the snowy land with activities such as skiing.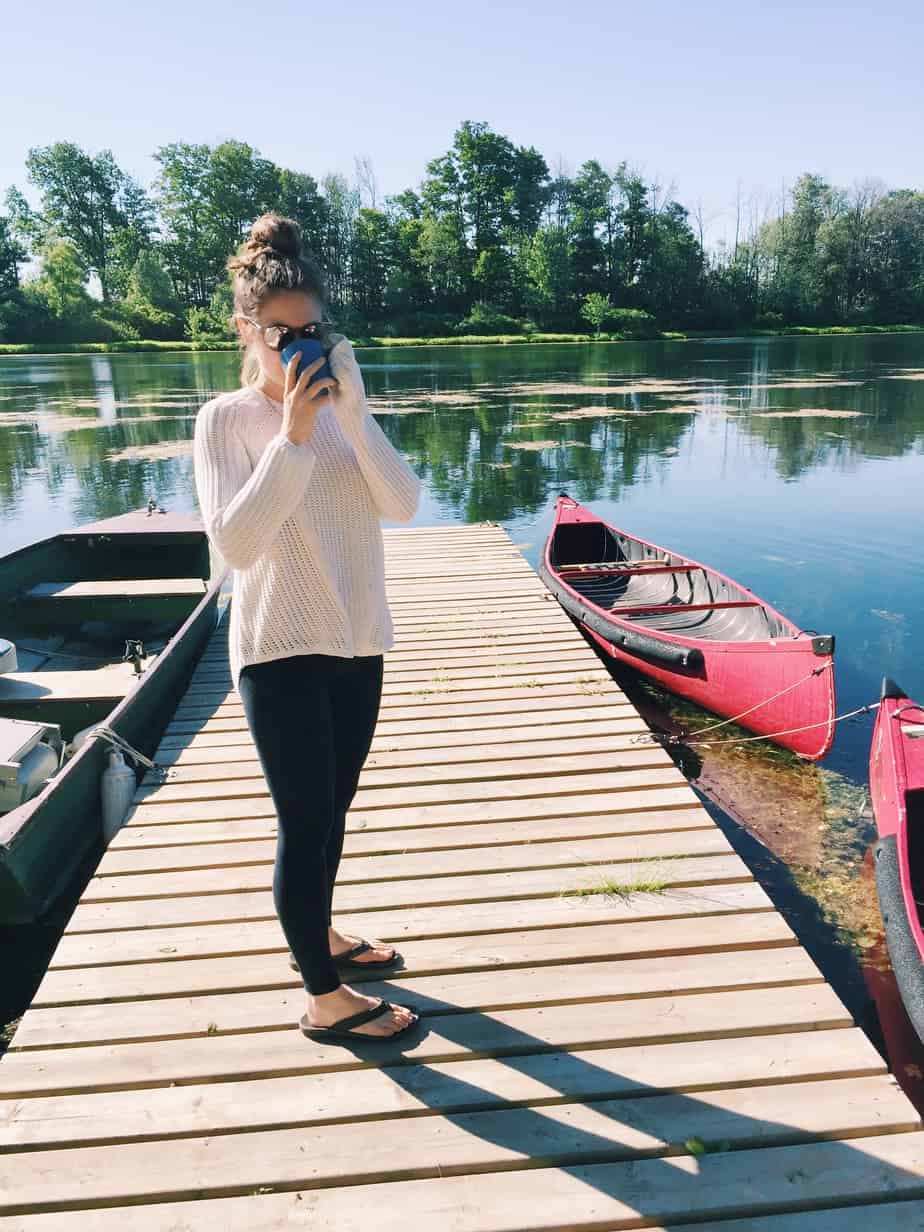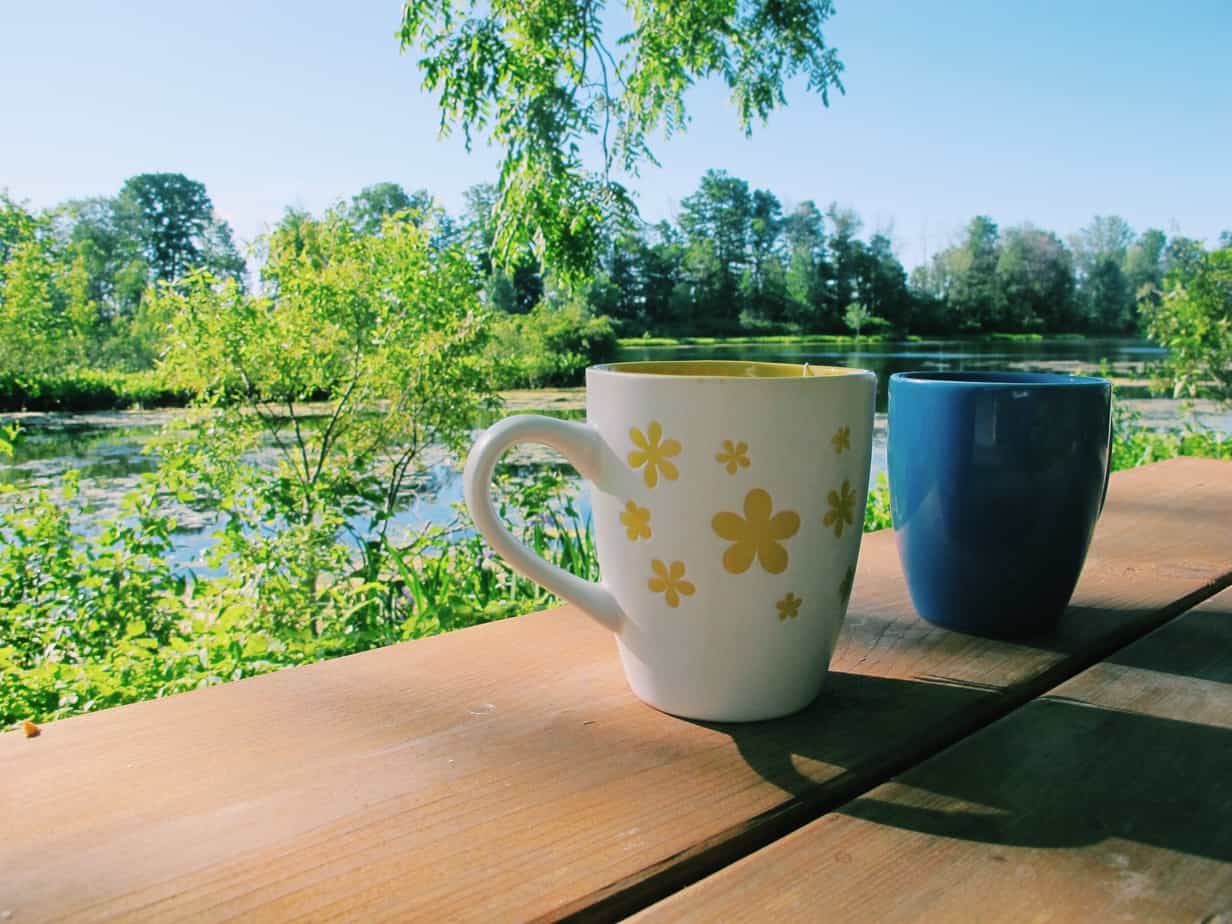 I also have to mention the continental breakfast in more detail, because it was perfect for our needs. It's nothing fancy, but it's cozy and reliable. They even have freshly made muffins each morning! Being gluten free, I am always dubious of hotel breakfasts, but Forest Motel passed my test.
Related: Gluten Free Stratford Ontario
As promised… the wildlife!
I have been leading you on through this whole post, so I have to take a moment to mention the SWANS! When we first checked in to our room quite late at night, I found a little booklet on my bed. I figured it would include basic things like the wifi code and breakfast hours. What I didn't expect was an entire history of the Forest Motel swans! I mean, this thing included family trees and newspaper clippings ('Where did Joe go?!' was my favorite newspaper headline, regarding a swan gone rogue).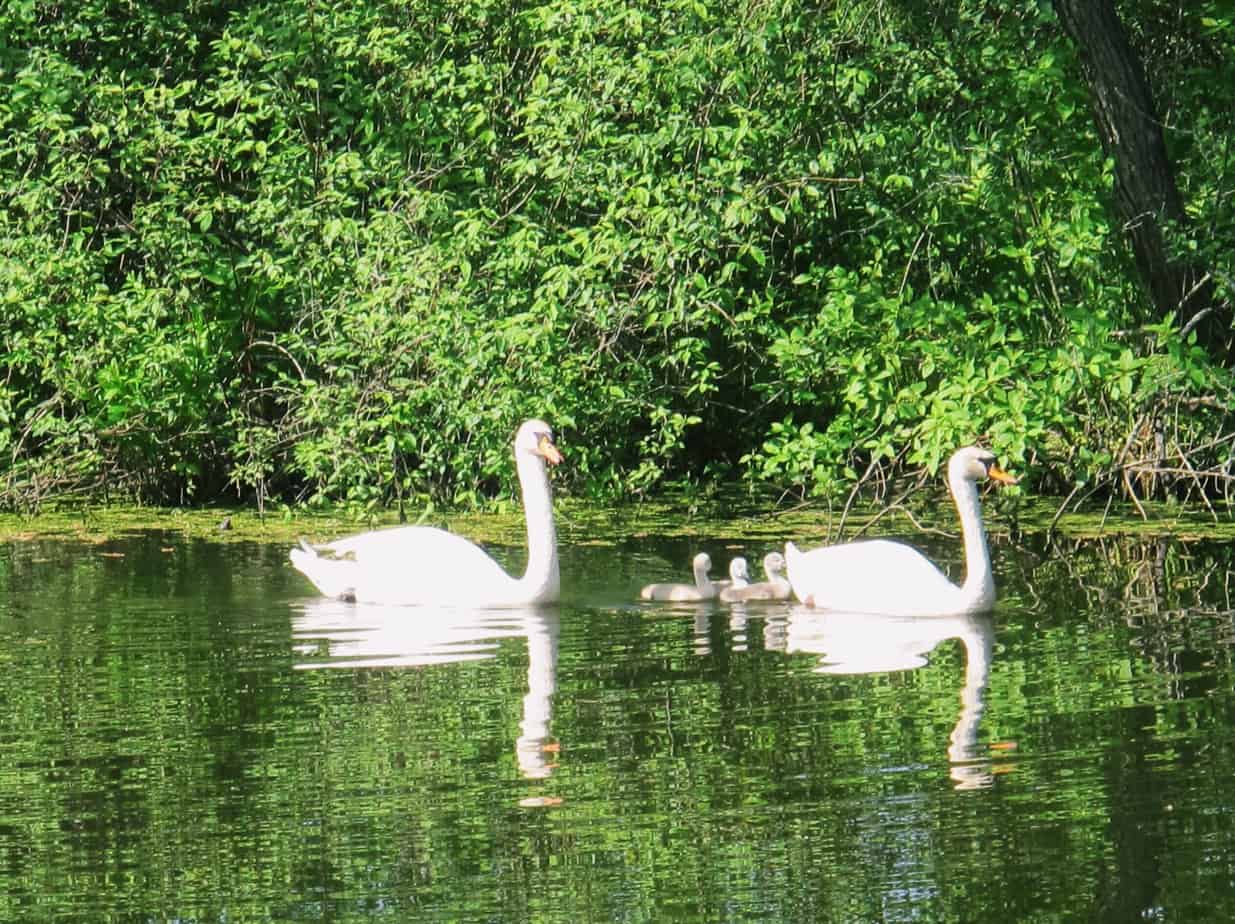 Luckily we got to see the current swans in action. Joe and Josephine recently had three babies, and they are quite proud (and protective) parents. However, they are not above begging when they are hungry. On our final morning, we saw Joe swagger up to the hotel's front door and knock with his beak.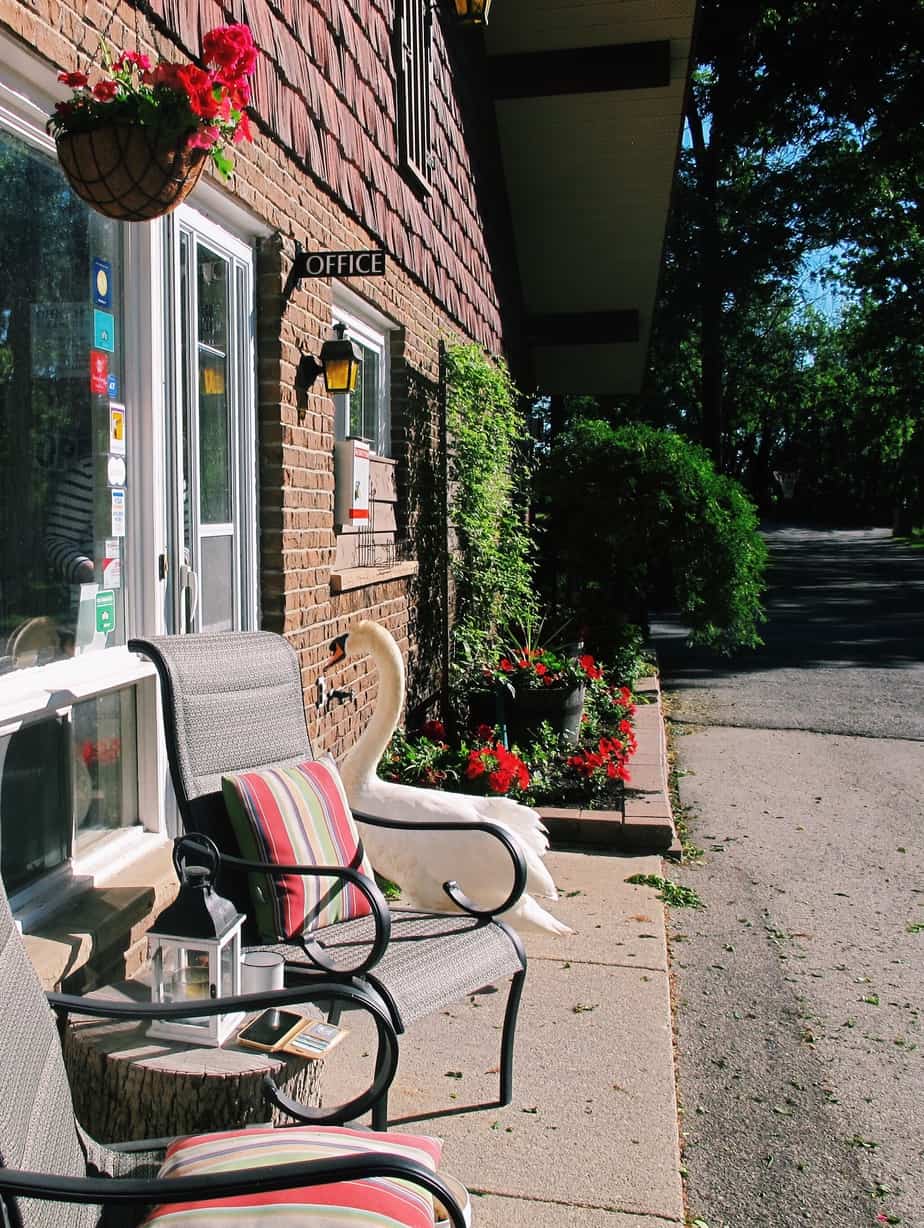 As Kim explained to us, this is a regular occurrence. It seems that Joe thinks he deserves a continental breakfast, too, being such a long-time hotel guest and all. He happily munched away on his concoction of nuts and bird seed as we sipped our coffees and watched.
Read the full swan history here.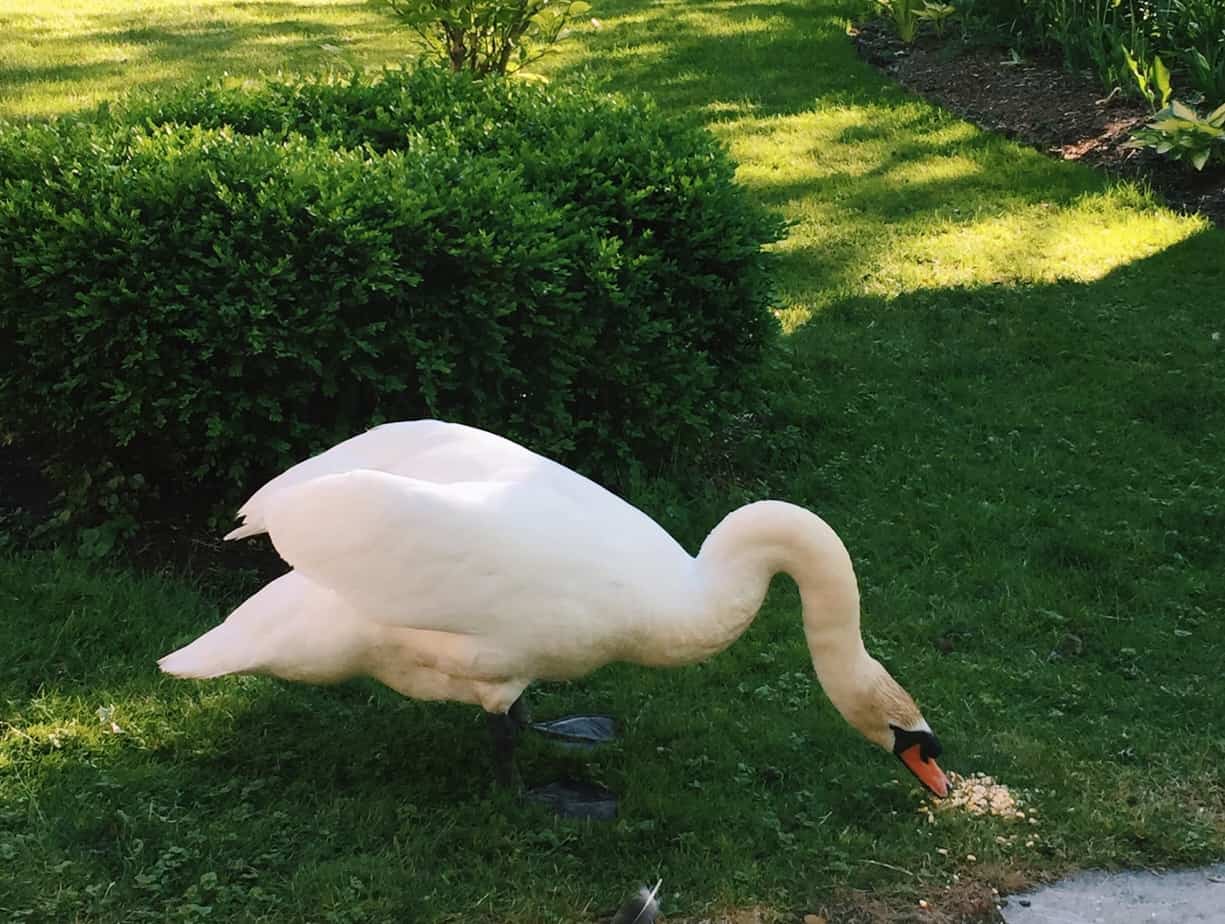 If you can't tell, we adored our stay at Forest Motel and Woodland Retreat in Stratford. Although our visit was sponsored in part by Visit Stratford, I can wholeheartedly recommend this as the best of hotels in Stratford Ontario. I will never again be a Stratford "daytripper." In fact, my family is hoping to make a return to Stratford this theater festival season, and will of course be booking a room at Forest Motel.
Sarah xx
Pin it for later…