The Best Korean Spa in NYC is Not Actually in NYC
It was travel that introduced me to the magic of day spas. From the baths in Bath, England, to the hammams in Marrakech, I was easily converted to this type of wellness tourism. Not only do day spas give you a respite from jet lag or travel-related stress, but you get a peek into local traditions. So when my friend Amanda, who I met up with in NYC, sent me a photo of a rooftop infinity pool with views of the Manhattan skyline… I knew we had to go! Meet Sojo Spa Club, the best Korean spa in NYC, that's well, not actually in NYC.
The Korean spa NYC scene has blossomed in recent years, but this isn't just limited to Koreatown in Manhattan. Actually, Sojo Spa Club is located across the Hudson River, smack dab in Edgewater, New Jersey.
However, this location gives it a stunning view of the New York skyline that alone is worth the trek across the bridge. (If this 'trek' worries you… scroll to the bottom where I explain how to get to Sojo Spa Club!).  After all, sometimes you need to leave a place to really see it. And New York City deserves to be seen.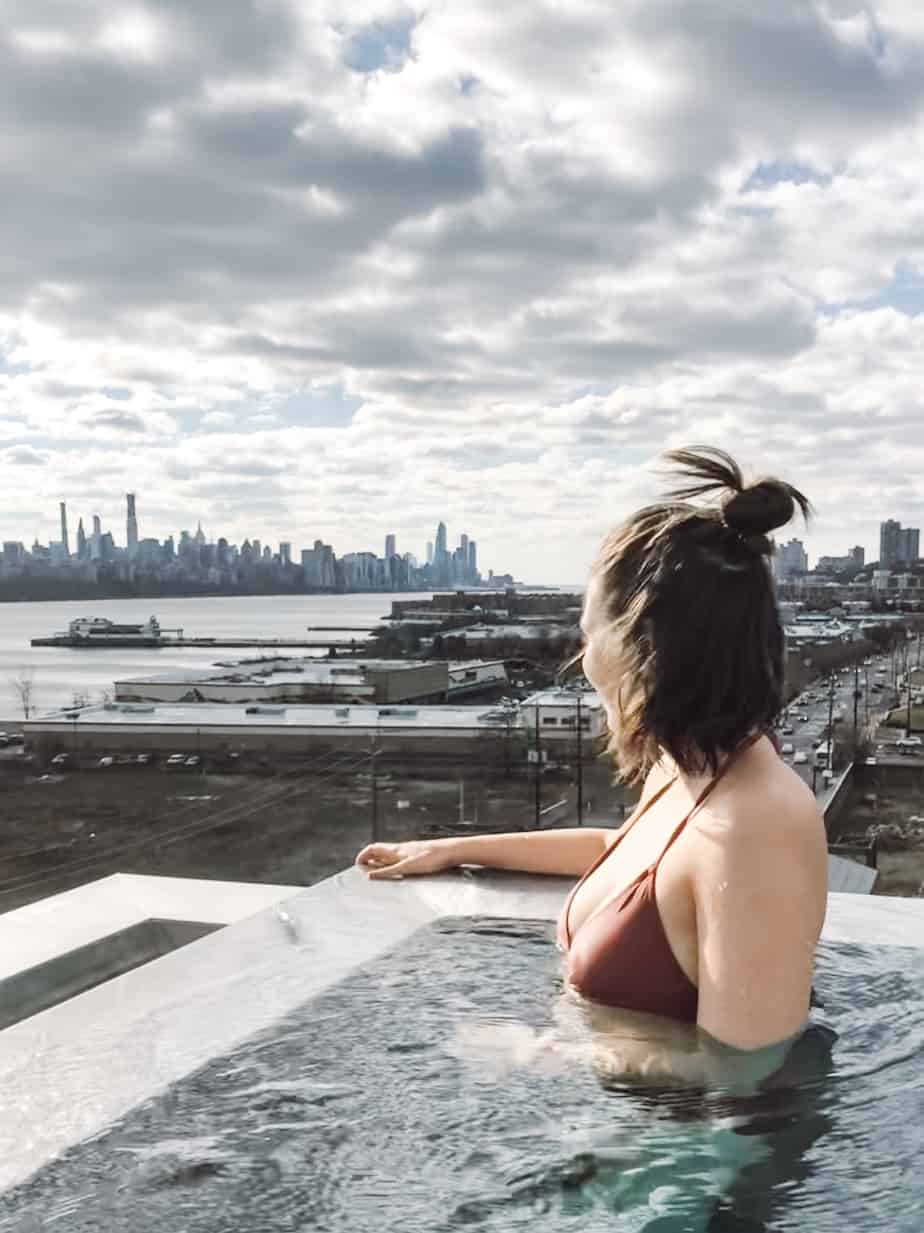 Sojo Spa Club: Best Korean Spa in NYC That's Not Actually in NYC
Sojo Spa Club is set up as a combined day spa and hotel. Yes, you can actually sleep here! It's a multistory building with both indoor and outdoor wellness experiences, open 365 days a year. As a traditional Korean Spa, guests must tread barefoot.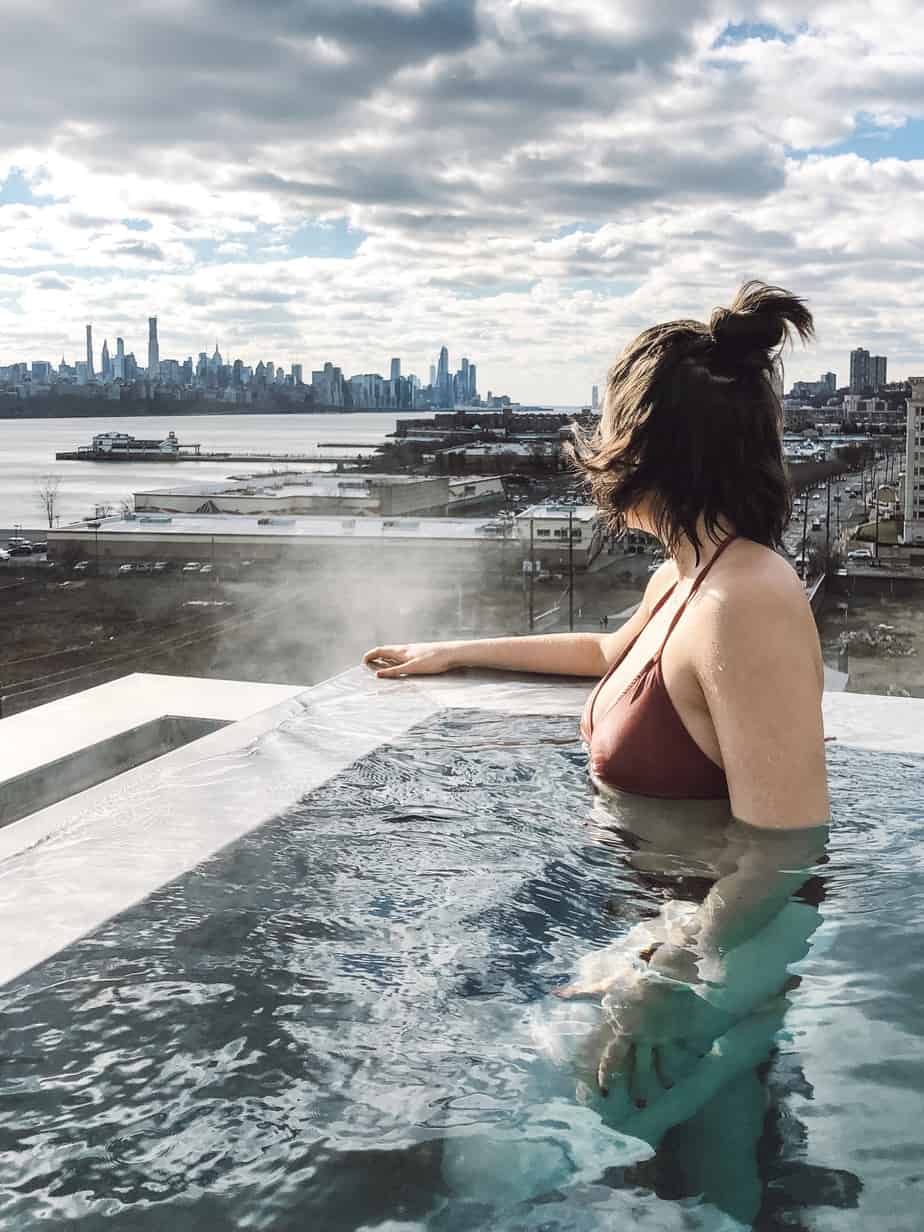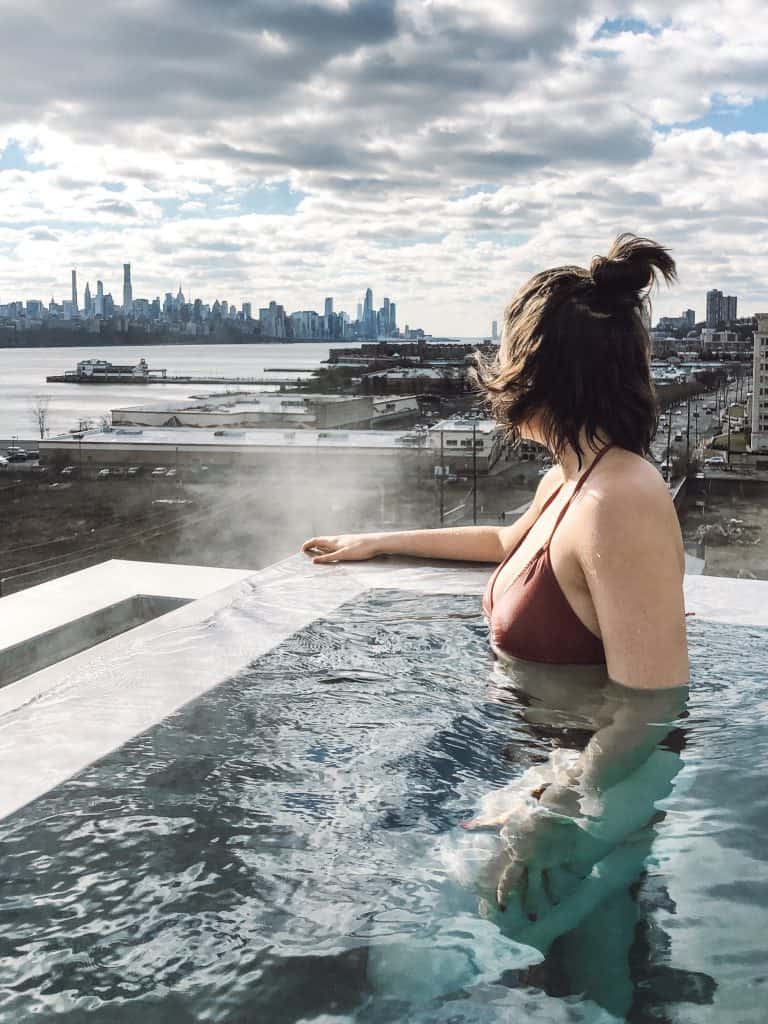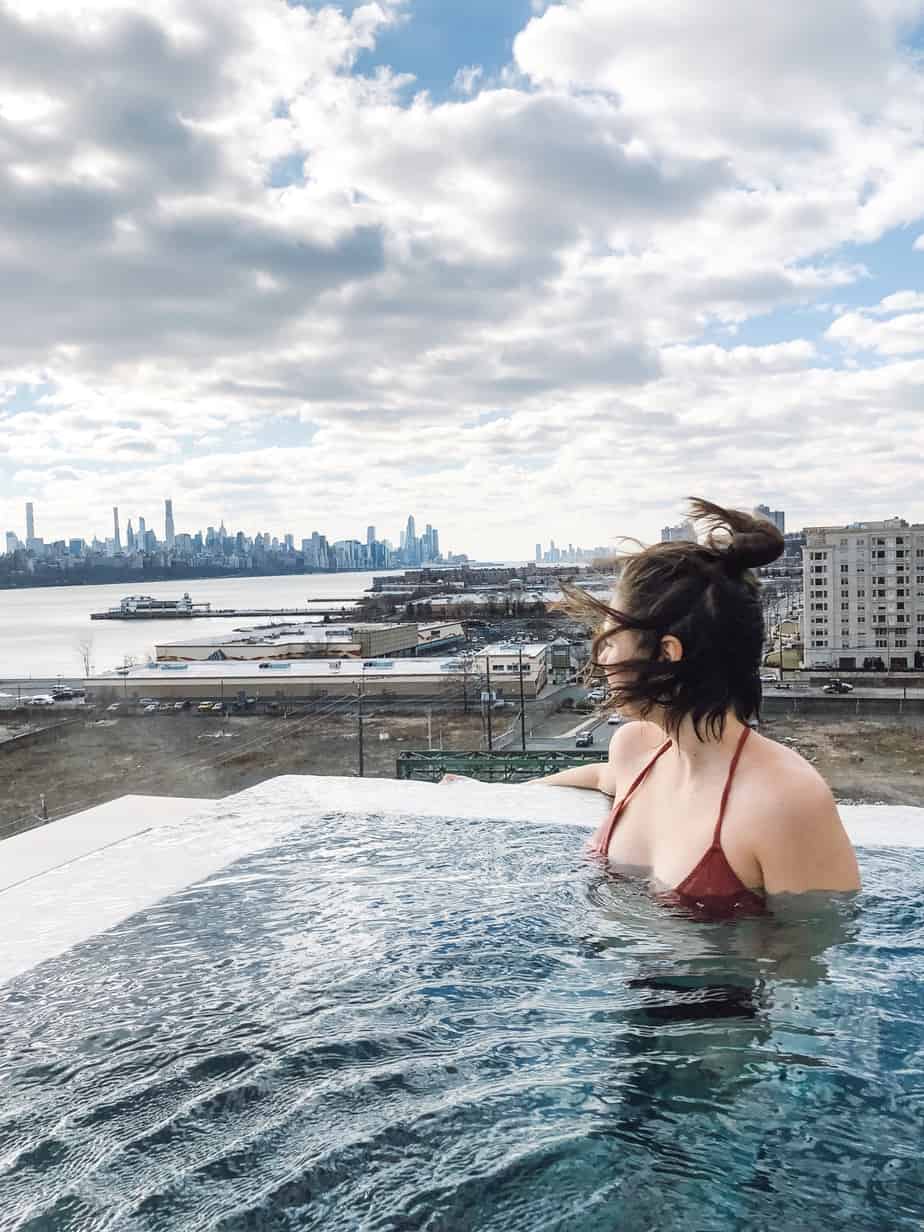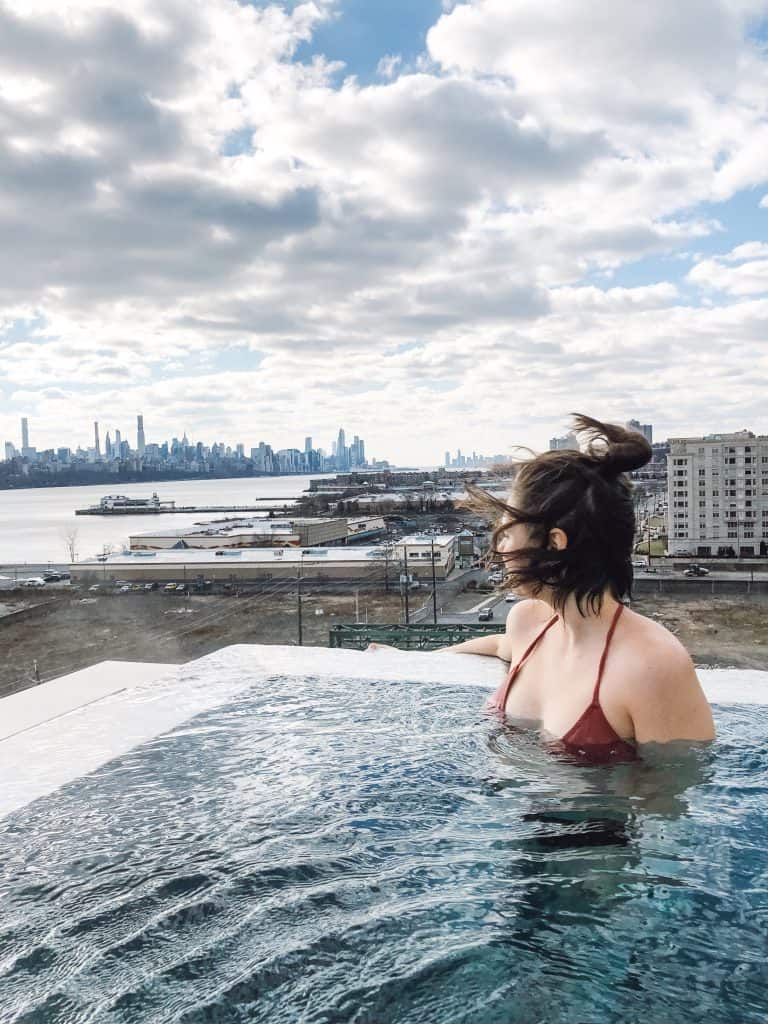 Reasons to Love Sojo Spa Club
Even if the view of the NYC skyline from the rooftop infinity pool doesn't sway you… there are other reasons to visit Sojo Spa Club. It is a truly expansive wellness experience.
I have been to a few spas around the world, and my friend Amanda is what I would call the 'spa expert' in my social circle. But both of us were floored by the options at Sojo.
Included within the day pass (which ranges from $40-$60 based on season and specials), you get access to countless pools, saunas, and treatment rooms. Really, I lost count.
There are various indoor and outdoor hot tubs and saunas. There is a reflexology pool, a hydrotherapy pool with jets, outdoor pools infused with various healing properties, infrared saunas, a salt room, a charcoal sauna, and so much more.
That's just what's included… you can also pay extra for treatments like a traditional Korean body scrub, volcanic sand bath, massage, and more.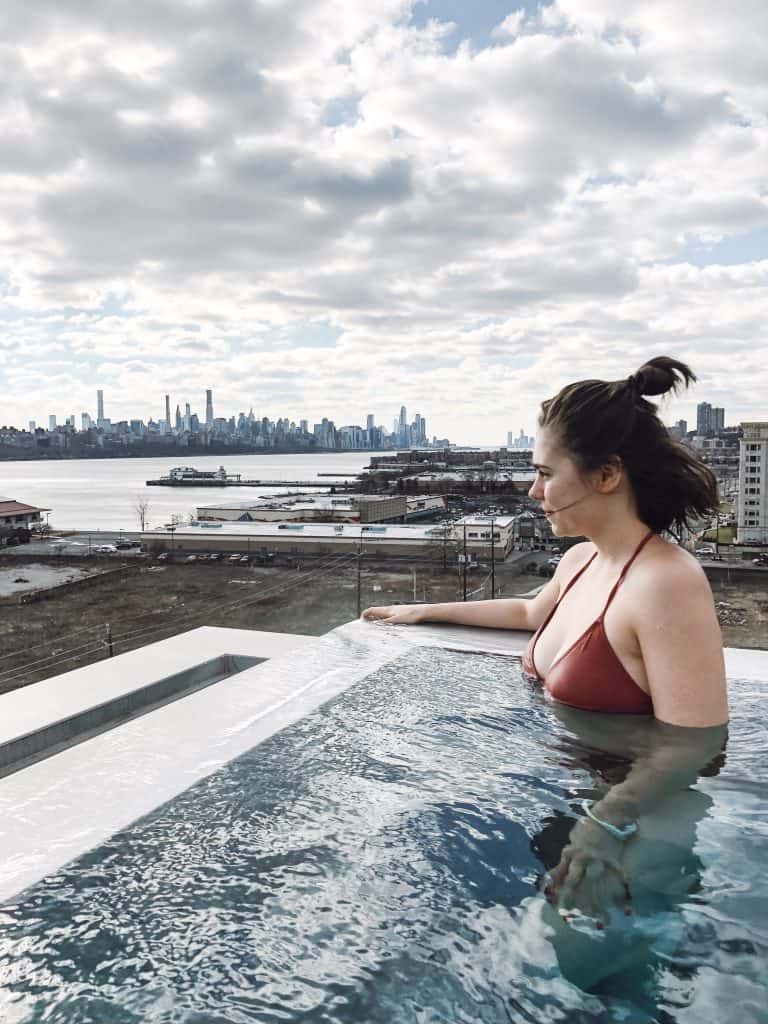 Our Experience at Sojo Spa Club
We gave ourselves half a day (from 11am-4pm) at Sojo Spa Club, and if I could go back I would stay even longer.
Our first step, after receiving our wrist bands and robes, was to head up to the top floor for the views. As we visited in January, and arrived in the morning, it wasn't too crowded.
We snapped some photos from the terrace and the heated infinity pool. I felt giddy the whole time… I couldn't believe we were really just casually swimming on a rooftop, NYC standing stoically in the distances, as steam rose all around us.
We'd made a pact that after a few photos (which are permitted in the outdoor pools but not indoors), the phones went away in the lockers for the rest of our visit. 
We spent the rest of our time cycling up the building, testing each pool, tub, and sauna one by one. This is what I love about day spas – it almost feels like a science experiment. Which pool is most effective at utterly relaxing me? (The best science experiment ever).
We stumbled our way through the reflexology pool. We giggled as the hydrotherapy jets shot us across the pool. We solemnly lay in the dry heat of the charcoal sauna. We sipped coconut water and berry smoothies in the cafe. And we returned to the rooftop pool, catching up on life, and feeling free without phones in hand. 
As I walked out of Sojo Spa Club that evening I truly felt glowing. I couldn't believe that just one day in a spa could improve my mental and physical wellbeing that much.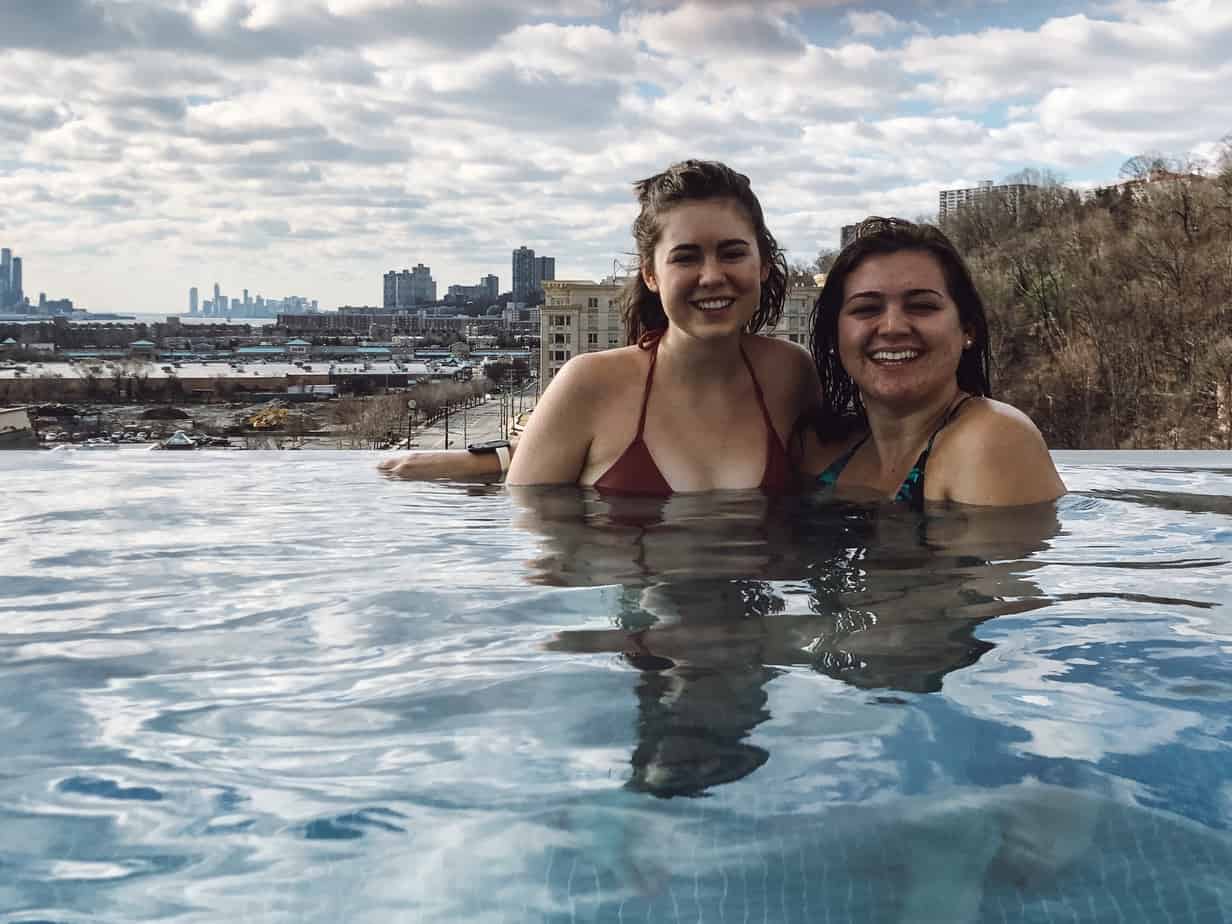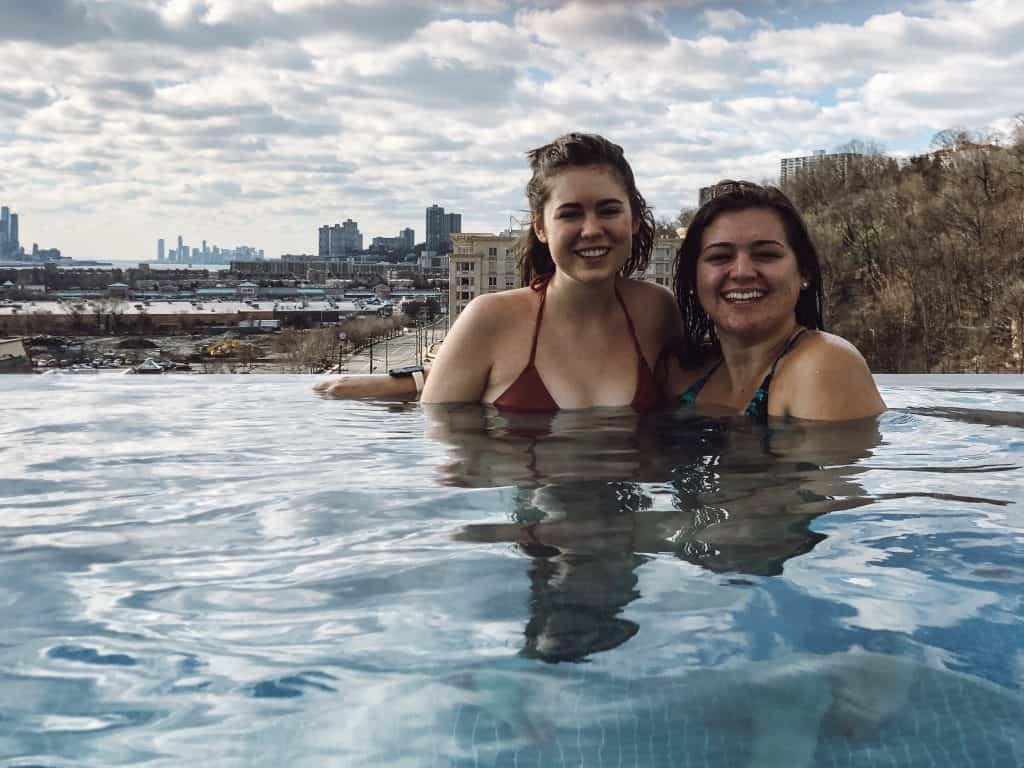 Korean Spa NYC: The Details
What is the best Korean Spa NYC?
Sojo Spa Club – the best Korean Spa in NYC.
When does the Korean Spa open?
The spa is open 9am-10:30pm seven days a week.
Where is the Soho Spa Club?
660 River Rd, Edgewater, New Jersey.
How much does it cost?
A day pass is $60 but there are often specials running. For example in January there was a 2-for-1 special. Currently there is a winter special giving $10 off entry. Check ahead of time for any specials! The Korean Body Scrub is $70. Other treatment prices are listed on the website spa menu.
How to get to Soho Spa Club?
Yes, this is the big question! Of course, you can drive, uber, or lyft your way to Sojo Spa Club. From Manhattan an uber can take 30 minutes-1 hour (depending on time of day) and be up to $45 one way. 
The good news is that Sojo Spa Club has its own FREE SHUTTLE!! Yes, you heard me! Sojo runs a free shuttle from Manhattan back and forth to the spa, all day.
Check here for the daily shuttle schedule, which departs from West Bank Cafe (corner of W 42nd  street and 9th avenue) in Manhattan.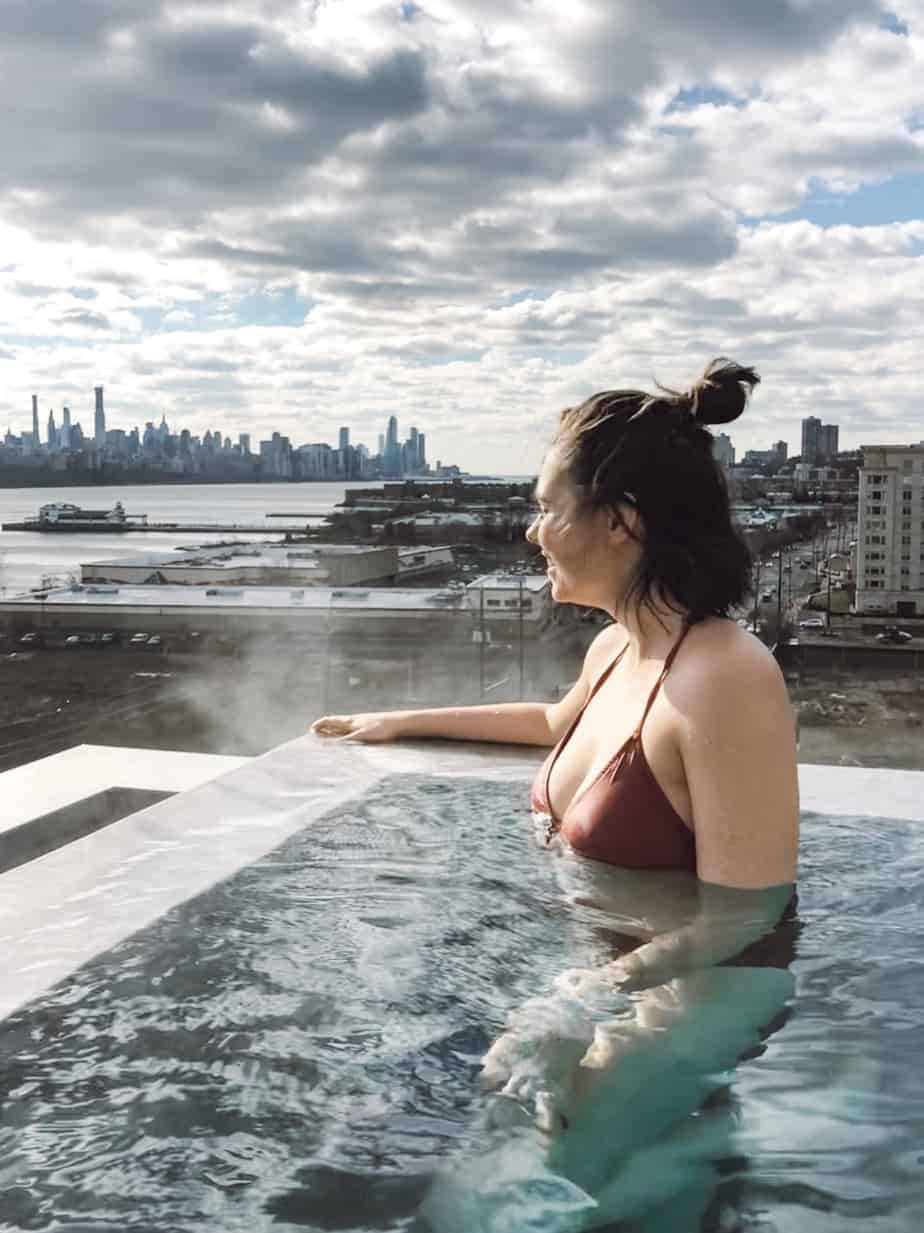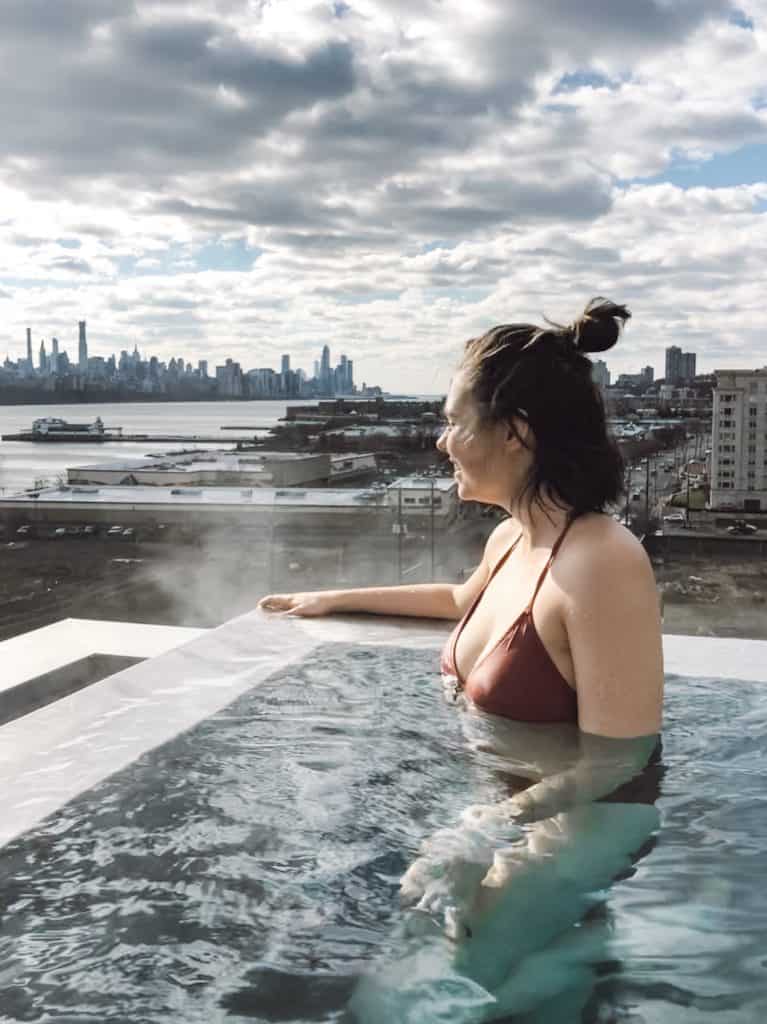 Bonus: Top Tips for Sojo Spa Club
It can be confusing heading to a day spa, particularly as a traveler. Even more confusing is having to leave the city!
Here are my top tips to ease any worries you have about visiting Sojo.
If you're taking the shuttle… there are only 14 available spots and it is first come first served. Plan to arrive at least 30 minutes prior to departure. We arrived 45 minutes early and formed a queue. Not everyone made it on the shuttle! So this is important.
Get the first shuttle of the day (departs at 10am from West Bank Cafe) if you can. Make the most of the day!
When you arrive to Sojo Spa, sign up for your return shuttle immediately. The shuttle fills up fast as they only fit 14 people so do this first thing!
If you want to get any photos, do this early on. Head for the rooftop first before the infinity pool fills up. Then put your phone away and enjoy yourself 🙂
No food is allowed in the spa. However you can bring a water bottle – I kept mine in my locker.
Bring flip flops to use outdoors. Indoors no shoes are allowed.
Drink tons of water and be aware of overheating.
No photos are allowed indoors. Only outdoors! Just be respectful.
Give yourself an entire day – this place really deserves it!
Check online for deals or specials ahead of time! They also regularly run giveaways on instagram.
Writing this post really brought me back to that lovely day at Sojo Spa Club. I left glowing from the inside out, feeling completely at peace. I am really looking forward to my next visit to Sojo Spa Club.