Today I am so, so, so excited to introduce you to Endless Distances' brand new look!
I've spent the last six months working with some incredible designers to not only create a new brand identity for Endless Distances, but also launch an entirely new, bespoke website design. I think we all underestimated what a mammoth project it would be (after all, there are over 300 blog posts on this site). But – it's done at last, and now I get to share it with all of you!
In this post, I'm going to share some behind-the-scenes of the branding and web design process. I'm also sharing how to navigate the new site, what's different, and what you can look forward to in the future!
Note: I personally think the design is in its full glory on desktop. So why not grab a cup of tea or coffee, sit down at your laptop, and relax for a bit while you read!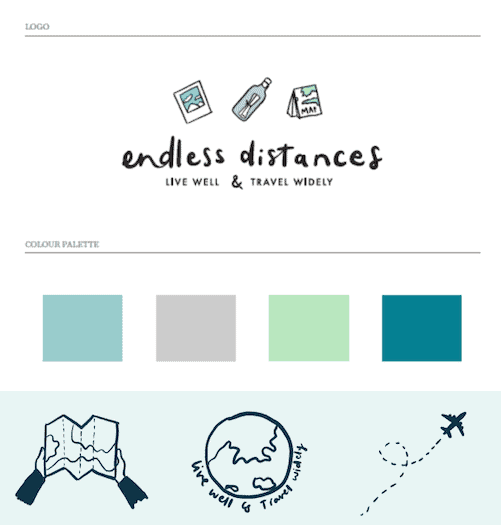 The Branding
My brand designer
For branding, I worked with Liz Mosley, and I couldn't recommend her services more highly.
I actually found Liz on instagram over a year ago, and totally fell in love with her handwritten and hand drawn creations. I'm so happy we were finally able to work together.
Want to work with Liz? Head to her website and tell her Sarah from Endless Distances sent you!
The final logo
After many iterations, and some decision-struggling on my part, I am incredibly happy with this little masterpiece Liz came up with!
I love the handwritten and hand drawn elements. And for the images up top – I wanted to imply "travel" but I didn't want it to seem cliche.
I have always felt connected to the idea of travel writing as a form of elegizing our memories. Each image is of a paper object – a polaroid, a message in a bottle, and a map. Each, in their own way, a form of recording travel or memories – not travel itself. So I know it's a bit cerebral, but I do feel like the logo captures that philosophy well!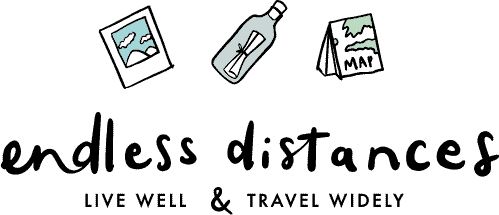 Brand colors and fonts
We chose some muted blues and greens, plus a darker teal for accents and text. I hope this portrays a sense of calm, peace, nature, and adventure. The color palette was pretty easy to pick as I had this vision from the start!
For the main font, we chose a crisp, clean sans serif. I particularly like the "a" as it's how I actually write!
And as an accent font, I very much wanted something that looked handwritten and scrawling. I think the one we chose complements Liz's handwriting in the logo quite well!
Accent illustrations
Liz also did some beautiful accent illustrations for me. Because the brand has this very 'hand drawn' feel, I knew I wanted some other drawings throughout the site to continue that aesthetic.
Have a peek around the site (for example, in the footer and sidebar!) and you'll see them show up.
The web design
My web designer
For the web design, I worked with Lexie from ThaiFolk Studio. Lexie is so responsive and easy to chat to – I instantly felt connected after our first Zoom call, and after looking through all her work samples I knew she was the lady for the job!
Want to work with Lexie? Head to her website and tell her Sarah from Endless Distances sent you!
The web design process
I filled out some forms for Lexie (even telling her the song that I thought encapsulated the brand!). I also deep dove into other people's sites, nitpicking my favorite and least favorite elements.
From my mess of thoughts, Lexie worked her magic and came up with this beautiful design – incorporating my branding impeccably, but also introducing the handwritten, scrapbook-type elements throughout.
The actual web design process took us a good few months – from the initial conversations and ideas, to the first round of mockups, to the content writing on my part, and actually implementing the incredible design on Lexie's part, to rounds of revisions and final tweaks!
Introducing the new Endless Distances: How to navigate
Now that you've had a peek into the behind the scenes design process, I want to help you navigate the new Endless Distances.
As you may have noticed, things do look quite different around here, and that involves totally new categories and pages.
The main content categories
I think my new tag line "live well & travel widely" covers what's always tied my content together: a desire to travel and have adventures, but manage health issues and ethical issues at the same time.
With that in consideration, the new content categories are:
Destinations
Aw, the main destinations page is really pretty (if I do say so myself, haha). It's one of my favorites.
An issue with my old design was that it was very difficult to navigate between all the destinations I wrote about!
Now, you can easily navigate from the main destinations page, to the specific continent you want (with Michigan and the UK also featured as they're my specialties).
The country pages also have a lovely feature on travel information you might need, like exchange rate, currency, adaptors, and even a mini bucket list!
Some country pages I love:
Gluten Free Travel
Gluten free travel has always been a staple of Endless Distances. Navigating celiac safe gluten free food options has a HUGE impact on my own travel, and I've always written gluten free travel guides to make it easier for other travelers.
With the new branding, I've put gluten free travel at the forefront. I used to shy away from this as I didn't want to alienate readers who could care less about gluten. But I've also realized that my decade-long expertise in gluten free travel is a strength, and I can truly help people through these posts.
Focusing on gluten free travel is truly the perfect marriage of my love of travel, and my own professional background as an occupational therapist – which is all about enabling people with health challenges to live fully!
So head to my new gluten free travel page, which features gluten free travel tips as well as gluten free travel guides, and more!
Wellness Travel
I also have a new wellness travel page. This page goes beyond traditional "wellness" though, and includes everything it means to travel well. You can find:
Chronic illness + travel

This is where you'll find all the endometriosis travel posts! I also hope to expand this by featuring guest posts from travelers with other chronic illnesses.

Staying healthy on the road
Hotel reviews
Wellness travel experiences
Love and relationships
Ethical volunteer travel
Travel Tips & Inspiration
And finally – the travel tips & inspiration page. I never used to be able to figure out where to put my travel articles that weren't about a specific destination. Or my conversational posts about travel and life in general. Now they have a home here!
On this page, you'll find:
Travel tips
Move abroad
Travel writing & blogging
Travel impressions series
Monthly recaps
Personal musings
Other pages
But wait – there are even more pages! We also did a total revamp of all my core pages. I particularly love the home page, and the sliders at the bottom of the about and work with me pages.
Travel Resources
We also added a totally new page that I'm really proud of. The travel resources page is the result of my years of traveling, and all the top booking tools I've discovered (and regularly used) during that time.
For fellow bloggers, you can also scroll to the bottom of that page and check out all my recommended blogging resources, too!
Shop
You may also notice links to a 'shop' page… that don't lead anywhere quite yet. I'm hard at work developing a shop for Endless Distances. I'm curating all my fave products from personal style, to homeware, to of course gluten free travel and other must-have travel essentials.
The shop page is coming soon – expect a launch in late September or early October!
So…what's next?
The actual content you see here on Endless Distances won't be too different. I'll still be sharing gluten free travel posts, travel guides, and my own conversational reflections on life.
What's different is that they're now all tied together with my branding, and my mission to help you live well & travel widely.
I feel much more aligned with this branding. To me, it feels like a no brainer that as an occupational therapist and yoga teacher, I'd want to focus on wellness travel. And especially, inclusive wellness travel. It just took me five years to verbalize that!
Stay up to date with my posts…
If you want to keep up with my future blog posts, just sign up for my newsletter, or follow along on social media!
I'm so excited to have you here for the next stage of Endless Distances.
Any questions, requests, or comments? Pop them in the comments below! I can't wait to hear your thoughts!