A Michigan Bucket List: 59 Off the Beaten Path Things to do in Michigan
One common thought among Americans, especially those of us from the Midwest, is that you have to travel far away for any kind of excitement. My home state of Michigan is a stunning state, home to more coastline than any other contiguous state in the USA! But so many travelers (both international ones and those who live in Michigan!) still don't know what our state has to offer. Which is why I'm bringing you my Michigan bucket list.
Ever since I moved back to Michigan, I've been trying to soak up all my home state has to offer, but the more I do, the more items I add to my Michigan bucket list. Now, my bucket lists are a little unusual. I like to mention the unique travel experiences you won't typically find on a traditional bucket list. Expect to see a lot of off-the-beaten path destinations and experiences. To me, seeing a new perspective is what makes travel so fun! Without further ado, here is my quirky Michigan bucket list!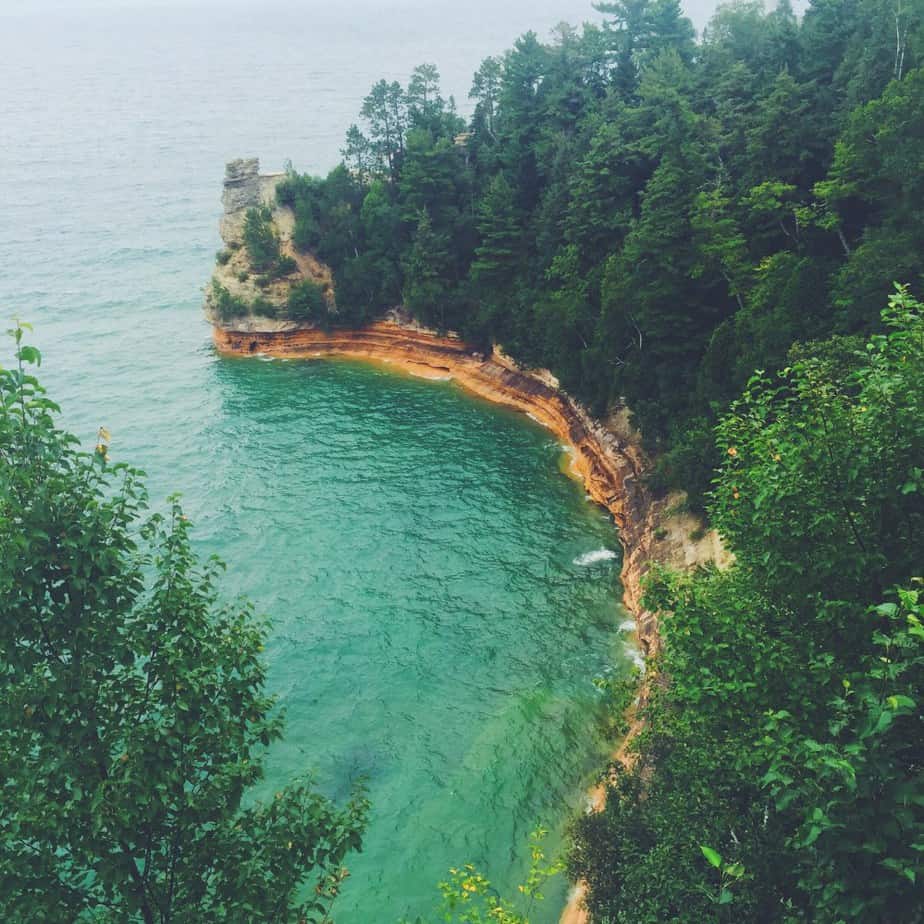 Michigan Bucket List 
This bucket list is so lengthy that I've separated it by topic. You can click the links below to jump to the section that most interests you!
Below you will find my Michigan bucket list items for:
Michigan bucket list: Accommodation
1. Stay at Michigan's most famous hotel, the Grand Hotel 
Michigan's most iconic hotel is The Grand Hotel on Mackinac Island. Stay in utter luxury and feel like you're going back in time, with 5-course dinners and the world's longest porch! Read my complete guide to staying at The Grand Hotel here.
RELATED | Complete Guide to Staying at The Grand Hotel on Mackinac Island
2. Enjoy yoga classes and eco-friendly accommodation at Neahtawanta Inn
Stay at a community supported inn on gorgeous Old Mission Peninsula near Traverse City. Neahtawanta Inn offers yoga classes, organic and local food, and is all eco-friendly.
There are five rooms at Neahtawanta, which can either be booked through a phone call, or on Airbnb. I stayed at Neahtawanta Inn last fall, when Michigan was blazing with color. It is one of the most peaceful places I have ever stayed.
3. Stay in an authentic tiny house in Michigan
Tiny houses are less than 400 square feet, but creatively designed for comfort. For some reason, there are tons of tiny houses in Michigan.
I wrote a whole blog post on the best tiny houses in Michigan you need to stay in, many of which are on my own personal bucket list.
RELATED | 19 Tiny Houses in Michigan You Can Stay In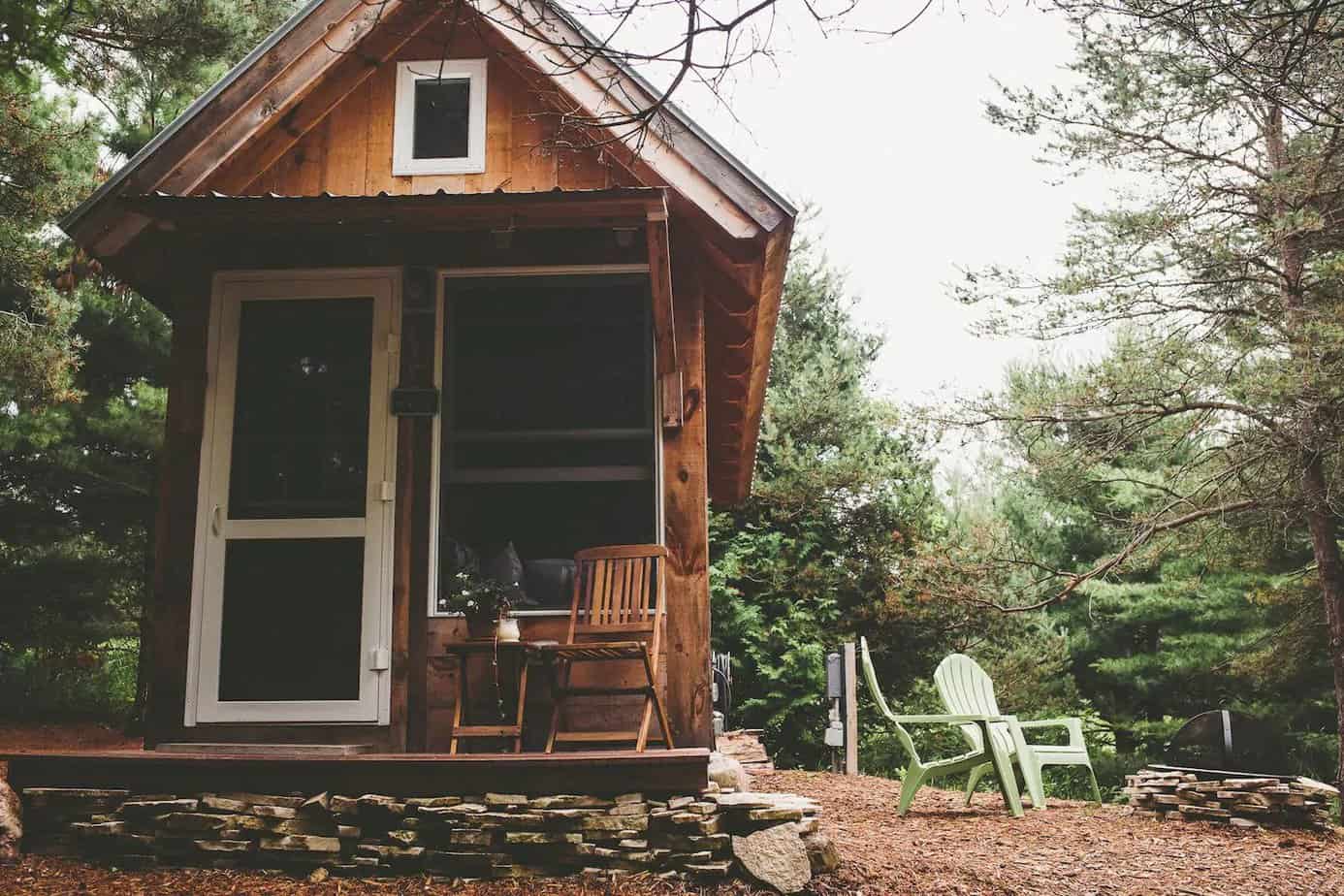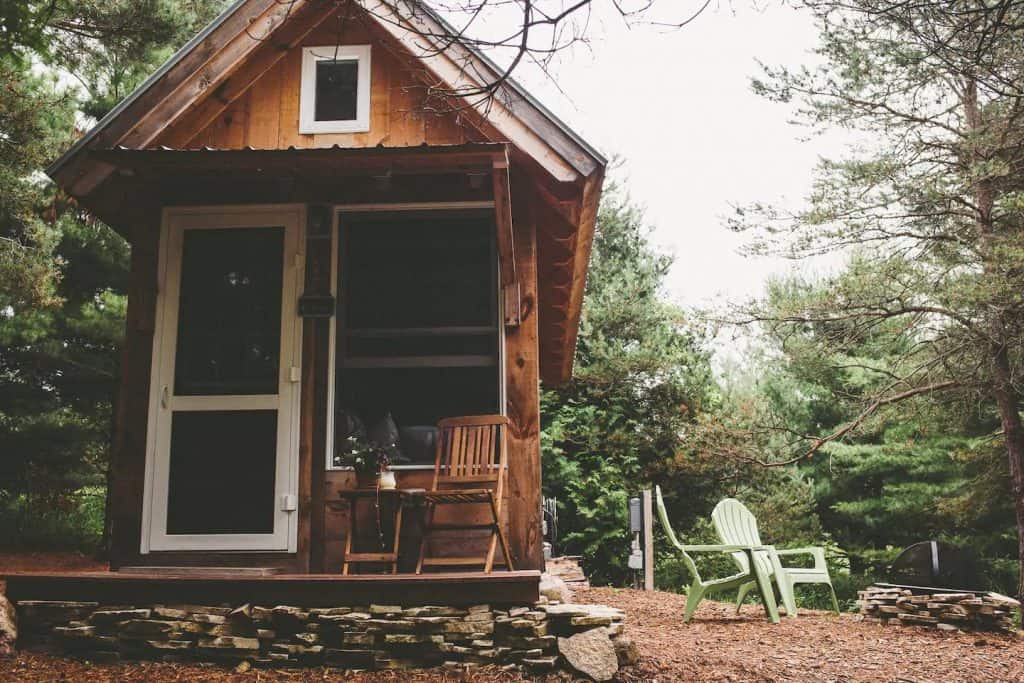 4. Sleep in one of the USA's most remote national parks at Rock Harbor Lodge 
Isle Royale, in Lake Superior, is one of the country's most remote national parks. Most people come to the island to camp and backpack, but you can also stay in remote comfort at Rock Harbor Lodge, overlooking the waterfront.
5. Stay in a cabin after a day of dog sledding at Nature's Kennel Mushing Camp 
Nature's Kennel is a dogsledding kennel in the Upper Peninsula. Yes, you can go dogsledding in Michigan! I went dog sledding with my friend last winter and it was the most incredible experience.
Opt for an overnight sledding trip, and you can sleep in the back woods at Nature's Kennel's Mushing Camp, which is a collection of luxury yurts, with a fully equipped kitchen.
6. Stay overnight in one of Michigan's Hobbit Houses
YES! Michigan has a collection of "Hobbit Houses" in Charlevoix. They are adorable stone lodges with wavy roofs that really do look like a hobbit lives there. They were built by architect Earl Young and are also called "Mushroom Houses" or "Gnome Homes."
There are six Michigan hobbit houses that are available for rent – this one is my favorite! – a bucket list item for sure.
Read about the six Hobbit Houses for rent in Michigan here.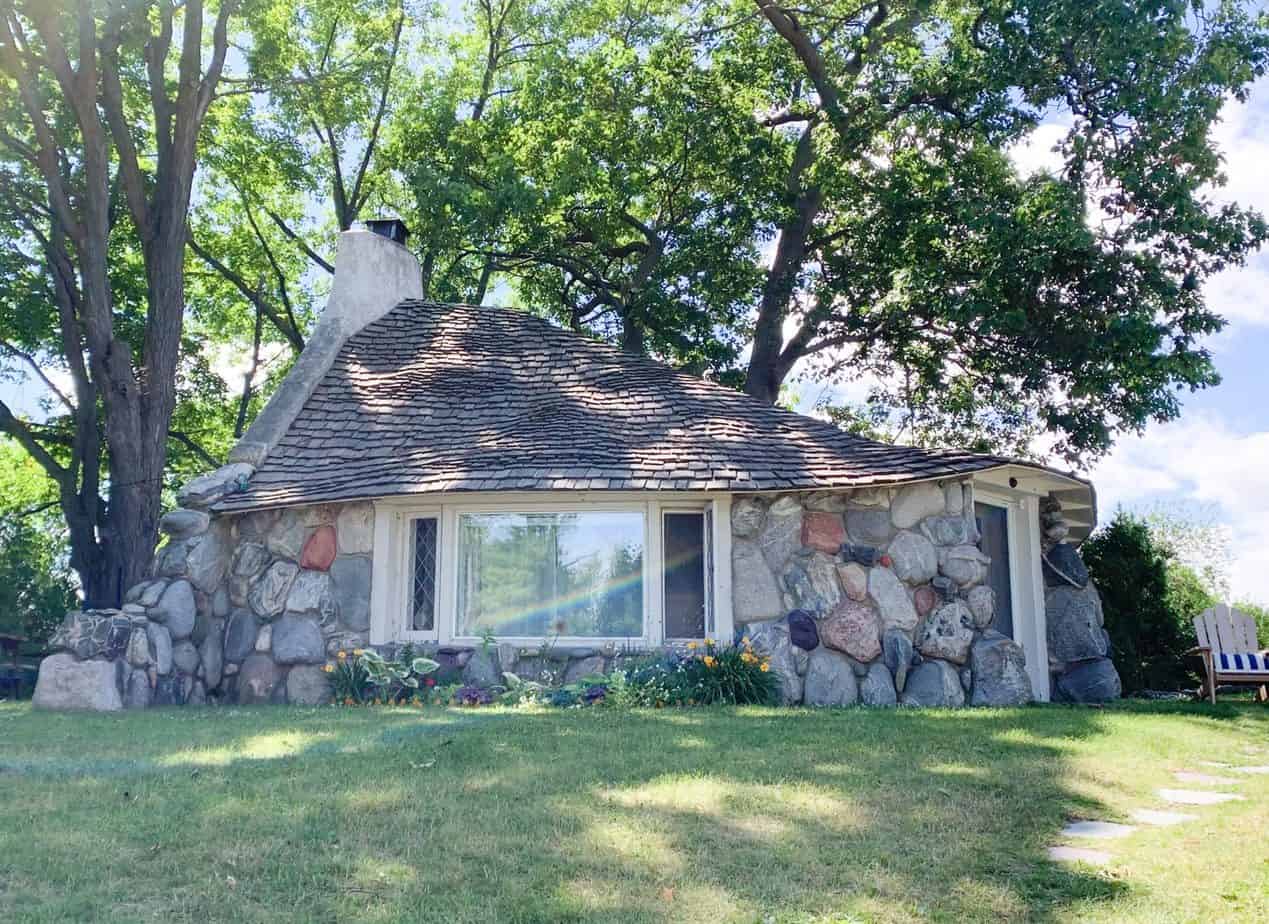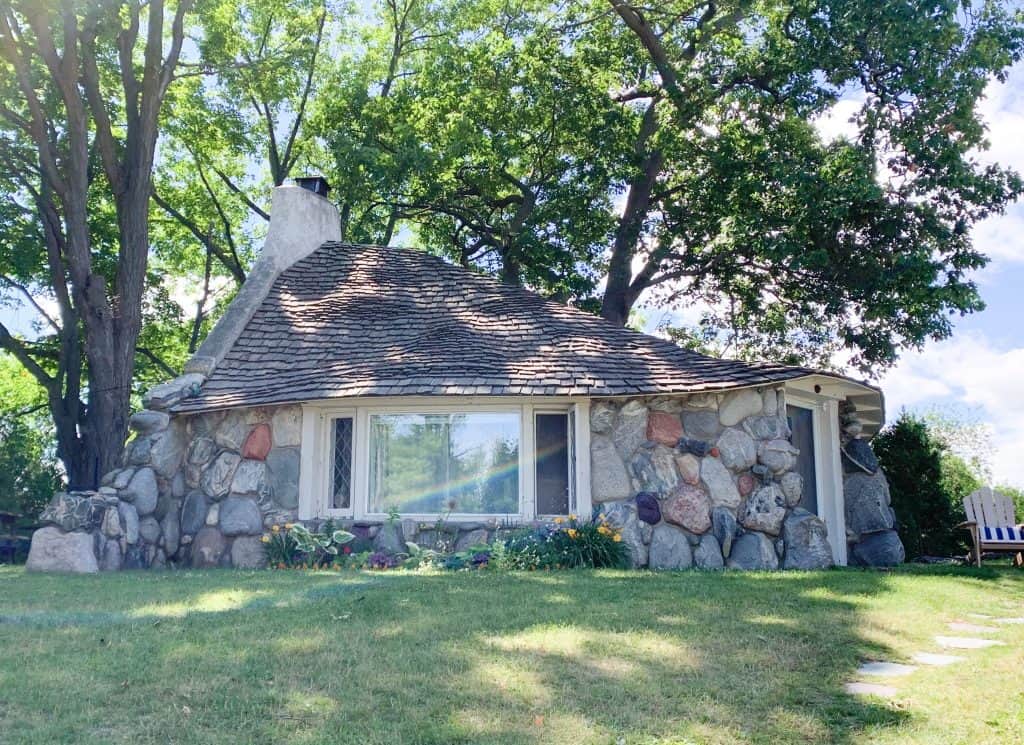 7. Sleep in Detroit's best eco hotel at El Moore Lodge
The El Moore Lodge has panoramic views over Detroit and is the city's foremost eco-friendly hotel. It's home to a neighborhood garden, and uses 80% less energy and water than typical hotels.
8. Go glamping in a blueberry farm in Michigan
Who doesn't love glamping? The perfect combo of camping and luxury! I rounded up all the best places to go glamping in Michigan in this blog post.
There are SO many glamping sites in Michigan. But The Fields of Michigan, near South Haven, is really the ultimate bucket list glamping experience. It is a boutique glamping site in a blueberry farm that is high on my personal bucket list.
RELATED | 15 Places to Go Glamping in Michigan
9. Have a lavish boutique stay at Detroit's The Inn at 97 Winder 
The Inn at 97 Winder is a mansion in Detroit, and one of the city's ultimate boutique hotels. I would opt for the King Suite which is superbly decorated – even with its own spiral staircase!
Michigan bucket list: Restaurants & Cafes
10. Cuddle cats at the Happy Cat Cafe in Grand Rapids
At The Happy Cat Cafe in Grand Rapids you can sit for hours playing board games, drinking coffee, and cuddling with cats! The cats are also all up for adoption.
RELATED | 12 Best Coffee Shops in Grand Rapids, Michigan
11. Eat the best sandwiches in Michigan at Zingerman's Delicatessen in Ann Arbor
Zingerman's is a Michigan institution. You haven't eaten a sandwich until you've had a Zingerman's creation. Personally I always order a reuben sandwich with pickle chips!
12. Eat in an old fire station at Fenton Fire Hall Kitchen and Taproom in Fenton
The Fenton Fire Hall has amazing food and it's especially interesting because it's built in an old Fire station.
13. Drink a medieval favorite at Bløm Meadworks in Ann Arbor
Blom Meadworks brews old fashioned mead in Ann Arbor. You can also find ciders and kombuchas, plus plenty of gluten free snacks.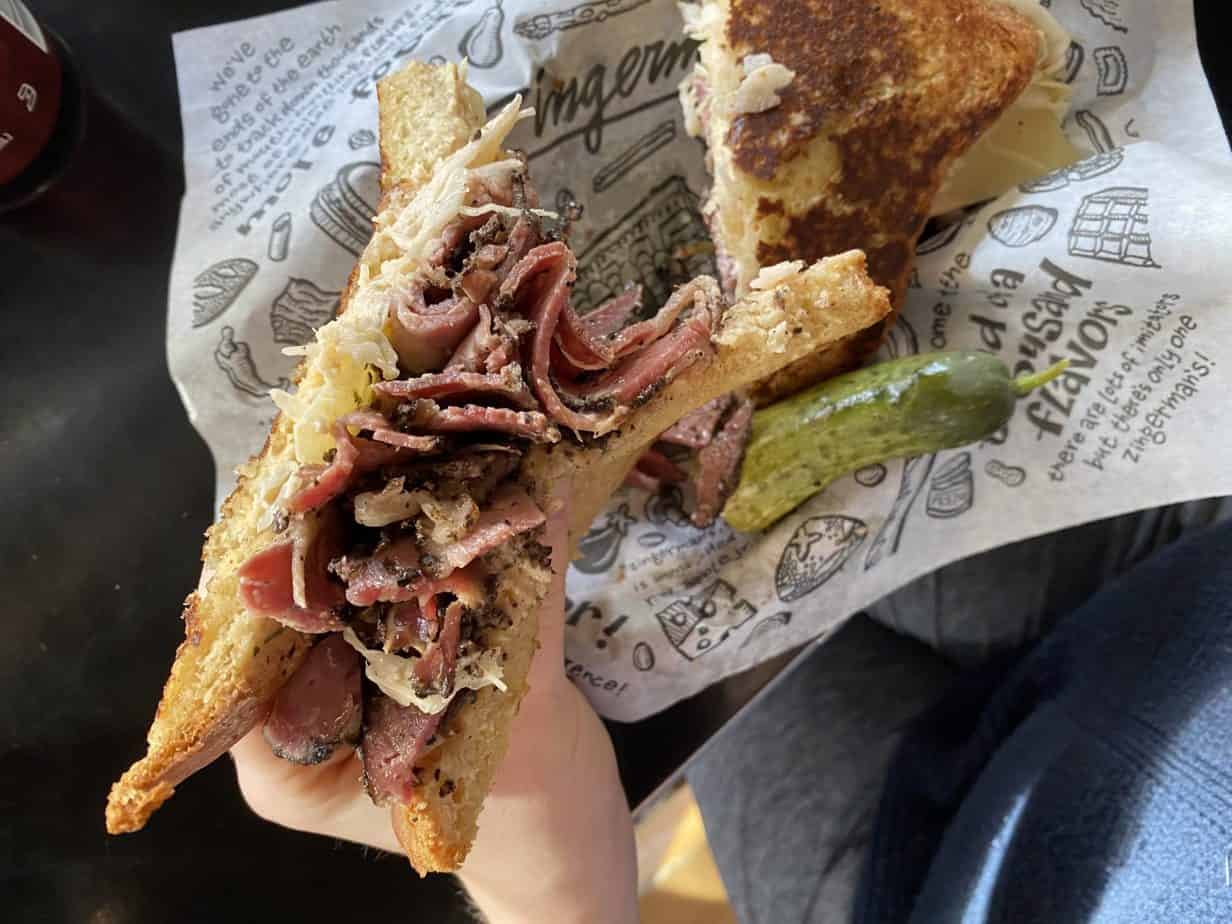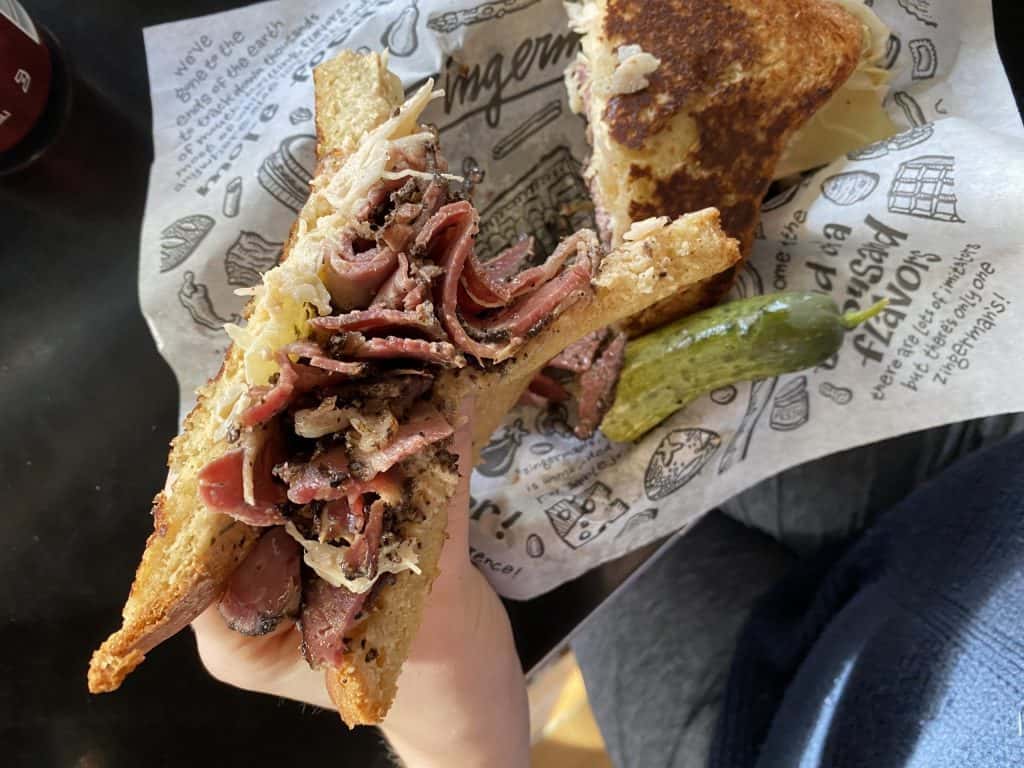 14. Visit the The Little Fleet food truck park in Traverse City
The Little Fleet is a small food truck park featuring tacos, salads, drinks, burgers, and so much more. It's got this fun hipster vibe and is perfect for a summer or autumn meal out in the sun at their picnic tables.
15. Enjoy donuts and autumnal traditions at Yates Cider Mill in Rochester
In Michigan we are known for our cider mills! Every good Michigan fall needs at least a few weekend trips to check out the nearby cider mills. Yates Cider Mill is one of the best in the state, and I especially love that they have gluten free donuts.
16. Go to the Eastern Market in Detroit
Detroit's Eastern Market is the nation's largest outdoor farmer's market. It is a sight to behold, and worth visiting to either pick up groceries or snack your way through.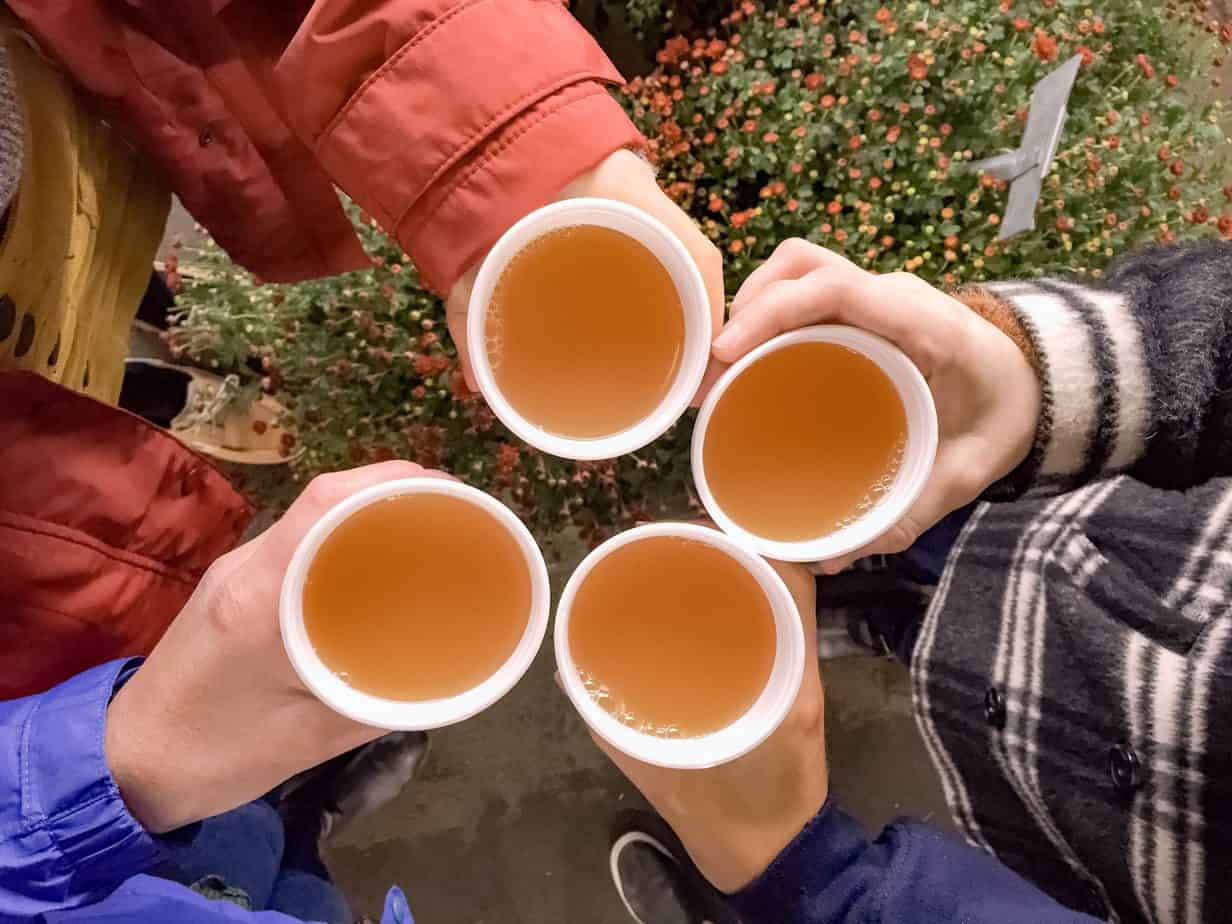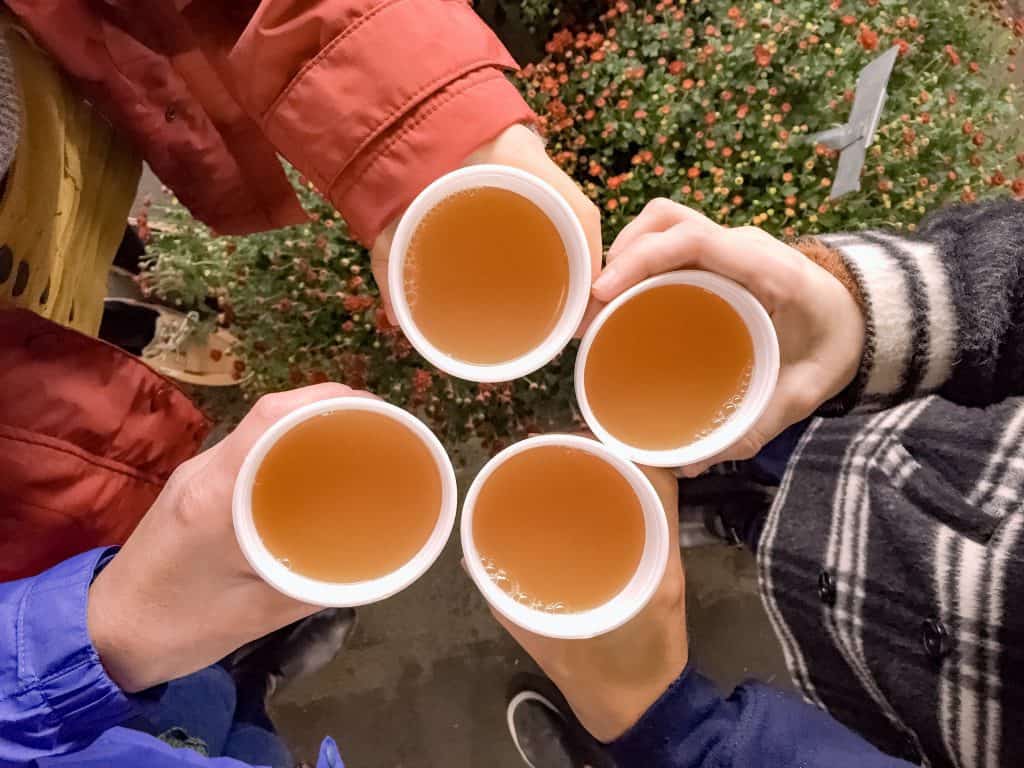 Michigan bucket list: Festivals
17. Cherry Festival in Traverse City
The famous Traverse City Cherry Festival is held every year in June or July. Check the Cherry Festival website for updated information on dates and tickets.
18. Art Prize in Grand Rapids
The Art Prize festival, which is now held every other year in September and October in Grand Rapids, is one of the best art festivals in the WORLD. Art is installed all across the city and it can take days to walk your way through and vote for your favorites.
RELATED | How to Get the Most Out of Grand Rapids' Art Prize
19. Labor Day Mackinac Bridge Walk
Each September, on Labor Day, the famous Mackinac Bridge Walk is held. Hundreds of people gather to walk from the lower peninsula to the upper peninsula and vice versa. Check the official Mackinac Bridge Walk website for updated dates and information.
20. Tulip Time in Holland
Tulip Time is a festival held in Holland Michigan the first week of May. There are many Dutch people living in this area of Michigan, the the festival celebrates that culture, alongside the blooming of thousands of tulips. You'll feel like you're in The Netherlands!
Check the Tulip Time website for updated dates and information.
21. Lilac Festival on Mackinac Island
Definitely the best smelling of all Michigan's festivals is the famous Lilac Festival! This celebration is held each June on Mackinac Island, where the island is covered in blooming lilacs.
Michigan bucket list: Outdoor adventure
22. Hike Mount Baldhead in Saugatuck
Mount Baldhead is a gorgeous trail appropriate for all ages, with stunning views at the top.
23. Go back country camping along the Great Lakes
Michigan is a nature lover's playground. Some of my best memories growing up are backpacking and back country camping across the state.
24. Visit a Michigan lavender farm
A little known secret is that lavender THRIVES here in Michigan. Your Michigan summer bucket list should definitely include visiting one of the incredible lavender farms.
I wrote a full guide to lavender farms in Michigan, which covers over a dozen farms all across the state.
RELATED | 17 Lavender Farms in Michigan You Need to Visit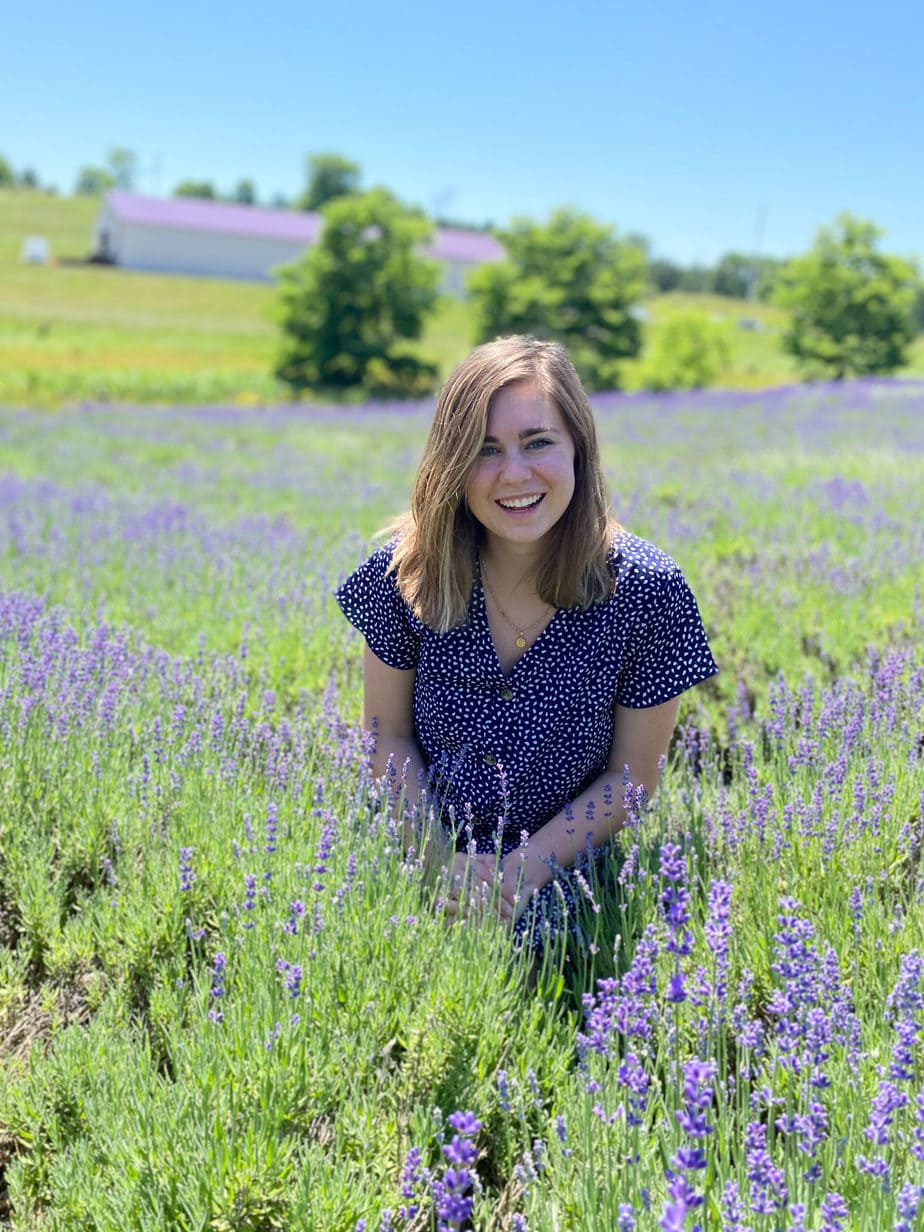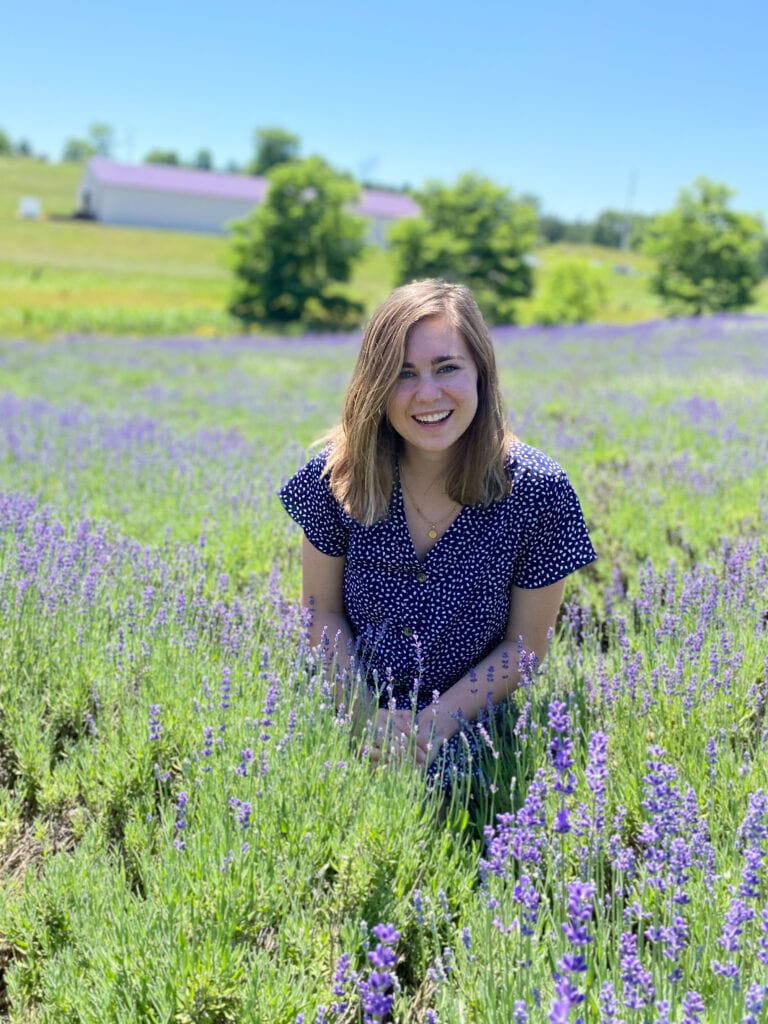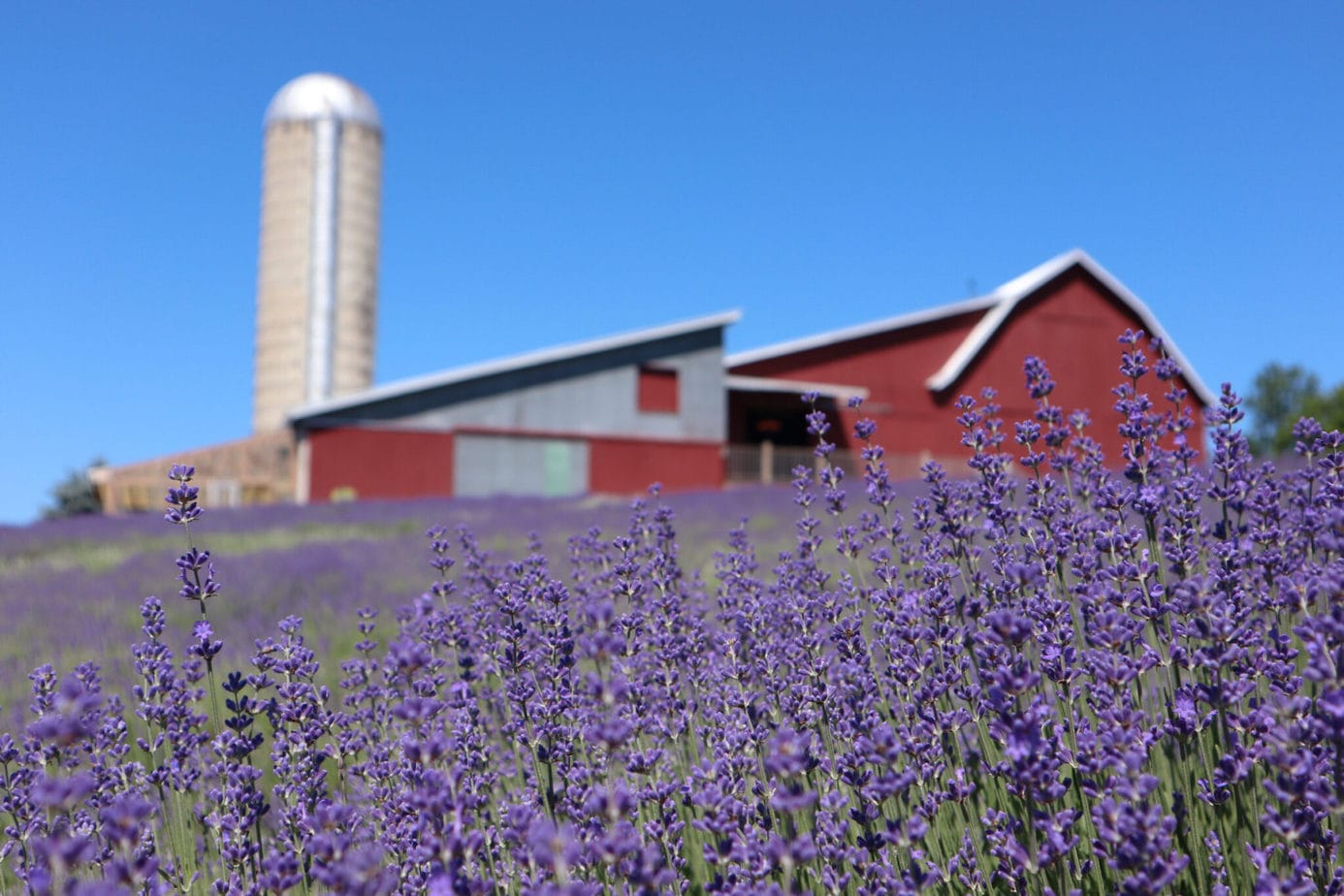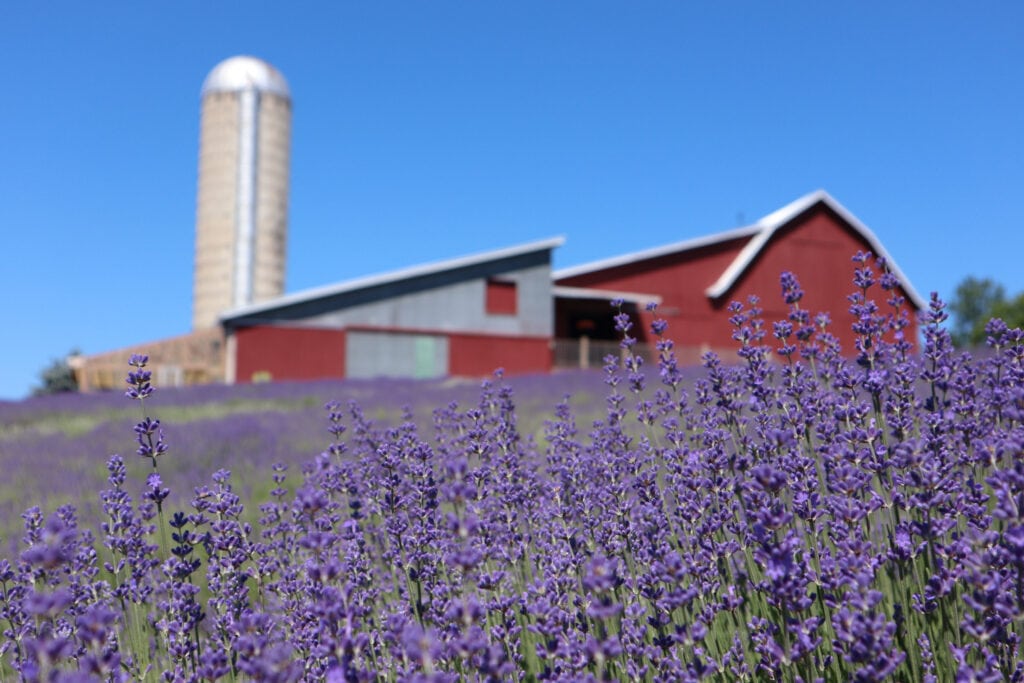 25. Go dog sledding at Nature's Kennel
One of the BIGGEST Michigan bucket list experiences is to go dog sledding! You do not need to travel to some far flung destination to do this.
Dog sledding with Nature's Kennel in the Upper Peninsula is one of my favorite ever memories and perfect for your winter bucket list.
26. …Or just cuddle the Nature's Kennel puppies in the Spring
You can also visit the kennel in spring or summer to pet the newborn puppies. This makes for a perfect stop along your Upper Peninsula summer roadtrip!
27. Visit Tahquamenon Falls in the upper peninsula
The Tahquamenon Falls are the biggest waterfalls in Michigan and they are absolutely stunning. They're not too far away from Nature's Kennel and are beautiful to visit in either summer or winter.
28. Visit Kitchi-iti-kipi for gorgeous clear spring waters
Kitchi-iti-kipi is a huge spring in Manistique, in the upper peninsula. The water is so turquoise it honestly has to be seen to be believed. You can walk out to a glass platform in the middle of the spring and look straight down!
29. Do a guided fishing tour in the rivers or Great Lakes
Being the "Great Lake State," you'll also find many people in Michigan love to fish. This includes my family and I! Charter fishing or a guided fishing tour is a definite bucket list experience. Most companies will even help you organize a fishing license and make sure you're only taking sustainable amounts and sizes of fish.
30. Go snow tubing 
31. Learn how to ski
32. Go snow shoeing
33. Do the nearly vertical Sleeping Bear Dunes dune climb
Sleeping Bear Dunes National Lakeshore is undeniably one of Michigan's MOST gorgeous places to visit. Along the scenic driving route, park at Stop 9 and you can do the famous dune climb. This climb is nearly vertical, and running down feels like you're walking on the moon! Making your way up, however, will take a lot longer.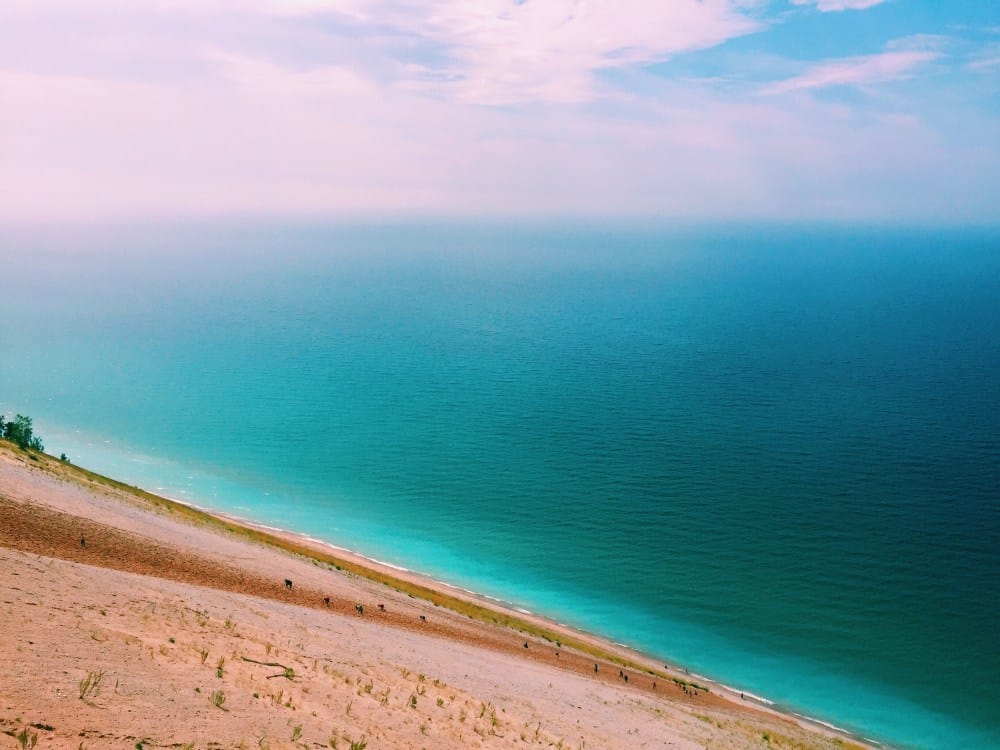 34. Jump off the Black Rocks in Marquette
The Black Rocks, in Presque Isle Park in Marquette, are located right over Lake Superior. It's a tradition in the summers to jump off straight into the lake!
35. Kayak to Turnip Rock from Port Austin 
This is currently the top item on my own personal Michigan Bucket List. Turnip Rock is a hidden gem in Lake Huron – quite literally hidden and only reachable by a 7-mile kayak ride from Port Austin.
The trip is well worth it though the see the sight of this unusual rock out in the lake, shaped like a turnip with trees growing on top!
36. Hike the upper peninsula's Porcupine Mountains
The upper peninsula is covered in forest, and home to the state's only mountain range: the Porcupine Mountains. This is the best area in Michigan for day hikes, back country hikes, and overnight camping. There are also cabins in the Porcupine Mountains that you can rent, and hike cabin-to-cabin.
37. See the northern lights at Headland's International Dark Sky Park
Michigan is hope to some dark sky parks, and Headlands International Dark Sky Park is the best. It is located outside Mackinaw City, and the ideal place to stay overnight and see the northern lights!
38. Surf in Lake Michigan 
Did you know Michigan actually has a huge surfing culture? We do! Because Michigan is surrounded by the Great Lakes, and due to the unique wave formations here, this is one of the best places in the country for surfing.
My recommendation is to head up to Sleeping Bear Surf and Kayak near Traverse City for one of their lessons, rentals, or even a surf camp!
39. Tube down the Platte River (with drinks in hand)
Tubing is honestly the best summer pastime in Michigan. Locals like myself love to head out to a river or lake and chill in big innertubes all day with a drink in hand.
My best recommendation for tubing in Michigan is the Platte River. Head to Riverside Canoes to rent your tubes, and they'll transport you to the river. It takes a few hours to float down the river, and they'll pick you up at the other end!
40. Go camping on Isle Royale (and spot some Moose!)
Isle Royale in Lake Superior is one of the USA's most remote and least visited National Parks. If you don't want to stay at the Rock Harbor Lodge, head here for some truly back country camping. The island is famous for its population of wolves and moose – you might spot some!
41. Spend a day on Detroit's Belle Isle
Belle Isle is an island just off Detroit, located in the river firmly between the USA and Canada! It's so close to the city but a perfect way to get outdoors. You can canoe, kayak, hang out in the park, or visit the gorgeous Anna Scripps Whitcomb Conservatory or the Belle Isle Aquarium.
42. Hike to the Lake of Clouds viewpoint
The Lake of Clouds has a stunning viewpoint located in the Porcupine Mountains, in the valley between two mountains. You can like to the viewpoint either as a short day hike from your car, or as part of a longer backpacking trip.
In either case, this is a top Michigan bucket list item if you're traveling through the upper peninsula.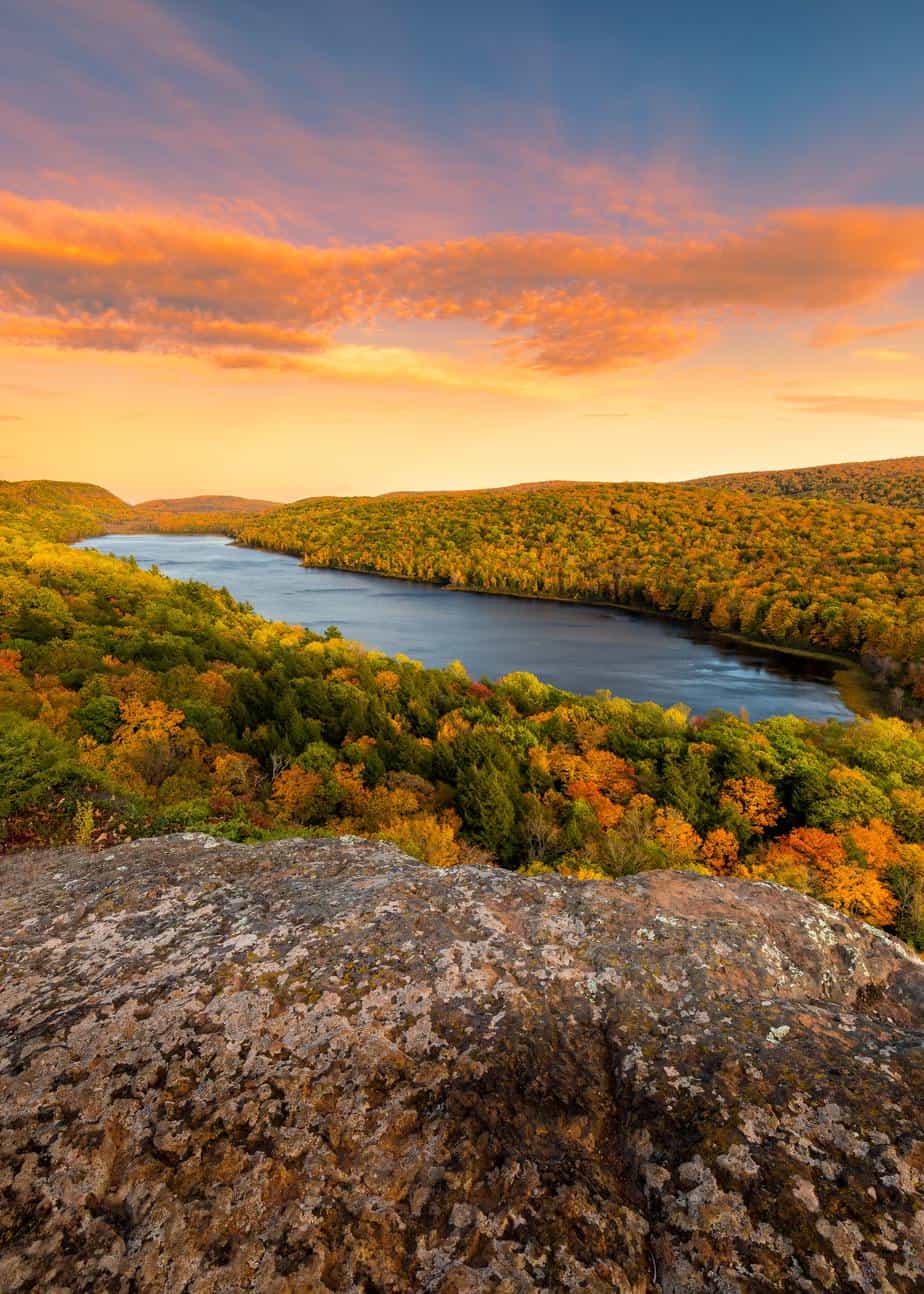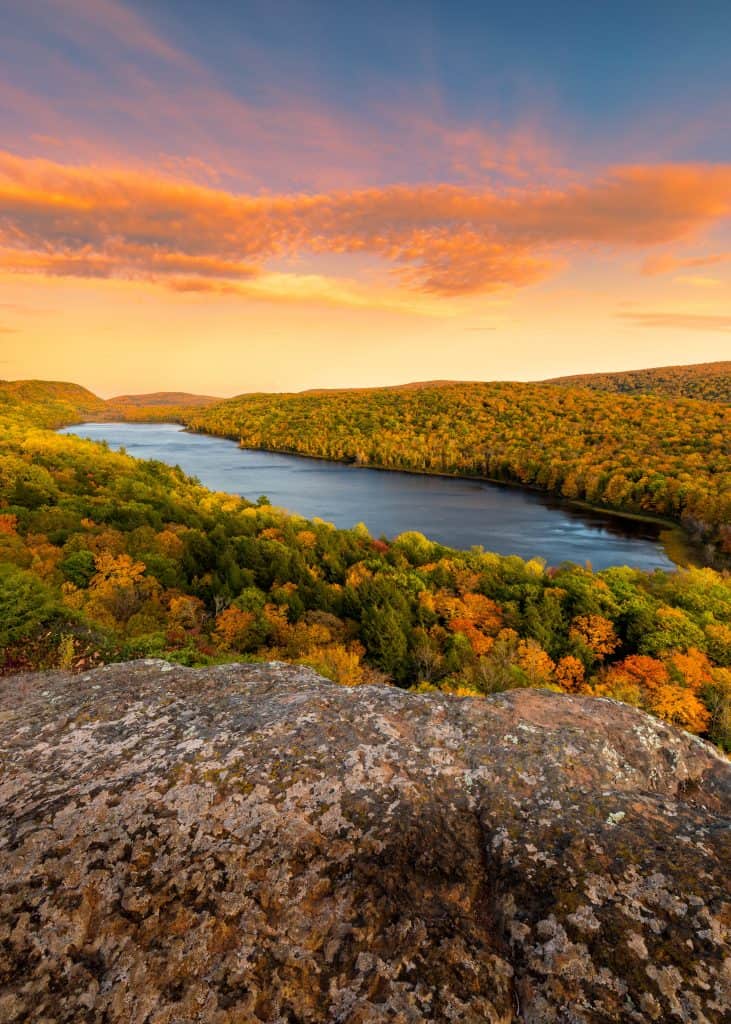 Michigan bucket list: Tours
43. Do an urban exploration tour in Detroit 
This urban exploration photography tour of Detroit is another top item on my own Michigan bucket list. The tour takes you through some historical buildings and areas of Detroit that have been abandoned over time. You see a gritty side of the city and learn some photo tips along the way.
44. Go on a cruise of the Great Lakes
Looking for a multi-day trip? Why not book a cruise of the Great Lakes. Many of these start in either Chicago or Toronto but they go through the entire Great Lakes system!
45. SUP down the Grand River with Lansing's Rivertown Adventures
Who doesn't love stand up paddle boarding? I have one myself and love SUPing in Michigan lakes during the summer. If you're around Lansing, the state capital, head over to Rivertown Adventures. They will rent you a SUP or do a full tour down the Grand River with you!
46. Take a vintage car tour of Detroit
One of my favorite things I've ever done in Detroit is an antique car tour! You can read all about my tour here. Antique Touring takes you around the city in a Model T.
RELATED | The Most Unusual Tour in Detroit: Antique Touring
47. Do a road trip of Michigan's lavender farms
I mentioned my love of Michigan's lavender farms earlier in this post, but if you want to take it to the next level – do a multi-day road trip of Michigan lavender farms! I did this last summer on assignment for Traverse Magazine and visited 7 lavender farms in northern Michigan in 3 days.
48. Road trip M22 in Northern Michigan
M22 is a scenic highway in Northern Michigan, snaking along Lake Michigan and into the Leelanau Peninsula, and ending in Traverse City. End to end it takes about 2.5 hours, but you'll want to do stops along the way.
This is one of the BEST areas of Michigan and there is even an entire clothing and lifestyle brand named after this iconic highway!
49. Drive the Tunnel of Trees on a fall color tour
Fall is one of the best seasons in Michigan. It's pretty much agreed that the most magical place to witness fall colors is driving through the Tunnel of Trees near Petoskey and Charlevoix.
50. Go on a wine tasting tour of Old Mission Peninsula or Leelanau Peninsula
Old Mission Peninsula and Leelanau Peninsula, which both border Traverse City, are filled with rolling vineyards and tasting rooms. This area of Michigan is located along the 45th parallel and you could spend weeks exploring all the vineyards here!
This is one of my favorite activities in Michigan (that I'm happy to say I've checked off my own bucket list… time and time again).
I even wrote about the 10 best wineries on Old Mission Peninsula, so check that out to help plan your trip.
RELATED | 10 Best Wineries on Old Mission Peninsula
51. Take a kayak tour of the upper peninsula's Pictured Rocks
You can view the gorgeous Pictured Rocks shoreline from the water in either a cruise, or a kayak tour. From Munising, there are many tour operators including Pictured Rocks Kayaking.
Michigan bucket list: Other off-the-beaten path things to do
52. Visit John K. King in Detroit, one of the best rare book shops in the world
John K King book shop is truly an experience in and of itself. I've spent hours wandering this incredible book store and recommend you do the same!
53. Visit Curwood Castle in Owosso 
Honestly, you're more likely to think of lumberjacks than medieval castles when it comes to Michigan. But there is actually a castle in Owosso! It's called Curwood Castle and has its own museum.
54. Get a photograph of your aura at AURA AURA in Detroit 
One of the weirdest and BEST things I've ever done in Detroit was get my aura photographed! Head over to AURA AURA in Mexicantown, where you can get your aura (or a couple's aura or even a pet's aura) photographed.
55. Try goat yoga in Williamston
Yup, goat yoga is an actual thing and you can do it in Michigan! Check out the Original Goat Yoga facebook page for their updated events and classes.
56. Go to a Redwings game in Detroit
Detroit literally trademarked the name "Hockey Town," and for good reason! One of the must do experiences in Michigan is to attend a Detroit Redwings hockey game in their hometown arena.
57. Go tailgating and to a football game at the Big House in Ann Arbor
Speaking of sports, a classic fall activity in Michigan is to head down to Ann Arbor and grab tickets to a football game (preferably witness the rivalry of University of Michigan vs. Michigan State). The Michigan football stadium, fondly called "the Big House" is the biggest college football stadium in the USA.
58. Shop at Bronner's Chrismas Wonderland in Frankenmuth (year round!)
Bronners Christmas Wonderland, in Frankenmuth, is truly a sight to behold. Head here all year round to witness the most Christmas decorations you've seen anywhere, ever.
59. Explore Detroit's neighborhood art project the Heidelberg Project
The Heidelberg Project in Detroit was created by local Detroit artist Tyree Guyton, along the street he grew up on. It's an outdoor art installation using found pieces and painted abandoned buildings, and is one of my top recommendations while you're in Detroit.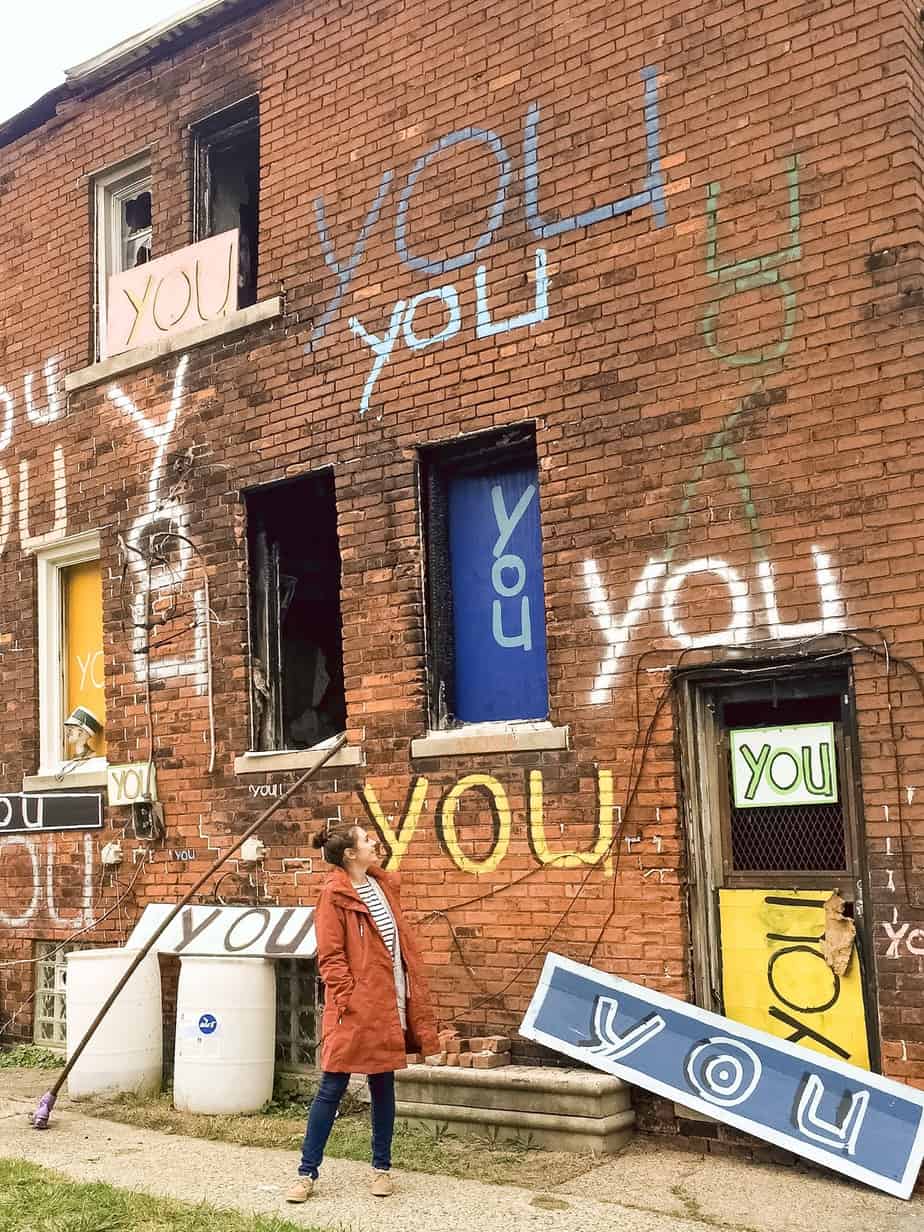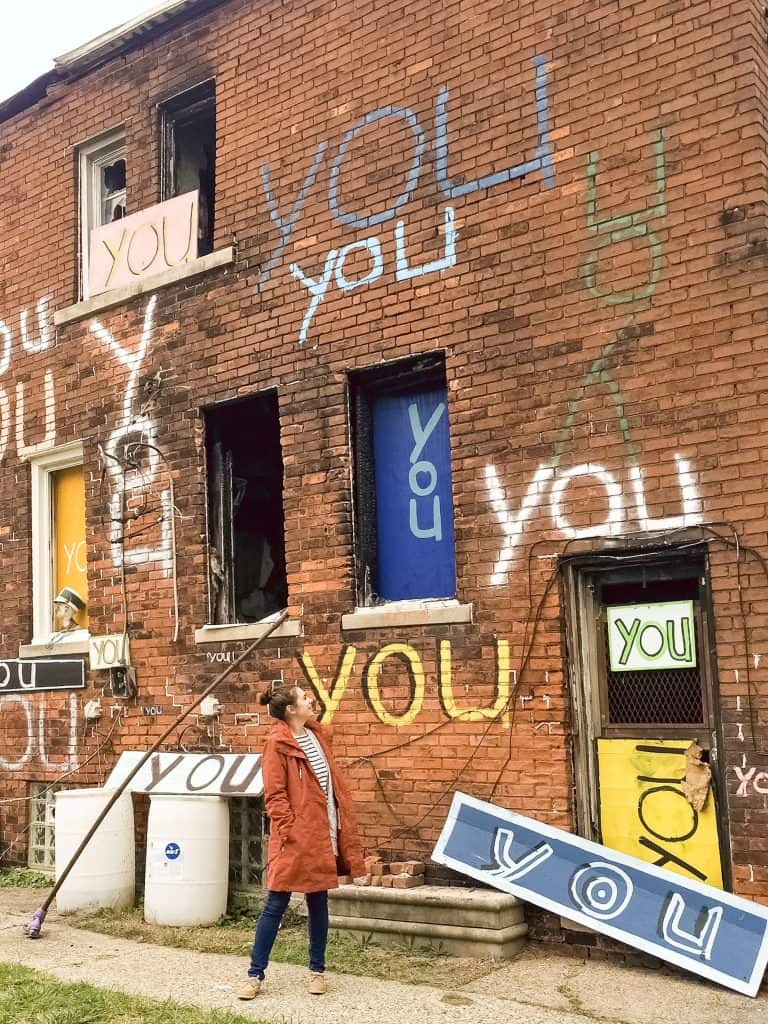 This Michigan bucket list is not exhaustive by any means, and it does represent my own personal travel preferences. Even so, I think it could take me quite a while to have all these experiences!
Let me know which one you would try first (the famous Zingerman's sandwiches that Obama tried? Surfing in a Great Lake? Seeing Moose in the wild?).
And if you have any other recommendations for quirky Michigan bucket list items, please let me know! Think of this as a working document that I will be adding to as I discover more amazing Michigan experiences.
Looking for more Michigan travel inspiration?
23 Most Romantic Cabins in Michigan for a Couples Getaway
Traverse City Holiday Shopping Guide
6 Adorable Charlevoix Mushroom Houses You Should Stay In
PLAN | Visit my full Michigan page for more travel planning tips!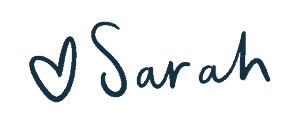 Pin it for later…